If you are a Maltesers fanatic, than you are going to adore this Maltesers cheesecake recipe. It's the ultimate dessert for those who live to eat Maltesers!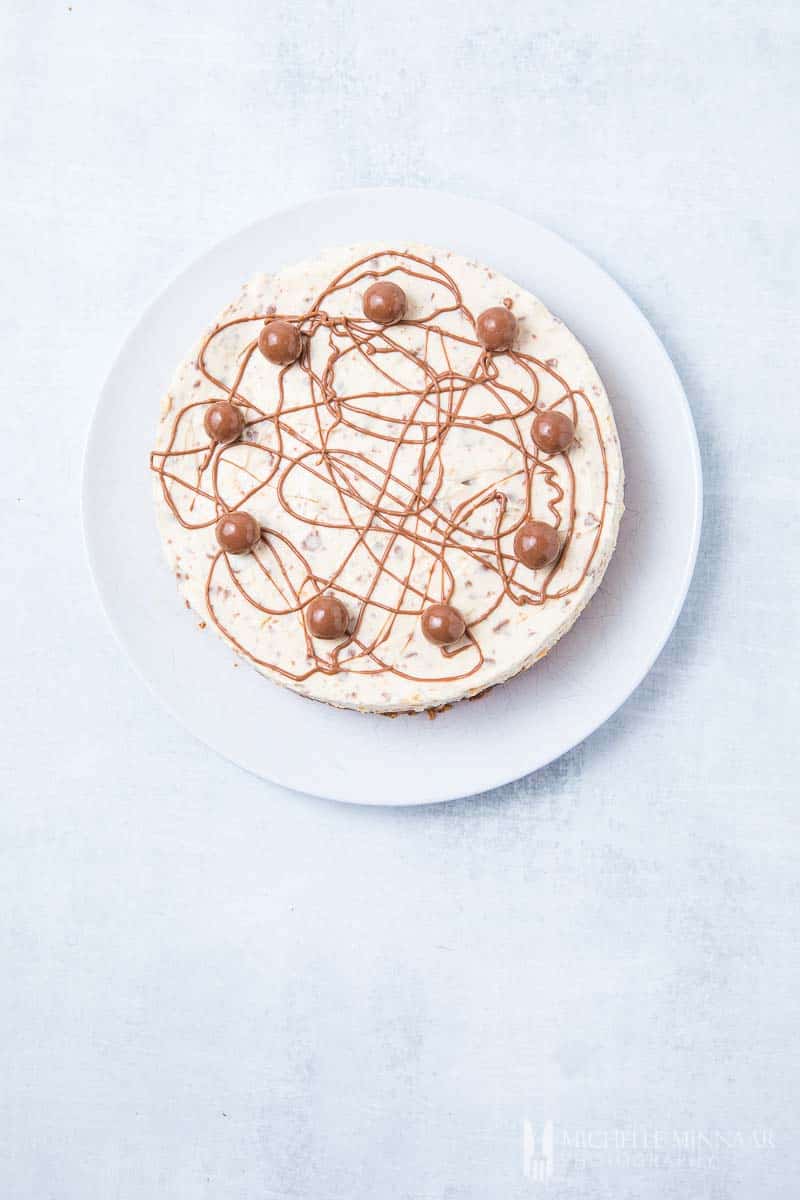 This easy, no-bake cheesecake is completely manageable and requires only a handful of ingredients. The hardest part in making this cheesecake is to not eat the main ingredient, which are the Maltesers.
I urge you to purchase an extra pack of this amazing candy to nibble on during your preparation process. Otherwise, you will have to go to the store again!
products you need for this recipe
Cheesecake-making is easy, fun and a great activity to do with your kids.
In essence, making this chocolate cheesecake is no different to my other no-bake cheesecake recipes. The only difference is the different chocolate product used.
In any case, there are a couple of ingredients which you can purchase in advance to make your cheesecake perfect. Take a look at the following suggested products below:
easy, no-bake Maltesers cheesecake recipe
This creamy and rich cheesecake is a brilliant dessert. If you haven't tried making it yet, then you are missing out!
Making a Maltesers cheesecake is so simple in fact, it leaves much room for you to experiment. You can easily make the filling your own by adding additional ingredients to it to play with the flavour.
In this article, I will come up with several alternatives on how you can alter and decorate your Maltesers cheesecake.
This is a no-bake recipe, so before you start making this cheesecake recipe, make sure that you have some room in your fridge. You'll need to store the Maltesers cheesecake there for a couple of hours.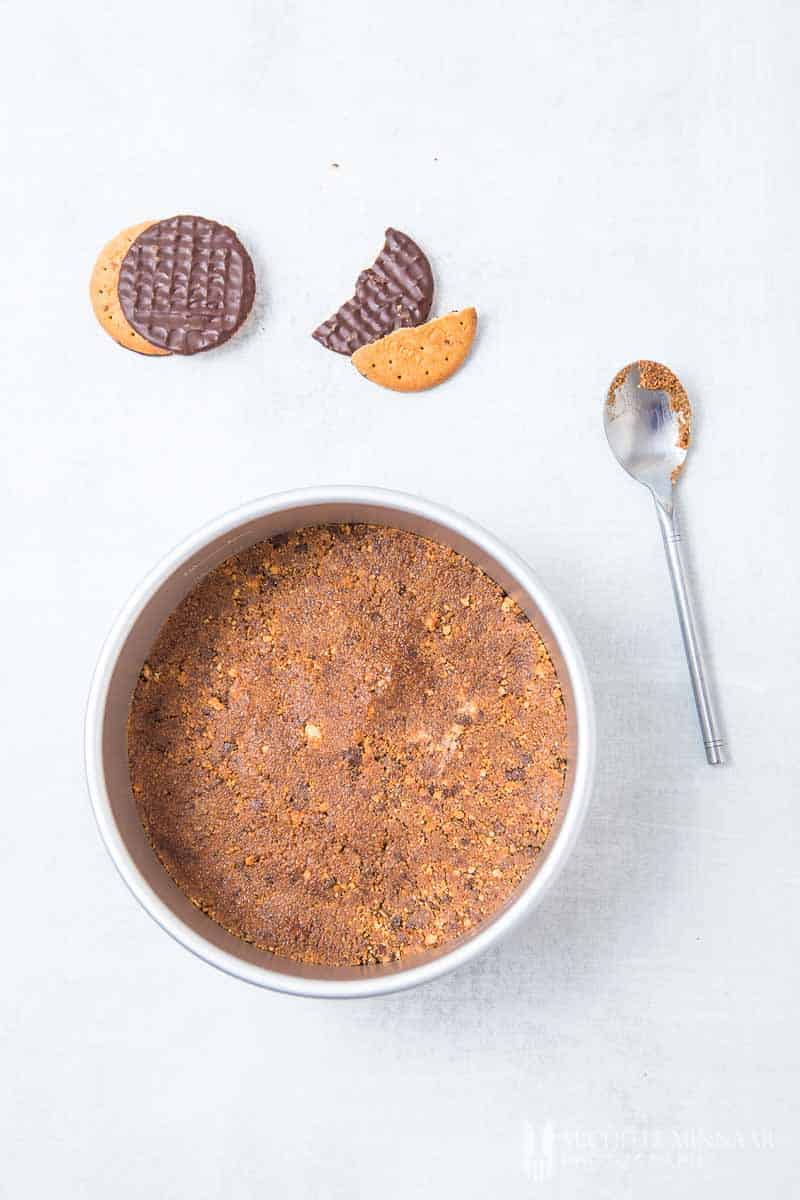 make the ultimate Maltesers cheesecake
To make this Maltesers cheesecake recipe a success, you need Maltesers – surprise! Maltesers are a popular sweet that almost every child knows about. Luckily, if you are not a big fan of Maltesers, this recipe is interchangeable with Toblerone.
For more alternatives, you can also consider making these:
However, if you are convinced that the Maltesers cheesecake is for you, then continue reading!
Maltesers cheesecake with Malteser spread
This is where you can get creative. Prepare the cheesecake as you normally would. Just add the Malteser spread on the top layer. For those of you who don't know what a Maltesers spread is, you can click right here. The spread adds even more sweetness and a subtle crunch.
Baileys and Maltesers cheesecake recipe
Here is a way to booze up your Maltesers cheesecake. Remember, this is a no-bake cheesecake, so the alcohol won't burn off. This makes it an adults-only dessert. This involves adding roughly 125ml (1/2 cup) of Baileys liqueur into your cheese mixture.
Hold off on the vanilla essence and let the Baileys do the magic for you. Are you willing to make a Baileys version?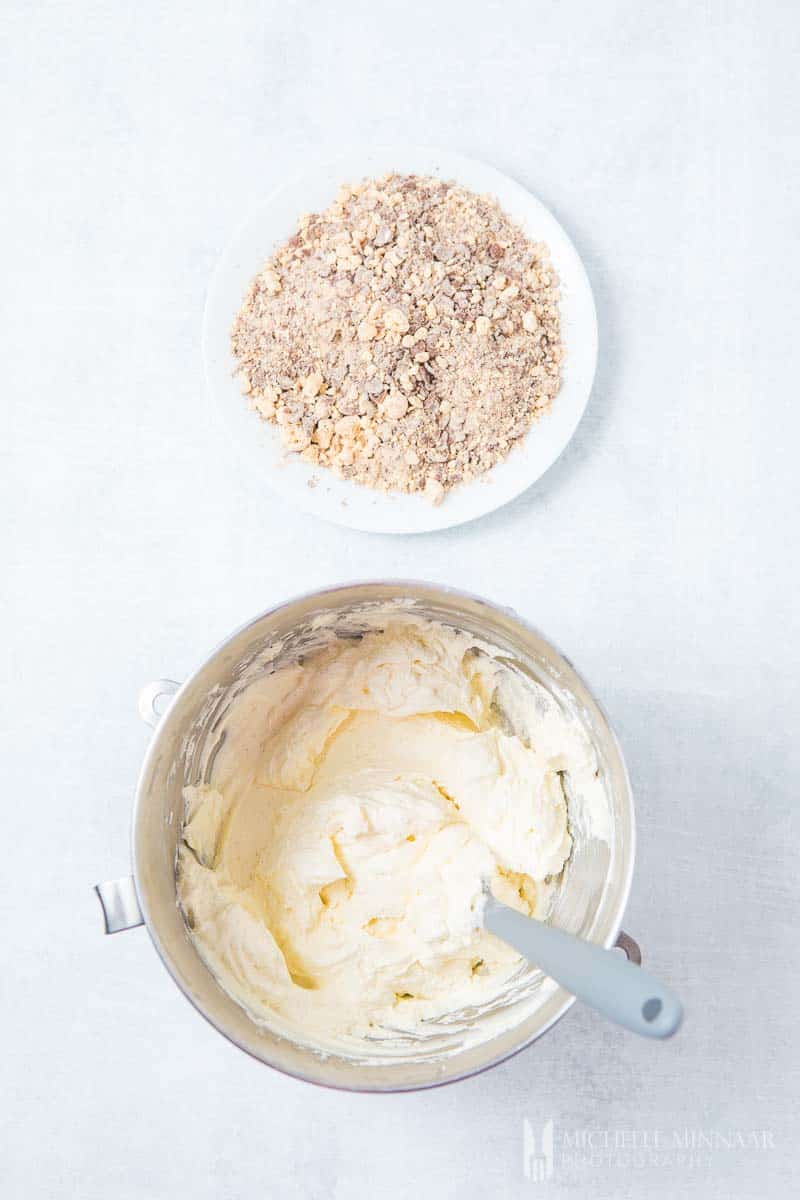 Nutella and Maltesers cheesecake recipe
Naturally, you can also experiment with the cheese filling by adding even more chocolate to it. To be more specific, you can add 2 spoonfuls of Nutella for nice notes of hazelnut.
Of course, some might argue that this may be taking it to the extreme, but why not? Who doesn't love Maltesers and Nutella?
how to make cream cheese frosting
If you are looking for ways to spruce up this Maltesers cheesecake and make it even more tempting, then I've got just the thing! You can add an exterior layer of cream cheese frosting. Cream cheese frosting is the essential component to making those beautifully decorated cakes.
If you opt for adding this cream cheese frosting as an exterior layer to your Maltesers cheesecake, there are a few things you will need to do.
First, once you finish your Maltesers cheesecake, place it in the freezer for a couple of minutes – a good 20-30 minutes should do. This will solidify the exterior.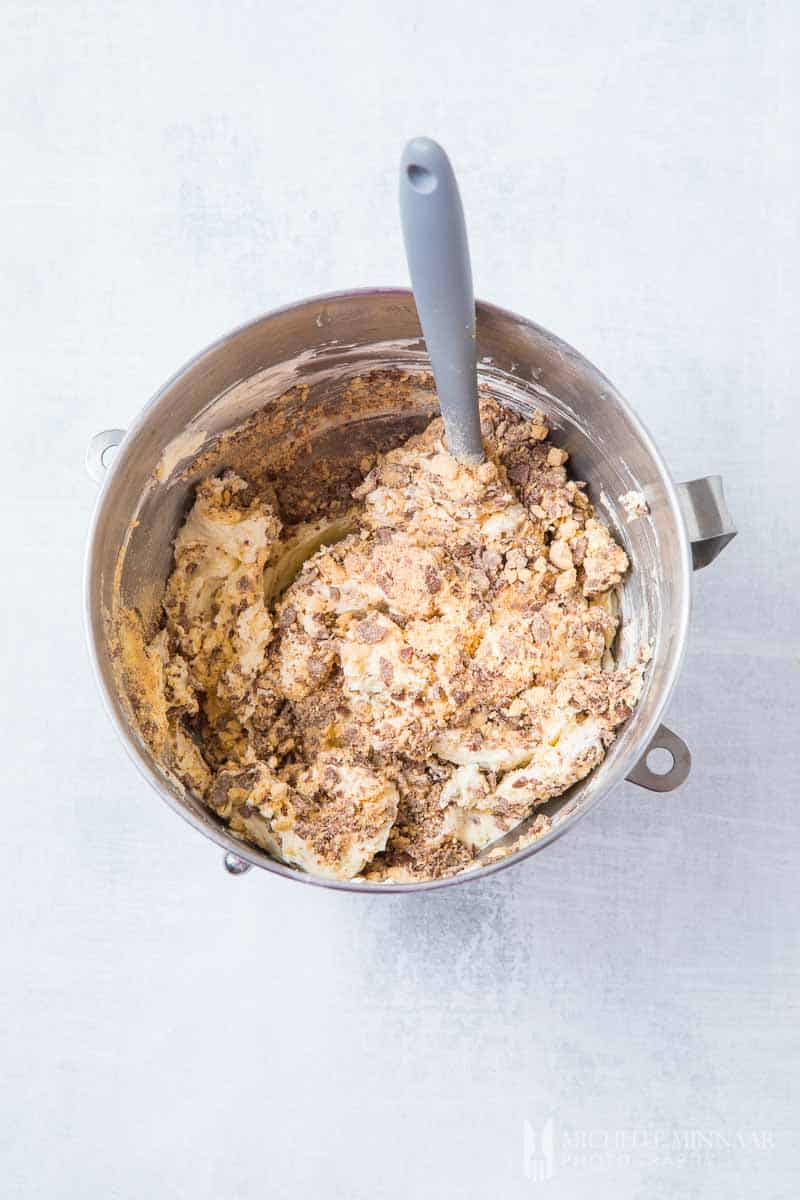 how to decorate a no-bake cheesecake
I love Maltesers. The best part is, you can use these little milk chocolate spheres to decorate your Maltesers cheesecake.
First of all, place as much of the candy (spheres) on top the cheesecake as you like. You can do it in a coordinated way or completely at random.
Some people go all the way and cover the entire top of the cheesecake with Maltesers. However, although the Malteser cheesecake will look stellar – and there is no doubt it will look anything other than a scrumptious Malteser cheesecake – it's just a bit difficult to cut. So, all in all, very beautiful but quite impractical.
I like the way I decorated my aero mint cheesecake recipe where I've:
placed the aero mint spheres around the edges of the cheesecake
crumbled up the spheres into small bits and drizzled them on top of the cheesecake
I find that sort of presentation more than adequate and very appealing. This would be my first option for decorating the Maltesers cheesecake.
On the other hand, you can also experiment with liquid milk chocolate. Swirl it in any shape you wish or just make straight stripes across. You can also use chocolate syrup or soft caramel for this step.
For a hint of freshness, you may also add berries. However, I believe that the sweeter toppings pair better.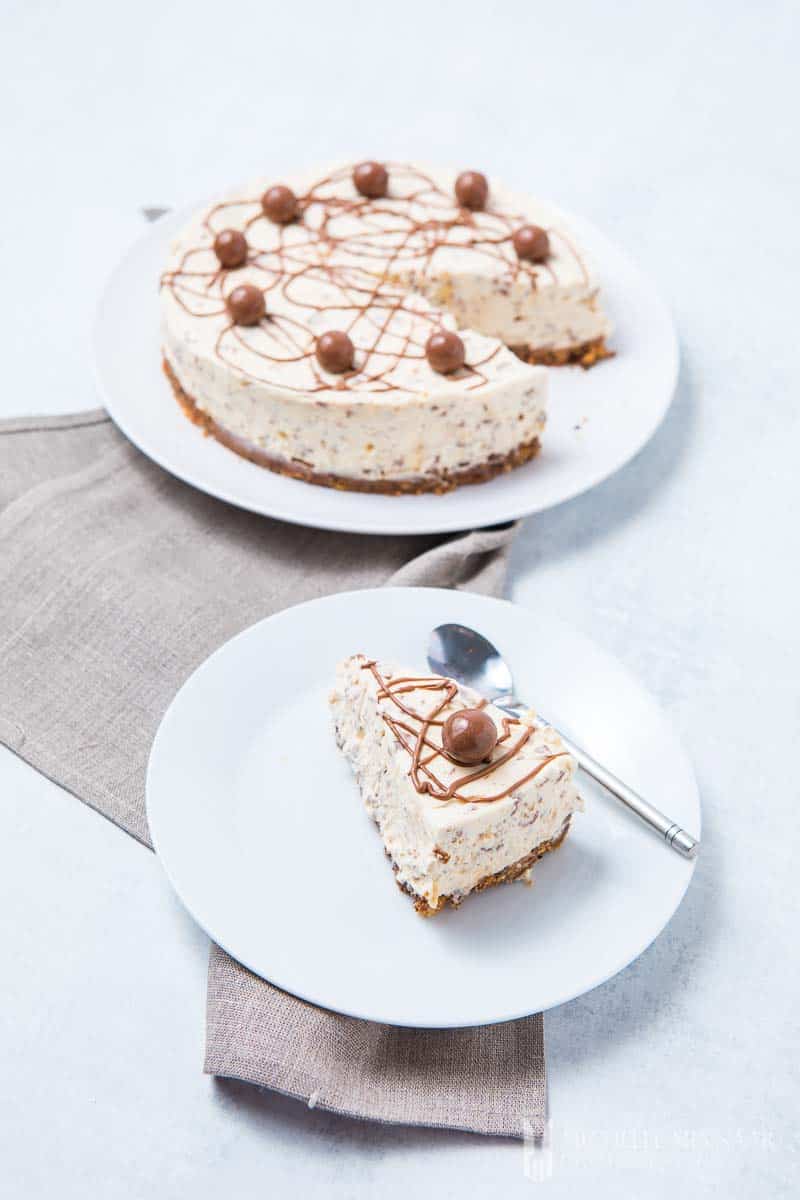 Maltesers cheesecake dessert cups
If you are looking to make a smaller batch in a more refined serving, then serve the Maltesers cheesecake in cups. Very similar to my peppermint crisp tart! My recommendation is to serve in the following method:
biscuit base (made with butter) on the bottom of the glass
add the cheesecake filling layer (as thick as you want)
place in the fridge and let it set. It will set within 30 min to 45 min because it's smaller
add whipped cream (optional)
halve a handful of Maltesers and place on top of the cream
add grated nuts (0ptional)
add the liquid milk chocolate on top or chocolate fudge sauce (optional)
So as you can see, there is nothing different to the actual preparation of the Maltesers cheesecake. The recipe was not adjusted. Just the serving is different.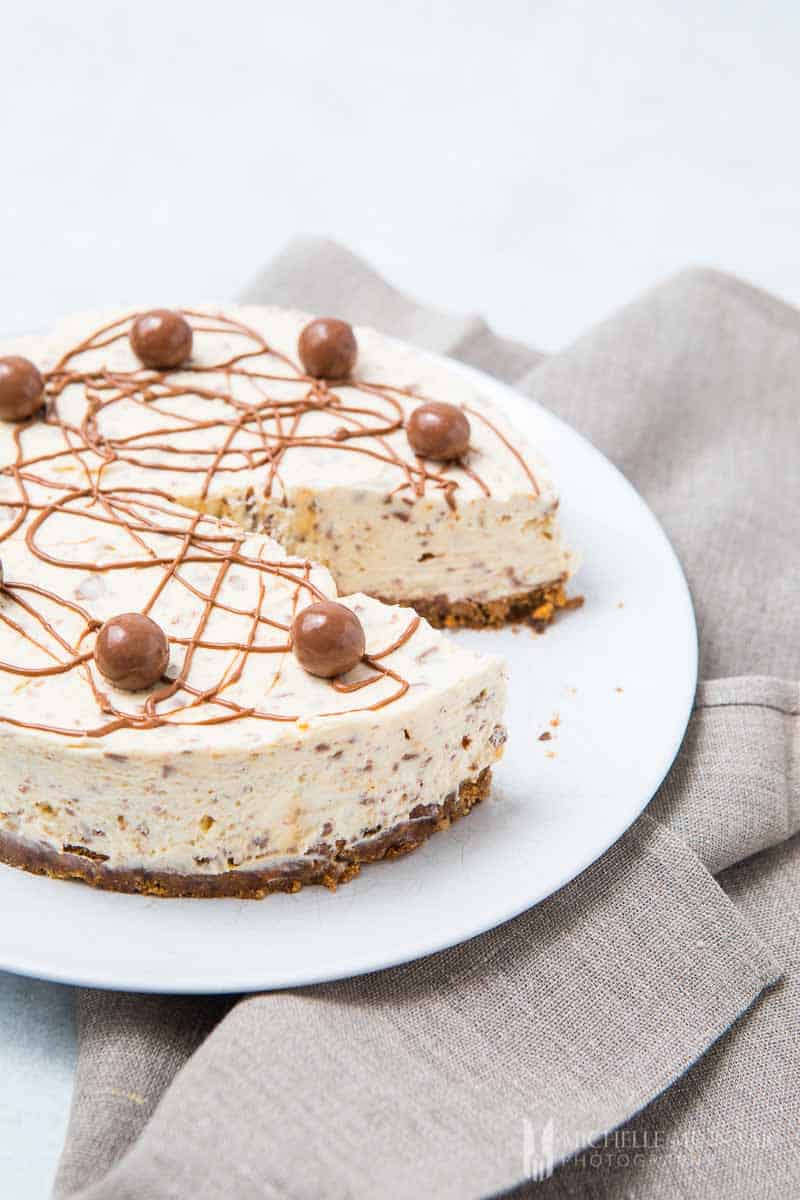 is cheesecake too sinful?
If you find at any point in time that this recipe might be too sinful for you, then I've got a great alternative. Although, admittedly the most sinful dessert I've ever made was the slow cooker Nutella fudge (don't dare to look at the calories in this dessert). Totally worth it!
Anyhow, if you wish to cut down on calories, on sugar, or you just fancy a lighter alternative, then consider these:
You can also inspire yourself with this fruity cobbler recipe or these cherry brownies.
You see? You don't have to deprive yourself of the good stuff. Besides, this Maltesers cheesecake is not sinful. Especially if you opt for a light cream cheese or low-fat cream cheese alternative instead!
Print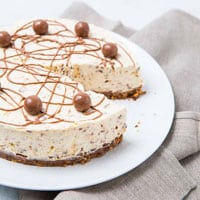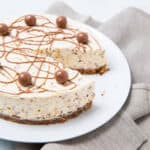 Maltesers Cheesecake
---
Description
Make this irresistible Maltesers cheesecake no-bake recipe. You can alter the cheesecake filling to your taste. Read about the suggestions for variations.
---
---
Instructions
Crush the biscuits in a sealable plastic bag with a rolling pin, until everything turns into crumbs.
Mix the butter with the crumbs.
Spoon the mixture into the base of a 23cm (9in) springform cake tin and level with the back of a spoon.
Combine the cheese, sugar and vanilla in a bowl and beat until well combined.
Pour the cream in another bowl and whisk until peaks form.
Gently fold the cream into the cheese mixture, then add the crushed Maltesers and incorporate.
Spoon the cheesecake filling on top of the biscuit base and spread evenly.
Place in the fridge for at least 6 hours, but preferably overnight, to set.
Once set, release the side of the cake tin and place on a serving plate.
Decorate with whole Maltesers. Melt milk chocolate and sprinkle on top. Enjoy!
Prep Time:

30 minutes

Cook Time:

5 minutes

Category:

Dessert

Method:

No Cook

Cuisine:

English
Keywords: Maltesers cheesecake recipe, no bake cheesecake recipe, vegetarian desserts, Maltesers dessert recipe
save the recipe to your pinterest board