When the sun comes out, I always take the opportunity to make a beautiful and healthy salad. During these times, I don't have cravings for anything else than something light. In combination with a fabulous Mediterranean salad dressing, a salad can be just as filling and nutritious as a hearty meal.
In my opinion, all salads are about the dressing. Once you learn how to make this Mediterranean salad dressing, you'd wish you made it years ago. Funnily enough, I've mastered this Mediterranean salad dressing myself during my travels to Sicily. It's always best to learn Mediterranean recipes from local chefs. Plus, they know exactly how to treat fresh ingredients to make the salad as best as it can be.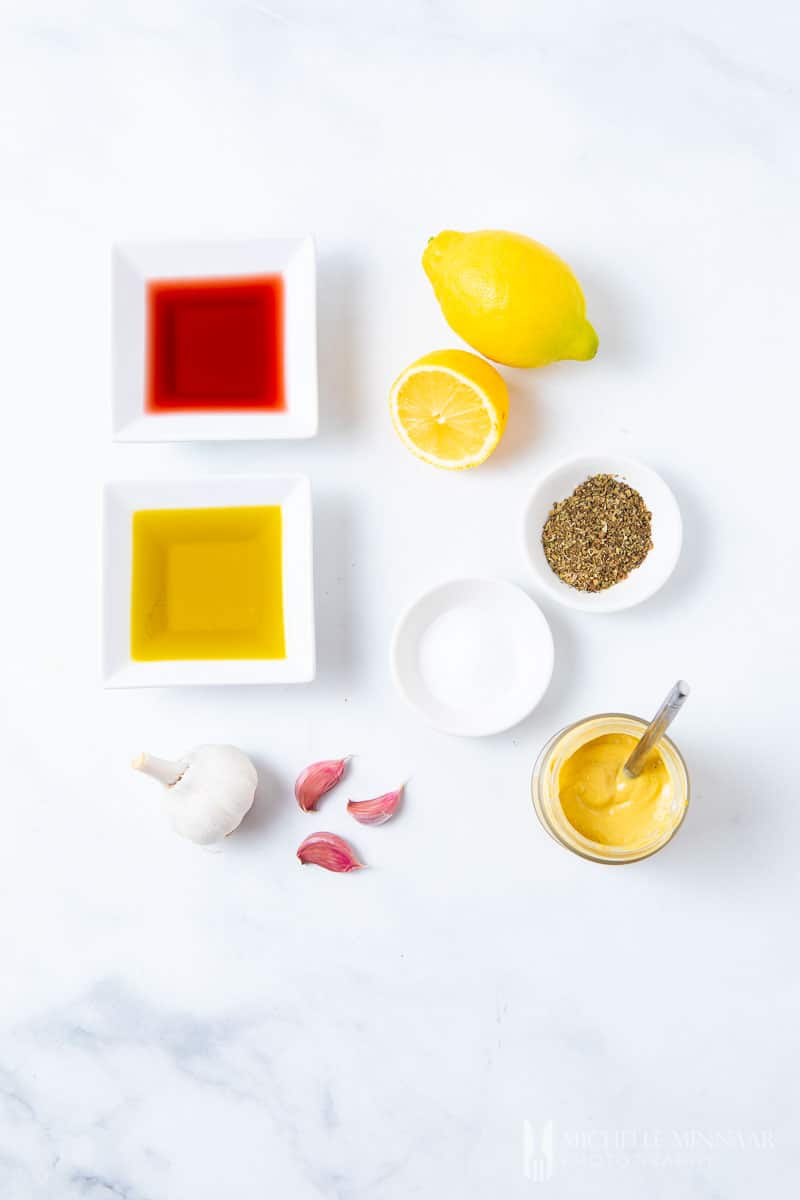 To learn more about my travels to Sicily, check out my post on 'Things to do in Cefalu'. There, you'll also discover my Sicilian octopus salad, with which I think this dressing goes very well. In the end, you can never go wrong by going on a Mediterranean diet. Just look how healthy and fit the people are!
ingredients you might need
Here are a few ingredients which you might want to consider if you feel like tweaking this salad dressing to your taste:
easy 5 minute Mediterranean salad dressing
One thing I really love about this Mediterranean salad dressing is that's it's super simple. Once you take out the condiments, ingredients and seasoning, it will only take you five minutes to whip up a rocking salad dressing.
All in all, this Mediterranean salad dressing is tangy and has a distinct taste, thanks to the mustard. You can substitute Dijon mustard with different types of mustard. If you like your salad dressing sharp and peppery, then use Djjon mustard. If you want to tone down the sharpness of the mustard, pair it with honey. Just take a look at my honey mustard salad dressing for inspiration.
Since this Mediterranean salad dressing is based on lemon juice and mustard, you can practically combine it will all sorts of salads. For example, it goes exceptionally well with other Mediterranean salads which contain the typical ingredients from the region:
No matter what type of salad you select, this dressing will beautifully bind all the ingredients together.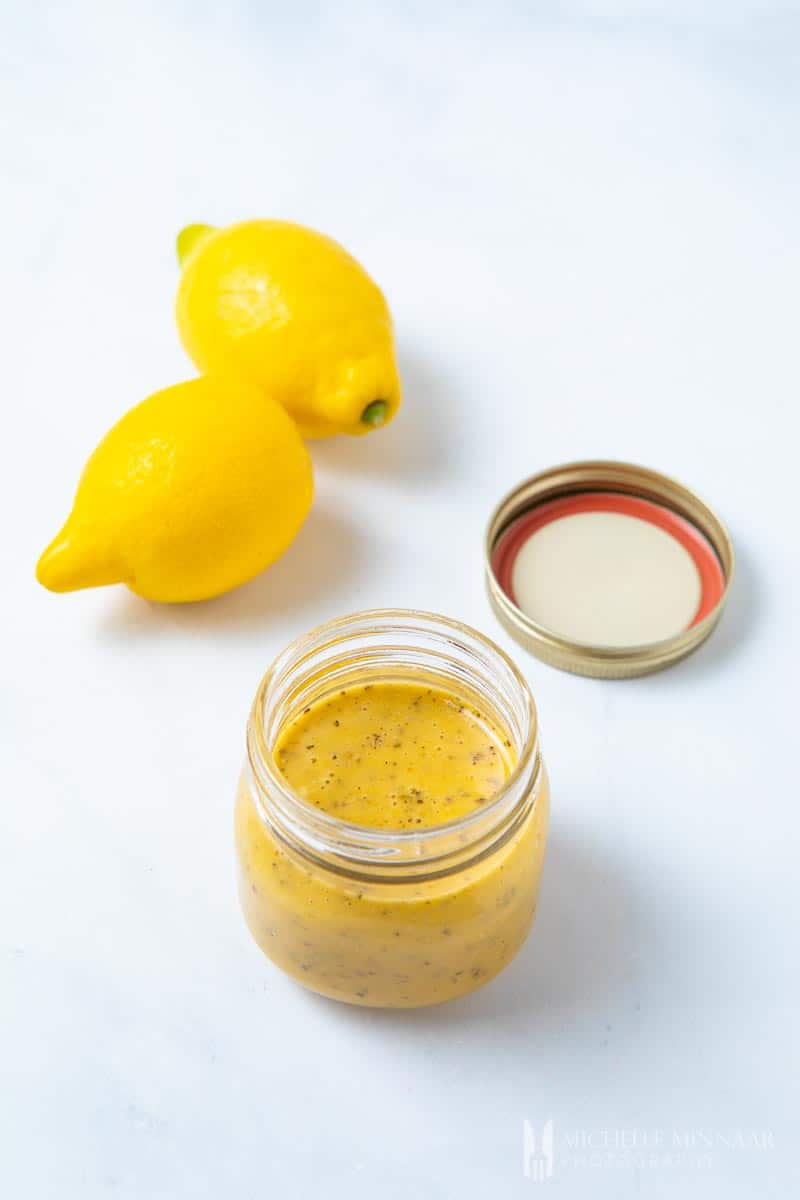 Mediterranean Greek salad dressing
This Mediterranean salad dressing is versatile. It pairs well with Italian, Greek and Turkish dishes – practically any dish from the Mediterranean region. I've combined it with a traditional Greek salad. It's super easy to assemble. Just use humble ingredients like the cucumber, tomatoes, red onion, olives (optional) and combine them with a creamy feta cheese.
You can also make the Greek salad vegan and omit the cheese. It won't compromise the flavour of the salad. Besides, the Mediterranean salad dressing will do its job by adding the extra flavour.
Otherwise, you can always make a sugar-free salad dressing or explore the health benefits of a tangy watercress salad dressing.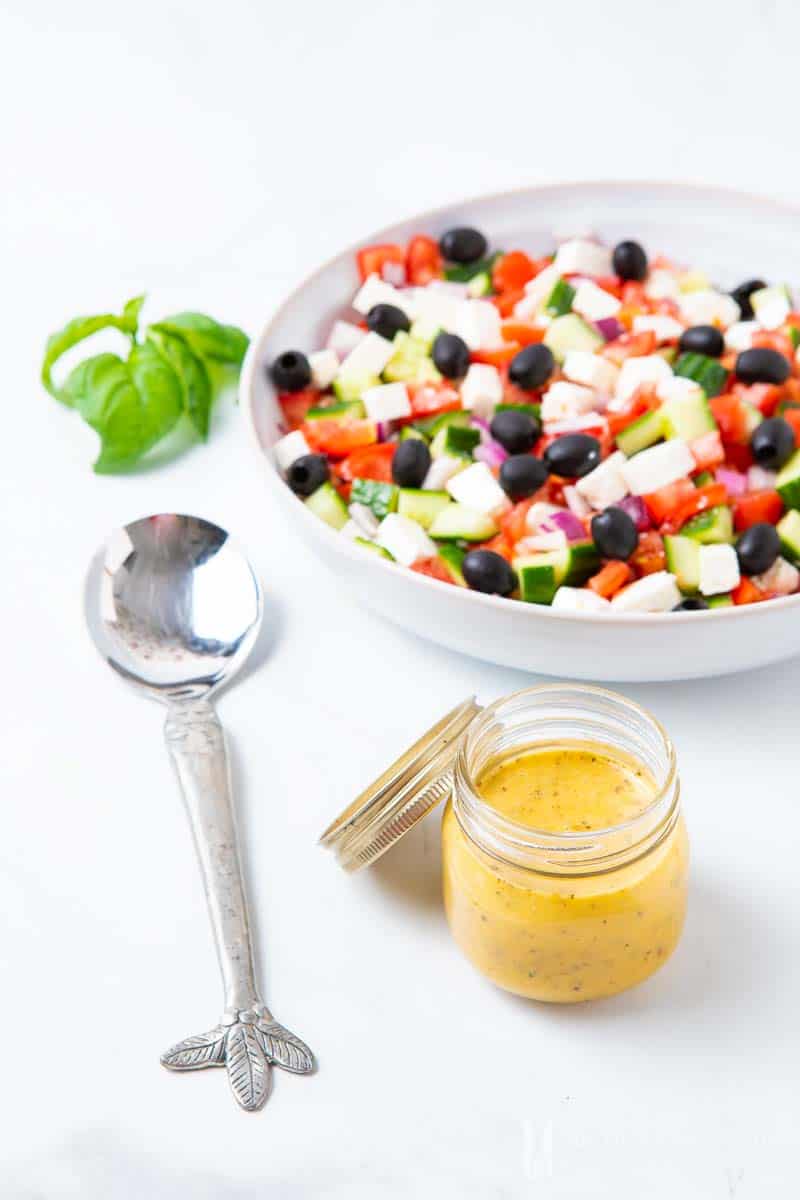 healthy Mediterranean salad dressing
There are ways how you can make this Mediterranean salad dressing healthier. The secret here is to use either dried or fresh herbs. Instead of using dried oregano or dried basil, try to source them in their fresh state. Otherwise, you can also consider:
how to control the acidity
The recipe calls for a dash of red wine vinegar. Of course, you can also use white wine vinegar, more lemon juice, or even lime juice. The beauty of this dressing here is that you are in control of the level of acidity. If you wish to have the Mediterranean dressing a bit sweeter, then hold back on the acidic elements.
Just add a hint of water to control the consistency of the dressing. Otherwise the salad dressing will be too thick and viscuous. Also, if you water the dressing down a bit, you'll have more dressing in the end and the same amount of calories!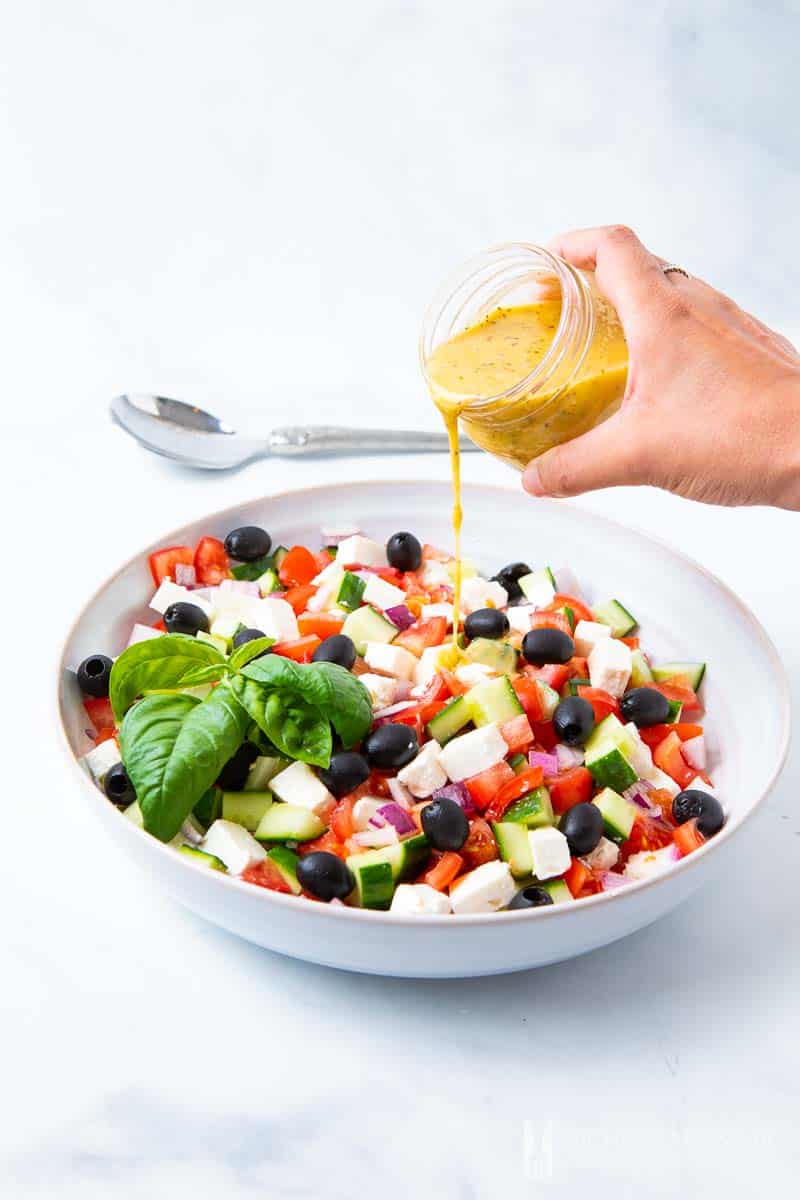 store bought Mediterranean salad dressing
ingredients of Mediterranean cuisine
Did you know that Mediterranean food originated from ancient Egypt? When one thinks of Mediterranean cuisine, the mind goes straight to pita, hummus, fresh herbs and olive oil.
So, what are the other very common ingredients used throughout this region?
Olive oil - this is because there are a lot of olive tress that are native to the Mediterranean
Wheat - pasta, bread, shortbread, you name it. People always consume wheat in some shape or form.
Grapes - just think how delicious wine from this region is; this is because of the wonderful grapes.
Meat and seafood - oh yes, anything that's possible to grill. Just think about grilled pork, chicken skewers, fish, squid, etc.
Fresh herbs and spices like basil, oregano, thyme, and rosemary.
Lemons, oranges and pomegranates.
These are the mostly distinguished foods and ingredients of the Mediterranean. Thus, it is no surprise that this salad dressing bears the name Mediterranean.
Print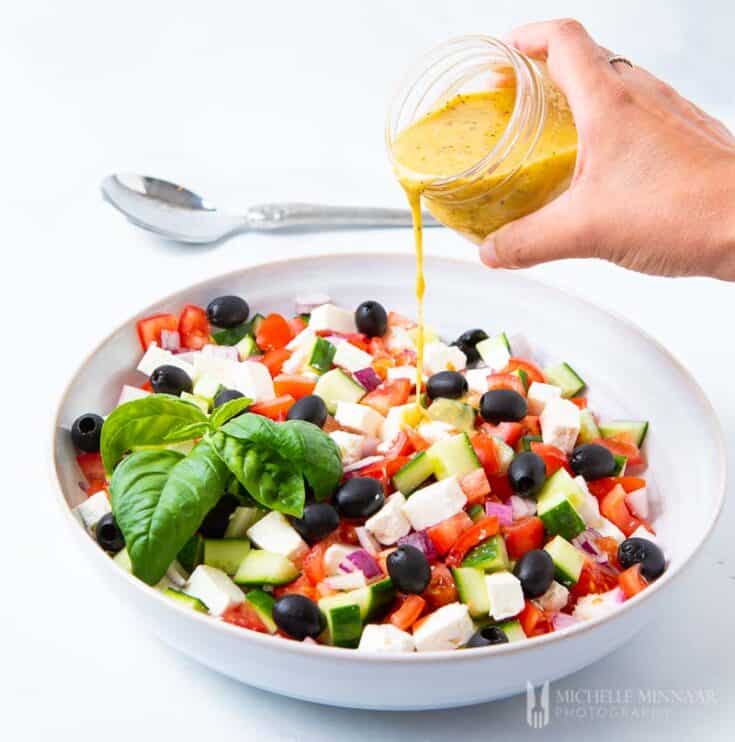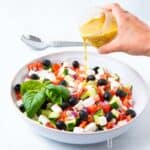 Mediterranean Salad Dressing
---
Description
This healthy Mediterranean salad dressing recipe takes under 10 minutes to prepare. Tweak it with your favourite ingredients, such as lemon, sumac or balsamic vinegar.
---
250

ml (1 cup) olive oil

90

ml (6 tbsp) red wine vinegar

3

garlic cloves, peeled and crushed

1.25

ml (¼ tsp) salt

2.5

ml (½ tsp) dried basil

5

ml (1 tsp) dried oregano

1

lemon, juiced

5

ml (1 tsp) Dijon mustard
---
Instructions
Place all the ingredients in a bowl and mix well. Transfer to a salad dressing bottle and use as needed.
Prep Time:

10 minutes

Cook Time:

0 minutes

Category:

Salad Dressing

Method:

No Cook

Cuisine:

Italian
Keywords: Mediterranean Salad Dressing, Greek Salad dressing, Italian recipe