This is the mother of all cheesecakes! For all you cheesecake lovers, this Millionaire's cheesecake will make you salivate the moment you lay eyes on it. This cheesecake recipe is definitely not for those watching their waistlines. It is quite sinful, but having said that, it's worth it!
As its name suggests, a Millionaire's cheesecake has an intense and rich shortbread base layer. The hardest thing about making this recipe is having to wait for it, as it needs to set in the fridge. In either case, this show-stopping, luscious cheesecake will be the hit of the season. Soon, everyone will ask you for the recipe.
Hence, indulge in its goodness and don't be afraid to take more than one slice. I guarantee you that before you reach for seconds, there won't be a piece of the Millionaire's cheesecake left.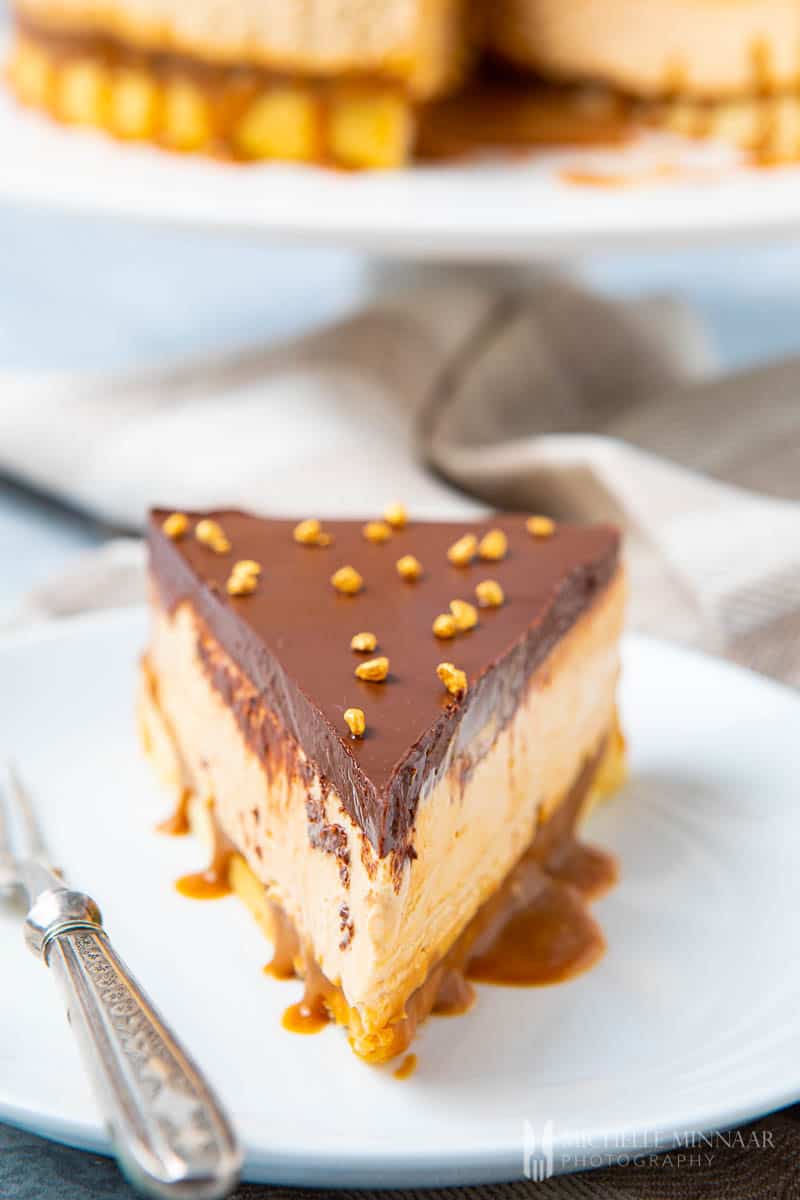 millionaire's cheesecake recipe
In short, the Millionaire's cheesecake derives its name from the fact that it contains a Millionaire's shortbread base. This base is indeed rich, and it's also known as a caramel shortcake. It's basically a base which includes tons of caramel. It's crunchy, chewy and soft at the same time. Now imagine that this is only the base of the cheesecake.
Next comes the creamy cheese filling, which is ultimately topped with an additional chocolate layer. Doesn't this Millionaire's cheesecake sound divine? Not only does it look fantastic, it also tastes the part. This is the type of cheesecake you'd expect to find in a posh cake shop. The funny thing is, those things cost a fortune. So, why not just purchase the ingredients and make this gourmet cheesecake yourself? It's really not as hard as it looks. Soon, you'll realise that the difficulty level is actually the same as making other cheesecakes.
For example, this Millionaire's cheesecake is no more difficult than these amazing cheesecake recipes below:
Tempted by these excellent cheesecake recipes? They are so easy to make.
things you'll need to make this recipe
Here's a list of thing you will definitely require when completing this delicious cheesecake recipe. For example, you will need:
Whether it be this Millionaire's cheesecake or another cake recipe, it always helps to have some guidance on decorating.

Millionaire's cheesecake no bake
I love no bake recipes like this Millionaire's cheesecake. In fact, I've made many no bake recipes before, like this incredible no bake biscuit cake. The best thing about no bake recipes is that you don't have to wait for the cheesecake to cool off. However, that being said, once you assemble all the layers, you have to give the cheesecake a bit of time to set.
Otherwise, if you decide to cut a slice of the cheesecake immediately, it will melt or fall apart. Basically, all the elements will be soft and the cheesecake will melt on your plate. Indeed, as you can imagine, this would not look very appetising. So, give the Millionaire's cheesecake some time to set. You want the textures to be perfect. The more you let it set in the fridge, the better.
Once you take it out of the fridge, give it another 5 minutes to take on a normal temperature. Trust me, the perfect slice is worth the wait.
In either case, you can also inspire yourself with these amazing normal cheesecake recipes. Take a look below: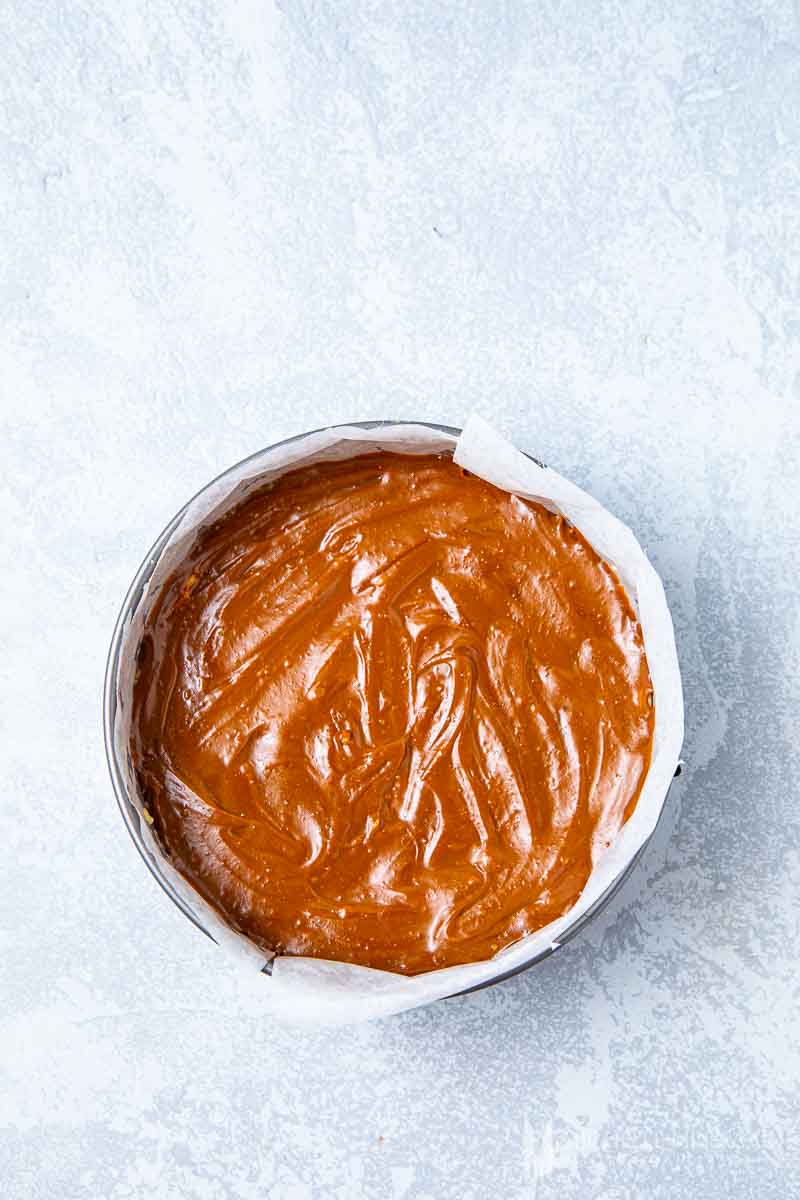 best toppings for Millionaire's cheesecake
If you want to make this a true Millionaire's cheesecake recipe and serve it in a glamorous fashion, then I recommend using edible gold sheets. Edible gold is often something one sees on top of a dessert in a fancy restaurant. Even though edible gold sheets can be quite expensive, they make the dessert look the part.
Although, if you want a less expensive alternative go for decorative gold sprinkles. Of course, you can also opt for not decorating the Millionaire's cheesecake. The layers and its overall look speak for themselves.
However, you can also consider these toppings:
cocoa powder – for a smooth and finished look
fresh fruit – blueberries, raspberries, strawberries or any other type of berries will freshen the cheesecake right up
white or dark chocolate shavings – works every time!
nuts – such as pecans, walnuts, macadamias, hazelnuts and more
caramel – feel free to drizzle the leftover caramel all over the cheesecake
marzipan – perhaps you can make a marzipan flower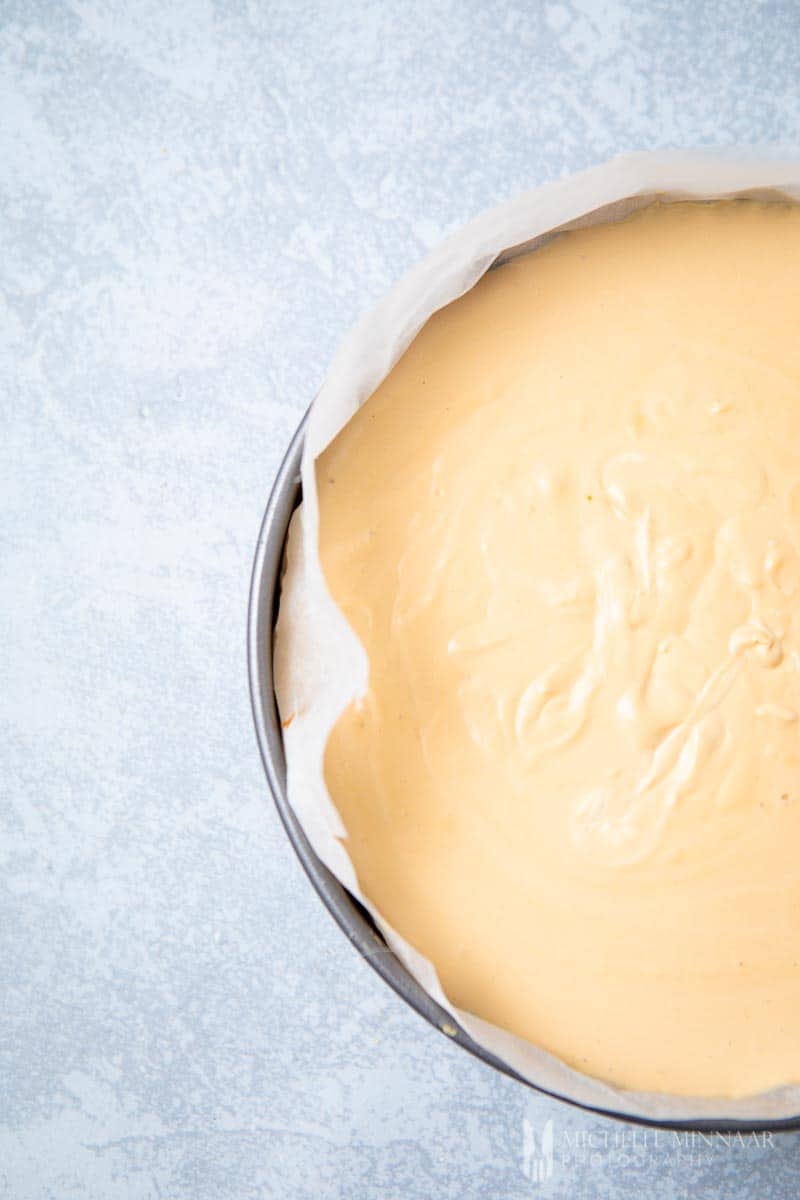 how to serve a rich cheesecake
Ordinarily, when you have such a rich cheesecake, you need something to cut through the intense flavours. As such, I recommend pairing this Millionaire's cheesecake with a glass of brandy or cognac. Otherwise, a small glass of dessert/ice wine works as well.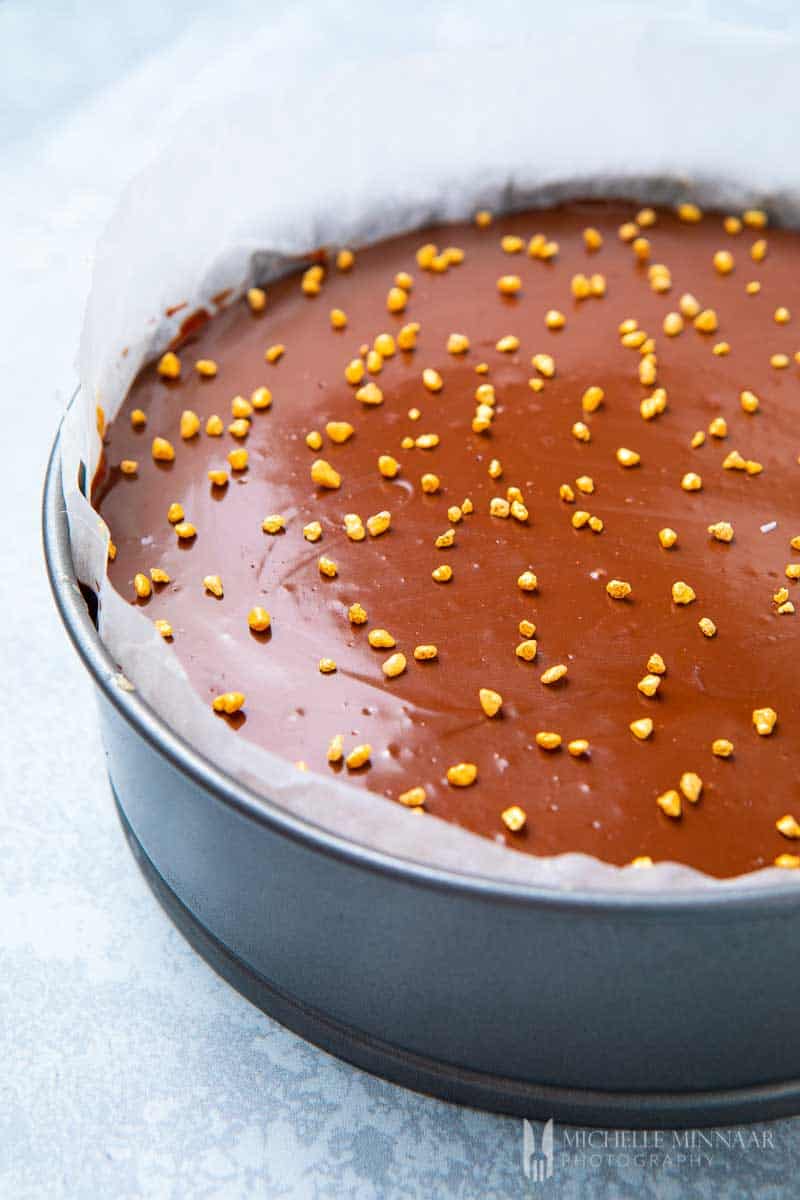 How would you serve your Millionaire's cheesecake? Would you share this recipe with your friends or keep it for yourself? Let me know in the comments section below.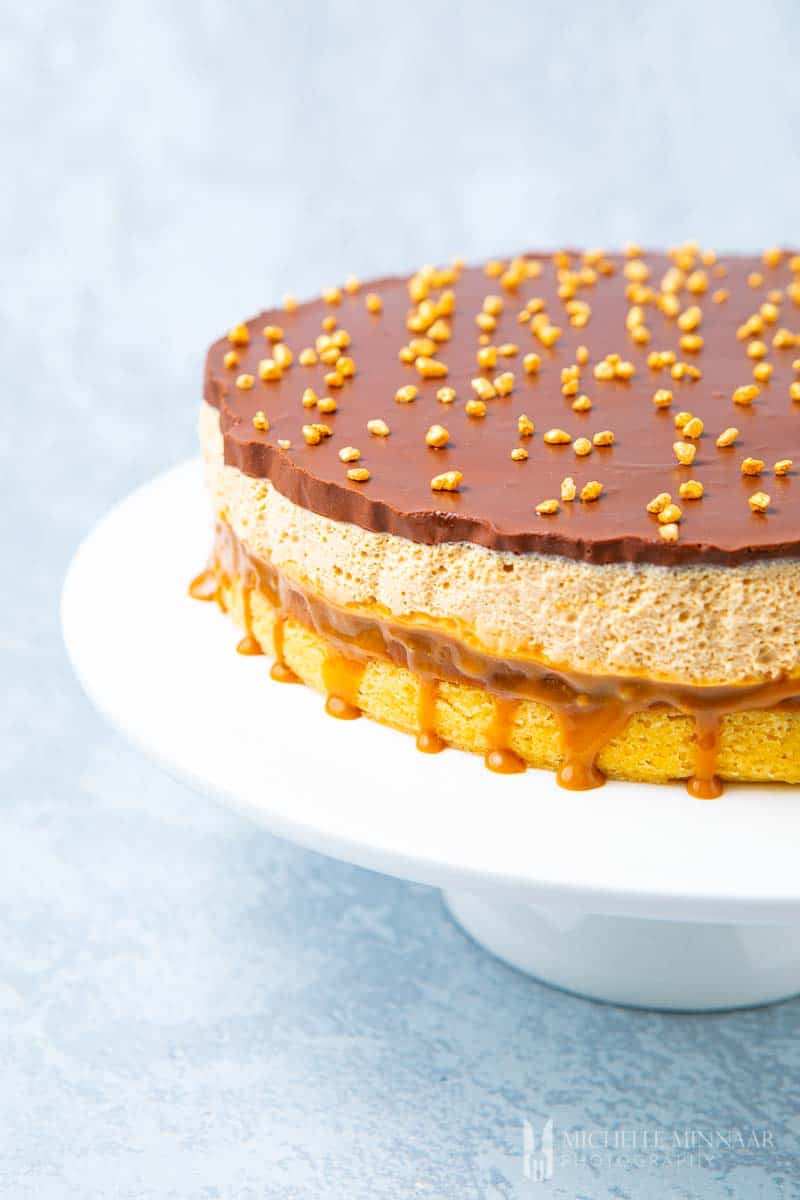 Print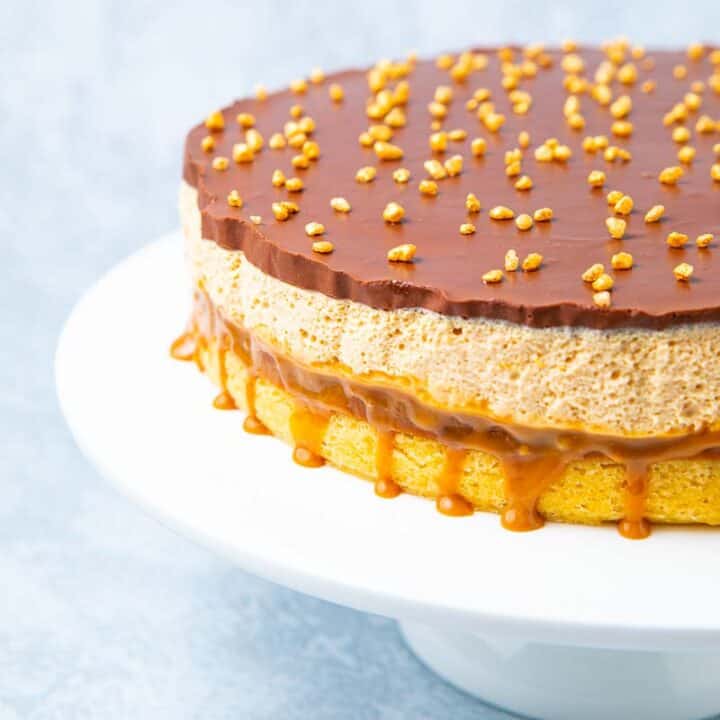 Millionaire's Cheesecake
---
Description
A Millionaire's cheesecake recipe is so intense and rich, it's no wonder they call it a Millionaire's cheesecake. Make it yourself and you'll truly understand.
---
Shortbread
150g

(

6oz

) flour

75g

(

3oz

) semolina

150g

(

6oz

) butter

75g

(

3oz

) caster sugar
Caramel
25g

(

1oz

) butter

50g

(

2oz

) muscovado sugar

397g

(

1

can) condensed milk caramel
Cheesecake Filling
300

ml (14fl oz) double cream

12g

(

½oz

) gelatine powder

450g

(

15oz

) cream cheese
Chocolate Topping
150

ml (6fl oz) double cream

150g

(

6oz

) dark chocolate
Golden sprinkles, for garnishing
---
Instructions
For the Shortbread: Grease a 23cm (9in) springform cake tin and line with baking paper.
Preheat the oven to 160°C/320°F/gas mark 3.
Place the flour, semolina and butter in a bowl and rub the contents with your fingers until the mixture forms breadcrumbs.
Add sugar and stir until a smooth dough is formed.
Spread the dough into the base of the cake tin and flatten to even it out.
Bake for 35 minutes or until pale golden brown. Set aside to cool in the tin.
For the Caramel: Melt the butter in a pan and add the sugar.
Slowly let the sugar dissolve into the butter while constantly stirring.
Turn up the heat, add the caramel and let it reach bubbling point. Continue boiling for 4 minutes, stirring constantly until the caramel becomes thicker and darker.
Remove from heat and set aside to cool.
Reserve 150g (6oz) of the caramel for the cheesecake filling.
When the shortbread and caramel have completely cooled down, spread the remaining caramel onto the shortbread base that is still in the tin.
For the Cheesecake Filling: Place 150ml (6fl oz) of the double cream into a pan along with the reserved caramel.
Stir over a low heat until the caramel has dissolved.
Using a large bowl, sprinkle gelatine onto 60ml (4 tbsp) of cold water and leave to stand for 5 to 10 minutes.
Gradually pour the caramel mixture to gelatine mixture while stirring vigorously to incorporate the ingredients.
Beat the remaining cream and cream cheese together and then systematically add the gelatinous caramel mixture to it while stirring.
Pour the contents over the caramel layer in the tin. Give it a quick wiggle to remove any air bubbles from the cheesecake then leave to set for at least 2 hours in the fridge.
For the Chocolate Topping: Heat the cream in the pan, then stir in the chocolate until smooth.
Let the chocolate sauce cool down a bit before pouring it evenly over the cheesecake filling layer.
Chill the cheesecake for at least 6 hours, but preferably overnight.
Sprinkle with golden flakes and serve on its own. Enjoy!
Notes
You can use a food processor to prepare the shortbread.
If your mixture splits while combining the caramel mixture and gelatine, add a splash of milk and whisk vigorously to combine everything.
Prep Time:

1 hour

Cook Time:

1 hour

Category:

Dessert

Method:

Chill

Cuisine:

English
Keywords: millionaires cheesecake, millionaires cheesecake recipe, British cheesecake recipe