Pakora sauce is one of the most popular Indian sauces. If you have heard of this Indian dip before, you'll know that there are a couple of versions for delicious pakora sauce recipes.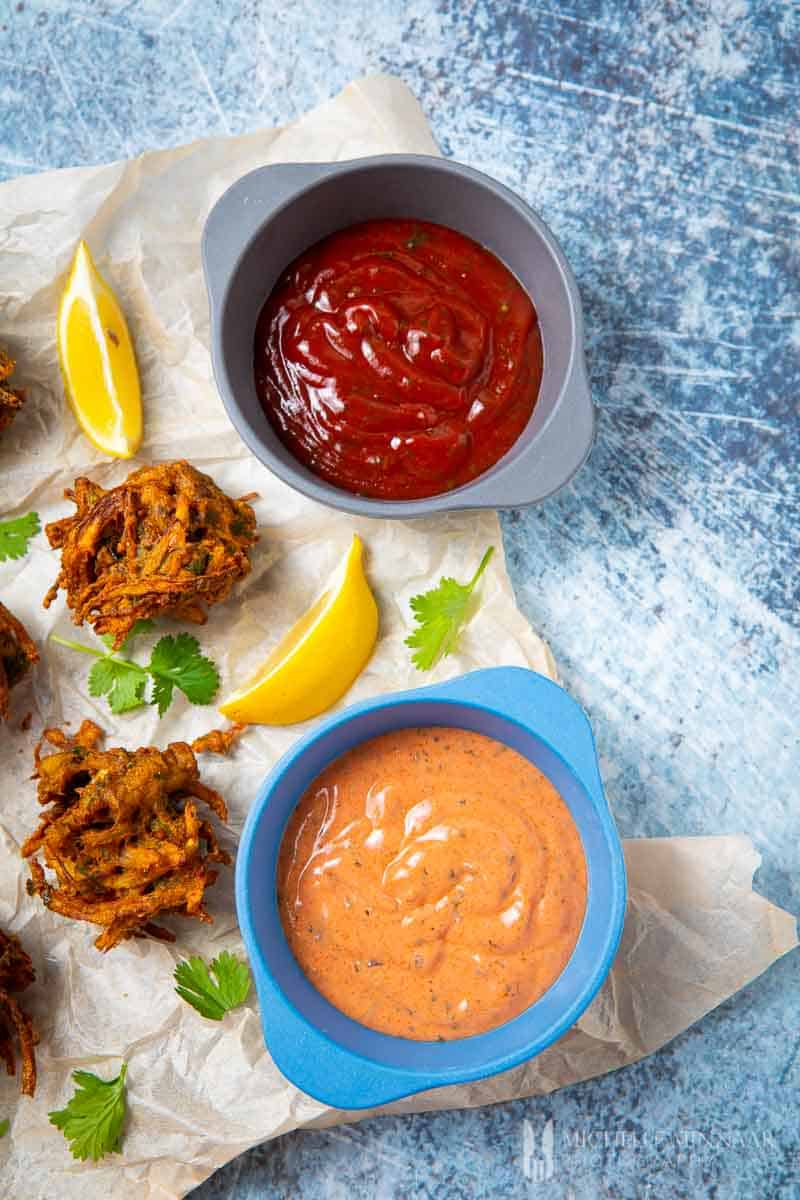 These include red pakora sauce, pink sauce (also known as Scottish pink pakora sauce) and green pakora sauce.
Although they all vary in colour, they all taste fabulous in their own way. I consider a pakora sauce the ultimate flavour enhancer.
Hence, it's no surprise that a pakora sauce recipe is often seen as a side dish to entrées, canapés and popular traditional Indian starters.
For instance, you can use it as a sauce to a paneer tikka recipe or pair it with an Indian roast leg of lamb. In addition, you can even dip your naan, roti or kerala paratha into it.
Still, the most popular version of sauce is the red pakora sauce! What's more, this red pakora sauce is often served with Indian rice crackers or crisps.
Just think of the last time you enjoyed poppadoms, which is a thin Indian crisp. I guarantee you, that they were served with this sauce. Enjoy learning the basics of Indian cuisine!
easy pakora sauce recipe
A pakora sauce recipe is one of the essential recipes of Indian cuisine. One would think that making it is complicated, however, that couldn't be further from the truth.
This is because the sauce is made up of only four ingredients, unlike making a korma curry paste or curry base sauce from scratch, which usually involves a lot more ingredients. 
In either case, the same principle applies when making your own red pakora sauce from scratch. Forget the stuff you purchase in the supermarket.
Who knows what types of additives, food colourants and food preservatives are in them? Always go for the fresh stuff, I say! Or at least, opt for the organic stuff when in doubt.
This pakora sauce calls for ketchup, yoghurt, mint sauce and chilli powder. As you can see, it really is an easy recipe. Just mix the right amounts, and boom - you've got a rocking Indian dip which you've made completely by yourself.
Since the sauce is really tasty, it disappears rather quickly. So, I recommend making a large batch. The pakora sauce stores quite well in the fridge, which is at least for a couple of days.
Hence, if you are expecting to serve this at your next occasion to your guests, make a larger batch. Everyone loves homemade Indian sauce!
what is pakora sauce called?
As mentioned above, there are different versions of pakora sauce as well as names. For example, Scottish pink pakora sauce or Glasgow pink pakora sauce.
However, no one knows when the sauce actually originated or how it got its name.
Apparently, the sauce was invented in the UK by the minorities which migrated from the Indian sub-continent. It is considered a British-Indian recipe because it's a mishmash of both cultures.
This Indian sauce is much like a korma curry, which also hasn't originated in India either. A korma curry was adapted to fit the taste buds of Britons, who didn't respond so well with extremely hot Indian curries. So, a creamy and sweeter curry was invented instead.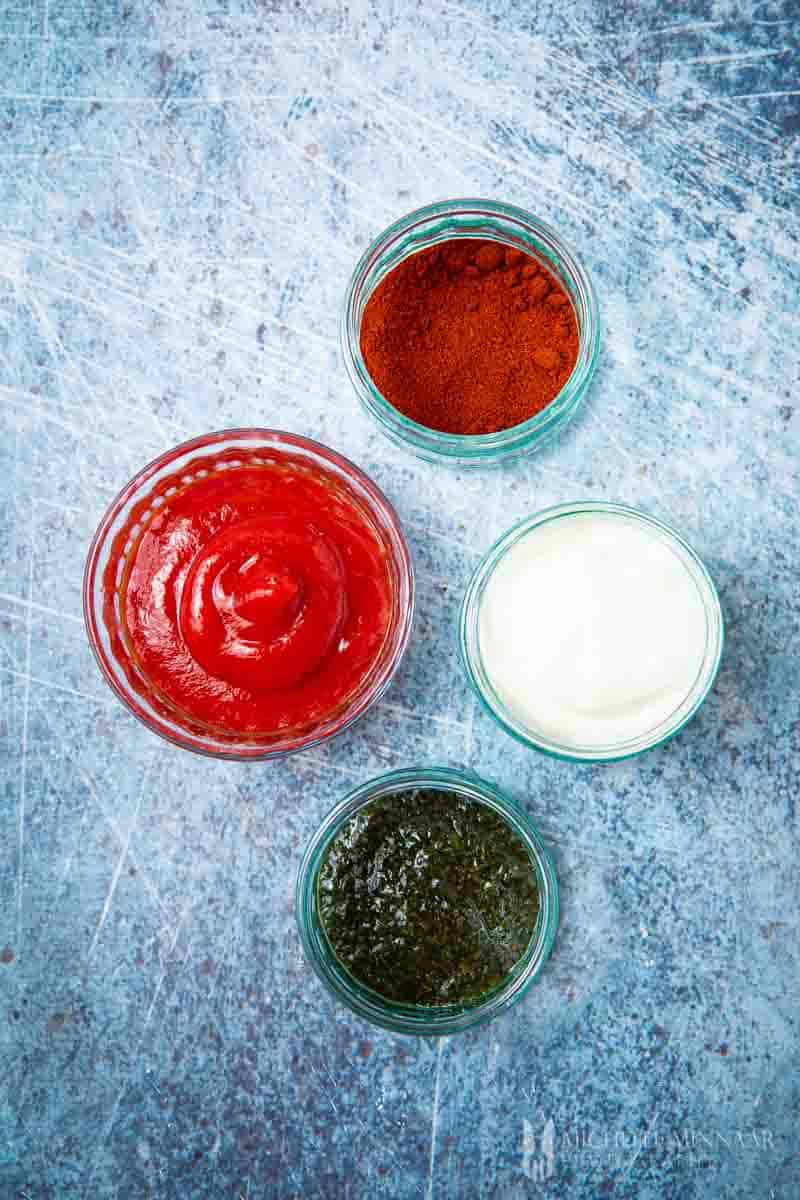 green pakora sauce
Sometimes, green pakora sauce is practically just a mint sauce or a mint chutney. Other times, it is also made with spinach, garlic and onions as it still will retain its vibrant green colour.
The intention of the sauce remains the same, and that is for it to act as a dip.
pakora sauce without mint
My version of the sauce involves a little bit of mint sauce. Still, the colour remains unchanged and continues to be a beautiful red.
If you, however, don't appreciate mint so much, you can omit it completely. Instead of mint, you can opt for adding a little bit of lime juice or lemon juice.
Watch out however for the consistency though. If you add a liquid element, you will have to reduce the amount of water you stir in later.
In some ways, depending on which type of pakora sauce you prepare, you'll end up with a Marie Rose sauce!
vegan pakora sauce
To make a pink sauce, oftentimes yogurt is added. The white yoghurt mixed with the ketchup makes a gorgeous pink dipping sauce.
However, if you are a vegan, then you can omit the yoghurt and add any of the following:

Indian dipping sauce recipes
Actually, think of a pakora sauce as a substitute for an Indian chutney. If you would like to have more variations of dipping sauces for Indian-themed dinner, take a look at these below:
With what would you serve a pakora sauce with? Let me know.
Print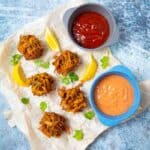 Pakora Sauce
---
Description
Try making this delicious and easy red pakora sauce recipe. It is one of the most popular sauces served with Indian side dishes like naans, rotis & keralas.
---
---
Instructions
Stir all the ingredients together and season to taste. Enjoy with bhajis and pakora!
Notes
A vegan and dairy free pakora sauce is also available if you want a sharper tang. Just mix the following ingredients together: 120ml (8 tbsp) tomato ketchup, 30ml (2 tbsp) white vinegar, 10ml (2 tsp) mint sauce, 15ml (1 tbsp) water, 2.5ml (½ tsp) chilli powder [optional]
Prep Time:

5 minutes

Cook Time:

0 minutes

Category:

Sauces

Method:

No Cook

Cuisine:

Indian
Keywords: pakora sauce, how to make pakora sauce, pakora chutney, pakora sauce recipe, pink pakora sauce