This paneer tikka is definitely the quintessential summer hit if you're looking for a vegetarian BBQ meal inspired with Indian flavours. In short, paneer tikka is a classic Indian BBQ dish made with Indian cheese, known as paneer, and tandoori spices.
Think of paneer tikka as cheese kebabs with Indian spices - another name for them can be paneer skewers. Paneer is a firm type of cheese, hence it's a perfect substitute for meat. Coated with your favourite spices and then grilled, you are up for a tasty Indian entrée. You can cook a paneer tikka recipe in many ways. First, you can pan-fry it, bake it, grill it, cook it in a microwave or in an electric tandoori oven. Feel free to make your own variation of this recipe by adding your favourite ingredients. Don't forget that you can use this paneer tikka recipe to create a paneer tikka masala.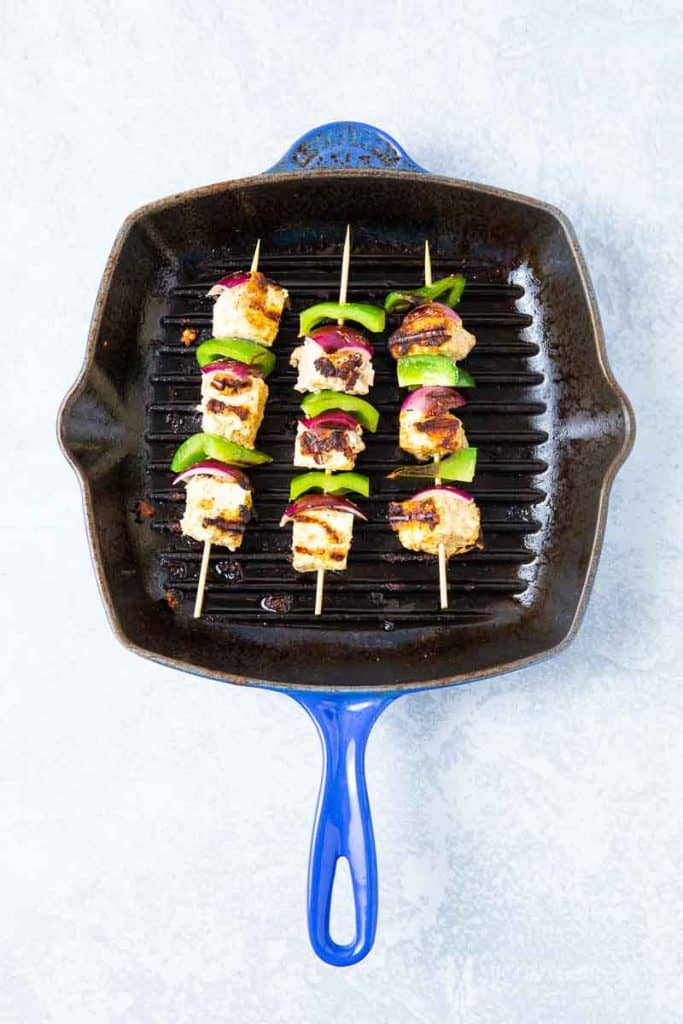 paneer tikka - a quick Indian recipe
This paneer tikka recipe is very quick, easy and above all - inexpensive. Paneer is an excellent way to save money while keeping oneself healthy. This fresh Indian cheese doesn't melt, nor will it fall apart once you expose it to heat. In terms of flavour, it tastes rich and creamy.
You might also know paneer by these names:
panir - Persian and Armenian origin
peynir - Turkish origin
pendir - Azerbaijani origin
A good substitute for paneer is silken tofu. Just make sure you get the firm kind.
Don't be afraid to purchase a large batch of paneer and take advantage of the volume discount because it stores very well. If you want to store paneer or prepped paneer tikka in the fridge, it can last you up to three days. However, if you've got a large batch of paneer sitting around which you haven't used for this paneer tikka recipe, don't panic. Simply cut up the paneer into small cubes and store for up to 6 months in the freezer.
If you feel like making another type of paneer recipe, check out these:
paneer korma - make the traditional creamy korma with paneer
malai paneer - if you fancy something more intense and spicy
Otherwise, don't be afraid to pan-fry it with some spices and toss it into a salad.
grilling essentials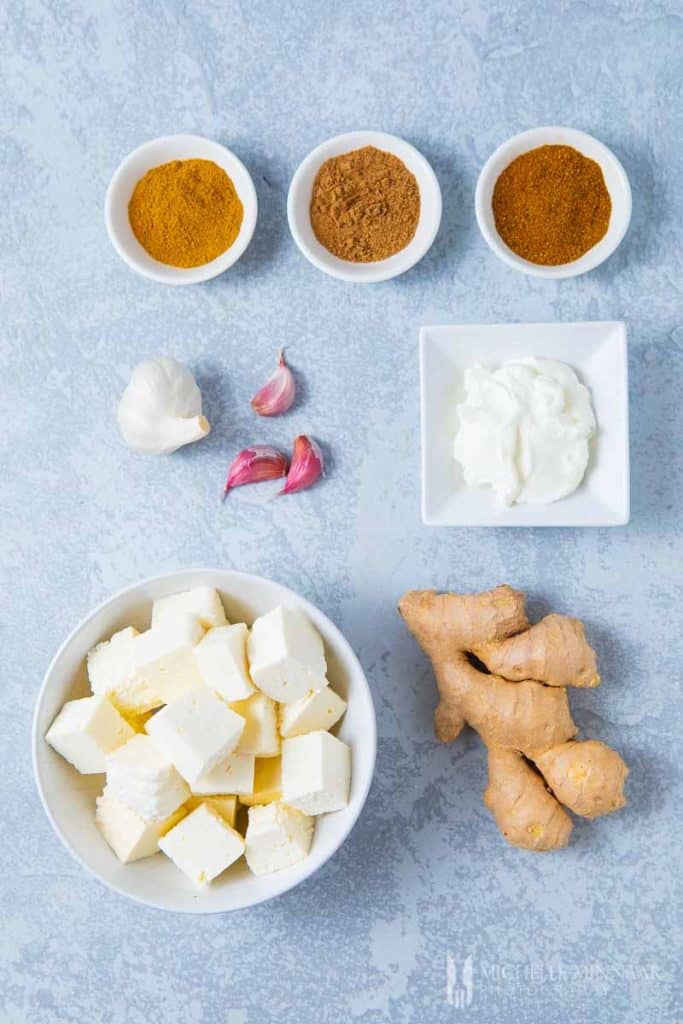 vegetarian tikka recipes
One of my favourite ingredients to put on the grill, no matter which cuisine the dish comes from, are tomatoes. In my opinion, there is something about charred tomatoes that just resonantes perfection. Therefore, my first order of business is to recommend them in this paneer tikka recipe.
Cut up slices of tomatoes and stick them on the skewer. Just make sure that your slices are thick enough. If then are too thin, they'll slide right off, which will make cleaning the grill afterwards a pain. Besides, you wouldn't want to lose an important ingredient. Otherwise, you can also consider cherry tomatoes.
You can also consider adding the following vegetables:
slices of aubergine, otherwise known as eggplants
mushrooms
slices of courgette, otherwise known as zucchini
pineapple, for a sweet flavour
slices of apple, for a tart flavour
Do you have any other favourite vegetables or fruit you would add to this paneer tikka?
paneer tikka in microwave
If you find yourself craving this particular recipe on a rainy day, you can also prepare it in the microwave. Especially, if your microwave has a grill function.
Of course, you will never be able to obtain that desirable char that gives paneer such appeal. Instead, consider oven baking the paneer tikka. In the last part of cooking, turn on the grill function and let the ingredients crisp up.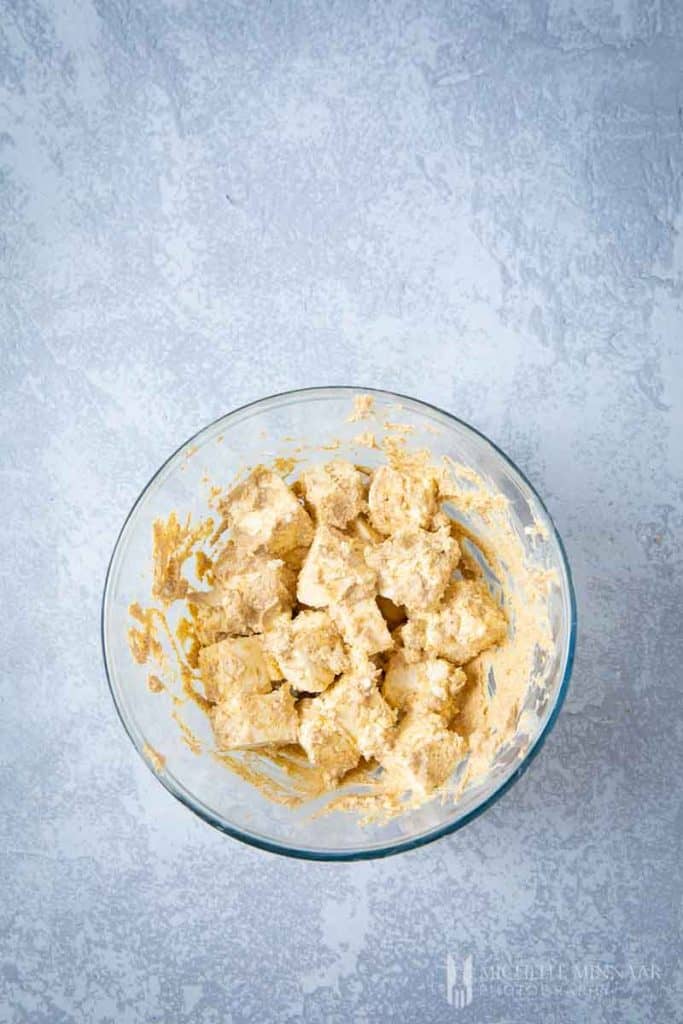 paneer tikka masala gravy
Making your own masala spice mix is the key to nailing this paneer tikka recipe. So, before you start your recipe, make sure you have the spices you need to complete this recipe.
Once you make your masala mix, you can store it for future recipes like these ones:
The best part of making your own masala mix is that you can control the level of heat. Consider these 15 chilli powder substitutes for this step.
Sanjeev Kapoor's paneer tikka
Having looked at other paneer tikka recipes, I really like the way Sanjeev Kapoor served his paneer tikka recipe. He opted to serve the paneer tikka with a cooling and refreshing mint chutney. This is an excellent idea if you decide to make your paneer tikka masala mix very hot and spicy. The mint chutney will counter the spice levels.
wooden or metal skewers?
This is the million dollar question. In my research, I've come to the conclusion that metal skewers are far more practical and economical. The meat comes out juicier as well.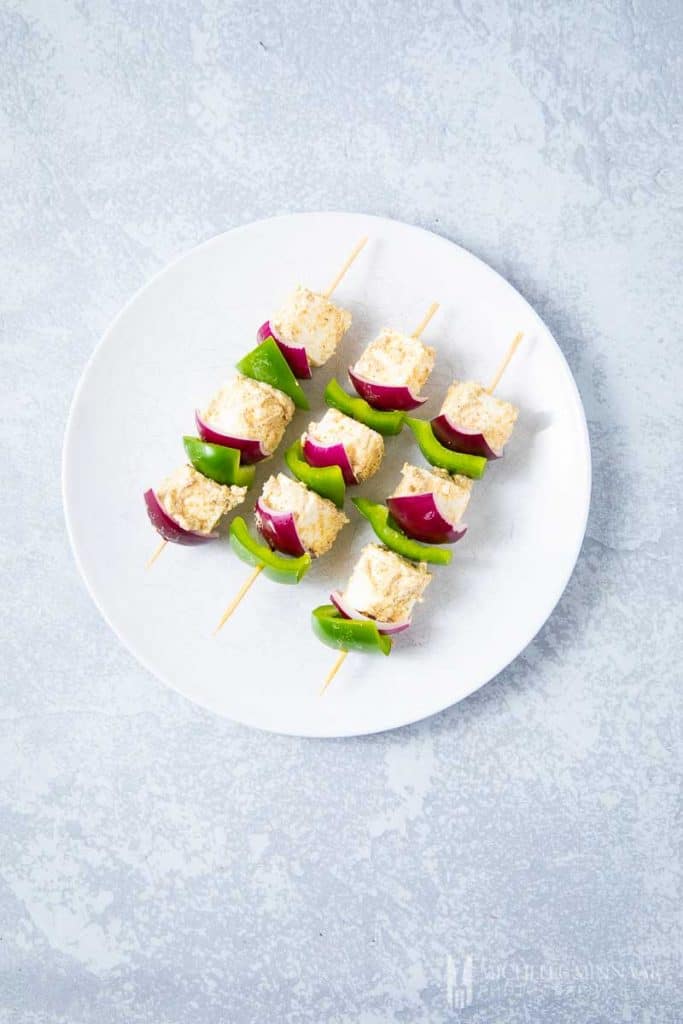 In short, if you use wooden skewers, you will have to keep a close eye on the paneer tikka. This is mainly because the wooden skewers can burn and release an unwanted smoky flavour into the rest of the ingredients. It's always a good idea to soak the wooden skewers in water first before threading ingredients on them.
In comparison to the metal skewers, the wooden ones are not reusable. Plus, most of the metal skewers are dishwasher save. Therefore, you can save a lot of time on cleaning. In conclusion, go for the metal skewers. They also do very well meaty recipes, as they won't absorb the moisture out of the meat.
Feel free to experiment with these recipes:
serving paneer
Don't forget to serve this paneer tikka with delicious and refreshing sides like these:
These sides not only work with a paneer tikka recipe. They are also suitable for other recipes on the grill.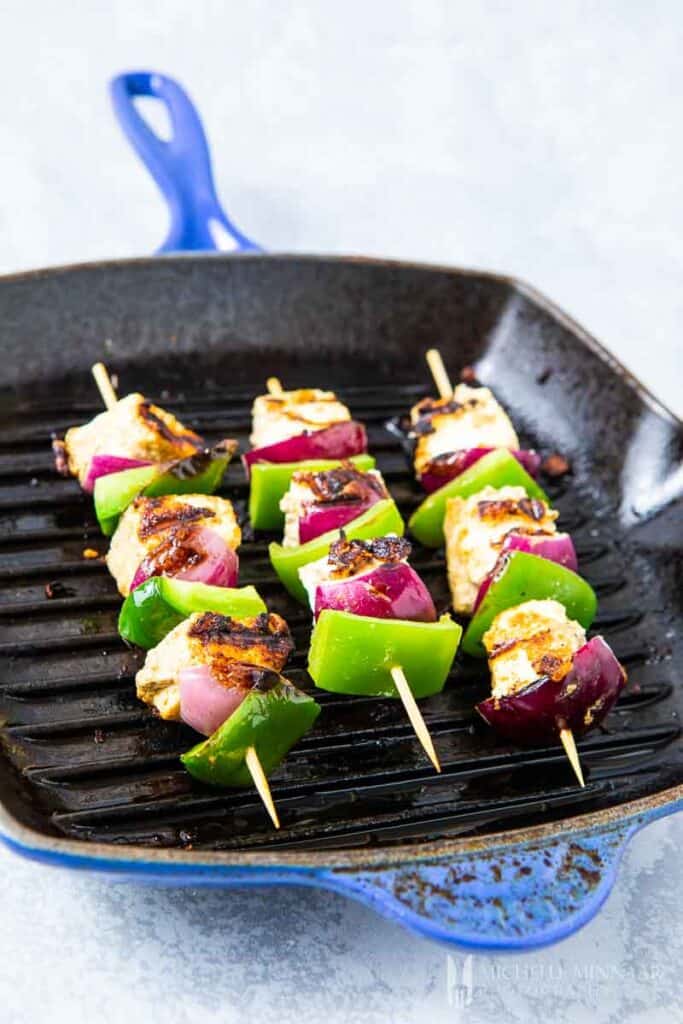 What is your favourite way to prepare and eat a paneer tikka recipe? Do let me know in the comments below!
Print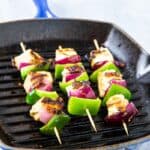 Paneer Tikka
---
15

ml

(1 tbsp) ginger root, peeled and minced

4

garlic cloves, peeled and minced

5

ml

(1 tsp) ground coriander

5

ml

(1 tsp) garam masala

5

ml

(1 tsp) ground cumin

5

ml

(1 tsp) salt

90

ml

(6 tbsp) Greek yogurt

450

g

(1lb) paneer, cut into 2.5cm (1in) cubes

1

green pepper, washed and cut into squares [optional]

2

red onions, peeled and cut into chunks [optional]
---
Instructions
Mix all the ingredients, except the paneer, in a large bowl until a marinade is formed.
Place the paneer cubes into the marinade and gently stir until all the surfaces are covered.
Leave to marinate at room temperature for 20 minutes or leave in the fridge overnight.
Thread the cheese on skewers. Feel free to add your favourite vegetables to add a splash of colour. In this case I used green pepper and red onion.
Continue to cook according to preference. See Notes.
Enjoy as is with a salad or Indian meal. Or, proceed to use in your favourite curries, e.g. Malai Paneer. Enjoy!
Notes
You have three options as to how you'd like to cook the paneer:
Bake in the oven for 15 minutes at 200°C/400°F/gas mark 6
Place it under a grill. Cooking time will depend on the level of heat you use.
Barbecue the paneer skewers.
Whatever you choose to do, the end result you're looking for a crispy and golden pieces of paneer.
Prep Time:

15 minutes

Cook Time:

15 minutes

Category:

Barbecue

Method:

Grill

Cuisine:

Indian
Keywords: paneer tikka, paneer recipe, vegetarian tikka marinade