Doesn't pear and rocket salad sound like the perfect summery salad? Well, it is!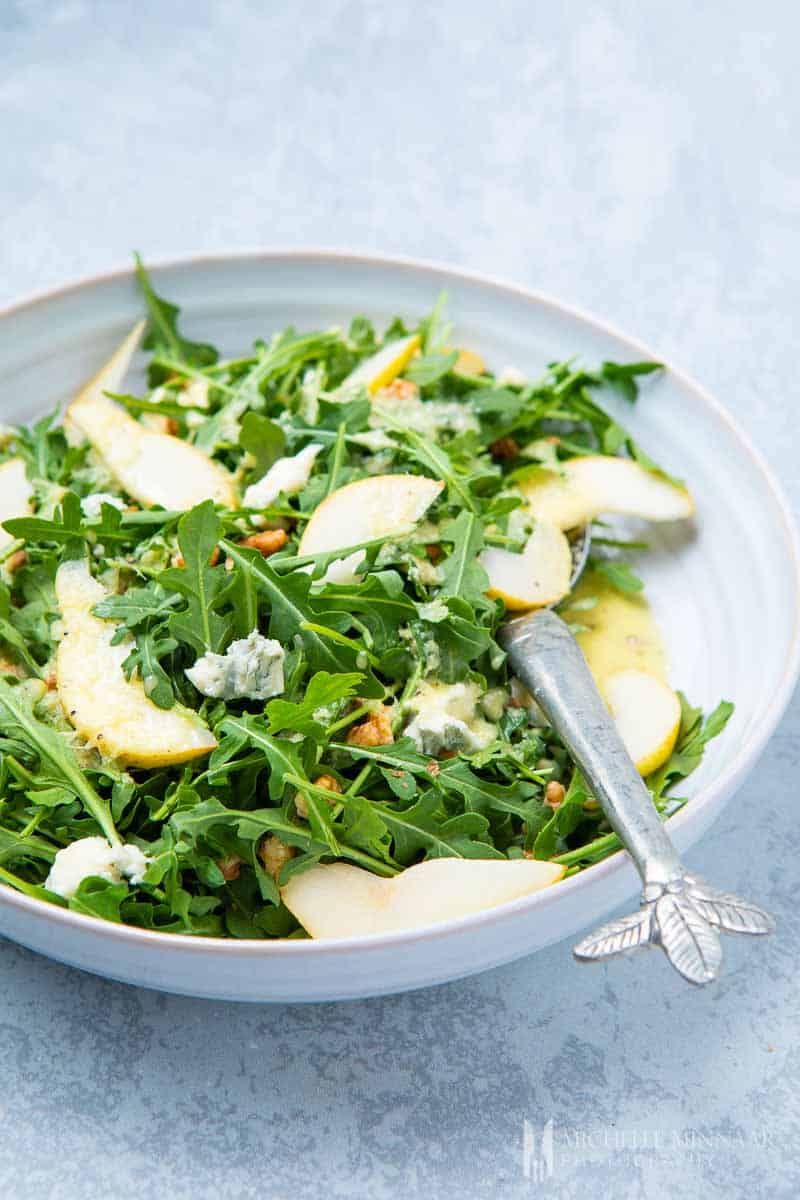 This pear and rocket salad sounds fancy but calls for humble and inexpensive ingredients. For this reason, it makes a wonderful salad to serve as a starter, main course or as a side dish to a fish or meaty recipe.
In either case, I recommend doubling up in portion size and serving this pear and rocket salad with a delicious mature white wine. If the flavour of blue cheese is too overwhelming for you, feel free to use other alternatives.
Feeling decadent? Add candied walnut for the sweet crunch. If you're more health conscious, standard walnuts will do and you won't miss out on much needed Omega-3 fatty acids.
Whatever tweak you come up for this salad, I'd love to hear about it, so please let me know in the comments section below! I personally love to serve this salad with Fig and Orange sauce.
pear and rocket salad with blue cheese
Rocket salad is in fact a very healthy leafy green. It's popular as a salad because of its sharp, peppery and tart flavour. Rocket salad also goes by these names:
garden rocket
rucola
roquette
eruca
rugula
colewort
rucoli
arugula
Do any of these ring a bell? Rocket salad has been found in the heart of many ancient cuisines. Amongst those was the ancient Roman cuisine, which means this salad was cultivated thousands of years ago!
In fact, in ancient Roman times, it was believed that rocket salad was an aphrodisiac. As a result of this belief, it was banned to be grown and consumed in churches and monasteries. Funny.
Today, rocket salad is used in making delicious Mediterranean salads and as toppings to pizzas. You can even make a tasty rocket salad pesto! In this case, this pear and rocket salad is a great way to use rocket.
Lastly, if you are not a big fan or rocket salad, you can always go for escarole or these escarole substitutes.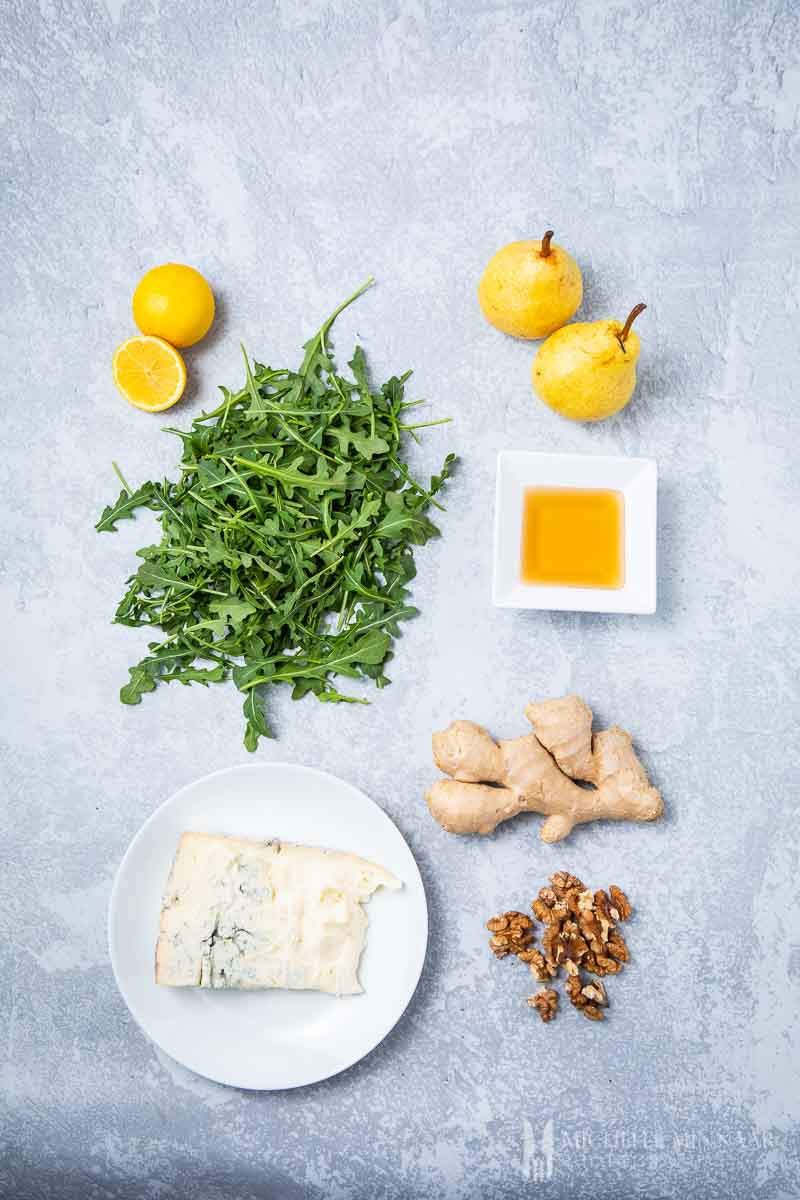 which pear should I use?
There are many pears you can use for this pear and rocket salad. In fact, I would say the pear is the hero ingredient of this recipe, so it's important to select the optimal variety.
I suggest selecting one that's sweet and soft, so that it will go well with the other textures and flavours in the salad.
If you haven't got a clue which pear to use, here is brief list on the types of pears you can find in the supermarket:
green Anjou - semi soft and semi sweet
red Anjou - also semi soft and semi sweet
barlett - very soft, juicy and sweet (great choice for this salad, it's comparable to the Williams pear)
red barlett - very sweet, very juicy
bosc - quite crisp, more acidic than sweet (not a good choice)
comice - sweet and juicy (good choice)
concorde - semi hard but very sweet (also a fantastic choice)
forelle - not sweet at all and semi hard
seckel - crisp, not sweet
starkrimson - sweet and soft
These are just a few of the pear varieties you can consider for making this pear and rocket salad. If you are not a fan of pear, not to worry. You can substitute it with figs.
Figs drizzled with honey are equally sweet and also pair well with blue cheese. Just take a look at my fig salad with parma ham and blue cheese recipe. Divine!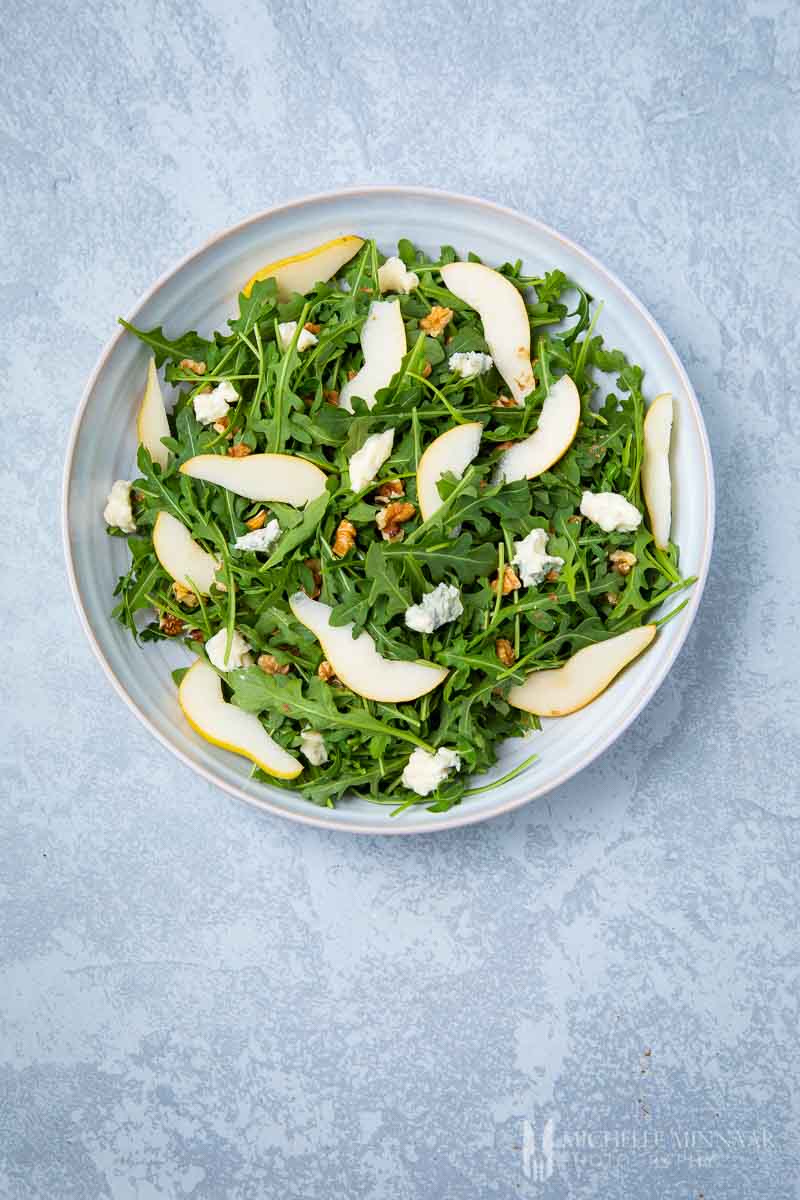 pear and rocket salad blue cheese
You can use all sorts of blue cheese.
The most popular types are:
You can use either one of three because they all work very well in this salad recipe. However, if you are not a fan of blue cheese, you can use a couple of cheese alternatives. Check out these suggestions below.
pear walnut feta salad
Instead of blue cheese, opt for feta. It works very well with rocket salad and it is widely available. It's semi-firm so the texture is perfect.
rocket parmesan salad
Otherwise, just use parmesan, although its texture is significantly drier and crumblier.
rocket pear and walnut salad recipe
Think of the last cheese platter you had in a restaurant. I bet you anything that you had walnuts served with the cheeseboard. Oftentimes, blue cheese is served with walnuts and some form of pear chutney.
The flavours of blue cheese and walnuts just work. Don't believe me? This pear pizza with stilton and walnuts will prove you wrong.
Walnuts are known as the brain nut. They are full of nutrients and healthy fats. Did you know by the way, that the largest producer of walnuts in 2017 was China?
In either case, walnuts are an excellent pairing to this pear and rocket salad. Not only will the nuts complement the creamy texture of the cheese, but the nutty flavour will cut through the sharp, peppery taste of the rocket salad.
For further inspiration, take a look at my amazing watercress salad recipe where I also used pear and walnuts. This salmon terrine will pair beautifully with this salad.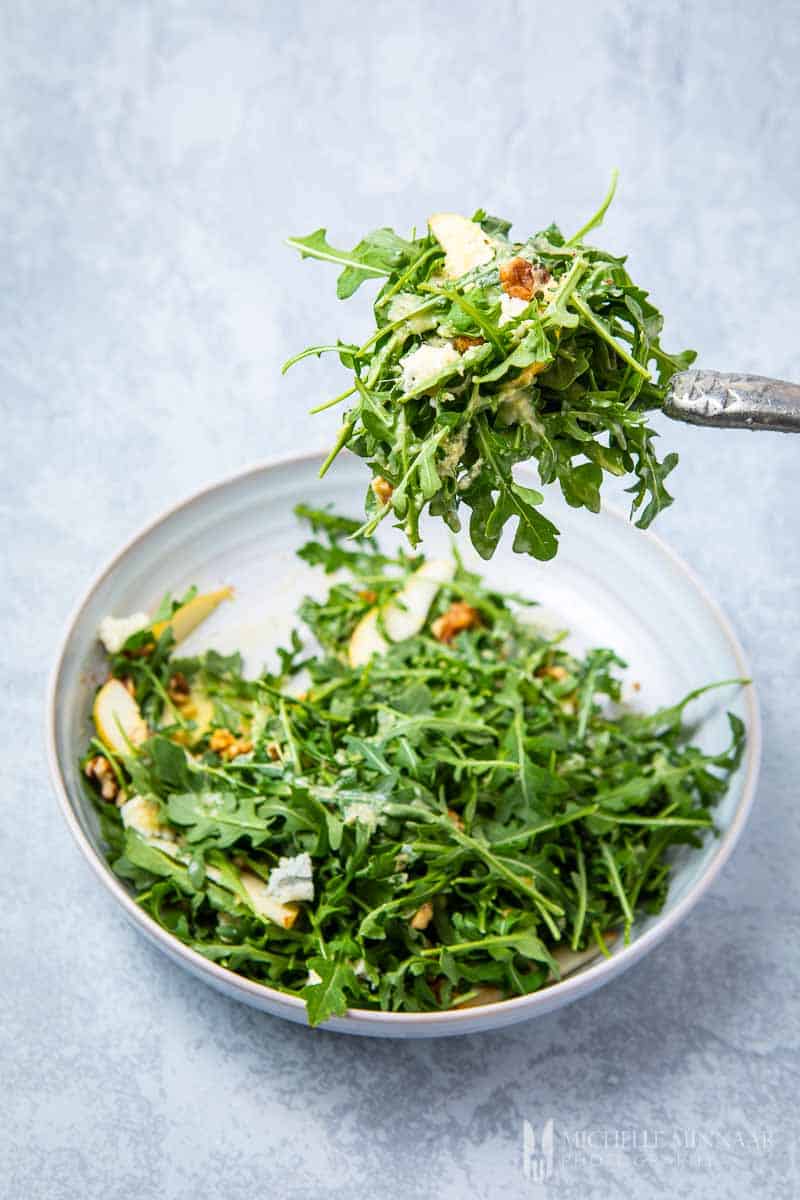 rocket and pear salad with candied walnuts
The only thing that would make this salad even better with walnuts is if you candy them first. The nutty sweetness will work wonders with the salty nature of the blue cheese and the sweet acidity of the pear.
If candying walnuts sounds too complicated for you, you can opt for a jar of preserved walnuts. Ordinarily, they are super sweet. So, cut them up and serve them generously with the pear and rocket salad.
Don't know what to do with a leftover jar of preserved walnuts? Have them with yogurt for breakfast or dessert in this amazing Greek recipe.
wine pairing
This pear and rocket salad loudly calls for a mature white wine. What I mean by mature is an older wine. You should aim for a wine that carries notes of petroleum, wax and ripe pineapple in it.
So, I highly suggest you look for a mature Reisling. Look for these years: 2015, 2014, 2013 or 2012. Of course, you can use older wines, but they must be of premium quality. Otherwise, they won't withstand the maturity in the bottle.
Print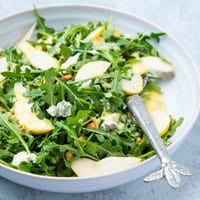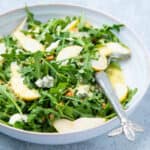 Pear and Rocket Salad
---
Description
This pear and rocket salad with blue cheese is easy to prepare. Use ripe pears pair with a mature white wine. Use candied walnuts or plain ones if you can.
---
120

g

(4 oz) rocket/arugula leaves, washed and dried

2

pears, washed and thinly sliced

120

g

(4 oz) blue cheese, crumbled

16

walnut halves, crumbled

2.5

cm (1in) fresh ginger, peeled

60

ml

(4 tbsp) olive oil

1

lemon, juiced

20

ml

(4 tsp) honey
salt and pepper, to taste
---
Instructions
Toss the rocket, pear, blue cheese and walnuts together in a large salad bowl.
Place the ginger, olive oil, lemon juice, honey, salt and pepper in a small blender and process until the sauce is smooth.
Drizzle the dressing over the salad and serve immediately. Enjoy!
Notes
Any type of blue cheese works in this salad, so have fun trying out some artisan cheeses!
The following types of blue cheese will work well in this recipe: stilton, roquefort, cambozola, cashel blue, danish blue cheese, dolcelatte and gorgonzola.
Prep Time:

15 minutes

Cook Time:

0 minutes

Category:

Salad

Method:

No Cook

Cuisine:

French
Keywords: pear and rocket salad, pear walnut feta salad recipe, rocket and pear salad with candied walnuts, vegetarian salad
save the recipe to your pinterest board