This pumpkin and feta salad is an easy and inexpensive salad to master. In fact, after roasting the pumpkin, you can put this salad recipe together in mere minutes. Serve the pumpkin and feta salad as a starter, or as a side dish to a meaty recipe. Otherwise, double up in portion size by including an extra pumpkin and serve the salad as a main course. The best part is that you can use any type of salad dressing you want as the ingredients that make up this salad are very versatile. If you don't feel like using a salad dressing, then just add a touch of olive oil.
Keep reading to find out more how you can make best of the ingredients in this pumpkin and feta salad. I am sure at the end of it you will also have a couple of tricks of your own in mind.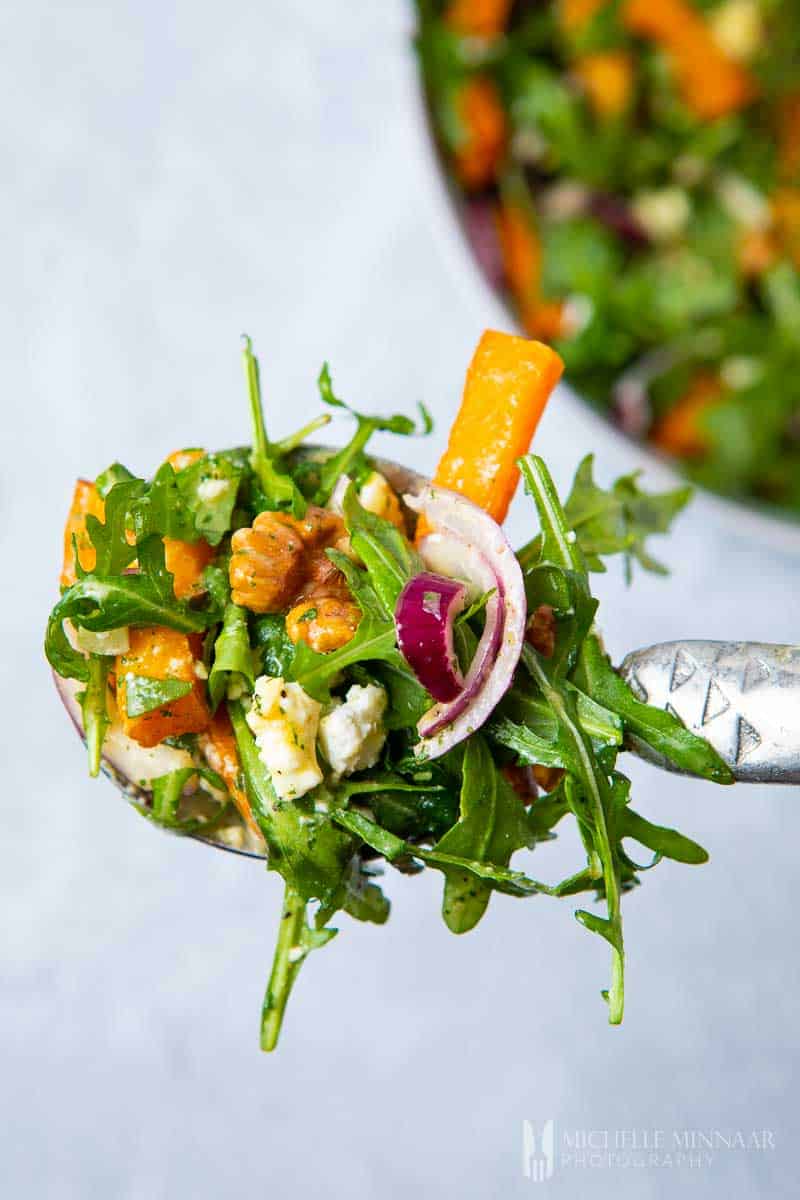 pumpkin and feta salad
Pumpkin and feta are one of my favourite combinations, especially in a healthy and summery salad. In fact, this pumpkin and feta salad is one of my recent salads that work with my new keto diet plan. The feta gives you just the right amount of protein and the pumpkin is nutritious and filling. So, this pumpkin and feta salad is an excellent choice for vegetarian diets, low-carb diets and keto diets. If you omit the feta cheese or use a vegan alternative, you can even turn it into a vegan salad. Or, instead of the feta, add sardines and make it a pescatarian sardine salad.
which type of pumpkin is the best for a salad?
First, let's address one of the main ingredients which is the pumpkin, a type of squash plant. The term "pumpkin" comes from the Greek word called "pepon", which means "large melon". Today, pumpkin is also referred to as "squash" or "winter squash". Generally speaking, pumpkins take the appearance of round, orange plants with edible seeds inside. Apparently, pumpkins have been around since 5,000 B.C. As such, there are multiple different types of pumpkins and squashes.
In fact, there are some types of giant pumpkins that weigh over a ton, which is incredible. Every year in the U.S.A, there's a competition on who grew the heaviest pumpkin. Have you seen the size of these pumpkins?!?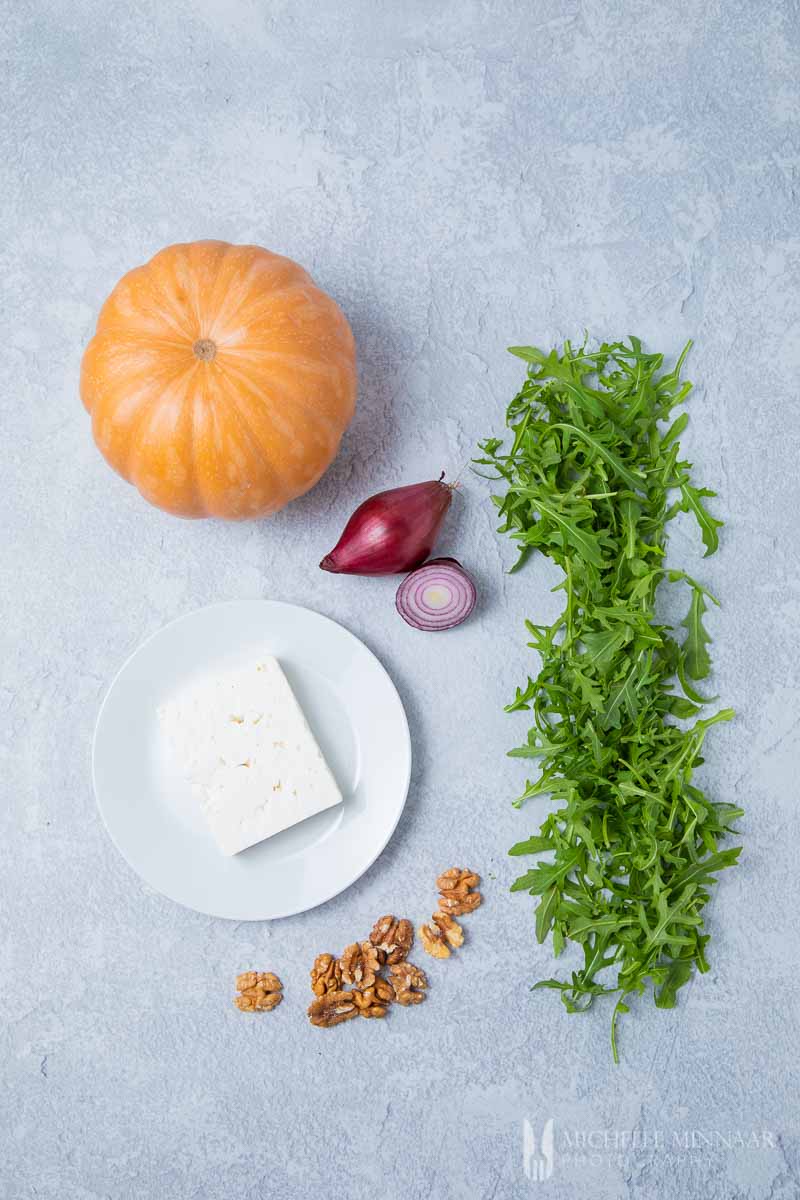 types of pumpkins & squashes
In either case, just take a look at this list of pumpkins and squashes which you can consider for this pumpkin and feta salad:
butternut squash - you can use the remaining flesh in my delicious butternut dauphinoise
kabocha squash - use this Japanese squash in my baked kabocha soup
spaghetti squash - where you can shred the flesh it looks like spaghetti
acorn squash - perfect for roasting as well as stuffing
sweet dumpling squash - excellent for soups and roasting
sugar pumpkin - the most traditional pumpkin and top choice for this pumpkin and feta salad
red kuri squash - a Japanese squash with a chestnut flavour, excellent for roasting
delicate squash - very creamy flesh, good for stuffing or baking. Would you like to try my pumpkin muffins recipe?
carnival squash - has a very sweet flesh, it's excellent in soups like this one
buttercup squash - similar to kabocha, excellent for roasting
blue hubbard squash - excellent for baking. How about these pumpkin cupcakes? 
banana squash - excellent in soups or curries because of their meaty flesh
hokaido pumpkin - Japanese pumpkin full of flavour, excellent for soups
There are so many more types and varieties of pumpkins and squash. Whichever one you select, I am sure your pumpkin and feta salad will be wonderful!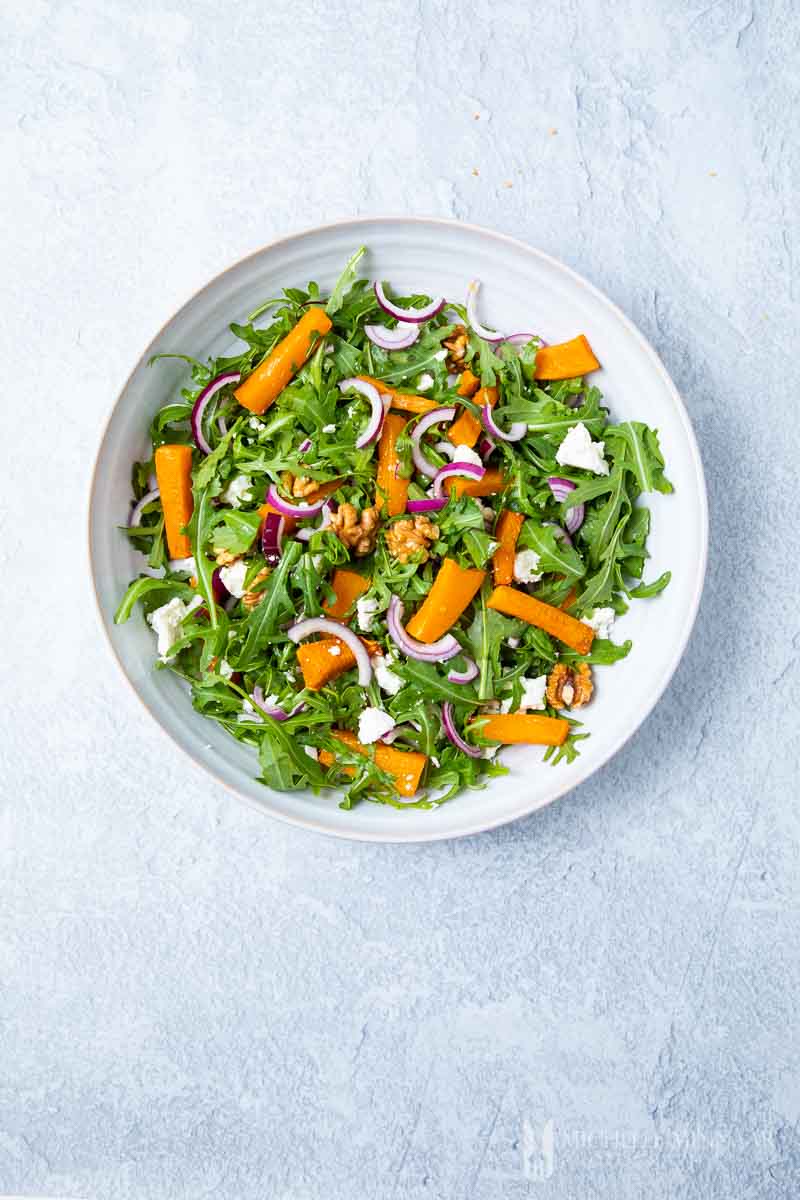 roast pumpkin rocket and feta salad
Here's a handy trick. Roast the pumpkins first with some oil. The heat from the oven will caramelise the pumpkin, thus making it sweeter. This will contrast well to the salty feta cheese and the sharpness of the rocket salad. I suggest roasting it until you see the pumpkin charring on the edges. This is my favourite way of enjoying pumpkin.
steamed pumpkin salad
To control the level of sweetness, you can also steam the pumpkin instead, which will keep the glycemic levels low. It's perfect for those who are trying to cut down on their sugar consumption or for those who suffer from diabetes.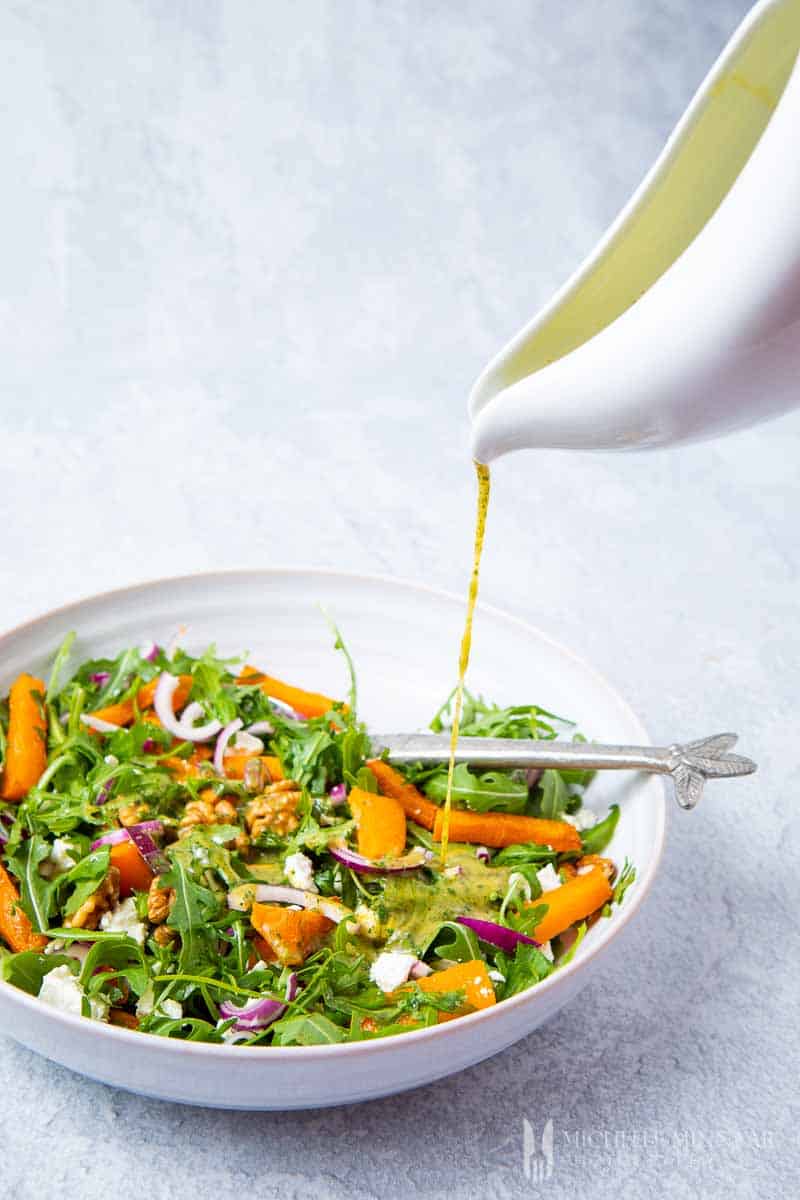 pumpkin feta walnut salad
To add more protein to the pumpkin and feta salad, toss in some walnuts. Sometimes, walnuts can get a slightly bitter taste, so if you are up for the challenge, you can consider candying them. Candied walnuts are delicious in savoury dishes, salad as well as desserts. Plus, they are an excellent way to munch on something if you have a craving for something sweet. Of course, you can experiment with other types of nuts, such as pecans.
pumpkin salad vegan
Generally speaking you can substitute feta cheese with any types of cheese - hard, semi-hard, cream cheese or blue cheese. However, to make this salad vegan, leave out the cheese element and use beetroot instead. For example, take inspiration from my delicious pumpkin and beetroot salad recipe. The latter pair exceptionally well together.
If you fancy a more filling salad, you can also add baby potatoes or new potatoes. Just take a look at my new potato and dill salad recipe. These are the type of potatoes you need in salads. Try to avoid those which are used in mashes because they'll just fall apart in your salad. Look for waxy potatoes with a firm texture.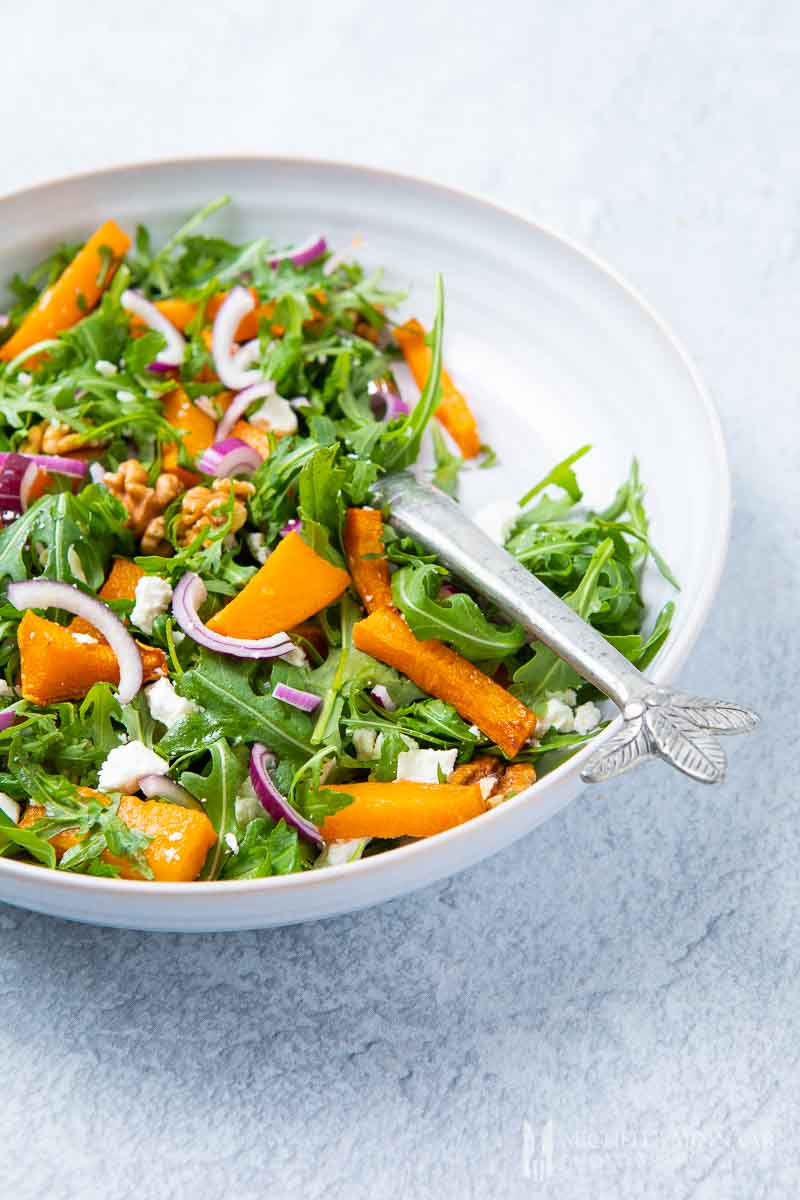 best dressing for salads
I've used Dijon mustard to make my salad dressing. If you find yourself missing Dijon mustard at home, check out these top Dijon mustard substitutes.
You can also consider these dressings:
What is your favourite salad dressing?
Print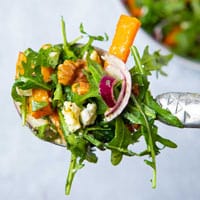 Pumpkin and Feta Salad
---
Description
Pumpkin and feta salad is great for a starter or main course. Toss in some walnuts for added crunch. Oh, and the mint salad dressing is to die for. Check it out!
---
1

pumpkin, peeled and cut into bite-sized pieces

30

ml

(2 tbsp) vegetable oil

120

g

(4oz) rocket/arugula, washed

1

red onion, peeled and sliced

200

g

(7oz) feta cheese, crumbled

60

g

(2 tbsp) walnut halves

60

ml

(4 tbsp) olive oil

60

ml

(4 tbsp) lemon juice

10

fresh mint leaves, chopped

30

ml

(2 tbsp) honey

30

ml

(2 tbsp) Dijon mustard
Salt and pepper, to taste
---
Instructions
Preheat the oven to 200°C/390°F/gas mark 6.
Arrange pumpkin pieces in a single layer on a baking sheet and drizzle with vegetable oil.
Roast the pumpkin in the oven for 30 minutes. If everything isn't cooked and tender, cook them for another 10 minutes. Remove from the oven and let it cool down.
Toss the pumpkin, rocket, onion, cheese and walnuts in a large salad bowl.
Place the olive oil, lemon juice, mint leaves, honey, mustard, salt and pepper in a small food processor and blend until smooth.
Pour the dressing over the salad and toss again.
Serve immediately and watch the salad bowl's contents disappear.
Prep Time:

30 minutes

Cook Time:

30 minutes

Category:

Salad

Method:

No Cook

Cuisine:

American
Keywords: pumpkin and feta salad, pumpkin feta walnut salad recipe, vegan pumpkin salad, mint salad dressing
save the recipe to your pinterest board