One of the best things I enjoy about making rocket salad, is that you can toss in any type of ingredient and you'll have one awesome salad. Above all, rocket salad is super healthy for you because it is rich in vitamin C as well as potassium. You can also use rocket salad in this salad olivieh recipe.
So, if you are looking for a quick and healthy meal, then rocket salad should be your go to meal. What's more is the fact that rocket salad doesn't wilt fast, so its storage life in the fridge is quite long. This gives you the opportunity to come up with all kinds of flavour combinations. In fact, you can have a different type of rocket salad every day of the week! This time round I've opted for a low-carb medley of ingredients, namely pecan nuts, avocado and blue cheese.
products you need to make this salad
There are a couple of items you need to make and present your salad:
rocket salad with avocado, walnuts & blue cheese
Rocket salad is a versatile salad variety, also known by the following terms:
arugula
rucola
colewort
eruca
rugula
rucoli
garden rocket
roquette
Do any of these ring a bell? Whatever name you know it by, it is famous for its sharp and peppery flavour profile, which can be overwhelming for some people. This edible herb has been appearing in plates since ancient Roman times. In fact, here's a fun fact. One of the first times rocket salad was mentioned was in an ancient Roman poem. It said "et Veneren recovans eruca morantem", which translates to "and the rocket, which revives drowsy Venus [sexual desire]". Yes, back in ancient Roman times, rocket was thought of as an aphrodisiac.
As a result of rocket's qualities, it was banned in and around multiple monasteries. Funnily enough, today we have quite the opposite situation. You can practically purchase rocket anywhere and at anytime of the year.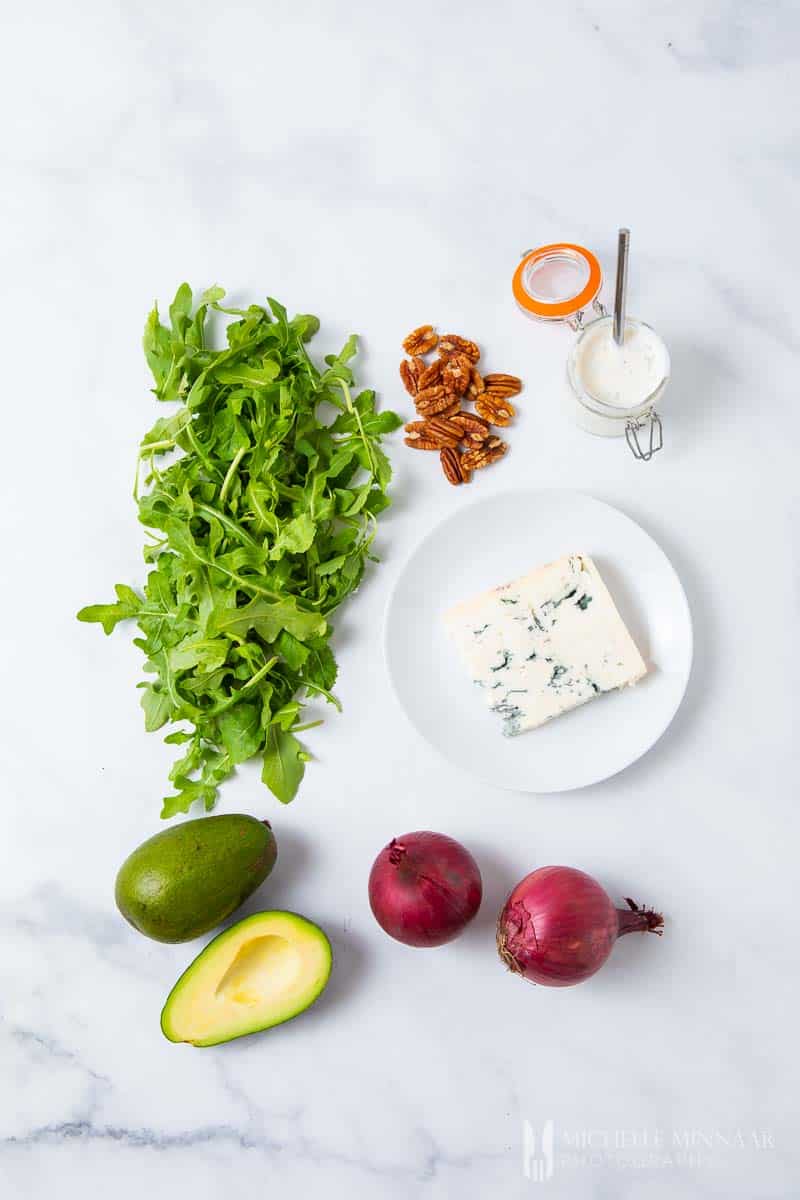 avocado and rocket salad recipe
Rocket salad is sharp and peppery. When you combine it with a creamy element such as avocado, the flavours balance out perfectly. The blue cheese, e.g. Roquefort or Stilton, adds a nice salty touch while the pecans or walnuts add a crunchy texture to contrast the creamy elements. Next, top the salad with red onions, they'll provide slightly sweet and acidic flavour to the dish. Overall, it is a perfect balance of flavours and textures. The beauty of making any type of salad is that you can opt for your favourite dressing.
types of dressings
Here are just a few dressings you can consider when you're putting the salad together:
rocket salad benefits you need to know
Rocket has so many benefits. First of all, it is high in Vitamin C, potassium, Vitamin K and Vitamin A. In fact, rocket has similar health benefits to other greens such as broccoli or kale. If you are on a vegetarian or vegan diet, you should eat rocket salad more frequently as it is very nutritious. In addition, Vitamin K supports a healthy heart by regulating your blood pressure. Lastly, it can help prevent cancer while also boosting your eyesight.
how to use rocket
Here are the top things you can use rocket salad for:
Make an wonderful fresh salad like this one with your favourite ingredients.
Use it as a topping on a delicious pizza or a risotto recipe.
Make a rocket salad pesto and add it to pasta or use it as a spread.
Combine it with potatoes.
Add it into an omelet.
Make a soup.
Make the famous rucolina liqueur out of it.
Serve it as a side dish to fish or meaty dishes for contrast of flavours.
Italian rocket salad recipe
To tweak this salad into something with an Italian vibe, consider adding these ingredients:
sun-dried tomatoes
parma ham
parmesan instead of blue cheese, otherwise you can use Italian Gorgonzola which is a type of blue cheese
backed beans - click here to find out how to freeze them if you have a large batch
If you want to take this salad to a whole other level, then try this sardine salad recipe, which is super nutritious.
Otherwise, if you really want to cook like an Italian, make your own fusilli pasta and serve it with a side of rocket salad.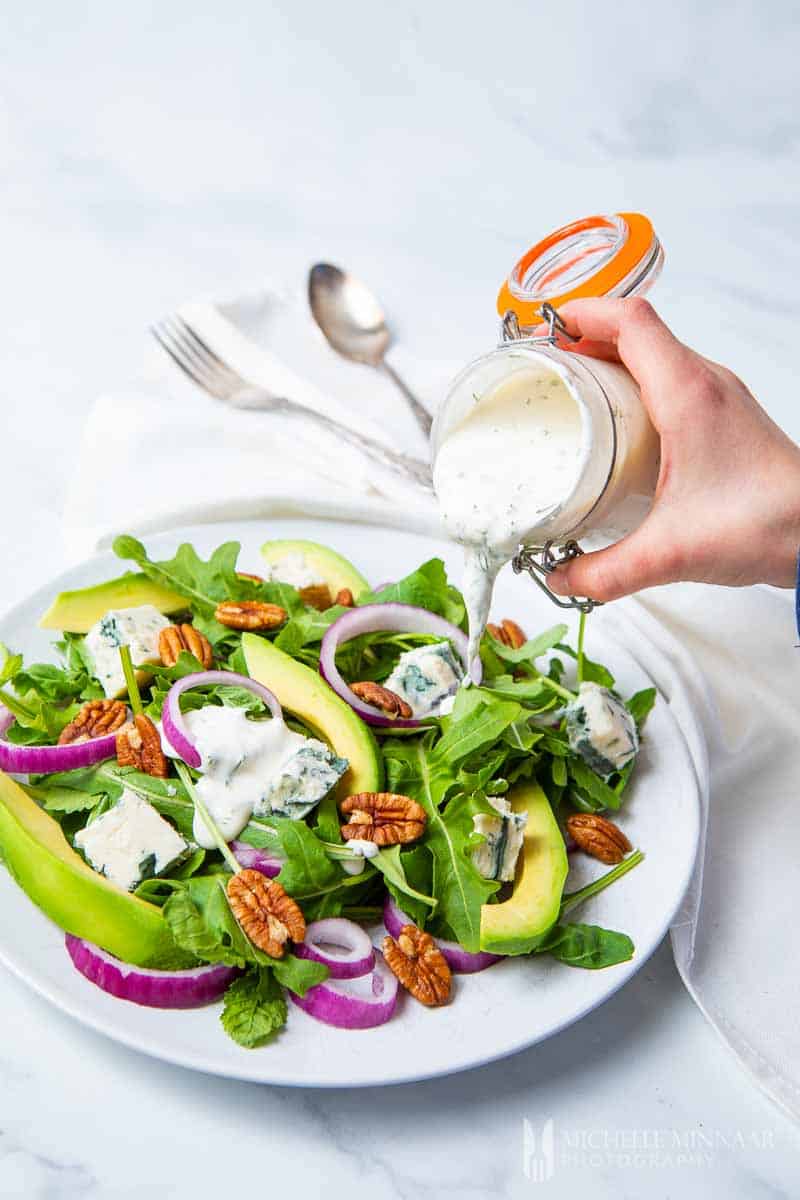 pear and rocket salad with walnuts
One of the most popular variations of a rocket salad is to add pear. Just substitute the avocado with pear to get a sweeter version or pear and rocket salad. Depending on the type of pear, it will also add a wonderful juicy bite to the salad.
Otherwise, you can also make a pumpkin and feta rocket salad. The pumpkin lends a sweet and creamy addition to the dish. Plus, if you are not a big fan of blue cheese, just substitute it with feta cheese.
vegetarian rocket salad recipes
This rocket salad is already vegetarian! However, to make this salad vegan-friendly, simply omit the blue cheese. Use roasted pumpkin, or other vegetable alternatives instead. Just remember not to use a diary-based dressing. A simple vinaigrette is sufficient with the flavour of the rocket.
Print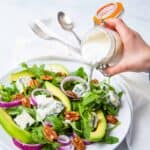 Rocket Salad with Avocado, Blue Cheese and Pecans
---
Description
Pair rocket salad with your favourite ingredients, such as avocado, walnuts and blue cheese. Never eat a boring salad recipe during summer every again!
---
---
Instructions
Toss all the ingredients together in a bowl and serve immediately with your favourite dressing.
Prep Time:

15 minutes

Cook Time:

0 minutes

Category:

Salad

Method:

No Cook

Cuisine:

French
Keywords: rocket salad recipe, vegetarian arugula salad, rocket blue cheese avocado and pecan salad recipe