The golden-orange colors of the sweet potato gratin shine on the dish as you serve it to your guests, tempting them always for getting the largest piece.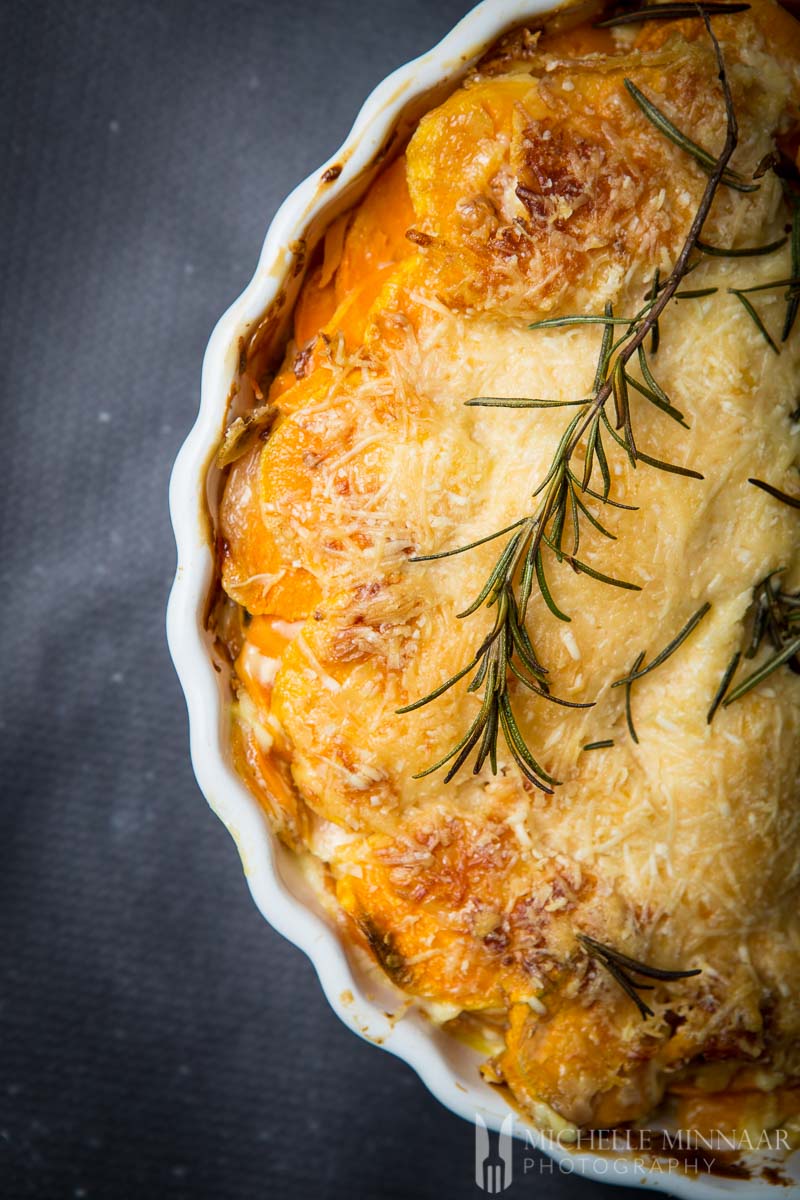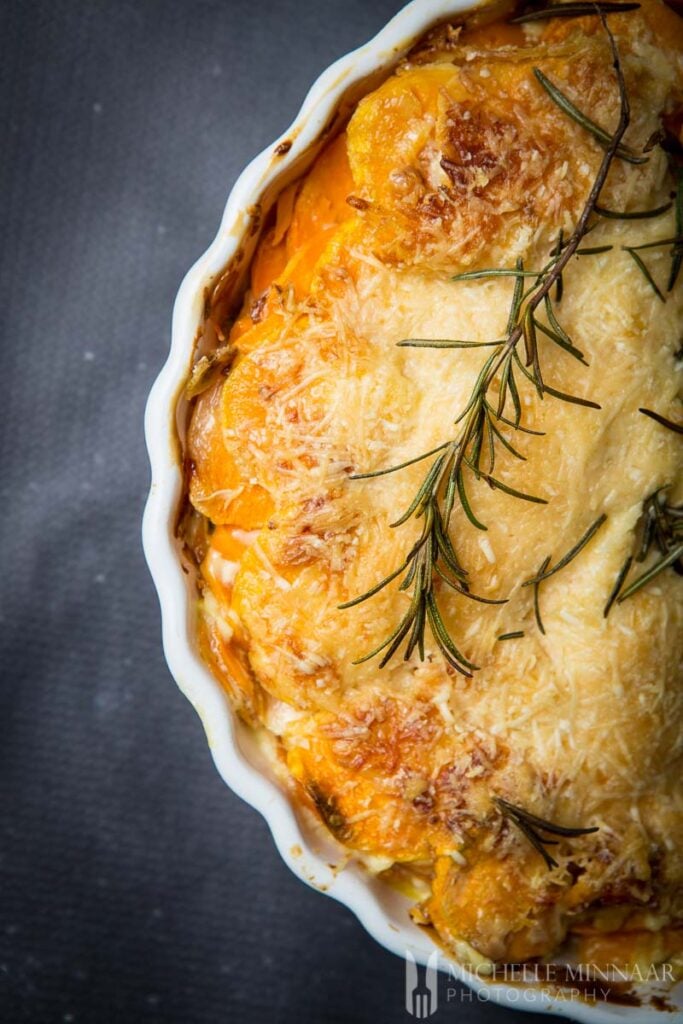 This is a beautiful dish, blending savoury flavours of the parmesan with the sweet tones of the rich sweet potatoes. A great family dish that your kids will fall in love with!
Sweet Potato Gratin Definition
So what exactly is a gratin? Gratin is a French word describing a famous culinary technique, which involves using an ingredient and topping it off with cheese, breadcrumbs, eggs or butter.
In this case: layered sweet potatoes topped off with a layer of grated parmesan. Place all the ingredients in a short baking tray and you've got yourself a sweet potato gratin in the making. Sounds delicious!
Sweet Potatoes History
When do you think the sweet potato was discovered? Some studies suggest that the sweet potato can be traced back to 750 B.C. in Peru and has had a significant presence in the Americas ever since.
Looks like Christopher Columbus not only discovered a new continent, but also a whole new vegetable!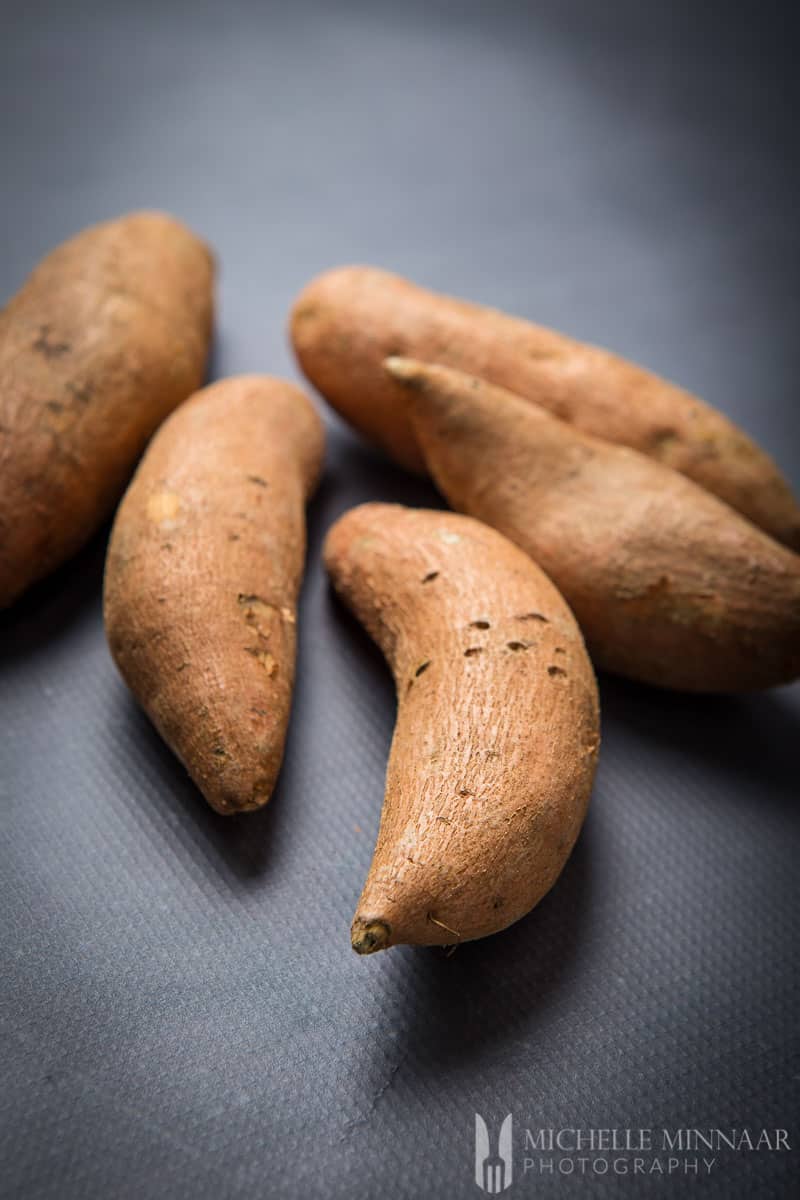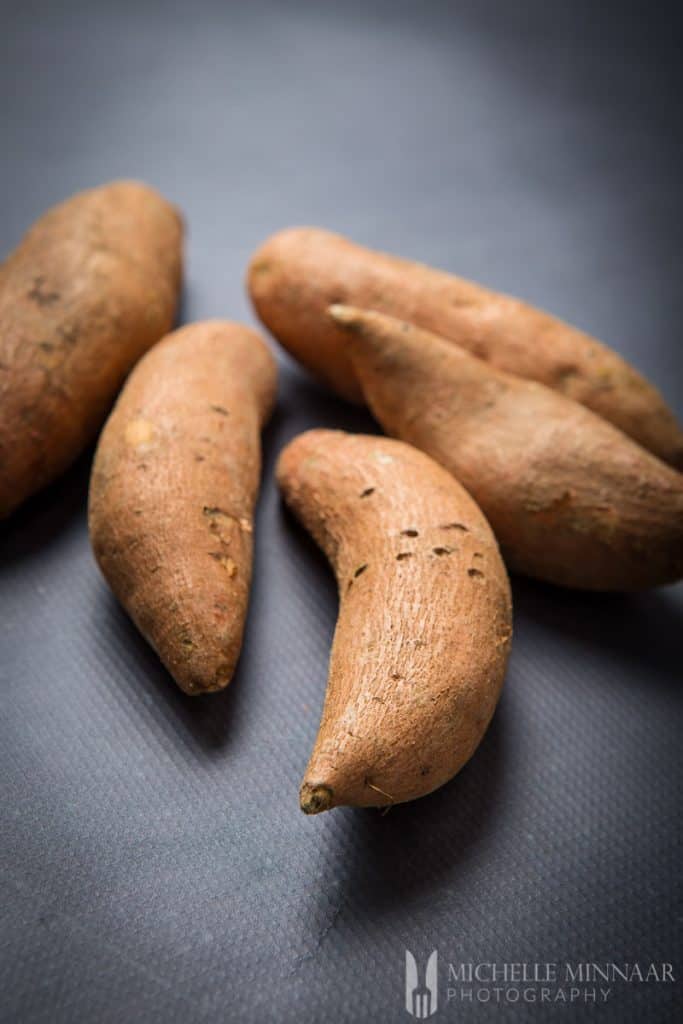 Sweet potatoes
Sweet potatoes are not known as an expensive ingredient. They are accessible in almost any supermarket.  The sweet potatoes are at their best in October and December in the USA.
The USA holds 70% of world's supply of sweet potatoes – incredible!  Even though sweet potatoes are seasonal, don't worry; they are generally available all year round.
No need to miss out on this amazing dish because of a fear of not getting sweet potatoes at you local supermarket.
Parmesan
Parmesan will cut through the sweetness of the potatoes and create a very balanced overall taste. Parmesan is great in terms of adding proteins, calcium, vitamin A and sodium to your diet.
For those who love butter, they can place tiny amounts of butter in-between the sweet potato layers. After seasoning with black pepper and salt, you can make your dish even healthier and top it off with fresh herbs such as rosemary or thyme.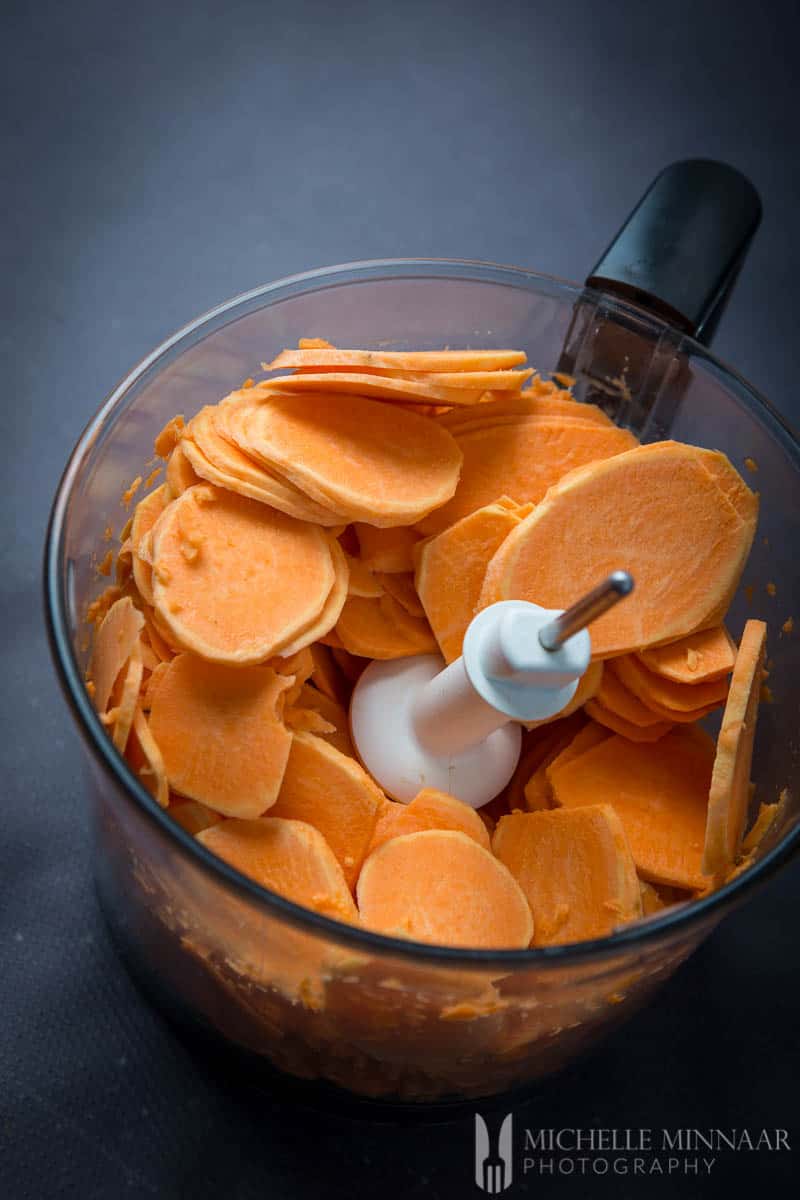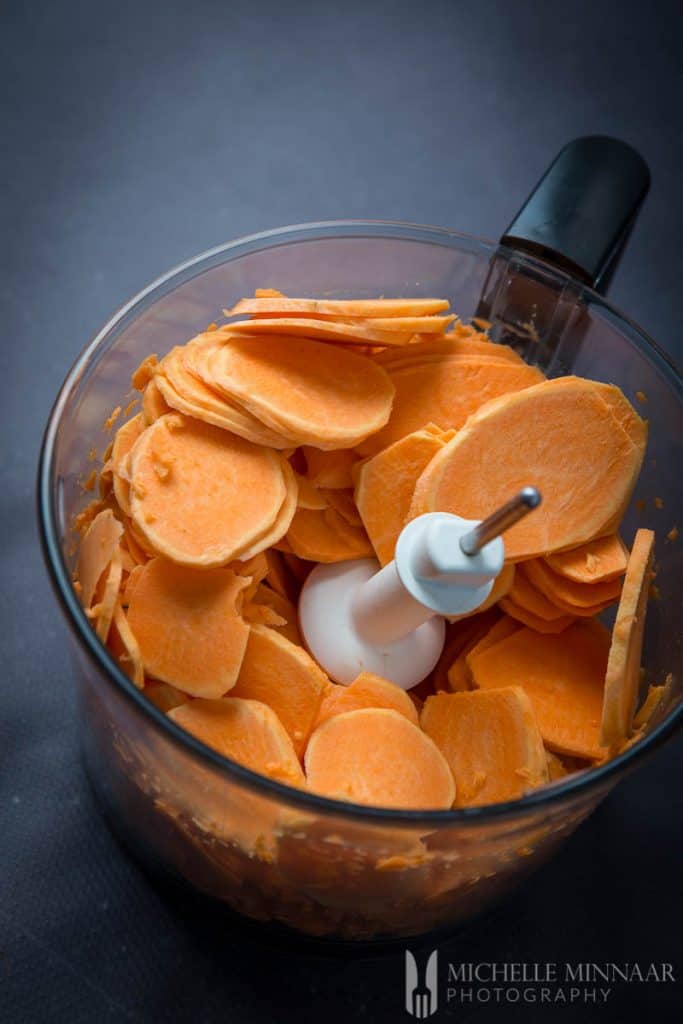 Substitute ingredients for Sweet Potato Gratin
White potato is the obvious substitute here. You might even ask yourself, why should you make a potato gratin out of sweet potatoes and not the usual white potatoes?
The answer is simple. You can use both, however the sweet potatoes have a much higher content of Vitamin A and fiber. They are healthier and great for digestion.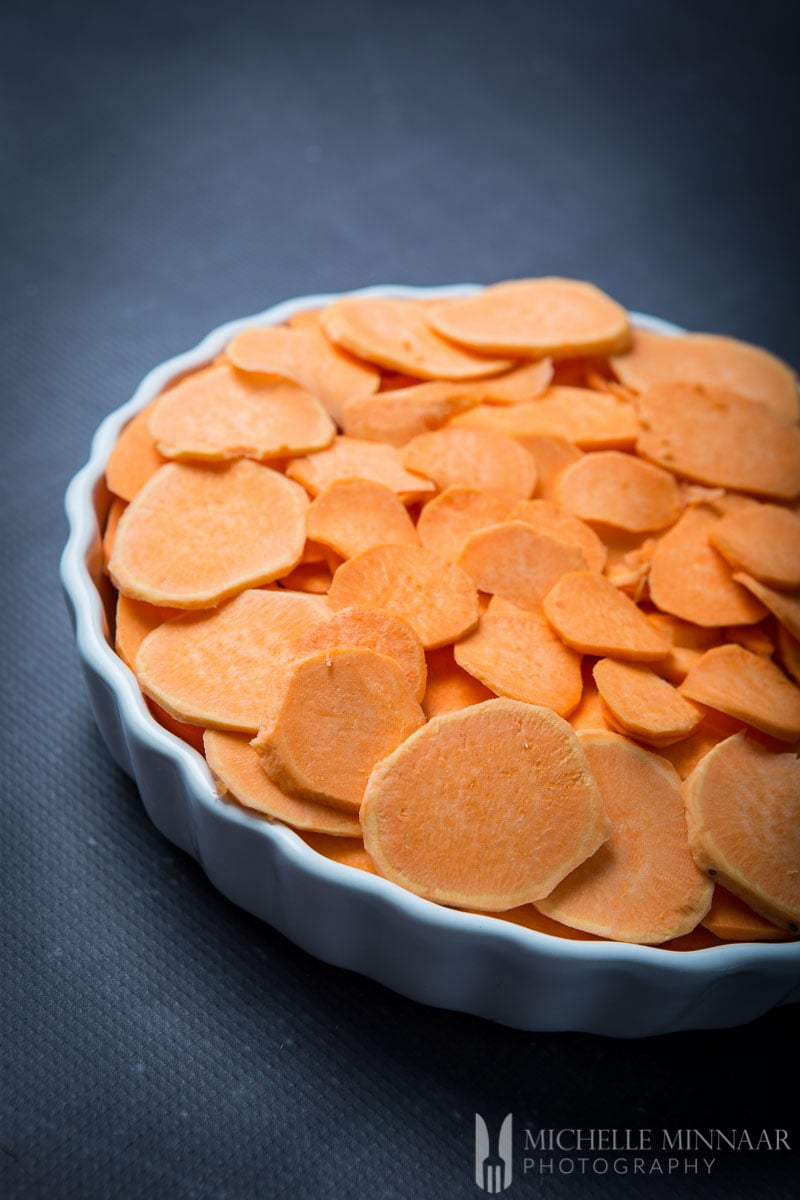 Soymilk
Just when you thought you can't make this dish any healthier, why don't you try using soymilk instead of double cream? It has a lower fat and sugar content, and it's also great for your skin!
Studies have shown that using soymilk instead of regular dairy products decreases the likelihood of skin acne. The reason that dairy products cause acne is because they contain hormones that affect the oil glands.
This substitute is also great if you suffer from lactose intolerance. Just use some lactose-free soymilk and you are ready to go!
Nutritional values
Sweet potatoes are not only rich in terms of taste, but also in vitamins and nutritional value. It's a great source for vitamin A, B2, B6, C, fiber, manganese and other key nutrients.
Double cream contains calcium and small amounts of potassium and vitamin A.
Parmesan is great mostly for protein, vitamin A, folate and calcium.
Soymilk is an excellent source of protein, calcium, iron, vitamin B-12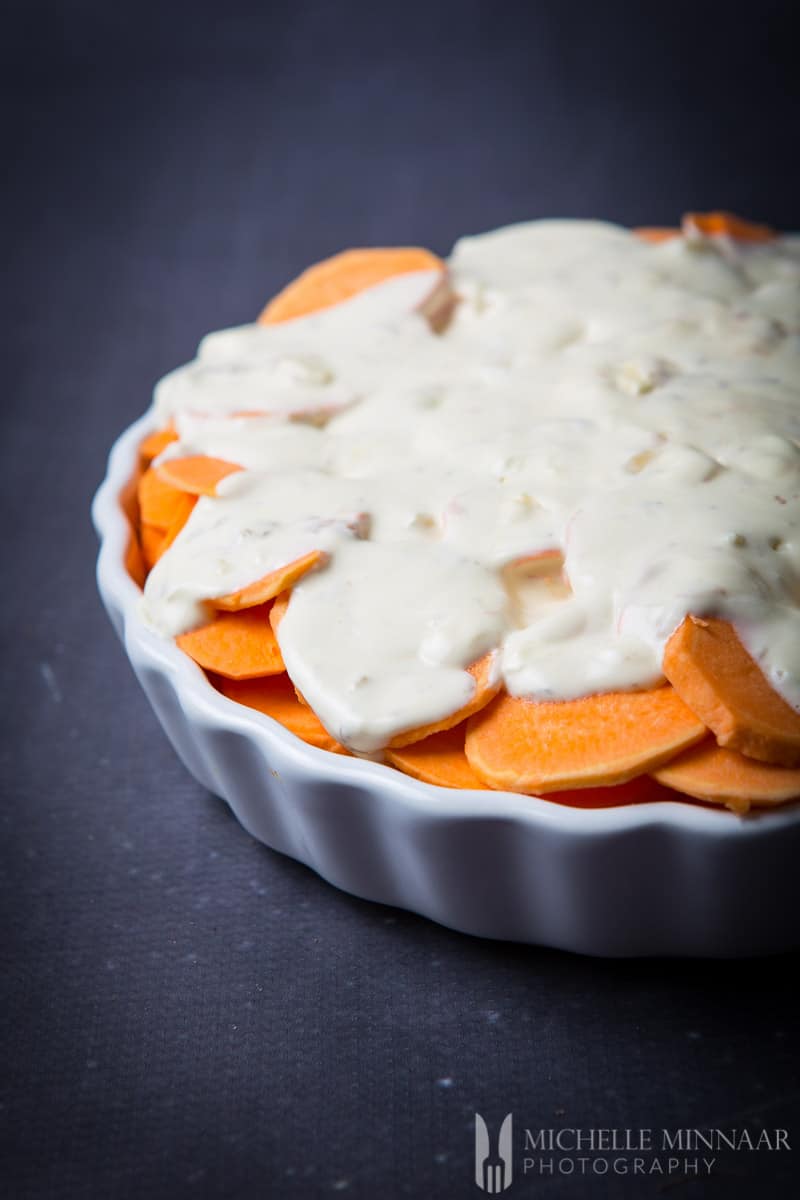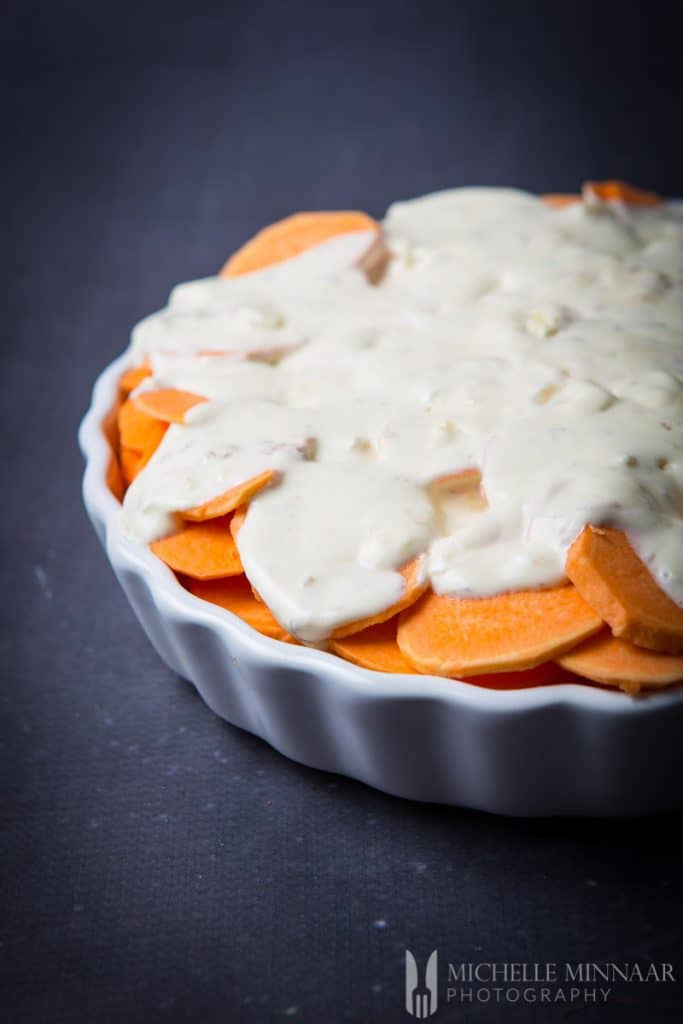 Diabetes
Did you know that sweet potatoes also regulate sugar spikes in your blood? You won't crave excess food your body doesn't need. This is why many doctors recommend the use of sweet potatoes for people who suffer with diabetes.
They have a really low glycemic index. Properly tweaked, this sweet potato gratin recipe is great for diabetics!
Use light soymilk as a substitute for double cream, don't add any butter and use less parmesan. These three ingredients are generally known to be quite fatty.
Healthy herbs
To make your sweet potato gratin more interesting you can one of these healthy herbs:
Rosemary is a great anti-oxidant with an anti-inflammatory effect, boosting your immune system. Great addition for those with low immunity.
Once you combine rosemary with the sweet potato gratin, it will release oils that will add a subtle bitterness, which will perfectly complement the sweetness of the potatoes.
Thyme contains lots of vitamin A and C, and is commonly used for sore throat and bronchitis. Containing carvacrol, it also acts as a stimulant for a better mood.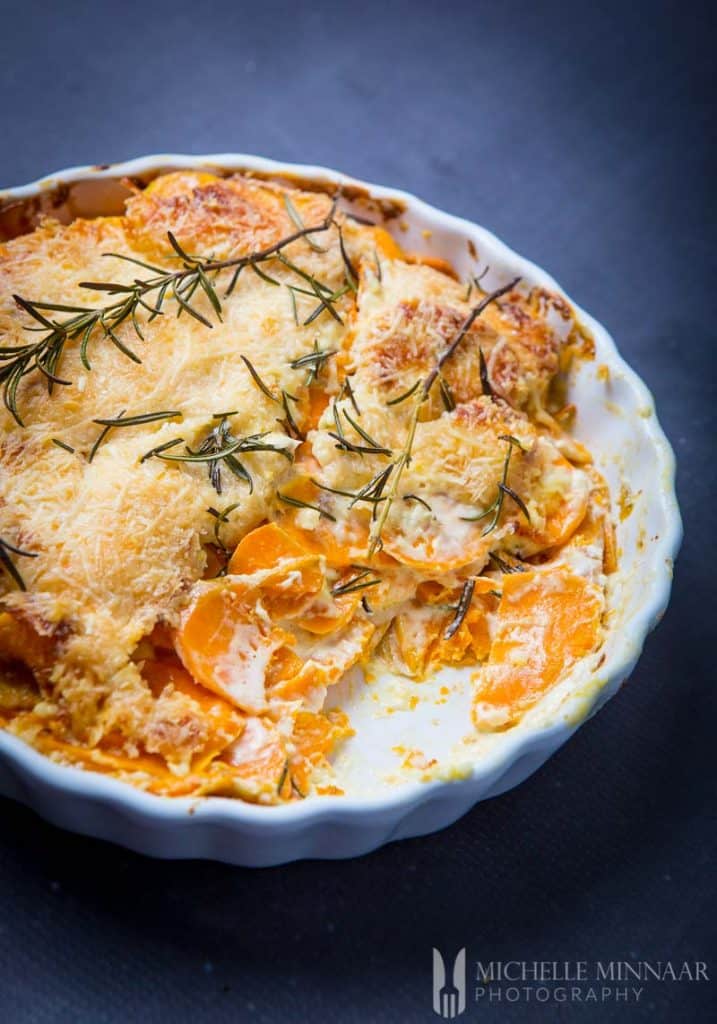 Health Benefits
This dish is great for digestion. As mentioned before, it is a natural sugar regulator in your blood. The other ingredients such as cheese and double cream (being a great source of calcium) will increase the strength of your bones. A great dish for all ages!
How to serve and enjoy
All-in-all, the sweet potato gratin is a fantastic dish in many ways. It is easy to make and takes roughly an hour. It is healthy, rich and delicious.
Take it out of the oven once you see a beautiful golden layer of parmesan on top. You can also serve it with a mixed leaf salad dressed with mustard vinaigrette to add more freshness and to clean the palette.
Try it with Venison Steak with Blackberry sauce. Here are more dish dish recipes for you to try:
Print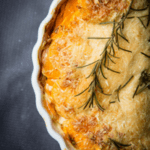 Sweet Potato Gratin
---
Author:

Michelle Minnaar

Prep Time:

45 minutes

Cook Time:

15 minutes

Total Time:

60 minutes

Yield:

8

1

x
1

kg (2lbs) sweet potatoes, peeled

1

garlic clove, peeled and crushed

300

ml (½ pt) double cream

2.5

ml (½ tsp) salt

100g

(

3oz

) parmesan, grated
rosemary sprigs
---
Instructions
Preheat oven to 190°C/170°C fan/gas 5.
Either use a food processor or cut the sweet potatoes thinly by hand.
Place the cream, salt and garlic in a small saucepan and warm gently.
Arrange the sweet potato slices in an ovenproof dish and pour over the creamy sauce.
Place in oven and bake for 25-30 minutes.
Remove from oven, top with cheese and place in the oven again.
Bake for another 15 minutes until a golden crust has formed on top.
Serve with a green salad or roast meat.
Notes
While processing the sweet potatoes, place the peeled ones in water to deter the browning (oxidation) process.
The preparation time stated is for when you use a food processor to cut the sweet potato. If slicing by hand it will take you longer.
Be careful not to overheat the cream, which will lead it to thicken too much, as it did in photo above. I ended up more a bit more cream in.
Cooking times may vary according to the type of oven and its efficiency.
Nutrition
Serving Size:

1 serving

Calories:

303

Sugar:

18 g

Sodium:

289 mg

Fat:

20.7 g

Saturated Fat:

1.8 g

Carbohydrates:

24.9 g

Fiber:

1.6 g

Protein:

4.7 g

Cholesterol:

9 mg
save the recipe to your pinterest board