Be warned, this Toblerone cocktail is not for kids! Although it sounds chocolatey and perfectly innocent – it is not. This is an adult-only beverage as it contains lots of alcohol. This makes it perfect for any type of celebrations, family dinners or festivities. Besides, who doesn't love the Toblerone chocolate bar? I know that if someone told me they'd made a Toblerone cocktail, I wouldn't be able to resist!
Toblerone cocktail is a creamy alcoholic beverage with chocolatey flavours. It sounds like the type of cocktail you'd order at a fancy restaurant, but that's far from the truth. Would you believe me if I told you that you could make this cocktail from scratch in just a matter of minutes? In fact, all it takes is a mere 10 minutes and you're done! The best part is, that you can stock up on the liqueur and alcohol, and it will last you for ages.
Yes, admittedly, procuring the alcohol will be the most expensive part of the Toblerone cocktail recipe. However, you can easily stretch the cost of the three bottles you need throughout the year and use it in other recipes. In the end, the investment will be worth it – you'll be able to enjoy yourself and put your feet up once in a while. Plus, the three bottles you need are quite versatile and can be added to many baked goods. Enjoy and let me know how you like the Toblerone cocktail.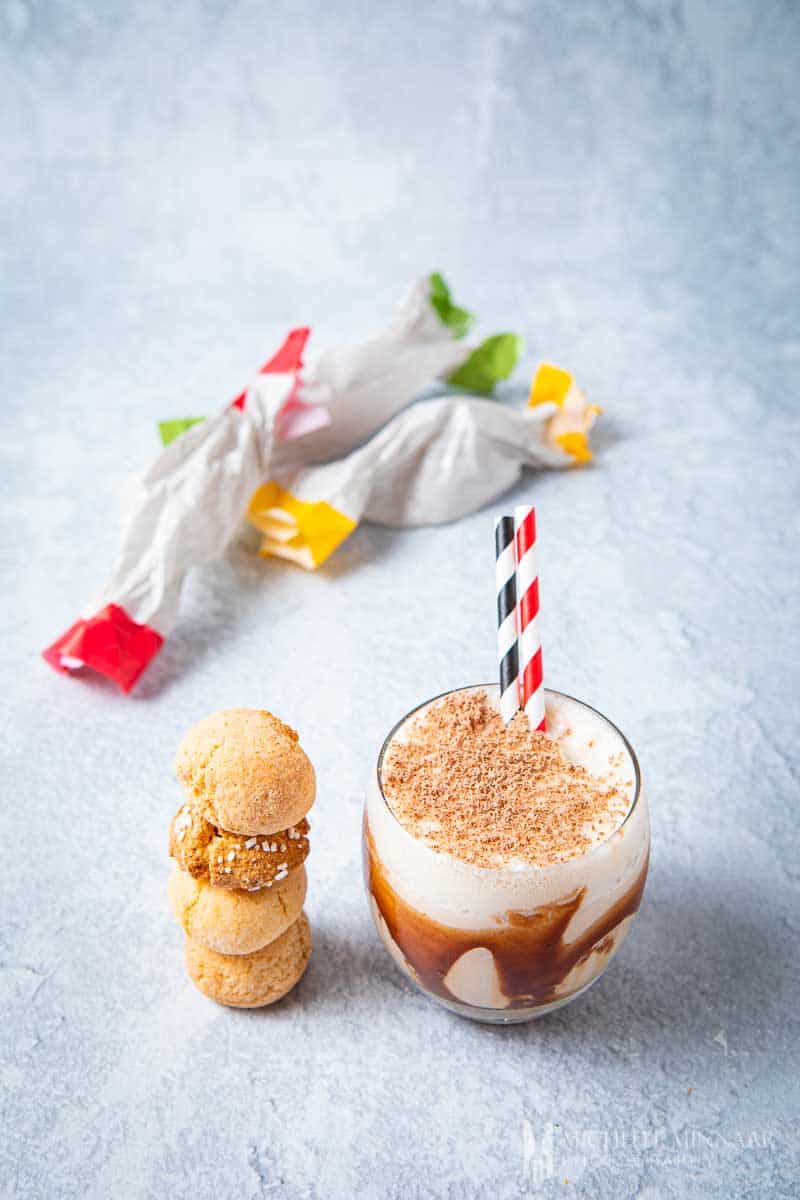 Toblerone cocktail
In essence, there are three bottles of alcohol you need to purchase to make Toblerone cocktail. First, Baileys. Second, Amaretto. Third, Kahlua. All of these tipples are not known particularly for their strength, but for their flavour. Also, these are the types of alcohol you can add into your coffee or enjoy on their own with a block of ice. At best, just sip away slowly throughout the evening and bask in the ambience of enjoying life once in a while.
Next, you'll also need honey and double cream to complete this recipe. The double cream is what binds all the ingredients together. Just make sure that you don't add too much, as you don't want to lose the flavour of the added alcohol. Follow the precise measurements in the Toblerone cocktail recipe and you'll be good to go.
In the end you'll see just how easy it really is to make a cocktail from scratch at home. In fact, I've made many (both alcoholic and non-alcoholic). For example:
Have I inspired you to make your own cocktail at home?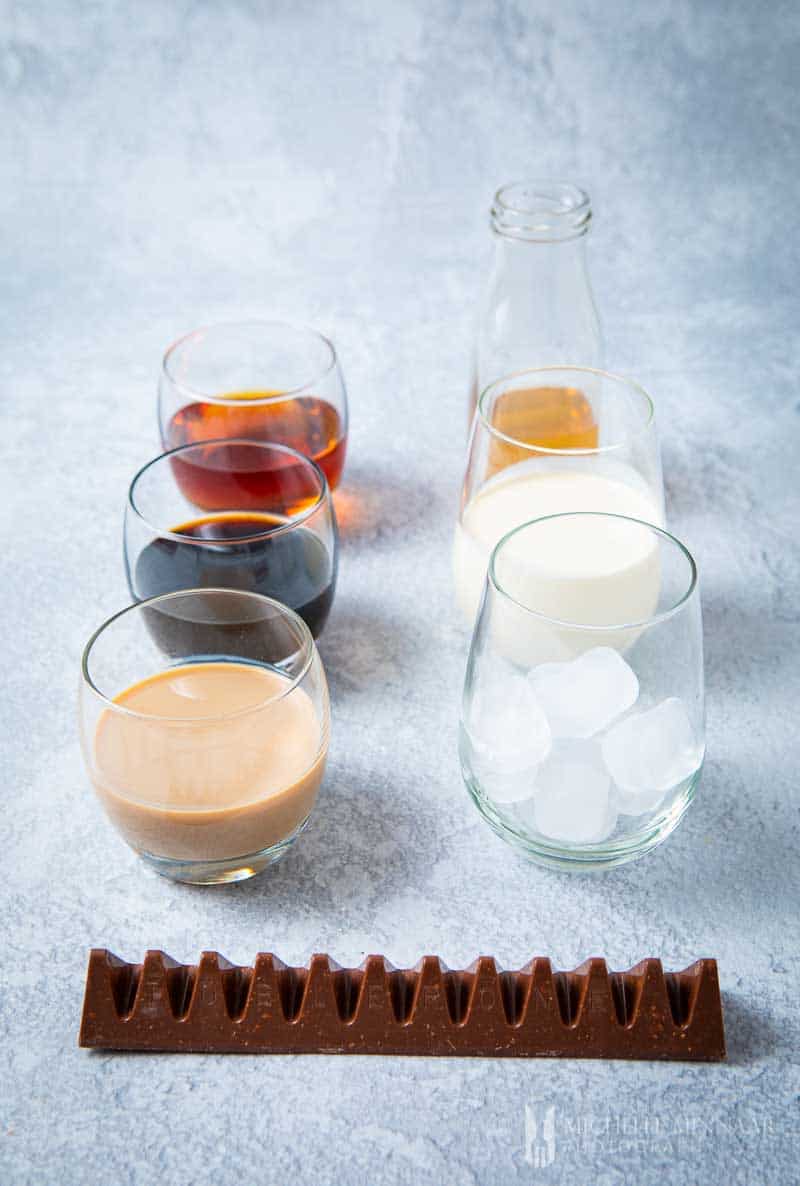 what you need to make a homemade cocktail
Here's a list of things you definitely need to know about when attempting this Toblerone cocktail recipe at home. Check out these items below:
You don't need to worry about purchasing these items. They all have excellent shelf life and can last you for ages. So, you can remake the Toblerone cocktail as many times a year as you wish.
Toblerone cocktail calories
As you might have imagined, this Toblerone cocktail is not the most 'calorie-friendly' beverage. It contains lots of sweetened alcohol and heavy cream. Not to mention the garnish elements like the Toblerone chocolate bars and the chocolate syrup.
If you feel like you want to cut down on the calorie count, then take the following steps:
Add only half the amount of double cream
Add only 2/3 portions of the alcohol (in this case, you'll have more alcohol than cream inside your Toblerone cocktail)
Omit the chocolate syrup, chocolate bars or any other additions
Add plenty of ice cubes and let some water dissolve
The ice cubes will dissolve slowly and dilute the sweetness. Also, they'll turn the Toblerone cocktail into a long drink.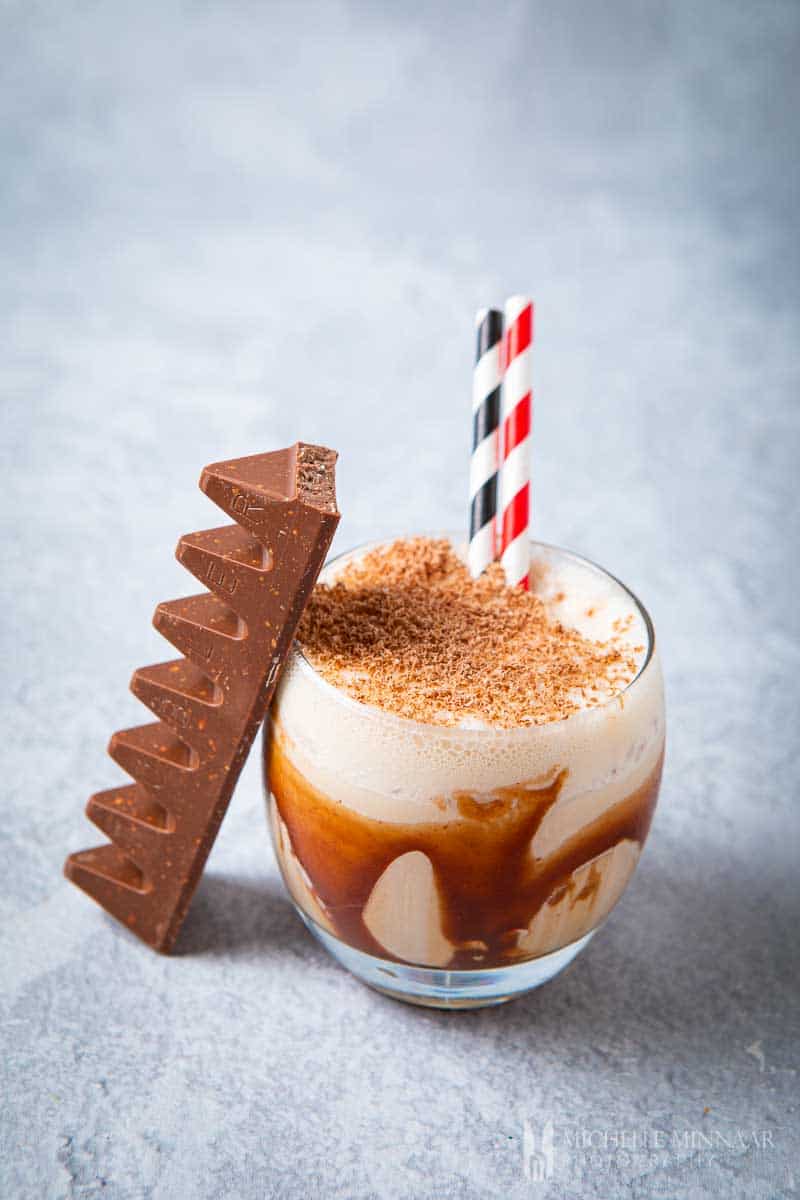 Toblerone cocktail no honey
Removing the honey is another excellent way to cut down on calories. Besides, the Kahlua, Baileys and Amaretto (especially) are quite sweet. If you omit the honey element and wish to add some sweetness in another way, just add 5 ml more of the Amaretto.
Toblerone cocktail thermomix
Another way to make this cocktail in an easy manner is to use a Thermomix mixer. A Thermomix mixer is not only excellent when it comes to blending-in ingredients, it is a clever kitchen robot that can practically cook, blend, blitz, steam, you name it, whatever recipe you wish. I've made soups in it, mashes, steamed veggies – even choux pastry!
So if you don't have a Thermomix at home yet, make sure you get one. It is the ultimate multi-cooker!
How to decorate & garnish a cocktail
First and foremost, garnish your cocktail with Toblerone chocolate bars. It's an excellent way to decorate your beverage and make it look the part. Next, you can also add a hint of homemade chocolate fudge sauce. Also chocolate syrup will do the trick but the homemade stuff is far better. Lastly, you can always shave some chocolate on top as well.
How would you decorate and serve your Toblerone cocktail? Let me know in the comments section below.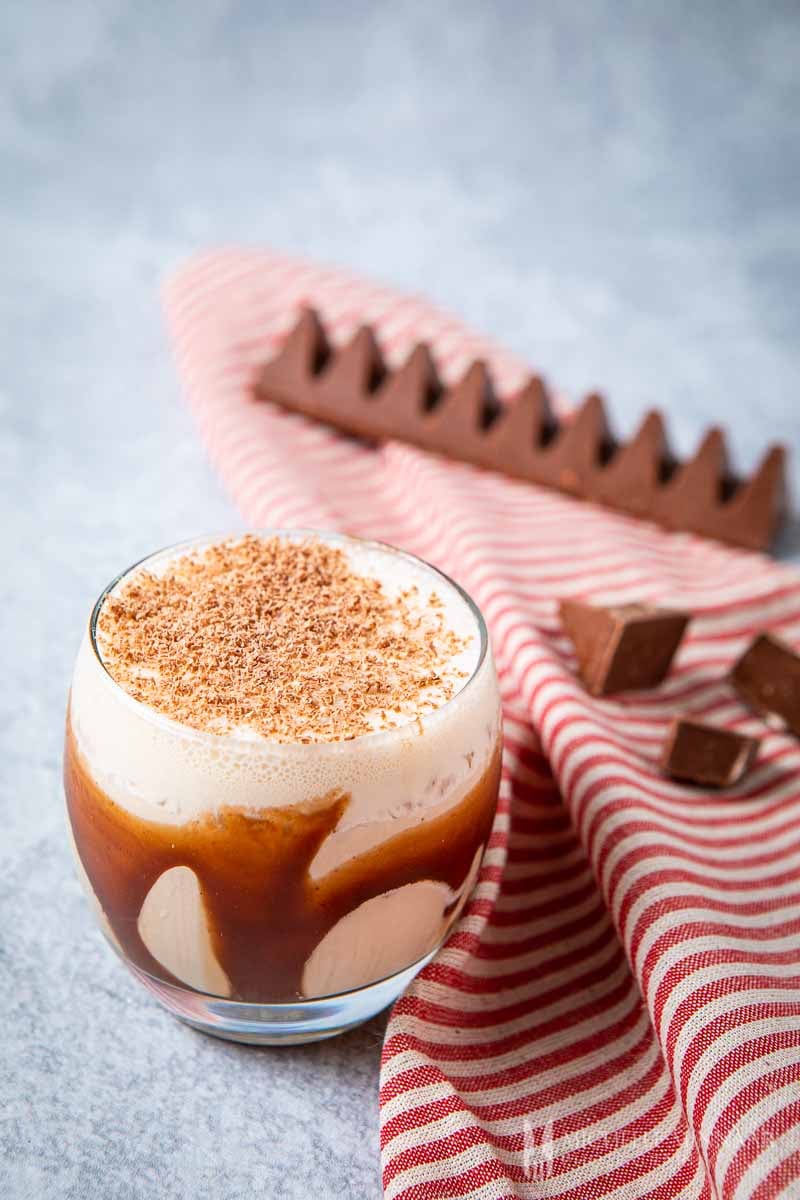 GIVEAWAY
This week one lucky reader will win 1 x bottle of Brockmans Gin and 1 x cocktail cookbook! We've teamed up with Brockmans Gin to bring one lucky winner a bottle of Brockmans Gin and a copy of their exclusive book, The Black Book of Gin Cocktails
Brockmans Gin is a super-premium 40% ABV gin and is distinctively different.
Brockmans brims with berries and botanicals. Exquisite botanicals are sourced from across the world. The predominant taste notes are blueberries and blackberries. The 11 botanicals also include juniper from Italy; lemon peel from Murcia in Spain; bitter-sweet Valencian orange peel; Cassia bark from Indo-China; angelica from Belgium and Saxony, bitter almonds, from Spain; coriander from Bulgaria; and Italian orris root, helping to draw all these taste notes harmoniously together..
It is stocked by ASDA, Booths, Co-op (new listing), larger branches of M&S, M&S online, Morrisons, Oddbins and selected speciality retailers and online retailers including https://www.brockmansgin.com/shop/. RRP £34-36
The Black Book of Gin Cocktails is a lavishly illustrated book containing cocktail recipes, bar profiles and presentation ideas for your cocktails. If you are not lucky enough to win our prize you can buy it from the Brockmans Shop.
Entering is easy, just follow the instructions below.
HELP
Here you can find a tutorial on how to enter with Rafflecopter.
If your form is not showing, try refreshing the page.
Complete the form, otherwise your entries will not count.
Make sure the mandatory entries (e.g. leave a blog comment) are completed first.
Don't forget to come back daily for extra entries via Twitter.
If you're viewing this post by email, please come to the actual webpage to enter.
Competition Question:
What is your favourite cocktail?
Print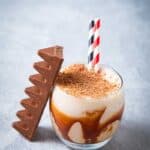 Toblerone Cocktail
---
Author:

Michelle Minnaar

Prep Time:

10 minutes

Cook Time:

0 minutes

Total Time:

10 minutes

Yield:

2

servings

1

x
Description
Come and try this festive Toblerone cocktail recipe. It combines three delicious types of alcohol, making it creamy & tasty.
---
---
Instructions
Mix the honey and water in a small cup first to create the honey syrup. 

Place the honey syrup along with all the other ingredients in a blender and process until smooth.

Drizzle the inside of the glasses with chocolate syrup and share the cocktail evenly between two glasses. Enjoy!
---
Notes
Feel free to play with the different ratios of the ingredients to suit your taste.

Some recipes call for Frangelico instead of Amaretto, so use what you have at hand!
Category:

Drinks

Method:

Blend

Cuisine:

Australian
Keywords: Toblerone cocktail, Toblerone chocolate recipe, cocktail recipe, creamy cocktail