Walnut and watercress pesto is a fabulous addition to any of your pasta dishes. It will provide a freshness and crispiness to the usually bland taste do the dish. Along with bits of flaked salmon and parmesan shavings, you will end up with a restaurant-quality meal. Great for serving your guests during dinner parties or if you feel like preparing your packed work lunch the night before. It doesn't require a lot of effort either. You colleagues will definitely ask you about the walnut and watercress pesto. It's not so commonly used so feel free to brag about your cooking skills.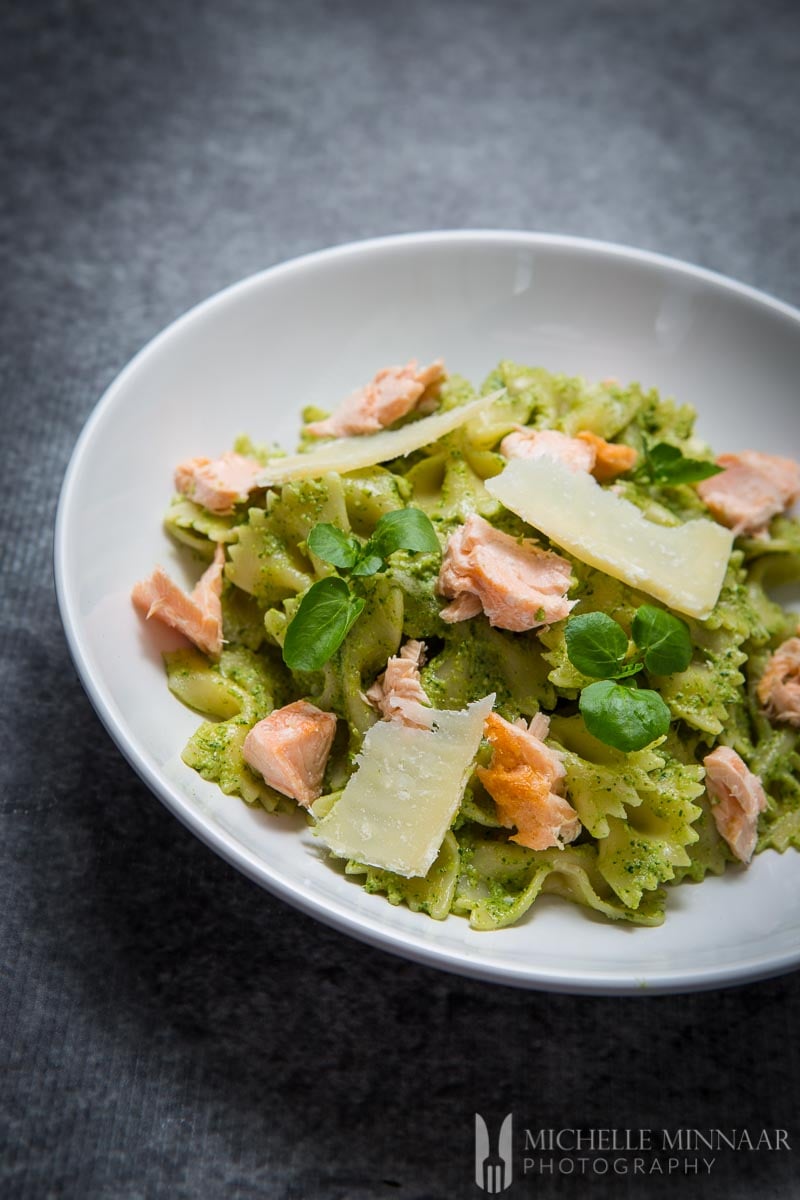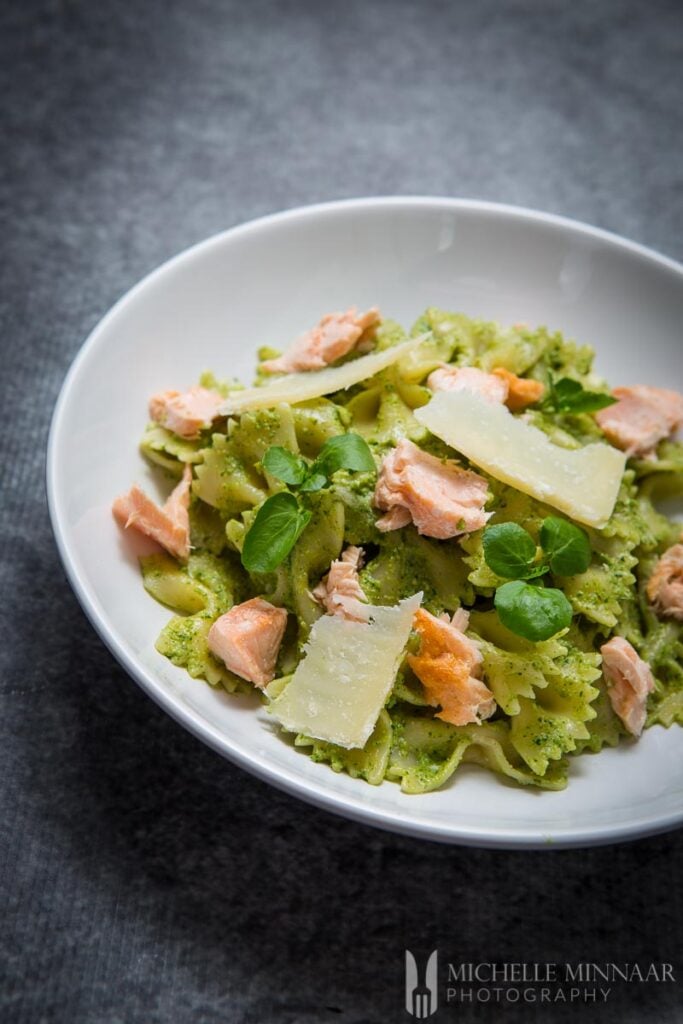 Walnut pesto
Walnut pesto is a healthier substitute to the traditional pine nut pesto or Pesto Alla Genovese. There are two main differences between the traditional pesto and watercress and walnut pesto. Instead of the basil, I used watercress – arguably, a much healthier plant. Walnuts give you a good blast of the good omega-3 fats. Combined with parmesan, you'll get an excellent serving of protein. No need to eat meat! If you're feeling adventurous, you can also try the basil and pistachio pesto.
History of pesto
The traditional pine nut-basil pesto originated in Italy during the Roman era. It's called Pesto Alla Genovese. For more information on the history of pesto, click here. There you'll find a great avocado pesto recipe that might just be worthy competitor to this watercress pesto. Let us know which one you preferred best by leaving a comment below!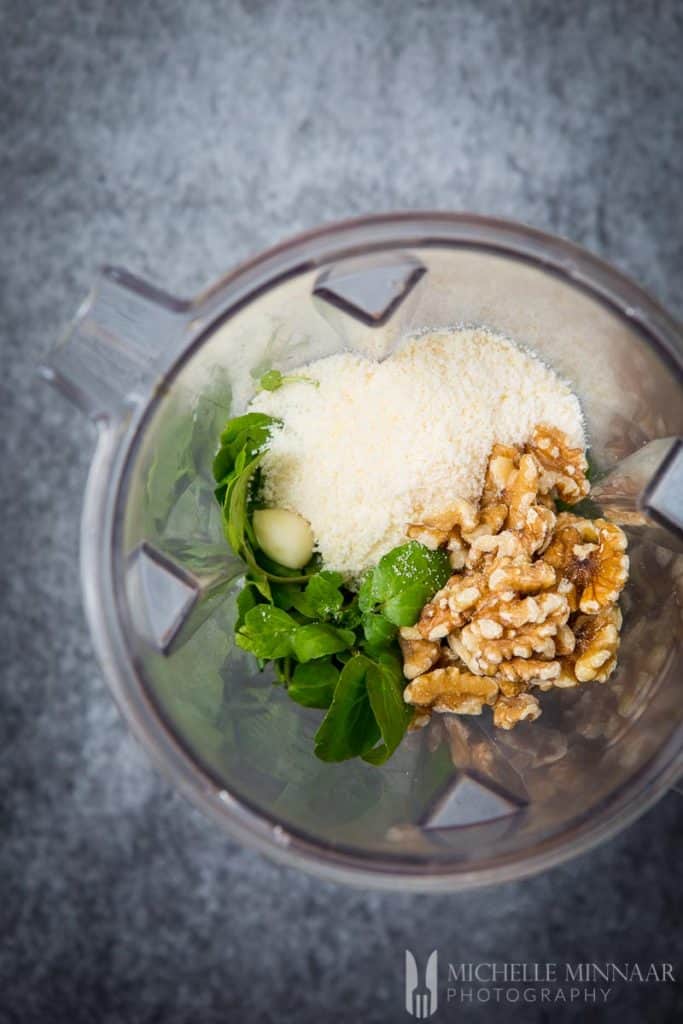 Walnuts
Walnuts have been around since 7000 B.C. They come from the walnut tree and are collected in hard shells. You probably know that as it's tradition to crack walnuts during Christmas time using nutcrackers. Did you know that roughly 70% of walnuts are produced in California?
The Health Benefits of Walnuts
Walnuts are great source of vitamins that help your body in numerous ways. First, as mentioned above, they are rich in omega-3 acids that help stimulate your brain. Perhaps this is the reason people call walnuts 'brain food'. Second, they are fantastic for your heart and metabolism. If you eat a handful of nuts between your meals, you won't feel as hungry and ultimately might lose weight. Lastly, walnuts contain anti-inflammatory properties.
Diabetics
The watercress and walnut pesto is great if you suffer from diabetes – both type I and type II. They help in controlling sugar cravings and sugar spikes in your blood. Not mentioning the fact that they contain EFAs (essential fatty acids).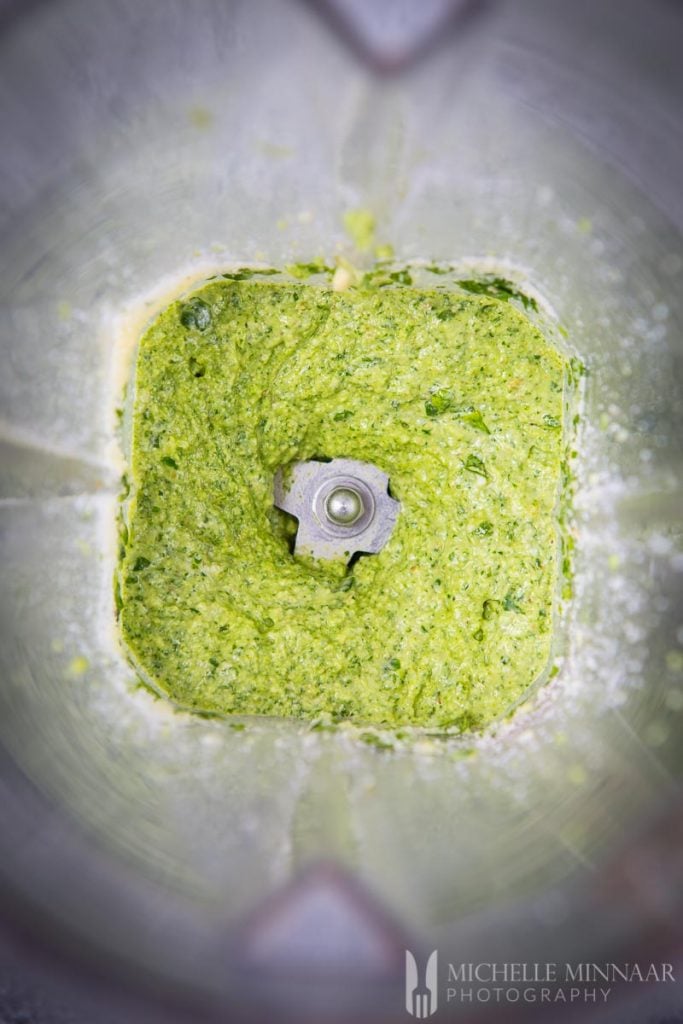 The Health Benefits of Watercress
It is argued by some that watercress is even more healthy than walnuts. Imagine, if you make watercress and walnut pesto, you get one vitamin bomb meal. If your kids like pasta, but don't enjoy green veggies so much, watercress and walnut pesto is the perfect addition. The watercress will give them just the right amount of vitamins for the day. For more information on the health benefits of watercress, click right here: https://www.greedygourmet.com/recipes-for-diets/vegan/watercress-salad-dressing/
Salmon
Salmon and watercress is a great marriage of flavours. In fact, I've combined salmon with a watercress sauce before. Here I only used flakes of cooked salmon with the watercress and walnut pesto. The pesto is quite filling itself as it contains walnuts and parmesan, which are rich ingredients. I wouldn't recommend using an entire fillet of salmon. With a few flakes sprinkled on top of the pasta, you get the right amount of balance between the ingredients.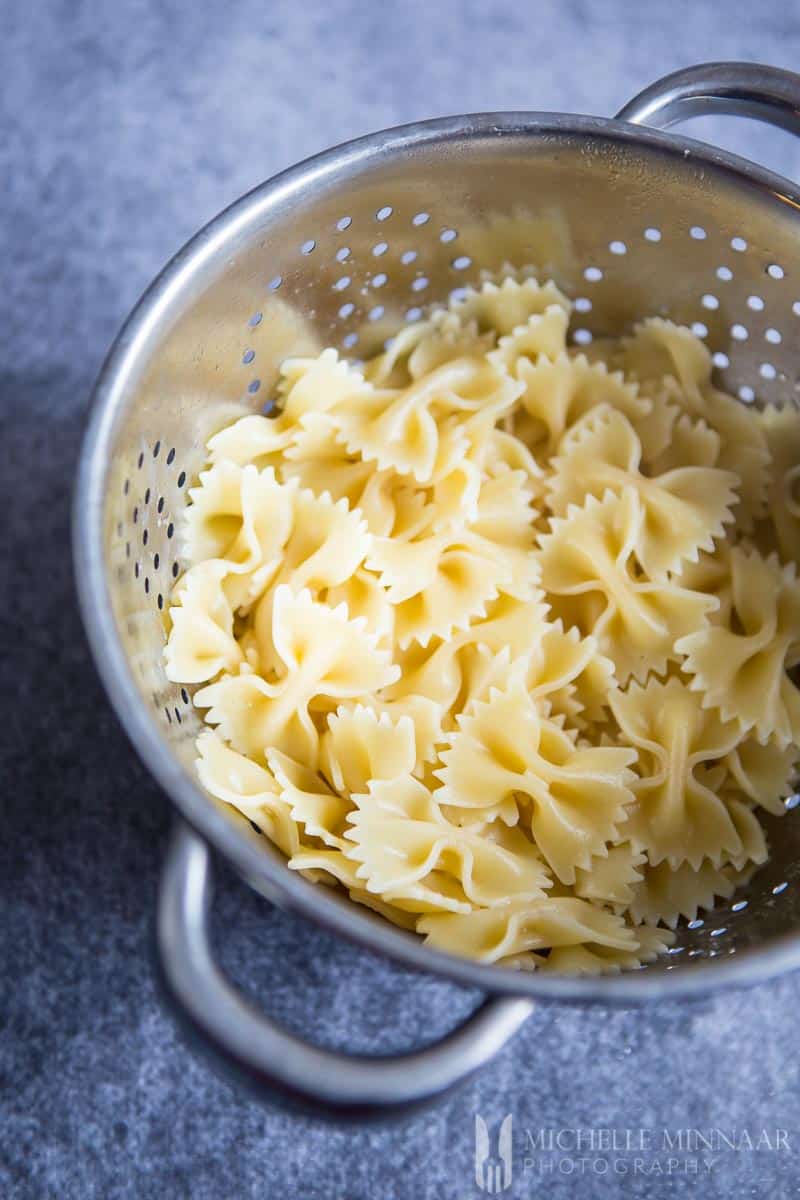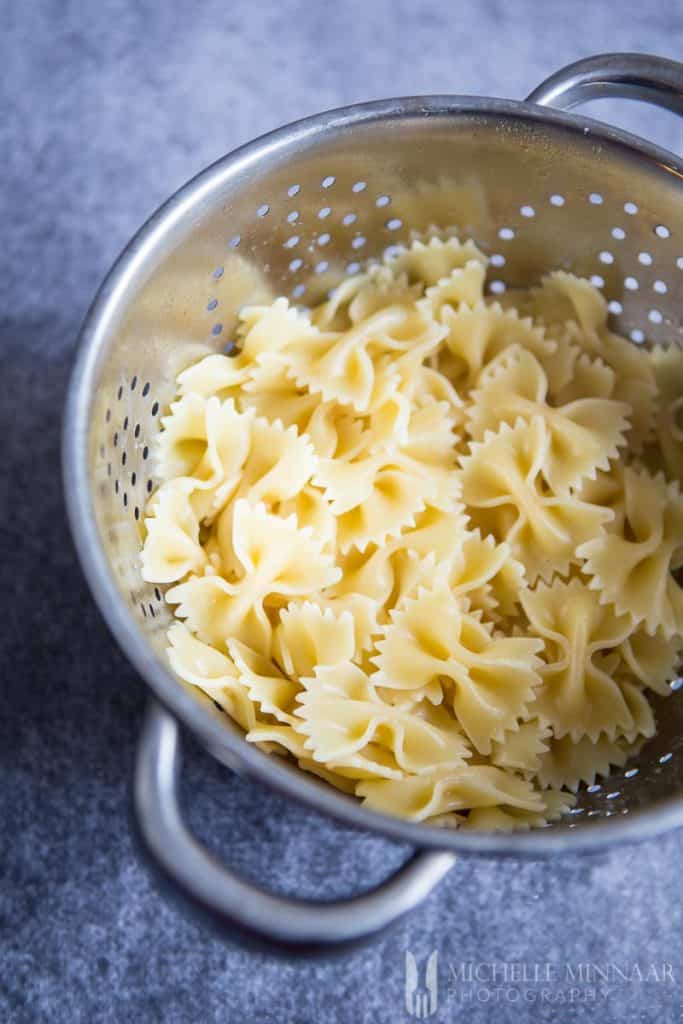 Watercress pesto's consistency
I would recommend blending the mixture until completely smooth. The walnuts and parmesan are ingredients that already have a pretty course texture.
Lemon juice
As soon as you finish mixing the ingredients together, you can add a bit of lemon juice or lemon zest. The lemon juice or lemon zest will give you a tangy flavour with a lasting freshness. You can also substitute with lime. I prefer lemon with the recipe. If you tried lime, let us know how it worked out for you!
Pasta
I used farfalle pasta in this recipe. The shape of the pasta ads just the right amount of texture to the dish. In addition, kids love this type of pasta. You can also use different types of pasta for this recipe such as: penne, spaghetti, tagliatelle, etc.
Gluten free
If for some reason, you can't eat gluten or pasta, you should try making courgetti, also known as zucchini noodles. It's just as delicious, much more healthy and great for digestion. The zucchini pasta will leave you feeling light and fresh. Top it off with some fresh watercress.
If you like what you've read, click on these for more inspirational and yummy dishes:
Watercress Salad with Smoked Salmon, Blue Cheese, Pear and Walnuts
Print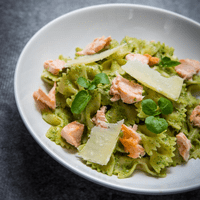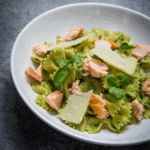 Walnut & Watercress Pesto
---
Author:

Michelle Minnaar

Cook Time:

10 minutes

Total Time:

10 minutes

Yield:

4

1

x
75g

(

2½oz

) watercress, washed

1

garlic clove, peeled

45

ml (3 tbsp) olive oil

60g

(

2 oz

) Parmesan cheese, grated

60g

(

2 oz

) walnuts
Juice of

1

lemon [optional]
Salt and pepper, to taste
---
Instructions
Place all the ingredients in the food processor and blend until smooth.
Season to taste and serve, or freeze.
Notes
In the photo I served the pesto with pasta, cooked salmon and shavings of parmesan.
Nutrition
Serving Size:

1 serving

Calories:

238

Sodium:

151 mg

Fat:

22.8 g

Saturated Fat:

4.2 g

Carbohydrates:

2.5 g

Fiber:

1.3 g

Protein:

9 g

Cholesterol:

11 mg
save the recipe to your pinterest board