Make these incredible breakfast zucchini waffles. Zucchini waffles, also known as courgette waffles, are the healthy version of a typical breakfast waffle recipe.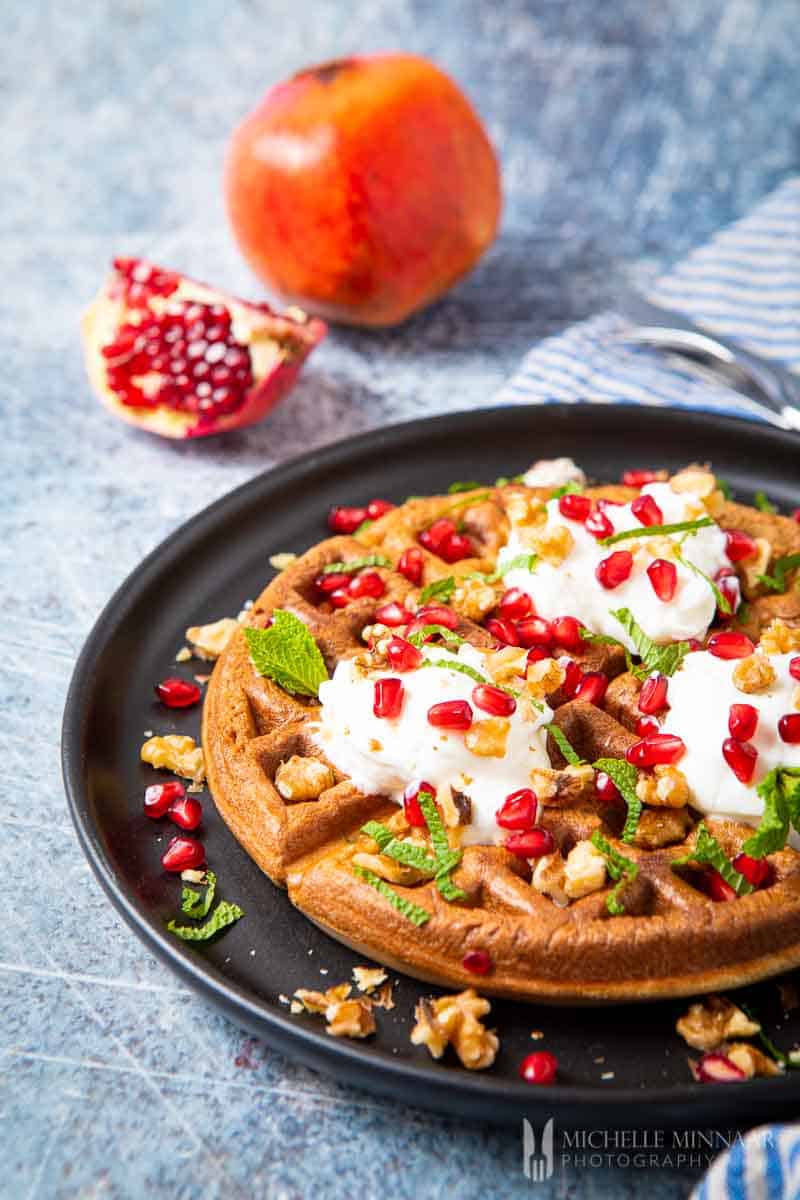 When you eat these, you won't even need to worry about the calorie count. It is a healthy alternative to processed waffle mixes.
In sum, this is the best waffle recipe because it's so easy to tweak for special diets. Especially for those people who are on special diets or are planning to start a healthier lifestyle.
For example, you can substitute the cow's milk with plant-based milk. If you're intolerant to gluten, you can use gluten free flour. Plus, the zucchini help with your vegetable intake!
The preparation process of these zucchini waffles involves a little bit of work. However, if you have a good grater at hand, this process won't take too much of your time.
Besides, grating is just the work out you need to get you started for the day. It makes eating the waffles even more enjoyable and rewarding, don't you agree?
You can serve these waffles for breakfast, as a main course, or as a dessert. It all depends on how you serve them, either in a sweet or savoury fashion. As you can see, this waffles recipe is versatile.
Therefore, it is up to you how you would like to satisfy your taste buds. Let me know which direction you decide to go in.
products you need for this recipe
Here's a list of the top products which you need to know about if you are planning to complete these zucchini waffles.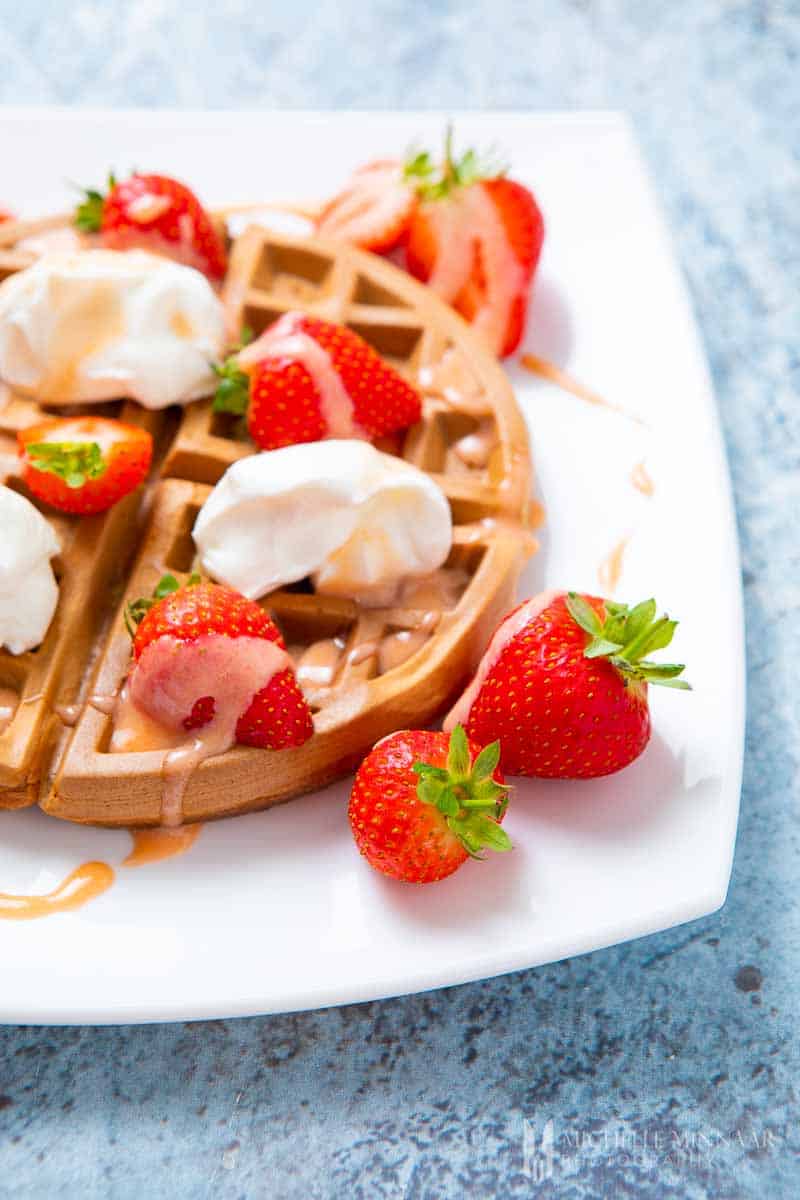 zucchini waffles breakfast recipe
These zucchini waffles take approximately 50 minutes or less to prepare. If you are looking for a quicker recipe, you can try these dairy free waffles.
Next, depending on the size of the zucchini or courgettes, I suggest measuring them out in cups to match the flour, volume-wise. Also, remember to eliminate the moisture out of them.
Let them sit and squeeze the moisture out. Otherwise, your batter will be runny and flavourless.
Marrow is another great substitute for zucchini. Just be sure to squeeze out every last drop of moisture out of the grated vegetable before proceeding with the recipe.
Another great way to use up these overgrown zucchini is to prepare this handy roast marrow recipe.
Lemon zucchini waffles
To add a citrusy flavour to your waffles, you can add lemon or lime zest into your mix. Also, add a tablespoon of lemon juice for extra acidity. Serve the lemon zucchini waffles with lemon curd and enjoy!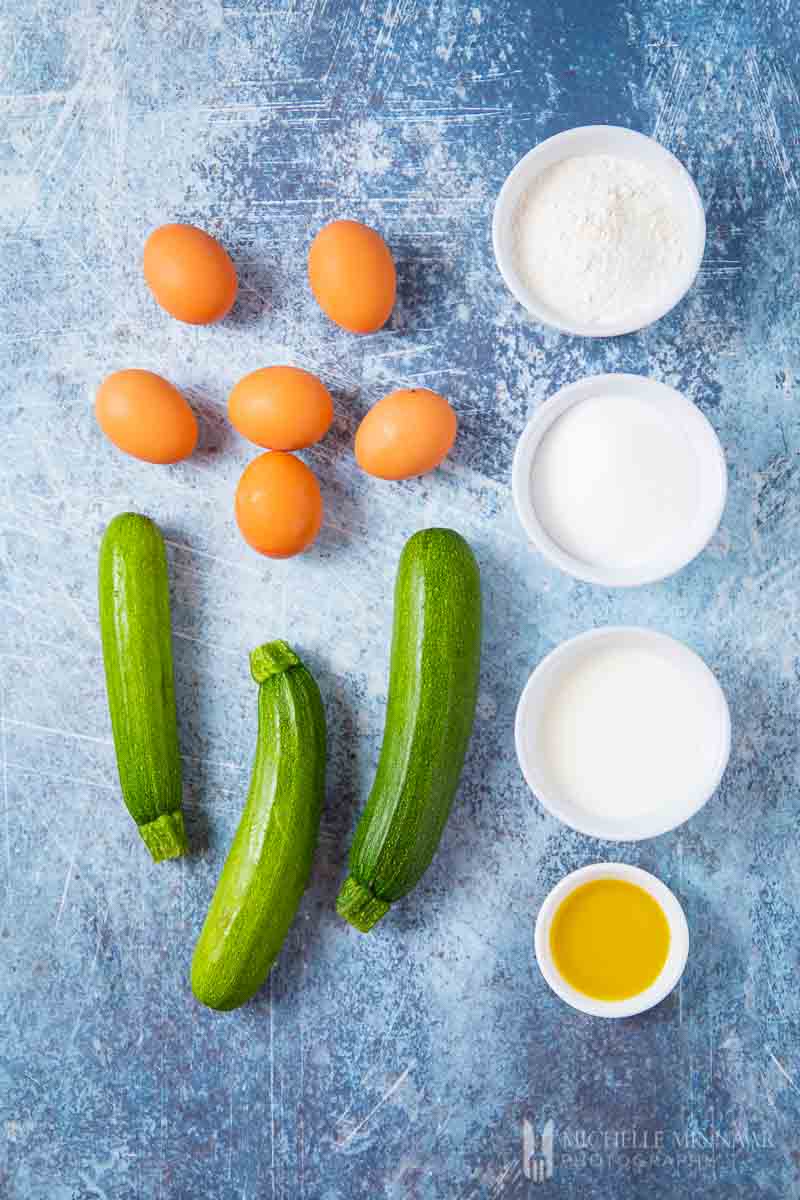 Chocolate zucchini waffles
You can also add cocoa powder to these zucchini waffles, while still retaining the health factor of this recipe. I recommend making this version with chocolate if you are having cravings for something sweet.
A very effective way of satisfying your sweet tooth while eating healthily. You can also add vanilla and make vanilla zucchini waffles. In short, you can add vanilla beans, vanilla essence or vanilla extract.
To learn more about the difference between vanilla essence and vanilla extract, click right here.
zucchini pancakes
If you love these waffles, you can also make zucchini pancakes. Although, these might resemble the French thin pancakes you might be thinking about.
In either case, if you are looking for more pancake recipes, check out these vegan sweet potato pancakes or these pancakes with cinnamon and sugar. Who doesn't love a good pancake recipe?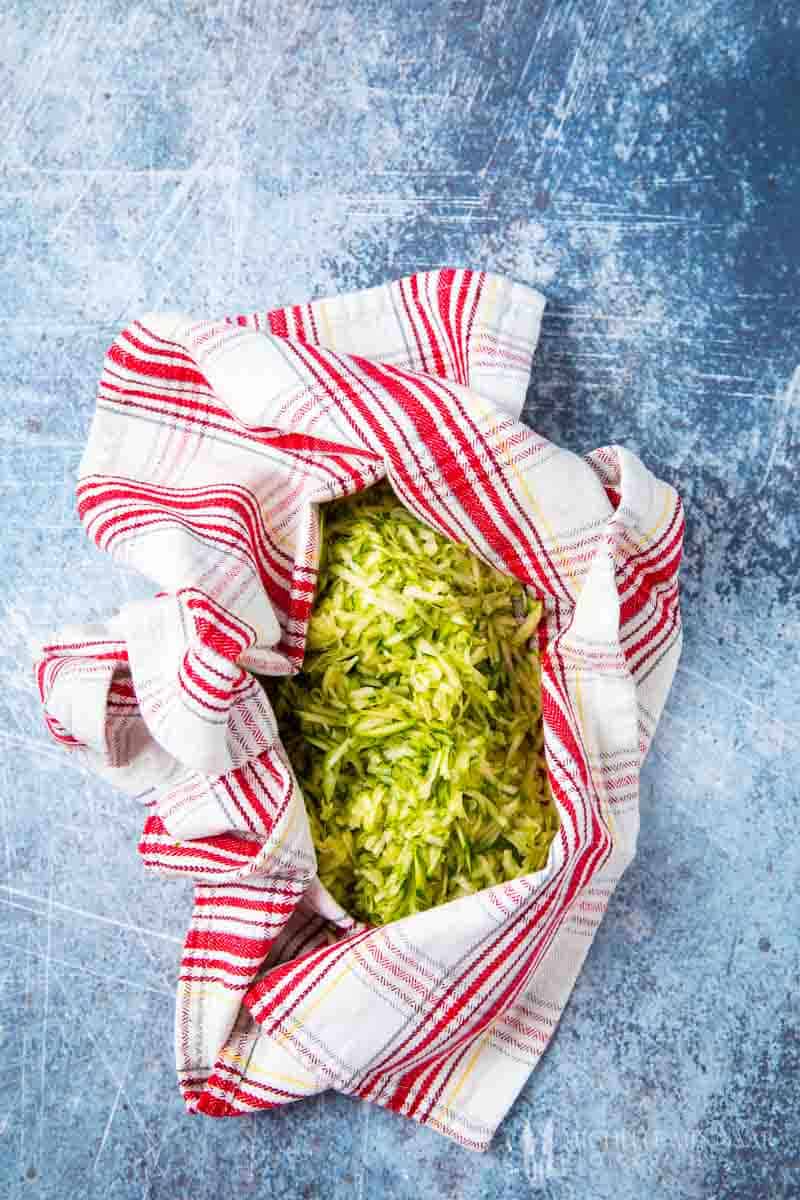 what to serve with zucchini waffles
As mentioned above, this zucchini waffles recipe is versatile and works in both ways (sweet and savoury). In my zucchini waffles, I've served them in a sweet way with a handful of toppings.
First of all, I've topped the zucchini waffles with cream (whipped cream), fresh mint and pomegranate seeds. However, if you are looking to serve the waffles in a sweet fashion, you can do so with:
zucchini waffle grilled cheese
First of all, if you would like to turn this waffles recipe into a savoury recipe, then omit the brown sugar. Next, if you would like to serve these zucchini waffles in a savoury way, you can serve them with grilled cheese.
You can also add an egg, sunny side up, or an omelette. Top the zucchini waffles with some fresh herbs, like parsley, and some paprika powder.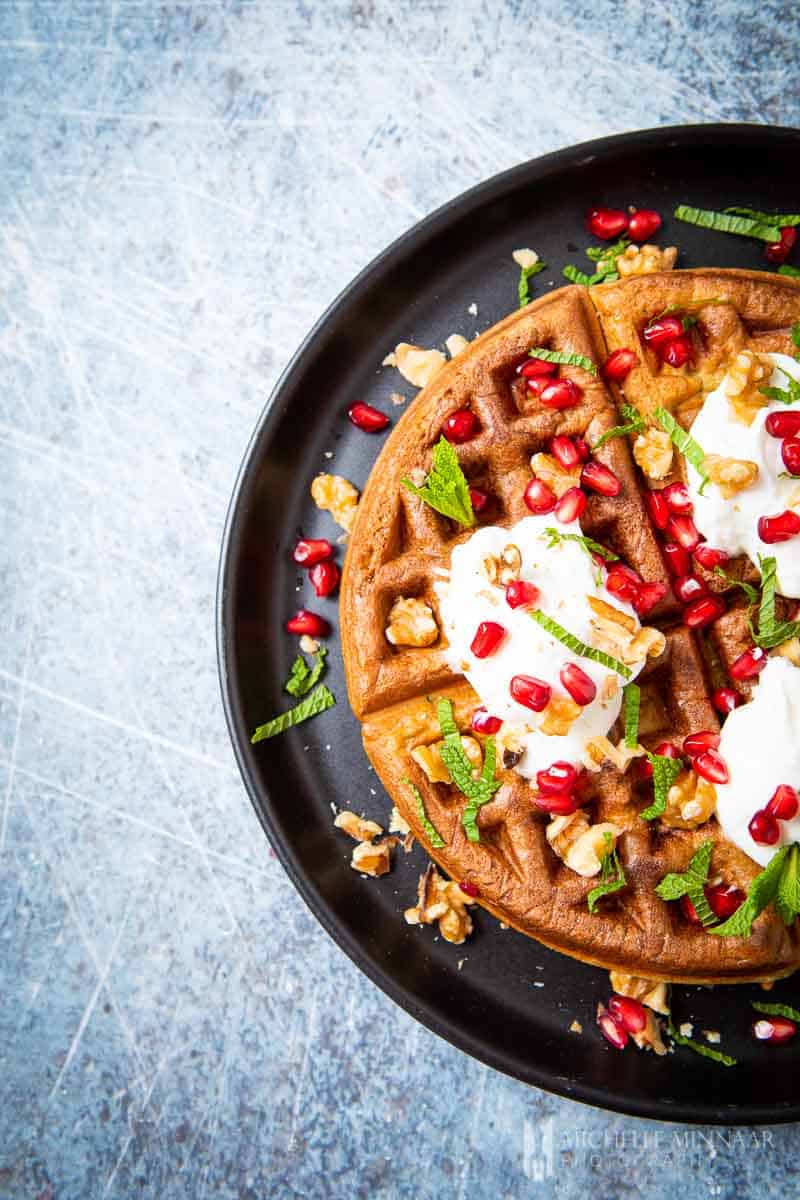 Other breakfast recipes
Here is a list of other breakfast recipes that you might like, just like these zucchini waffles.
Did I tempt you with these delicious breakfast recipes? Maybe I can also tempt you with a more hearty dessert, like malva pudding?
how to store waffles
These waffles are perfect for storage. They freeze extremely well. Therefore, don't be afraid to make a large batch in advance.
This way, you won't have to rush in the morning or wake up a lot earlier. Just store them in a sealable, airtight freezer bag and freeze them for up to 3 months.
If necessary, place the waffles straight out of the freezer into a toaster. Keep them in the toaster until they are warm and crispy and munch away.
So, how would you serve these waffles? Would you go savoury or sweet? Let me know in the comments section below.
What is your favourite waffle topping?
Print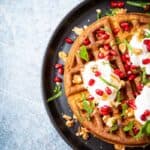 Zucchini Waffles
---
Description
Learn how to make this easy zucchini waffles recipe. You can serve it for breakfast, main course or dessert. Works as a savoury or sweet dish.
---
Dry
200g

(1 2/3 cups) flour

5

ml (1 tsp) baking powder

5

ml (1 tsp) baking soda

1.25

ml (1/4 tsp) salt

60

ml (1/4 cup) brown sugar
Wet
250

ml (1 cup) milk

2

eggs

4

egg whites

30

ml (2 tbsp) olive oil

250g

(1 2/3 cups) grated courgette/zucchini

Oil spray
---
Instructions
Preheat the waffle iron until hot. 

Place all the dry ingredients in a bowl and stir. 

Whisk the milk, eggs, egg whites and oil in a large mixing bowl.

Slowly whisk in dry ingredients little by little. Not all at once!

Fold in the grated zucchini.

Spray the hot waffle iron with oil. 

Spoon enough batter onto the waffle iron to just about cover the bottom of the gadget.

Close the lid and cook for 8 minutes, or until the edges of the waffles are golden brown.

Repeat for the remaining waffles.

[Optional] Preheat oven to 180°C/fan 160°C/350°F/gas mark 4. Place the waffles on a baking sheet and toast them until firm and slightly crispy. 

Serve immediately as a dessert or breakfast. In this case, it was the latter, where I served it with dollops of Greek yogurt, walnuts, pomegranate seeds and mint. The waffles work just as well as a dessert with fresh strawberries, Greek yogurt and strawberry curd.
Notes
Zucchini/Courgettes come in all shapes and sizes. Since you need even amounts of flour and courgette, measure out the courgette in cups, just to make sure it matches the flour volume-wise. Depending on the size of the courgette, you'll need about three, but get more to err on the safe side. 

The cooking time of the waffle can vary depending on the brand of waffle iron you use. Start off by cooking the batter for 5 minutes. If it's not golden enough, cook it for longer until it is. Remember the cooking time and use the same amount of time to cook the rest of the batter.

These waffles freeze extremely well, and make an excellent breakfast when in a rush, so make a big batch of them! Quarter the waffles, store them in an airtight container and freeze. When needed, place them straight out of the oven into toaster and toast until warm and crispy. Serve how you desire.
Prep Time:

10 minutes

Cook Time:

40 minutes

Category:

Breakfast

Method:

Bake

Cuisine:

American
Keywords: zucchini waffles, courgette waffles, vegetarian waffle recipe, zucchini recipe