Whether it's breakfast or lunch, a fluffy omelette can make for a delightful meal, especially this Mexican Omelette. Make it with vegetables, cheese, or keep it simple - omelettes are super versatile.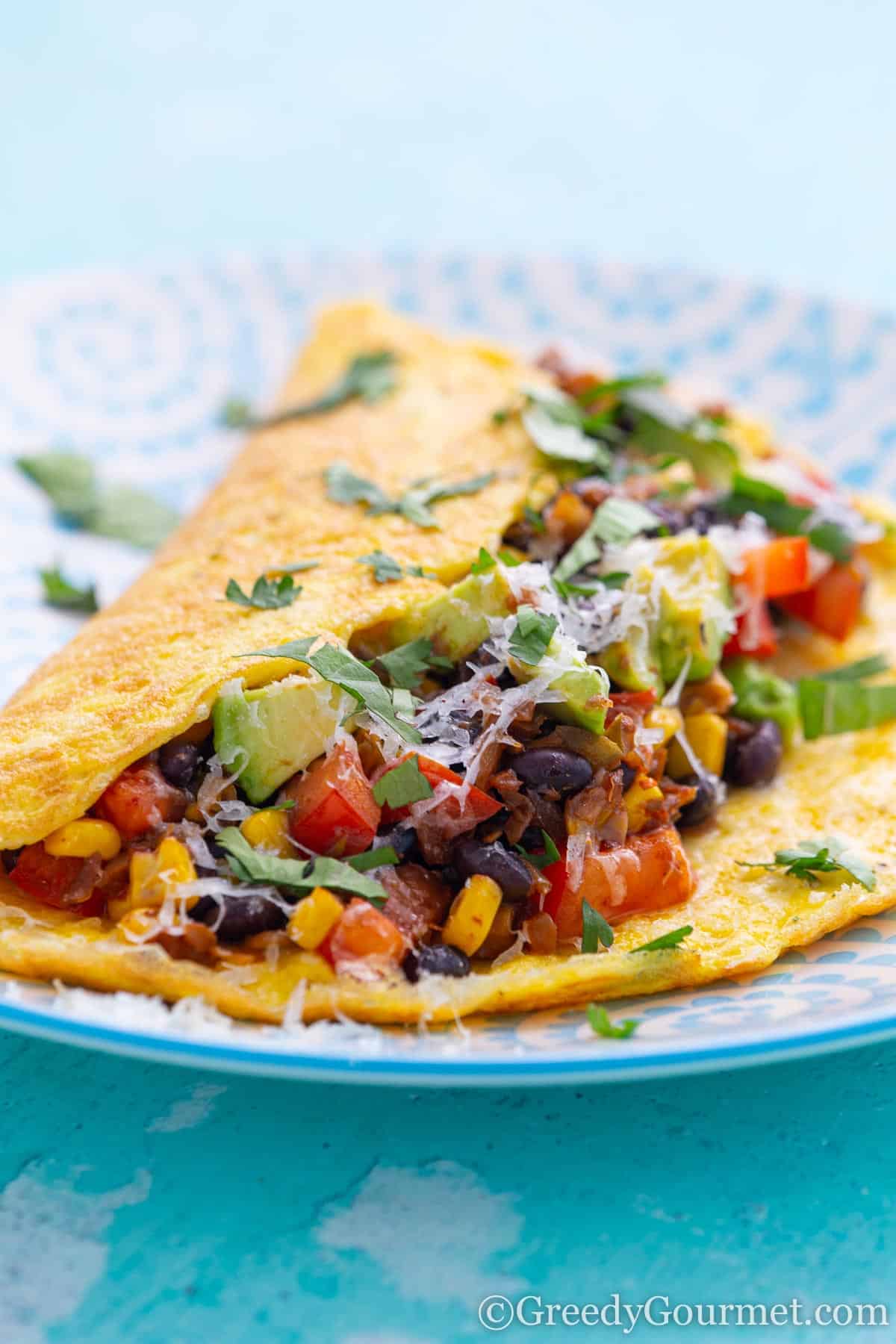 But what if you make the omelette a little too big and end up with leftovers? Will the leftover omelette reheat well and keep its delicious taste?
Equipment Needed to Reheat an Omelette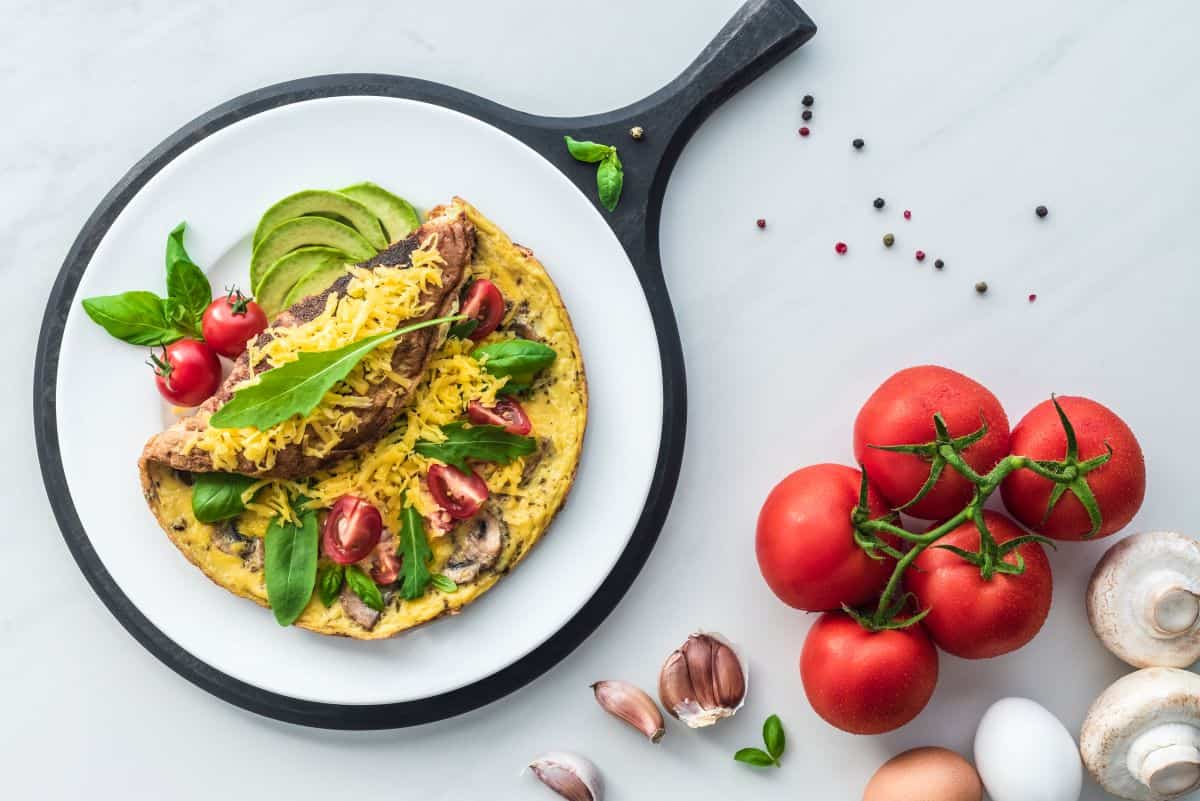 Do Omelettes Reheat Well?
Yes! Omelettes are an amazing breakfast cuisine that are hailed as one of the best meal prep breakfasts. This is because reheating omelettes is easy and can last in the fridge for a long time. 
You can make a lot of omelette at once and have enough for a couple day's worth of breakfasts. The egg dish is healthy, easy to make, and can be made in many different ways. These benefits are only amplified by the fact that they reheat amazingly! 
There are plenty of ways to reheat omelettes, and none need too much fancy equipment.
How Do You Know If the Omelette is Properly Cooked?
It can be difficult to tell if an omelette is cooked thoroughly as some people enjoy them slightly undercooked. But, there are some things that you should look out for to make sure you're not eating an uncooked omelet! 
The outside of the omelet should be solid, while the inside can be a bit "runny." The runny part should still be cooked, because raw egg has the potential to give food poisoning or salmonella. 
Many prefer having their omelettes slightly undercooked, because fully cooked omelettes can be on the dry side. It's all up to preference, but make sure the inside of the omelet is only slightly runny and not uncooked.
How Long Do Omelettes Last?
Omelettes can last for quite a while, but it depends on what toppings you add in. Plain omelettes will last in the fridge for about 4 days, and in the freezer for 3 months.
If you added cheese, veggies, or meat to the omelet, then they may not last as long. A good rule of thumb is for omelettes with toppings, keep them in the fridge for up to 3 days and in the freezer for up to 2 months.
How Do You Store Omelettes?
Fridge
The best way to store omelets in the fridge is by placing them in an airtight container. Line the container with a paper towel to help prevent sogginess. Omelets release a lot of excess moisture while they're in the fridge, so using a paper towel keeps them nice and firm. 
The bottom paper towel will soak up the liquid the omelet releases, so it is important to use paper towels when storing omelets. 
If you are storing many omelettes at once, separate each omelet with a layer of parchment paper or paper towels. That way you don't have to put each omelet in its own container! 
Freezer
To freeze omelets, let them cool to room temperature first. Wrap the cooled omelettes in plastic wrap, then place them in a freezer bag. You can store multiple omelettes wrapped in plastic wrap in one bag. 
Press as much air out of the freezer bag as you can, then place it in the freezer. This may sound like overkill, but omelettes are very susceptible to freezer burn. Taking these steps will prevent freezer burn from ruining your yummy eggs. 
When freezing omelets, it is best not to add tomatoes or moisture heavy veggies (i.e. cooked spinach) to the omelettes. The vegetables will become mushy while they are thawing, so you won't get as nice of a texture. 
How Do You Know If the Omelette Has Gone Bad?
There are two main ways to know if your omelet has gone bad. 
The first is giving the omelet a good look for any discoloration or mould. Cooked eggs can last in the fridge for a while, but eggs are sensitive to change. 
Note that there may be some discoloration from the toppings you added into the eggs. But, there will be a noticeable difference between a green spot where spinach is and a green spot where there is none. 
The other way to tell if an omelet has gone bad is by smelling it. Omelettes generally don't have a strong scent, or smell eggy. But, if the extra omelets smell strange, then that's an indicator that the omelettes have gone bad.
The best way to prevent omelettes from going bad is to store them in an airtight container as soon as they have cooled. Do not leave the omelet out for more than an hour. The warmth will make bacteria grow on egg dishes rapidly, and it will not be safe to store or eat.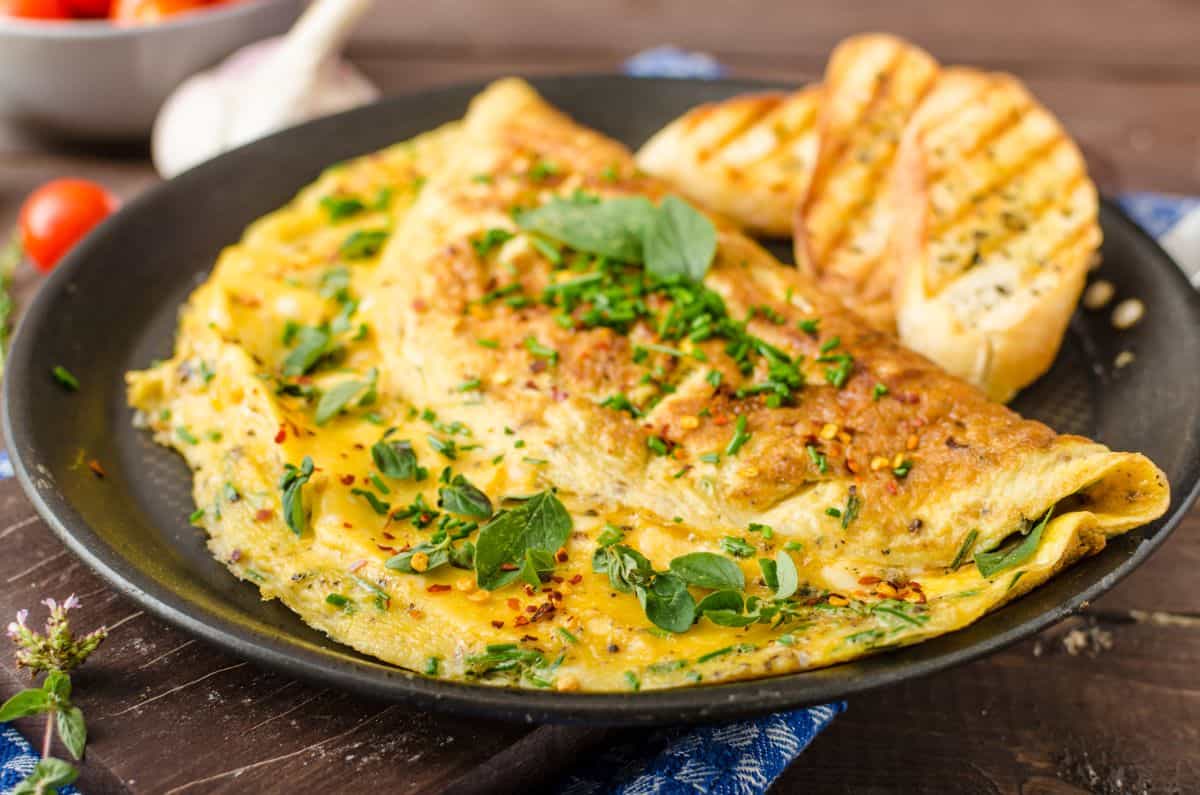 How to Reheat Omelettes
There are numerous ways to reheat omelets, which is why they have become a staple in the meal prep world. Depending on your schedule and preference, you may prefer one of these tips better than the other to reheat omelette.
If reheating a frozen omelette, leave them in the fridge overnight to thaw first. This will make the process easier the next day.
Try them and let us know in the comments which way to reheat make ahead omelets is your favourite. Each method comes with some easy and practical tips to make the reheating process easy!
Oven
One of the best ways to reheat more than one omelet at the same time is to use the oven. To reheat an omelet in the oven there are a few easy steps to follow. This method does take the longest out of all the options on this list, but it produces a good end result.
Preheat the oven to 180C and grease a baking sheet with spray oil.
Put the omelet onto the greased baking tray, and place aluminium foil on top of the omelet.
Place it in the oven to bake for around 5 minutes. It may take longer depending on how big your omelet is, and how many you have on the baking tray.
Remove the omelet from the oven and carefully take off the foil. The foil keeps in a lot of steam, so be careful to not get all that steam in your face.
Serve the reheated omelet and enjoy!
Microwave
A quick and easy way for reheating omelets is by using the ever so trusty microwave. Reheating omelets frozen versus refrigerated is slightly different. The directions for both are below. Make sure to use a microwavable dish to avoid any accidents in the kitchen.
The texture of the reheated omelets from microwaves can be a bit rubbery. Using a microwave may be convenient, but it could change the texture.
Here are the steps on how to reheat an omelet in the microwave.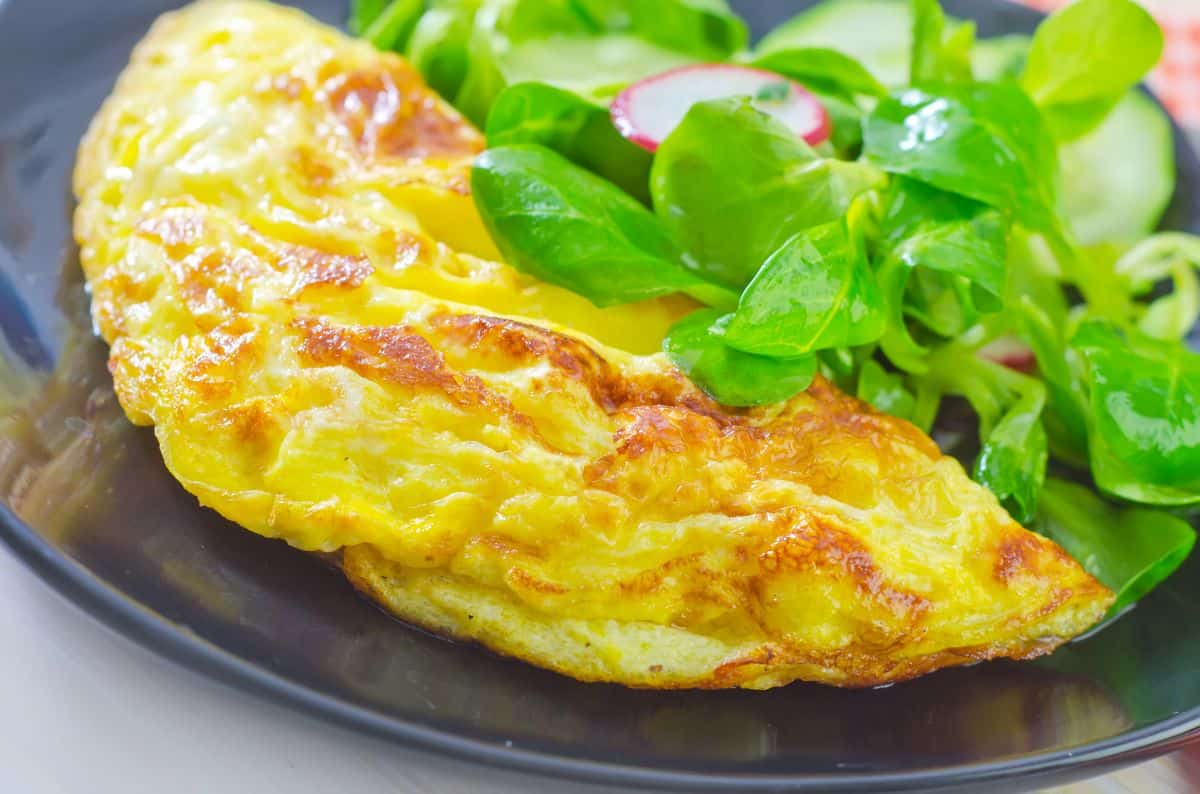 Reheating an omelette from frozen
Add a dry paper towel to a microwave-safe dish, then place the frozen omelettes onto the covered plate.
Microwave it for about 5 minutes, but flip the omelet halfway through reheating. This will make sure the omelettes are heated thoroughly.
Keep an eye on the omelet during the 5 minutes, so you don't reheat the eggs too much.
Reheating an omelette from chilled
Cover a microwave-safe plate with a damp paper towel.
Heat it in the microwave for 30 seconds, then in 10 second intervals if you want it hotter. Check on the omelet often, so that you don't overheat them.
If you don't have a damp paper towel, then add a bit of water to the omelet. Cover it with plastic wrap and pierce some holes in it.
This will bring back moisture into the refrigerated omelet.
Toaster oven
Using this tool will give a similar effect as an oven, but it will be much easier. The omelettes will be warmed thoroughly, but the edges will be nice and crispy.
For omelettes that are frozen, this is the best way to reheat them.
Preheat the toaster to 180C.
Place the omelet on a small greased baking tray.
Cover it in foil, then let it bake for a few minutes. Take it out of the toaster and remove the foil carefully.
You can also skip adding foil if you want to make it a bit more crispy.
Serve and enjoy!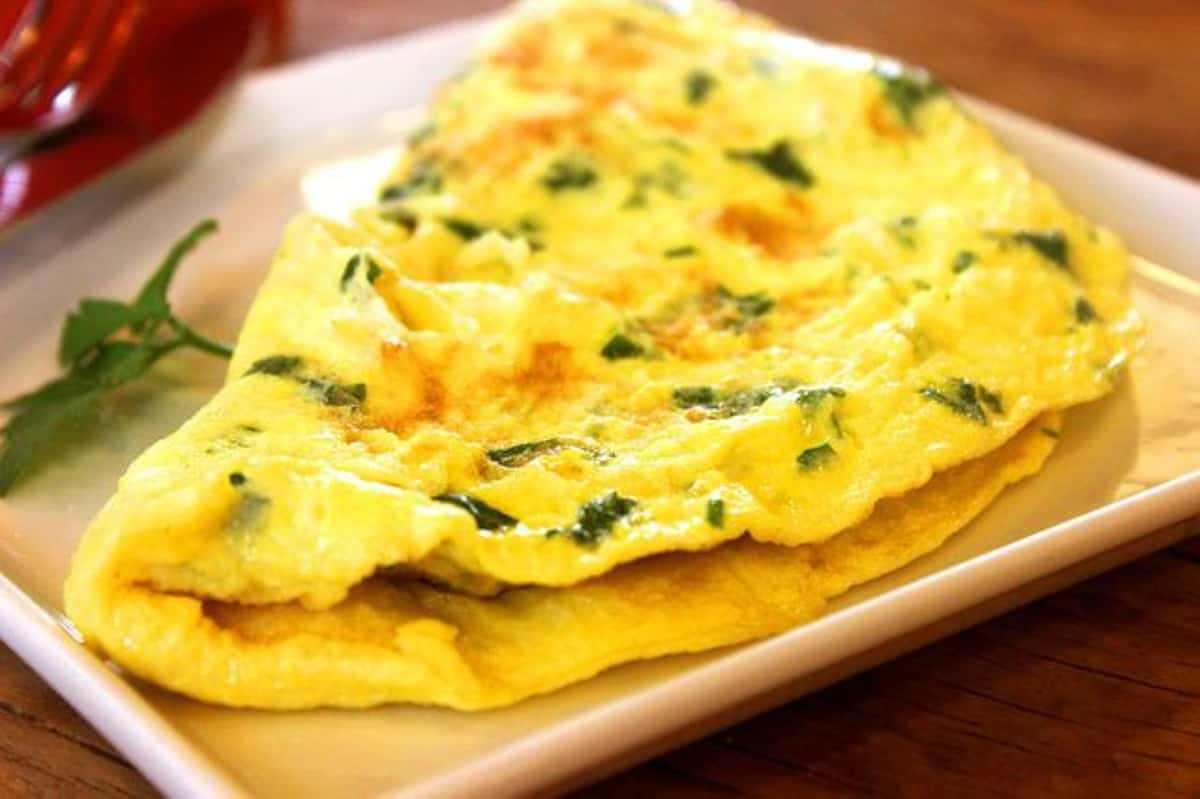 Air Fryer
The hype around air fryers is well earned. Reheating omelettes in an air fryer is one of the quickest methods, but be careful to not leave the eggs in there too long. Leaving them too long in the air fryer will make the omelet dry.
Below is the best way to reheat an omelette properly in the air fryer.
Preheat the air fryer to 180C.
Line the air fryer with parchment paper or spray it with oil.
If the omelet doesn't fit into the air fryer's tray, then cut it in half so it fits. Do not layer the omelettes.
Once preheated, put the omelet in the air fryer.
Leave it for 1 minute. If you would like it hotter, leave it for another minute.
Serve and enjoy with a side salad or some toast.
Skillet
One of the best reheating methods for omelettes has to be using a skillet or frying pan. The omelet will cook evenly without overcooking it. So, you will get almost the same texture from the reheated omelettes as a fresh one.
Using a skillet to reheat an omelette also allows more control over reheating. You can add some extra cheese or vegetables on top of the omelette to make it taste fresh.
When reheating in a skillet, make sure the frozen omelettes are fully thawed before reheating. If they are not thawed, the eggs will release a lot of moisture into the pan, so it will not get those nice crispy edges. No one likes a soggy omelette!
Here are the steps to properly reheat an omelette in a skillet:
Add butter to the pan and heat over medium heat.
Once the butter is melted, put the omelette in the pan.
Let it heat for about 2 minutes, then flip and heat the other side for around 1 or 2 minutes.
If you have a thick omelette with lots of toppings like peppers, onions, or mushrooms, the cooking time may increase.
If adding extra toppings onto the omelette, place aluminum foil on top to cook those ingredients faster while still heating the eggs.
As soon as it has heated all the way through, serve it and eat.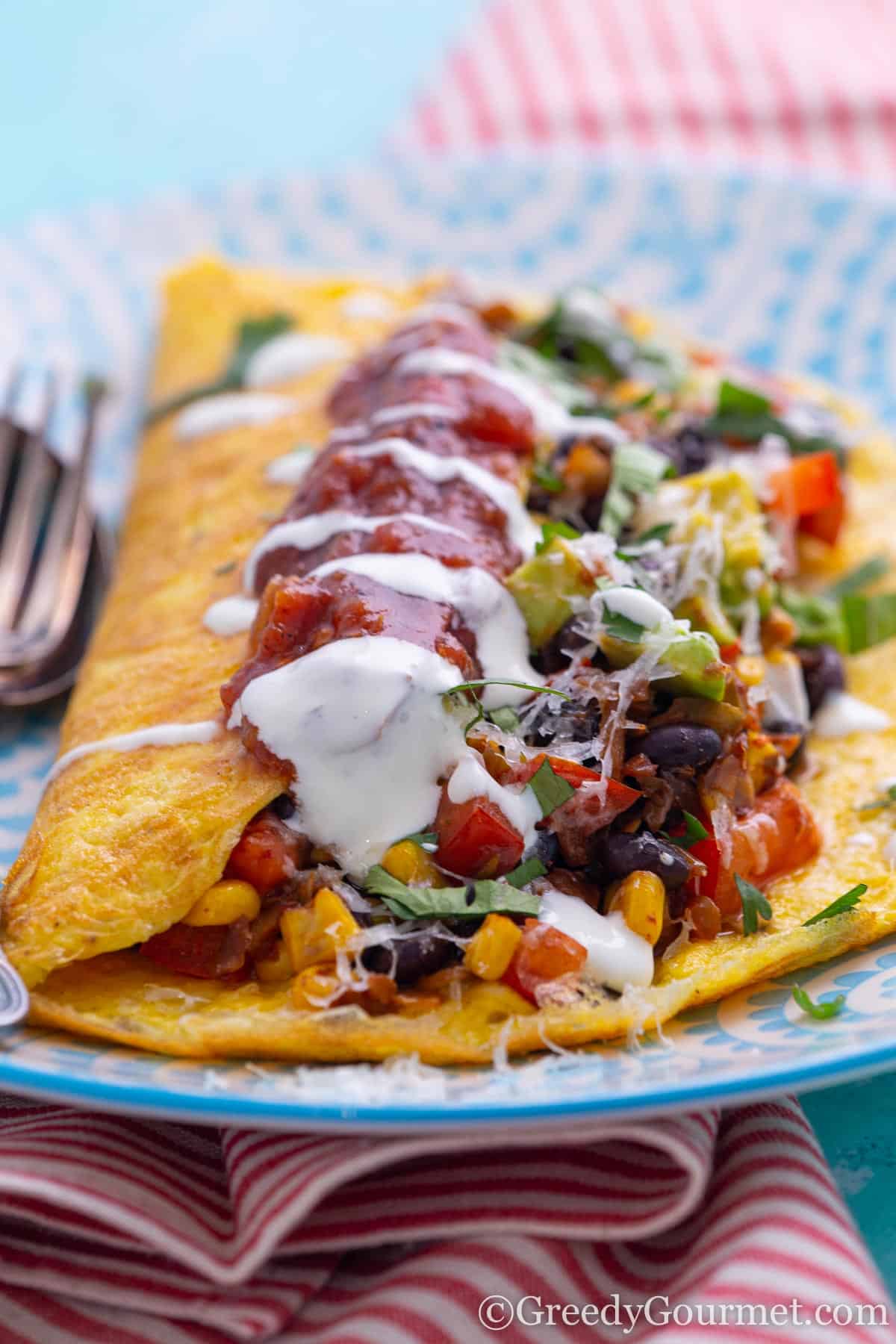 Repurpose the Omelet
A great way to reheat an omelet is to repurpose it! By adding more egg mixture and toppings on top of the leftover omelettes, you get a whole "new" omelet! It may seem like a lot of work, but it is much simpler than it seems.
It is a great way to turn leftover omelettes into something new. For those who have picky kids, this is an awesome choice for reheating an omelet.
Break and beat one egg until you don't see any clear streaks.
Put some butter into a pan and heat on medium heat.
Once the butter has melted, place the omelet into the pan.
Let it heat for about a minute, then pour the eggs on top of the omelet.
Swirl the pan, so that the new eggs can hit the pan edges. This will give them a nice crispy texture.
Cook until the bottom has become firm, then fold one half of the "new" eggs over the omelet.
Flip and cook for a few minutes to cook the new eggs and heat the omelet thoroughly.
Serve hot with some bacon and chives! Just about anything can make for a nice topping on your "fresh" omelet.