Creamy, rich, and satisfying are all words that describe a good risotto. But what if you make too much of this decadent rice dish and want to save some for the next time you have a craving for risotto, can you reheat it?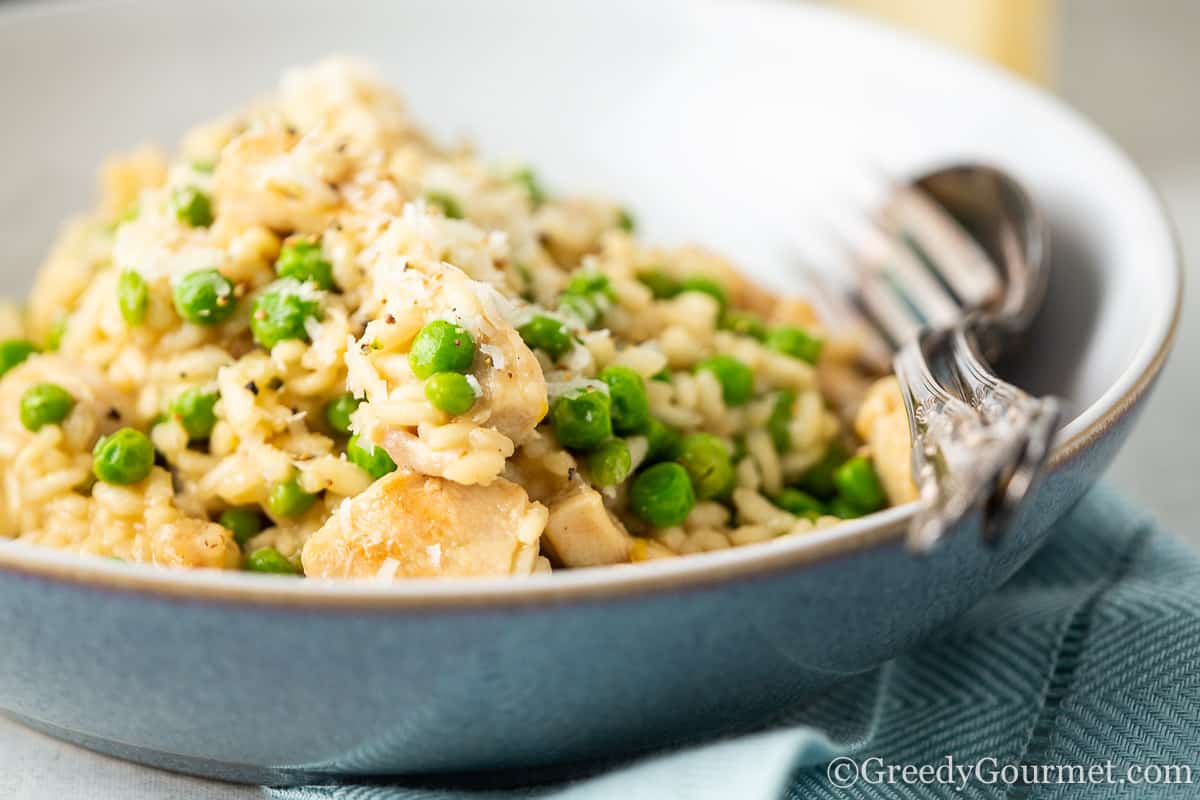 EQUIPMENT NEEDED TO REHEAT RISOTTO
Heat proof bowl - to use for the microwave or for the steamer basket method, having
a bowl that can withstand high temps is a great help with reheating risotto
Glass airtight containers - the best way to store your leftover risotto. These will also work well in the freezer if you choose to freeze risotto
3-quart sauce pan - this one has a steamer basket insert. Whether you are using the steaming method or the stove top method to reheat risotto, you will need a good sauce pan with a lid to get the job done
Cast iron pan - the best vessel for shallow frying the arancini balls made from your leftover risotto. It is important to have a thick sided pan when heating oil and deep frying
Spider strainer - this funny named tool will help you retrieve your risotto balls from the hot oil when they are crispy and turn golden brown
Microwave - the ultimate tool for easily heating anything, especially leftover cold risotto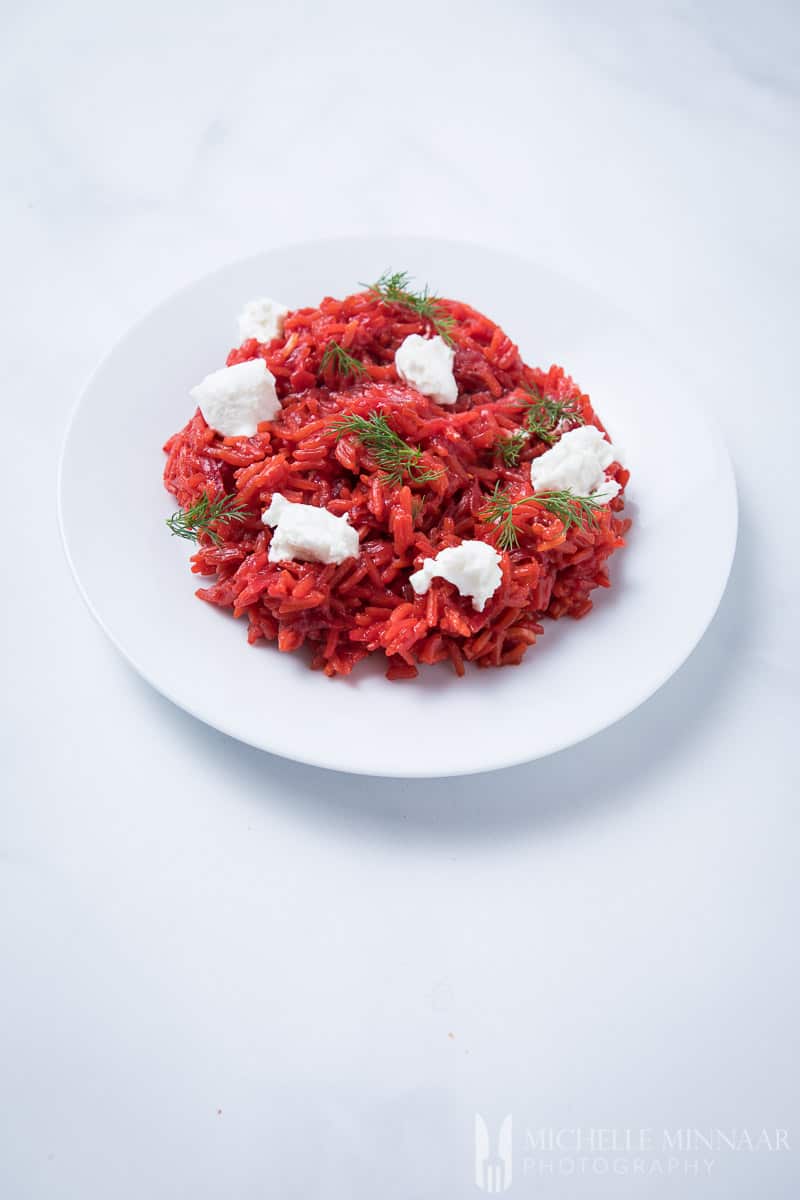 DOES RISOTTO REHEAT WELL?
The short answer is yes! However, you need to make sure to use the correct methods and follow the steps to ensure you keep the creamy texture and don't end up with a dried out risotto. 
After all, risotto is a time consuming process to make and it would be a real shame to ruin the leftovers. 
When reheating risotto make sure to keep a couple points in mind:
Try to reheat the freshly cooked risotto within 2 days of making it. The longer it sits the more likely it is to be mushy when you try to reheat it.
Make sure that you have fully reheated risotto no matter what method you choose to use. Not only do you now want to eat cold risotto, but this is important to avoid any food poisoning that could come from bacteria that may have formed in the leftovers. 
For this reason it is not advisable to reheat the risotto leftovers more than once. 
If you are making a large batch and know you will be saving a portion for leftovers, separate it out immediately and allow it to cool in the fridge overnight. 
Do not eat risotto that has been left out on the counter at room temperature for too long, as it can also breed bacteria. 
HOW DO YOU KNOW IF RISOTTO IS PROPERLY COOKED?
Cooking risotto is a relatively simple process, but it can be time consuming. Arborio rice is the ideal choice for making a risotto dish as it is a short grain rice and is able to absorb a lot of liquid.
Arborio rice is high in starch, which is necessary for creating a creamy risotto dish. Using regular rice will not work as it will just become mushy and is best saved for other rice dishes. 
In order to cook risotto, you will slowly add heated stock to your rice while continuously stirring it. Over time the stirring will release the starch, making it creamy. 
Your risotto is fully cooked when it is no longer crunchy and looks creamy. After all, no one wants to eat uncooked rice!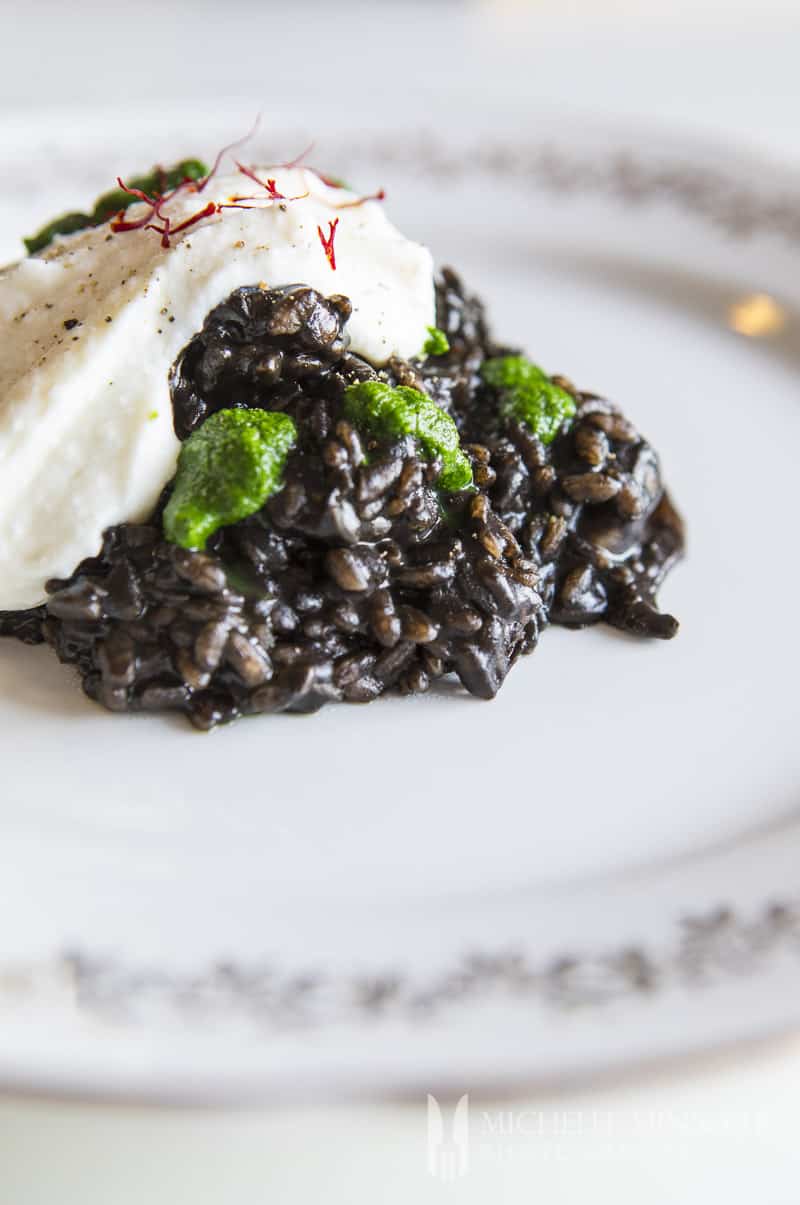 HOW LONG DOES COOKED RISOTTO LAST?
Properly cooked risotto is best consumed within 2 days but can be eaten up to 5 days, if stored in the refrigerator. I do not recommend freezing, but if you do, do not keep frozen risotto for longer than 3 months.
HOW DO YOU STORE RISOTTO?
You should keep your leftover risotto in an airtight container in the refrigerator to prevent bacterial growth.
HOW DO YOU KNOW IF RISOTTO HAS GONE BAD?
It is easy to tell if your leftover risotto mixture has gone bad. Simply give it a smell and if it has an off aroma to you, you will know that it is no longer good. I recommend reheating risotto within 2 days for best results, and absolutely no longer than after 5 days.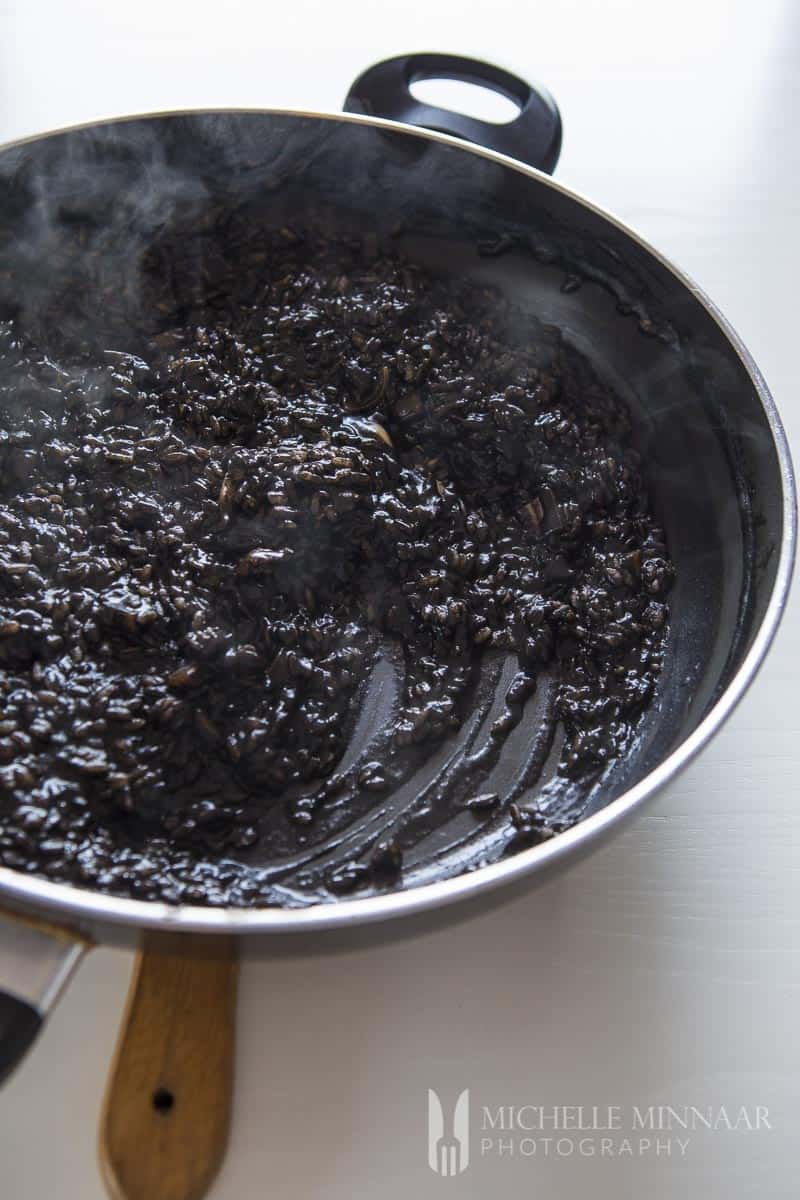 HOW TO REHEAT RISOTTO
When reheating in the oven, stove, or microwave you may want to add grated cheese like parmigiano or a little butter towards the end of the reheating process. This will not only add to the creamy dish but also add some additional flavor and even a little texture if the cheese gets crispy.
See the best 4 methods below.
HOW TO REHEAT RISOTTO IN THE OVEN
Heat your oven to 300°F.
Using a heatproof bowl, add your risotto and spread out as best you can.
Using the ratio of one cup of risotto to a tablespoon chicken or vegetable broth, add your liquid to the bowl and mix. You can use water if you don't have broth.
Cover the dish with foil and place in the hot oven for 15-20 minutes, depending on the amount.
Check halfway through and gently stir the risotto to ensure even heat through the reheating process.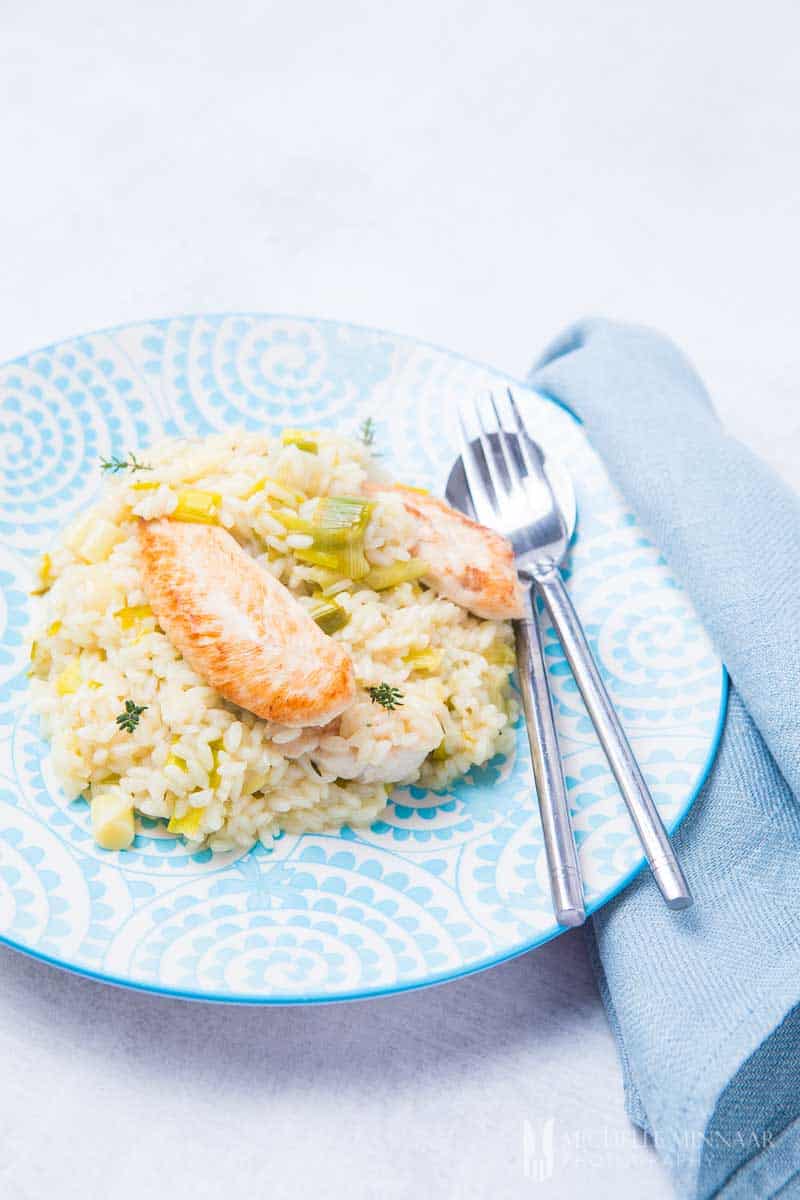 HOW TO REHEAT RISOTTO USING A STEAMER BASKET
Fill a saucepan with a steamer inserted halfway with plain water. Bring the water to a boil.
Put your risotto into an oven safe glass bowl, and place it in the steamer basket, being careful of the steam. Cover with a lid.
Lower to a medium heat and steam for 3-4 minutes, depending on the portion size.
Remove the lid and stir a few times throughout the heating process to make sure it is evenly reheated. If it looks dry, add a little water or stock.
HOW TO REHEAT RISOTTO USING THE MICROWAVE METHOD
Using a microwave safe dish, add your portion of risotto to be reheated. Add a few tablespoons of water, vegetable, or meat broth.
Cover the dish with plastic wrap or a damp paper towel, whichever you prefer and place risotto in the microwave.
Reheat risotto by using short bursts of heat, around 30 seconds, and stirring in between.
Using a damp paper towel will help to create moisture and avoid a dry risotto, while plastic will trap the steam inside of the bowl. Be sure to make some small holes in the wrap so it does not balloon.
HOW TO REHEAT RISOTTO ON THE STOVE
Begin by adding vegetable or meat stock, water, or white wine to your saucepan. Use the ratio of 3 tablespoons to a cup of risotto. Bring to a simmer.
Add your risotto and stir to combine with your liquid. Allow the risotto to cook for 4 to 5 minutes until evenly heated.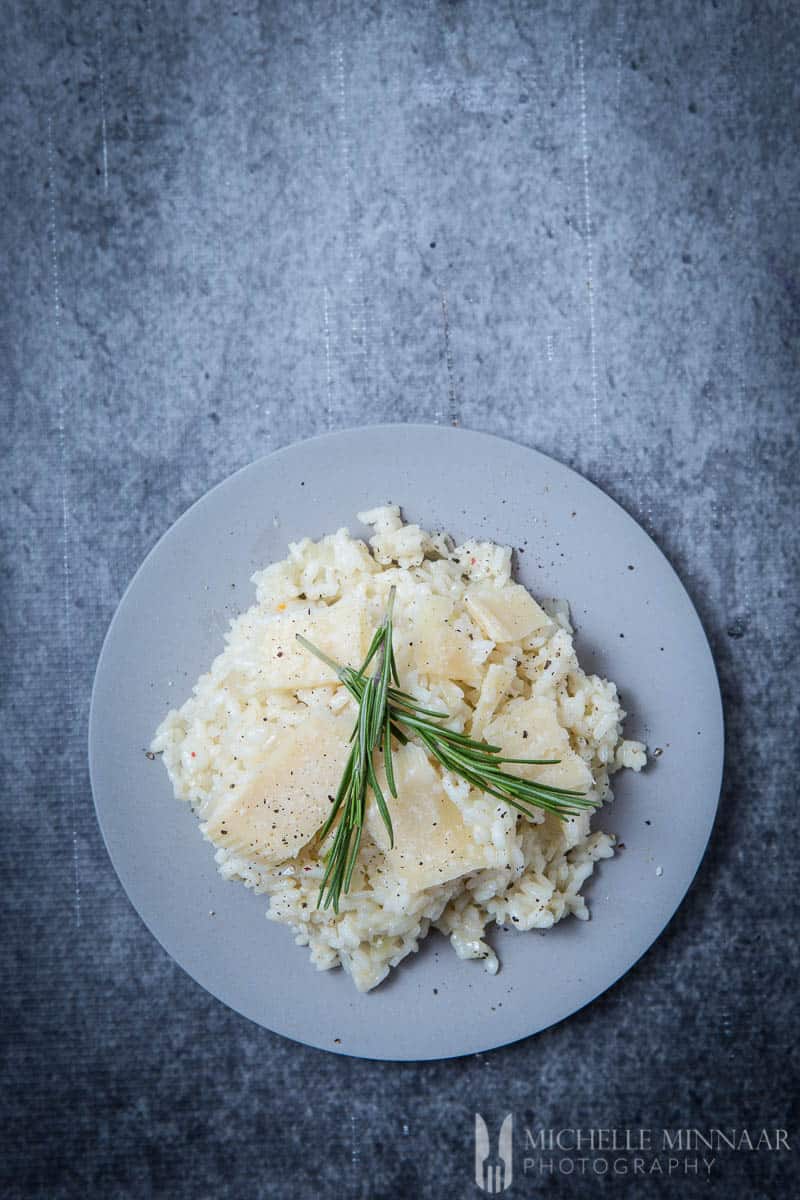 HOW TO MAKE RICE BALLS OR ARANCINI FROM CHILLED RISOTTO
Put high temperature oil in your cast iron frying pan such as vegetable, grapeseed, or canola oil. You can also use olive oil that is not extra virgin. Turn on a medium high heat.
You will need 2 beaten eggs in one bowl, add more if needed. You will also need a cup of bread crumbs, plus more if needed.
To prepare the risotto, remove it from the fridge and let it sit at room temperature for a few minutes. If you would like, you can add some cheese at this point, or wait until they are finished to give them a nice sprinkle. Next, form it into balls about the size of golf balls.
Once your oil is at 375°F you are ready to fry. Dip your rice ball into the egg mixture and then into the breadcrumbs. Next place each one into the cast iron and pan fry until they reach a golden brown color. Do not overcrowd the pan.
Remove the arancini and lay on paper towels or parchment paper to rest before enjoying. Serve hot.
This is a great way to repurpose your leftover risotto into a new dish. If you wish, finish with a squeeze of fresh lemon juice, or a light (or heavy) layer of cheese. Make sure that the risotto inside has reached an internal temperature of 165°F.
If you love Parmesan cheese, you simply have to check out this recipe!