Check out this ultimate guide on how to reheat chicken wings, whether they are freshly made, 2 days old or frozen. It's easier than you think!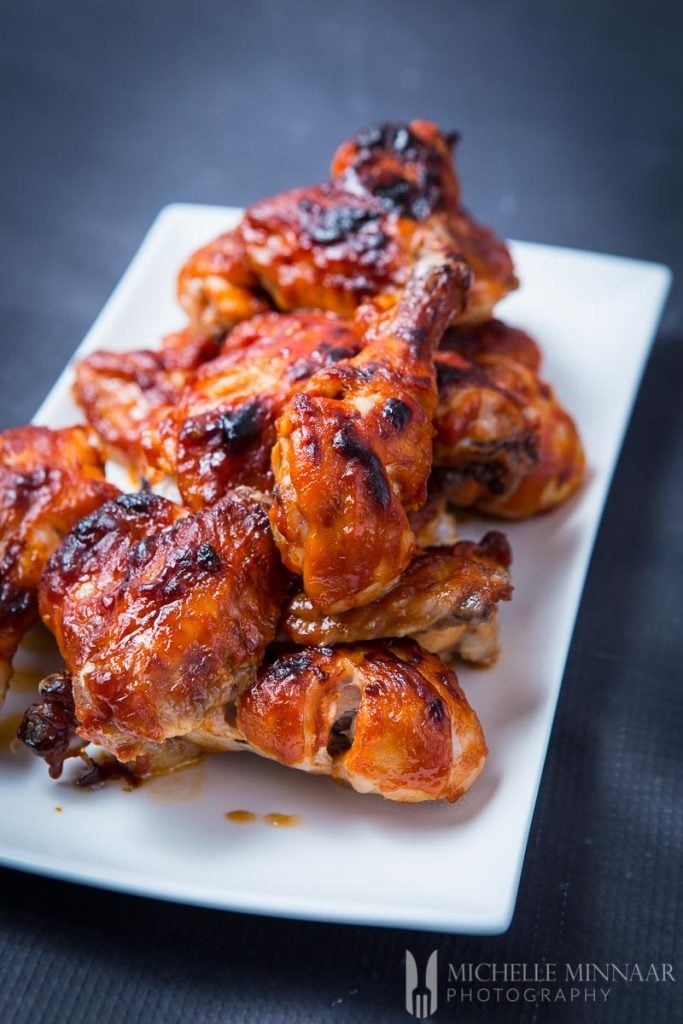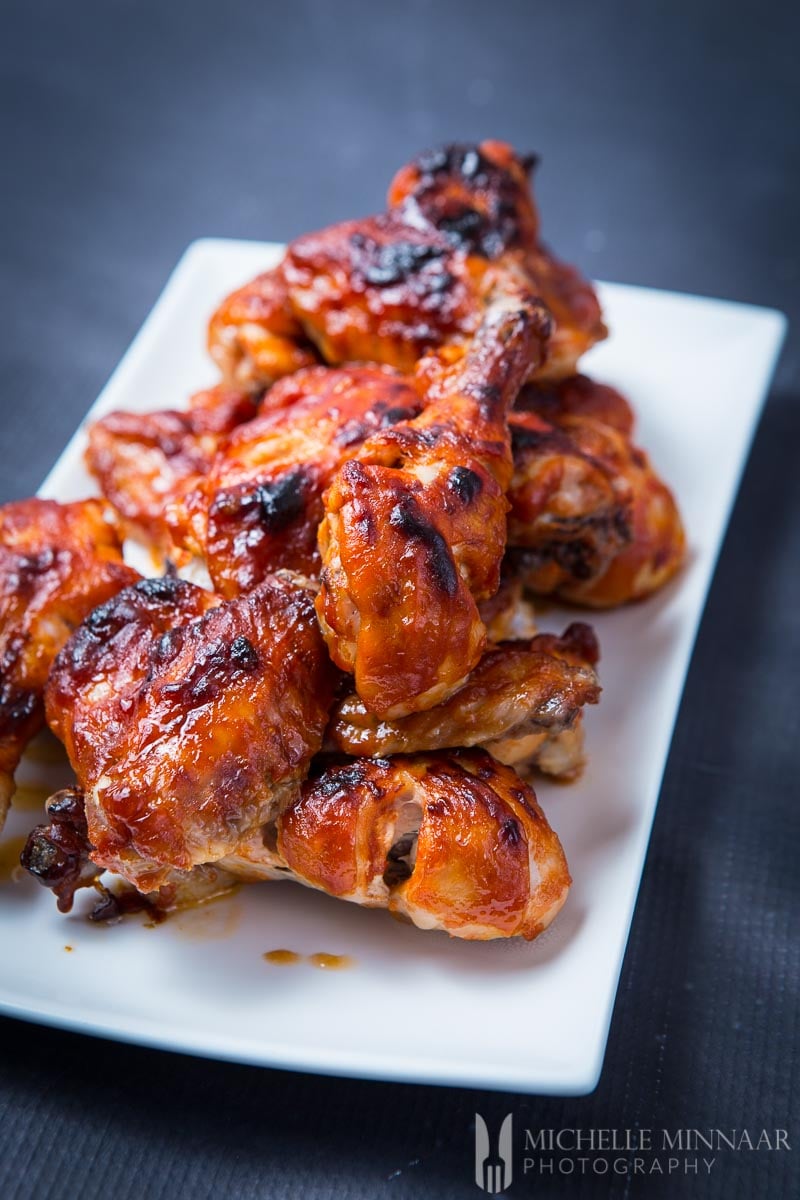 5 ways how to reheat chicken wings
One of the worst things that happens when reheating chicken wings is that oftentimes you end up with tough skin. Chewy chicken skin is to be avoided at all costs, since it makes the chicken completely unappetizing and ruins the entire experience.
When this happens, I usually just take off the chicken skin from the wings, and just continue eating the chicken. However, that's such a waste because one of the best things about eating them is for the crunchy and tasty skin!
Top products you need
Before we deep-dive into finding out how to reheat chicken wings, first you have to understand which equipment you'll need. Hence, take a look at this list below and see which of these kitchen gadgets and equipment you've got at home.
air fryer: If you make air fried chicken wings, you can reheat them in the air fryer as well. Besides, with an air fryer you can make other fantastic air fryer recipes like this air fried salmon.
microwave: This is a must have kitchen appliance. I mean, name one person who doesn't heat their food with a microwave at this day and age?
aluminum foil: You can use aluminum foil to keep your chicken wings warm. It also comes in very handy during the reheating process as it ensures that you don't dry out the chicken completely.
baking tray: When learning how to reheat chicken wings, you'll see that you will need a large enough tray to spread the chicken wings apart.
boning knife: A boning knife is a must when roasting or baking a whole chicken. How else will you deconstruct it?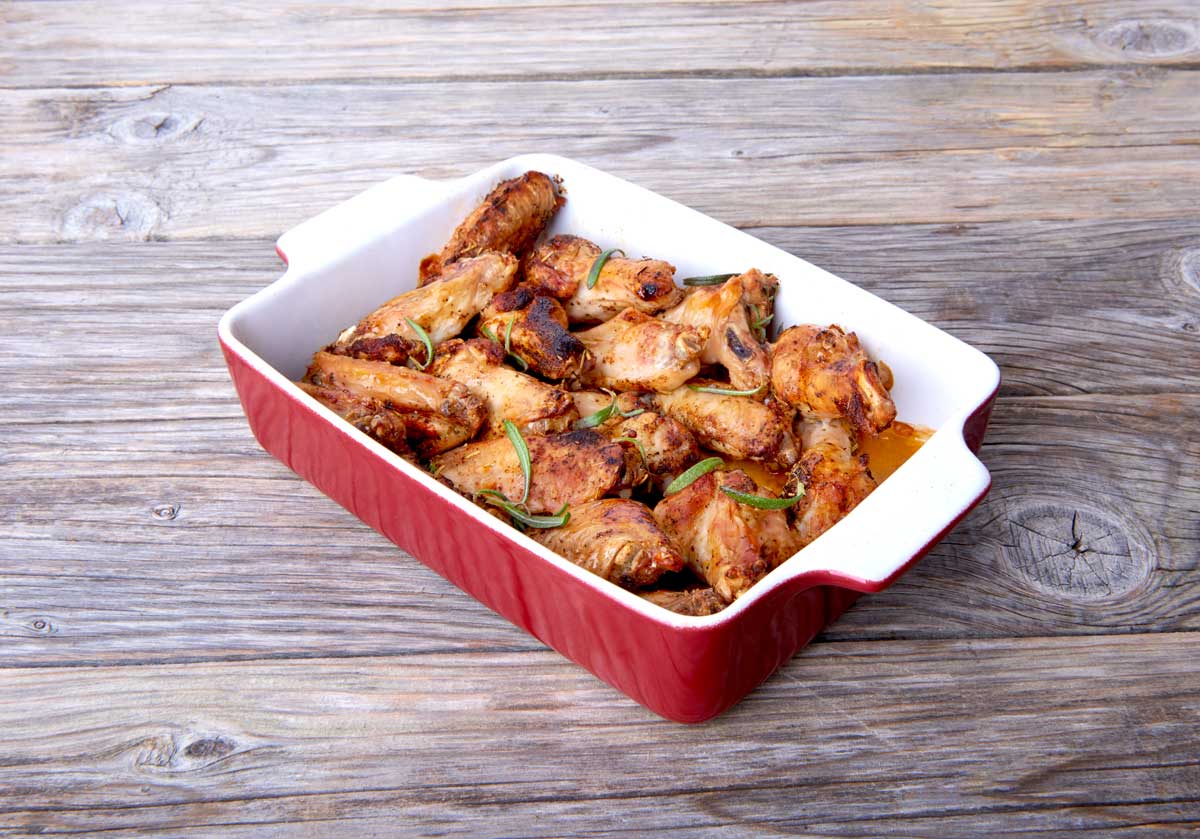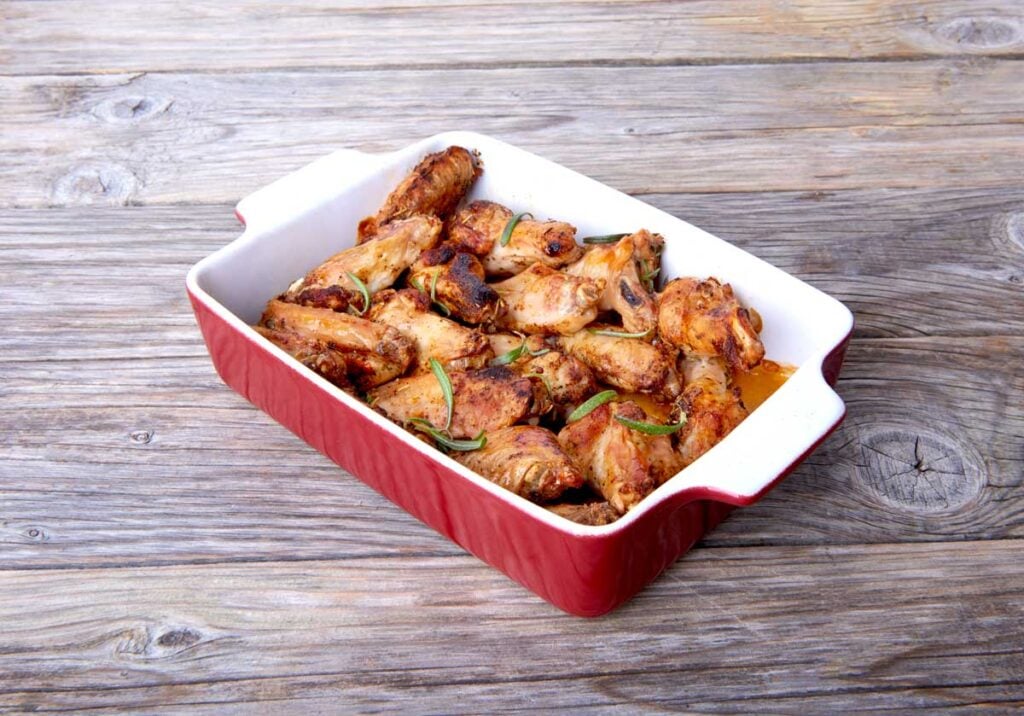 The anatomy of chicken wings
Anatomically, the chicken wing is divided into three parts: the drumette, the wingette (also known as the flat) and the tip. Above all, chicken wings have a lot of skin, which is why they are prized.
You can cook chicken wings, pan-fry them, air-fry them, roast them, grill them, you name it. However, the best way to enjoy chicken wings is to season them, smoke them on the grill and serve them with a BBQ sauce.
Can you eat leftover chicken wings?
Yes. If you store them properly.
The safest option is to immediately place the leftovers in a fridge after the meal. You can eat them cold, or reheat them. Check out the different methods below.
How long are leftover chicken wings good for?
As long as you store them in the fridge immediately after a meal, they will keep in the fridge for up to four days.
Can you freeze leftover chicken wings?
Yes. You need to place the leftover chicken wings in an airtight container as soon as you've finished your meal, then let it cool down in the fridge.
Once the chicken has cooled, you can place the container in the freezer for up to 4 months.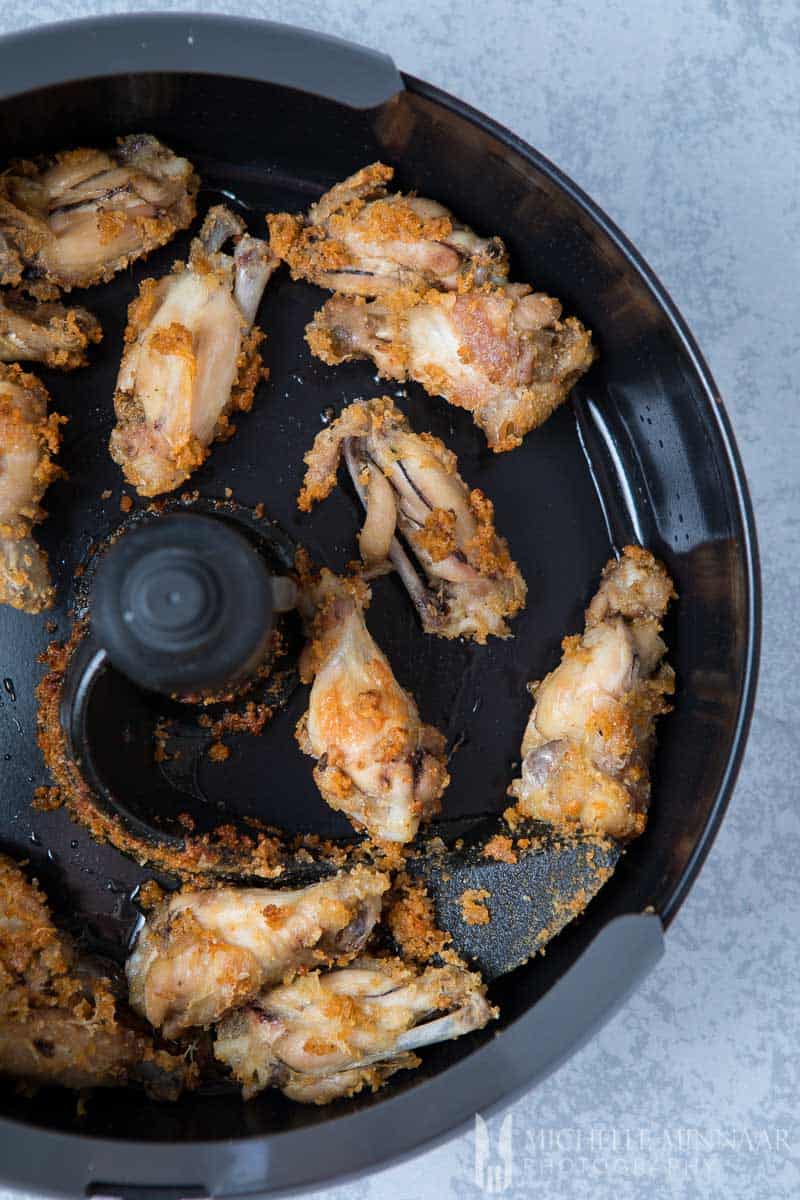 How do you reheat chicken without drying it out?
Nobody can resist those finger-licking delicious chicken wings. Still, for best results, you should brine them first. Here is a guide about how to brine chicken wings.
Basically, the salt and sugar inside the brine solution break down the protein.  Usually when you cook chicken wings, the muscles contract and push out moisture. With brining it happens not as much and the meat comes out much juicier! 
Brining also helps during the reheating process. It prevents the chicken from becoming rubbery and dry. It works on other cuts of chicken as well, check out ultimate guide to brining chicken.
For more inspiration, check out this easy and flavourful dukkah chicken wings recipe.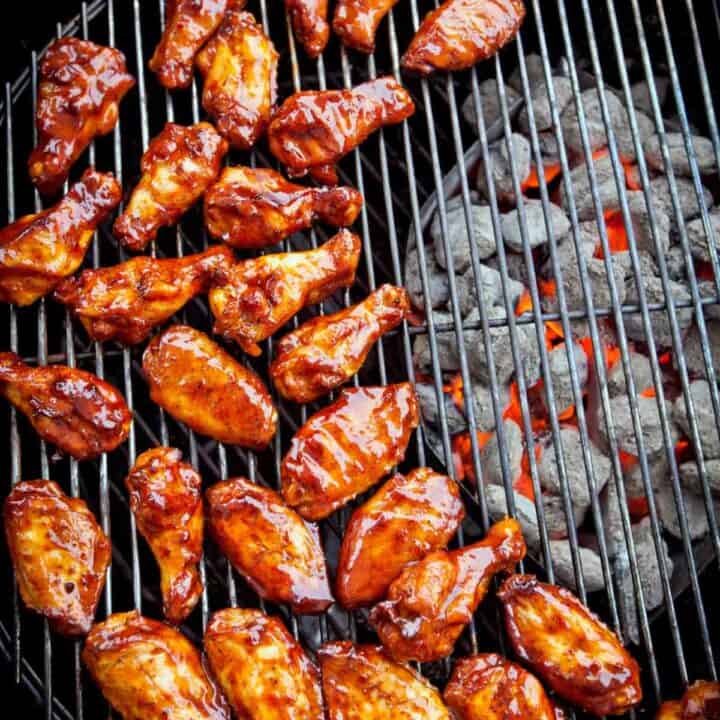 How to reheat chicken wings
Yield:
reheated chicken wings
Additional Time:
3 minutes
Are you wondering how to reheat chicken wings? There are 3 ways how to do it, the oven method being the best option to get crispy skin.
Instructions
Remove the chicken wings from the fridge and let them reach room temperature.
Preheat your oven to 180°C/350°F.
Line a baking tray with aluminum foil.
Place the chicken wings on the lined baking traywith enough spaced at least an inch (2.5cm) apart. This will allow the chicken wings to reheat evenly.
Bake the chicken wings in the oven for 7 minutes. If the wings are particularly large, keep them in for 10 minutes.
If the skin didn't crisp up, then use the grill function in your oven for 3 minutes to give the wings a lovely char. Enjoy!
How do I reheat chicken wings in an air fryer?
Place all the chicken wings inside the air fryer basket. Make sure that you spread the chicken wings apart with enough space in between then. This will allow the chicken wings to heat up evenly.
Next, set you air fryer for approximately 350°F/180°C for 5 minutes. 
To crisp up the chicken wings, put the heat up all the way up to 400°F/205°C. Set the air fryer for 2 minutes. If you've got larger chicken wings, leave them in for 2.5 minutes – 3 minutes.
Viola, serve your crispy hot chicken wings immediately.
How do I reheat chicken wings in a microwave?
Heat the chicken wings on a high microwave setting for 1 minute. Check if the chicken is warm enough. If not, heat it up for another 30 seconds until the chicken wings are warm. 
By the way, this is not my preferred method of reheating chicken wings, because the chicken skin usually ends up soggy. However, if you've got a grill function in your microwave, then you can use it to crisp up the skin.
How do I reheat chicken wings with sauce?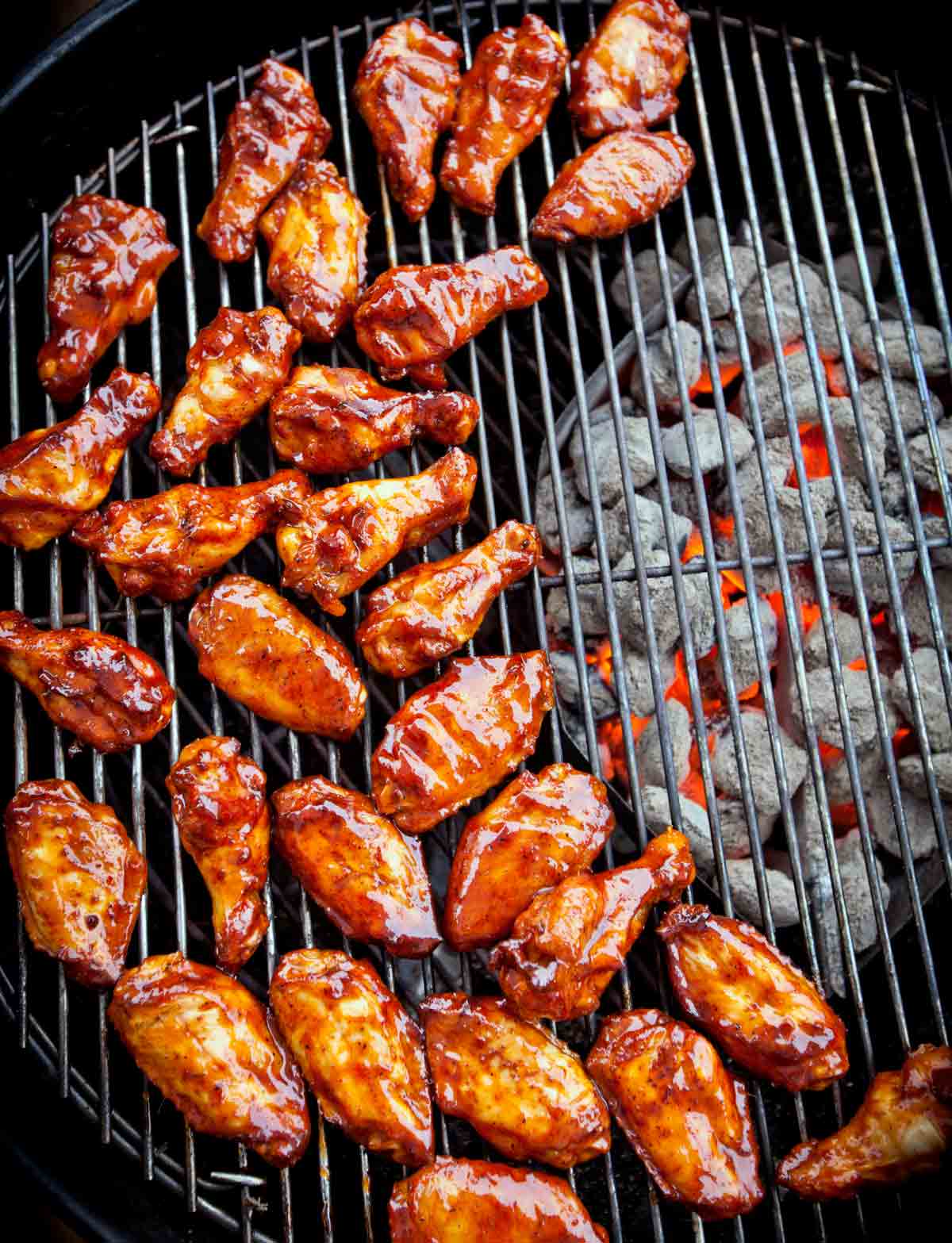 If you've got chicken wings with sauce on then, you should reheat them using a frying pan. First, use a low calorie cooking spray and place the chicken wings on high heat. Sprinkle a few drops of water on your chicken wings.
Pan fry your chicken wings on high heat for about 5 minutes. Depending on the size of your chicken wings, this process can take up to 10 minutes.
If you feel like the chicken has soggy skin, you can also add more oil and deep fry the chicken with again until they are crispy. Place one chicken wing inside the oil at a time. Fry for 2-3 minutes and remove. Place the chicken wings on a towel so some of the oil is absorbed.
How do I reheat frozen chicken wings?
The best way to reheat frozen fried chicken wings is to use an oven. Hence, repeat the steps mentioned in oven method above but extend the baking time up to 15-20 minutes.