Birthdays. They come, they go. In a blink of an eye many years pass and suddenly everyone around you looks older and friends' newborns have mysteriously, and rather worryingly, turned into tweens.
How are you meant to celebrate your birthday? Do you go on holiday? Do something with family and friends? Or, secretly wish that your loved ones will organise a surprise party? All these ideas must have passed through every human being's mind, hoping to feel just that little bit special on that one day of the year.
Sadly, real life comes into play and no matter what the heart yearns for, things sometimes go askew. At the time friendships might be fraught with tension or a family drama is going down. Or, you can't afford to go on holiday and have to work, dealing with annoying clients and colleagues. Some people wouldn't even tell anyone at work, not wanting the attention or spend money feeding people cake. Others go through their day going through the usual motions, adding another notch to the list of disappointing birthdays.
Then there are the milestone birthdays where society arbitrarily decided something "big" should happen on the day. For some unknown reason I made this promise to myself that I'll be in Thailand on my 30th, sipping coconut juice, and gorging on seafood and lychees. Alas, I found myself with a baby on my lap and an unmanageable three year old boy who turned out to be autistic. Since then I've been stoically managing my expectations, making no promises that can be broken.
Along the way, I learnt that you create your own reality, so if you want something to happen it's up to you. What happened this year? Other than being a prime number, there doesn't seem to be anything special about the number 37. Yet, it's one of my favourite and most memorable birthdays to date. What I expected was my friends joining me for dinner and leaving at midnight. What happened was that people were having such a good time that we all collapsed on every available soft furnishing in the house at 4am. They forbid me to publish the photos but, trust me, they're gold.
All good things start with good food and that's where Dine Indulge comes in.
It's so simple to set up.
Firstly, for your dinner party you need to decide the time, date, location and number of guests who would be attending. Armed with this information you can get to the truly fun bit, browsing the menus!
You will immediately notice you're spoilt for choice. Unlike competitors where chefs come up with their own creative menus, Dine Indulge's set menus are pre-designed and available across the board no matter where you are located. This also minimise the possibility of potential booboos with untested recipes. Sharing-style platters are available as well as tasting menus. I opted for the Signature menu, where you can fine-tune your selection of dishes offered.
Once you have picked your menu, the full price for the event will be displayed to give you an exact figure. At this point a deposit of £60 is paid and you can make the booking online. An email, plus reminders, will arrive in your inbox confirming your order. The chef will be in touch shortly before the event to discuss the logistics and then it's just a case of waiting for the big day to arrive.
Dine Indulge also partners with Naked Wines, who carefully pairs the wine with each course, at extra cost. Our menu was as follows:
AMUSE
Pistachio & Rose Water Marshmallow with a Cardamom Wafer
Sacchetto Rose Brut - We think a pink fizz is the perfect way to start any meal. Ripe cherry fruit flavours combine with clotted cream to give a full-on fizz with a ton of character.
STARTER
Crispy Pea & Mint Fritter (V) with Avocado Butter & Pico de Gallo
Chateau Saint Hilaire - Everyone loves a Provence pink. This rosé is fresh and dry, with citrus, white peach and almond flavours.
MAIN
Dry Aged British Rib Eye with Spiced Carrot Puree, Feta & Dill Cake, Rocket Salad & Lemon Brown Butter Sauce
Benjamin Darnault Pique Nique - Our most popular Rose. Chock full of strawberries, raspberries and cream. Delicious!
PRE DESSERT
Lemon & Thyme Ricotta Granita with Hazelnut Popping Candy
Cecilia Simon Cabernet Franc Rose - Bright, fresh and full of honeysuckle. A lovely palate cleanser.
DESSERT
White & Dark Chocolate Ginger Silk Mousse with Honey Crumb Crunch
Klein Cabernet Sauvignon - Tastes like confected strawberry sweets but plays nicely with others
As the photos should convey, not only were the plates of food beautiful, but they tasted amazing as well, from start to finish. This is not your run-of-the-mill restaurant meal, which made it all the more special.
A big thank you to chef Lee, who made everything run smoothly; from clear communication and showing up on time to leaving me with a spotless kitchen.
Dine Indulge is a private chef experience I can certainly get used to. It doesn't just have to be for a special occasion such as a birthday party. Families and groups are regularly catered for, whether it's a get together or a rented home while people are on holiday. This service is available in UK and France, but Dine Indulge recently expanded to Belgium, Luxembourg, Switzerland & Monaco.
If you are following a special diet, fret not, your requirements will be catered for. What's not to love?!?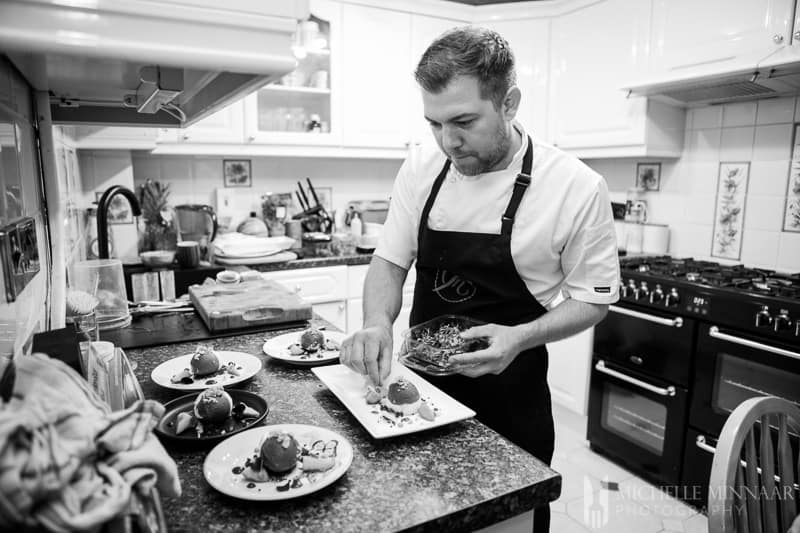 P.S. The meal and wine were provided free of charge in return for a review. All opinions are my own.