This is one of the best new recipes to use up leftovers. Leftover turkey, toppings, and melted cheese all on a bed of delicious tortilla chips, and you've got one of the most convenient and tasty recipes for leftovers in your collection - leftover turkey nachos!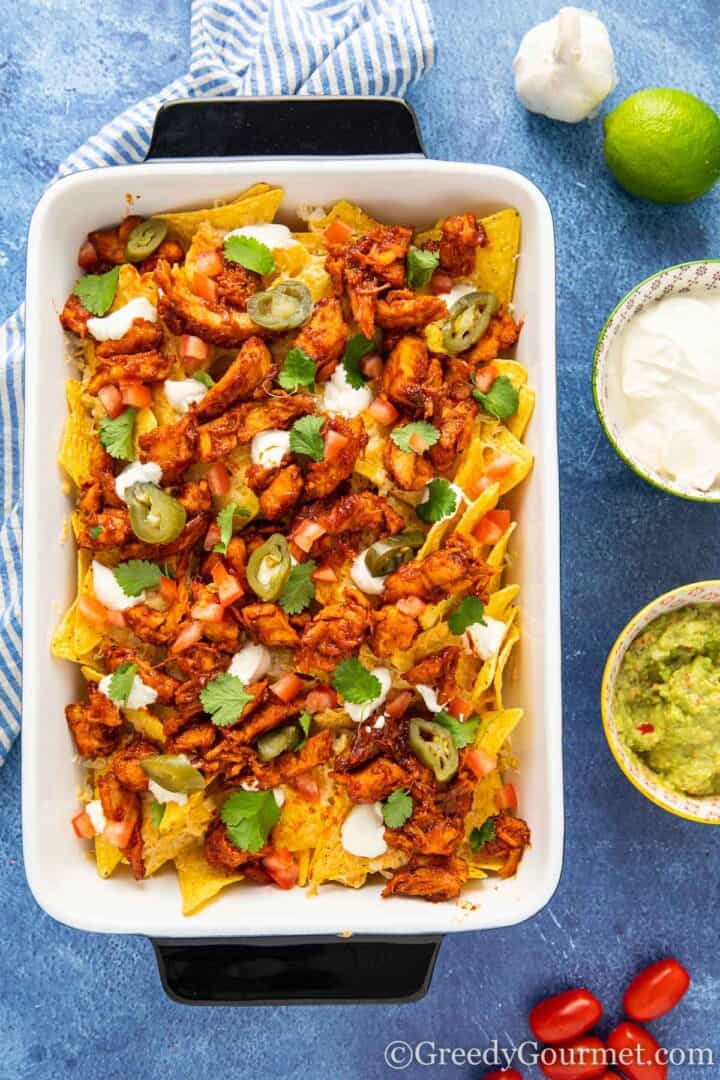 Why You'll Love This Recipe
Leftover turkey is something we'll all have laying around at some point, especially after Thanksgiving and Christmas, and these yummy nachos keep you from falling back on the same old boring turkey sandwiches. They can be made as a snack or starter dish, or as a delicious main family meal.
Special Equipment Needed To Make This Recipe
While there aren't any specific pieces of special equipment that you'll need to make these turkey nachos, you'll need to have some things ready. You'll need an oven or similar cooker, as well as a large skillet.
You will also need a baking pan with a large enough area for your chips, as well as raised sides to prevent spills. If you have sensitive skin, consider gloves when chopping jalapeños.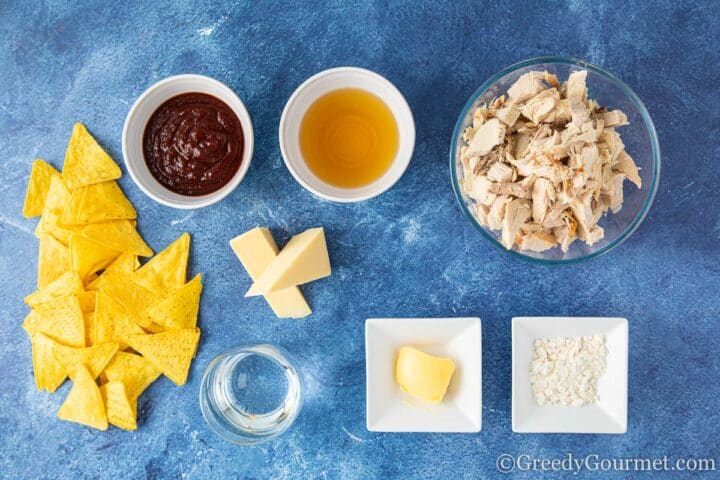 How To Make Leftover Turkey Nachos
Fry cooked turkey with flour until crispy.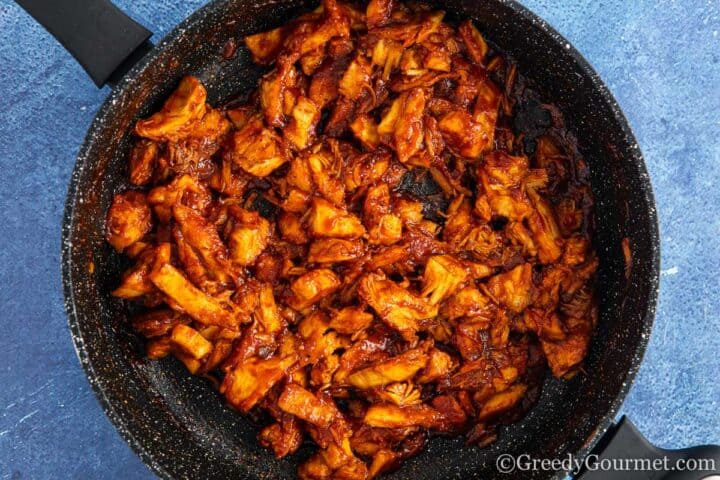 Drown the turkey in your favourite BBQ sauce.
Add grated cheese on top of tortilla chips.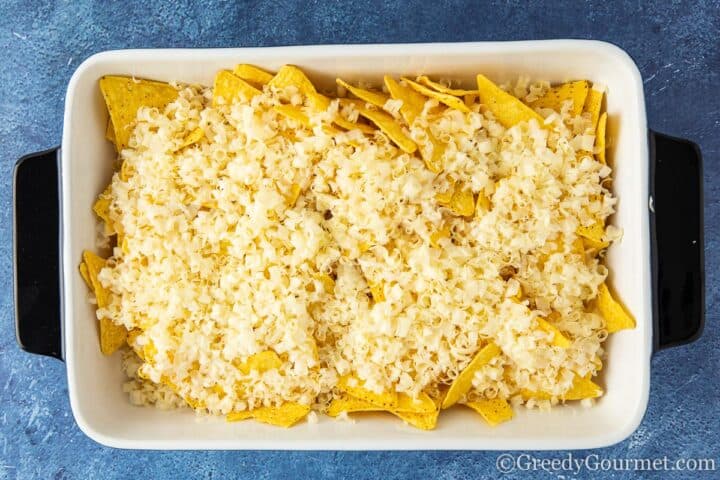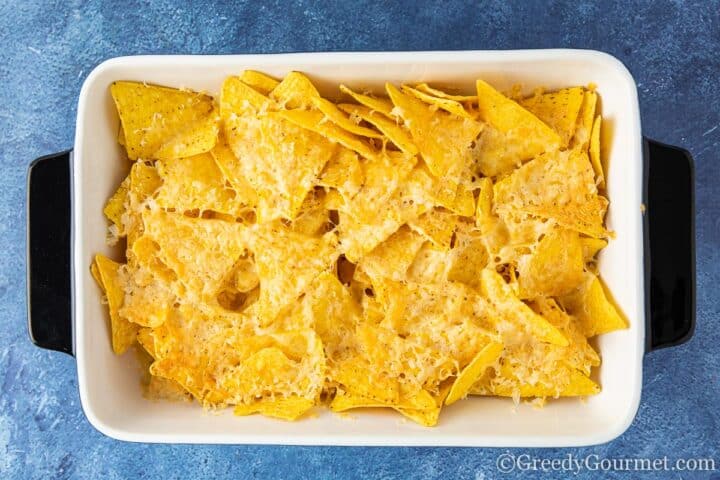 Bake until the cheese has melted.
Top with BBQ turkey, jalapeños, sour cream and cilantro.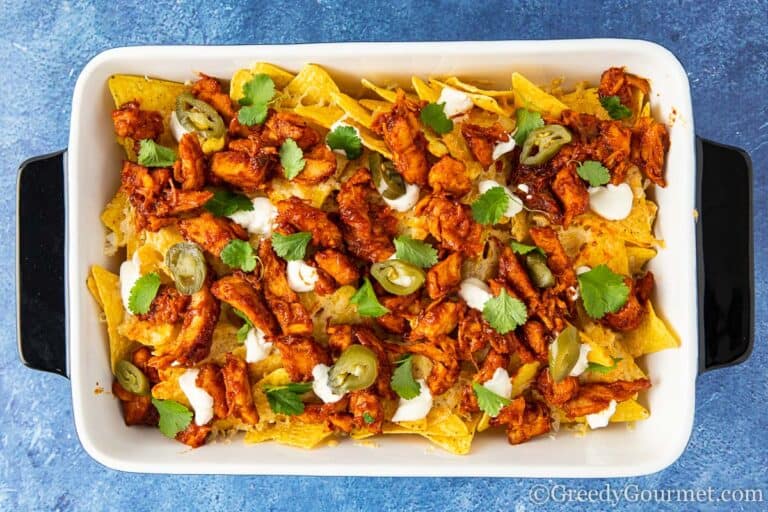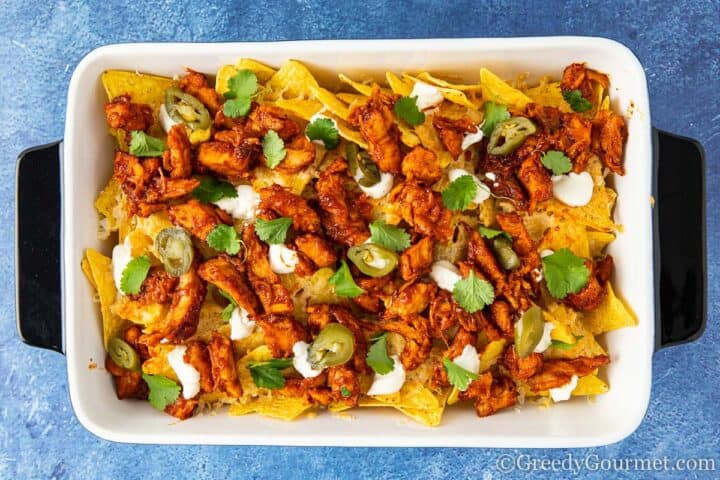 Top Tips
For best results, use a good quality BBQ sauce, with a heat level matching your taste.
Leftover meats such as beef, lamb, pork, and chicken will also work brilliantly with this leftover recipe.
What to Serve/Pair with Your Turkey Nachos
Sides
Enchiladas can be made with similar ingredients and taco seasoning, but create a very different dish. Check out this Enchiladas Suizas recipe
Extra sour cream or similar dip to eat with the nachos
Cranberries can blend well with the turkey flavor, so cranberry sauce or even dried cranberries on top can add a festive twist and a sweet flavor that balances the savory and spicy flavors well
Drinks
Popular Substitutions For Turkey Nachos
The most popular substitutions will be for the meat. You can make this recipe with any common (or uncommon!) meat, and for those who would prefer a vegan alternative, extra firm tofu or a meat substitute can fill in.
Those with dairy allergies or intolerances can also use non-dairy or lactose-free cheese or cheese substitutes in their recipes.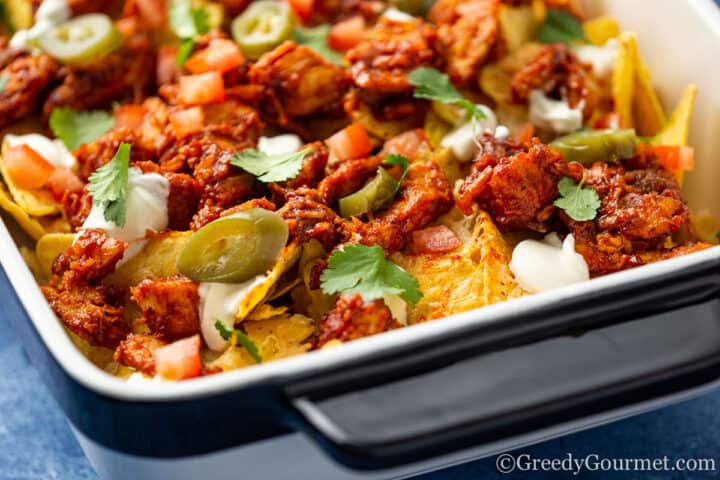 Variations To Turkey Nachos
Mexican Style
To do Mexican style, substitute taco seasoning for the BBQ sauce, and add green onions, cooked black beans, or refried beans to the list of potential toppings. For street taco-style, only add chopped onions, cilantro, and a little lime juice as your toppings.
This is a great way to stretch leftovers of leftovers, while still making a delicious dinner meal that will appeal to the whole family. Don't forget the tortillas, smaller tortillas for tacos, or larger ones for burritos.
Salad Style
For those who would like a lighter dish, particularly one that's great for taking to work for lunch, or simply on a night when you don't feel like having a big plate of nachos, turn your turkey nachos into a yummy BBQ turkey or chicken salad. This can also be done by adding taco seasoning instead of BBQ sauce for a Mexican turkey nacho salad bowl.
Instead of topping nachos, take a few spoonfuls of the leftover turkey nachos topping, add some melted cheese, and spread it onto a bed of your preferred salad mix. Season with salt and pepper to taste, and add a few more toppings like chopped tomatoes and onions.
It's just as filling as a nacho plate, and you can add a few crushed tortilla chips for extra crunch. Serve in a bowl for easier mixing.
Top Tips
Keep your leftover turkey from drying out by making sure you don't have the heat too high, and when reheating, mix in 1/2 tablespoon to 1 tablespoon of water per cup of cooked turkey mixture prior.
When choosing cheese, go with softer cheeses. Sharp cheddar cheese, for example, while tasty, has a much higher oil content and doesn't give that gooey, melted finish. Mozzarella cheese, provolone, or Mexican queso can be great cheese flavors to experiment with.
Can this recipe be scaled?
Yes, this recipe can be scaled both up and down. You can prepare as little as you like, or as much as you need, from lunch for yourself to enough to feed an army dinner.
Can This Recipe be made in advance?
Absolutely! Since it's made from leftovers in the first place, as long as you manage your storage properly you can make it up to several days in advance and keep it chilled until needed. This is a great option for a busy family.
How do I Reheat This Dish?
The easiest way is going to be to pop the turkey topping into the microwave, though you'll need to be careful of drying it out if heated too long. You can also pop it under low broil for a few minutes to warm it up.
Other Leftover Turkey Recipes You'll Love
Food Safety
Be sure that you're storing your poultry safely, as well as cooking it thoroughly.
Wash your hands before and after handling raw poultry.
If you're using jalapeños, be sure you wash your hands immediately after and don't touch your eyes, face, or any sensitive mucous membranes.
Don't forget to come back and let me know how your recipe turned out!
Print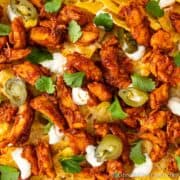 Leftover Turkey Nachos
---
Author:

Michelle Minnaar

Total Time:

30 minutes

Yield:

6

servings

1

x

Diet:

Gluten Free
Description
Have some turkey leftover from Thanksgiving or Christmas? Don't let it go to waste and make these tasty Leftover Turkey Nachos.
---
Cheesy Nachos
200

g

(1 pack) corn tortilla chips

240

g

(2 cups) Monterey Jack cheese (or cheese of your choice), grated
BBQ Turkey
10

g

(1 tbsp) rice flour

500

g

(3 1/2 cups) cooked leftover turkey, shredded or chopped

14

g

(1 tbsp) butter

250

ml

(1 cup) BBQ sauce

60

ml

(1/4 cup) apple cider vinegar

60

ml

(1/4 cup) water
Nachos Accompaniments
12

cherry tomatoes, chopped

60

ml

(4 tbsp) sour cream
handful of cilantro (coriander)

50

g

(1/2 cup) sliced green jalapenos
---
Instructions
Cheesy Nachos: Preheat the oven to 170°C / fan 150°C / 325°F / gas mark 3.
In a large baking dish, pour half of the tortilla chips and arrange in an even layer. Sprinkle over 120g (1 cup) cheese. 
Add the remainder of the tortilla chips and sprinkle the rest of the cheese on top.
Place in the oven for 10-15 minutes or until the cheese has melted and slightly browned. Prepare the BBQ Turkey in the meantime. 
BBQ Turkey: Coat the shredded/chopped leftover turkey in the flour.
Melt the butter in a large frying pan over a medium heat. Add the turkey and cook for 5 minutes or until browned.
Pour over the BBQ sauce and stir to get everything evenly coated. 
Pour in the vinegar and water into the mix and stir until fully combined. 
Reduce the heat to a medium low and simmer until the sauce has thickened, stirring frequently to prevent the sugar from the sauce from crystallizing. Remove from heat.
Serving the Nachos: Remove the nachos from the oven. Spoon the BBQ Turkey over the cheesy tortilla chips.
Sprinkle over the tomatoes. 
Add a few dollops of sour cream.
Tear over the cilantro (coriander), sprinkling it lightly.
Scatter the jalapeno slices over the nachos.
Serve with Guacamole and Pico de Gallo (tomato salsa). Enjoy!
Notes
For best results, use a good quality BBQ sauce.
Leftover meats such as beef, lamb, pork, and chicken will also work brilliantly with this leftover recipe.
Prep Time:

15 minutes

Cook Time:

15 minutes

Category:

Dinner

Method:

Bake

Cuisine:

Mexican
Keywords: turkey nachos recipe, easy turkey nachos, leftover turkey recipe, leftover turkey nachos, mexican turkey recipe, what to serve with turkey nachos, thanksgiving leftover recipe, christmas leftover recipe