In the battle of fruit preserves, chutney vs jam is an intriguing one. I've got a lot of love for both and my preference depends on what mood I'm in.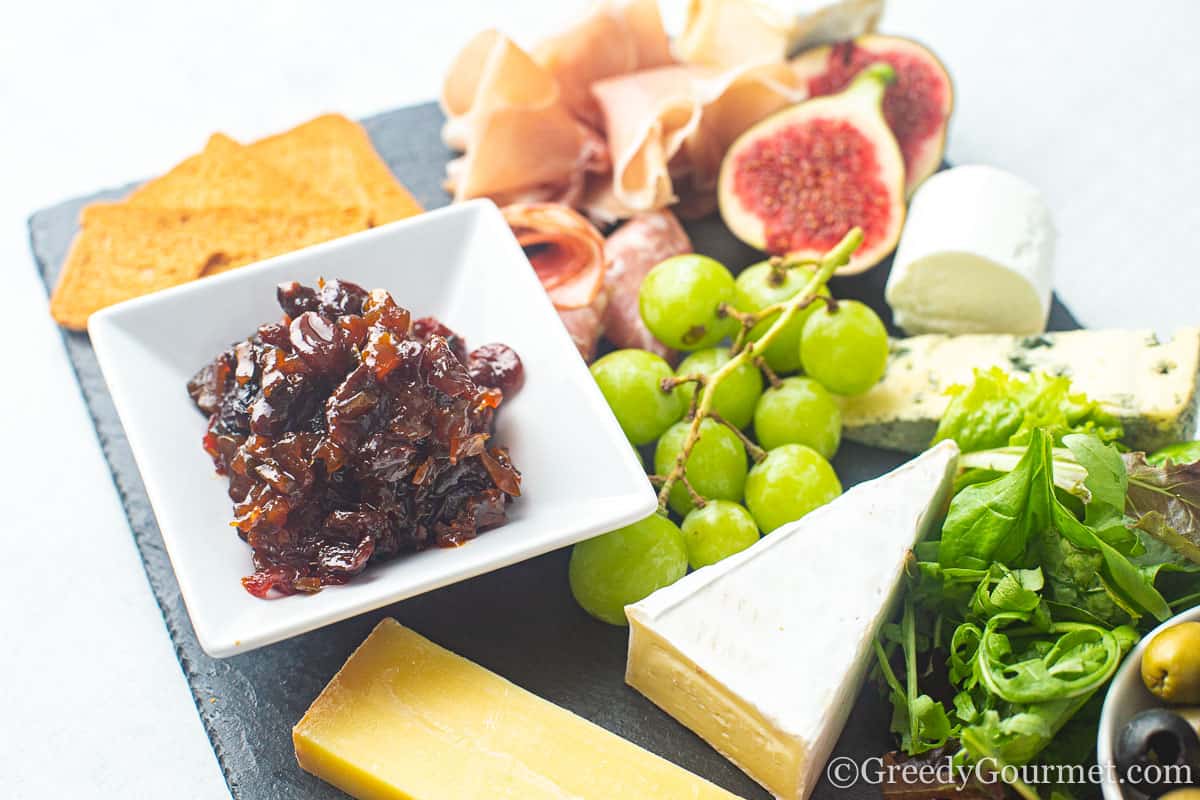 Let's take a look at the differences between the two – in terms of typical ingredients, tastes and cooking methods – and find out why you should make both of these delightful preserves.
Chutney vs jam – what's the difference?
Ingredients
Jam and chutney have some similarities when it comes to ingredients. Both can be made from whole fruit, fruit pieces, chopped or pureed fruit (rather than fruit juice) or crushed fruit.
However, chutneys often use vegetables as their star ingredient, whereas jams are normally fruit based. Also, chutneys contain fresh or dried fruit, whereas jam is usually made from fresh fruit
Two ingredients that clearly separate the two are vinegar and spices – both of which bring the characteristic tang and spiciness that chutneys are renowned for – particularly in British or Indian cuisine.
One ingredient that jams often contain that chutneys don't is powdered pectin. Some fruits naturally contain pectin and release it as they cook. Others, like mixed berry jam, contain small amounts of pectin and so the addition of powdered pectin is necessary to achieve the right consistency.
Jams also tend to contain lemon juice, which acts as a pH balancer, reacting with the pectin and helping to set the jam.
Finally, while chutney and jam both contain sugar, jam contains far more.
Flavor
First off, as jam contains lots more sugar than the average chutney, it stands to reason that it tastes far sweeter.
In fact, that sweetness is the overriding flavor of jam. Which stands to reason – jam is a sweet preserve that's at its best when lovingly spread across toast, scones or in a sandwich. Ah, bliss!
Chutney, on the other hand, has sweetness as just one of the elements to its flavor. The sweetness in chutney is typically counterbalanced by the tang of the vinegar and earthiness and heat of the spices – think cumin, chilli flakes, turmeric, star anise etc.
Essentially, jams are sweet, while chutneys are savoury/sweet.
Texture
Both jam and chutney have a thick velvety texture. Some have whole fruit – like strawberry preserves, which can be either a chutney or a jam – which makes the texture particularly chunky.
Preparation
Both chutneys and jams are cooked low and slow in a single pot for around an hour, to release sugar syrup and thicken. However, jams have a boiling stage towards the end of the cooking process. This helps to set the jam and achieve the perfect 'jammy' consistency.
Storage
Both chutneys and jams should be stored in properly processed and sterilized jars.
Lots of people believe that a major difference between chutney and jam is that jam can be stored for a lot longer.
However, chutney is most definitely made to last. In fact, all chutneys need at least 2 months of maturation time – the more the better! Anything up to a year and your chutney will taste divine.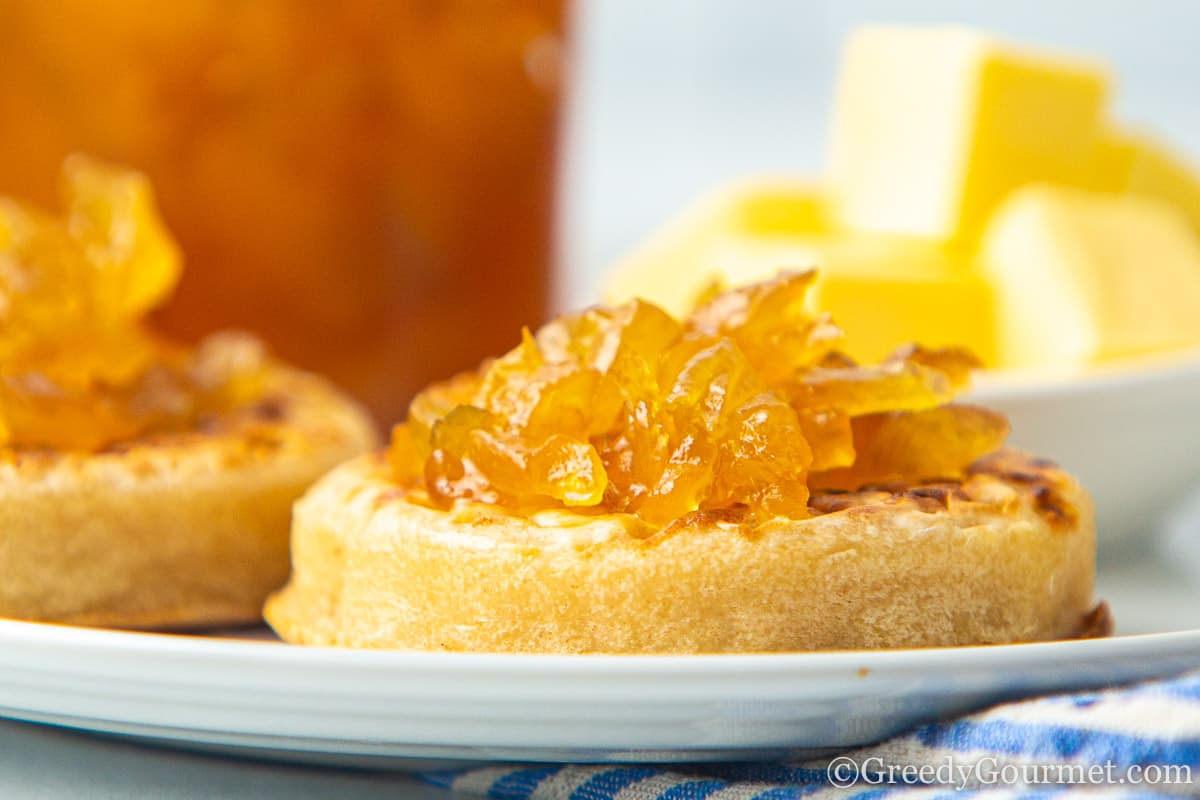 Can you use the two interchangeably?
Not really. Chutneys are made to be served with savory dishes, whereas jam is made to be eaten with sweet desserts.
However, there is one situation where one could replace the other. If the recipe calls for either chutney or jam as a glaze for a joint of roast meat, for example, you could substitute one for the other.
Other types of preserves
Jelly
Jelly is like a jam with all the bits taken out. The seeds and the fruit pulp are strained to create a firm texture.
Marmalade
A preserve made with citrus, including the juice, citrus rinds (citrus peels) and the fruit pulp, marmalade is similar to jam except for the taste – jam is sweet, while marmalade is usually bitter.
The most popular type is orange marmalade, which also works great as a glaze for certain roast meats – especially pork.
Fruit butters
Smooth, rich and thick, fruit butters contain at least 43% soluble solids. The biggest difference between fruit butter and jam is in the texture – fruit butter is always smooth and thick.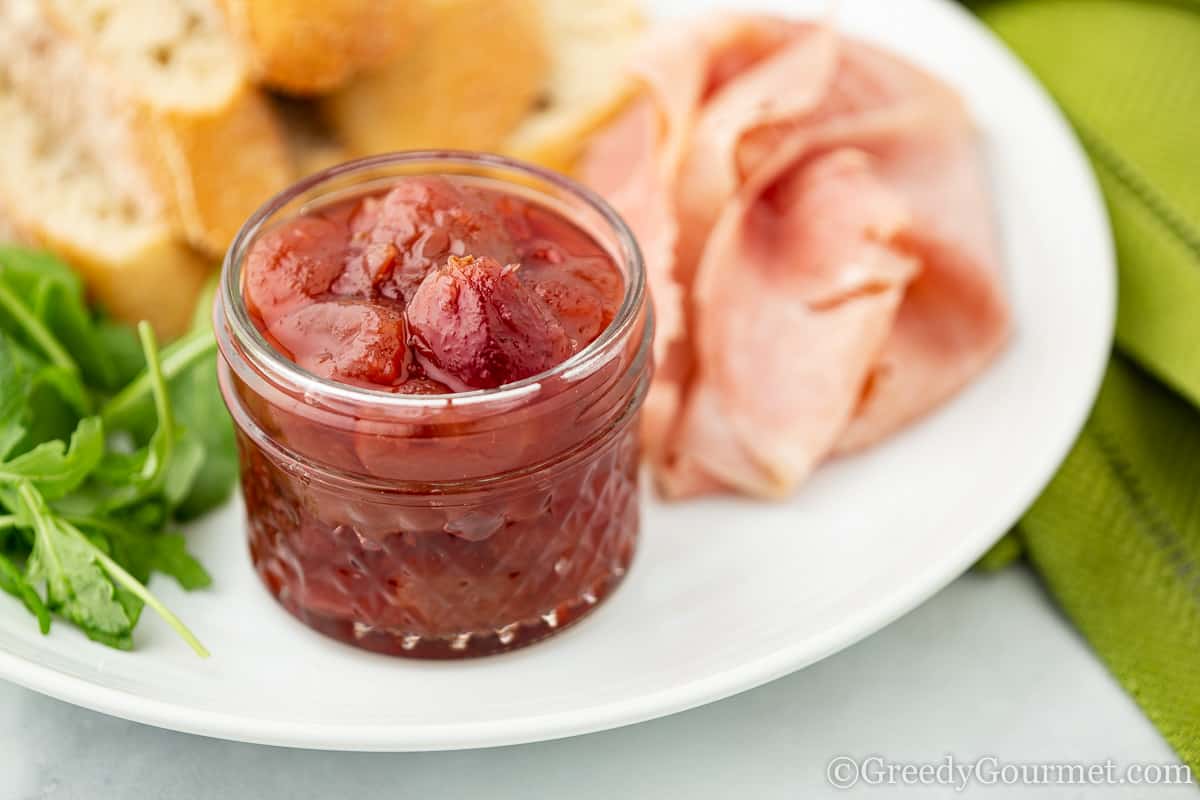 Jam and chutney recipes
Now that you know a little more about these two wonderful preserves, are you ready to cook up your own homemade jam or homemade chutney? Here's some delicious inspiration: