Have you ever wondered about the difference between General Tso vs Sesame Chicken? Are they the same thing? Is one better than the other? Where exactly do they both come from and how do they taste so good?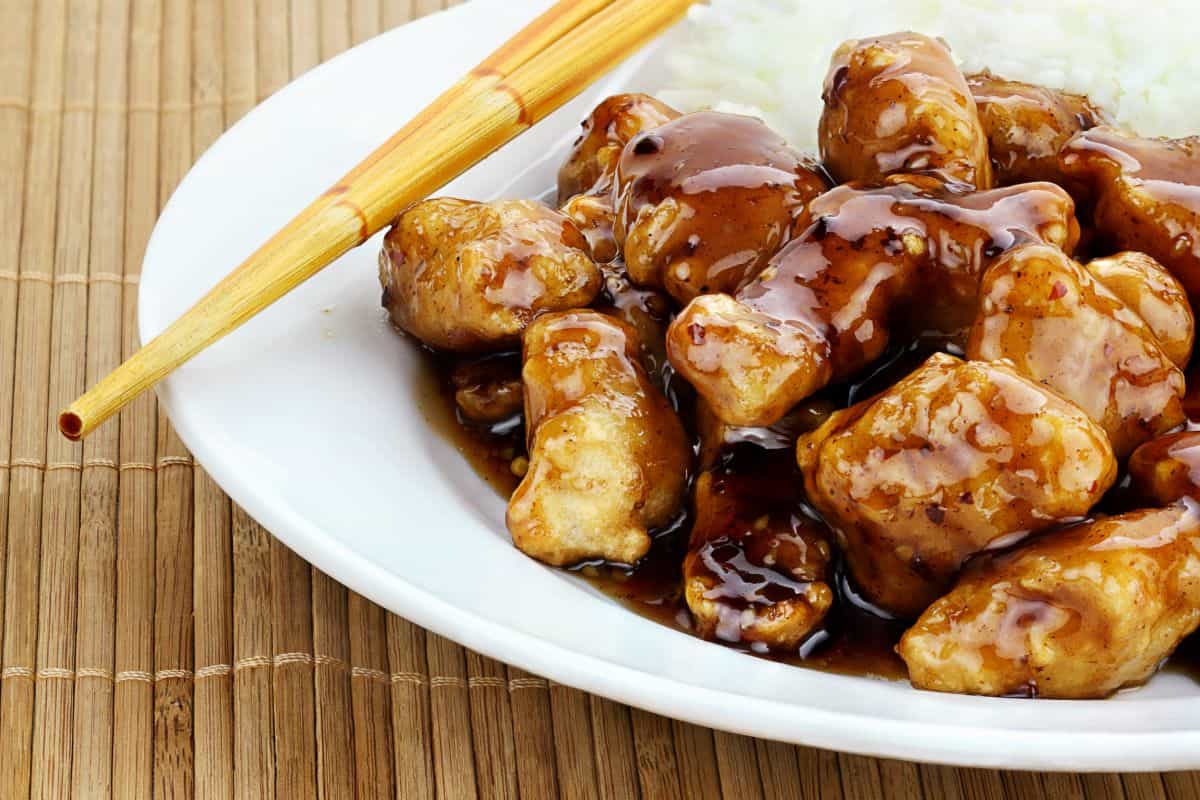 Well, we've got all the answers for you. In this article, we delve deep into the world of these two fabulous chicken dishes to find out what makes each so great. Then you can decide which one you'll be cooking tonight!
General Tso vs sesame chicken
Before we get into the key differences between the two dishes and explore their origin stories, let's first get a general overview of each dish:
General Tso's Chicken
A sweet, tangy and spicy deep fried dish of deliciousness, General Tso's Chicken is a favourite on Chinese restaurant menus all throughout North American.
The ingredients in a General Tso Chicken dish can vary quite a lot, but there are a few core ingredients that make up the typical dish. They are Chinese rice vinegar, soy sauce, hoisin sauce, green onions, fresh or dried red chili peppers, brown sugar water and corn starch. You'll also normally find garlic, ginger,
General Tso's Chicken consists of chopped up chicken breast – bite sized chunks – which are fried until crispy and golden brown. Although many people know this as a delicious dish in Chinese restaurants and takeaways, it's really easy to make at home.
The key to General Tso's Chicken is the irresistible sticky sweet tangy glaze that coats the fried chicken. This is what makes it so popular.
Sesame chicken
Another big favourite in Chinese restaurants and takeaways throughout the U.S. and Canada, sesame chicken is also served as bite sized chicken breast pieces deep fried and coated in a sticky sauce.
Sesame chicken sauce is usually made as a sweet honey glaze, with a mixture of key ingredients that include sesame seeds, soy sauce, tomato sauce, garlic and sesame oil. Often, chicken stock is used to bring extra richness.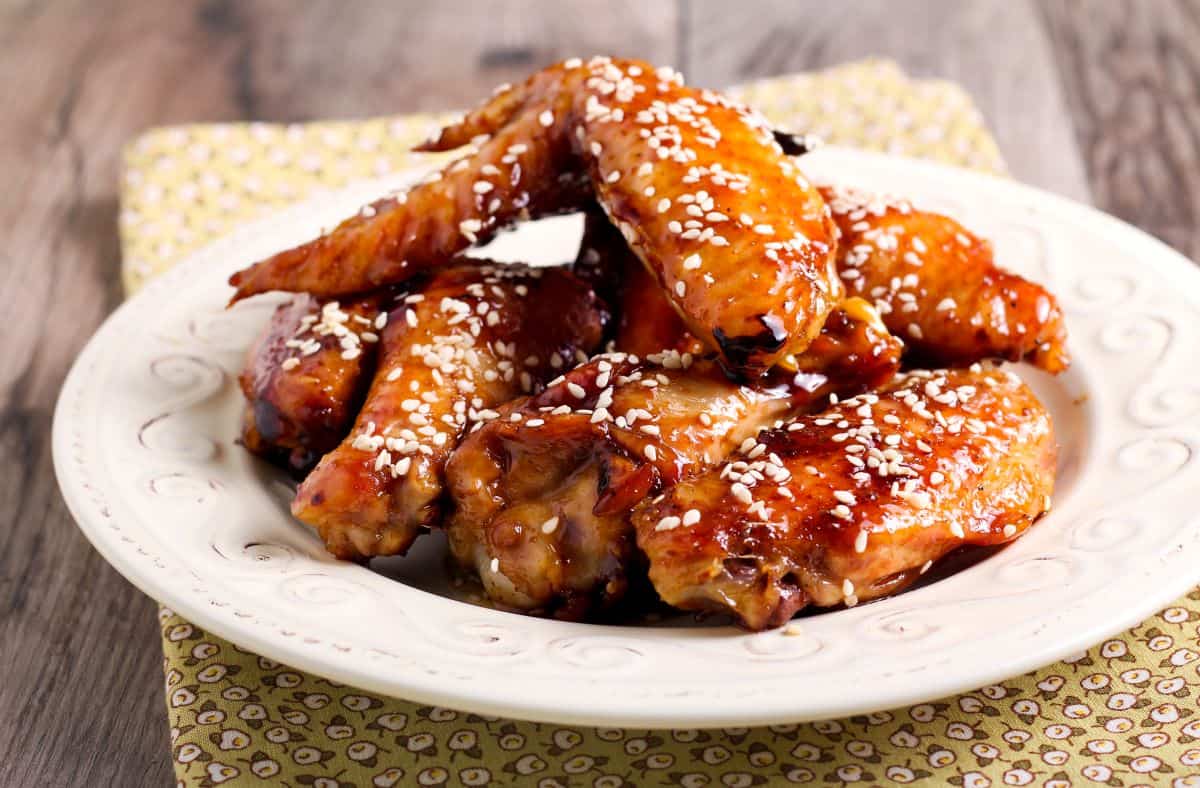 What is the difference between General Tso and General Tso Chicken?
TASTE
Sesame chicken: Sweet, sticky, rich and delicious, you've got to love that sesame chicken taste! The crispy coating of the chicken and the deep frying cooking method gives the chicken a pleasant crunch, while the sesame chicken sauce is sweet, tangy and mild.
General Tso's chicken: Just like sesame chicken, general tso's chicken features deep fried crispy bites. However, unlike sesame chicken, a general tso chicken recipe has heat. How much depends on the preferences of those eating it, but it can often be very spicy as well as sweet.
SPICES
Sesame chicken: In sesame chicken dishes, spices take a back seat. There are a few spices, of course, but they tend to be of the milder variety. So, expect light undertones of garlic and ginger, but for the majority of the flavor to come courtesy of that delectable sweet honey sauce mixture.
General tso's chicken: Spices play a key part in the flavor profile of general tso's chicken. Hot chili pepper flakes or powder, or even fresh chilies, are a key ingredient, as is ginger and garlic.
The heat of general tso's chicken is adaptable, with the amount and strength of chili varying depending on your preferences.
ORIGINS
Sesame chicken: Some say that sesame chicken's origins can be traced back to the southern Chinese region of Guangdong. However, the exact dish as served up in Chinese restaurants in the U.S. isn't part of Chinese cuisine.
Its exact origins are unknown, although it is thought to have been brought to the U.S. in the 1970s by Chinese immigrants. It closely resembles an authentic Sichuan dish called la zi ji. La zi ji contains fried chicken breast pieces with peppercorns, toasted sesame oil, and chili.
General Tso's chicken: There are several different stories about the origins of General Tso chicken.
The dish is named after 19th century Chinese military leader Tso Zongtang, although he had no direct association with the dish – his descendants in China claim they've never even heard of the dish!
Chinese American chef Eileen Yin-Fei Lo claims that the dish takes its name from the Chinese word for meeting hall 'Zongtang', and that the association with General Tso was a mistake.
Other food writers claim that a Taiwanese chef invented the recipe and brought it to New York in the 1970s, specifically Peng's Restaurant, which claims to be the first restaurant in the U.S. to serve General Tso chicken.
Another New York restaurant, Shun Lee Palaces, claims to have been the first restaurant to serve the dish.
What is better General Tso or sesame chicken?
It all comes down to personal taste. Some people prefer the sweeter, less spicy taste of sesame chicken. Others like it hot, and craze the chili kick of general tso chicken. Then there's the sesame flavor, which can be quite divisive and will most likely influence your preference.
So, in short, both these dishes can be delicious and chances are you'll love both of them. There's no outright winner in the sesame chicken vs general tso contest. Why not cook both sesame chicken and general tso's chicken and decide which one you like best?
Is sesame chicken the same as Kung Pao chicken?
Okay... now we're onto Sesame Chicken vs Kung Pao Chicken.
Unlike General Tso's chicken, Kung Pao chicken doesn't have many similarities to sesame chicken. While sesame chicken is a North American Chinese cuisine dish that is mildly spiced, kung pao chicken is an authentic Chinese dish with a serious kick to it.
It originated in the Sichuan province of south-west China and is a typical dish that is eaten every day in this part of China.
Kung Pao chicken typically consists of stir fried vegetables, peanuts, light soy sauce, oyster sauce and red chili peppers, as well as the famous Sichuan peppercorns. The sauce is subtly sweet and sour, a lot more balanced than either sesame chicken or general tso's chicken which are both a lot sweeter.
What soy sauce is used for these dishes?
There are several different types of soy sauce available that you can use to cook both General tso chicken and sesame chicken. Here are some of the most readily available types:
Light soy sauce
This is the most common type of soy sauce in Chinese cuisine. If a Chinese recipe calls for the use of soy sauce and doesn't specify the exact type required, it's more than likely referring to light soy sauce.
The soy flavor in light soy sauce is a lot less intense than in dark soy. It also has less sodium. Light soy sauce is also used in Japanese cooking, but it's not as widely used as in Chinese dishes.
Dark soy sauce

Chinese dark soy sauce has a saltier taste than light soy sauce but actually contains more sodium. It's thicker, sweeter and is often used to bring a darker color to dishes.
As dark soy sauce brings an intense flavor it's even more important to be careful when adding it to your Chinese recipe. Adding too much to the dish can overpower the other flavors, leaving you with a dish that tastes of soy sauce and little else.
Tamari

A by-product from making miso, tamari is a Japanese soy sauce that is often used as a gluten-free alternative to regular types of soy sauce. However, not all tamari sauces are gluten free, so care should be taken.
Tamari is the darkest type of soy sauce and brings an intense soybean flavor. As such, it's rarely called for in Chinese dishes.
Sweet soy sauce

Typically found in Indonesian cooking, sweet soy sauce contains spices such as pepper, clove and anise. It's sticky, sweet and packs a punch. For this reason, it shouldn't be used as a direct substitute for light soy sauce, but only when specifically called for in a recipe.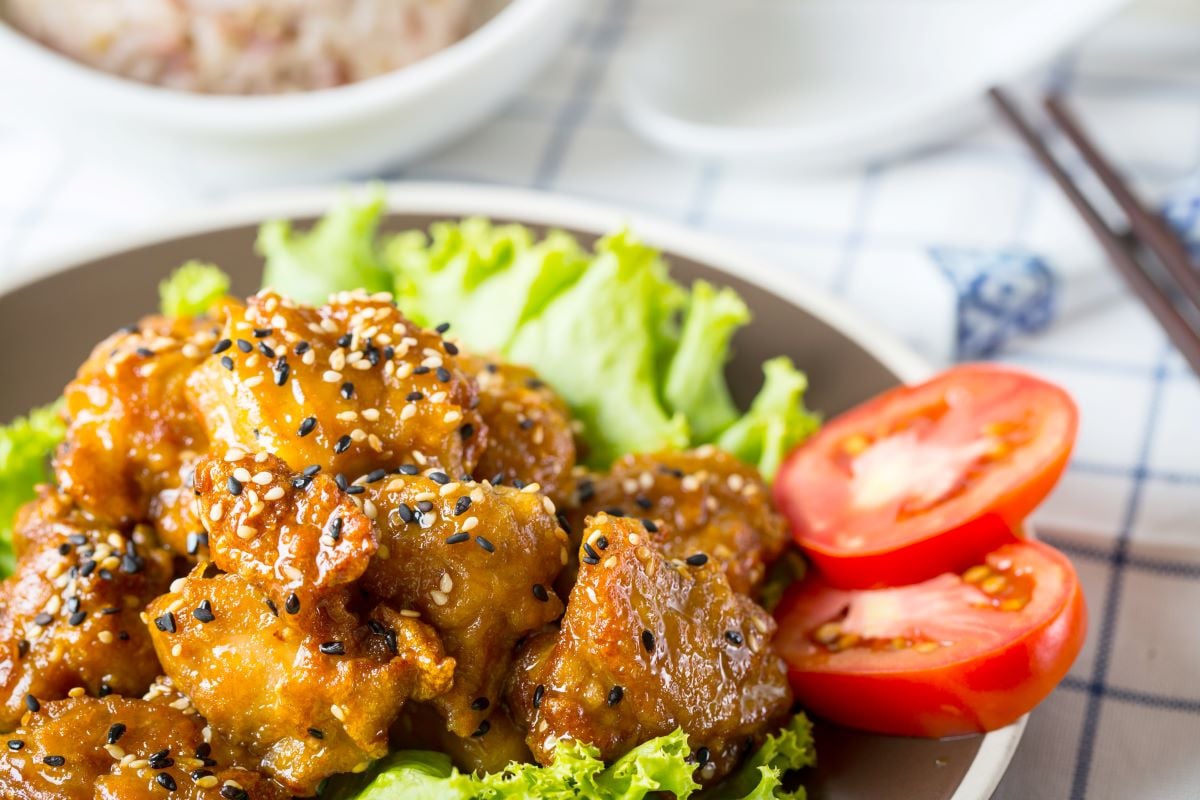 What are some other typical Chinese chicken dishes?
There are lots of delicious Chinese dishes that use chicken as a main ingredient. Examples include orange chicken, Szechwan (Sichuan) chili chicken, chicken chop suey, Wenchang chicken, pineapple chicken and chicken fried rice.
Where can I find General Tso and sesame chicken?
You'll be able to find both these dishes on menus in Chinese restaurants throughout the United States and Canada, as well as throughout cities in Europe.
More delicious Chinese recipes
Both General tso chicken and sesame chicken are delicious dishes, but there's far more to Chinese cuisine. If you're a fan of the rich, delicious flavor of Chinese food, you should give the following recipes a go – and don't forget to let me know in the comments below all about your personal favorites!