One of the most popular and healthy sources of nourishment comes from seafood. Everywhere in the world are people that center gatherings and family meals around seafood dishes.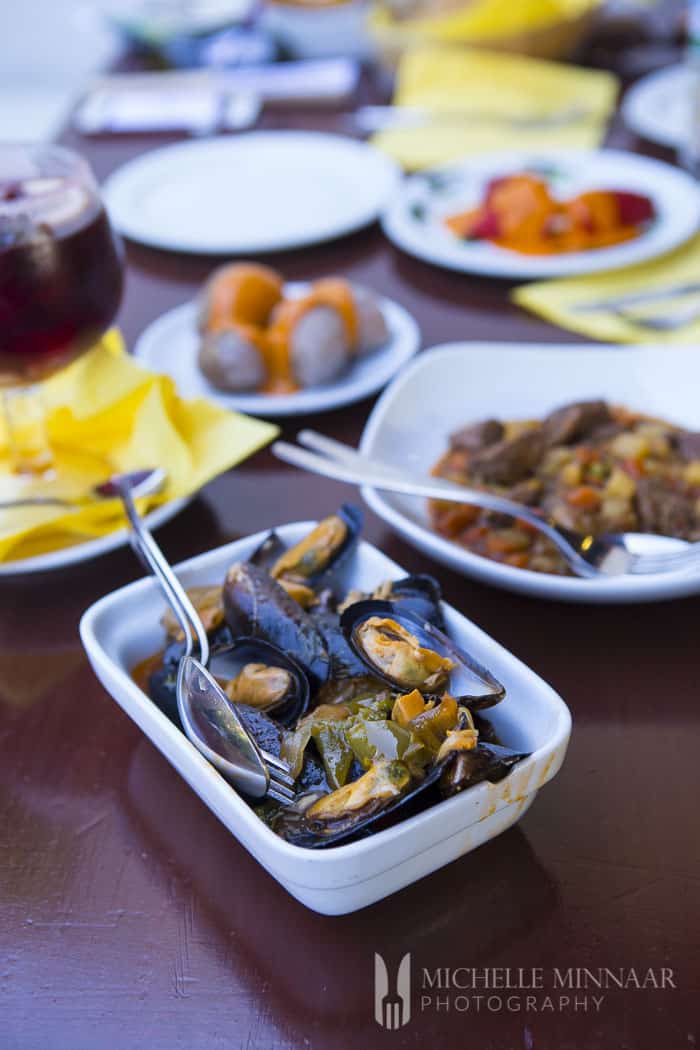 This often includes common elements like shrimp, fish, crab, clams, and lobster, but in some cases, there may also be fewer common options on the table. These are things like squid, octopus, oysters, and mussels.
The category of mussels includes several common edible species, across both green and black mussels. We're going to dive into all the details for both green and black mussels, including just what exactly they are, how they're similar, and the crucial differences.
In the end, we'll even cover some great ways you can prepare yours, and if there's one that may be better than the other.
What Are Mussels?
All mussels are mollusks, but not all mollusks are mussels. Mussels live in saltwater as well as freshwater and possess a bivalve shell, just as clams do. Bivalve mollusks are known for being one of the most popular seafood, globally, and contain incredibly well-balanced vitamins, minerals, and general nutrition.
They are wonderful sources of iron, with less than a half-ounce of meat having the daily iron requirement for an adult. They are also perfect for those looking for low-fat & high-protein meats and are loaded with zinc, B12, and more.
There is a wide variety of mussel types and species to choose from. There are blue mussels, black mussels and green mussels. There are wild mussels and farmed mussels. The most common is the black mussel, which is largely represented by C. Meridionalis, M. Trossulus, and M. Galloprovincialis. Much rarer are the green mussels, featuring P. Canaliculus, P. Viridis, and P. Perna.
Is It Safe To Eat Mussels?
This is a very common concern among those who might be ready to consume mussels for the first time. The short answer is yes, mussels are safe to eat. Some caveats go with eating mussels, however, let's take a look at those.
First, whether you're eating green or black, you want to be sure that you have fresh mussels. You also want to be sure that you cook mussels properly, to avoid any potential food poisoning.
What Are Black Mussels?
Black mussels are the mussels that inhabit the African coasts, regions of the northern Pacific, as well as Mediterranean mussels. Black mussels are quickly identified by their deep coloring and shiny black shells.
Sometimes their deep color causes them to be confused with blue mussels.
The species that grow near south Africa are the species Choromytilus Meriodionlis, while the Mytilidae family Galloprovincialis and Tossulus mussels can be found in the Pacific Rim, around Japan, and even Russia.
All the species of black mussels are very closely related to one another.
What Are Green Mussels?
Green mussels are also limited to a range of three main species that are found in Asia, New Zealand, and the coast of Africa. They can be easily distinguished from black mussels by their brown shells and noticeable green lip. Some have nearly iridescent green shells.
When referring to green mussels, it can refer specifically to the Asian green mussel of designation Perna Viridis, the New Zealand green-lipped mussels of Perna Canaliculus, or the Perna Perna species that are cultured mussels that are farmed off the African coast.
Green-lipped New Zealand mussels are one of the country's main seafood exports, and are sold under the name or brand "Greenshell".
Do Both Green And Black Mussels Occur In The Wild?
There are types of both black and green mussels that thrive in a natural habitat, either being harvested naturally or grown in natural settings along both the Pacific and Atlantic coasts.
Black mussels are far more common and are also typically cultivated more easily in the wild. Many black mussel farms simply lower ropes into mussel fields and allow them to climb the ropes and feed, so they can grow and develop.
Green mussels are much rarer and more valuable than black mussels, and after the crash of the mussel harvesting industry in New Zealand, the only way populations could be rebuilt was to enact strict sustainability goals.
Now they are grown and farmed like black mussels, with lines dropped into areas where the young mussels are plentiful. The practice of harvesting fresh mussels is heavily regulated to ensure only mussels healthy and large enough are harvested.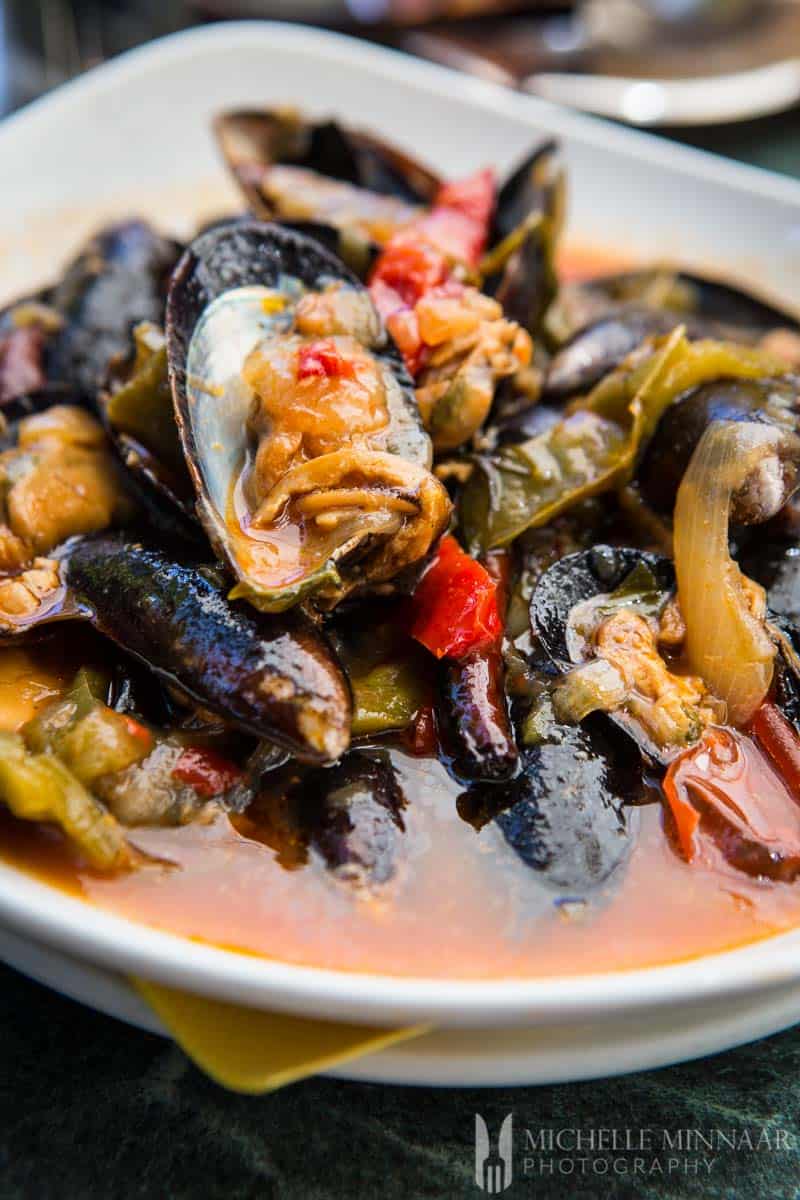 Green Mussels vs Black Mussels – Primary Differences
There are some significant and specific differences when comparing green mussels vs black mussels. Not only in where they're found, but in their size, taste, cost, and more.
Distribution
There is significant overlap in the natural distribution of mussels around the African coasts, but that is where the similarities end.
Black mussels are generally found along most coasts globally. However, the distribution of green mussels is relatively limited, surrounding New Zealand and extending into the mid pacific near southeast Asia.
Size
This is another chance to see the difference between the two types of mussels. Black mussels, while much more common, are also smaller. The average black mussel will only be about 2.5″-3″ long on average. Green mussels, on the other hand, can grow to an average of 6″ long in a farming environment, while being able to grow significantly larger in the wild.
Taste
Green mussels are known for having a much milder flavor than their black-shelled cousins. They both have a salty, slightly sweet taste, there will be a distinct difference in the potency of the taste.
That means that for beginners or those that prefer a less intense, salty seafood taste, the green mussels' taste is probably perfect.
For gourmands that want to experience a more concentrated and intense taste of the mussel meat, black mussels are going to be the way to go.
Texture
Both green mussels and black mussels are very tender when properly cooked, though there are some differences.
Green mussels will have a more chewy texture than black mussels, which are only going to be slightly chewy. The firmness of the mussel meat will also vary slightly, with the green mussels having a more firm flesh, and black mussels having a soft texture with more "give".
Availability
Black mussels can be found in abundance, both fresh and frozen. While also available in fresh or frozen, green mussels have a far more limited supply and are generally more challenging to find, outside of specialty markets or stores with a very extensive frozen seafood section.
Cost
Since the supply of both green mussels and black mussels varies significantly, you can probably already guess what that's going to mean for their price.
Being a much more readily available mussel, black mussels are going to have a relatively low cost. Green mussels, on the other hand, will command a premium price.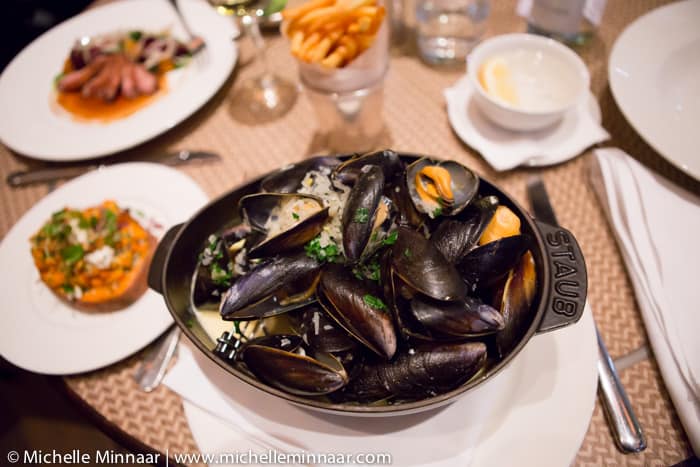 Common Uses For Green-Lipped Mussels & Black Mussels
Best Ways To Prepare Black And Green Mussels
Like any other bivalve mollusks, you must thoroughly wash and rinse both green and black mussels. This includes taking care to remove the digestive tract before cooking mussels.
In some cases, you may even want to let the live mussels soak in water to allow them to "evacuate" any remaining undesirable matter, as well as giving and leftover sand a chance to loosen or dislodge. While soaking your mussels, be sure to inspect the shells, discarding any with cracked or broken shells.
Steaming Green Or Black Mussels
The most common way to cook green mussels and black mussels is by steaming them. Steaming mussels is generally regarded as the preferred way to prepare them, however, frying them is also popular. Whole raw mussels or half-shell mussels can be used and will turn out equally delicious.
How To Steam Green And Black Mussels
When steaming, be sure you include a variety of fresh herbs, wine, garlic, and even onion in the liquid to impart their flavors to the meat.
Green-lipped mussels will be done in 10-12 minutes, while black mussels will only need 5-7 minutes before they begin to get tough
Step 1: Prepare and saute any veggies, spices, and herbs that you want to include.
Step 2: Add the mussels to the pot, immediately followed by the cooking liquid, and cover.
Step 3: Allow to cook for the required time.
Step 4: Check for openings, which will indicate the mussels are done. If they are not open yet, cook further and monitor them minute-by-minute to ensure you don't overcook.
Step 5: Serve freshly cooked, warm, with the liquid as a broth, with herbs and lemon juice as garnish.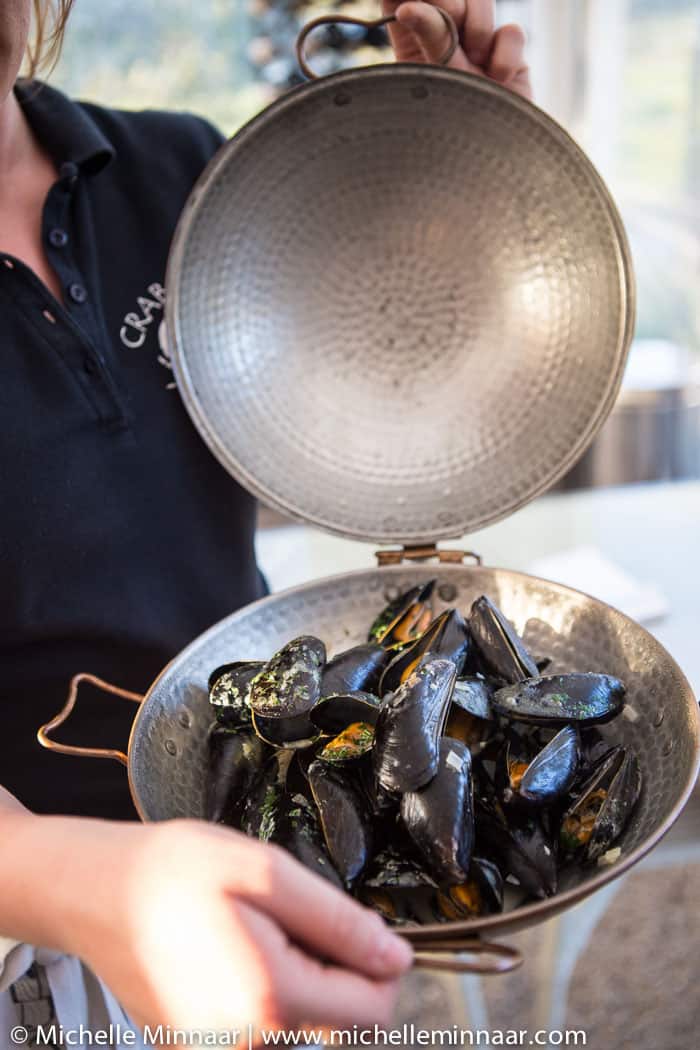 Frying Black Mussels And Green Mussels
Frying mussel meat is another great way to enjoy the tender and soft texture. Pan-frying mussels is as common as deep-frying, and the process will be largely the same.
A Few Caveats
Some notes before you begin. While there are recipes that deal with steaming the mussels whole, it is much easier to fry them without the shells. Also pan-frying should always be done with a liquid of some sort, either oil, white wine, or something similar.
Remember, whether cooking the black or green-lipped mussels, they're easy to overcook, so stay on your toes.
How To Fry Mussels
Step 1: Saute your base ingredients, such as garlic, onion, and mushrooms, in olive oil.
Step 2: Drop a little extra oil in the pan, then add the mussels and toss for 2-3 minutes.
Step 3: Add your broth or wine base, and continue cooking for the remainder of the time.
Step 4: Plate and serve the mussels while still warm, with engaging garnish like dill aioli or lemon.
If you like something a bit different from the usual Moules à la Marinière, you simply have to check out this mussels recipe!
Green Mussels vs Black Mussels – Is One Better Than The Other?
As you can see, there is quite a bit to consider when getting ready to choose between the two primary types of mussels. Your choice may be heavily influenced by what is locally available without shattering your budget, but now that you know the differences between green mussels and black mussels, you'll be ready to enjoy them anytime you find them offered.