There's so much to love about Rome – but perhaps above anything else, when we think of Rome, we think of food! Roman food is up there with the best in the world, with time-honored traditions and a long list of delicious dishes that define the Eternal City.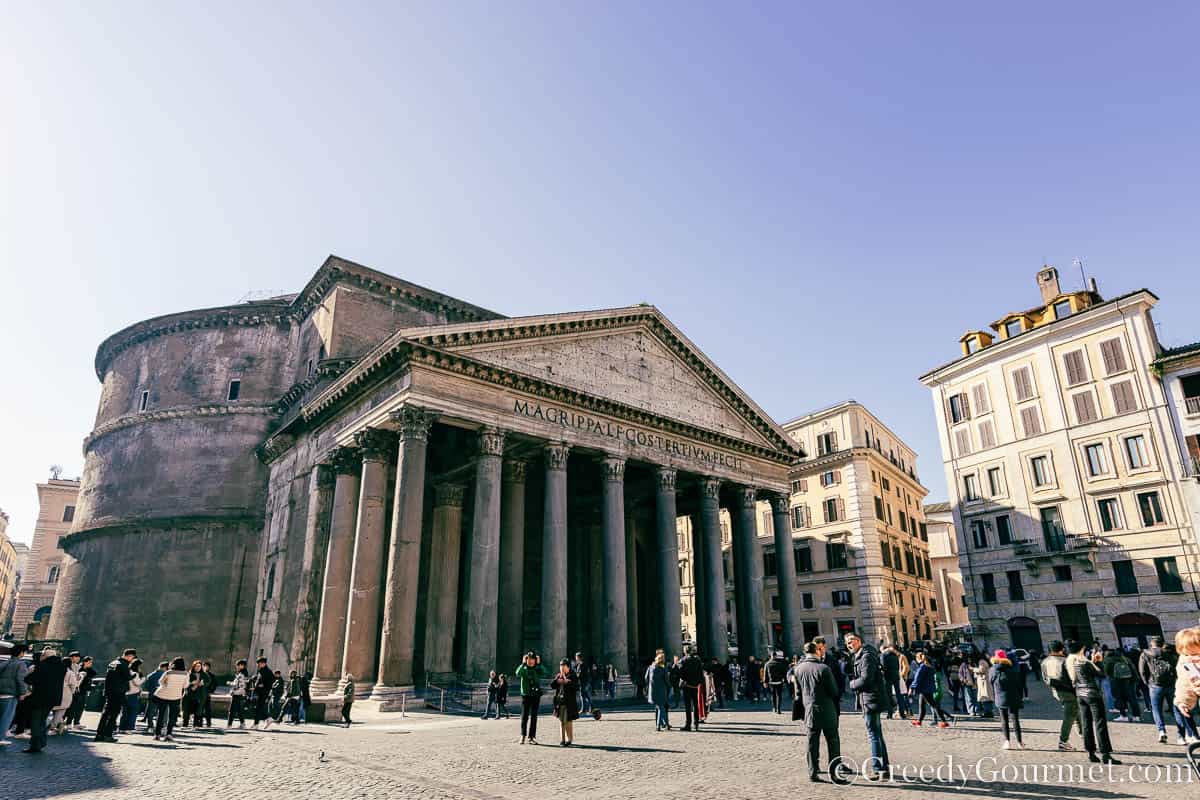 From divine pizzas and heavenly pastas to decadent sweets and deep fried delicacies, the food in Rome will seduce your senses and tantalize your tastebuds like no other. With a marvellous mix of modern street food joints, fine dining establishments and old world tavernas, it's a true foodie's paradise.
However, with so much to sample, it can be hard to know where to start. That's why we've delved into the delicious detail of traditional Roman cuisine to pinpoint the most important, most delectable, most downright luscious food to try in Rome.
After all that walking visiting the best places in Rome, a hearty meal is rightly deserved!
What is the most famous food in Rome?
You could say that Rome is most famous for its holy trinity – pasta, pizza and gelato!
More specifically, Rome's most renowned dishes are probably two pasta dishes – cacio e pepe, and pasta alla carbonara.
Where can you get the best cacio e pepe in Rome?
There are so many fantastic places that serve up this classic dish, from cozy old world tavernas to modern innovative restaurants.
I recommend the fabulous al42 for the best cacio e pepe in town.
Where can you get the best carbonara in Rome?
If you're going to eat in Rome, it's worth doing it right. From the quirky elegance of Mimi e Coco and the humble brilliance of Tonnarello to the homespun charm of Mastrociccia, if you're a fan of Carbonara you'll be in utter heaven.
What drink is Rome most famous for?
When the sun goes down in the Eternal City, locals like to toast to good times with the city's number one cocktail – the Aperol spritz.
This delicious aperitivo is a feisty blend of prosecco, orange bitters and soda water. Sip one as you relax on a terrace in one of the city's most bustling piazzas, while watching Rome in all its glory.
What food was most popular in ancient Rome?
The ancient Romans took pride in using fresh ingredients to make sensational recipes that have stood the test of time. Fresh seafood such as small fish, mussels, squid and oysters, meat such as cured pork, beef and sausages, and fresh locally grown produce like artichokes, beans, mushrooms and cabbage were all popular.
Of course, the Romans also adored olive oil and wine!
Still not satisfied? Browse the full list of food experiences on Get Your Guide and Viator.