The incredible food! The wonderful wine! The epic history and amazing architecture and a certain feeling that there's excitement around every corner! Quite simply, Rome has everything. Known as 'the Eternal City', it's a breathtaking blend of ancient history and modern glamour, where the romance of the past creates the magic of the moment.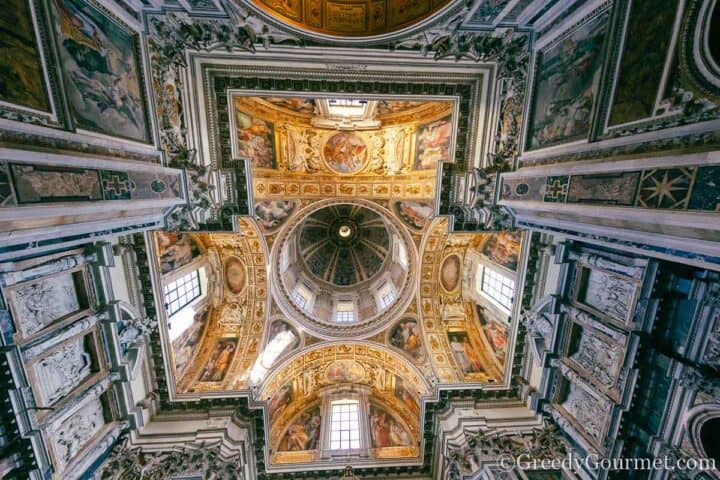 They say Rome wasn't built in a day; well, it certainly can't be seen in a day either. There are so many unforgettable experiences to be had in this enchanting city – from wandering around jaw-dropping cultural landmarks to taking slow romantic river boat cruises, and everything in between.
It would take weeks, months or even years to truly explore the beauty of this ancient wonderland. Yes, it's called the Eternal City, but who's got that kind of time nowadays? Not to worry – whether it's a day trip, a long weekend, or an extended staycation, you can still see some amazing sights and do some incredible things while in Rome. You've just got to know the right places to go.
Which is why we've whipped up this definitive list of the very best things to do in Rome! Don't forget, there's an FAQ section at the bottom of the article, for some valuable little nuggets of advice on how to get the best out of your time in this charming city, as well as tips on how to experience it like a local.
Well, you know what they say, "When in Rome..."
What is the most visited place in Rome?
You might be surprised to learn that it's not the Colosseum!
With over 8 million visitors every year, the Pantheon is Rome's most visited attraction. It's not surprising really, especially when you consider the fact that the ancient building is almost 2,000 years old, is one of the most influential buildings in terms of style, and is regarded as one of the best preserved ancient wonders in the world. Also, entry is free!
The Colosseum is number two on the list, with 7 million visitors every year.
What are the things Rome is famous for?
The Colosseum is probably the most famous monument in Rome. Its long fascinating history draws millions of tourists every year. Plus, the popularity of the Colosseum has increased since films like 'Gladiator' and with an increasing interest in Ancient Rome.
The Roman Forum is also a very famous ancient landmark. Of course, Rome is also renowned as the home of the Vatican and, in particular, the Sistine Chapel with Michelangelo's fresco on the ceiling – one of the world's most famous works of art.
Then there's the romance, the food, the wine... the list goes on!
How many days do you need in Rome?
There's so much to see and do in Rome, it would take ages to really appreciate all its beauty! For visitors, 4-5 days is a decent amount of time to see the essential landmarks and enjoy the food, culture and to get to know the Roman way of life.
What day are the museums free in Rome?
Rome's city-run museums are free on the first Sunday of every month. That means that some of the very best museums that normally charge €10-€15 per month are absolutely free.
If you happen to time your trip to Rome at the start of the month, don't forget to take advantage of free entry! A word of advice – pre booking a time slot via the museum's website is most likely required in order to get free entry.
Is there nightlife in Rome?
Rome by night is a thing of beauty. The stunning architecture provides a magical backdrop to the evenings, in a city where you're never too far away from a good bar. 
From around 7-8pm every night – even during the week – you'll notice that the city's piazzas will come to life, as the locals finish work and gather for dinner and evening drinks with friends.
There are lots of night clubs in Rome with a wide variety of music and styles, as well as many cool bars with excellent live music. If you're heading to Rome to explore the nightlife, you most definitely won't be disappointed!
What part of Rome is the best at night?
The famous piazzas in the center of the city are great locations for night-time revellers. There's a vibrant energy that brings a wonderful atmosphere at night, guaranteed to captivate visitors to the Eternal City.
One the best piazzas is Piazza Navona. It's great during the day, but at night it really comes into its own. There's a number of excellent nearby bars too. If cocktails and art are your thing, head to the nearby Drink Art Gallery or, for a little more sophistication, check out the Wisdomless Club.
For an authentic local feel, head to Bar del Fico or, if you're on the hunt for something with a friendly vibe, where locals and visitors mix, check out La Boticella of Poggi Giovanni. With excellent local wines at low prices, a central location and an enchanting atmosphere, it's an ideal place to grab a drink and watch the evening float on by.
On the banks of the River Tiber, Ma Che Siete Venuti A Fà is a charming, ramshackle, rough around the edges beerhall with stacks of energy and a really friendly vibe.
Popular with students and young people, the San Lorenzo quarter has lots of bohemian charm and some of the city's best venues. The gloriously quirky Ultramoderni is a stylish lounge with great cocktails, excellent performers and affordable prices.
How late are things open in Rome?
Some restaurants in Rome close at around 11:30pm, while others are open far later. For instance, certain local street food restaurants will stay open until around 2am – perfect for a catching a bite on a late night.
Most bars in Rome stay open past midnight. If you're out at a club, expect to be dancing well into the night – most nightclubs in Rome stay open until 4am.
Want to find out more about things to do in Rome, Italy? Check out Get Your Guide or Viator for some amazing experiences in one of the world's greatest cities!