For those who say chicken is boring, prepare to eat your words – alongside some gloriously succulent meat. These 10 chicken breast recipes demonstrate just how amazing this underrated cut can be.
Cooked in the right way, with the right ingredients, it'll always taste sensational. So, let's dive in and discover Greedy Gourmet's 10 best chicken breast dishes.
The 10 Best Chicken Breast Recipes
If you're looking for a chicken recipe that stands out, you've come to the right place. These amazing chicken dishes are packed full of flavour, easy to make and will always go down well with the whole family.
From Italian classics to sensational smoked recipes, this list of top 10 recipes for chicken will inspire you to create some mouthwatering meals.
What can I do with my chicken breasts?
The best thing about this cut of meat is its versatility. Boneless chicken is thought of as being drier and less flavoursome. That's not necessarily true and it can be stuffed, spiced, marinated or brined and cooked in a whole host of ways. Let's take a look at some of the different cooking methods.
Roasting
Roasted, or baked chicken is a great way to go. Marinate your meat for a fuller flavour and juicy, tender chicken, then preheat the oven to 180°C or 350°F. Cook time is 30-40 minutes, depending on the size of the meat.
This way produces healthy, delicious chicken that always tastes good.
Poaching

The disadvantage of this method is that it's easy to overcook the meat when poaching. However, poaching chicken in water gives you the chance to infuse a lot of flavour into the meat and it's the healthiest way to go.
For instance, you can add garlic cloves, peppercorns, lemon wedges, salt and herbs to create a delicious stock. Once poached, the meat will taste fantastic. The idea is to cook it very slow. You'll end up with incredibly tender, delicious meat.
Pan frying
Searing the meat in a cast iron pan is a great way to cook it. First, season with salt and pepper and maybe a spice rub, then drizzle some olive oil in the pan. Let it heat up until you can really feel the heat, but before it starts to smoke. Then fry each side for about 4 minutes, depending on the thickness.
Pan frying produces a beautiful flavoured crust. It's always super quick and easy. Remember to leave to rest for about 4 minutes before you cut into the meat. This will make it juicy and tender.
Deep frying
If you're in the mood to indulge then this is the method for you. It's an great way to cook and serve chicken for special occasions, as the taste really stands out.
Whether you batter or breadcrumb your chicken beforehand, deep frying it takes no time at all (approx 8 minutes) and will make it taste amazing. Experiment with seasoning your coating and make it taste better than the cheap fast food stuff!
Brining
If you've never heard of brining, get ready to discover a new method that will change the way to prepare meat...
What is 'brining' chicken?
The best way to ensure the most tender, juicy and succulent meat is to brine it. Brining really changes everything, as the taste is just completely different. It's like it sucks in juices and locks in the flavour.
Best of all, it's easy to do. All you need is a little bit of prep time the night before and you'll always get amazing results. In fact, once you try brining, you'll never want to serve up an ordinary piece of meat ever again!
You can brine chicken breasts or brine the entire chicken, depending on what kind of meal you fancy the next day. It's a simple process that involves submerging the meat in a salt water solution. The salted water works its magic, reacting with the cells of the meat to break down the muscle proteins and tenderise the meat.
It's such an easy process, it's hard to believe how effective it is. There's no doubt that if you've never given it a go you definitely should. It doesn't take much time and it's totally worth the minimal effort!
Should chicken be breaded or battered?
Breaded tastes fantastic and is slightly healthier than battered. First, you dust with flour, then dip in egg wash. Finally you roll the meat in breadcrumbs. You could even stuff each piece with garlic butter, Kiev-style, and even wrap each with bacon for an indulgent twist.
One ingenious little-known alternative to breadcrumbs is crushed up cornflakes. It works perfectly!
A batter is created using a mixture of egg, flour and milk. You can use a fizzy drink, such as beer or soda water, to put extra air into the batter mix, making it a little lighter and giving it extra flavour.
What is the nutritional info of a chicken breast?
When uncooked, a 220g (1lb) chicken breast contains 156 calories, 24g of protein and 1g of fat. Each teaspoon of oil adds about 40 calories and 5g of fat.
What ingredients pair well with chicken?
Forget about those who complain of dry, tasteless meat – when it comes to combining tastes with this fantastic meat, there are flavours that practically dance together in your mouth. Keep it simple and you'll get great results.
Lemon
The zesty acidity of lemon is a great complement to poultry. All you need is to add a wedge alongside your cut of meat while it cooks, either in the oven or the pan. It'll infuse the meat, giving a lovely lemony scent. This works particularly well when combined with fragrant herbs. Speaking of herbs...
Thyme
Thyme is the herb that works best. It has a nice earthy taste and fragrance that pairs perfectly with poultry. If you can't get hold of any there are plenty of thyme substitutes that, although not quite as great, still work well.
Garlic
Ah, heaven scented garlic. Garlic lovers all over the world will already know that garlic makes pretty much any savoury dish taste better. Try cutting a little pocket into your meat and adding a few finely sliced pieces of garlic. You could even mix it into butter before stuffing it into the pocket.
Simple salt and pepper
As great as all the above taste, you can't go wrong with a few turns of the salt and pepper mills. Sprinkle a bit on your poultry before you cook it. A little bit of seasoning goes a very long way!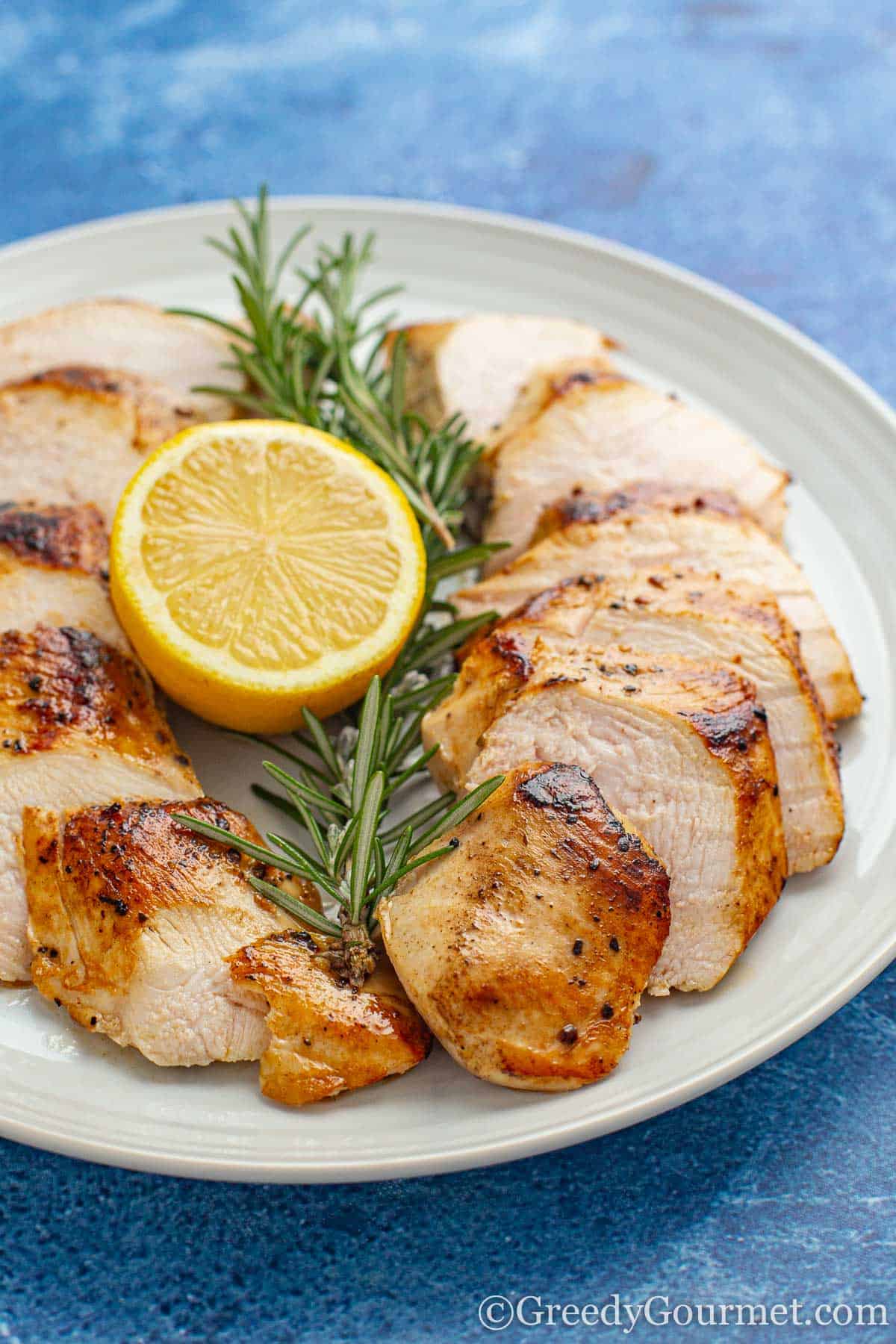 What side dishes go best with chicken?
Once you've decided on your chosen recipe, you'll want some side dish inspiration. There are so many amazing dishes that'll take all 10 of the above to new heights.
Here are just a few suggestions, to give you an idea on the kind of side dishes that work best when paired with poultry.