Warm, sweet, and a little spicy from the array of fruit and spices, this blackberry chutney hits all the right notes as a perfect accompaniment to cheeses, curries, and even roast meat. All the flavors in this blackberry and apple chutney meld together slowly to become what I guarantee will be a staple in your kitchen!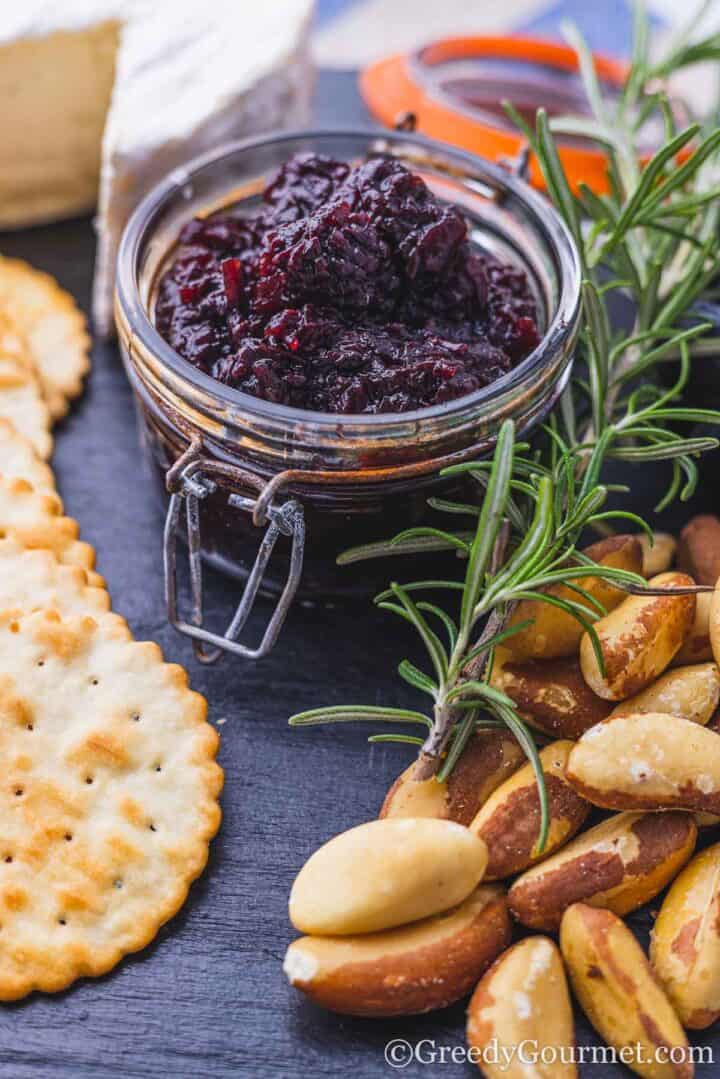 If you're foraging your own blackberries for this delicious chutney this fall, try not to taste too many as you pick. I know, that's a tall order, as I really so do love the sensation in my mouth when the blackberries burst as I bite into each of them.
Just remember that the payoff of waiting will be more than worth it when you taste this exquisite blackberry chutney that uses warm ground spices along with malt vinegar, apple, and onion.
Inspired by my Gooseberry chutney which you can also find on my site, this blackberry chutney is less tart, with a kick of spice from dried chili flakes. Perfect as an accompaniment for dishes like my leftover turkey curry, you can also enjoy it over vanilla ice cream for a unique treat.
The flavors of this blackberry chutney scream fall, but if you make enough, you can enjoy it year-round, even when it isn't berry-picking season!
Why You'll Love This Recipe
It's sweet with warm notes
It makes a great addition to most dishes
You can customise it to your liking
It's so delicious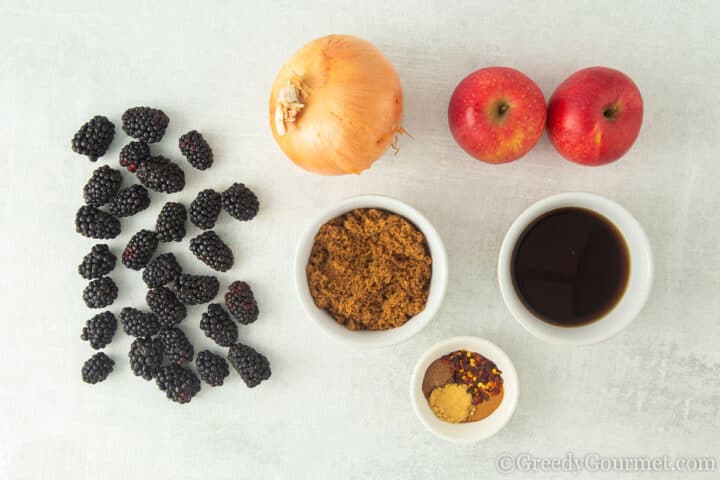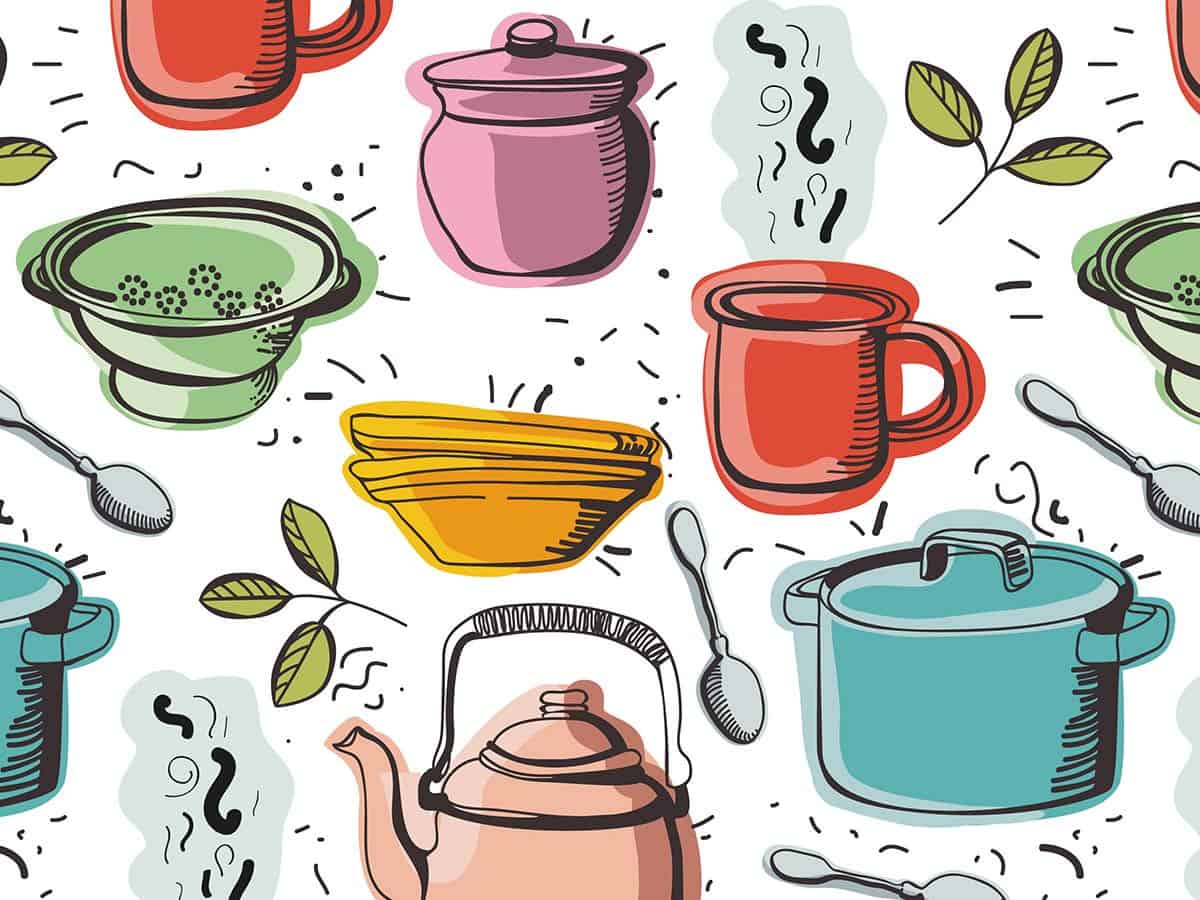 CHUTNEY EQUIPMENT YOU NEED
Check out the ultimate list to chutney making equipment. You actually don't need that much and most of the items are quite affordable!

Making your own preserves is a great and satisfying hobby. Giving the gift the lovely food to your friends and family are especially rewarding!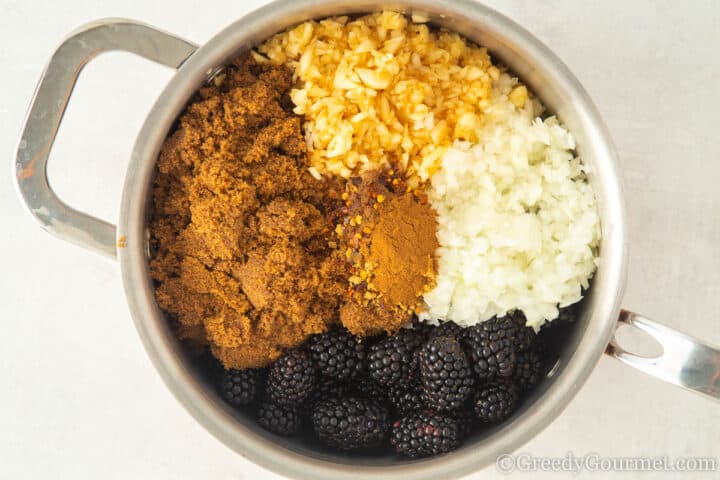 Top Tip
Do not continue to boil your chutney once it has reached the boiling point. This will result in your sugar burning or caramelising, giving the chutney an unpleasant flavor.
What to Serve With Your Blackberry Chutney
Chutney goes great with lots of dishes, but it is a particularly great compliment to spicy recipes and cheese.
Cheese
Fresh goat cheese - the tangy flavor of goat cheese loves this fruity chutney when put together on a crostini or hearty cracker
Brie - add blackberry chutney to brie and bake if for a decadent treat that any cheese lover will go wild for
Curries
Lamb massaman curry - this mild curry will be kicked up a touch with a side of blackberry chutney to go along with it
Beef kofta curry - all the big flavors in this beef kofta curry go great with the warming spices and tart flavor of the blackberries
Marrow curry - spicy and completely vegetarian, this curry is an easy dish that is elevated with a side of chutney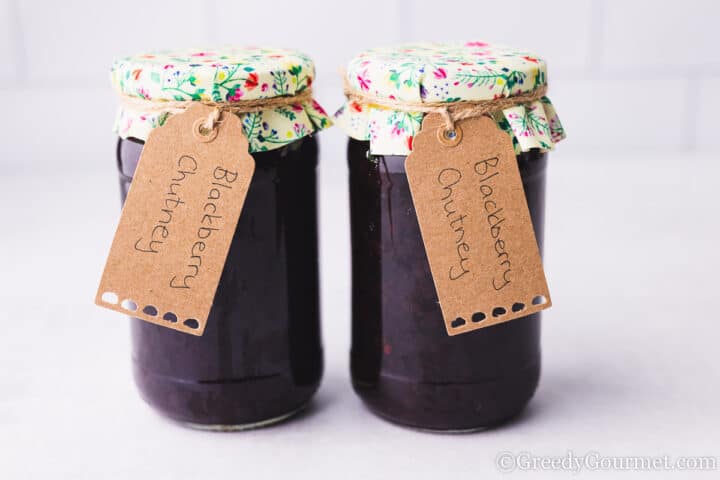 Popular Substitutions for This Recipe
Spices - you can change out any of the spices that you may not care for and replace them with something different. For example, swap out the cinnamon for more savory cumin to get a different flavor that will be just as delicious.
Vinegar - instead of malt vinegar, which is grain-based and less acidic, use white or red wine vinegar for more acid in your blackberry chutney.
Onions - use red onions instead of yellow or white onions for a little more spiciness in your blackberry chutney.
Variations to This Recipe
Use fresh ginger instead of ground for a stronger and spicier flavor in your blackberry chutney
Use whole spices instead of ground spices for a more subtle flavor in your chutney. You can place the whole spices in a muslin bag or make a pouch from cheesecloth to contain the spices. Simply remove the pouch when you are done cooking.
Top Tip
The longer the chutney sits, the more the flavors will meld together and become more delicious and layered.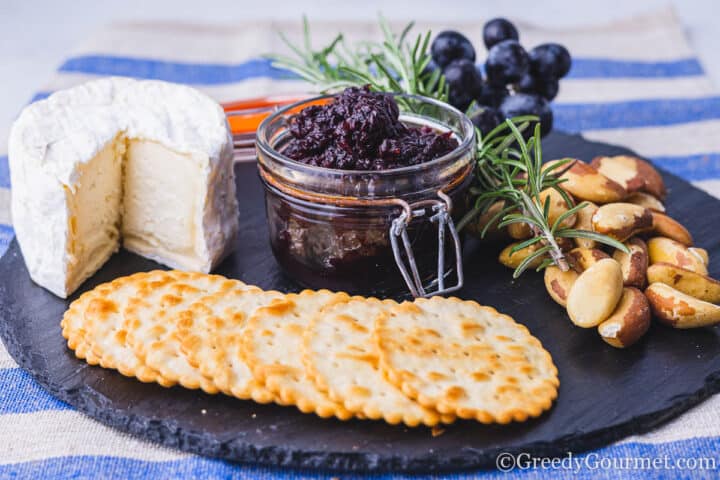 Can This Recipe be Scaled?
Yes, make a large batch of this blackberry chutney by multiplying the recipe to have plenty to last you through the year.
How Do I Store This Recipe?
Store this recipe in sterilised jars in a cool and dry place for a minimum of one month and up to two years unopened, or two months open in the refrigerator.
Can I Use Different Fruit?
Yes, you can use any berry that you like instead of blackberries, such as strawberries, blueberries, cherries, or a mix of all of them.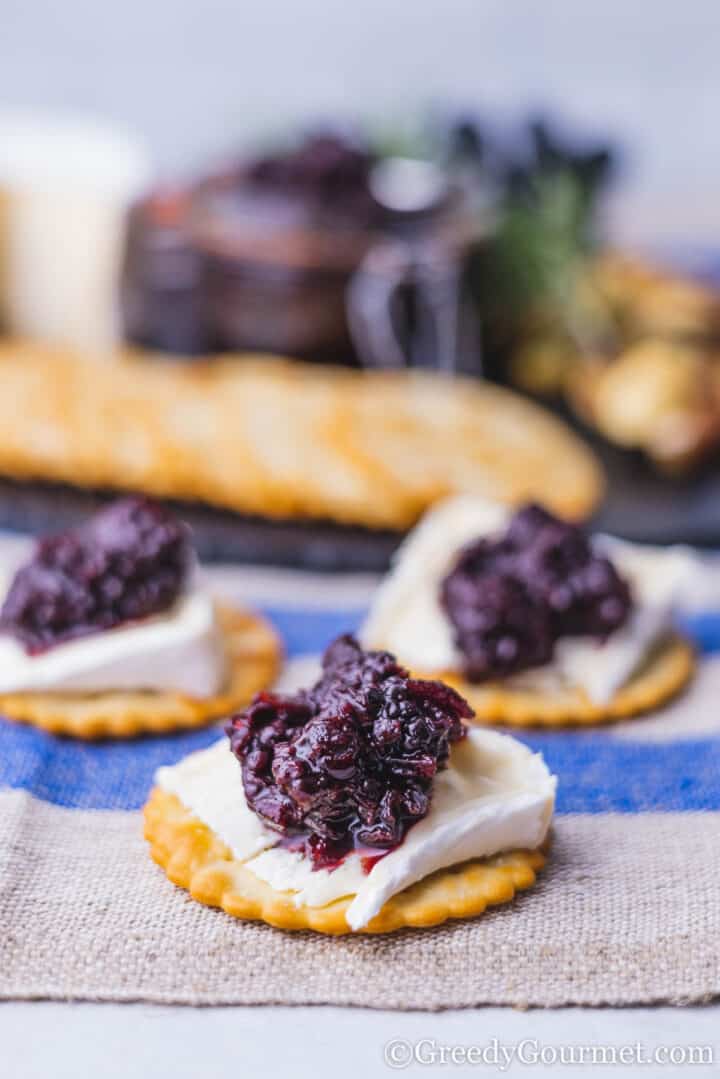 Other Chutney Recipes You'll Love
Print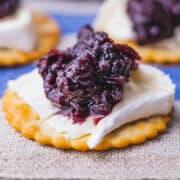 Blackberry Chutney
---
Description
Learn to make this easy delicious homemade Blackberry Chutney. Best served as part of a cheeseboard, and even meat!
---
450

g

(1lb) apples, peeled and chopped

225

g

(1/2 lb) onions, peeled and finely chopped

900

g

(2 lbs) blackberries, washed

340

g

(3/4 lb) brown sugar

500

ml

(2 cups) malt vinegar

2

g

(1/2 tsp) ground allspice

3

g

(1/2 tsp) ground ginger

3

g

(1/2 tsp) ground cinnamon

2

g

(1 tsp) dried chilli flakes
---
Instructions
Place all the ingredients in a large saucepan.
Stir over a medium heat until all the sugar has dissolved.
Turn up the heat until a boiling point is achieved, turn down the heat so that a consistent simmer is reached.
Cook for 1½ hours or until the mixture has thickened. Don't forget to give it a stir every now and then to make sure stuff doesn't burn at the bottom of the pan.
Pour the chutney into hot sterilised jars and seal immediately.
Store in a cool dark place and let it mature for at least a month before opening.
Serve as part of a cheeseboard. Enjoy!
Notes
Blackberries have got pips and some people don't like them. If this is you, place all the ingredients, except for the sugar, in a pot and cook gently until all the fruit is super soft. Rub them through a nylon sieve and return to the pan. Add the sugar and stir over a low heat until this has dissolved. Continue to simmer for 1½ hours and follow the remainder of the recipe.
If you're planning on using whole spices, place them in a muslin bag, which you can remove towards the end of cooking time.
Prep Time:

15 minutes

Cook Time:

1 hour 45 minutes

Category:

Chutney

Method:

Boil

Cuisine:

British
Keywords: blackberry chutney, blackberry and apple chutney, bramble chutney, tomato and blackberry chutney, blackberry and chilli chutney, blackberry apple chilli chutney, plum and blackberry chutney