When it comes to livening up sandwiches, cheese and cold meats, courgette chutney or pickle always hits the spot. Pairing, the slight tartness of vinegar, the sweetness and spices, along with the crunch of vegetables makes it a quick and delicious standby.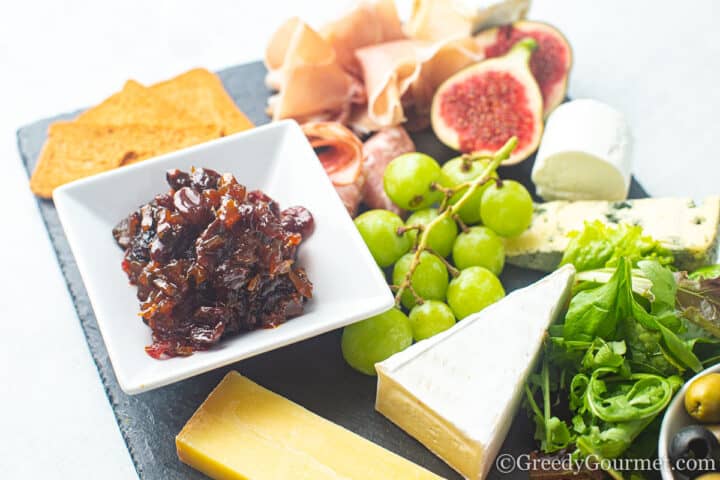 In Britain the courgette season starts in June and ends in October and they are at their best between June and September. So, if you find you have a courgette glut from the garden or allotment, courgette recipes are a fantastic way to use them up, such as this courgette chutney.
This was inspired by my other chutney recipe on this site, and pairs well with this amazing side dish recipe.
Why You'll Love This Recipe
Make a batch of chutney and it's ready to eat all year
Packed with fresh fruit & veg and fat-free
Versatile as a side dish and in recipes too
A Vegan and Vegetarian side dish
A simple, one-pot recipe
Chutney is an easy homemade gift to give to friends and family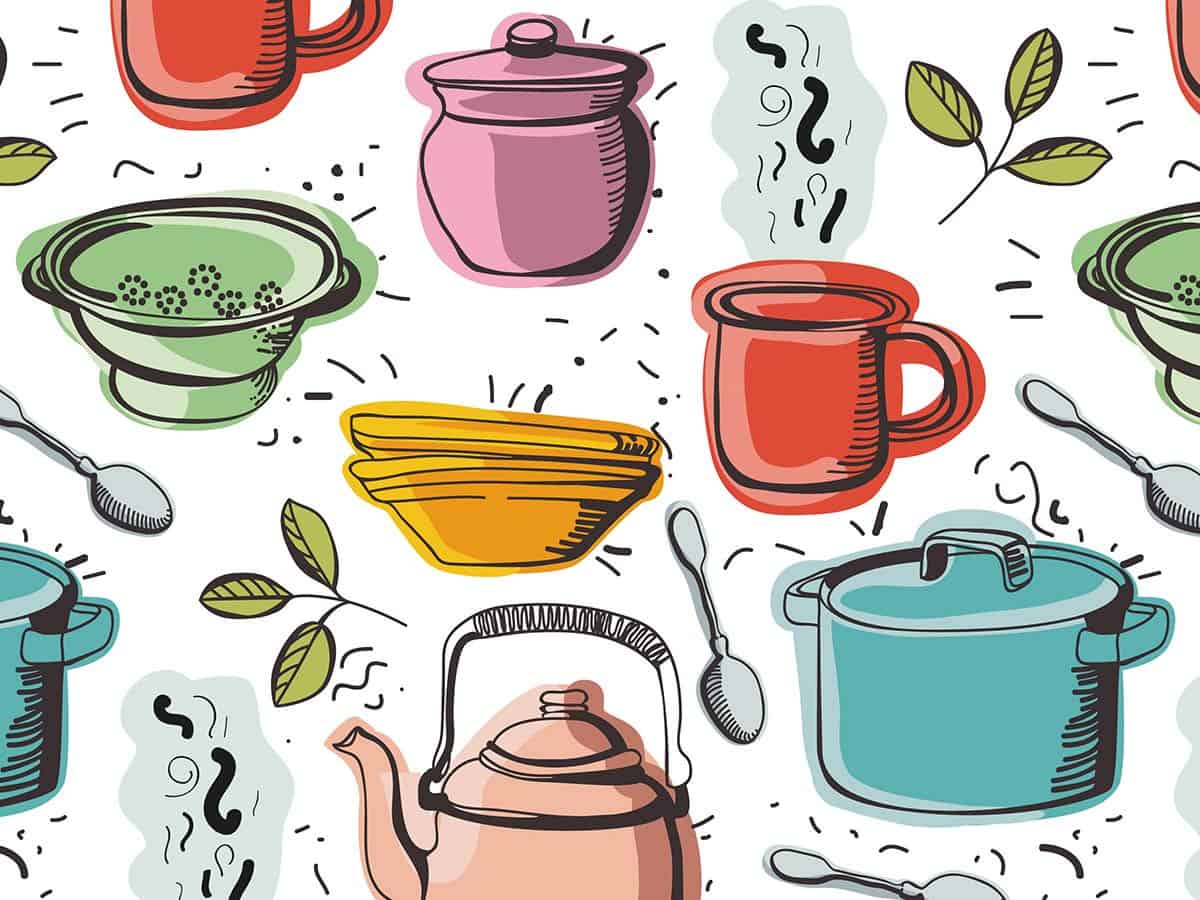 CHUTNEY EQUIPMENT YOU NEED
Check out the ultimate list to chutney making equipment. You actually don't need that much and most of the items are quite affordable!

Making your own preserves is a great and satisfying hobby. Giving the gift the lovely food to your friends and family are especially rewarding!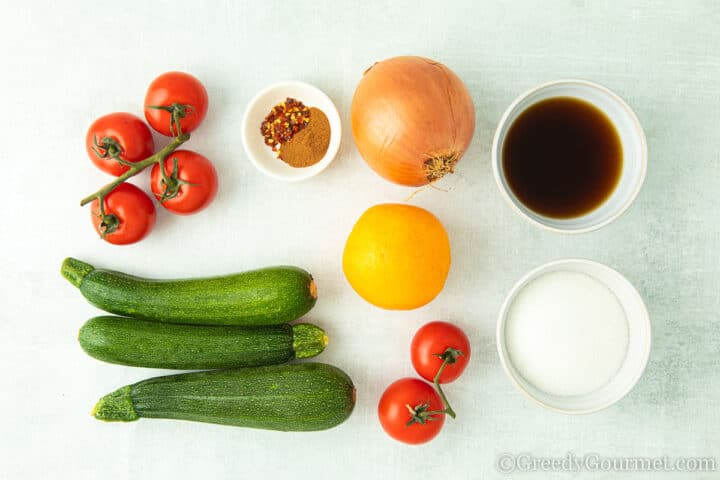 At what time of year is this recipe popular?
All the leftover cold meats and cheese from Thanksgiving, Christmas, and family gatherings come to life with a spoonful of courgette chutney. During summer picnics.
Does courgette chutney need to be left to mature?
All chutney recipes should be left for at least a month after bottling to mature, preferably in a cool, dark place, such as a pantry or cupboard. The chutney should last at least a year or even longer.
The seal on the jar is the most important factor for storage. The jars are sterilised before use in a hot oven. This means the hot jars and the sterile courgette chutney should sterilise the jar contents completely before sealing.
A good seal stops air and bacteria from getting in and the vinegar additionally acts as a preservative. Fill the jars carefully with the chutney to avoid spills around the seal, which may cause corrosion on the metal lids. 
Over time the harshness of the vinegar lessens and the courgette chutney develops a more mellow  piquancy, as the other ingredients share their individual flavours.
The texture of the vegetables also softens slightly. The chemical reactions that take place in preserved food are very complex. They can be likened to a good bottle of wine, which after lengthy ageing develops flavours and aromas that are much greater than the individual ingredients. 
As with courgette chutney, direct light and heat are best avoided. So storage in the pantry is ideal, if you have one otherwise keep the jars in the cool, on shelves, away from light.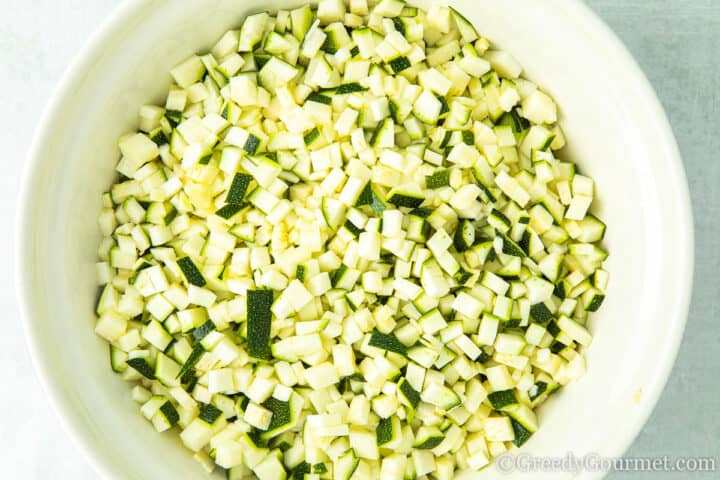 Other flavours you can play with
Add an extra dimension of flavour to your courgette chutney with any of the following:
Spices
1 cinnamon stick
1 tsp ground cinnamon
4 whole cloves
1 tsp mustard seeds
4 cardamom pods, crushed
3g (2 tsp) ground coriander
3g (2 tsp) cumin
5cm (2in) fresh ginger root, peeled and grated
22g (2 tbsp) mustard seeds
3g (1 tsp) ground turmeric
Herbs
basil
dill
oregano
parsley
mint
marjoram
rosemary
thyme
Similarly, tweaking herbs and spices is a cinch and because the courgette chutney has time to mature the flavours of the herbs and spices have time to develop. These are all good options but keep the combinations simple - don't get carried away and add a bit of everything!
For the herbs, my best advice is to taste as you go along to tweak your courgette chutney to your taste.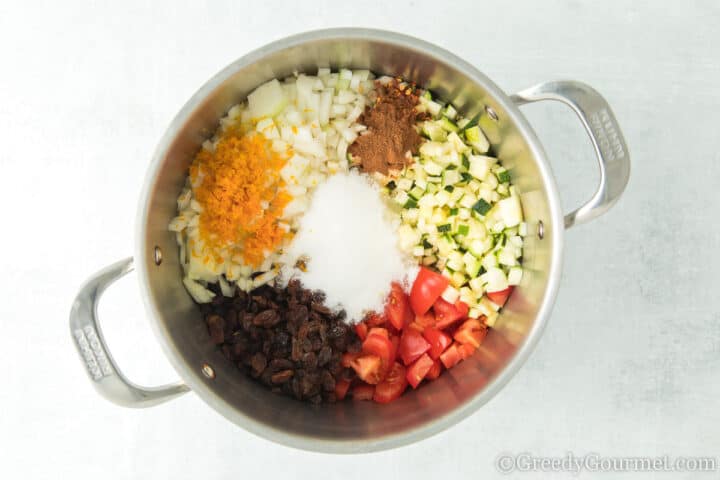 Other Great Courgette Recipes
Courgettes are a very versatile vegetable, which can be cooked in numerous ways. When fried, grilled, and roasted the natural sugars in the courgette caramelise, creating a delicious flavour.
They can also be chopped and stirred through salads and they form the base of vegetable stews such as ratatouille.
Occasionally, the odd courgette will have a bitter taste. This is caused by the overproduction of cucurbitacin, which is a naturally produced toxin to keep mammals from eating the courgettes. The toxin is rare and is usually overproduced when the summer has been especially hot.
If you find you have some courgettes that do taste bitter, it is easiest to peel off the green skin with a potato peeling, sprinkle them with salt and leave for half an hour before rinsing, we should remove most of the cucurbitacin.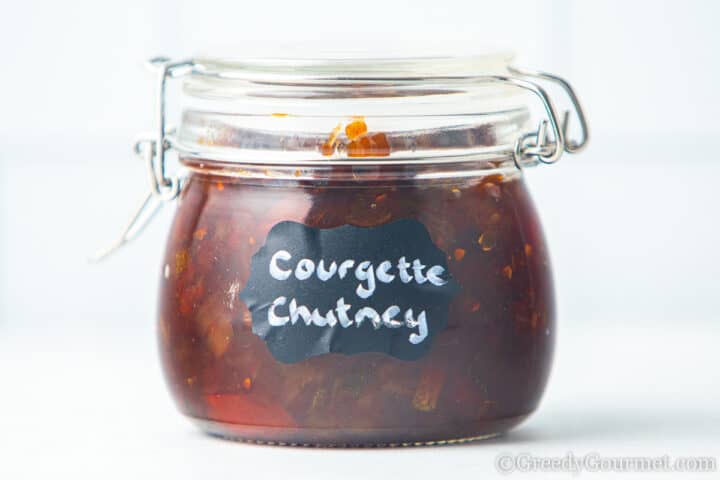 Other vegetables you can combine courgettes with
There are plenty of opportunities to try out new combinations with chutneys. It's all down to personal taste; if you're not keen on the acidity of vinegar use a milder one like cider vinegar or white wine vinegar.
Similarly, the texture of the chutney can be altered using different ingredients. If you prefer more texture in your chutney use firmer vegetables like runner beans. It is always better to contrast flavours and textures, as that is where the interest and balance lies in the finished product.
If you like extra spice in your courgette or zucchini chutney, add chilli flakes to taste, for a good kick in your spicy courgette chutney. Similarly, garlic cloves always pair well with vegetable dishes, so simply chop finely and add the garlic to the recipe.
From their Indian origins, most chutneys and pickles have naturally evolved from plant-based recipes. So they are a great store cupboard stand by if you unexpectedly have a vegan or vegetarian mouth to feed.
If you like the flavour of mustard it is easy to convert recipes into a piccalilli, which is an English vegetable relish made with mustard.
The mustard is often combined with spice paste such as thyme, coriander, cumin, turmeric and root ginger for an extra vivid yellow colour. It makes a great spicy gift at Christmas and can be served in many of the same ways as chutney.
If you enjoy jam making and have a glut of courgettes going spare, then a courgette and ginger jam would be a good way to use them up. Chopped lemon rind, chopped courgettes and powdered or finely chopped root ginger are boiled together with sugar.
The finished jam has the flavour of lemon and ginger, with plenty of texture from the chunks of chopped courgette. Homemade jams have a good shelf life of up to a year. As with chutneys it's best to store the jars away from heat and light
Or simply make up your own divine combinations! Swap 50% of the courgette in the recipe below with one of the following:
aubergine (salt in the same way)
onions
tomatoes
mushrooms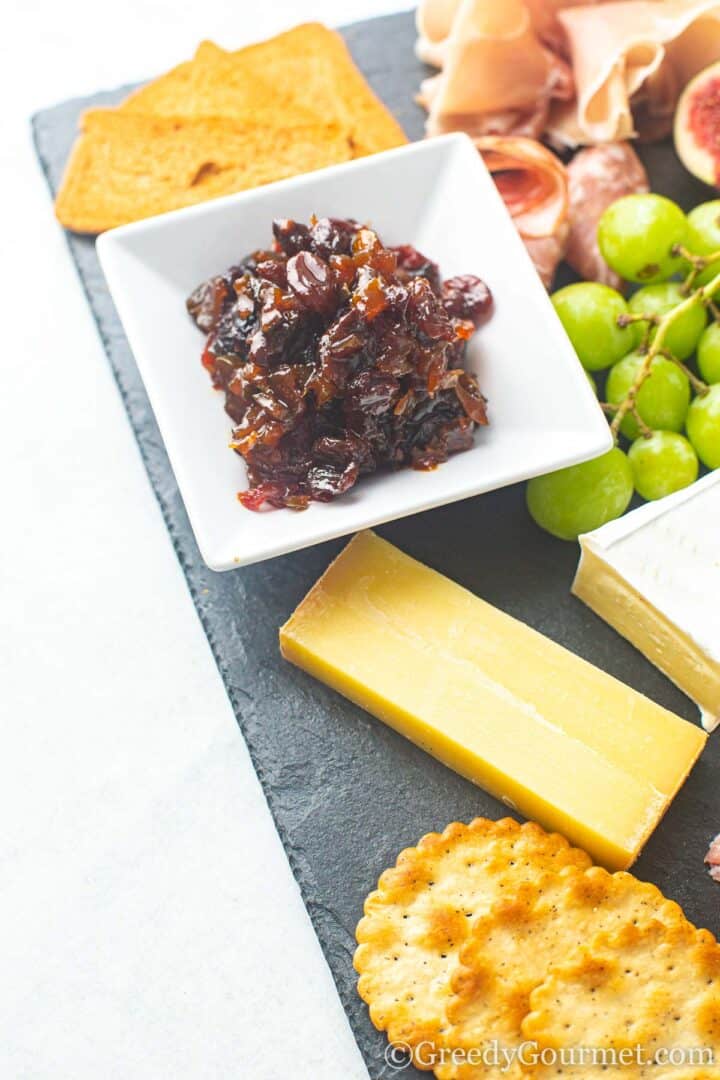 Ideas for how to use this great chutney
There are many more recipes for courgettes that match beautifully with cheese, for example, especially the stronger flavours of feta, gruyere and parmesan. So go make up your cheeseboard!
Indian dishes. Like any chutney recipe, this courgette or zucchini chutney originated in India, where they appear daily with many cooked dishes.
Chutney recipes were brought to England by spice traders returning from India in the 18thC. So chutneys have been a part of English cooking for hundreds of years. Try this chutney recipe with chicken chaat.
Cheese salad or a Ploughman's Lunch are both a perfect partner for a spoon of slightly sweet courgette chutney - an easy, healthy and delicious meal
Cold meats, particularly of stronger roasts, such as beef, venison, lamb and duck work well with the tart, rich flavour of chutney. Served with fresh bread and salads they make a simple but delicious meal.
Courgette chutney can be an ingredient too. Try stirring a spoonful through a meatloaf or meatball recipe before cooking to add a tangy edge.
Try grilling pork chops that have been coated with chutney and a layer of blue cheese (Stilton or Roquefort) on top. Serve each chop with a dressed salad.
Stir courgette chutney with Greek yogurt to make a tasty dip for crackers or vegetable slices for a BBQ.
Courgette chutney pairs well with any nuts. These can be chopped whole nuts or nut butters work as well. Toast whole almonds, hazelnuts, or macadamias and roughly chop before stirring through the chutney. This will add a delicious crunchy and nutty flavour.
Similarly, stir equal amounts of almond, hazelnut or peanut butter together to create a tangy spread, which can go on crackers, toast and sandwiches. This spread is a great topping for canapes, where a small amount packs plenty of punch.
Make a spicy courgette chutney and serve it with grilled cheese on toast, sandwiches or burgers.
As a starter, grill goat's cheese or Brie and serve with spicy courgette chutney and salad.
Storage
Store chutney in the fridge and use it within 1 month. Remember to remove the chutney from the fridge 1 hour before eating. The flavour will be much better when not chilled. Don't forget to sterilise your jars before filling them with your delicious chutney, did you know the quickest way to sterilise your jars is in the microwave or you can also use your oven to sterilise jars?
More Great Chutney Recipes
Print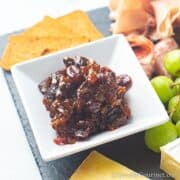 Courgette chutney Recipe
---
Author:

Michelle Minnaar

Total Time:

4 hours 30 minutes

Yield:

Makes about

1.5

L (

6 cups

)

1

x

Diet:

Vegan
Description
Learn how to make this easy and delicious homemade Courgette Chutney. Best served as part of a cheeseboard and meat!
---
Courgettes
1.5

kg

(3lbs 5oz) courgettes, washed

25

g

(1 1/2 tbsp) cooking salt
Rest of Chutney Ingredients
450

g

(1lb) tomatoes, chopped

3

onions, finely chopped

450

g

(1lb) sultanas

2

oranges, rind only

900

g

(2lbs) granulated sugar

600

ml

(1 pt) malt vinegar

5

g

(2 tsp) ground cinnamon

2

g

(1 tsp) dried red chilli flakes
---
Instructions
For the Courgettes
Top and tail the courgettes, then cut into small cubes. 
Transfer to a colander or sieve and sprinkle with the salt. 
Leave to stand for around 2 hours, in order to draw water out of the vegetables. 
Rinse under cold running water and dab dry with a paper towel.
For the Chutney
Place the courgettes and the rest of the ingredients in a large stainless steel saucepan. 
Slowly stir the ingredients over a medium heat until all the sugar has dissolved, which should take about 10 minutes. 
Bring the mixture to a simmer point and continue to cook uncovered for 1½-2 hours, or until thickened. Give it a stir every now and then to ensure the bottom doesn't stick and burn. 
Pour into warm, sterilised jars. 
Seal, store and label. 
Let the chutney mature for at least a month before opening. Enjoy! 
Notes
If you don't fancy tomatoes in this recipe, why not check out this Marrow Chutney? You can simply substitute the marrow with courgettes!
You can use red wine vinegar instead of malt vinegar.
Prep Time:

2 hours 30 minutes

Cook Time:

2 hours

Category:

Chutney

Method:

Boil

Cuisine:

British
Keywords: courgette chutney, zucchini chutney, courgette and tomato chutney, courgette recipe, zucchini recipe