As versatile as it is delicious, this cranberry chutney can be served with a cheeseboard, a spicy curry, a puff pastry savory treat, or as the secret flavor-maker in your favorite sandwich. It can even be used in place of traditional cranberry sauce. If you've never tried making homemade chutney, you're in for a treat!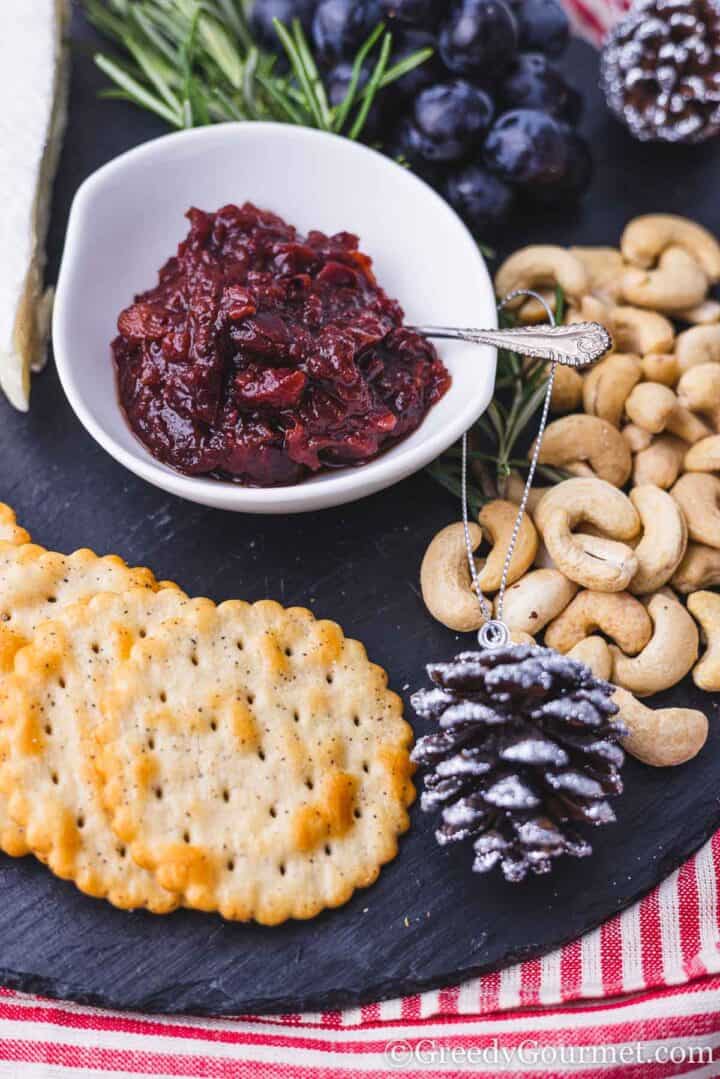 As with any good chutney, this cranberry chutney recipe is all about the waiting game. As they say, good things come to those who wait, and as long as you give this chutney time to mature, the depth of flavor will blow you away.
Why you'll love this recipe
The cooking process is very simple
It's an extremely versatile recipe – you can use cranberry chutney with so many different types of foods
The recipe is adaptable, meaning you tweak it to your tastes
The flavor is incredible!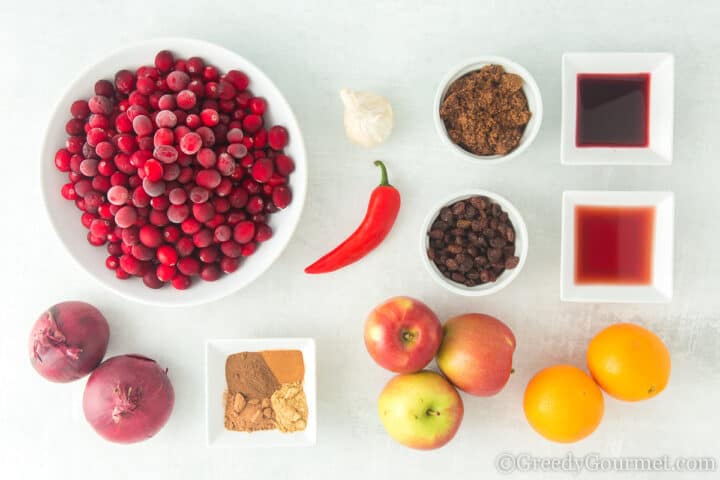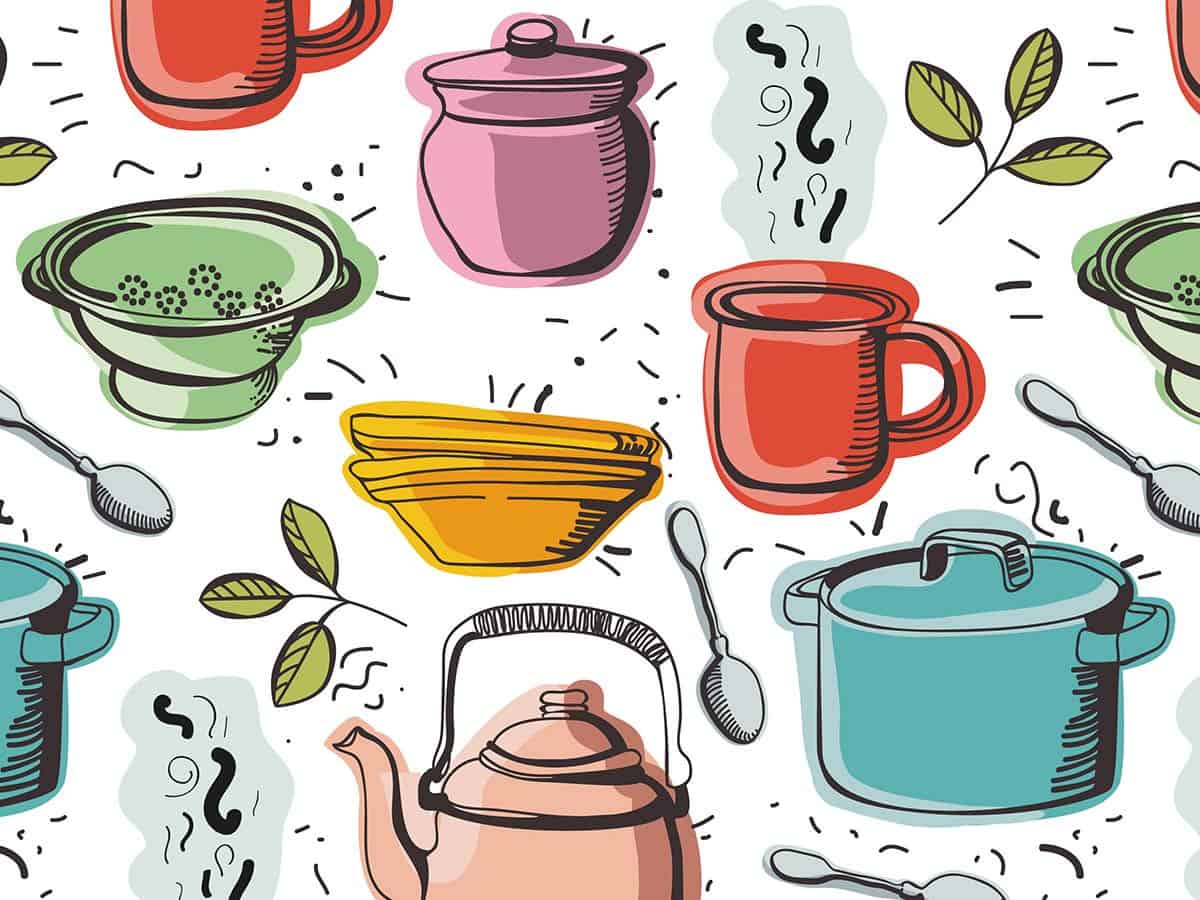 CHUTNEY EQUIPMENT YOU NEED
Check out the ultimate list to chutney making equipment. You actually don't need that much and most of the items are quite affordable!

Making your own preserves is a great and satisfying hobby. Giving the gift the lovely food to your friends and family are especially rewarding!
How to make cranberry chutney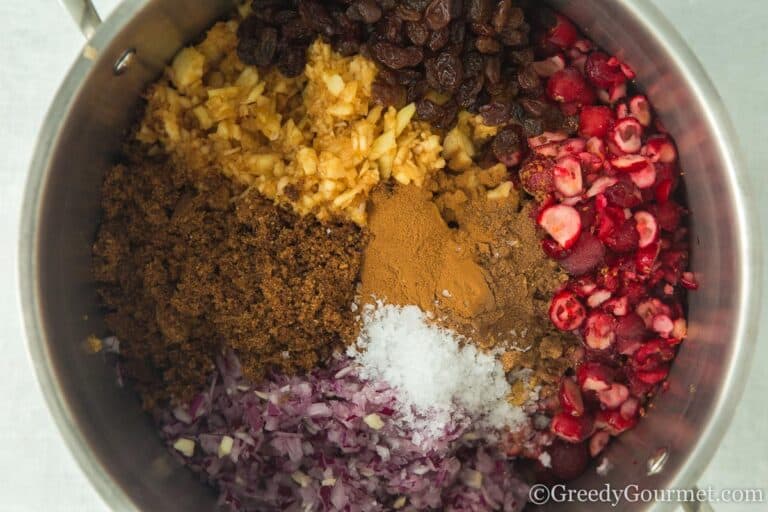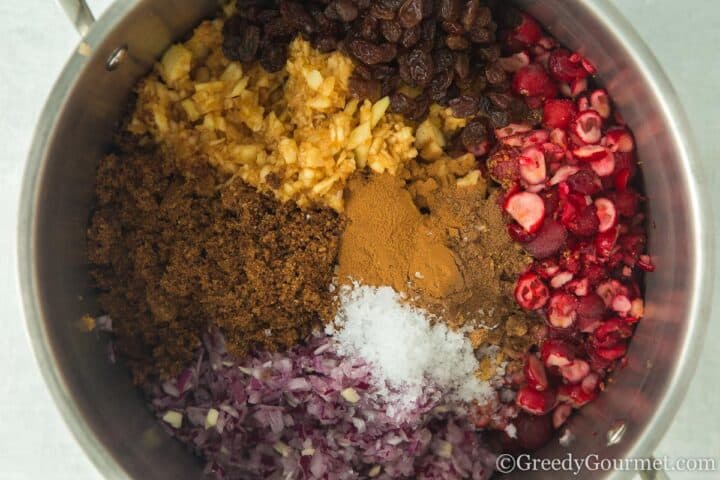 Place all the ingredients in a large stainless steel pot.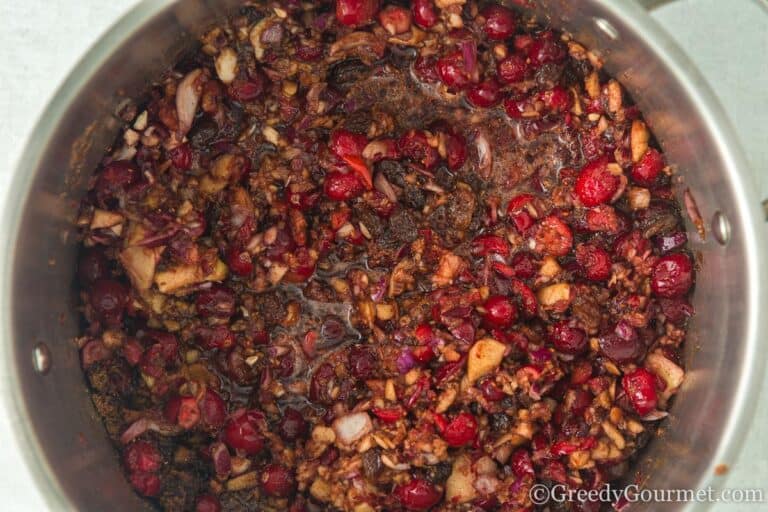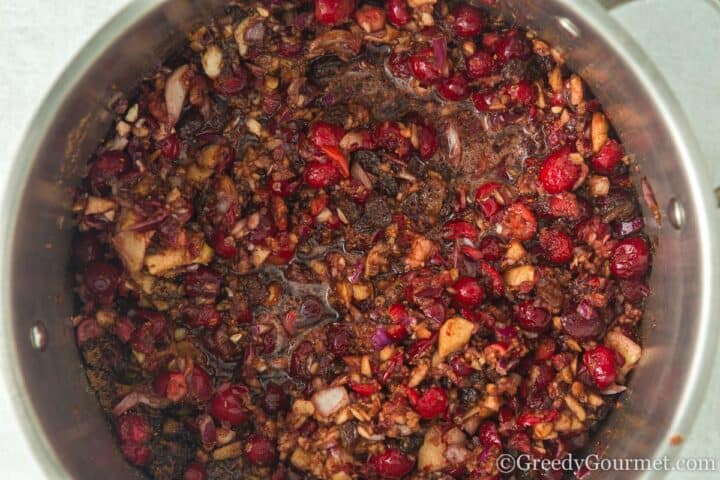 Gently heat the contents and stir until the sugar has dissolved. Bring to a boil, then lower the heat to a simmer and cook for 1 hour. Place in sterilised jars and wait. Enjoy!
Top Tip
When it comes to making chutney, preparation pays off! Make sure you have all your ingredients peeled, grated and chopped before you start cooking. This way, you can pay attention to the pot and get on stirring.
What to serve with cranberry chutney
Sandwich
Spicy cranberry chutney makes a good sandwich great. This pastrami and cream cheese sandwich is a winner – anything with cream cheese would be a perfect pairing to be honest!
Think of it like a super cranberry relish and add it to sandwiches or burgers – this BBQ pulled lamb burger would be ideal.
Cheeseboard
Homemade chutney and a cheeseboard are a match made in heaven. Add some quality crackers and you're good to go!
Curry
If you want those spices to really pop, pair this chutney with a curry! I've got a thousand curries to choose from... take your pick from my curry archives.
Roast turkey
This delicious chutney makes a great alternative to the regular cranberry sauce that is normally served at Thanksgiving, Christmas or with a Sunday roast. The warm spices and deep fruity flavor are perfect with turkey, although quite honestly any kind of meat tastes sensational with a spoonful of this cranberry chutney.
Popular substitutions for this recipe
If you can't get hold of fresh, you can use frozen cranberries in their place – just swap at a like-for-like ratio. You can also use dried cranberries in this chutney. Use 750kg in place of 1kg of fresh.
You can use sultanas in place of raisins. Alternatively, you can use equal amounts of dried cranberries or other types of dried fruit.
Swap the red wine vinegar for apple cider vinegar, malt vinegar or balsamic vinegar if you prefer.
Top Tip
Here's a quick summary of the key points to keep in mind when it comes to making the perfect cranberry chutney:
Make sure you use good quality fresh ingredients for this recipe
Use a stainless steel cooking pot – the acid in the fruit could react with other types of materials such as copper or brass
Chop your ingredients into small, even-sized pieces
Stir regularly towards the end of the cooking time to prevent the chutney from burning on the bottom of the pan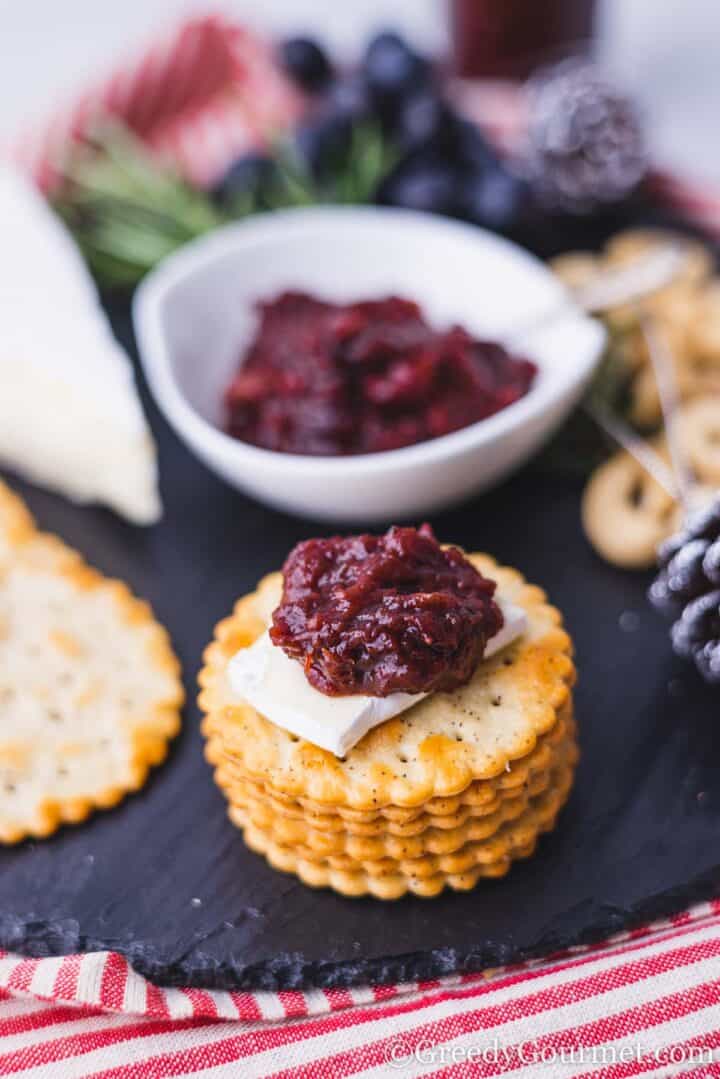 What is chutney?
Chutney is a rich, sweet, spicy tangy condiment made from a mix of ingredients such as chopped vegetables, fruits, spices, vinegar and sugar. It's usually served as a dip or side dish.
It originated in the Indian subcontinent several hundred years ago. It was originally used as a smooth dish with fresh fruits, vegetables, spices and nuts that were crushed to form a paste.
In the 18th century, chutney became popular in Britain, although it was a chunkier version than the original Indian type of chutney. Nowadays, chutneys of all different types are popular throughout the world.
What kind of cranberries should I use to make cranberry chutney?
This recipe calls for fresh cranberries. Fresh cranberries will give you a better flavor, with a more intense juiciness.
If fresh cranberries are unavailable, you can use frozen cranberries instead. You can also use dried cranberries. You need to substitute dried cranberries at a 3:4 ratio, so use 750kg of dried cranberries.
Should I cover the pot when making chutney?
No. The liquid from the chutney needs to evaporate to create that lovely velvety texture.
What vinegar is best for cranberry chutney?
I've gone for red wine vinegar, but apple cider vinegar would also be suitable for this recipe.
What apples should I use with this recipe?
I recommend using cooking apples for this chutney recipe. Something that's firm, tart and acidic, that stands up to long cooking times and can hold its shape.
A granny smith apple or a golden delicious are both ideal for this recipe.
How long do I need to leave the chutney to mature?
At least a month. That maturation time is key to the deep flavor of good quality chutney.
Do you have to sterilize jars when storing chutney?
Yes. Your storage jars need to be properly sterilised in boiling water or in the oven. This is because if you don't sterilize jars properly, bacteria can grow on the inside and ruin the chutney.
Read our guide on 'How to sterilise jars and bottles' for in-depth step by step instructions.
How do I store chutney?
Once you've sterilized the glass jars, use a funnel to spoon your warm chutney into your warm storage jar. Having the chutney and jar warm is important, as the glass jars may crack if there's a big difference in temperature.
How long does chutney last?
When stored in the right way, this cranberry chutney will last a long time! In fact, unopened, this chutney will last up to two years. That's because the vinegar and sugar both act as a preservative and extends the shelf life of all the ingredients inside.
Once opened, store it in the fridge and use it within two months.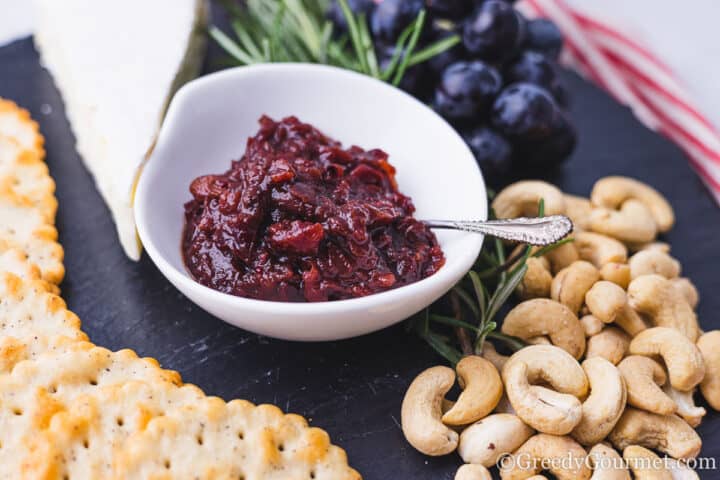 More delicious chutney recipes
Once you've made this spicy cranberry chutney recipe, but your chutney-making skills to the text and try some of these:
Print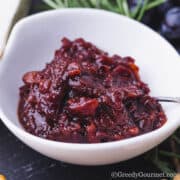 Cranberry Chutney Recipe
---
Author:

Michelle Minnaar

Total Time:

1 hours 25 minutes

Yield:

33

servings

1

x

Diet:

Vegan
Description
This cranberry chutney recipe is a delicious twist on a classic condiment, with sweet, tangy, and spicy flavors that make it a perfect holiday side dish.
---
1

kg

(9 cups) fresh cranberries

3

large apples, peeled and grated

2

large red onions, finely chopped

2

oranges, juice and peel, sliced thinly

250

g

(1 1/2 cup) raisins

250

ml

(1 cup) red wine

250

ml

(1 cup) red wine vinegar

500

g

(2 1/4 cups) brown sugar

18

g

(1 tbsp) sea salt

4

garlic cloves, crushed

1

red chilli pepper, finely sliced

8

g

(1 tbsp) ground ginger

7

g

(1 tbsp) ground nutmeg

8

g

(1 tbsp) ground cinnamon

6

g

(1 tbsp) ground allspice
---
Instructions
Place all the ingredients in a large saucepan. 
Stir over a medium heat until all the sugar has dissolved. 
Turn up the heat until a boiling point is reached, then lower it to reach a steady simmer. Cook for 1 hour or until the mixture is thick. 
Pour the chutney into hot sterilized jars and seal immediately. 
Store in a cool, dark place for a month to let the chutney mature. 
Serve with roast turkey or as part of a cheeseboard. Enjoy!
Notes
If you can't get hold of fresh cranberries, frozen ones work just as well.
Prep Time:

20 minutes

Cook Time:

1 hours 15 minutes

Category:

Chutney

Method:

Boil

Cuisine:

American
Keywords: cranberry chutney, spicy cranberry chutney recipe, savory cranberry chutney, simple cranberry chutney, christmas cranberry chutney recipe, cranberry orange chutney, cranberry apple chutney, cranberry ginger chutney, dried cranberry chutney, fresh cranberry chutney