There are few things so easy yet so satisfying as making your own chutney. Homemade chutney is pure bliss – but to do it properly, you have to make sure you've got the right chutney making equipment.
What do you need to make your own chutney? We've got the answer for you. From the perfect pan to the ideal stirring spoon, here's our guide to the items you need when it comes to making chutney.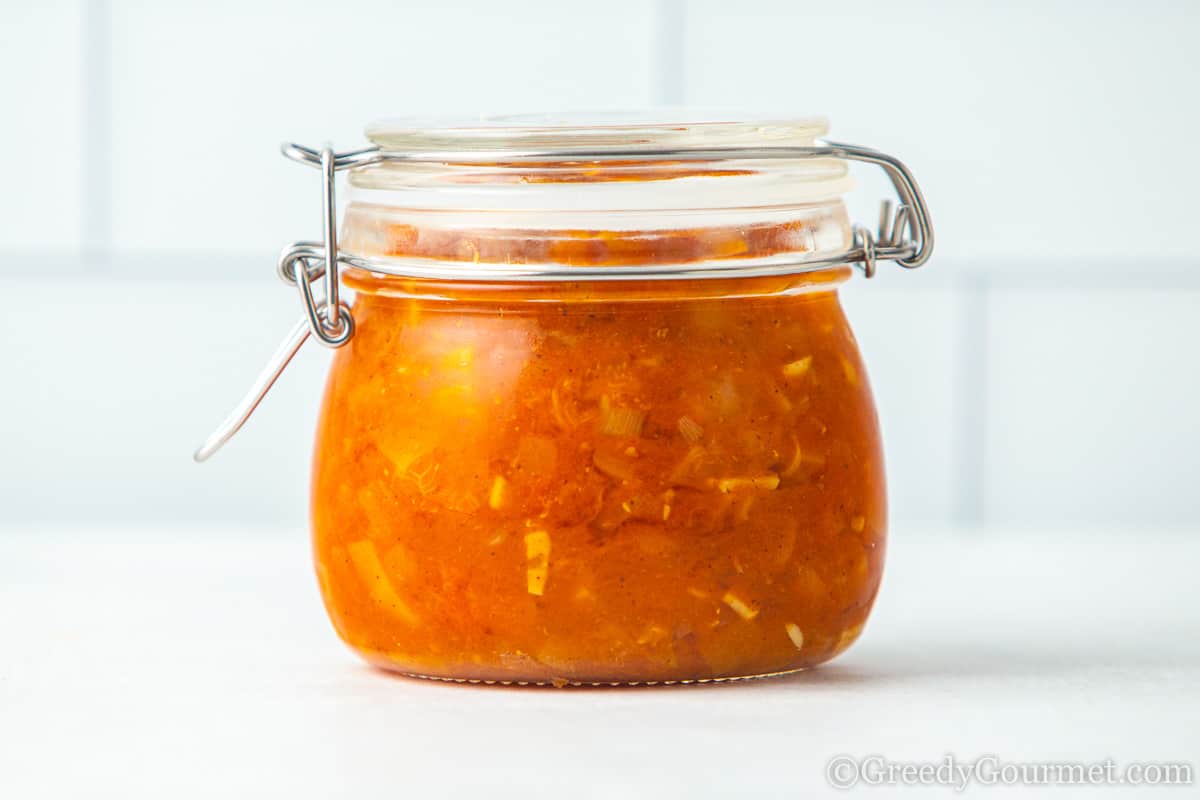 First off... What exactly is chutney?
Everyone has heard of chutney, right? Chances are though, you don't know exactly what goes into chutney or how it's made.
Chutney is a blend of vinegar, sugar, vegetables, fruit and spices. All these ingredients are simmered together to form a thick, silky sauce-like condiment with a complex, rich flavour.
Chutneys come in different flavours, but the key profile is a balance of sweet, sour and spice.
What foods go with chutney?
So many! If you're a cheese fiend like me, chutney is utter heaven. It makes the perfect pairing with any kind of cheese – whether it's a hard, crumbly, nutty cheese or a creamy mild cheese.
Add some quality crackers and you'll be in paradise.
Chutney is also a great addition to a sandwich or with a plate of cold meats. There's no better way to revive your leftover roast, believe me!
Then there's Indian cuisine. Perhaps the best way to use your spicy chutneys is on the side of your favourite Indian dish – any kind of curry will do, or you could even go for a spiced Indian snack and use the chutney as a dip. Perfection!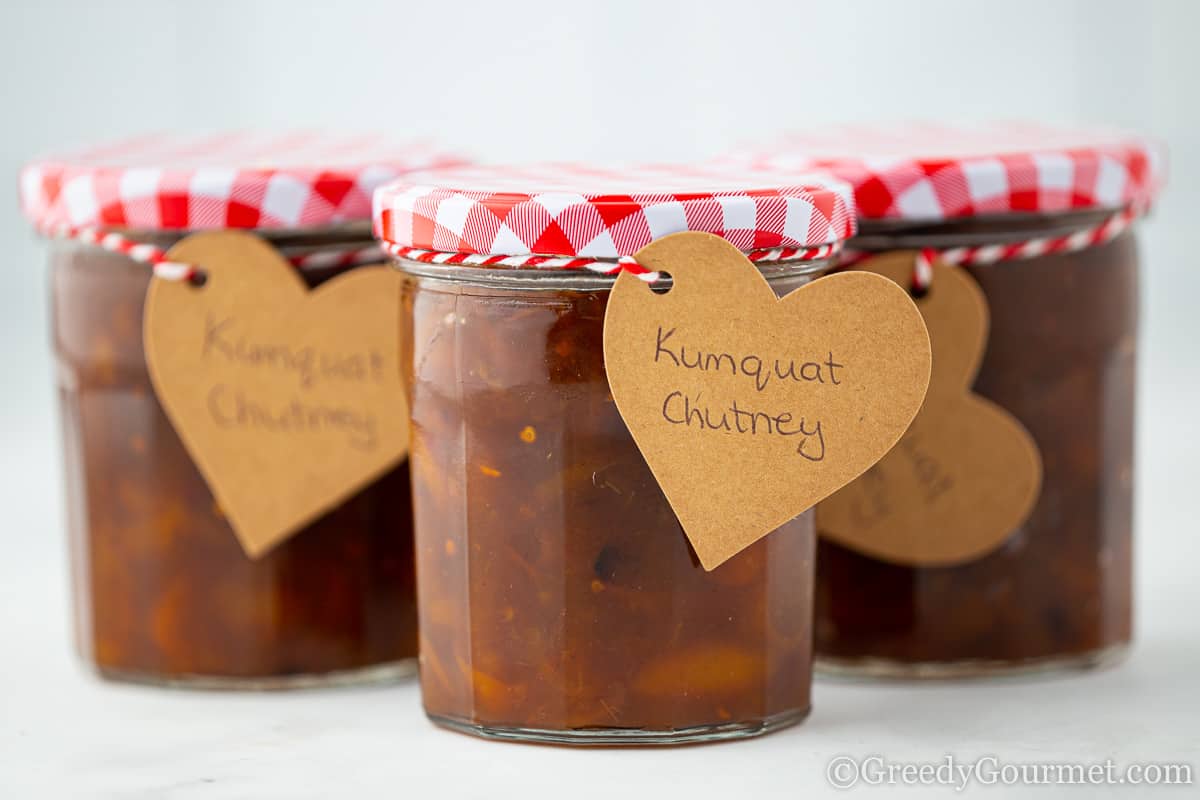 The ultimate chutney making kit
Weighing scales
An essential piece of equipment for chutney or jam making, a good set of Digital Kitchen Scales will enable you to get the precise measurements for your chutney ingredients, which is key for both the taste and texture of your chutney. There are plenty of Digital Kitchen Scales to choose from!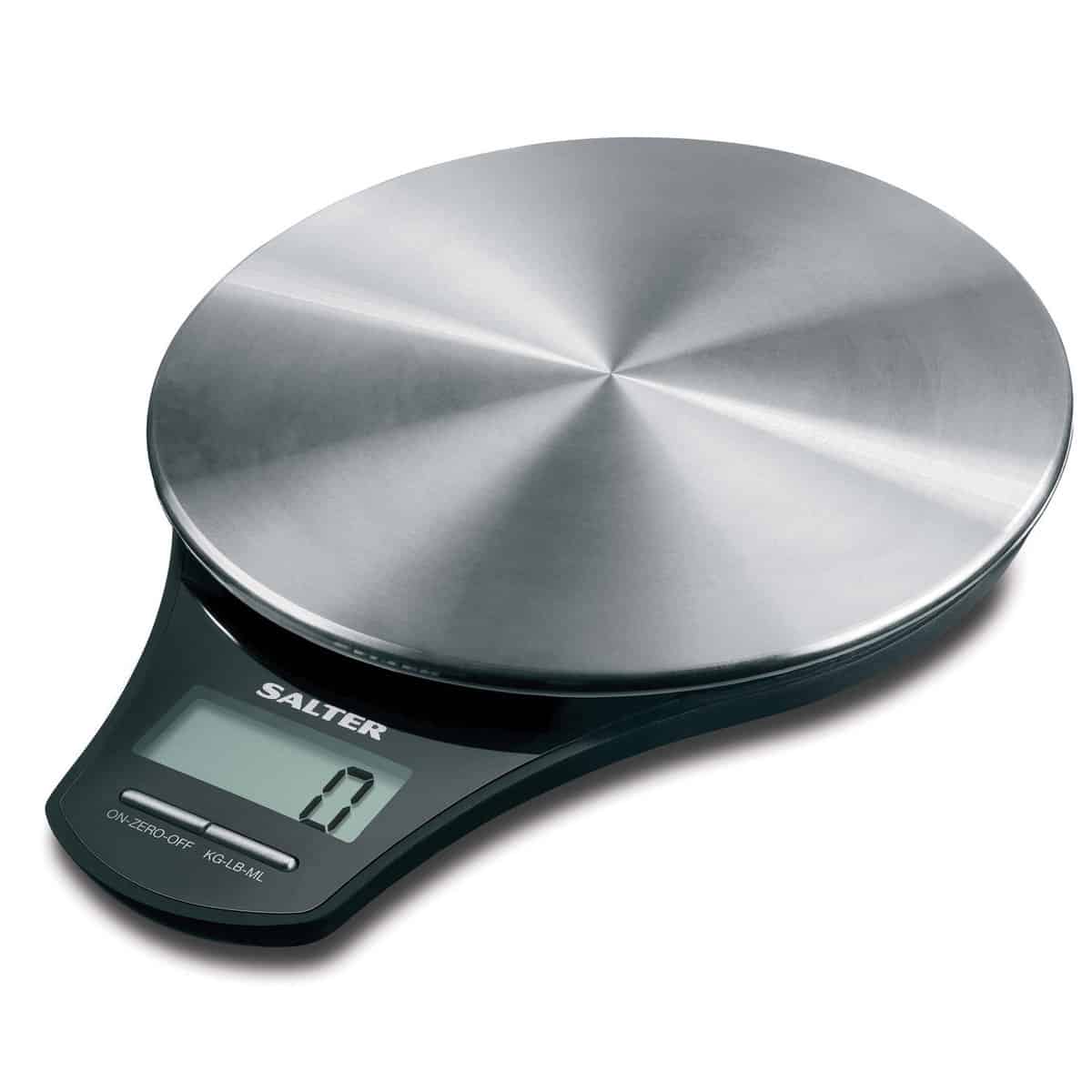 Measuring jug
Just as a weighing scale is vital when it comes to getting precise weights, so too is a Measuring Jug when it comes to getting exact amounts of liquid.
Vinegar is a big ingredient in chutney and the mixture of vinegar to sugar and vegetables/fruits is important when it comes to getting the right mixture. Make sure you get one with a pouring spout to make things a little easier.
Here is a big selection of Measuring Jugs to choose from!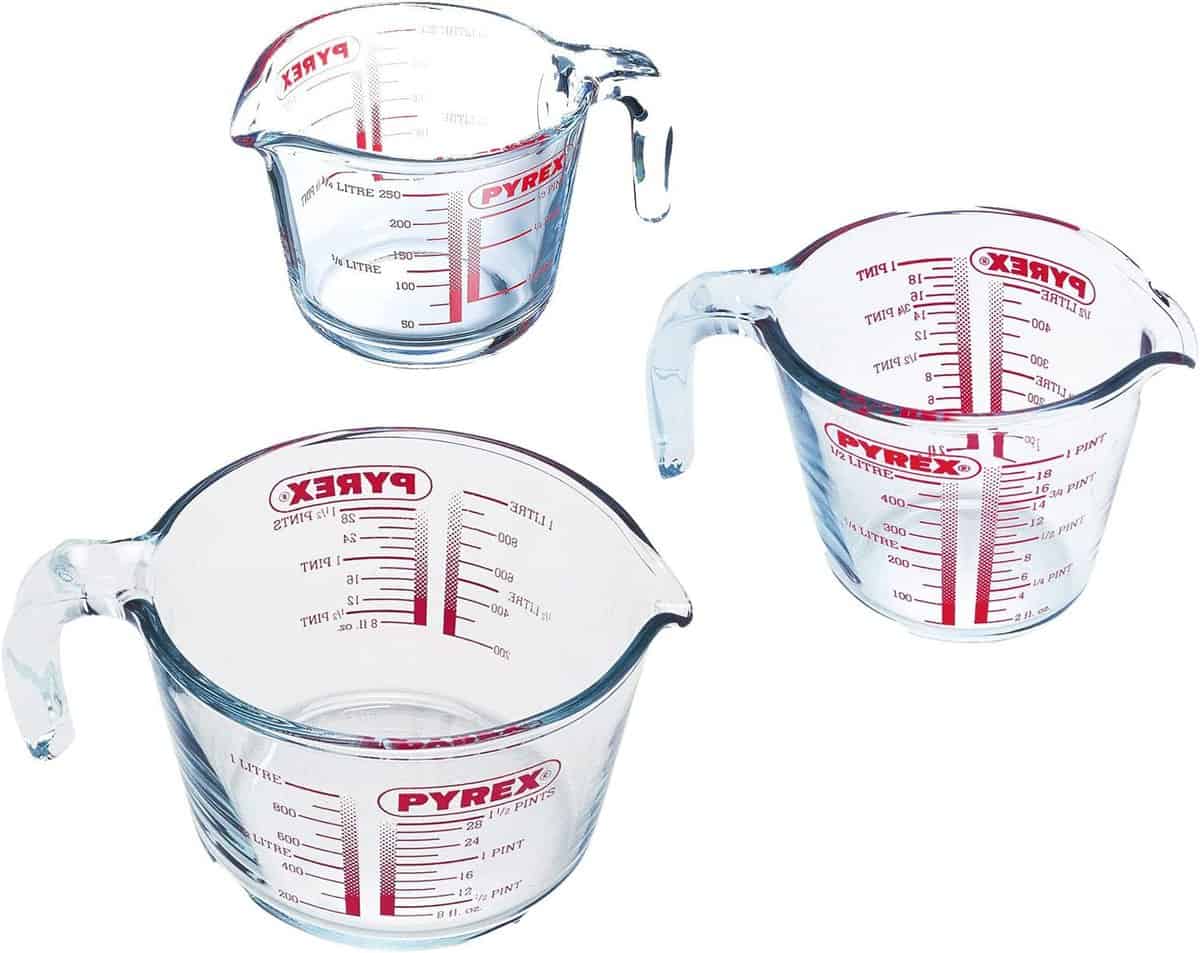 Maslin Pan / Preserving Pan
For chutney making
One of the key pieces of chutney or jam making equipment, a Maslin Pan is a well-made pot with a large capacity. If you're going to be making lots of chutney recipes, it's definitely worth investing in a good quality maslin pan.
You could also buy a large cooking pot to make your chutney. However, you should always ensure that your chutney or jam pan is made from stainless steel, as copper, brass or iron pots can react with the acidity of the fruit and vinegar in the chutney.
Still, my advice is to get yourself a Maslin Pan. Not only do they have that extra capacity, but they are designed to widen at the top, enabling a quicker rate of evaporation, which gives you a chutney with a perfect texture.
There are quite a few jam pans available.
For sterilising jars
Another great reason to invest in a maslin pan is for the sterilisation process. When sterilising your glass jars, the most effective method is to boil them in a large container – the larger the better.
That's why a maslin pan is perfect. Most types of maslin pans come in 7, 8 or 9 litres.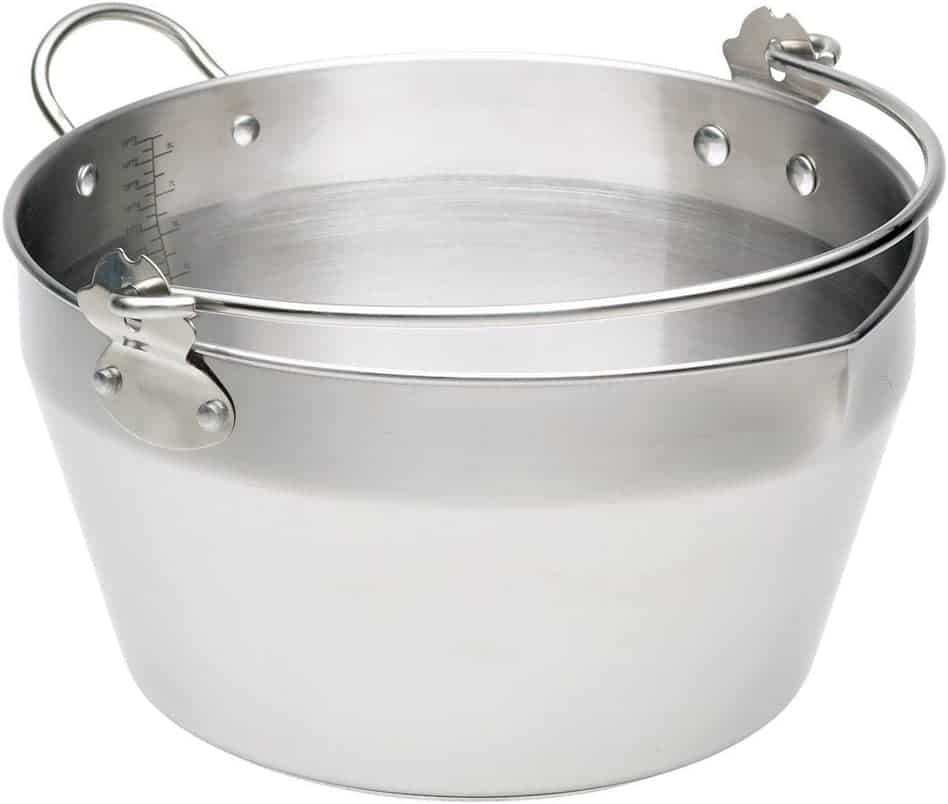 Food chopper
When it comes to saving time and effort in the kitchen, a food chopper is a quality piece of kit. It can slice and dice vegetables in an instant and with absolute precision.
If you're planning on regular chutney making, a food chopper is definitely a smart investment. There are many different kinds of designs available!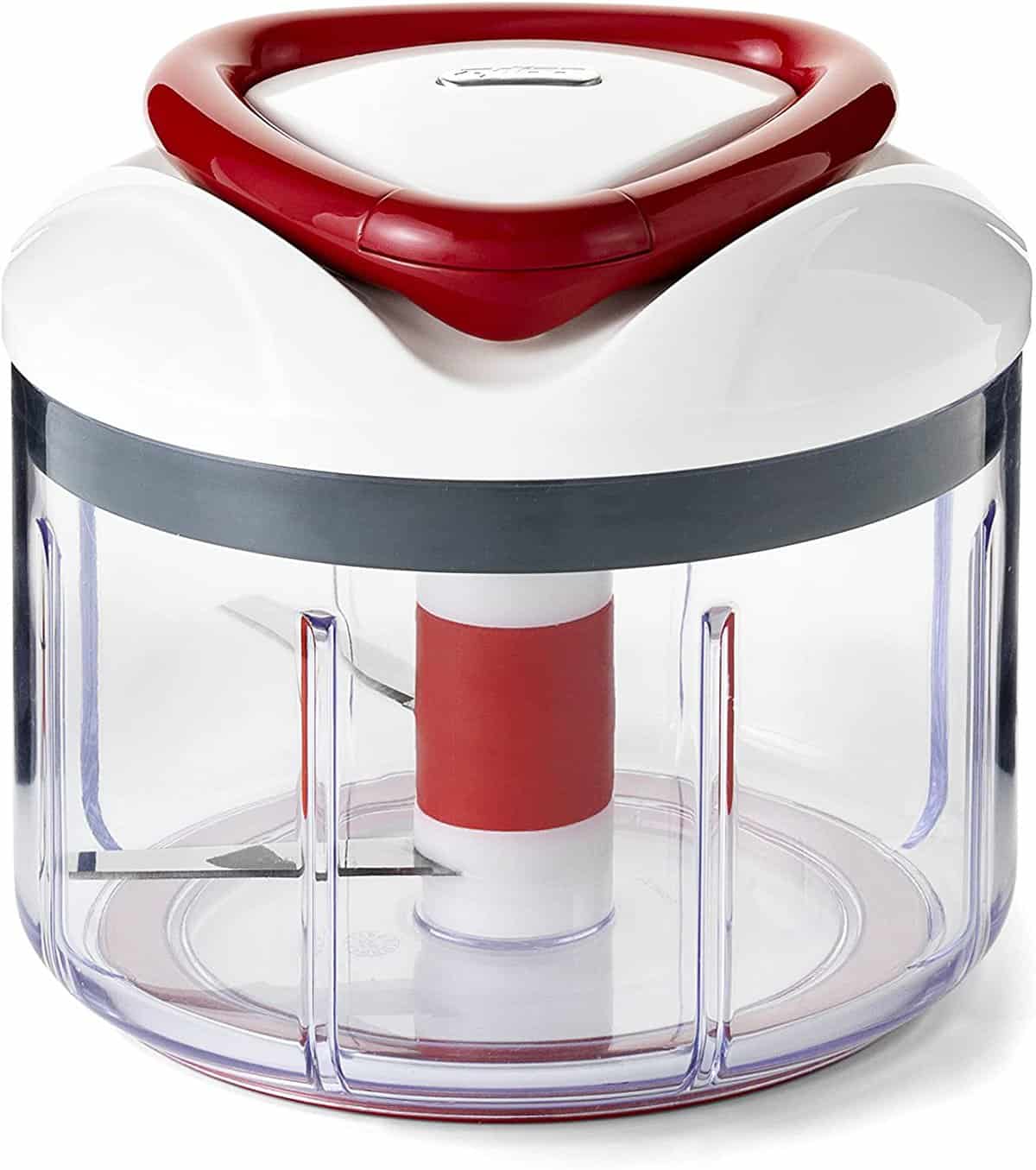 Quality chef's knife and chopping board
Prepare the manual method of chopping vegetables? No worries. Still, if you want to get the best out of your chutney, you'll need to make sure your knife and chopping board are of a good quality.
There's nothing worse than chopping vegetables with a blunt knife. Not only is it frustrating, but it's dangerous – hacking away at a carrot with a blunt knife is a surefire way to end up with a kitchen injury.
So, invest in a sharp chef's knife to get the job done properly. You'll have much more control over your chopping, which is safer and means you'll end up with precise, even-sized pieces, which will give you the perfect textured chutney. Here are more to choose from.

Don't forget the chopping board – a stable, non-slip chopping board is worth its weight in gold, as you'll be using it every day in the kitchen.
Wooden spoon
A small yet essential item when it comes to chutney and jam making equipment, a wooden spoon is the unsung hero of the kitchen. Wooden spoons don't transfer heat, which is crucial when it comes to the rapid boiling stage, nor do they scrape the bottom of the pan. This makes them the perfect utensil for stirring chutney.
Spice grinder / pestle and mortar
Most chutneys have a variety of spices. Some, like star anise and cloves, are used to flavour the chutney before being removed. Others, however, will be ground down and added to the mixture. For this, a spice grinder or pestle and mortar will be needed.
Of course, you can buy ready ground spices, but I find that freshly grinding your own adds a lot more depth of flavour. So, it's definitely worth going the extra mile and making your chutney as good as it can be. Pick your favourite pestle and mortar set!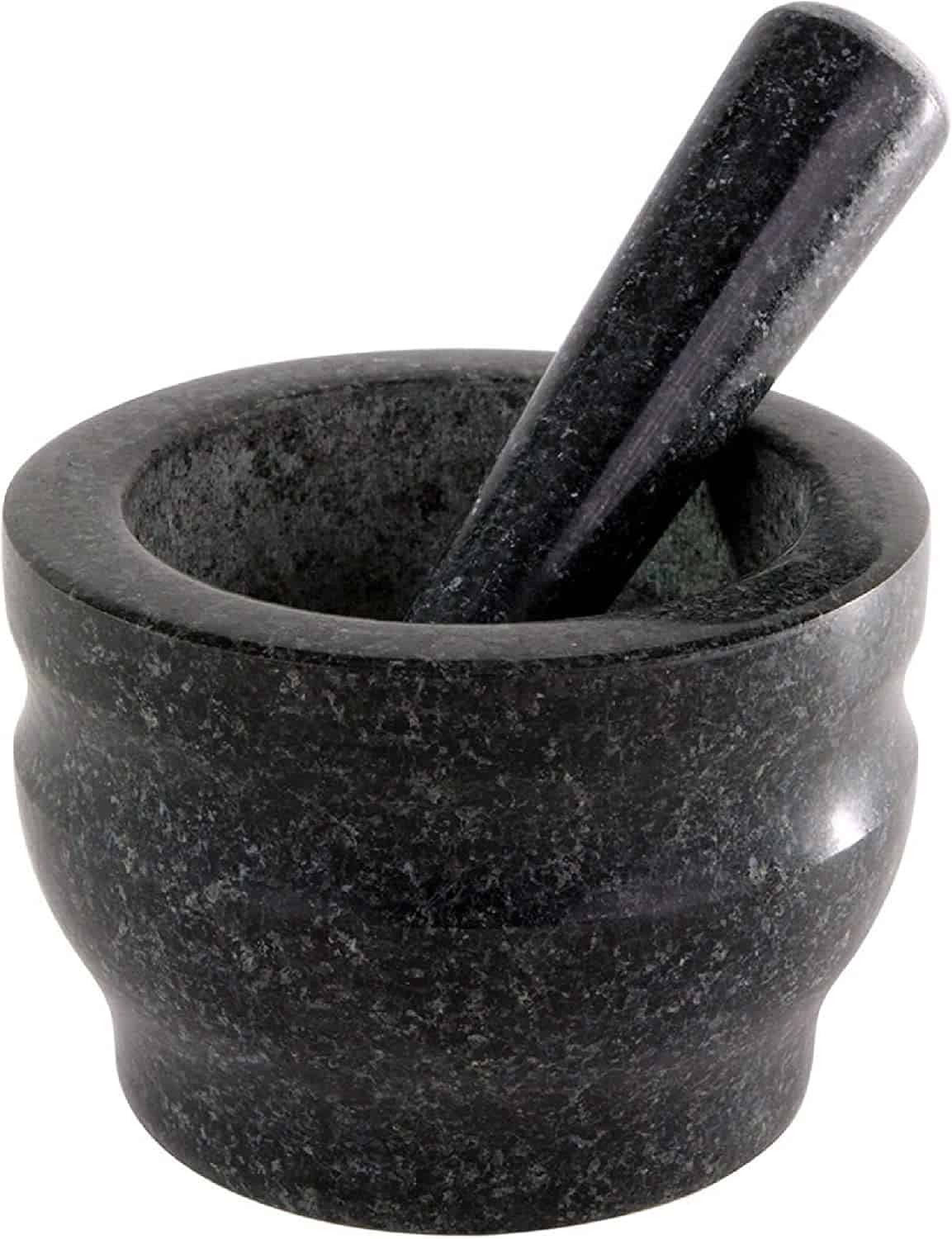 Wax discs
Wax discs are a way of further extending the shelf life of your chutney when it's stored. They work by guaranteeing an airtight seal, further protecting your chutney from harmful bacteria that might grow once the lid is sealed. Buy them here!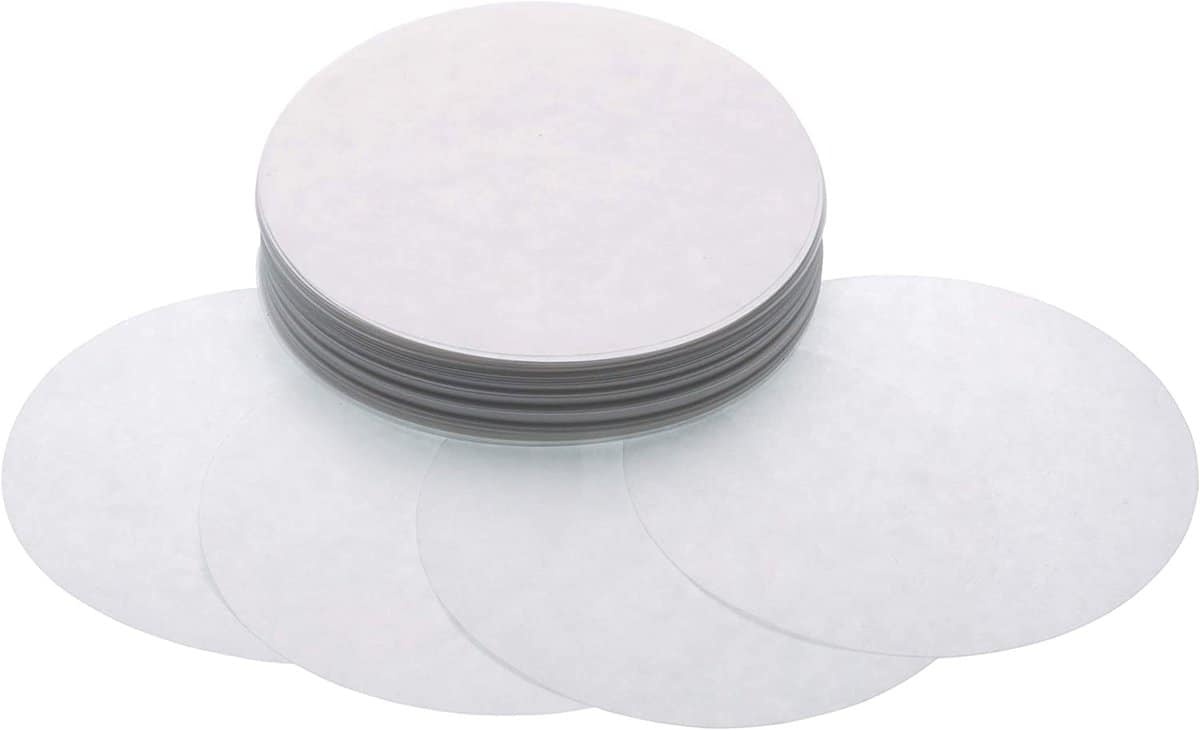 Jar labels
Labels are a small yet important part of a chutney or jam making kit. Firstly, they help you know exactly what's in the jar and the precise date the chutney was made.
Chutneys last a long time – at least a year when unopened, so labelling is very important.
Also, they add that extra touch of homemade charm – especially important if you're giving your homemade chutney as a gift. I like these designs.
Jam funnel and ladle
When it comes to hot chutney, you don't want to mess around. The best way to get your just ready homemade chutney into storage jars is to use a ladle and a jam funnel, making sure not to spill any chutney around the rim of the glass jar.
Check out all the different jam funnels and ladles!

Glass jars
Your essential store item! Homemade chutney should be stored the right way, so make sure you've got the right jars for the job. Reusing jars is a great idea – whether they're jam jars, pickle jars or any other kind of glass jar. Just make sure you sterilise them before using them to store your homemade chutney.
Another very important point – always check your jars for nicks, cracks and other imperfections. Any old jam jars or glass jars of any other kind that have cracks should not be used, as they could fail to keep bacteria out.
Aside from reusing old jam jars and the like, you can also buy brand new jars for storing chutney. Clip top Kilner jars are ideal and they come in lots of different sizes. You can also get regular metal top glass jars, which are also great for storing homemade chutney.
Glass jar lifter
When sterilising your glass jars, things can get quite hot. Boiled glass demands some extra care and attention and wrapping your hand in a tea towel or using oven gloves is just not going to cut it.
Luckily, you can now buy specialist glass jar lifters for the precise purpose of removing sterilised jars from boiling water in the preserving pan. All the best jam making kits and chutney making kits come with a glass jar lifter – so, don't be without one! Check out other brands here.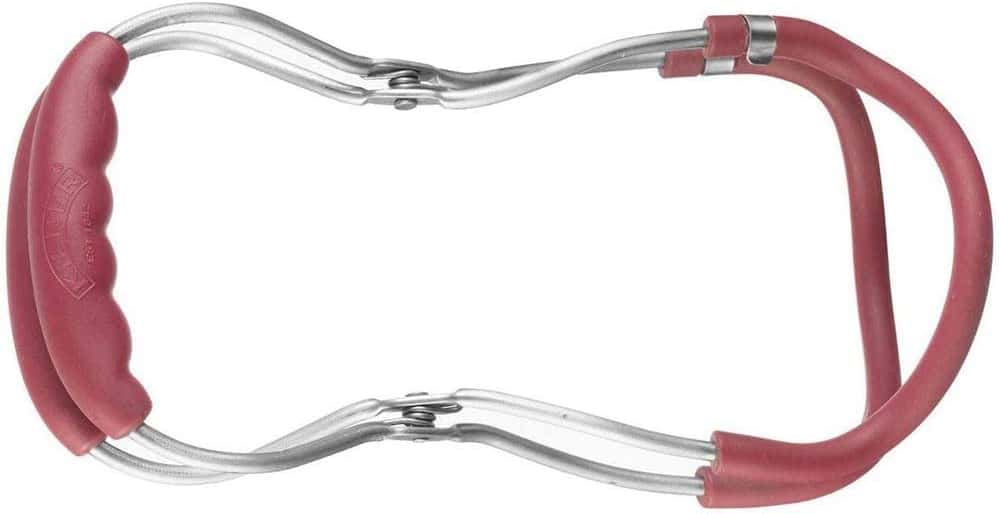 Chutney equipment FAQS
What is a maslin pan?
A maslin pan is an old school British and European cooking pot. It has a teacup shape, widening at the top to allow evaporation, as well as a handle to make it easier to move.
Maslin pans have been used for chutney marmalade and jam making for centuries. The word 'maslin' is an old term used to describe a mixture of materials.
Due to their size and shape, maslin pans are the perfect pots when it comes to making chutney or any other preserves.
Do I need wax discs for chutney making?
While using wax discs aren't essential, they definitely help to extend the shelf life of your chutney. If you're using glass jars with rubber rings, I'd recommend using wax discs.
What is a glass jar lifter?
Your saviour when it comes to lifting out your sterilised jars.
Getting those hot jars out of the sterilising pan can be a pain in the proverbial. Don't be tempted to use oven gloves or a tea towel or anything else that will lead to scolded hands and wounded pride.
Instead, get yourself a jar lifter. They have curved grabbing arms that are specifically designed to securely hold cylindrical glass jars. Plus, you can easily manoeuvre them by squeezing the handles to open and close the grabbing arms.
Don't I need a jam thermometer to make chutney?
Actually, no. Jam and chutney are quite different when it comes to the end point of the cooking process.
While jam making requires you to measure the perfect temperature of jam to ensure it's ready, chutneys need less precision. You don't have to reach specific temperatures when cooking chutneys, although you will need a steady simmer to achieve the right consistency.
How will I know my chutney is ready without a jam thermometer?
Who needs a jam thermometer when you have a trusty wooden spoon! All you need to do is draw a line through the base of the pan – your chutney should hold for a second or two, before lazily flowing back. This is how you know your chutney has reached the right thickness.
Once it's made, how long does homemade chutney last?
A long time! Most chutneys have a shelf life of around about a year. That's unopened, mind. Once you open them, they'll last a month or so.
One other thing to remember – always allow chutney to mature. Two months if the optimal period of time – the flavours will be incredible!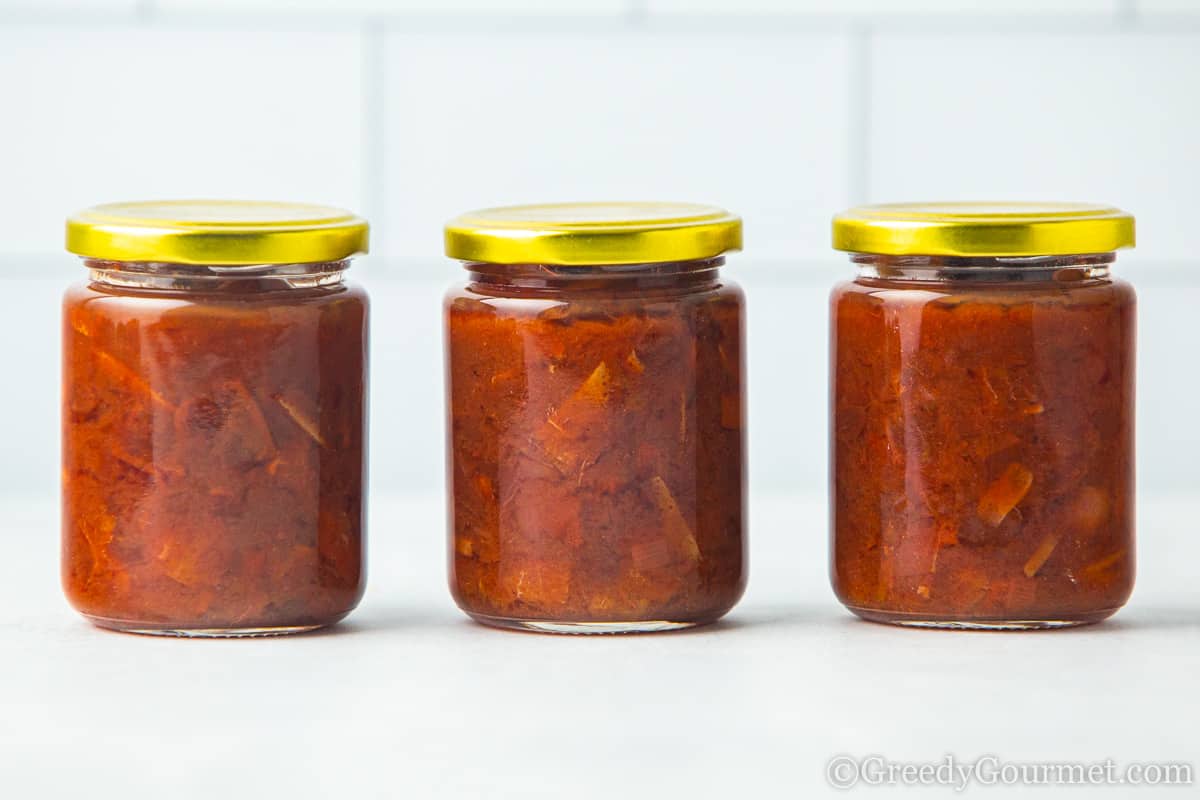 Best chutney recipes
So, now you know what equipment you need, it's time to get chutney making! Here's a list of some of Greedy Gourmet's favourite chutney recipes: