If you love stir fry, Asian cooking, or any other recipes with bean sprouts, you're probably familiar with cooking with them. Cooking with bean sprouts is easy and fun, and fresh bean sprouts add a lovely texture and taste to a variety of dishes.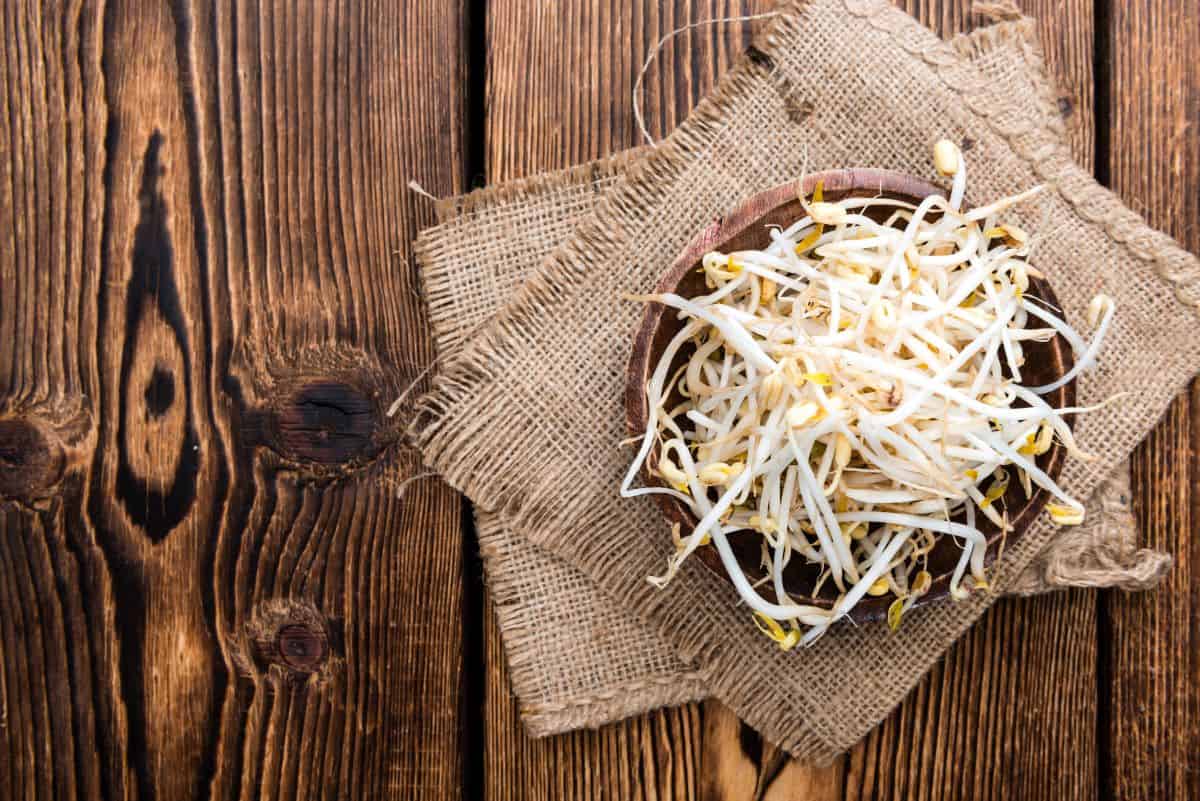 If you're familiar with using them, you probably know that you end up with tons left over. And unless you are cooking stir fry for a load of people, you probably are not going to use all your bean sprouts at once, which is why it would be so convenient to be able to freeze them.
So, can you freeze bean sprouts? Let's discuss...
What are bean sprouts?
Bean sprouts are a vegetable. They are the sprout of a mung bean and are used in lots of dishes, Asian recipes in particular.
So, can you freeze bean sprouts?
Yes, you can absolutely freeze bean sprouts. Be aware that it is quite the process, though, so you want to plan for the right amount of time and be aware of all the steps it's going to take to properly freeze them.
What you need to freeze bean sprouts
You will need:
How to freeze mung bean sprouts
To best freeze bean sprouts, you first need to blanch them. Here's what to do:
Start by washing your bean sprouts and drain the excess water.
Next it's time to blanch them. Bring water to a boil and prepare an ice bath.
Put your mung beans in a colander and boil them for about three minutes. Once boiled, immediately put them into the ice bath.
Let the bean sprouts sit in the bath for another three minutes, and then remove them from the water to drain excess moisture
Put your bean sprouts into a bag and put them in the freezer.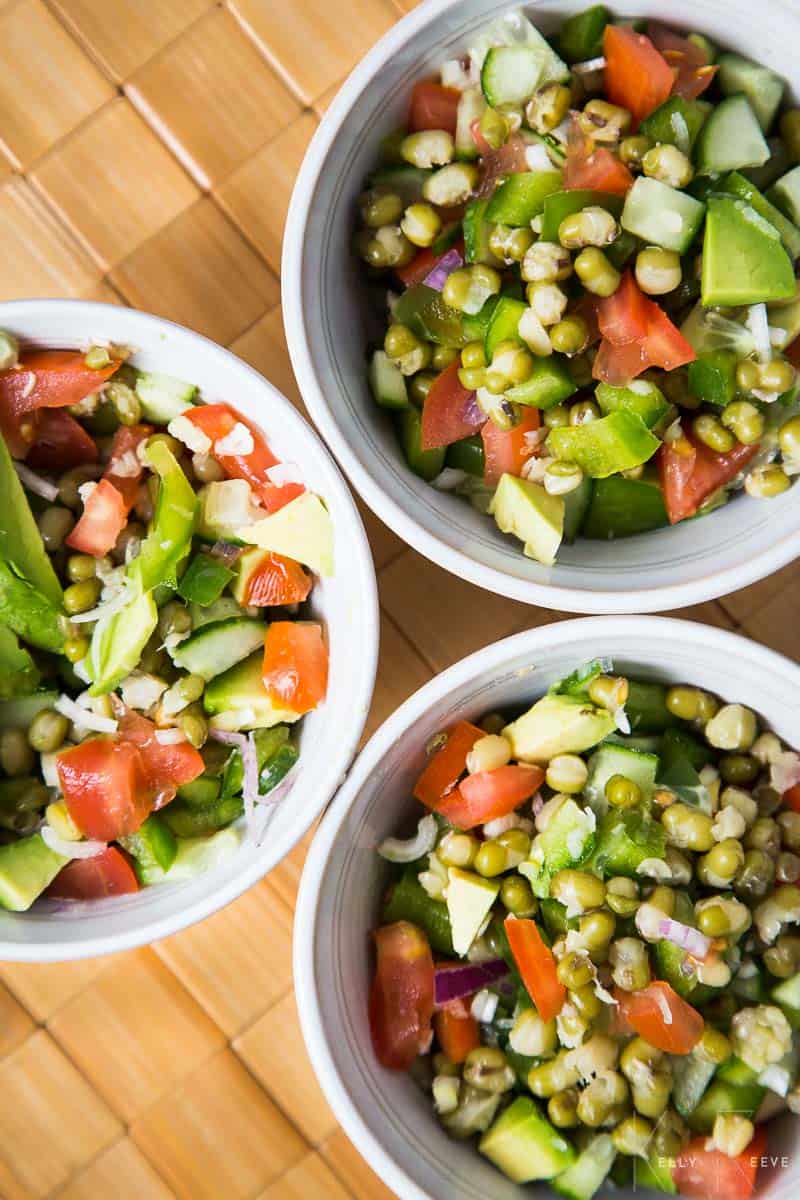 Do I have to blanch bean sprouts?
No, you do not have to blanch your bean sprouts before freezing them, but it is highly recommended as this gives them the best chance at retaining their crunchy texture. 
The blanching method is a few extra steps, but if you are a big mung bean fan, it will be worth it to blanch them before freezing them.
What is blanching?
Blanching is a cooking process where you first boil the vegetables in water, then shock them by putting them into cold water. 
It is a common practice before freezing foods as it helps them keep their crunchy texture and taste, and stay in the freezer better for longer.
Tips on the blanching process
Cool water bath: Make sure you have a really good bath. You can either chill some water by putting it in the refrigerator for a couple hours, or you can put a few ice cubes in a bowl of water to make ice water.
Use a colander: Using a colander is a really good way to blanch vegetables because you can quickly and easily transfer whatever you're blanching from your boiling water to your cold water. Make sure you use a stainless steel or another metal colander that can handle being in hot water.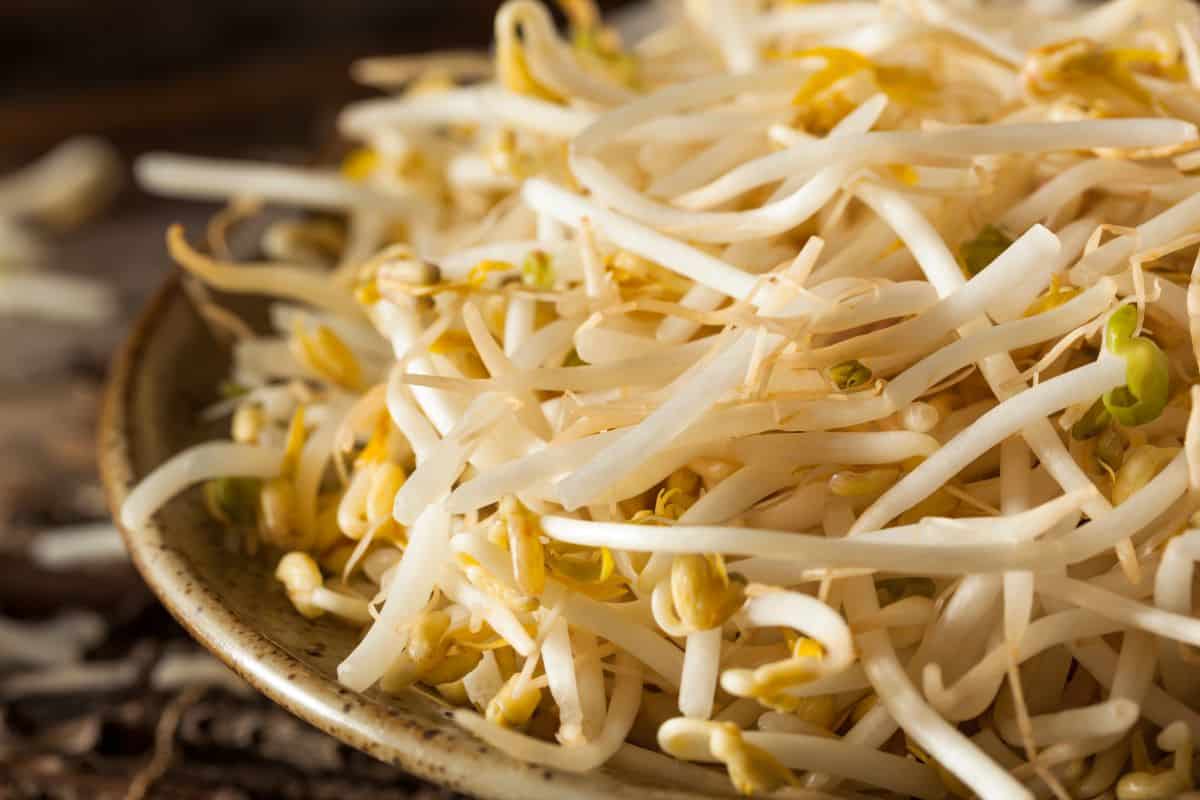 Do bean sprouts freeze well?
Bean sprouts are pretty temperamental when you freeze them. Bean sprouts freeze fine, but they are best when blanched. 
They run the risk of getting very mushy, so it's important you take all the necessary steps in the freezing process to ensure they don't get mushy.
Can you freeze bean sprouts in other recipes?
Generally speaking, it is advised to freeze foods separately, as they all last for different amounts of time, but if you are intending to use something within a month or so, you could freeze bean sprouts with another recipe. 
Keep in mind, though, that if you are going to freeze bean sprouts in another recipe, you likely didn't blanch them, and blanching is a hugely important step in freezing bean sprouts.
How long do bean sprouts last in the freezer?
Bean sprouts should last in the freezer for up to 10 months. 
Of course that depends on many factors, like if there's air in the container, but you should be able to freeze beansprouts for just shy of the year.
Tips for freezing bean sprouts
Label: This may go without saying as it's important to do this to everything you freeze, but make sure you label before you store bean sprouts in the freezer. You want to know how long they're good for and what they are in case someone else is getting into your freezer.
Give them some space: Bean sprouts tend to clump when frozen, so either lay the freezer bag flat or make sure they have plenty of space to spread out so that they are easier to grab.
Use a resealable freezer bag: By placing them in a resealable freezer bag, you can grab a couple bean sprouts at a time and only use as many as you need for your recipe. This is a great way to avoid food waste and avoid refreezing bean sprouts.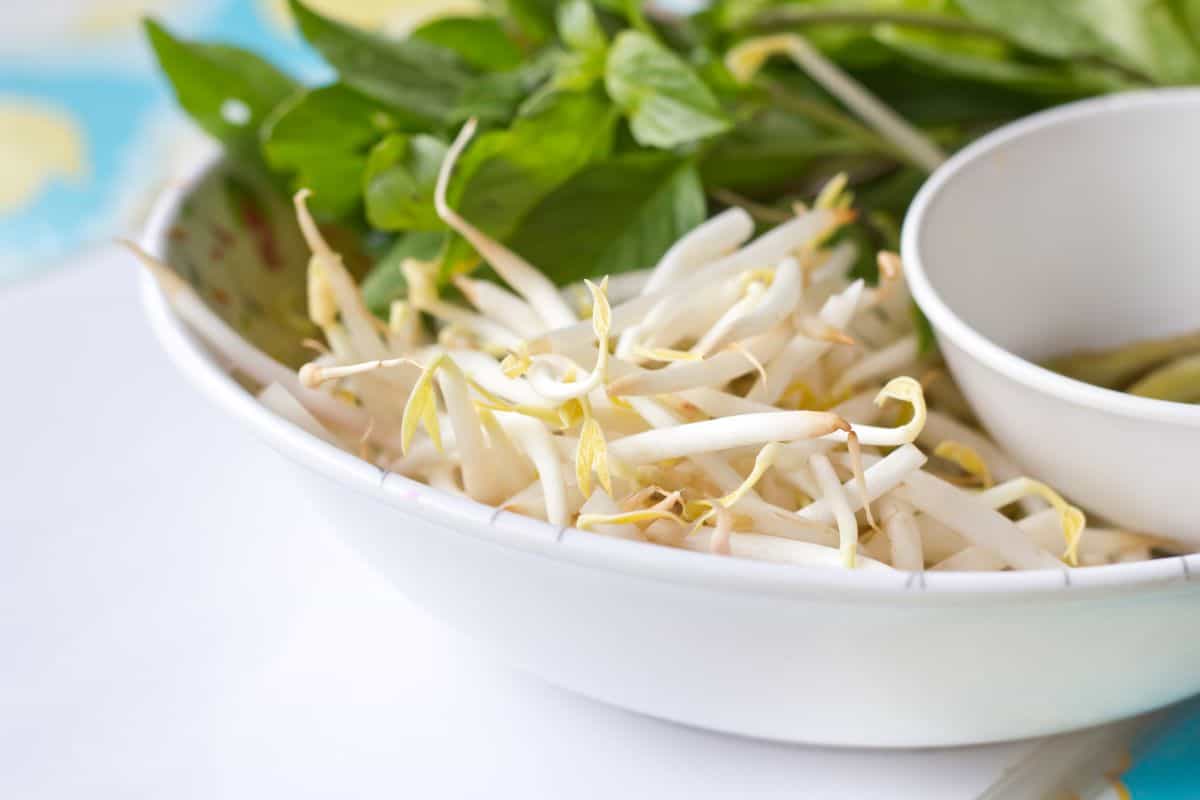 How to defrost bean sprouts
The great thing about using bean sprouts frozen is that they are small, so they heat up really quickly whether they are defrosted or not. You can grab a handful or just a couple bean sprouts from your frozen stash to use in a dish.
However, you may want to use them defrosted. Some people like to eat plain mung beans, and if that is what you would prefer, you can defrost them just by leaving them in the refrigerator for a couple hours.
You could also put them in the microwave if you'd like.
Can you freeze bean sprouts a second time?
Yes, you can technically refreeze bean sprouts, but it is not recommended. Bean sprouts are known for their crunchy texture, and when you refreeze them, you risk messing with that texture.
Great bean sprouts recipes
Stir fry
There are dozens of stir fry recipes with bean sprouts, but they can be added to nearly any even if they're not explicitly called for.
Here are some examples:
How to manage frozen bean sprouts
Frozen bean sprouts are incredibly easy to manage. They are small and don't require much by way of reheating.
You can just break them off from their frozen clumps, or pull them out of their leftover storage containers and toss them into whatever dish you are cooking.
Benefits of freezing bean sprouts
Freezing bean sprouts keeps them good for up to a year. It also makes them really easy to use and stir fries and other recipes.
It's a good way to avoid food waste and help them retain their crunchy texture whenever you want to use them.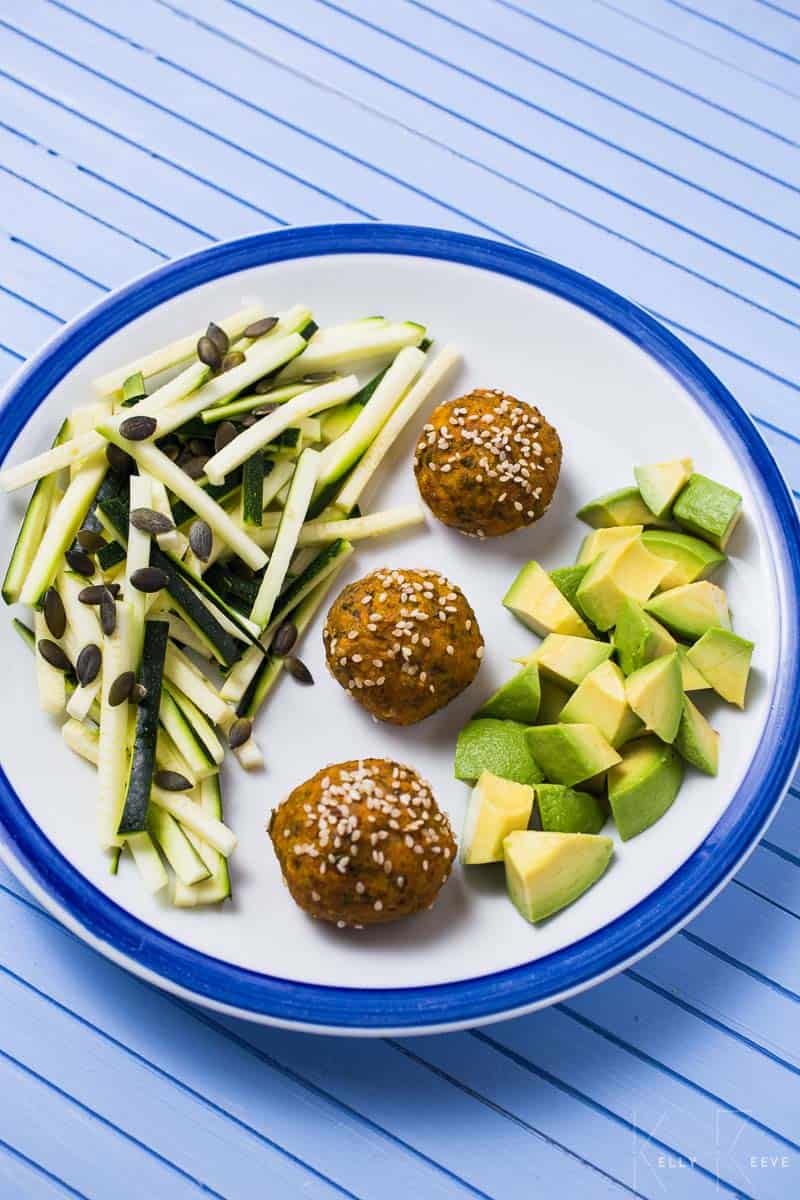 Does freezing bean sprouts affect their texture?
As noted, bean sprouts can be awfully temperamental. It's important that you have them in the right food storage containers otherwise they can become mushy.
Does freezing bean sprouts affect their taste?
You should not have a problem with the taste of bean sprouts while they're in the freezer, but it is a possibility. 
Again, make sure you have a good plastic bag or other freezer bags to keep them from taking on the flavour of other items you're storing.
Best containers
There are lots of different containers you can use for storing vegetables in the icebox.
Plastic - You can use ziplock bags or another kind of plastic for your bean sprouts. Just make sure you remove as much air as possible before putting them in the freezer not only to save the texture and taste of your bean sprouts but to give you more freezer space.
Glass jars - Using glass jars such as mason jars works well especially because you can use them. They are a great airtight container.
Freezer storage wraps - You can also use freezer wraps. These will save you space and be super easy to pull out when you want to defrost beansprouts.
How to know when bean sprouts are freezer burnt
You can easily tell if bean sprouts are freezer burnt.
Freezer burnt foods have clumps of ice and dark spots on them. They are still safe to eat, but they probably won't taste as fresh.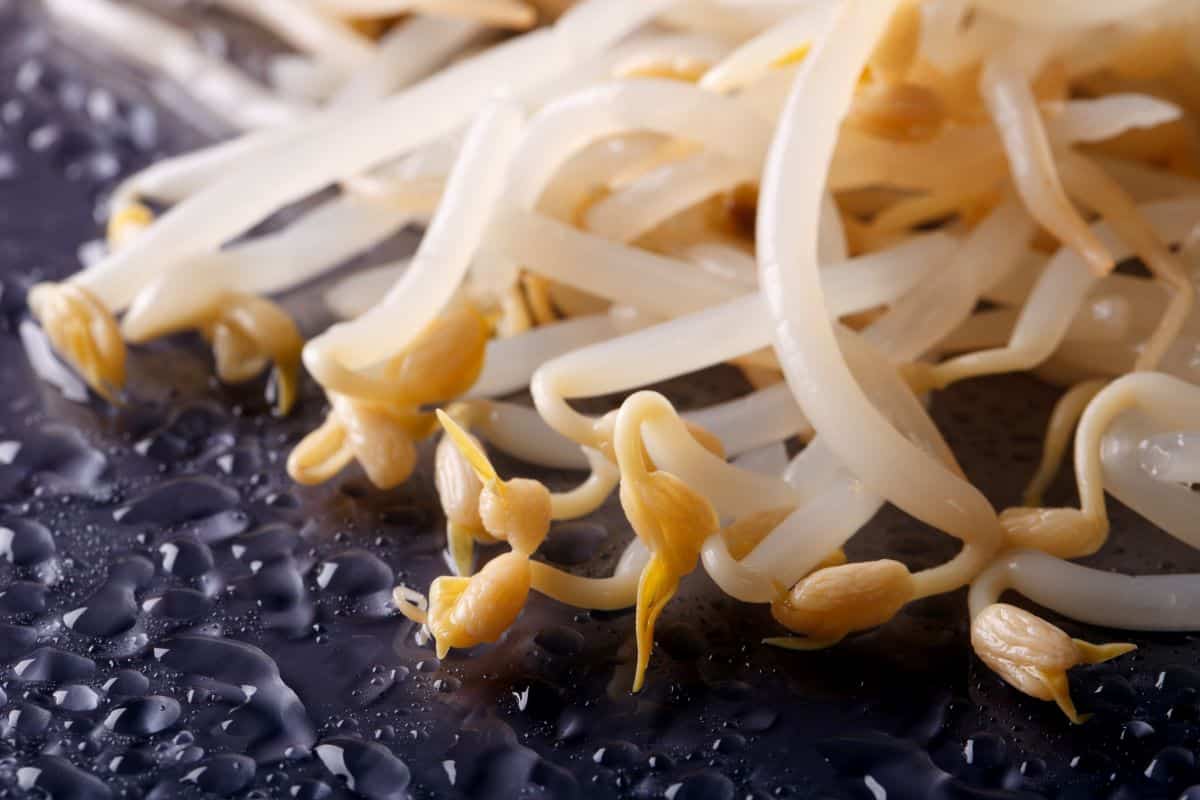 How to know when bean sprouts have gone bad in the freezer
Sometimes, unfortunately, foods go bad in the freezer. If your food goes bad in the freezer, do not eat it, as it could cause sickness.
If your food has developed any sort of odour, it has gone bad. If your food has grown any sort of mould, it has gone bad.
It is unusual for foods to go bad in the freezer. If your bean sprouts have gone bad in the freezer, thoroughly check your other foods to ensure nothing else has gone bad, either.
Other produce to freeze
Check out these other freezing guides:
Watermelon - I love freezing watermelon in the summer, and this guide tells you exactly how to do it.
Peppers - Peppers freeze well, and are perfect to grab for weeknight meals.
Celery - Frozen celery is also great to grab when cooking.