Delicious, chewy and brown, and SO easily they go down. Everyone loves a brownie! And even though you may be tempted to devour the lot in one sitting, there are times when you'll want to save some for a rainy day.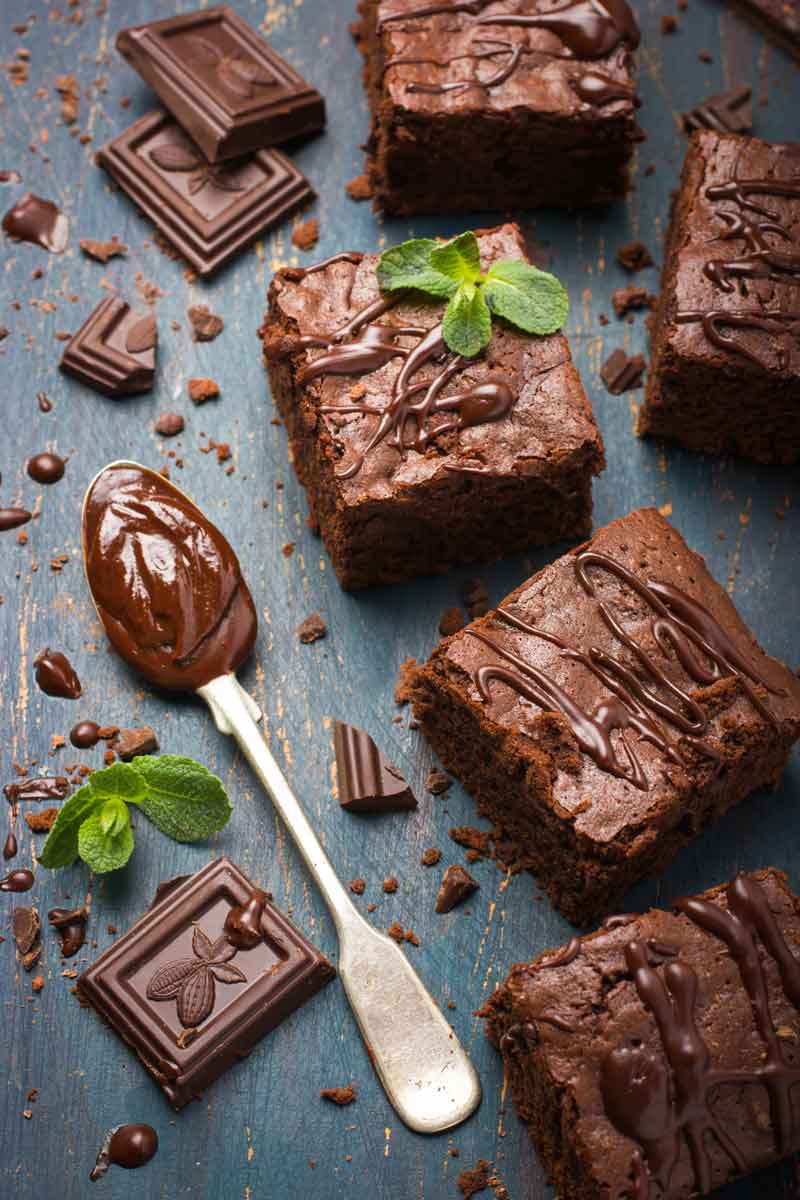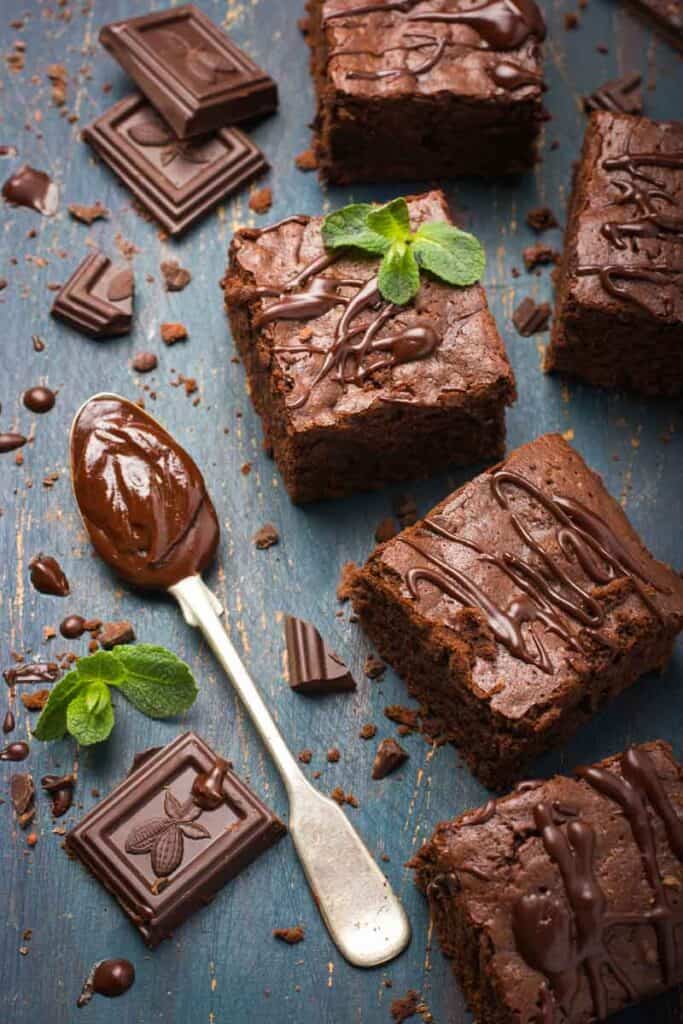 So, if you've baked a big trayful of these little beauties and you want to store them for later, you'll be asking the question "can you freeze brownies?" Well, let's find out.
Can you freeze brownies?
Thankfully, the answer is a resounding "yes!" Freezing brownies is quite straight forward and means you can bake a big ol' batch, keeping plenty for upcoming parties, picnics or for lunchboxes later down the line.
The best thing is, frozen brownies don't lose an ounce of deliciousness! So, if you've eaten a bellyful of brownies and you want to save the rest, you'll want to know how to freeze brownies. Well, you'll only need a few materials to hand.
How long do brownies last in the freezer?
Chances are your frozen brownies will be calling your name, begging to be eaten within a few days of freezing. But, should you be able to withstand temptation, they'll last plenty of time before going bad.
If you've not wrapped them in plastic wrap and aluminum foil, they'll last around 2 weeks before they start to get freezer burn. Overall, they'll keep for up to 3 months.
Products you'll need to freeze brownies
Wondering how to freeze brownies? Here's what you'll need to freeze those little chewy marvels.
Can you freeze brownies with marshmallows?
One of the best types of brownie is rocky road. If you've never sampled a rocky road brownie, you really haven't lived! Extra rich chocolatey brownies covered with a layer of marshmallows and a sprinkle of chocolate chips… how can you not fall in love?
In fact, rocky road brownies lend well to being frozen. This is because the sugar content of marshmallows acts as a preservative. So, if you bake a tray of rocky road marshmallows, freeze away! They'll taste as good out of the freezer as they did out of the oven.
Can you freeze frosted brownies?
The best way to freeze frosted brownies is to set the frosting in place by freezing the brownies for an hour. Then wrap each one in plastic wrap and aluminum foil.
If you're freezing the whole block, cover with a non-stick cookie baking sheet (this is a great thing to use when freezing baked goods). This helps keep the frosting in place, particularly if you're stacking them.
Sometimes, frosted brownies can 'sweat' when frozen, depending on what type of frosting you use. This is why it's important to use plastic wrap, aluminum foil and an airtight container to seal them properly when you freeze them.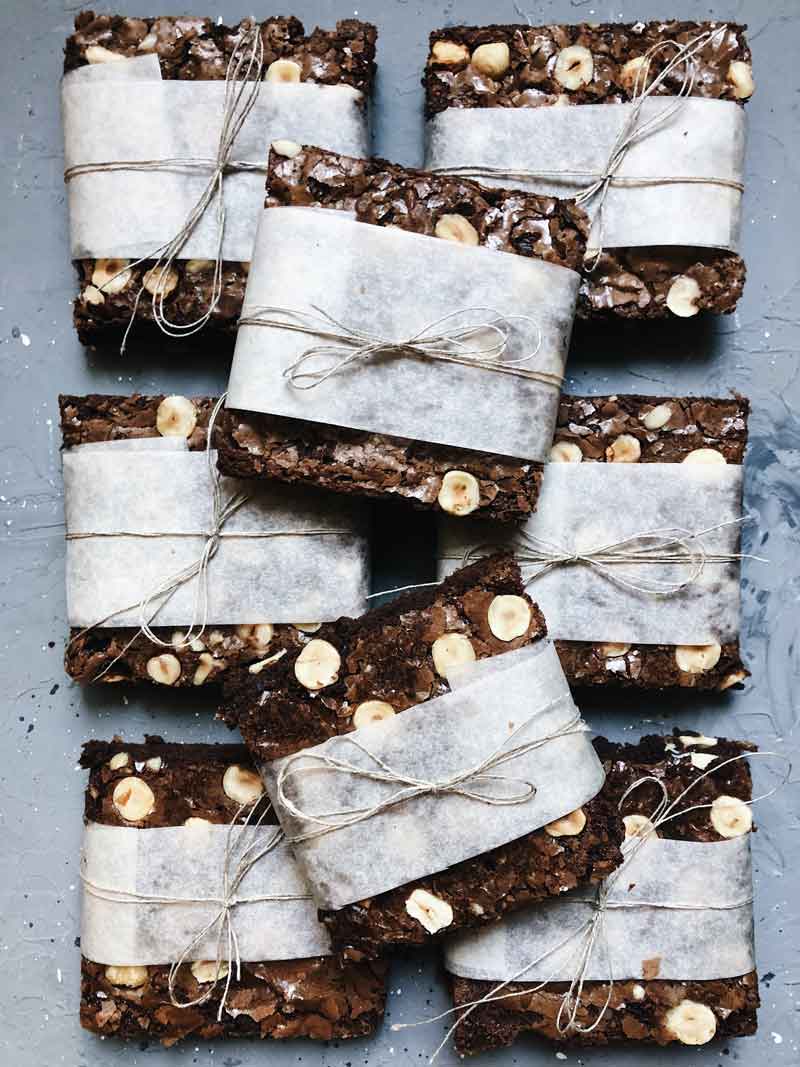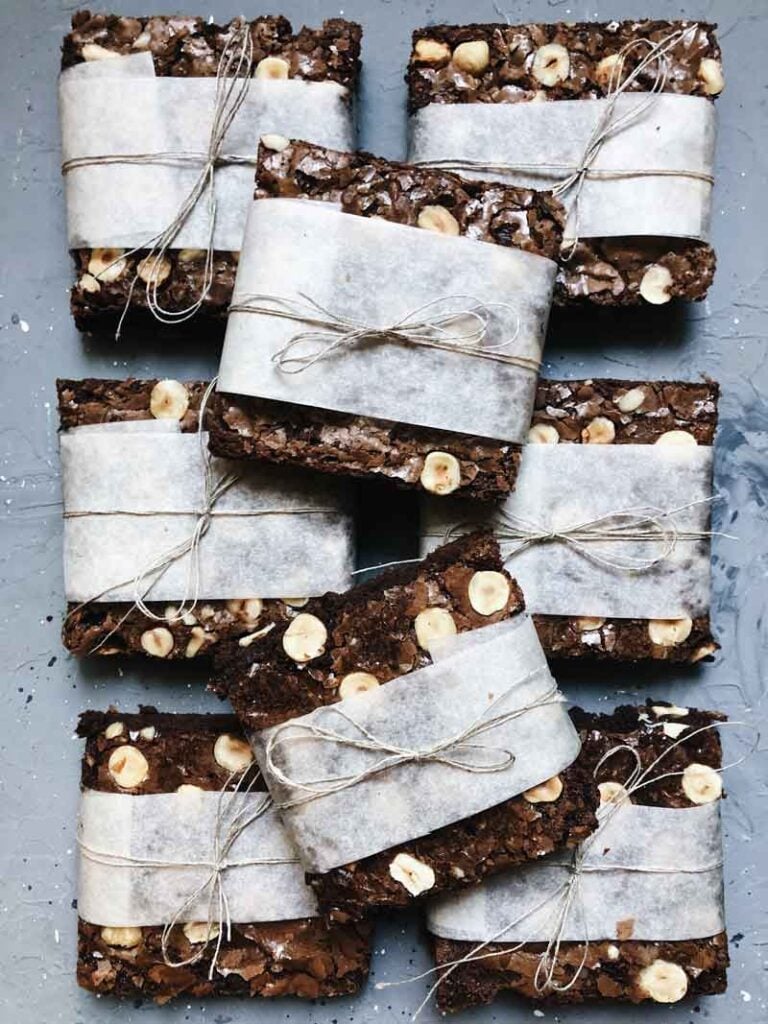 Can you freeze brownies twice?
Refreezing can be dangerous for certain foods, so it's definitely an important question to ask. But the short answer is yes! Brownies can be safely refrozen.
When you freeze, thaw, and refreeze food, the second time the food is thawed more cells are broken down. This means more liquid is lost, changing the texture and overall taste of the food. Also bacteria can develop faster.
This is common with protein rich food but, as baked goods like brownies are low in protein but high in sugar content, you can freeze them twice without any problems.
Can you freeze brownies in the pan?
Once way to freeze brownies is to freeze them directly in the pan or baking tray. When baking your brownies, first use parchment paper to line the pan, making sure the paper comes far enough up the side of the pan so the brownies don't stick.
Once you've let the brownie block cool completely, place it in the freezer for an hour. This will harden your brownies.
Then, use plastic wrap and aluminum foil to cover the block, before placing it in an airtight freezer bag or container and putting it in the freezer.
This might be a quicker method, but it's definitely better to freeze each brownie individually (see our instructions below). This way, the taste and texture of the brownies will be perfectly preserved and you can help yourself to blissful brownies one at a time.
How to thaw brownies
To thaw brownies, simply leave them at room temperature for 3-4 hours. A little less is fine, they'll just be a touch colder.
If you're a little impatient (hey, aren't we all?) you can speed up the process. Just pop them in the microwave on half power for 30 seconds at a time. They'll be nice and warm and ready to eat in minutes.
But then again, do you even need to thaw them? Hmmm… for those who want to freeze brownies, there's a little secret you should know…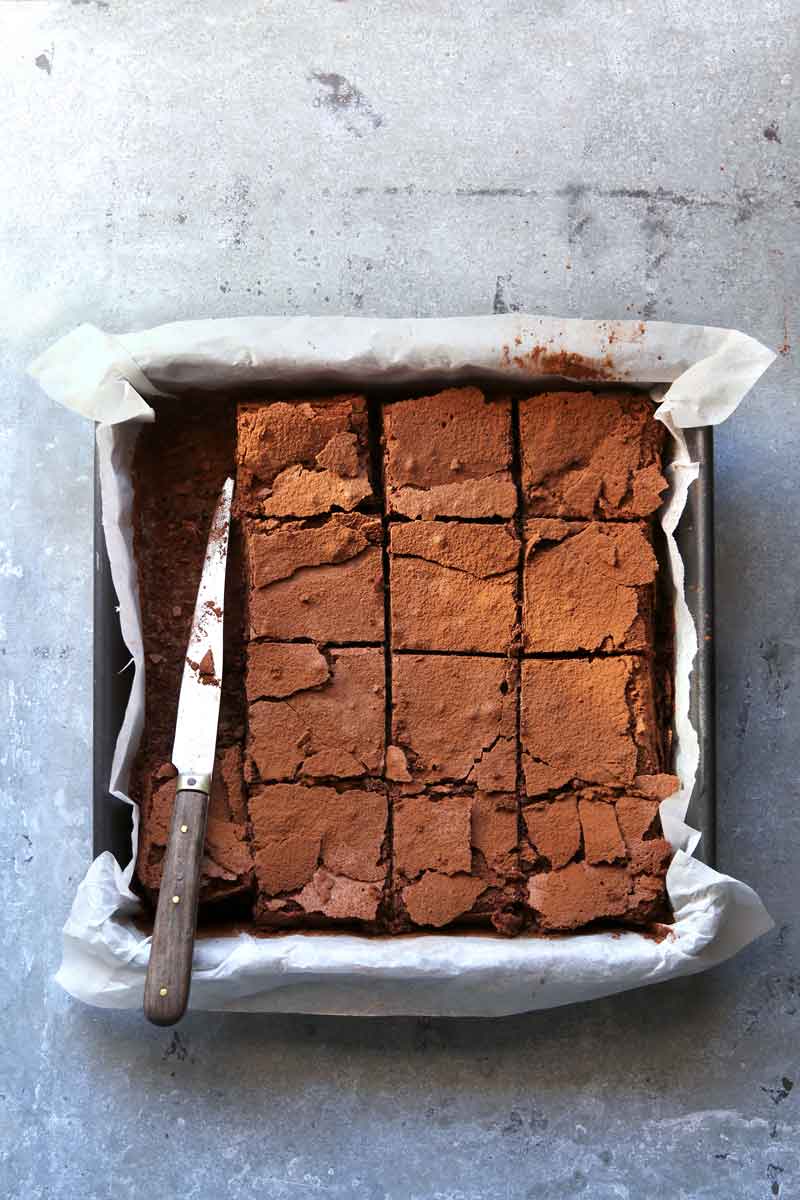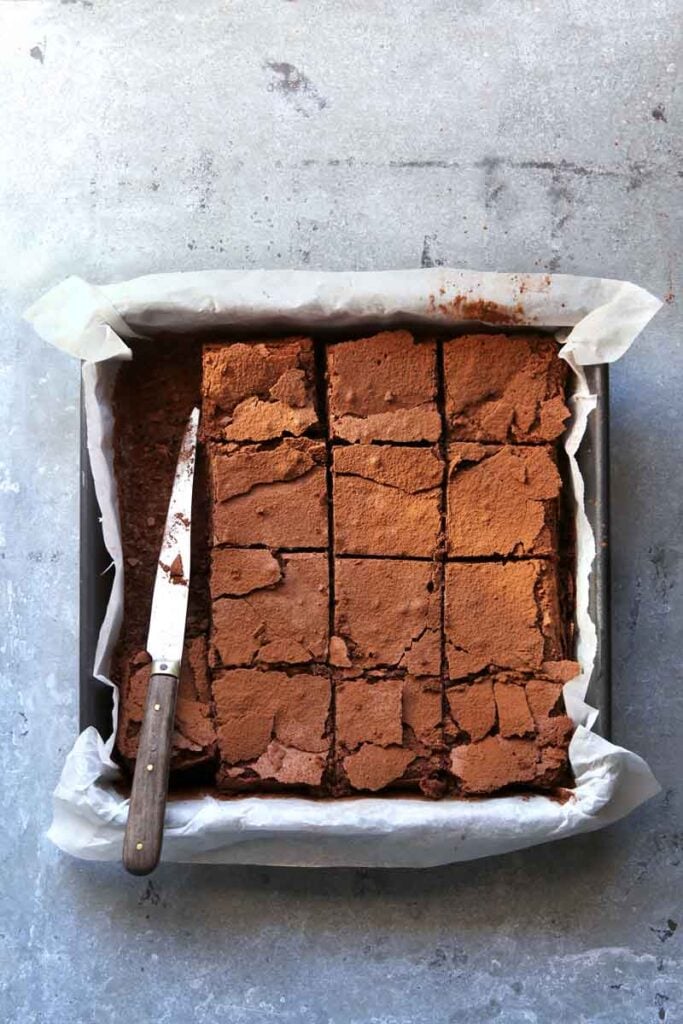 Can you eat frozen brownies?
Freezing brownies is a great way to preserve these luscious little pieces of perfection. But have you ever wondered if you can eat them straight from the freezer?
Not only can you eat frozen brownies, but they taste absolutely amazing! In fact, frozen brownies have a texture and taste all of their own. It's a completely different experience to eating a regular brownie, with its warm gooey charm.
Instead, a frozen brownie has more of a bite, with a cool chocolatey sensation that melts in the mouth. Once you've tried a frozen brownie you'll be freezing every batch you bake. Be warned though. They're dangerously addictive!
What is the best way to keep brownies fresh?
There are many ways to keep brownies fresh, including some nice little tricks that stops them drying out. So, if you're wondering how to store brownies, it all depends on how long you're planning on keeping them. Or, in other words, how long you can resist them!
Here are a few other ways you can keep your brownies nice and fresh.
Keep the air away – if you're planning on eating your brownies sometime soon, make sure you store them in a cool dry place. Also, wrap them in plastic wrap and/or foil and place them in an airtight container. It's also better to not cut the block if you're storing at room temperature. This is because the less air that gets on the inside, the less chance the brownies have of drying out.
Drench them in chocolate – covering your brownies in a thick, oozy chocolatey sauce is not only decadent, it's also smart. It'll stop the air getting to the inside, helping to stop them drying out.
Keep them at room temperature – this will keep them soft and chewy, almost as good as if they came straight of out the oven. They'll keep for 3-4 days, so if you want to keep them fresh for longer, freezing is the way to go.
Amazing brownie recipes
Brownies are so simple to make and yet the rewards are just pure joy! Biting into a crumbly, gooey, chocolatey brownie is the most pleasure you can experience with your clothes on.
If you've only ever eaten shop bought brownies, you're missing out. Nothing beats making your own! So, have a look at some of my homemade brownie recipes. Once you've baked a batch, you'll never go back!
Have you found brownie bliss? What's your favourite type of brownie? Let me know in the comments below.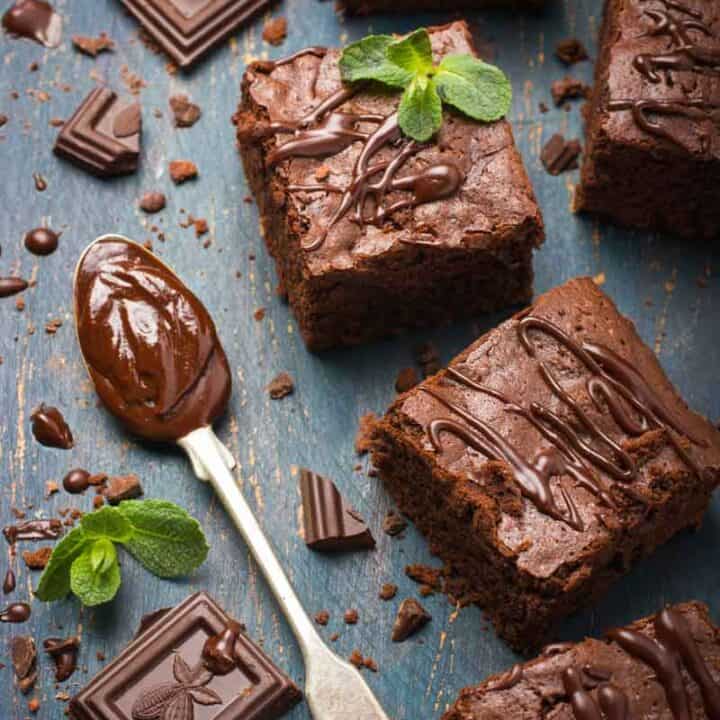 how to freeze brownies
If you were wondering whether you can freeze brownies, the answer is yet. Learn in a few easy steps how to freeze brownies!
Materials
Baked brownies
Plastic wrap
Aluminum foil
Freezer bags or an airtight container
Instructions
Allow your brownies to cool completely, then cut into individual portions.
Wrap each individual brownie in plastic wrap.
To avoid freezer burn, wrap each brownie in aluminum foil.
If you are planning on eating your brownies within 2 weeks, you can skip steps 2 and 3.
Place your brownies in a zip lock freezer bag or airtight container.
Notes
Make sure to eat unwrapped brownies within 2 weeks.
If you don't like cold brownies, allow the brownies to come to room temperature (approx 2 hours) before eating.
Brownies don't actually become frozen in the freezer. Instead they become a little firmer and chewier, which is why so many people go crazy for frozen brownies!