As milk alternatives go, it's definitely one of the best, but for those of you who don't often use the whole carton within a few days, you've no doubt wondered… "can you freeze coconut milk?" Well, let's find out.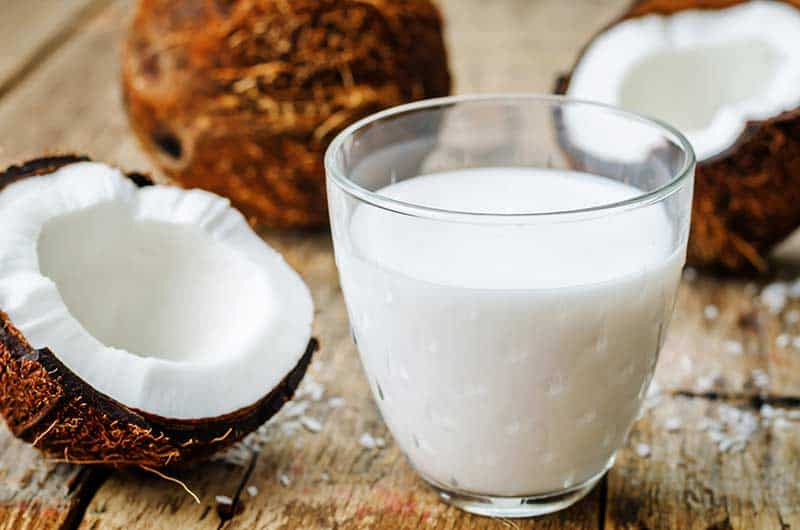 The short answer is yes. BUT… and there is normally a "but" when it comes to freezing milk, whether dairy or alternative types… there are good ways to do it and bad ways.
That's why a handy how to freeze guide like this one can help you get the best out of your coconut milk.
So, don't let that leftover coconut milk go to waste. Here's what you need to know about freezing coconut milk.
Products you need for this recipe
There are a few key items you'll need for this recipe: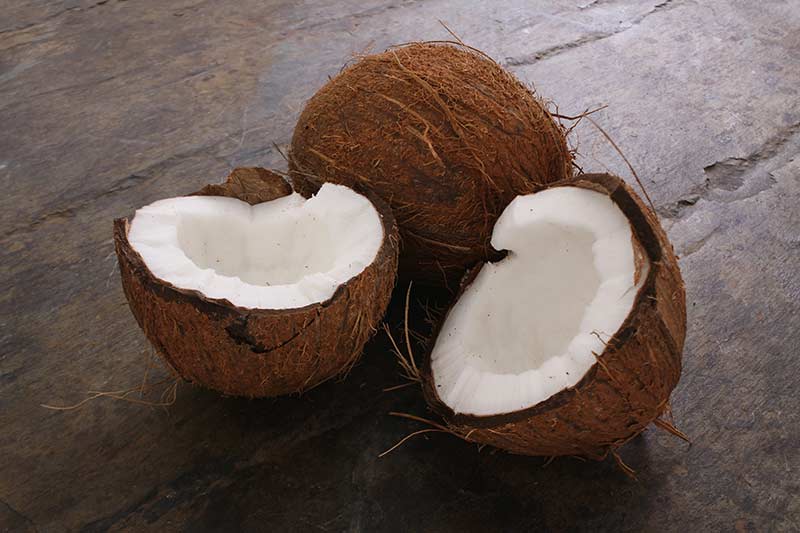 What is coconut milk?
You'd be forgiven for thinking it's nut milk. However, coconut is not really a nut. It's technically a fruit.
So, that makes coconut milk a fruity milk. It doesn't actually occur naturally though. Instead, it's made by blending the inner flesh of the coconut with water. 
Some coconut milk is thicker than others. The thickness – basically, the ratio of coconut flesh to water – depends on whether the milk will be used for drinking or adding to cooking. 
Some coconut milk is used for cooking, while others are specially designed for drinking. They can be either sweetened or unsweetened.
Coconut milk vs coconut cream: what's the difference?
Coconut cream is particularly thick. This is because it has a far smaller ratio of water in relation to coconut flesh. It also normally contains guar gum to help thicken it even further.
Coconut cream is perfect for adding a delicious velvety finish to meals, particularly Thai and Indian curries. 
Due to its high fat content, coconut cream does not freeze very well.
Can you freeze canned coconut milk?
Unopened canned coconut milk will last for a very long time. So, there's obviously no need to freeze if you haven't opened it.
Opened canned coconut milk can be frozen, but not in the can. To freeze canned coconut milk, you'll need to transfer it into a freezer-friendly container. See below for full instructions on how to freeze canned coconut milk.
What happens when you freeze coconut milk?
Coconut milk is an emulsion. This means fats and liquid have been blended together to create a creamy 'milk.' When you expose this emulsion to extreme temperatures, the fats and proteins separate.
This separation leads to all kinds of trouble. Firstly, the texture changes. This can be a big problem, as the creaminess is an essential part. You'll also get a graininess to the milk which could be unpleasant.
The taste can also be affected. This means that, once thawed, you need to try to fix the separated proteins and fats, while also considering the best way to use the defrosted coconut milk.
How do you fix separated thawed coconut milk?
Thankfully thawed coconut milk that has separated can be fixed by blending it. It won't regain the exact taste and texture of the original coconut milk, yet it does a very good job of restoring it.
Better yet, you can freeze coconut milk in small cubes and add them to your smoothie mix, giving it a good blend while making your smoothie.
How do you thaw coconut milk?
The Best Method
The best method of thawing coconut milk is to let it defrost slowly in the fridge. The more time you give it to thaw, the less effect there will be on the taste and texture.
Simply transfer the coconut milk container from the freezer into the fridge and let it defrost. I recommend you let it defrost overnight.
A Quicker Method
If waiting overnight is no good, you can defrost it quicker. Place the frozen coconut milk into a bowl of lukewarm water and leave it to defrost on the kitchen side. It should defrost within two hours or so.
If you go for the defrost in water method, be sure to use all of the coconut milk immediately.
A Warning
Thawing coconut milk is the more difficult aspect as defrosting too fast could end up with an even more grainy texture and a more difficult ingredient to work with.
Of course, you could forego the thawing process completely! Simply freeze the coconut milk in small blocks (e.g. in an ice tray) and, when ready to use it, throw a block or two into your smoothie, curry, or whatever dish you're using it for.
How long does frozen coconut milk last?
The longer it's frozen, the more the taste and texture will suffer. For best results, freeze for up to a month. You can freeze it for longer, but don't freeze it for any longer than 3 months.
Can you refreeze coconut milk?
When asking "can you freeze coconut milk, thaw and then refreeze it"… again, we've got to think about the taste and texture of the coconut milk. 
Freezing, thawing and then freezing coconut milk will destroy the texture and completely sap the taste from the coconut milk.
That's why it's a very good idea to only thaw the amount you need each time. Keep in mind, freezing it in small batches makes sense for this reason.
How can you tell if coconut milk is bad?
When it smells slightly sour and the color starts to change, you'll know it's starting to go off.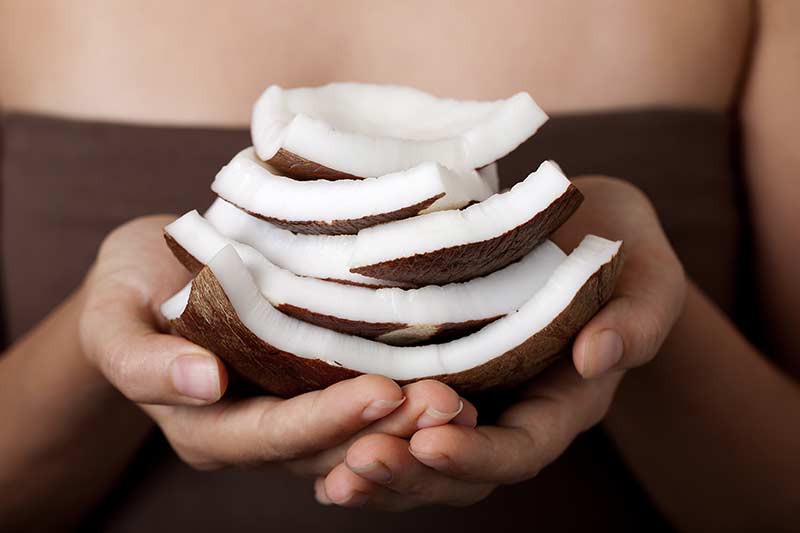 Tips when freezing coconut milk
A few really important points to keep in mind:
When it comes to defrosting coconut milk, the slower the better. Defrost it in the fridge to best maintain the taste and texture
Always use a blender to fix the graininess of the coconut milk once it has thawed
Thawed coconut milk will taste better when used in sauces, smoothies and curries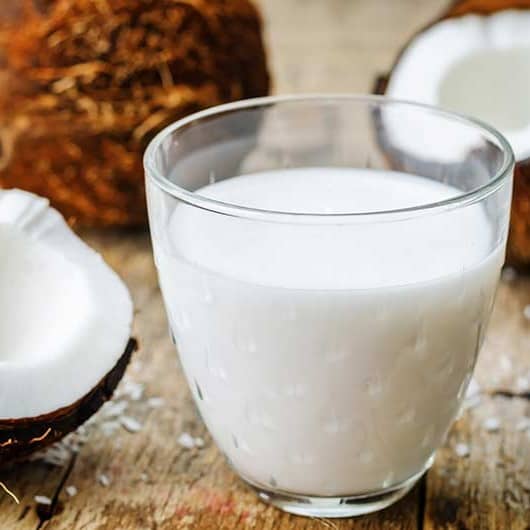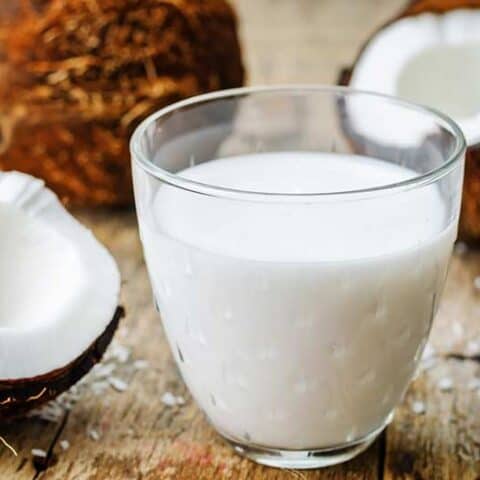 How To Freeze Coconut Milk?
Yield:
Frozen coconut milk
Can you freeze coconut milk? Yes, you can. Learn how to freeze coconut milk in a few easy steps.
Materials
Airtight freezer container
Ice cube tray
Freezer bags
Labels
Marker pen
Instructions
How to freeze coconut milk in containers
Transfer the coconut milk out of the can or carton into an airtight, freezer-safe container.
Leave a little gap at the top of the container to allow the liquid to expand when frozen.
Label the container with the contents and date of freezing.
Place the container in the freezer.
How to freeze coconut milk in cubes
Pour the coconut milk out of the can or cartons into the ice cube trays.
Transfer the trays into the freezer for about 3 hours.
Once the cubes are frozen, take them out of the freezer and transfer them into an airtight freezer container or a ziploc freezer bag. Do this quickly and without touching the cubes too much. This is because they will start to thaw from the heat of your hands.
Label the container or freezer bag with the contents and date of freezing.
Place the container or freezer bag back in the freezer.
How to use leftover coconut milk
Now you know the answer to the question "can you freeze coconut milk," you'll want to know how to use it once defrosted.
While frozen and defrosted coconut milk won't taste fantastic on its own, it still makes a great addition to certain recipes. Try any of these: