Farmers cheese is an amazing fresh and versatile cheese that can be used in both savory dishes and desserts! Here is an extensive list of delicious Farmer's cheese substitutes for when you can't find it (or don't want to make it!).
It is easy to find in some areas, but since it is a fresh cheese it can be harder to find in a local grocery store. This post will dive into must-know information about Farmer's cheese and the best substitutes for farmer's cheese.
What is Farmers Cheese?
It is a fresh, mild cheese that is not aged nor pressed. Farmer's cheese has a crumbly texture and does not have a strong taste. 
Many countries have their own version of the cheese, but in the United States it is typically made with cow's milk. Some people make farmer cheese with goat's milk or even sheep's milk. If doing a diy farmer's cheese, any of these milks can work. 
Thanks to its fresh nature, there are many ways to switch up the flavor of farmer's cheese. When making the cheese, it can be mixed with herbs, olive oil, or red pepper flakes to give a whole different experience.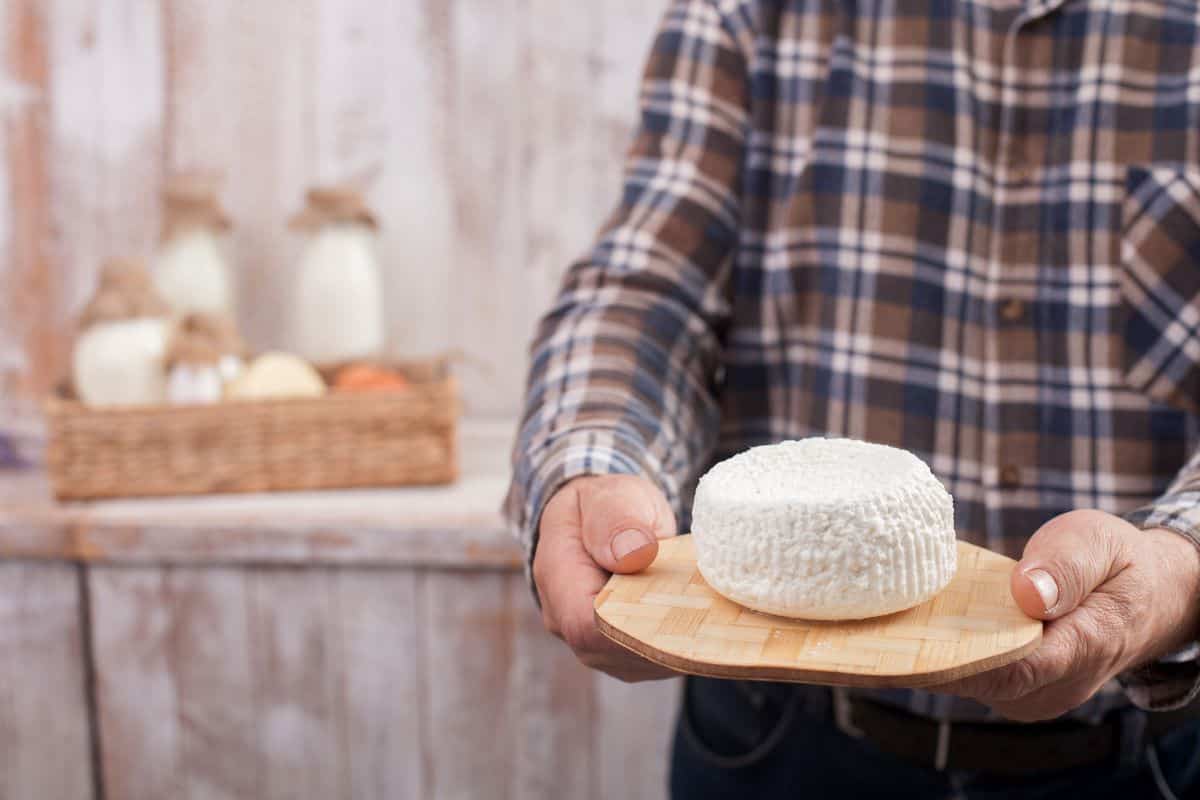 Flavor and Texture
The taste of farmer's cheese is mild and should be eaten fresh. It has a smooth and very mild flavor, with a subtle acidity similar to cream cheese.
Whether you are using store bought cheese or homemade farmer's cheese, it will have a crumbly and soft texture. It is best to use fresh farmer's cheese, as it is not a cheese that "ages." It's a fresh cheese, so if it is left out too long, then it will go bad.
Popular Uses for Farmer's Cheese
Thanks to its gentle flavor, farmer's cheese can be used in a variety of ways. Here are some of the most popular ways to use the fresh cheese.
Spread
Its texture makes it perfect to eat with a slice of bread or crackers. It's a nice, refreshing snack. Give it a boost with a squeeze of lemon juice.
Salad
Use farmer's cheese in place of feta cheese or ricotta, and crumble it on top of a salad. It will add a nice saltiness to the dish.
Dip
Blend it with yogurt and other ingredients to turn it into a creamy dip for veggies.
Dessert
Add farmer's cheese into parfaits and desserts for a smooth, tangy taste. Even pastries can use a little bit of this cheese.
Cheeseboard
Its mild taste pairs beautifully with dried fruits and jams for a cheese board party.
Filling
Use it as a creamy filling for baked ziti or lasagna. It works in a similar way to ricotta and mascarpone.
11 Farmers Cheese Substitutes
If you are unable to find Farmer's cheese in your local grocery store, no worries! There are plenty of farmer's cheese substitutes that are just as yummy.