If you need a horseradish substitute, there's a few excellent alternative ingredients with a similar taste that can also bring a big bite to your recipe.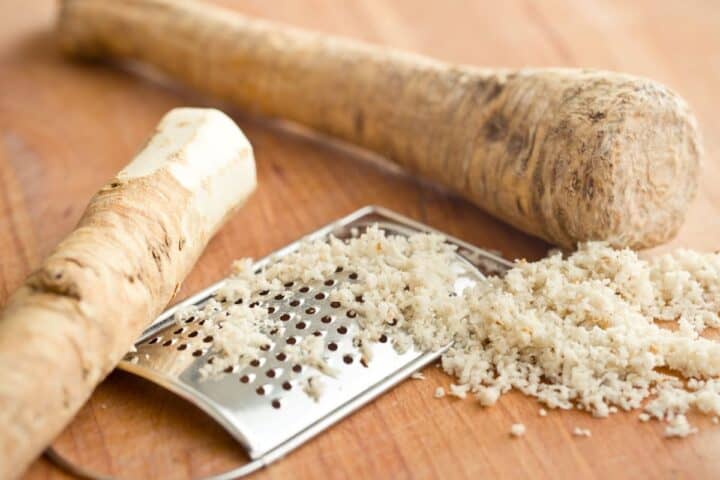 For those of you who like things hot and spicy, chances are you're a big fan of horseradish. Bringing the zing to any sauce, main or side, horseradish is a fantastic ingredient that's hard to replace. Hard… but not impossible.
So, what to do when the horseradish has bolted?
What is horseradish?
Made from the white root of the horseradish plant, horseradish is normally creamed, mixed with mayonnaise and served as a sauce, typically eaten with beef.
It comes from the same family as wasabi and mustard, its fiery cousins, and also has a link to broccoli, brussels sprouts and cauliflower.
As well as being served as a sauce, it can be grated, dried or powdered. It's also sometimes added to other condiments, such as sriracha, for a little extra heat.
What does horseradish taste like?
Like an earthy volcano! It's similar to mustard in its earthiness, but even hotter. Underneath all that heat there's a subtle sweetness, although you'd be forgiven for not noticing it.
So, it's mainly about the kick, rather than the complex flavors. Interestingly, the heat from horseradish doesn't burn your tongue, like chillies for example. Much like it's cousin, mustard, horseradish goes straight to your nose.
Where does horseradish come from?
Horseradish is thought to have originated somewhere in central Europe, although the truth is, nobody really knows the true roots of this fiery root.
One thing's for sure, cultures have been using horseradish for its medicinal and culinary qualities for centuries. The Ancient Egyptians used it over 3,500 years ago (how's that for standing the test of time?) while those frisky Ancient Greeks used it as an aphrodisiac.
From the bedroom to the kitchen, this powerful root has certainly played its part in cultures throughout the world. By the 1600s it had arrived on British shores, where it became the standard pairing with a joint of beef and big mug of ale.
5 Horseradish Substitutes
Are you looking for a horseradish substitute? In this comprehensive list you'll learn 5 ideas for an alternative.
Hands down the best substitute for horseradish sauce is wasabi sauce. Most wasabi sauces sold in the United States or the UK are actually a blend of wasabi and horseradish, sometimes referred to as 'wasabi horseradish.'
This might seem a bit sneaky, particularly if it's just labelled wasabi and you find out it's mainly made from horseradish. Still, for a horseradish sauce alternative, it's perfect.
Just be aware that, unlike horseradish, wasabi sauce is green. So, your dish might need a little adjustment, to balance the colour if not the flavor.
Substitute wasabi sauce for horseradish sauce at a 1:1 ratio.
For Japanese cuisines connoisseurs, this is the real thing. A hot and fiery paste that will leave your taste buds not so much dancing as swinging from the ceiling, wasabi is molten magic.
So, use it with care! It can definitely punch up a dish, filling in nicely for horseradish when required, but be careful not to overpower the dish. Again, be aware that the vivid green color of wasabi may have an effect on the overall color of your dish.
Aside from the fact that it may be harder to get hold of than horseradish, wasabi paste is generally more expensive, as it's imported from Japan. Still, if you chance upon this paste in the supermarket or your local Asian food store, it's definitely worth having in the cupboard.
Use half as much wasabi paste as the amount of horseradish called for in the recipe.
An ingredient that comes from the same family as horseradish and wasabi, mustard makes a great horseradish substitute.
Brown mustard is particularly good as a stand in for horseradish. It has a similar color – one area where it outdoes wasabi – and delivers a similar level of heat. The brown variety is one of the spicier types, much more so than yellow for example, so can easily recreate that eyewatering magic.
Swap in at a 1:1 ratio, for sauce or ground powder.
Photo Credit: en.wikipedia.org
While you might find it difficult to get hold of, black radish makes a very good substitute for freshly grated horseradish. From the same family as horseradish root, black radish is available from good grocery stores and farmer's markets.
To replace fresh horseradish with black radish, just grate it in the same way. Don't peel black radishes when using them as a horseradish substitute, as the heat comes from the skin. Swap at a ratio of 1:1.
If you can't find any of the above ingredients, ginger makes a decent horseradish substitute. It doesn't exactly match up flavorwise – ginger brings more sweetness – but will definitely deliver a good amount of heat.
You can swap fresh ginger for fresh horseradish, ground ginger for ground horseradish or ginger sauce for horseradish sauce, all at a 1:1 ratio.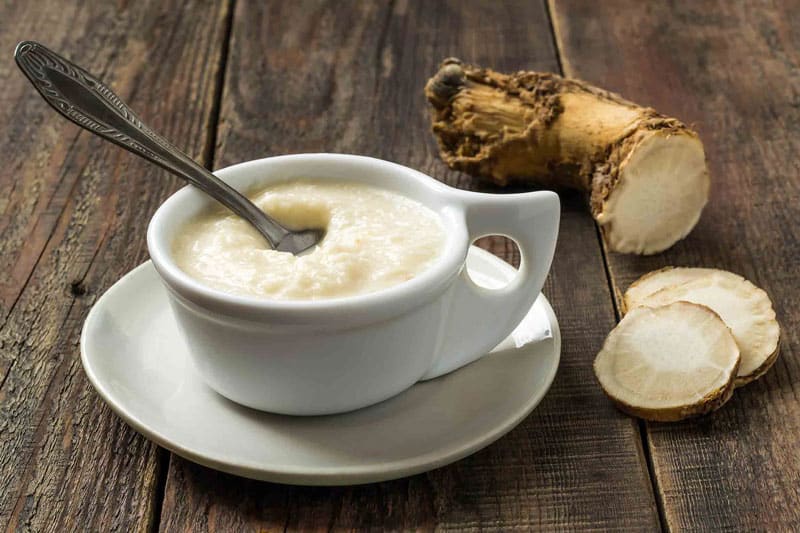 What goes well with horseradish sauce?
Well, I'm glad you asked! Horseradish brings an earthy kick to so many different types of dishes, from hearty meat dishes to simple salads. Here's a little Greedy Gourmet inspiration for how to use horseradish: