Kaffir lime leaves are an integral ingredient to many Indian curries, Thai recipes and other Asian dishes.
If you are cooking a dish that requires the addition of kaffir lime leaves, then you'll definitely need to keep this list of 9 kaffir lime leaves substitutes in mind. Sourcing good and authentic kaffir lime leaves is not the easiest task.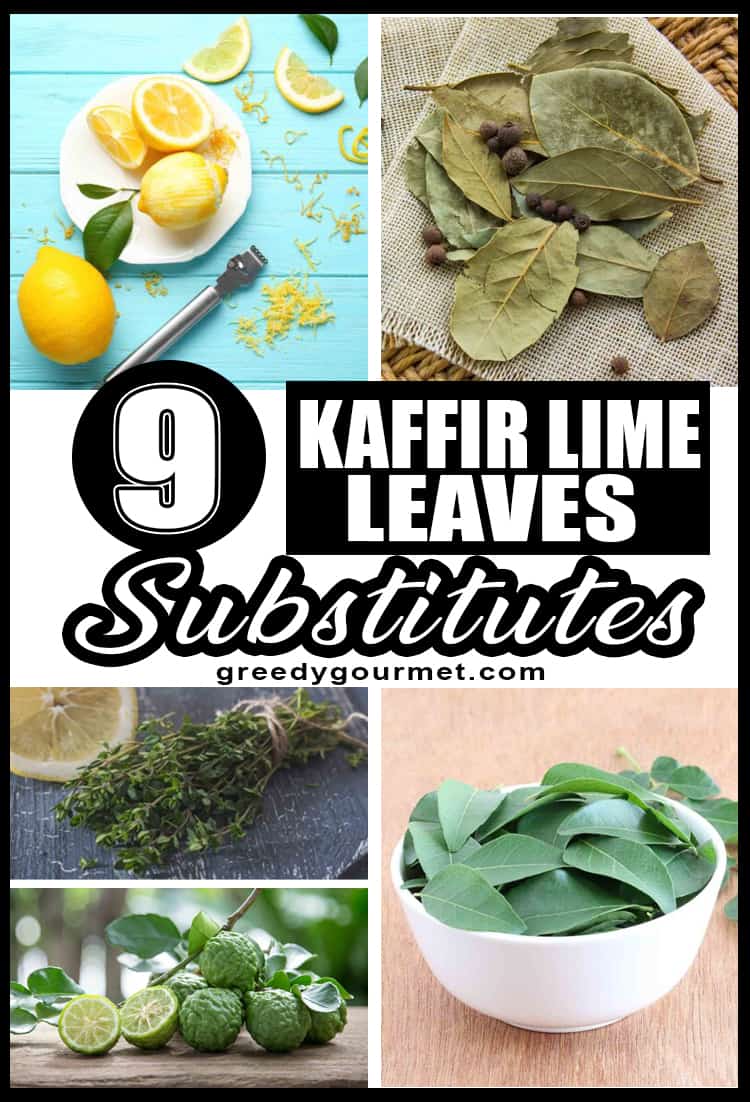 If you're going for maximum flavour, perhaps one of these 9 kaffir lime leaves substitutes might be a better option for your dish. I might even surprise you. Some of these kaffir lime leaves substitutes are very common ingredients and widely available in any store.
If you need kaffir lime leaves, you don't need to panic. Just take a look and see if some of these substitutes are in your kitchen. My guess is that you'll find what you're looking for.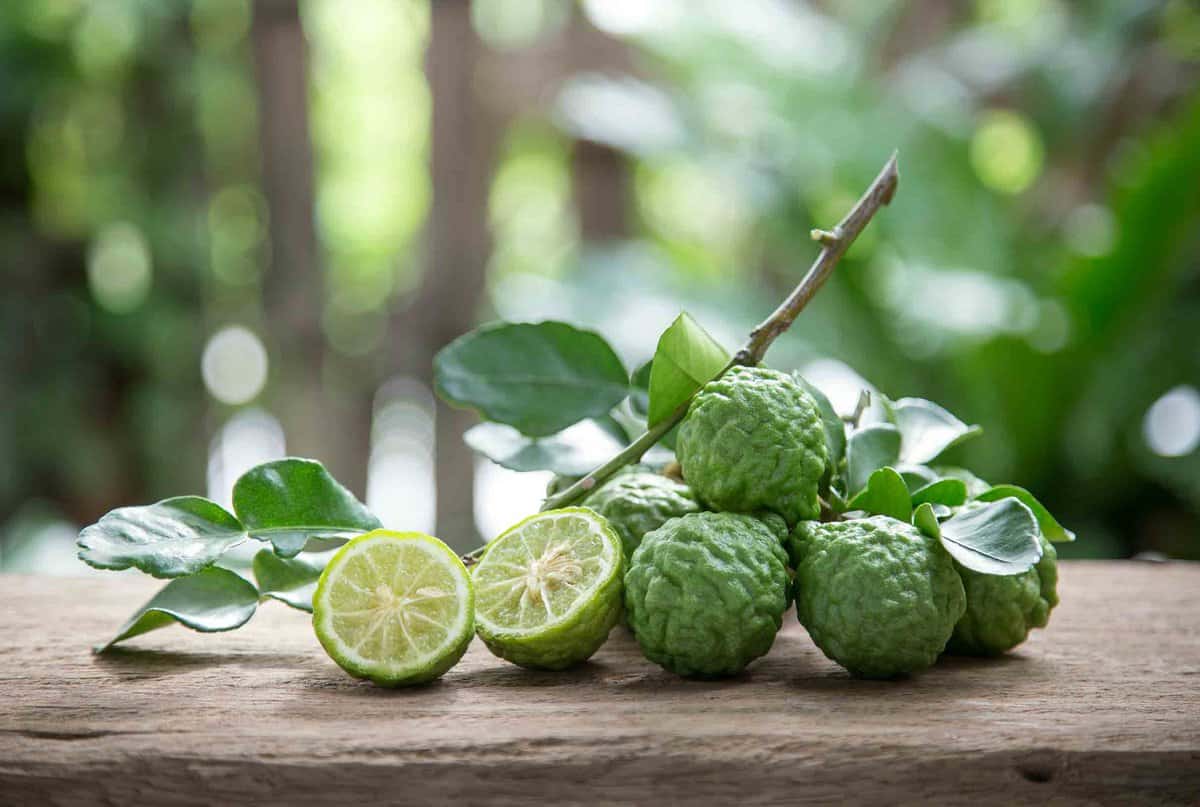 9 excellent kaffir lime leaves substitutes
If you've never cooked with kaffir lime leaves, find out more about this plant before you go on reading about the best kaffir lime leaves substitutes.
This article will explain the following topics to you prior to finding out what the best kaffir lime leaves substitutes are.
what are kaffir lime leaves?
what do they taste like?
how to cook with kaffir lime leaves
how to cut kaffir lime leaves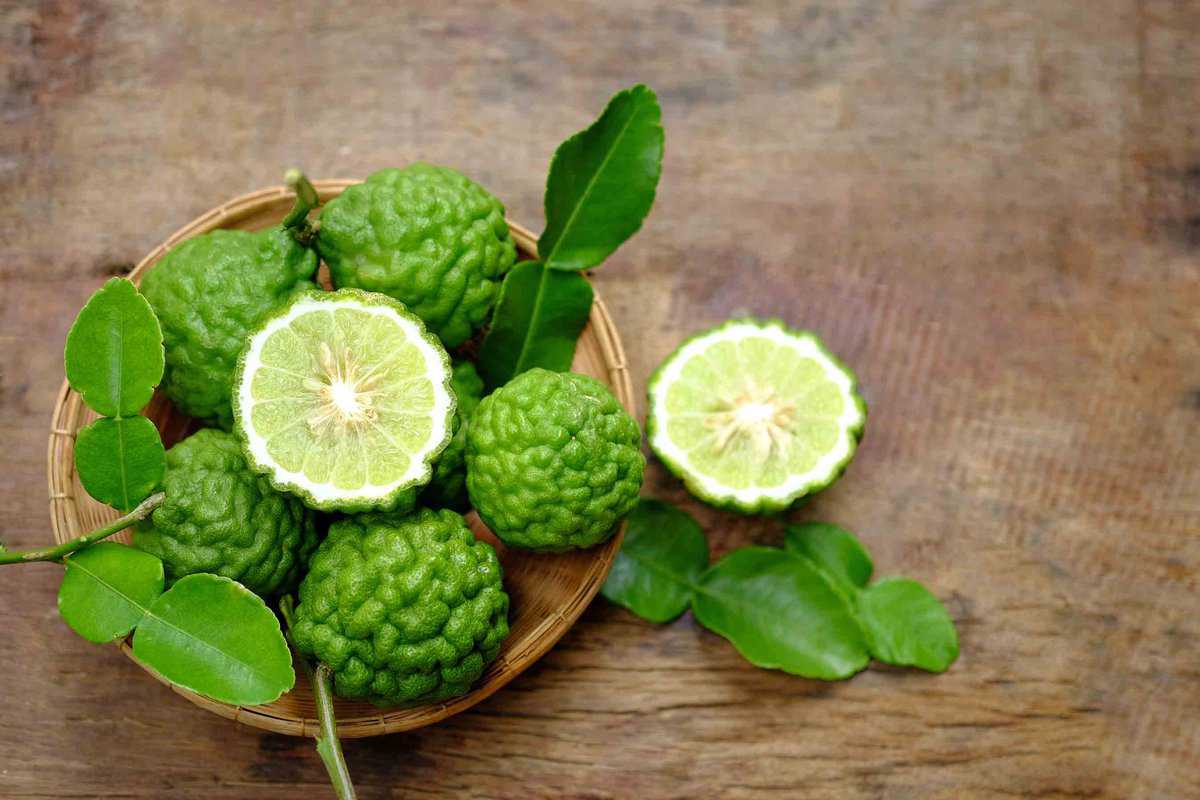 what are kaffir lime leaves?
First of all, kaffir lime leaves come from the kaffir lime plant. Kaffir lime is an exotic citrus, native to South Eastern Asia. It is also called makrut lime, jeruk purut (in Indonesian) or Mauritius papeda.
However, if you are reading this in South Africa, then you might know it as Thai lime or K-leaves.
The kaffir lime fruit is green, but turns yellow as it matures. Kaffir lime leaves are the edible leaves which are part of the plant.
They look very much like bay leaves, but they are more course. The leaves turn a dark-greyish colour when they mature.
What makes them special is their distinct citrusy aroma, which of course makes them so desirable in Asian recipes. The leaves can be sourced fresh in Asian countries. However, everywhere else it is common to find them in their dried or frozen form.
Altogether, the fruit, the peel as well as the kaffir lime leaves are all edible and widely used in many cuisines throughout Asia. Don't be afraid to cook with this exotic ingredient.
what do kaffir lime leaves taste like?
Kaffir lime leaves have a very powerful citrus flavour. For some, the flavour as well as the aroma might be too pungent and overpowering.
If you find the aroma too strong, I highly discourage you from trying to eat the kaffir lime leaves raw. It's best to use them in cooking.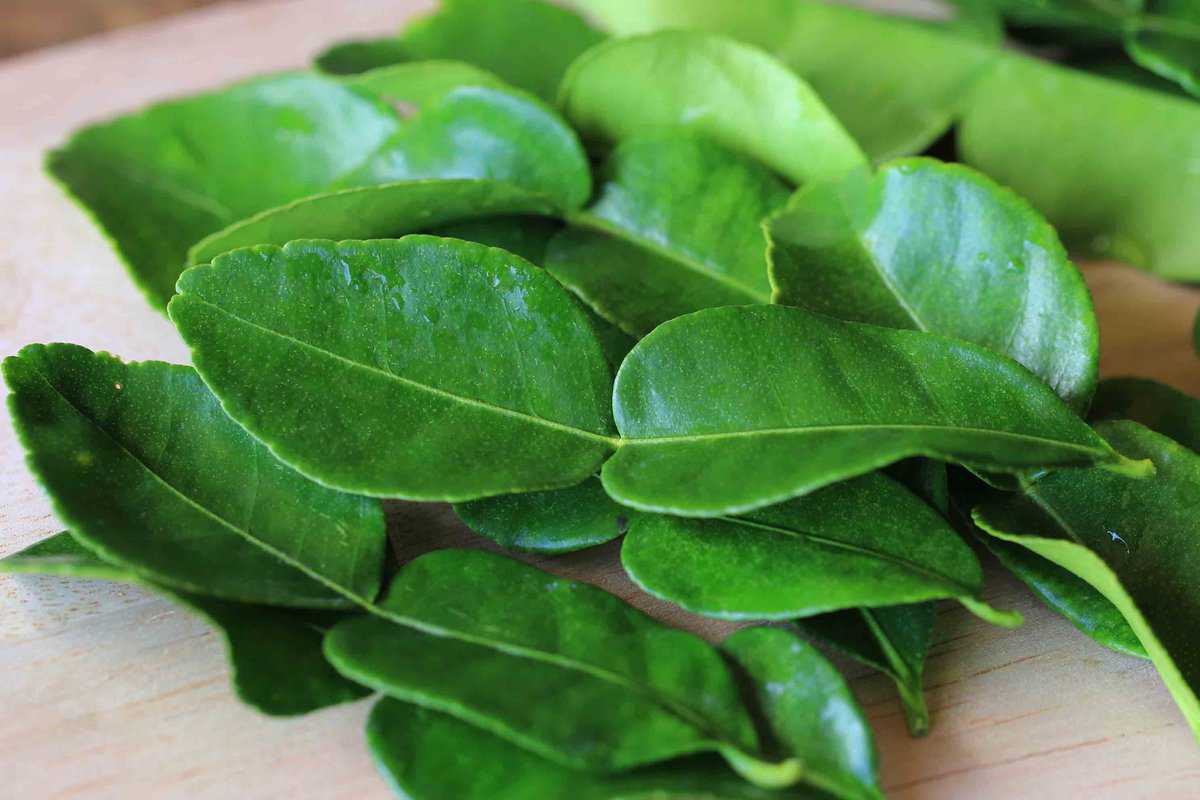 how to cook with kaffir lime leaves and kaffir lime
First of all, cooking with kaffir lime leaves means that you are taking on an exciting recipe. You can use kaffir lime leaves in many ways.
For example, in Thailand, they are used in Thai curry recipes or traditional soups like the tom yum soup.
In Cambodia, one uses kaffir lime leaves for making the famous kroeung paste. Moreover, it is also very common to add the leaves to meat or fish dishes to add a certain fragrance.
This is common practice in countries like Indonesia, Vietnam, Malaysia, Myanmar, and even South India.
The peel of the kaffir lime as well as the zest go towards making up aromatic Thai curry paste. However there are also other ways to enjoy this citrus. For example, you can use it in marinades or sauce. You can also use it to flavour basmati rice. I
n some countries, like Cambodia, very much like preserved lemon, the kaffir lime is eaten in a candied / preserved form.
how to cut and use kaffir lime leaves
So, now that you have the kaffir lime, you are probably wondering how to prepare it. If you have raw kaffir lime leaves in front of you, closely cut the leaf from the middle section.
Roll the leaf up and cut it into very thin pieces. You should be able to sort of drizzle the end result on top of a fish or meat dish, like these Thai fish cakes.
If you have dried kaffir lime leaves, just crush the dried leaf in your hand and sprinkle over. Sometimes the dried version just fails to deliver that zing you are looking for. This is where these 9 substitutes can save the dish and deliver the wow factor you are looking for!
where to buy kaffir lime leaves
First, try and source them fresh in an Asian market, although if you are not in Asia, your chances are slim. Your best bet is to get them frozen or dry. Otherwise, you can also get them online here.
top 9 kaffir lime leaves substitutes
Bay leaves are one of the best kaffir lime leaves substitutes. They are just as pungent as the kaffir lime leaves and often used in savoury dishes.
However, don't expect too many notes of citrus, because it's a very different taste! The bay leaves are more floral than citrusy. They work best when combined with lime zest, if you are making Thai curry paste for example.
Lime zest is also quite close when it comes to being a worthy kaffir lime leave substitute. Lime has a very distinct citrusy flavour and the zest is also very common in Asian cuisine. For example, you can sprinkle these Asian-style chicken drumsticks with lime zest or lime juice for a similar flavour.
Traditional lime leaves are quite different. Best to avoid consuming them raw, but in any case they can only deliver a mild scent of citrus to your dish. In addition, you might also find them slightly bitter. 
This only works as one of the kaffir lime leaves substitutes if you are making a Thai curry paste. Hints of lime juice can make or break the Thai dish you are planning to cook! 
This herb is almost like the traditional thyme herb, but it carries a citrusy flavour. Citrus thyme has a strong lemon scent and is very pungent. Although it's not a perfect match for the kaffir lime leaves, it is a worthy substitute.
Plus, lemon thyme is not as bitter as normal thyme, so feel free to add a generous amount of this herb.
Lemon zest is also a suitable substitute for kaffir lime leaves. However, lime zest would be the preferable substitute in Asian cuisines. In either case, you can use lemon zest instead to flavour rice dishes, like this Thai pineapple fried rice.
To finish this dish, I recommend adding coriander or any of these coriander substitutes.
Careful, these will only work in Indian dishes. Curry leaves do not carry that sharp and pungent citrus flavour. So, I recommend using this in Indian curries or Indian rice dishes.
This is possibly the most efficient substitute. It gets as close as is possible to the taste of kaffir lime leaves. Combine 1 bay leaf, 1 whole lime and a handful of fresh lemon thyme. Mix together and you have a very close substitute!
top 9 kaffir lime leaves substitutes
For other substitutes check out these:
What is your favourite kaffir lime leaves substitute? Let me know.