If you're a fan of Japanese food, you'll know about the magic of miso. When it comes to bringing taste bud tingling flavor, few ingredients can hold a candle to this incredible ingredient.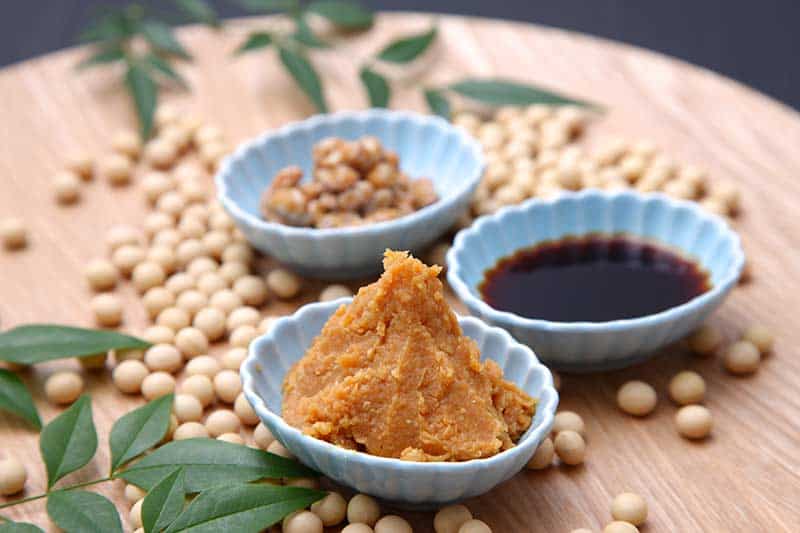 Still, what if you need a miso substitute? It's certainly not the easiest ingredient to track down but, should you find yourself missing the miso, there are some great miso substitutes out there.
What is miso?
Miso is a very popular ingredient used in Japanese cuisine to bring a deep savoury flavor known as 'umami' – the fifth flavor type. It comes in the form of a paste and is made using fermented soybeans.
To make miso, soybeans are boiled, crushed, then mixed with a combination of rice, barley, beans and wheat. This mixture is then left to ferment for three years – yep, you read that right… THREE YEARS! – before it can be sold as miso paste.
The fermentation process is what gives miso paste its strong savory flavor. It's this deep, rich flavor that makes miso paste such a magical ingredient that's able to completely transform the flavor profile of a dish.
It also makes it tricky to replicate. Still, there are some ingredients that can work well in place of miso paste.
What are the different types of miso?
The most common type of miso is called 'shiro', also known as white miso. This type of miso paste is pale in colour and has the mildest flavor, with a subtle sweetness to it. White miso is made using a high percentage of rice in the mix and is often used in ramen dishes and as a fish marinade.
Red miso is made using a higher percentage of barley and has a more intense flavor than white miso. It's typically used in hearty soups and as a marinade for meat.
For those who find white miso a little too light and red miso a touch too strong, awase miso is a blend of the two. It brings great versatility to the table and is used for all kinds of Japanese dishes.
Those are the three most common types of miso, but you can also get pure barley miso, which is known for its particular intensity and is a favorite in Southern Japanese cuisine, and miso paste with dashi, which is the stock that is added to miso soup.
What recipes use miso paste?
In Japan, the most common use for miso paste is to make miso soup. This is the best example of what miso can do, as the ingredients for miso soup are quite minimal, allowing the unique miso flavor to take center stage.
Miso is also used in Japanese cooking to bring extra umami flavor to just about any kind of saucey stew, soup or broth. Anything that's cooked over quite a long period of time and requires an extra hit of flavor. Something like a ramen, for example.
It also works really well when used as a marinade for meat, fish and vegetable dishes. Check out my miso salmon and miso eggplant recipes for an example of the wonderful flavor it can add.
9 Miso Substitutes
Are you looking for a Miso Substitute? In this comprehensive list you'll learn 9 ideas for an alternative.
More substitute guides