No matter what the difference is between red curry vs green curry, they are both popular favourites when it comes to Thai cuisine. Today, they are a standard food item in any Thai or Asian restaurant.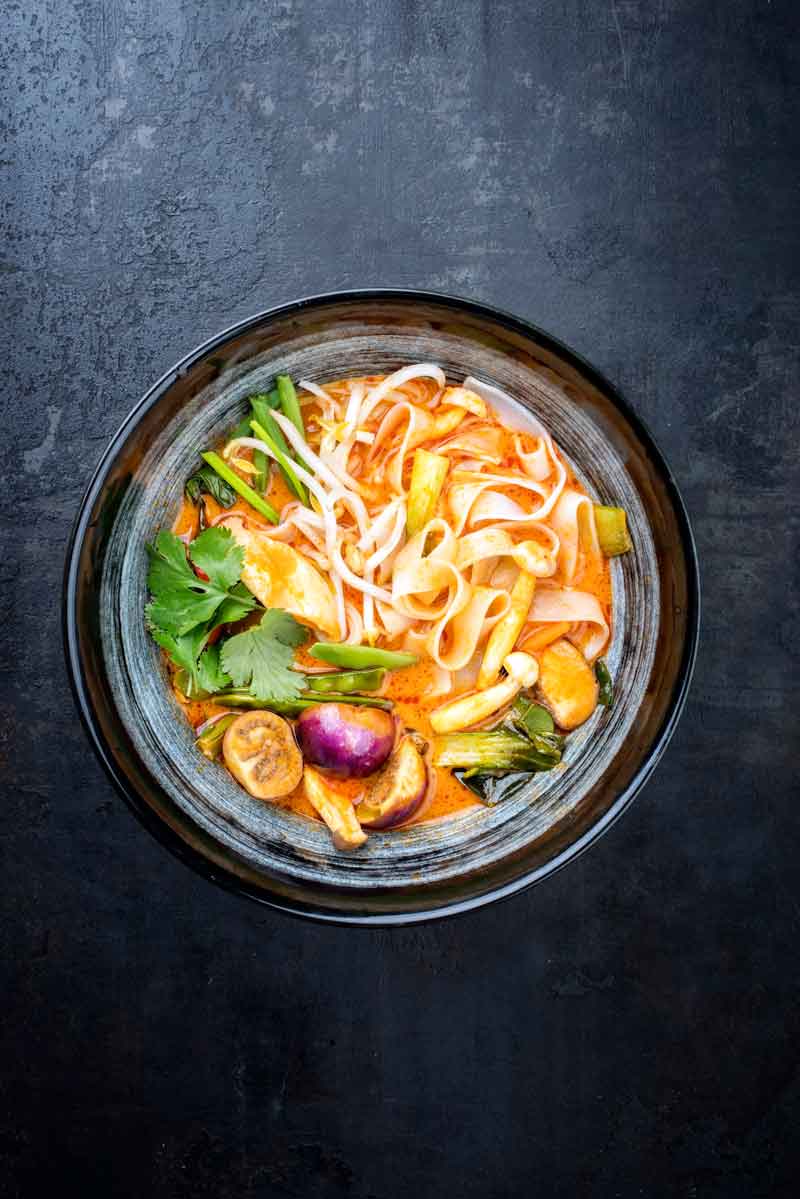 The one main difference between red curry vs green curry is the colour as a result of the varied contents that go inside the curries!
The biggest difference is that the red curry uses dry red chillies as a base for its paste, whereas green paste requires coriander roots, green chillies and is much sweeter. Another huge difference is the amount of hotness one can expect to encounter when eating red curry and green curry.
I asked myself, how could people in Thailand handle a spicy warm curry with the humid hot weather and the beach? Surprisingly, eating the curry will cool you down and it makes total sense! I love Thai food!
So it's no surprise that making red curry, yellow curry or green curry from scratch is definitely on my monthly list of things to do.
A warm meal like good creamy and flavourful Thai curry can pick you up at any time of day. In addition to that, it makes a good hearty family meal when you make a large batch and save in containers for the week.
Typically served with a side of rice, it can generate quite a lot of servings. It's not necessarily a heavy dish if you limit the amount of rice you serve it with.
However, I bet you are wondering in any case, what is the difference between red curry vs green curry, right? Keep reading to find out more about red curry and green curry and what makes them unique!
red curry vs green curry
which is hotter red or green curry?
Without a shred of doubt, red curry is quite spicy and hot. So, if you are comparing red curry vs green curry in terms of spice levels, red curry is the one to keep an eye out for.
Green curry is known for being more subtle and gentle. However, don't let this fact fool you as every curry is different, and the cook might add a generous amount of green chilies inside.
When in doubt, it's always a good idea to ask beforehand just how spicy the curry is. Generally speaking, red curry varies in terms of spice levels but is considered as a spicy curry.
It can have subtle elements of heat here and there. On the other hand, sometimes it can blow your head right off. So, most of the time, the red curry is definitely hotter than the green curry.
thai curry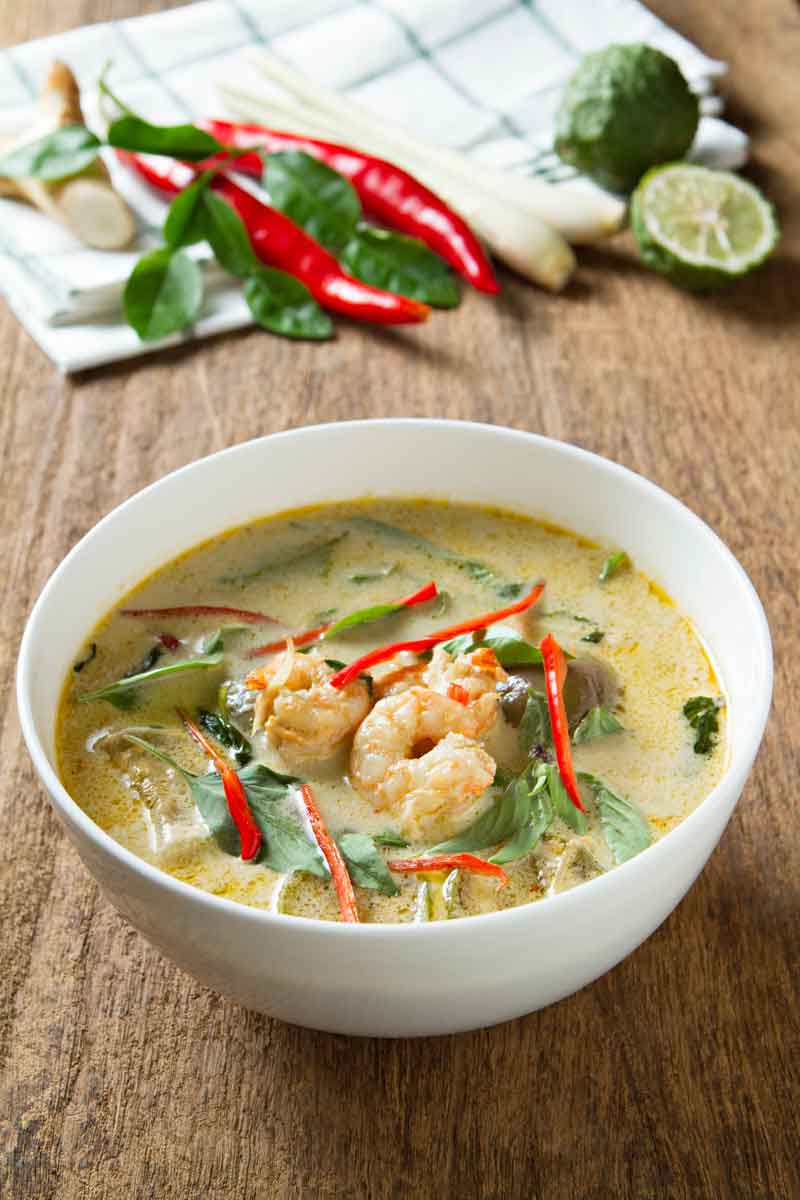 If you are willing to make the red and green curries from scratch, you'll need a mortar and a pestle. The mortar is sort of a mixing bowl usually from ceramic or granite, where you use the pestle to crush ingredients and extract as much flavour as possible.
This is the traditional way of making the curry paste. You can find examples of these kitchen tools below:
Also, no matter the difference between red curry vs green curry, you will also need coconut milk for both. That's where that delicious creaminess comes from.
red curry
The red curry paste is called phrik kaeng phet and consists of dry red spur chillies, garlic, galangal or ginger, shallots, kaffir lime leaves, coriander root, cumin seeds, coriander seeds, lemongrass and shrimp paste. Be careful with the shrimp paste as it is quite strong.
Alternatively, you can also add a few drops of fish sauce for those salty umami flavours. Of course, a red curry wouldn't be complete without fresh red chillies!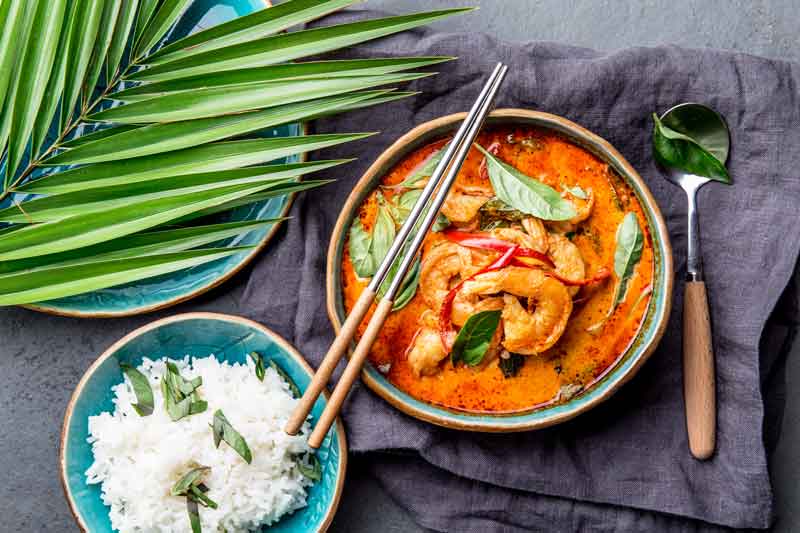 Red curry, also known as kaeng phet in Thai, is a spicy curry which involves red curry paste and coconut milk. Typical variations include chicken, pork, duck, shrimp (usually tiger shrimp), beef or tofu. Sometimes, you can even find versions with fish pieces.
If you want to make your red curry slightly milder or if you can't source the dried red Thai chillies, not to worry. Just insert a spoonful or two of tomato paste so that your curry will remain red and will carry a subtle sweetness.
curry paste
You can make the curry paste from scratch. Mind you, this process is a lengthy one and it involves a lot of preparation as well as sourcing a lot of ingredients.
If you want to keep things budget-friendly, you can purchase the ready-made red curry paste in a jar. Here are a couple of brands you might know:
Which one is your favourite?
types of red curry
You usually serve Thai red curry with rice, however, you can also pair it with for other popular dishes like Thai turkey meatballs or beautiful pieces of white fish. You can also enjoy the Thai turkey meatballs as a starter dish with a side of sweet chilli sauce along with some Thai spring rolls.
If you want to experiment, I also recommend adding some peanut butter to the red curry. Just try this Thai red beef and peanut curry! After trying this, you'll wish you'd have known this trick years ago!
green curry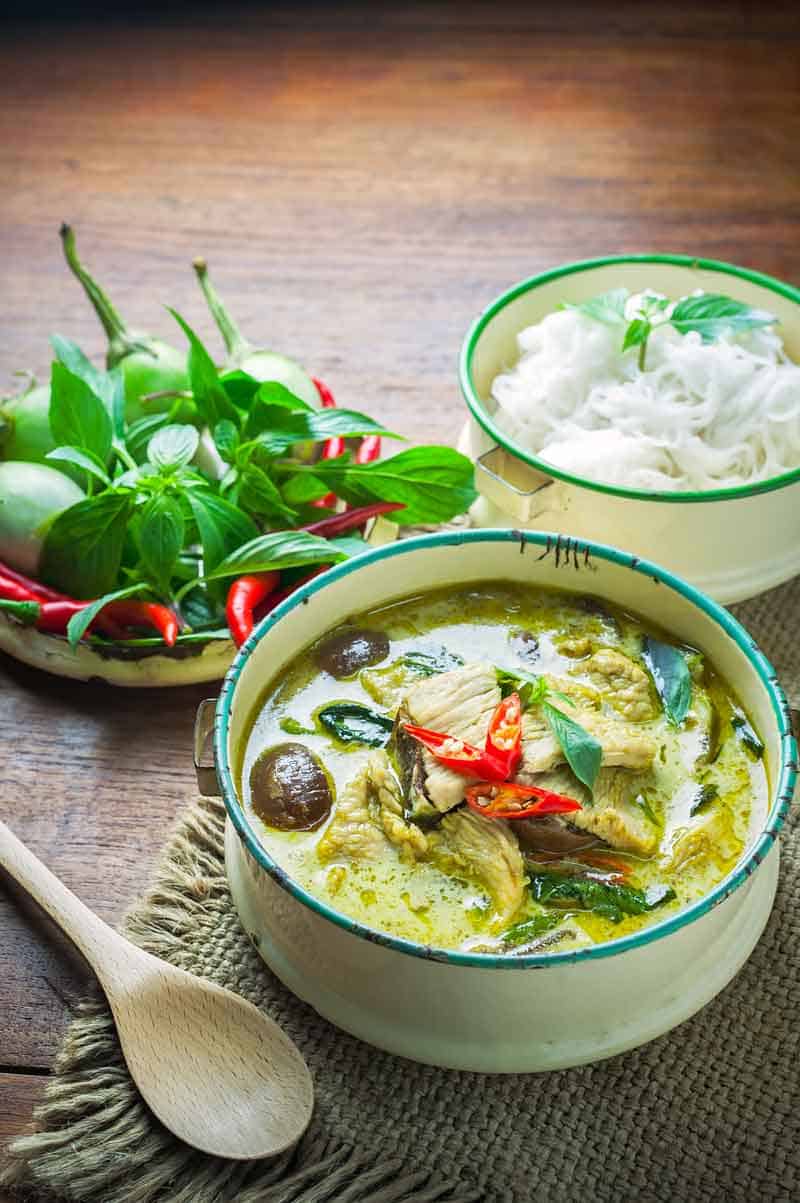 Green curry, is called kaeng khiao wan which translates to sweet green curry in Thai. It is made from green chillies, coriander roots and coconut milk. Comparatively, it tends to be much milder than red curry, however, it does have a pungent flavour.
In essence, you can pair it with white fish, fish balls, chicken, tiger prawns, turkey or tofu. Also, the general rule is to pair it with other green vegetables like broccoli, sugar peas, green peppers or white vegetables like baby corn or cauliflower.
With respect to fish, you can make this whole baked Thai sea bass and use leftovers for the green curry. Otherwise, go for the all-time popular variation which is green Thai chicken curry. However, definitely don't pair it with beef.
curry paste
Again, if you want to make the curry paste from scratch, it will take you quite some time in the kitchen. Therefore, you might want to consider the pre-made green curry pastes below:
If you want to make your green curry as authentic as possible, then you'll need a handful amount of ingredients. The green curry paste consists of fresh green chillies, lemongrass, white peppercorns, coriander roots, shallots, garlic, galangal or ginger, peeled kaffir limes, cumin seeds and shrimp paste.
It's not uncommon to also find version of curry paste which contain a bit of galangal, depending on the region. Although, galangal is used to make the delicious tom yum soup.
So, try sourcing galangal or these galangal substitutes and see what it does to the flavours.
Thai toppings
Once you finish your curry, you can add toppings for more flavours. For example,  you can use fresh coriander leaves, few extra drops of fish sauce or sugar to bring down the spice levels.
You can also add chopped kaffir lime leaves for a zesty flavour, bamboo shoots as well as Thai basil. You may know Thai basil also as bai hotapha in Thai. It's more fragrant and peppery!