Once you discover the power of turmeric, it will be hard for you to consider turmeric substitutes in general. At least that's my experience. After extensively using turmeric for a longer period of time, I've come up with a great list of turmeric substitutes which is very useful at times when I can't find turmeric at home.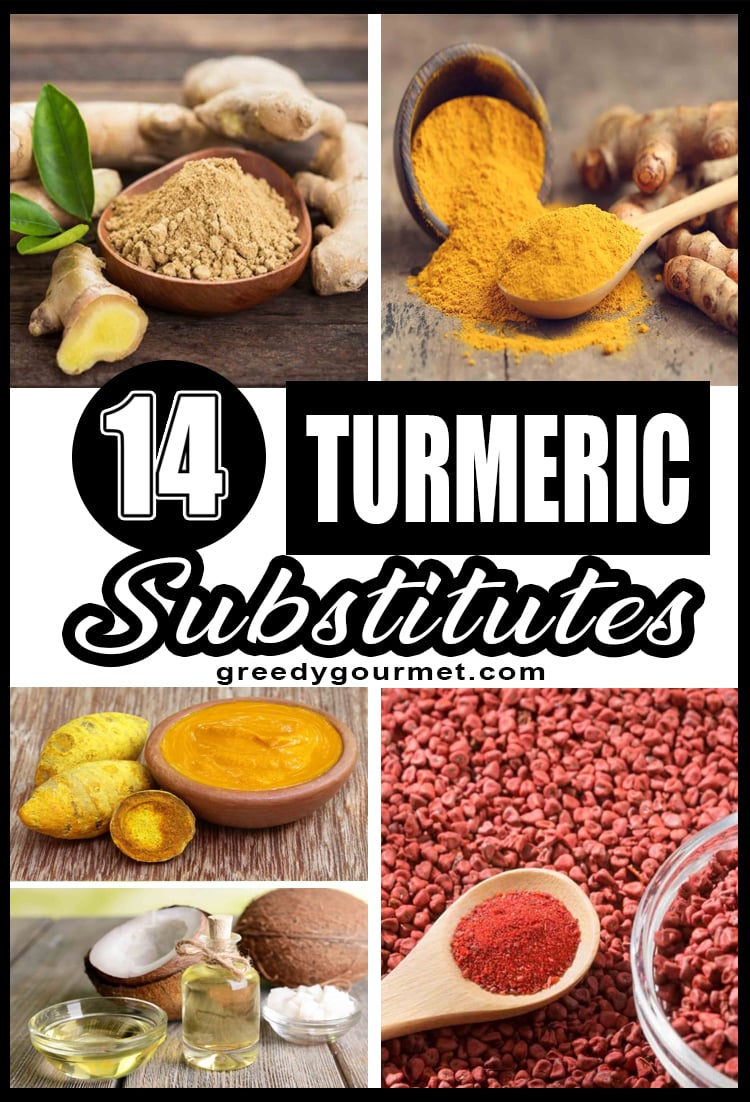 Turmeric can be used in curries, stews, risottos, you name it. It is well known for its very distinct yellow colour, which often leaves stains in the kitchen.
Recently there has been a total buzz on drinking raw turmeric shots due to its outstanding medicinal properties. So, whether or not you are looking for turmeric substitutes in cooking or for medicinal purposes, I've got the answers to both.
Hopefully you will find these turmeric substitutes useful when you can't get your hands on turmeric powder or fresh turmeric.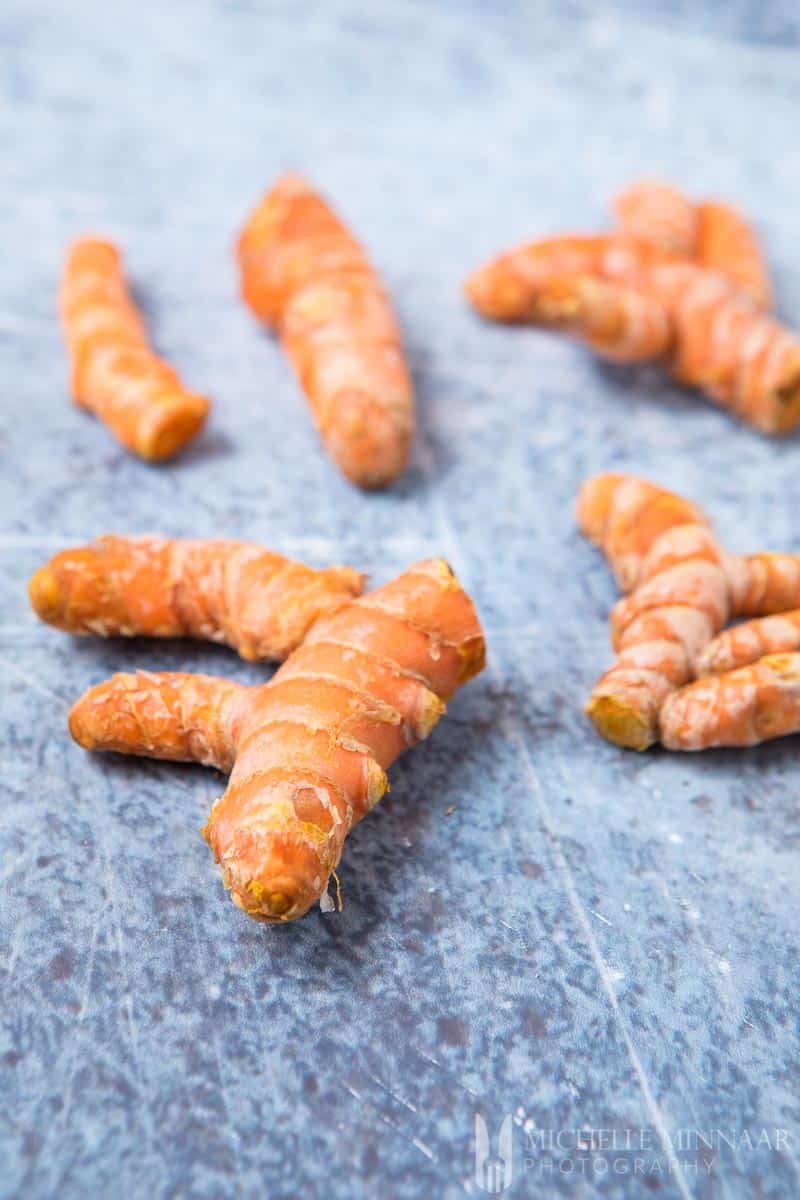 best 14 turmeric substitutes you will find
In this article, I will also attempt to explain the origin of turmeric, its properties and how it is used in cooking. This will help you understand which one of these 14 turmeric substitutes you need. So, let's start!
Turmeric, also known as kurkurma belongs to the ginger family. It is basically a root (looks very much like ginger) with a darker exterior and a yellow/orange interior. The plant grows wild in the Indian subcontinent (India) and Southeast Asia (China, Cambodia, Japan and others).
Turmeric comes in two forms – powdered and fresh.
It is full of nutrients, essential oils and antioxidants. It is also used to make teas, however its most common uses include:
spice for cooking
medicinal
dying agent – due to its very bright yellow/orange tint
how to cook with turmeric
Turmeric is an integral part of many cuisines. More specifically, turmeric plays a significant part in Asian, Indian and Middle Eastern cuisines.
For example, turmeric is often added to this Lebanese lentil soup recipe.
It is very common to marinate your chicken with turmeric and yoghurt. If you include turmeric powder in your marinade, make sure you wear gloves, otherwise your hands will end up yellow.
Turmeric is also present in many Indian curries and has a role as a flavour enhancer. For example, you can add turmeric even to this beetroot curry. Indeed, it works well with any Indian recipe.
turmeric health benefits
There are many health benefits associated with turmeric. For best results, I highly recommend getting a juicer and drinking raw turmeric shots with warm water daily.
Of course, the powdered turmeric isn't as effective as the fresh one. Just prepare yourself, you will have to clean the kitchen almost every single day because everything ends up yellow! A small price to pay for your health if you ask me!
Personally, I've seen some of the health effects. First, I lost weight in the stomach area (no bloating whatsoever) and my nails and hair improved significantly in terms of quality. This was after drinking raw turmeric shots with warm water for 3 weeks!
Here are some of the health benefits that turmeric is known for:
helps with weight loss
reduces inflammation in the body
heals open wounds
can be used to treat burns
immunity booster
pain relief (especially for arthritis)
reduces skin disease and acne
improves digestion
kickstarts your metabolism – thus helps you lose weight
eliminates flatulence and diarrhoea
helps treat colds
anti-cancerous properties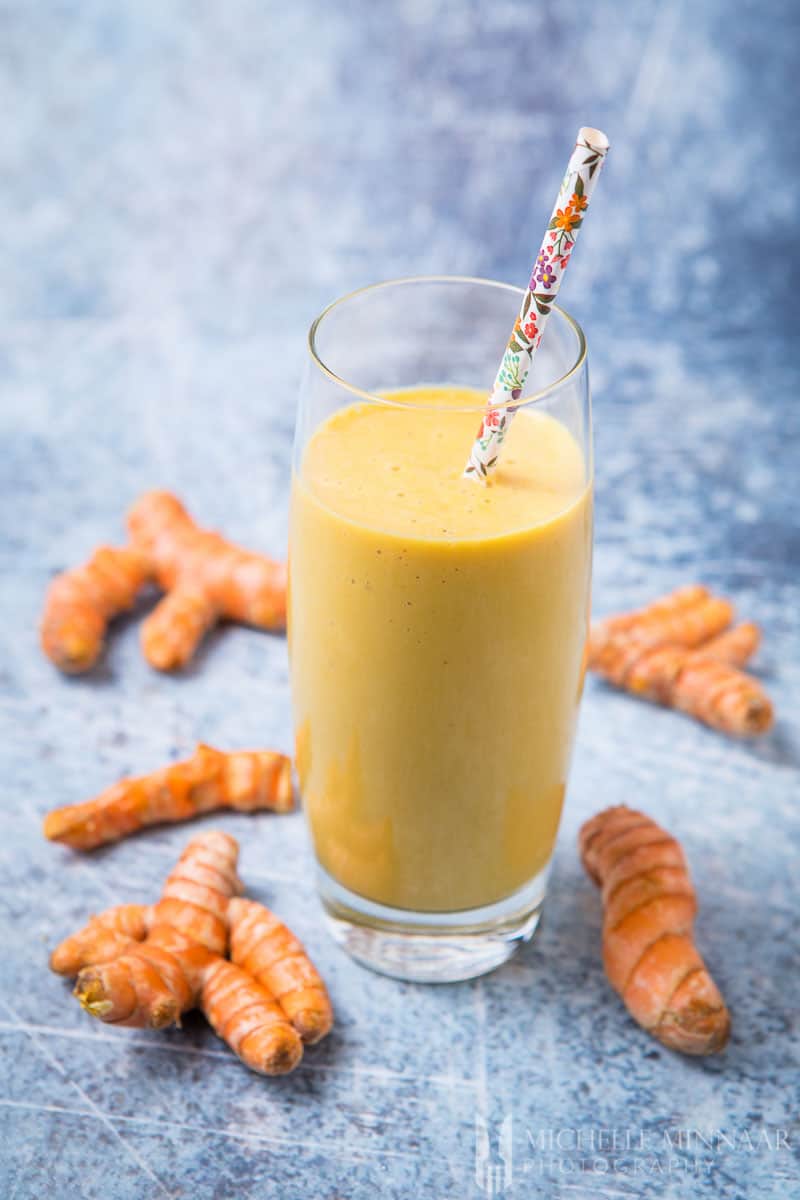 If you feel like you don't want the hassle of juicing raw turmeric every day, then check out my turmeric smoothie recipe. It involves a turmeric supplement which is very healthy! Check it out.
is there a good substitute for turmeric?
The answer is yes! Although these turmeric substitutes will never really replicate the distinct taste and colour of turmeric, they will add in the missing link to your recipe.
turmeric substitute for curry
Let's start with these turmeric substitutes for when you are in the middle of cooking a curry or another Asian dish.
Please note that this one is only suitable as a substitute for the colour because the taste of saffron is actually not so powerful. Good for risottos or paellas.
This is one of the best turmeric substitutes in curries. Curry powder also carries a distinct taste that binds ingredients together. If you are making a curry, then just use a pinch of curry powder instead of the turmeric.
If you happen to find this in an Asian specialty store, then this substitute is perfect. Use a spoonful of the paste.
I am a firm believer that a shot of fresh turmeric has the same, if not more, powerful effects in curries as the powdered form. Try it and see just how yellow your curry will look like.
Only use a pinch of it. This turmeric substitute only works for enhancing the taste of the curry. Galangal has a sharp piney flavour that works in curries well but it's not exactly the same as turmeric. Nonetheless, even galangal powder can save your curry when in doubt.
Only use annatto for obtaining the vibrant yellow colour. In terms of taste, it will not work. You can use annatto in marinades for example.
This is one of the most effective turmeric substitutes in curries. However, it is also one of the hottest. Careful with the portions as madras powder is very hot! 
This is the best and most effective turmeric substitute. Although ginger has a pungent, spicy and sweet note to it, it does the trick in curries almost every time. Use a 1:1 ratio. 
Use this as a last resort to flavour your curries. Cumin is quite powerful, and can be overwhelming in terms of taste compared to turmeric. 
fresh turmeric substitutes
If you are looking for fresh turmeric substitutes, then you must be looking for alternatives for inflammation. Not only does garlic have anti inflammatory properties, but anti bacterial properties too. If it's too powerful for you, try the other turmeric substitutes.
You can grate raw ginger and drink ginger tea. Otherwise you can also juice raw ginger and drink a shot of it. I recommend the first option, as a shot of raw ginger is very powerful and spicy. However, the effect is the same!
Garlic is known for having anti inflammatory properties and helps treat chronic diseases. An excellent substitute.
Not only does oregano have anti inflammatory properties, it also has anti fungal properties. Just a fair warning, it's not the most pleasant in terms of taste. Add a few drops into your water.
If you are on an anti inflammation diet, then you should be cooking only with coconut oil. It is a very effective treatment!
Onions are also an excellent choice, just not so pleasant to eat raw.
If you are looking for turmeric substitutes, you should also consider these when you are cooking: