These top 17 vegan green bean recipes might change the way you think about vegan food and vegan cuisine. In fact, I believe that once you've discovered these tasty 17 vegan green bean recipes, you'll go nuts for them. This collection of vegan green bean recipes is ideal for those looking for healthy meals, salads, main courses and side dishes – just purchase a large batch of green beans and give any of these a go! They are easy to prepare and don't take too much hassle at all. At the same time as being simple to make, they are flavourful, tasty, nutritious and above all delicious.
top 17 vegan green bean recipes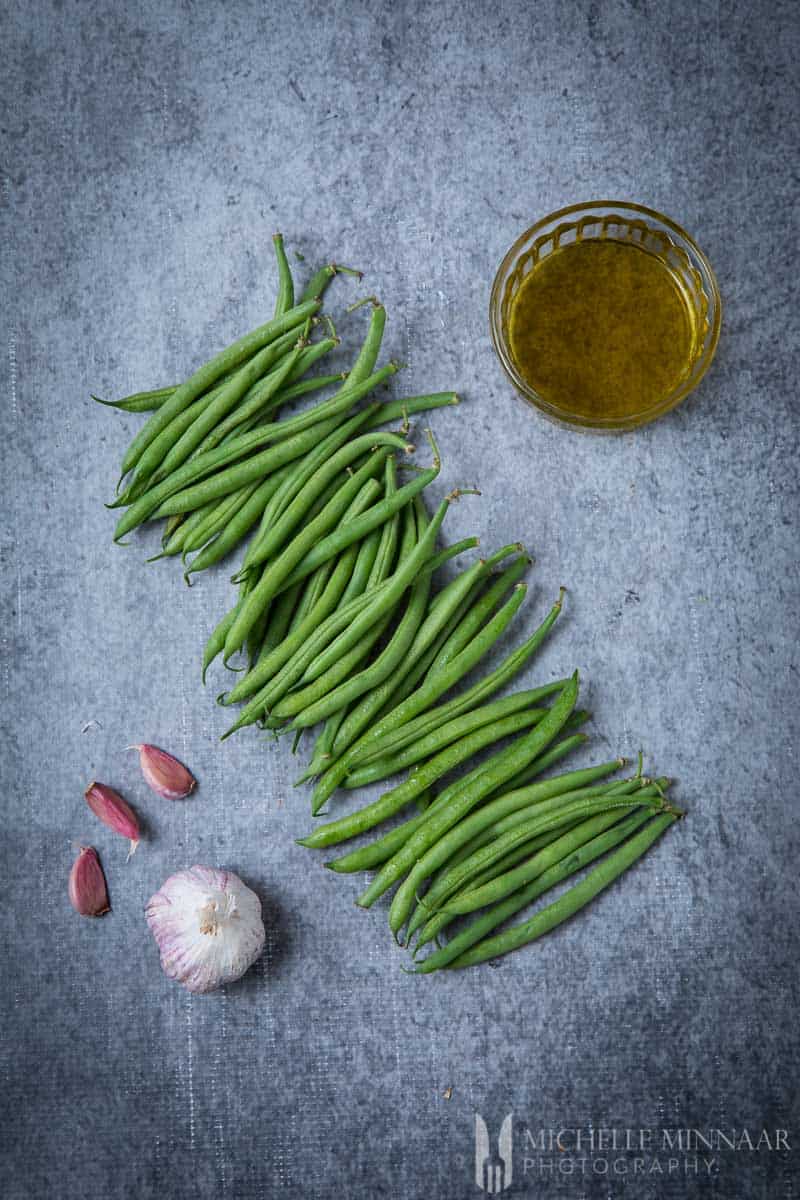 Green beans, also known as string beans, French beans, haricots verts (in French) or snap beans are widely enjoyed around the world. You can purchase them raw or pre-cooked in the supermarkets. They have long and thin green pods. Naturally, you can enjoy them raw or you can boil, bake, fry, roast or steam them. In addition, you can enjoy them whole or you can cut them into smaller pieces.
In fact, green beans make up some of the best casseroles, salads, soups, vegan main courses and vegan side dishes. So, make sure you check out these top 17 vegan green bean recipes. They'll make you love green beans! I have a feeling that one of these will become one of your favourites pretty soon! Enjoy discovering these super recipes.
best vegan green bean side dish and starter recipes
roasted green beans with garlic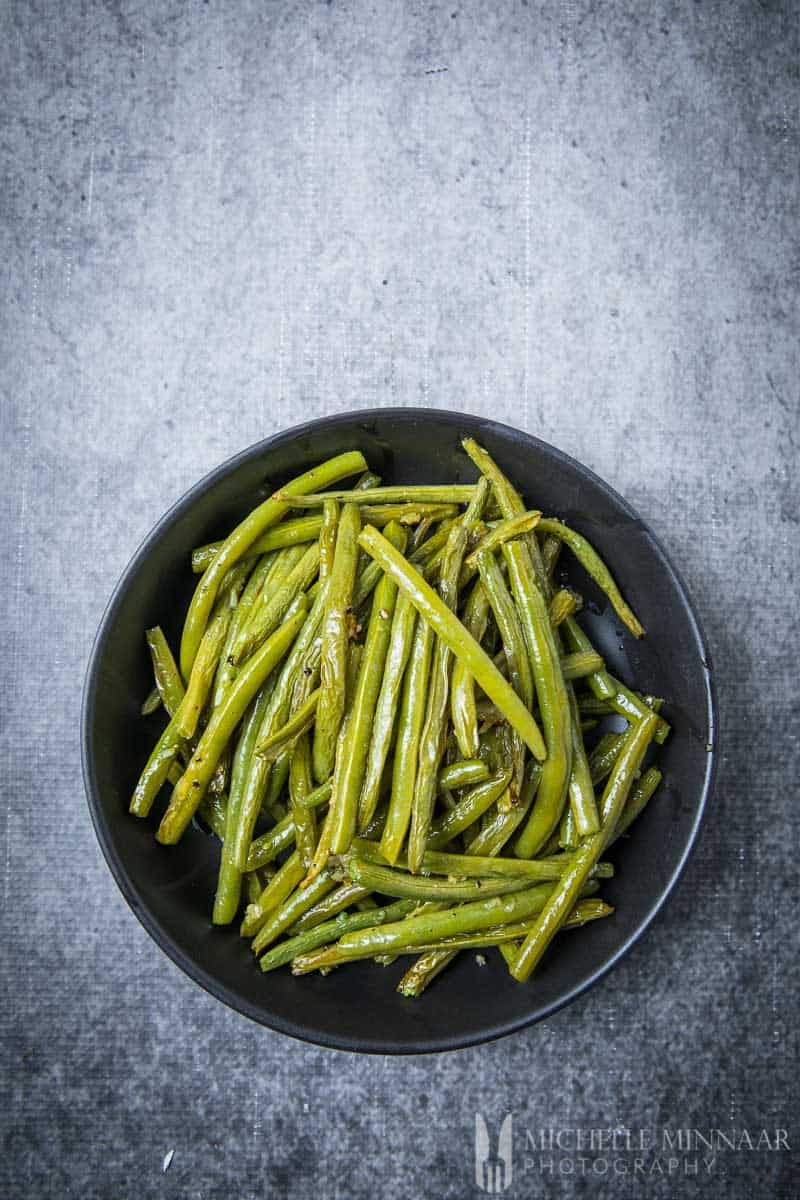 This is one of the most classic vegan green bean recipes that you can prepare in no time. Needless to say, these roasted green beans are best when you use raw or fresh green beans. Enjoy alone or serve with a fantastic, hearty vegan recipe like this vegan jambalaya. I make these roasted green beans at least once a week! Click here for the recipe.
lemony green beans
A zesty combination between the green beans and the lemon. Definitely a vegan green bean recipe with a citrusy spin on it. Perfect for the summer months. Get the recipe here.
garlic ginger green beans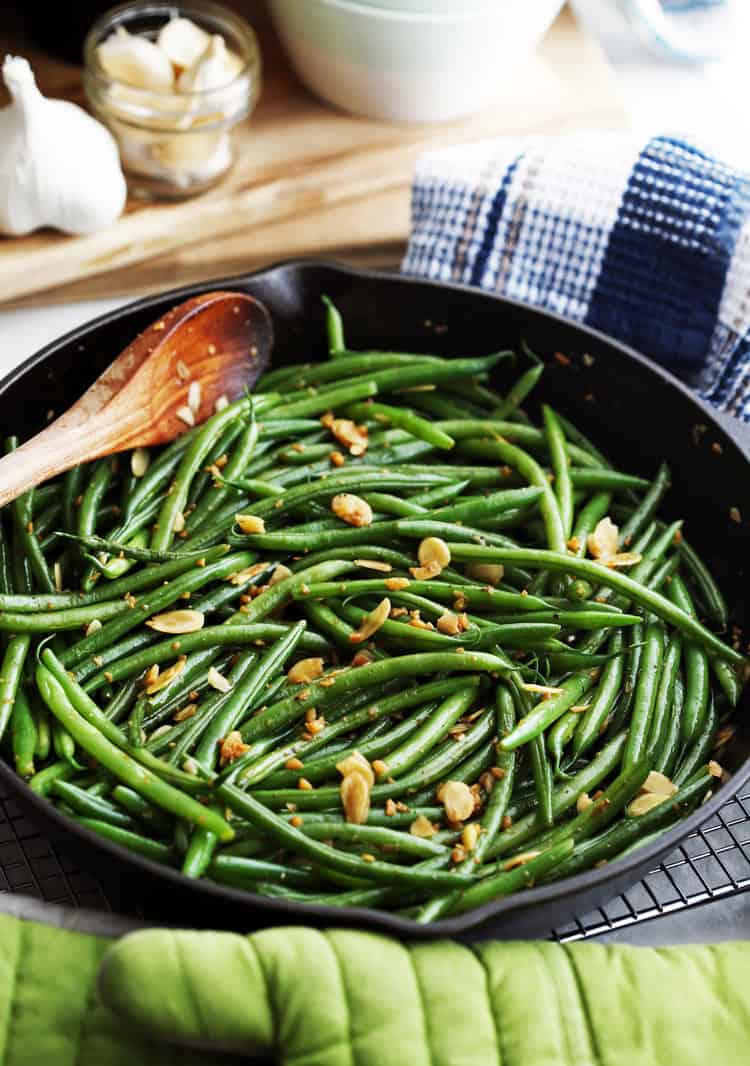 Garlic and ginger, in combination with green beans makes a flavourful vegan side dish. Works very well with vegan Asian dishes. Click here for the recipe.
sautéed fresh green beans with mushrooms
Takes the simple green bean to the next level by including the earthy flavours of mushrooms. You can spin this side dish in any direction you want. Asian, French, you name it. Get the recipe here.
green string bean soup recipe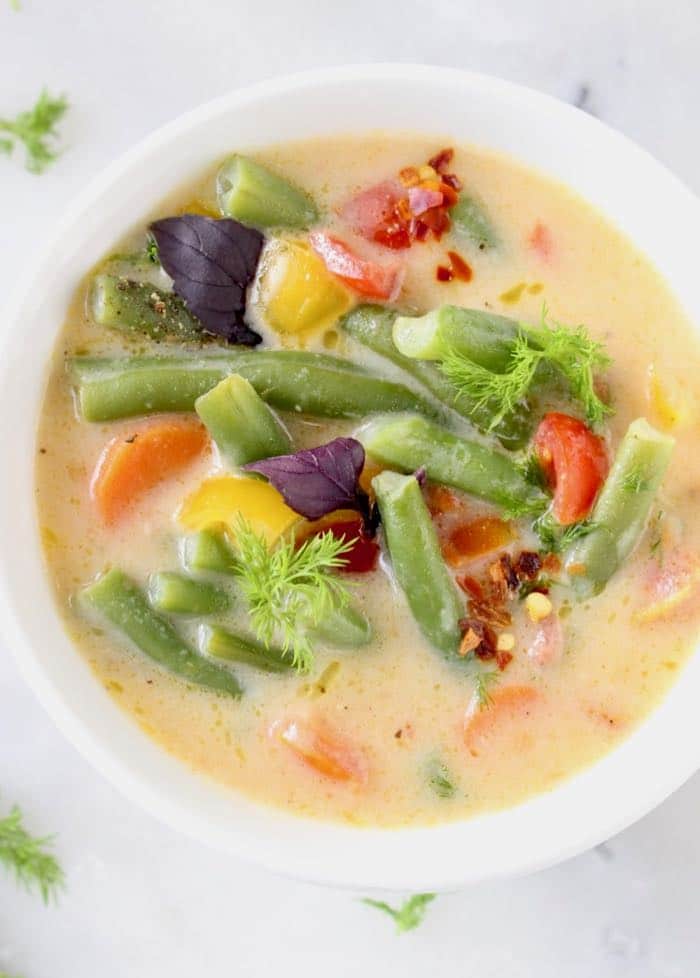 This creamy vegan starter is a plant-based Transylvanian soup that is bursting with flavour. Very easy to make from scratch. Click here to get the recipe.
top vegan green bean salad recipes
chilli, green bean and potato salad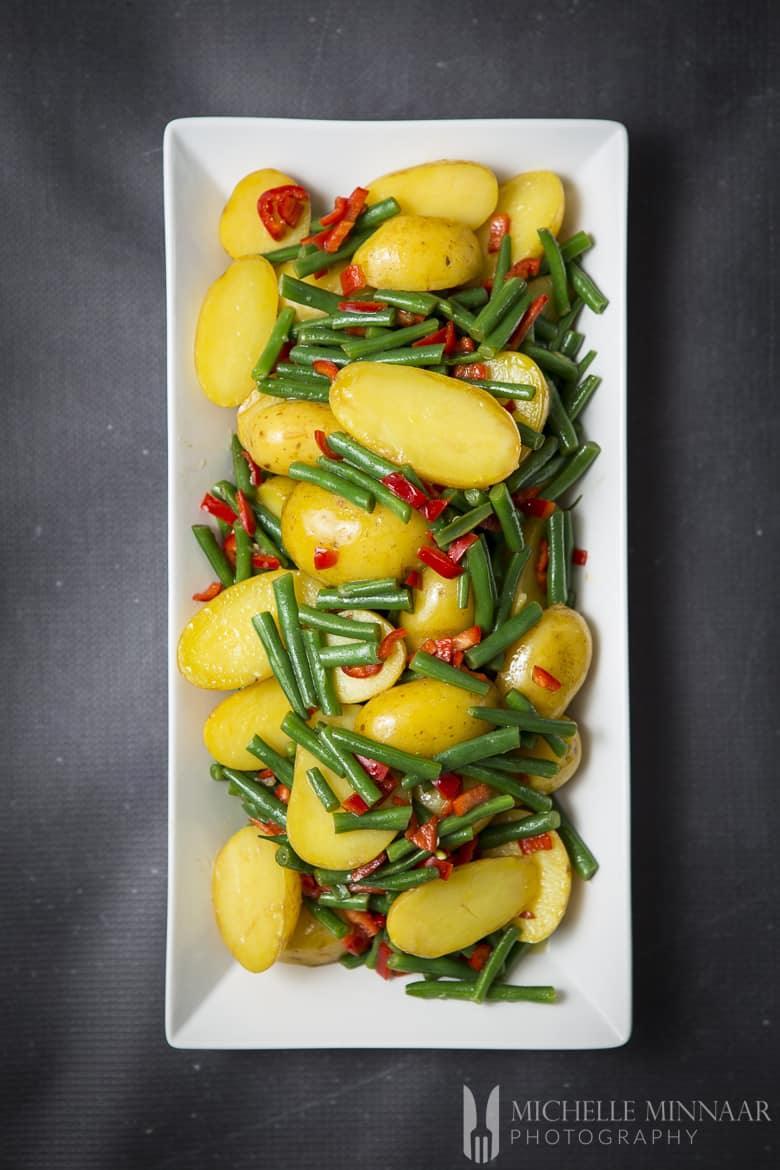 A spicy nutritious green bean salad that makes the perfect vegan salad or vegan side dish. You can easily jazz this green bean salad up by including a vegan black bean sauce for those delicious Asian flavours. Click here to get the recipe for this green bean salad.
4 bean salad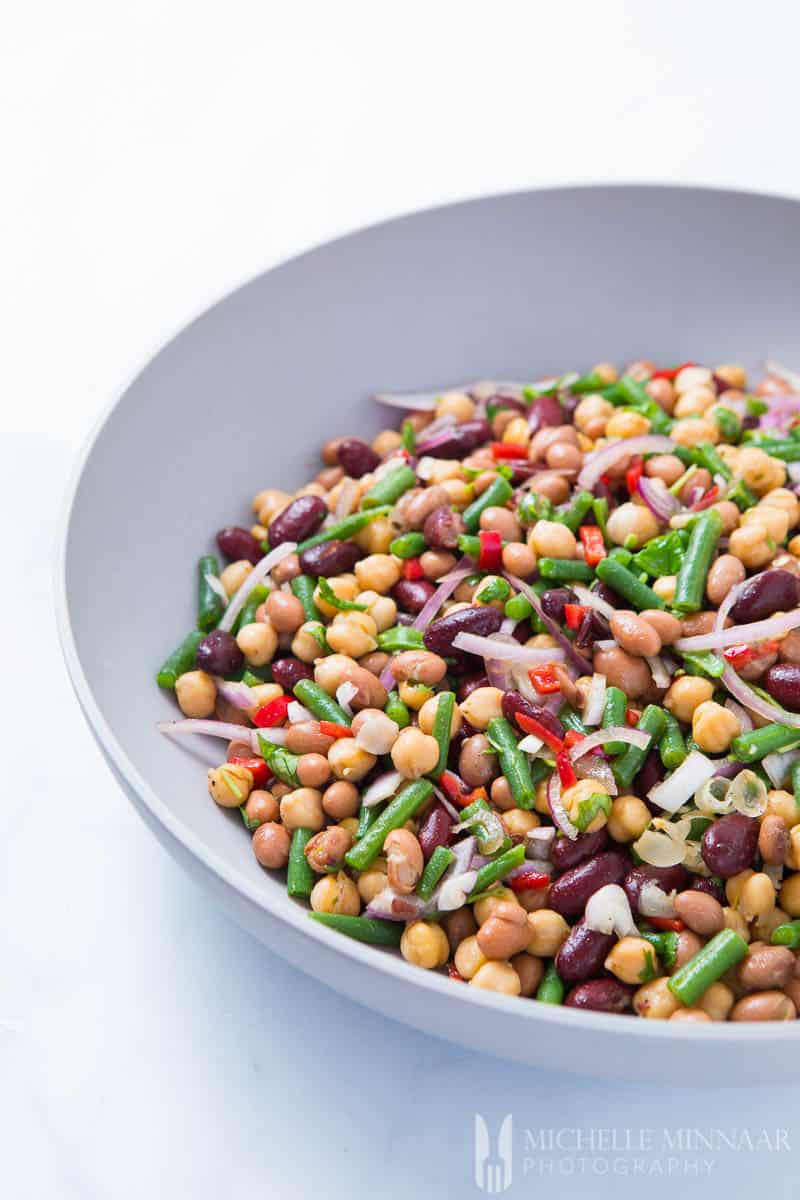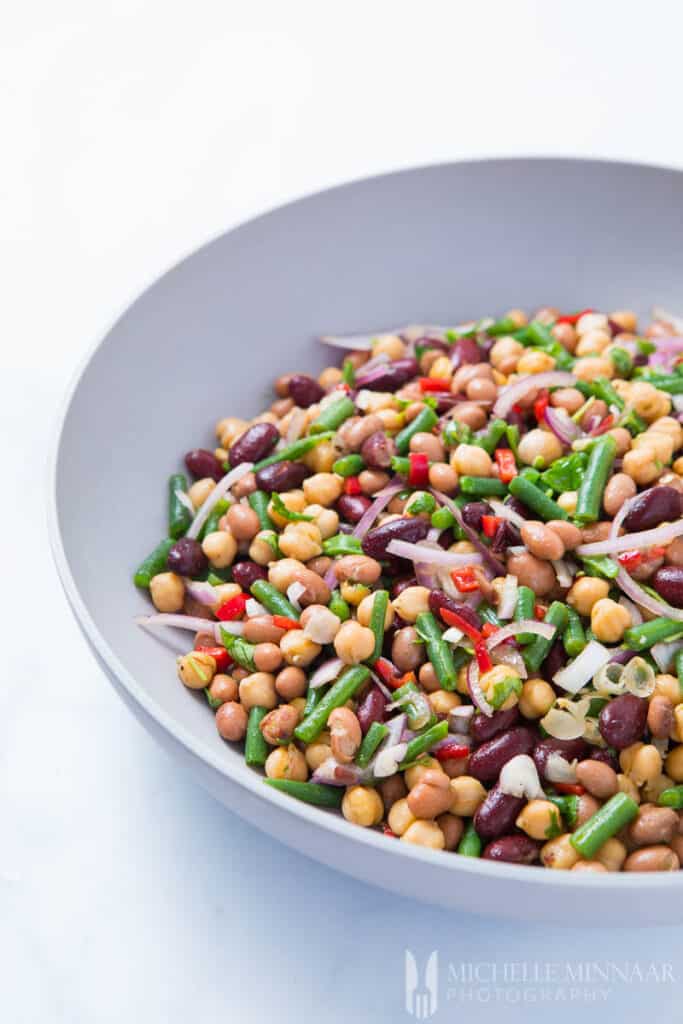 A fibrous and nutrient-rich vegan recipe that's perfect as a side dish, starter, appetiser or snack. Most of all, it is extremely budget-friendly while being filling and healthy at the same time. Munch away! Click here for the recipe.
warm butterbean, red pepper, green bean and mushroom salad
This warm butterbean salad with green beans is a splendid idea when the weather is not so pleasant outside. Combine with soy sauce to get some Asian flavours running through this hearty and warm salad. Click here to get the recipe.
green bean and red onion salad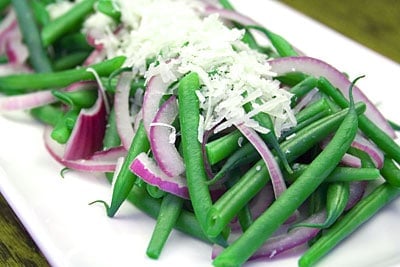 A refreshing green bean salad best enjoyed cold. To keep this recipe strictly vegan, take out the pecorino cheese. Substitute by sprinkling with nuts like cashews for crunch or add slices of avocado on top for that creaminess. Click here for the recipe.
vegan instant potato salad with green beans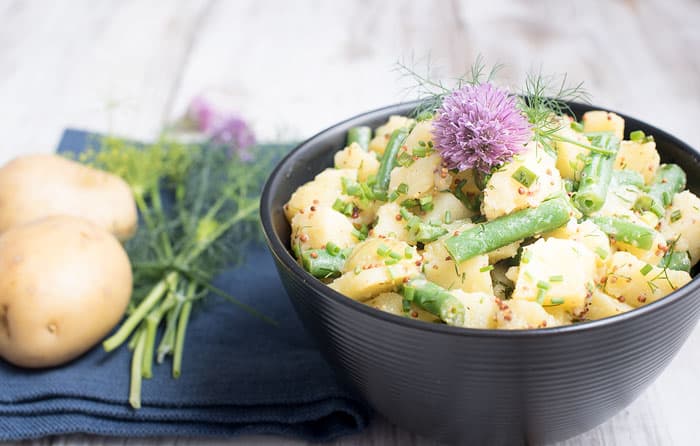 Enjoy the crunchy green beans with creamy potatoes in the form of a salad. Best enjoyed with a tarragon dressing. Get the recipe here.
Italian potato salad with green beans
No – this salad doesn't call for any mayonnaise whatsoever, making it perfectly vegan. Heavy on the green beans and dressed with herbs, this salad is amazing. Click here to get the recipe.
vegan green bean main course recipes
butternut, green beans, red onion and tofu with maple syrup glaze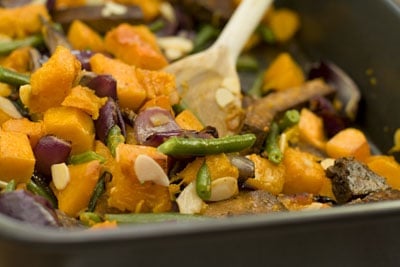 This is an amazing tray bake. It includes baked green beans with a sweet finger-licking maple glaze. Oh so good! One of the best green bean recipes around. Just take a look for yourself. Click here to get the recipe.
fasolakia
This is a healthy vegan Greek recipe that uses the lovely green beans in a spicy stew. Don't miss out on tempting your taste buds with this recipe. Get the recipe here.
kid-friendly green beans sabzi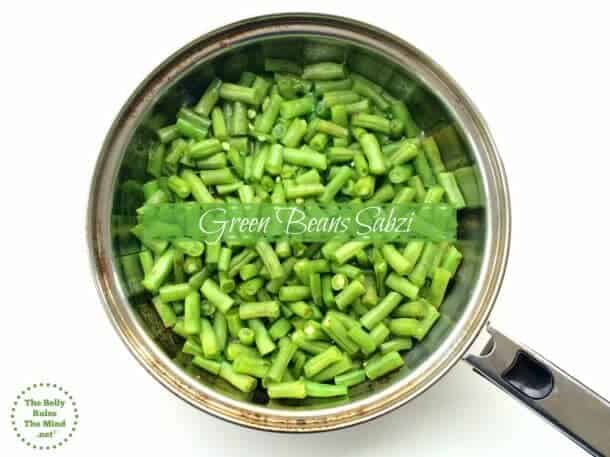 An Indian sabzi recipe that's not overwhelmingly spicy for your children to enjoy. Plus, it's vegan! To make a large batch, you'll need a considerable amount of green beans. Double up for the main course. Get the recipe here.
green beans poriyal
Similarly to my beetroot poriyal, this green bean poriyal packs a punch of flavour. It includes freshly grated coconut, turmeric, curry leaves, mustard seeds and more. Click here to get the recipe.
So, which one of these top 17 vegan green bean recipes captured your eye most? As you can see, you can use green beans in many forms to create various types of green bean recipes. For instance, you can enjoy French, Indian, and Asian-inspired green bean dishes. In my opinion, eating green beans is also an excellent way to start eating vegan. In fact, these beans might help you get your lifestyle on to a healthier track.
*All images are owned by GreedyGourmet.com or the respective food blogger