Achar gosht is an authentic Pakistani recipe which combines a range of flavours to interest your palate. Overall, achar gosht or achari gosht looks like the usual curry dish, but it is far from ordinary. Traditionally, achar gosht is in fact a spicy pickled mutton curry. However since I couldn't get my hands on mutton, I used beef instead. So, this achar gosht recipe is actually made with stewing beef! Indulge in the tangy and tart flavours of the pickle with the umami flavour of the beef. For those of you wondering whether or not this curry has high heat, yes it does! In fact, this recipe calls for using six red chillies – which of course you can omit if you prefer a milder curry. Enjoy this winter warmer!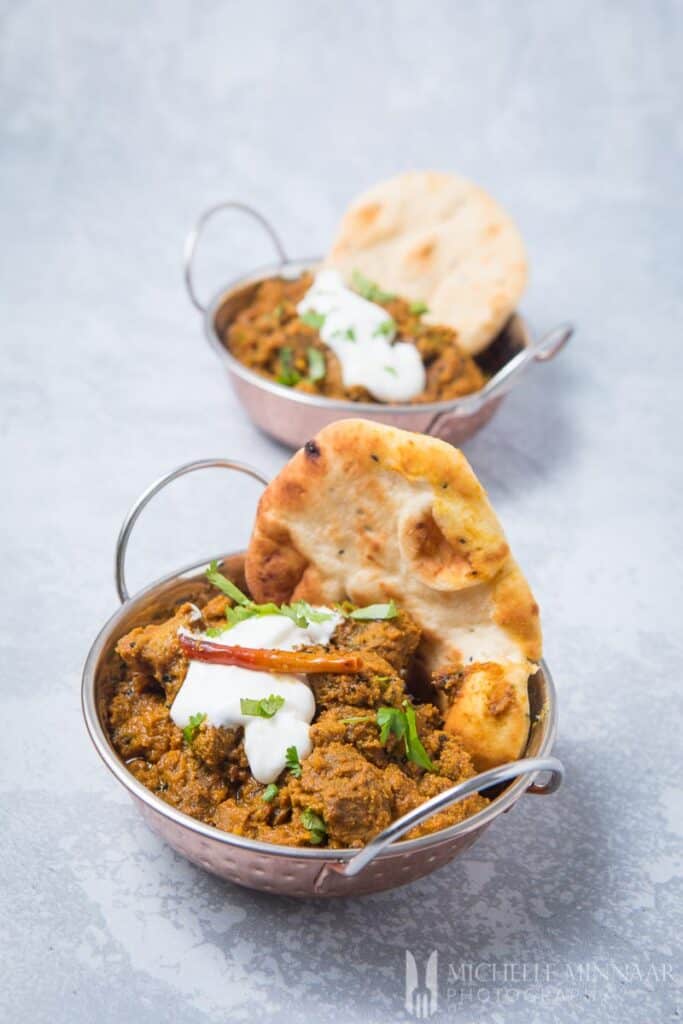 achar gosht beef recipe
Achar gosht is a very popular Pakistani recipe. It celebrates the traditional cuisine of Uttar Pradesh and combines achari flavours with pickle and meat. In addition, it is a very popular dish for serving during weddings and celebrations. Generally speaking, achar gosht or achari gosht (as the name suggests), is made with tender meat which is cooked over a period of time. Ordinarily, the classic version of achar gosht involves mutton. However, today many variations of the curry exist. Hence, you can consider the substitutes below. For now, I've stuck to using beef.
achar gosht – chicken
Achar chicken or an achar gosht chicken recipe is one of the most popular meat substitutes. Although it uses white meat, the pickle and acidic flavours still run through this curry. The flavours work well with other poultry as well.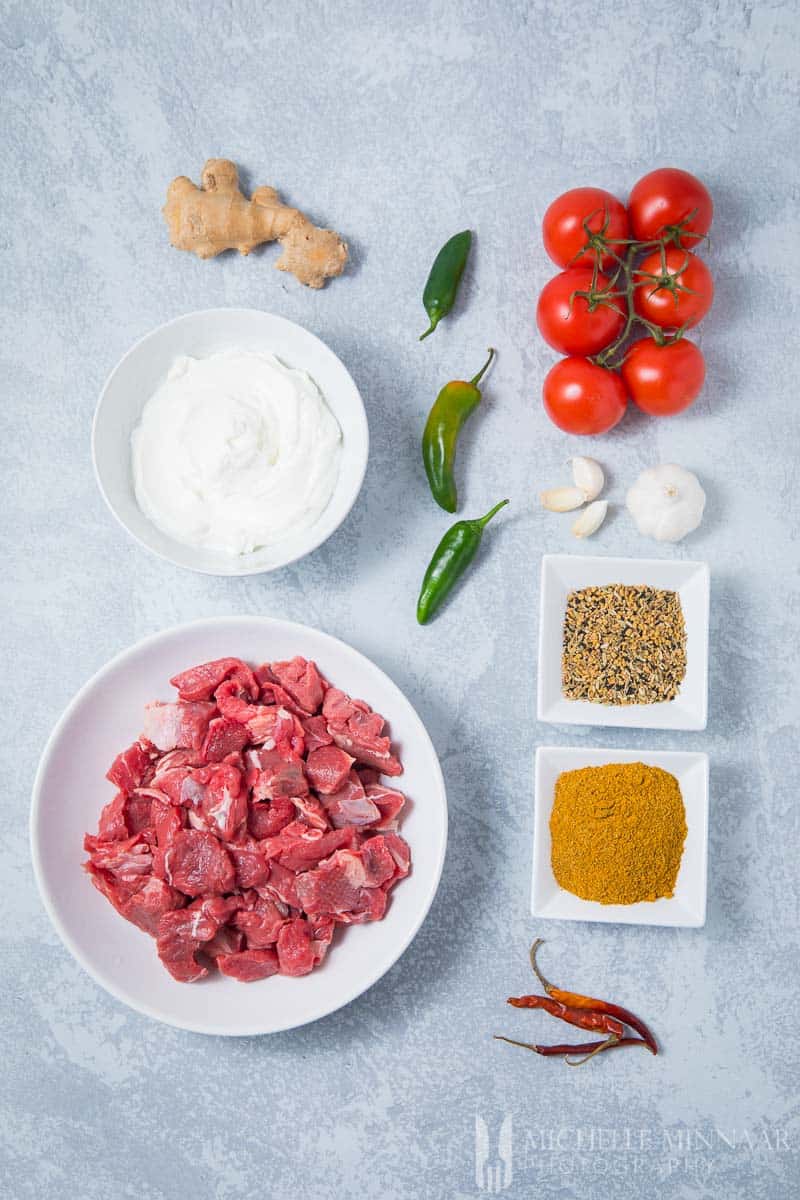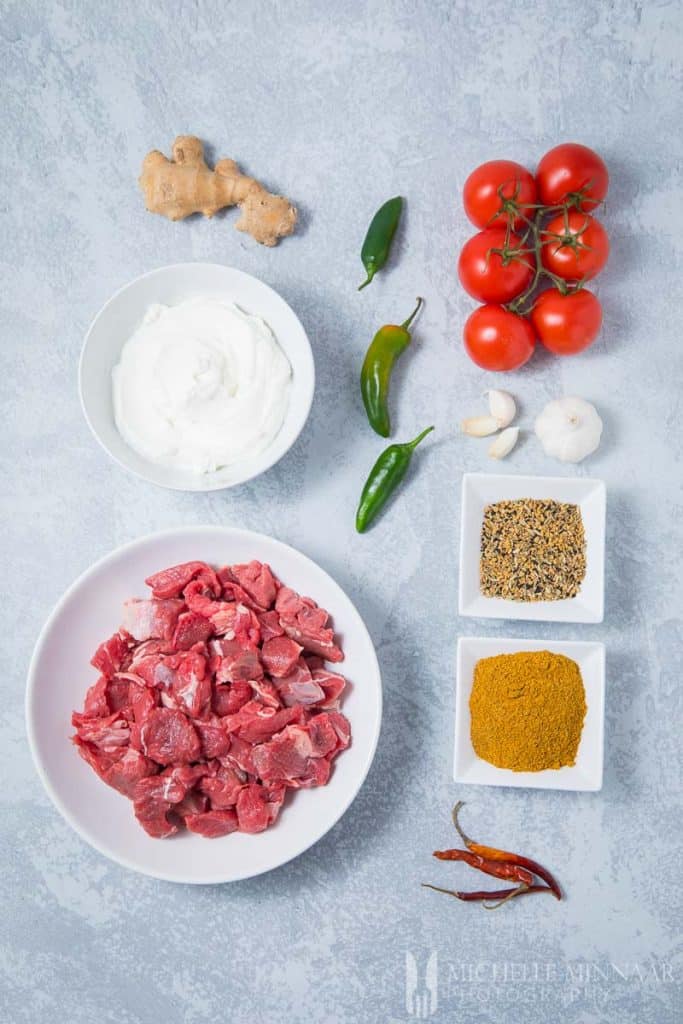 achar gosht – paneer, vegetarian
For a no-meat version of this curry, you can always substitute the meat element with paneer. Paneer is un-aged Indian cheese that one commonly cooks like tofu. You can use paneer in many Indian curry recipes such as malai paneer or paneer korma curry. The achari flavours pair well with the acidic and soft flavours of the cheese. The paneer is perfectly suitable for a milder version of this curry.
what makes achar gosht special
It's not the meat or the different variations of the achar gosht curry that make it special. It is the key ingredients that make up this curry that give it its unique flavour. These include fenugreek, onion seeds, and fennel seeds which give an acidic and pickled flavour. So, dare to try your hand by making this homemade masala from scratch!
Next, for a bit of heat, chop up some green or red chilli peppers.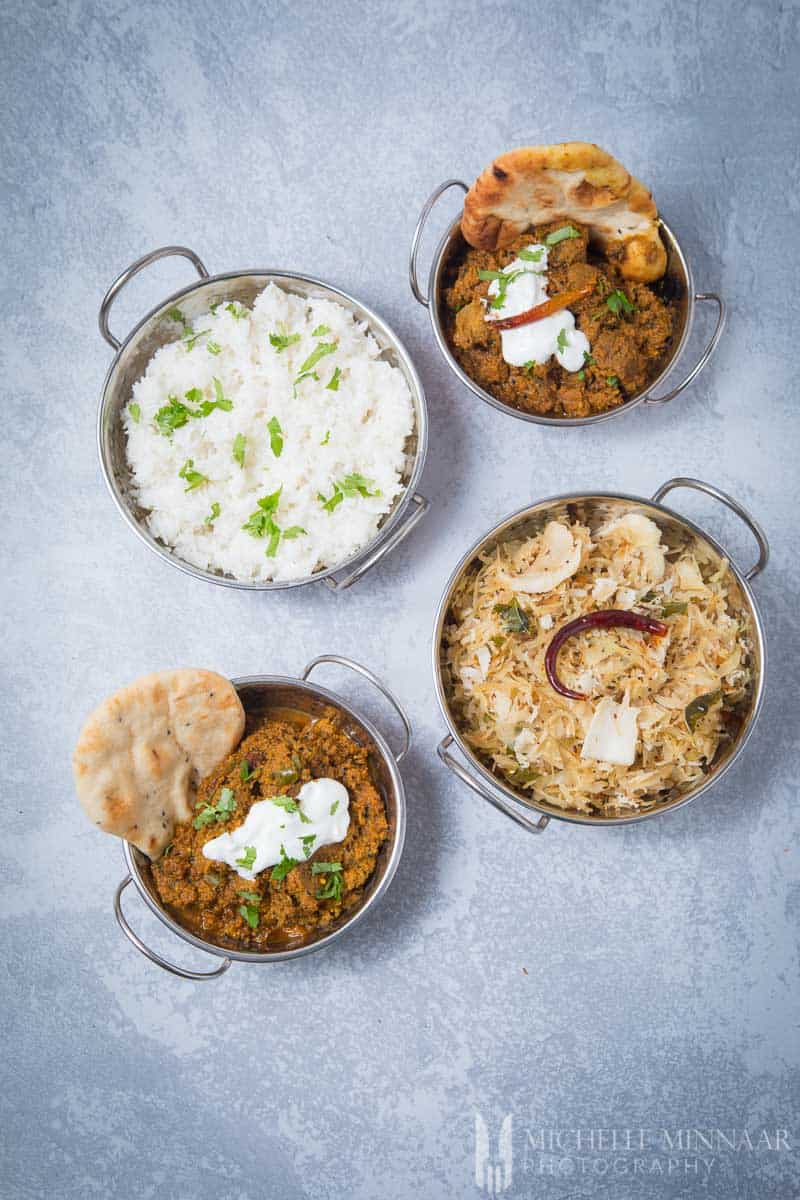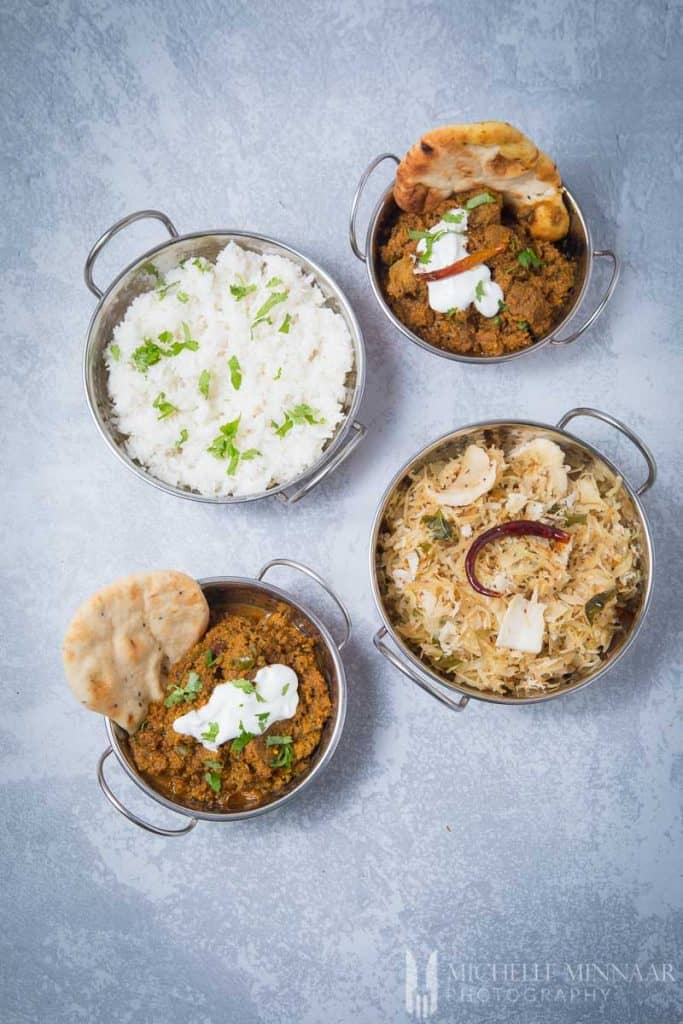 achar gosht – yoghurt
This recipe, as with any achar gosht recipe, calls for the addition of plain white yoghurt. Be careful when you add the yoghurt into the achar gosht curry. If your curry is on too high a heat, you risk that the curry will split. Once this happens, its very difficult to rectify the situation. So, even if you have the curry at a simmer, take it off the heat and let it cool down. Only then, stir some yoghurt gently into the curry bit by bit. Never all at once. Let the yoghurt incorporate slowly and fuse with the rest of the curry.
achar gosht – no yoghurt recipe
If you haven't got any yogurt at home, you can also substitute with sour cream or tofu sour cream. For a lactose-free substitute, you can go for the lactose-free products.
variations
As stated before, there are many variations of this curry. Simply put, you can add any vegetable or herb to make the curry your own.
If you wish to have a more pronounced pickled flavour, you'll need to add more acidic elements. Options include adding either more yoghurt or sour cream. Or, instead of the creamy elements, you can always chop up three or four tomatoes and toss them in.
For a sweeter flavour, add more garlic and onion. You may also opt for adding red bell peppers for that sweet note.
For an earthy flavour, you can add spinach into the curry. Your options are limitless and the choice is complete yours!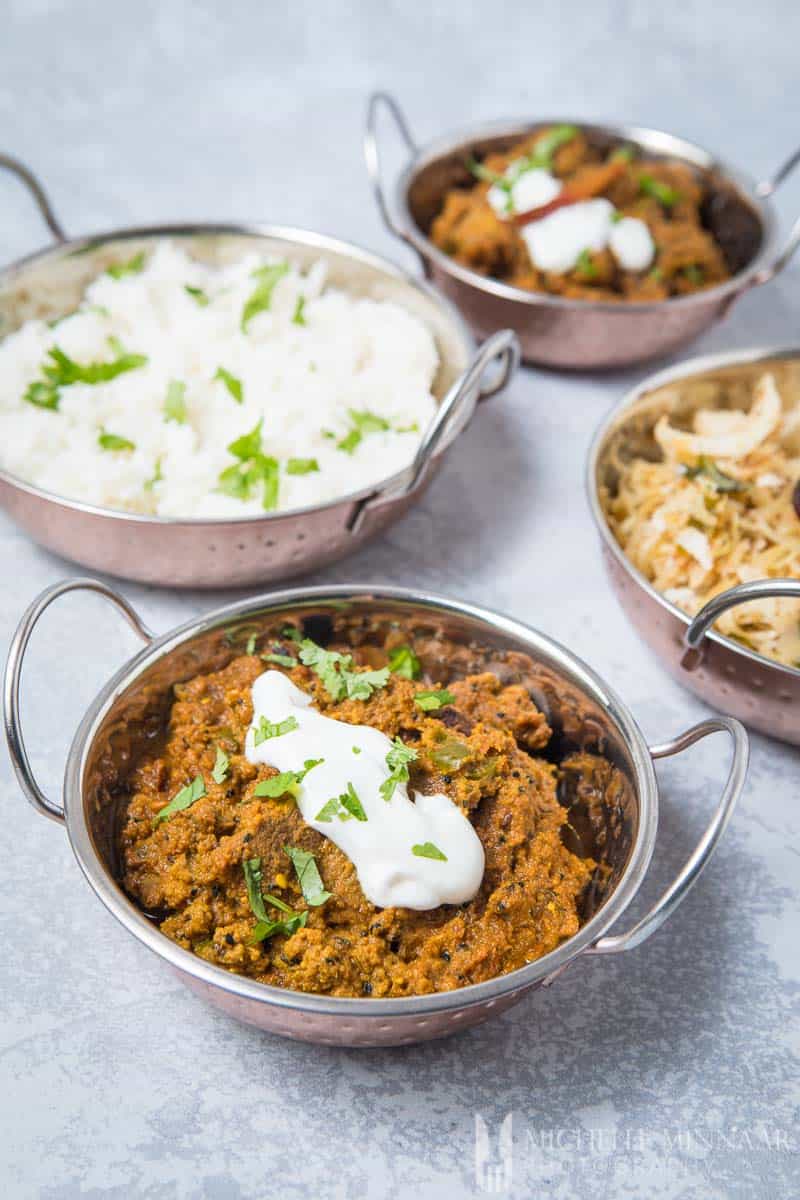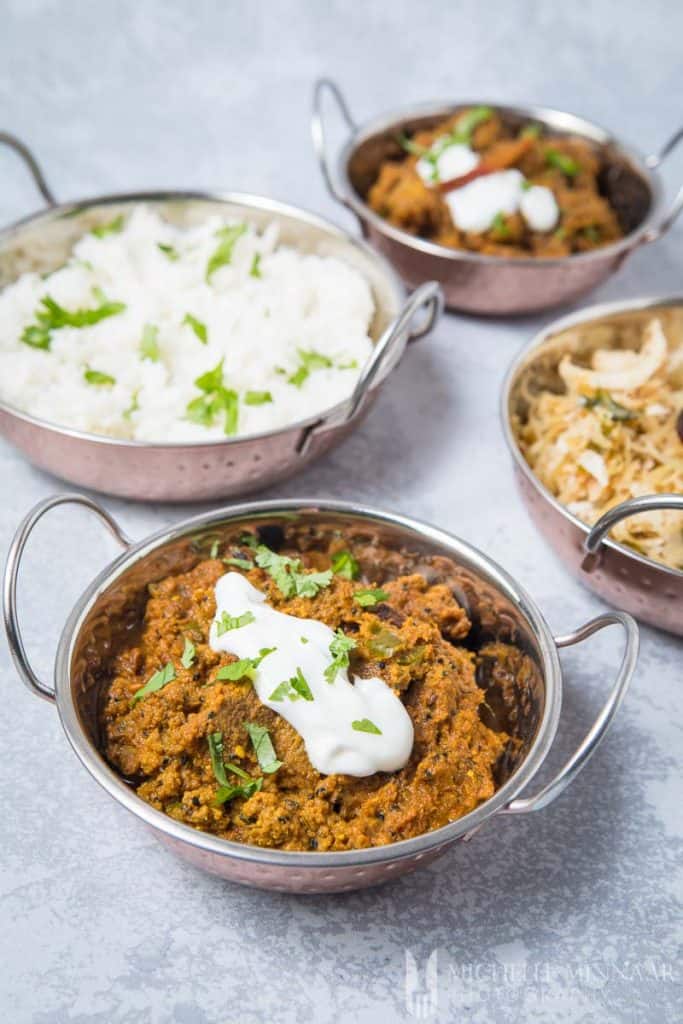 serving
steamed white basmati rice or pilau rice
You can always tone down this spicy mutton curry with a bowl or side of steamed white basmati or jasmine rice. White rice is a neutraliser, so combine the rice with a spoonful of the achar gosht. This way the flavours of the pickle mutton curry will stand out without overwhelming your palate. It's also an excellent idea if you feel like having a winter warmer recipe or munching on comfort food. The white rice will fill you right up and with it you can increase the portion size, too. Hence, you can even have a lazy evening the day after!
chapatis or rotis
Chapatis are unleavened flatbreads commonly found in Pakistani, Indian and other Asian cuisines. You might also know chapati as roti or phulka. A classic side dish that you have to try!
naan
Naans are slightly heavier than chapatis and these oven-baked flatbreads come in various forms. For example, you can munch away on a traditional naan, or a garlic flavoured naan. Or try my favourite, sweet peshwari naan which contains almonds. It is the best side dish for very spicy curries as the sugar will bring the heat down. Careful not to eat too much of the naan.
toppings and garnish
Achar gosht is already a very intense mutton curry, with pickle flavour throughout. To jazz it up, you might wish to include some fresh herbs for a twang of freshness. Naturally, coriander works splendidly. However, fresh parsley leaves will also do the trick. Otherwise, you can also cut up some small green peppers (with no or little heat) for some crunch. If you are solely looking for a very spicy and flavourful curry, I suggest chopping some green Indian chillies or just serving them whole. Just cook a few whole green chillies in the curry and let them soften up. Beware, the dish will be very spicy.
Print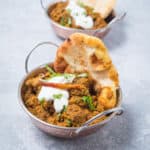 Achar Gosht
---
Description
Achar gosht, also known as achari gosht, is a spicy Pakistani curry which combines tenderised meat (usually mutton or beef), pickled flavours and some heat.
---
45

ml (3 tbsp) ground coriander powder

45

ml (3 tbsp) garam masala

10

ml (2 tsp) turmeric powder

60

ml (4 tbsp) plain yogurt

1

kg (2lbs) stewing beef, cut into bite-sized pieces

15

ml (1 tbsp) mustard seed

15

ml (1 tbsp) nigella/kalonji seed

15

ml (1 tbsp) fennel/saunf seed

15

ml (1 tbsp) cumin/jeera seed

15

ml (1 tbsp) fenugreek/methi seed

6

dried red chillies

30

ml (2 tbsp) oil

6

tomatoes, washed and cored

3

green chillies, washed and topped

6

garlic cloves, peeled

5

cm (2in) fresh ginger, peeled

6

onions, peeled and finely chopped
---
Instructions
Stir the coriander, garam masala, turmeric and yogurt thoroughly in a large bowl.
Place the beef chunks in the bowl and make sure all surfaces of the meat are covered with the marinade.
Marinate the beef for at least 3 hours but preferably overnight.
Dry roast the spices – mustard, nigella, fennel, cumin, fenugreek and chillies – for 5 minutes or until their aromas are released.
Remove from the heat and let the spice mixture cool down for a few minutes before coarsely grinding it with a mortar and pestle. Set aside.
Blend the tomatoes, chillies, garlic and ginger in a food processor until it forms a smooth puree. Set aside.
Heat the oil in a pan and gently fry the onions until softened.
Add the ground spice mixture and fry for 2 minutes.
Turn up the heat and add the marinated meat, ensuring all sides get browned.
Add the spiced tomato puree, stir well and let the mixture reach a slow simmering point.
Cover and cook for 90 minutes, or until the meat is tender.
Garnish with coriander leaves and serve with yogurt to temper the heat. Naan and pilau rice make great accompaniments!
Notes
Beef was used in this case but it can be substituted with lamb. Traditionally, mutton is used.
While the curry is simmering, do check it every now and then. It's a thick curry that might need topping up with a splash of water in order for the curry not to dry up and burn.
If you're struggling to get hold of any fenugreek seeds, don't worry! You can always use one of these fenugreek substitutes instead!
Prep Time:

30 minutes

Cook Time:

2 hours

Category:

Main

Cuisine:

Indian
Nutrition
Serving Size:

1 serving

Calories:

459

Sugar:

9 g

Sodium:

144 mg

Fat:

17.6 g

Saturated Fat:

4.7 g

Carbohydrates:

19.5 g

Fiber:

4.6 g

Protein:

54.4 g

Cholesterol:

150 mg
save the recipe to your pinterest board