Nothing hits the spot like a delicious, hearty stew when the weather gets cold and there's snow on the ground. I'm ready to curl up next to the fire and enjoy a bowl along with some crusty Irish soda bread just thinking about it!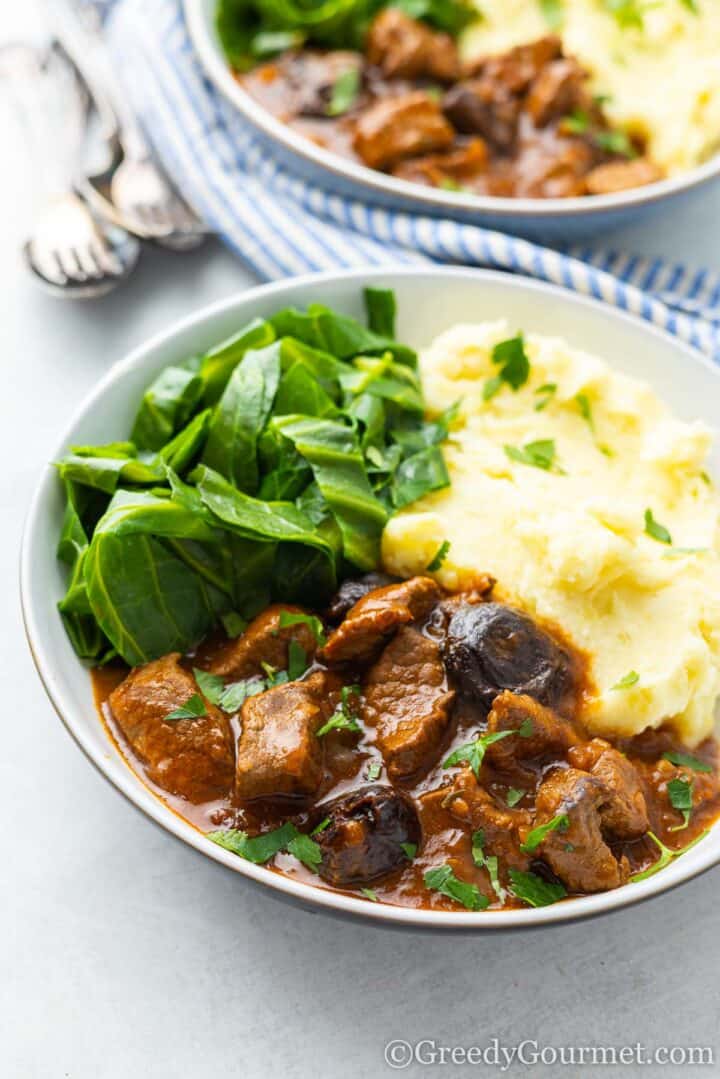 This Irish beef and Guinness stew covers all the bases of a classic stew recipe; with delicious slow-cooked beef, sauteed vegetables, and plenty of flavor from the herbs and tomato paste. Guinness adds a rich, earthy, roasted flavor to many traditional Irish recipes, complimenting the meat and veggies.
You may be more familiar with drinking Guinness on Saint Patrick's day, but it certainly lends itself to this Guinness beef stew. In fact, Guinness is a popular beer to add to recipes like corned beef and cabbage and even cakes and baked goods.
This Irish beef and Guinness stew takes inspiration from my hearty, filling Beef Stew with Mushrooms and Red Wine and Oxtail Stew with Beans and Red Wine both true comfort foods. This Guinness beef stew would be excellent served alongside my Roasted Garlic Mashed Potatoes or a light Pumpkin and Beetroot Salad for some added balance to your meal.
I think of this Irish stew as a cold-weather meal, great for turning the oven on and warming up the house during the wintertime. This substantial meal will serve a group at a dinner party or is perfect for a weekend dinner with the family after a long day of playing in the snow.
Why You'll Love This Recipe
It's filling, delicious, and hearty
The ingredients are easy to find
It uses one pot to cook all of the ingredients
It's great on its own or served over mashed potatoes or egg noodles
It's impressive yet easy to make
Equipment Needed to Make This Recipe
Ingredients You Need For This Recipe
This beef and Guinness stew recipe uses common ingredients that you may already have or can easily find in the grocery store.
Guinness – this dark beer added to the beef stew gives it some depth and earthiness. All of the alcohol in the beer will cook away during the process, so no need to worry about serving it to kids.
Pitted prunes – Dried prunes elevate this recipe with their sweetness and added texture.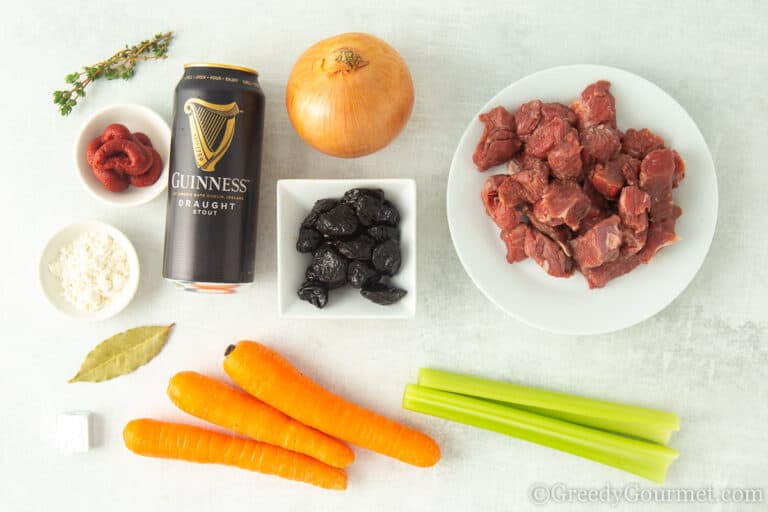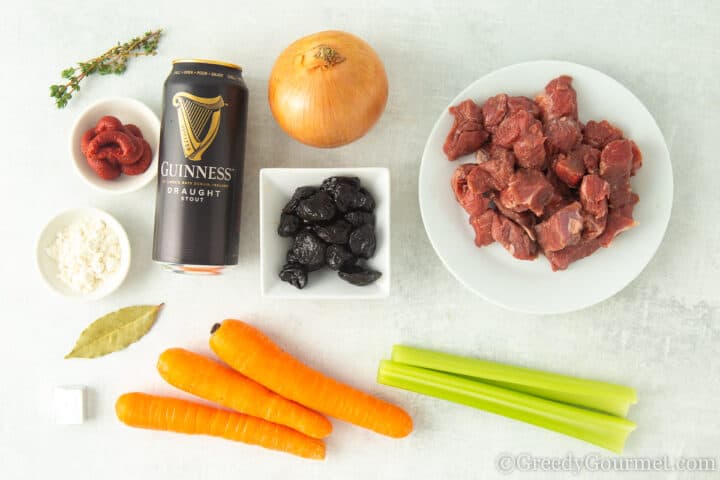 How To Make This Recipe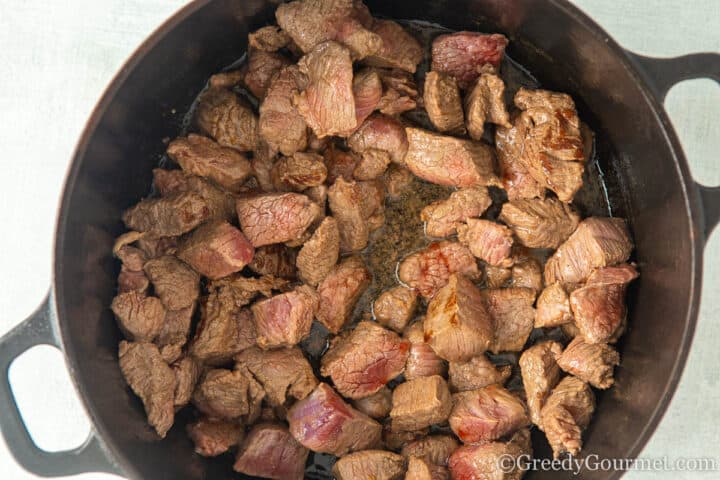 Brown the beef in batches. Remove from pot.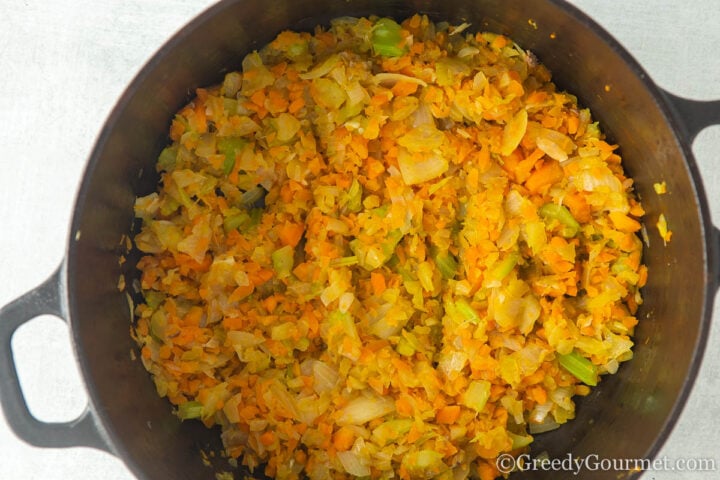 Soften the vegetables in oil.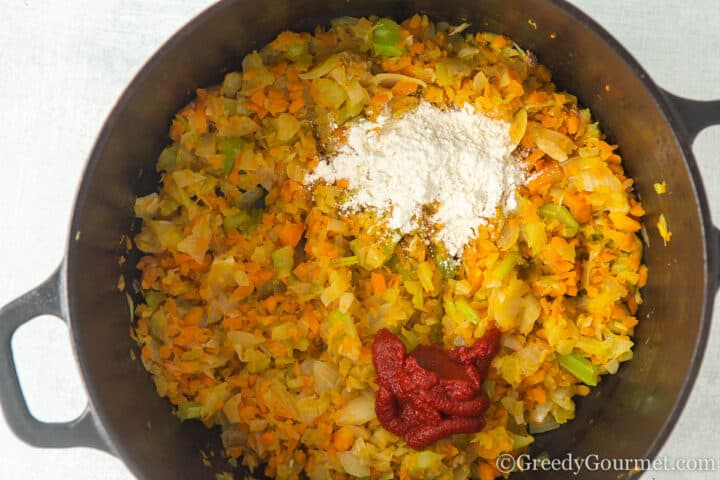 Stir in flour and tomato puree.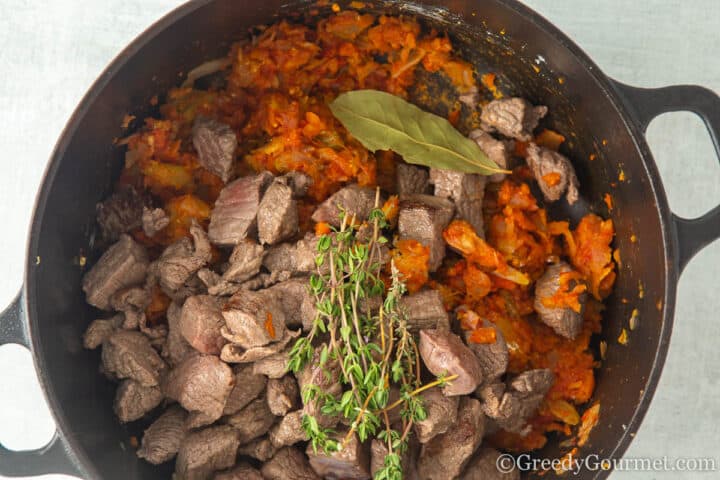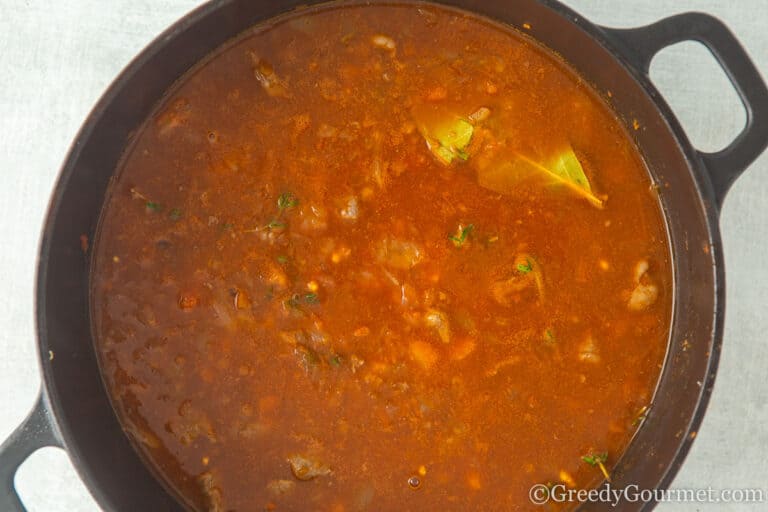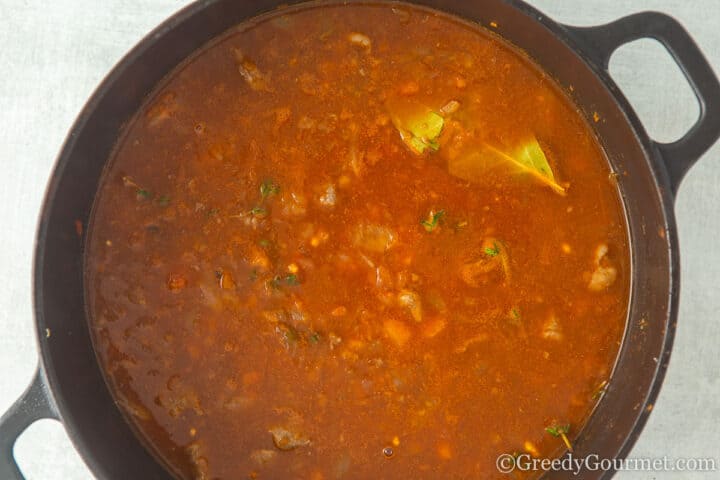 Pour in stock and Guinness. Cook for 1 hour.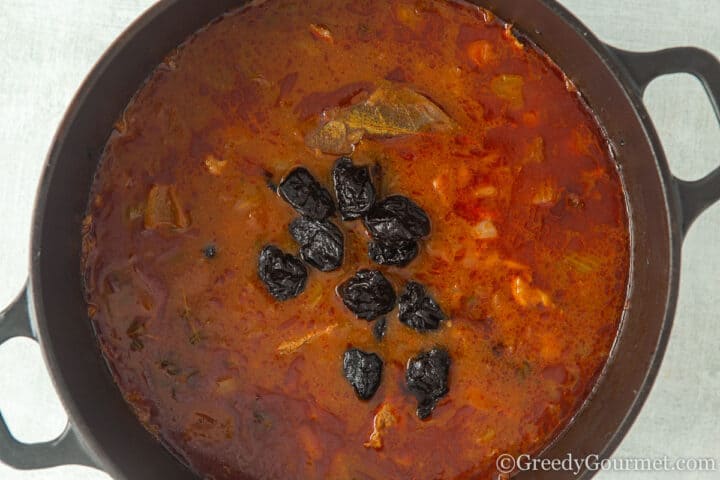 Stir in the prunes and cook for another 30 minutes. Serve with mash. Enjoy!
Top Tip
Be sure to thoroughly dry the cubes of beef before adding them to the hot oil. Dry meat equals better-browned beef and more flavor in the stew.
What to Serve With Beef and Guinness Stew
This one-pot Guinness stew is substantial to eat on its own, but it goes great with additional sides, cocktails, and a lovely dessert to finish off the meal.
Sides
Try these sides to enjoy with this delicious Guinness beef stew
Sous Vide Asparagus – this crunchy and perfectly cooked asparagus is a light side dish to accompany the heavier Irish Guinness stew
Honey Roasted Parsnips – these sweet and satisfying honey-roasted parsnips are a super delicious side to substantial meat dishes, and this stew is no exception
Rosemary Potatoes – what goes better with beef and Guinness stew than potatoes? These rosemary potatoes are a deviation from the classic mashed potato side dish usually served with stew
Desserts
If you have room after a filling meal of beef and Guinness stew, make your way through one of these decadent desserts
Eggnog Creme Brulee – this seasonal specialty is typically enjoyed around the holidays but can be made any time of the year
Orange Tart – the bright citrus in this dessert will serve as a palate cleanser after finishing a helping, or two, of beef and Guinness stew
Rum and Raisin Ice Cream – this homemade ice cream is a boozy delight that you will definitely want to leave room for after your meal
Cocktails
There are a couple of simple cocktails that will elevate your evening before, during, or after your meal
Red Wine – while not really a cocktail, red wine is a classic pairing with beef, especially stew, and will complement the beef and Guinness stew very nicely.
Old Fashioned – if liquor is more your thing, try an old-fashioned made with bourbon. The warm notes of the cocktail will go along great with the hearty Guinness stew recipe.
Top Tip
You can cook the stew on the stove over medium-low to medium heat for the same amount of time, but the oven heats it better because it's all-encompassing.
What is Guinness?
Originating in Dublin, Ireland, Guinness is an Irish dry stout that dates back to the year 1759. Guinness is brewed in nearly 50 countries and sold all over the world.
Guinness is made of water, barley, hops, brewers yeast, and roast malt extra. Its characteristic dark color comes from roasted barley, and its creamy head is the product of nitrogen and carbon dioxide mixed together in the beer. Surprisingly, Guiness is low in alcohol at around 4.2%.
There are several different varieties of Guinness, but the most popular is easily the Guinness draught.
What is Traditional Irish Stew?
Traditional Irish stew combines potatoes, onions, carrots, and mutton for a simple and straightforward meal. Sometimes, instead of mutton, which is mature sheep, lamb is used instead. This simple stew is quite different than this non-traditional beef stew recipe which contains several more ingredients.
How Do I Store Leftovers?
Store the Guinness beef stew in an airtight container and allow it to mostly cool down before placing it in the refrigerator.
How Long Will This Recipe Last in The Fridge?
This Irish beef stew recipe will keep in the refrigerator for three to four days when properly stored. As always, make sure to give the stew a smell before eating it to make sure it hasn't turned.
Can This Recipe Be Scaled?
Yes, this recipe can easily be scaled. Double or even triple this recipe and use a second heavy pot or casserole dish with a lid. Do not overcrowd the pot when browning the meat, instead, do it in batches if necessary.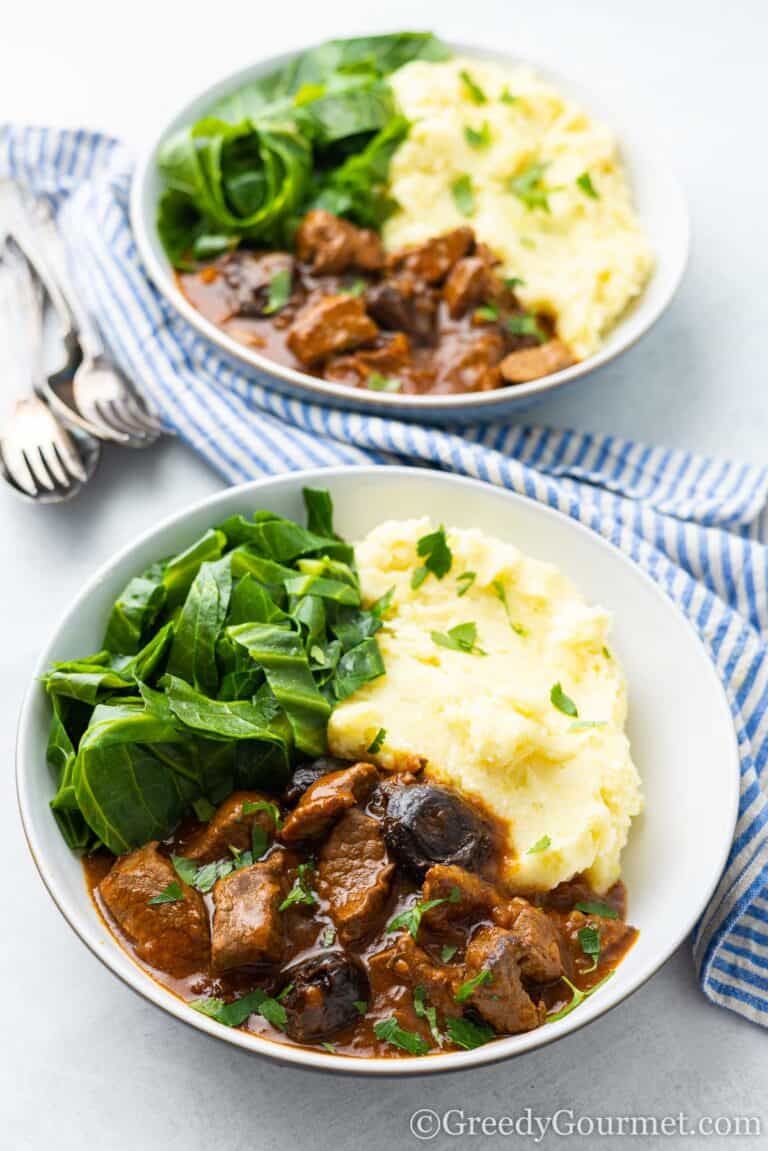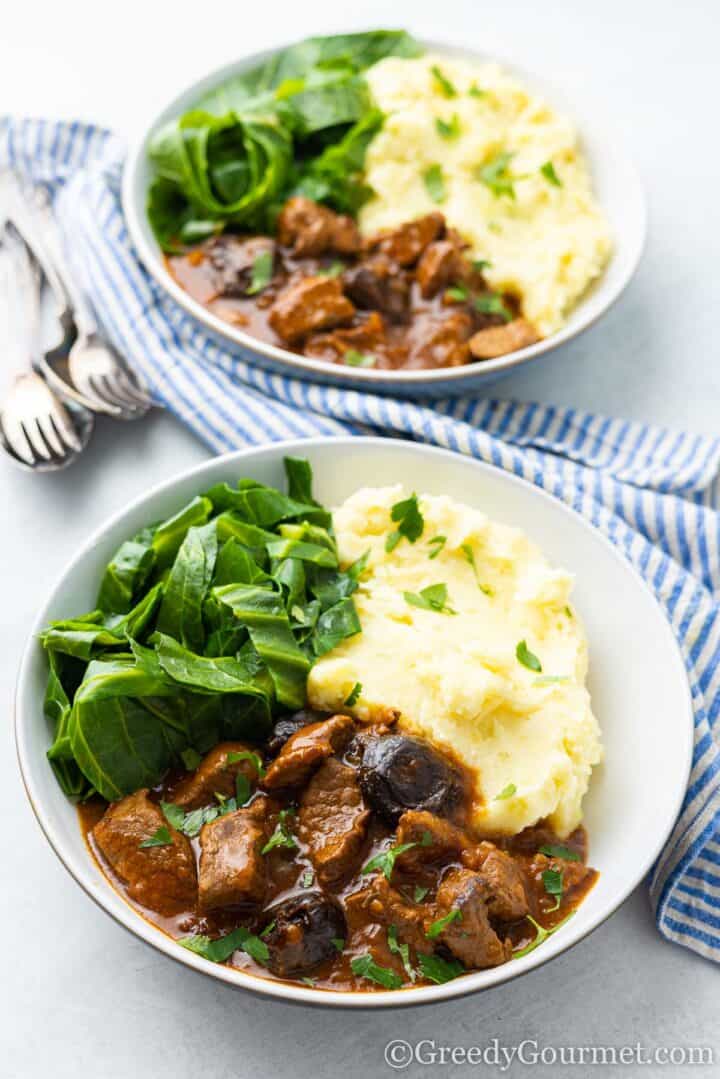 Popular Substitutions for This Recipe
Chicken broth
Instead of beef broth, chicken broth can easily be swapped in as a substitute in this Guinness stew recipe. Chicken has a slightly lighter flavor than beef broth, but it won't change the flavor of the stew drastically after all is said and done.
Corn starch
Skip the flour and instead add some corn starch to a little cold beef or chicken broth to make a slurry and then add it into the stew.
Meat
Instead of beef, try lamb in your stew for a more traditional Irish stew flavor. The best cut to use is lamb's shoulder, which is ideal for braising and has a delicious flavor and tender texture when cooked for long periods of time.
Dried fruit
If you don't like dried prunes or simply cannot find them, substitute dried apricots and/or dried figs in the recipe for a similar flavor and texture.
Variations to This Recipe
Add Worcestershire sauce to this beef stew for some added umami flavor. Worcestershire sauce is salty, so adjust the salt that you add to the stew by tasting it before accidentally over-seasoning the recipe
Add a little brown sugar to this Guinness beef stew to help get rid of some of the bitterness that can come from the Guinness when it is cooked.
Use a slow cooker instead to make this recipe even easier. I recommend browning your meat before adding it to the slow cooker to create a bolder flavor from the meat that can't be obtained by simply adding it to the slow cooker. Follow slow cooker instructions for cooked beef to make sure that you are using the correct time and temperature setting. I recommend cooking it on the low setting for closer to eight hours for the best slow cooker results.
To make this recipe gluten-free, use corn starch instead of flour to thicken the stew
If you're not a fan of prunes or pairing meat with fruit, you can omit the fruit.
Check out more tasty stew recipes here!
You can find many more tempting stew recipes on my blog to keep you warm and satiated all winter long.
Print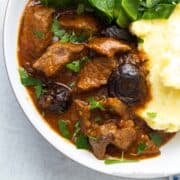 Beef and Guinness Stew
---
Author:

Michelle Minnaar

Total Time:

3 hours 15 minutes

Yield:

6

servings

1

x

Diet:

Low Lactose
Description
Enjoy this intense beef and Guinness stew. Yes, it is possible to make a delicious beef stew. Add prunes for sweetness. Simmer until ready and enjoy hot!
---
30

ml (2 tbsp) oil

1

kg (2 lb) braising/stewing steak, cut into 2.5cm (

1

inch) cubes

2

onions, diced

2

celery stalks, chopped

3

carrots, peeled and diced

50g

(

6 tbsp

) flour

64g

(

4 tbsp

) tomato paste

440

ml (1 can) Guinness

500

ml (2 cups) beef stock

3

thyme sprigs

1

bay leaf

125g

(

4 oz

) pitted prunes
salt and pepper, to taste
---
Instructions
Preheat the oven to 180°C/fan 160°C/356°F/gas mark 4.
Heat the oil in a large, ovenproof casserole. 
Add the beef cubes and fry until browned all over. Once browned, scoop out the meat onto a plate and set aside.
Add the onion, celery and carrots to the pot and cook for 5 minutes, or until the vegetables have softened.
Stir in the flour and tomato paste.
Tip in the browned meat and give it a stir. 
Add the Guinness, stock, thyme and bay to the meat and mix. 
Bring to a gentle simmer, place the lid on the pot and transfer it to the oven. 
Cook for 1 hour, then lower the heat to 160°C/fan 140°C/320°F/gas mark 3. 
Cook for 1 more hour, then remove the pot from the oven. Stir in the prunes and return the meat to the oven. 
Stew for another 30 minutes or until the meat is tender. Remove the bay leaf and thyme sprigs, then season to taste if necessary. Serve with creamy mashed potatoes and buttered greens. Enjoy!
Prep Time:

15 minutes

Cook Time:

3 hours

Category:

Dinner

Method:

Stew

Cuisine:

Irish
Keywords: beef and guinness stew, irish beef stew, beef in guinness, steak and guinness stew, stout stew, guinness stew, guinness recipe, st patrick's day dinner recipe, irish recipe