Inexpensive, easy to make and luxuriously tasty, chicken liver pate is an absolute delight. If you've never tried to make it, now's the time!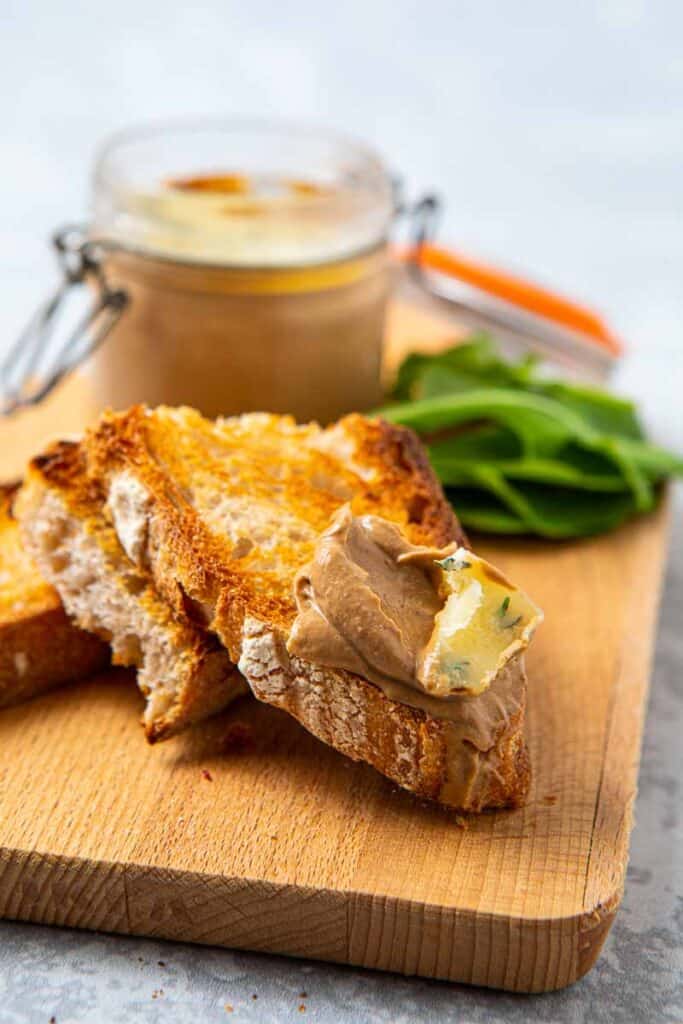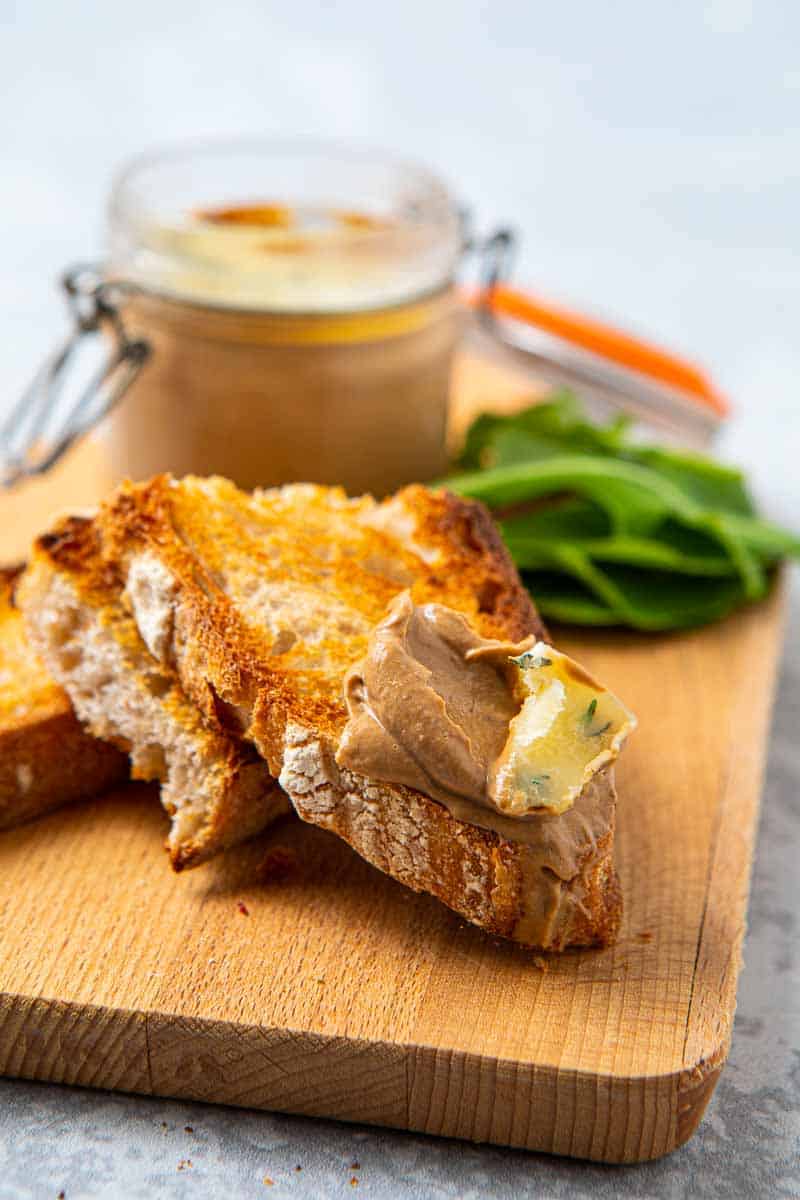 Forget the stereotype of lame 70s party food status. This recipe will prove that pâté has still got what it takes to tantalize the taste buds.
You see, when it comes to pate, chicken liver is as good as it gets! So, read on to discover how to make this super simple, seriously delicious spread.
Products you need for this recipe
Saucepan – get a heavy-duty cast-iron pan for frying up the chicken livers for this recipe.
Roasting pan – you'll need a quality roasting pan to roast the butternut squash for this chicken liver pâté recipe.
Knife – get a quality chef's knife to chop your butternut squash before roasting it.
Melon baller – use this to scoop out the seeds from the butternut squash.
Food processor – use a good quality food processor to get the perfect texture for your paté
Ramekin – serve up your pate in these ramekins.
Serving plate – place your ramekin, crusty bread and crudités on a serving plate. A plate with a lip works best, as you can scrape off the excess.
Thyme – fresh thyme works best, but dry thyme is fine.
Paprika – bring a delicious smoky earthiness to your liver pâté.
Cream cheese – cream cheese is essential to bring a nice creaminess to this recipe. Go for a low-fat option if you prefer, or even unsalted butter.
Olive oil – a good quality olive oil is needed to drizzle on your butternut squash before roasting, as well as the chicken livers before frying.
Garlic – garlic will bring a beautiful flavor to the chicken livers. If you can't find fresh garlic, use garlic granules.
Salt – it's important to season the chicken livers before you brown them.
Black pepper – a little bit of black pepper goes a long way.
Anchovy paste – an optional extra, a tiny bit of anchovy paste will bring an extra richness to this dish.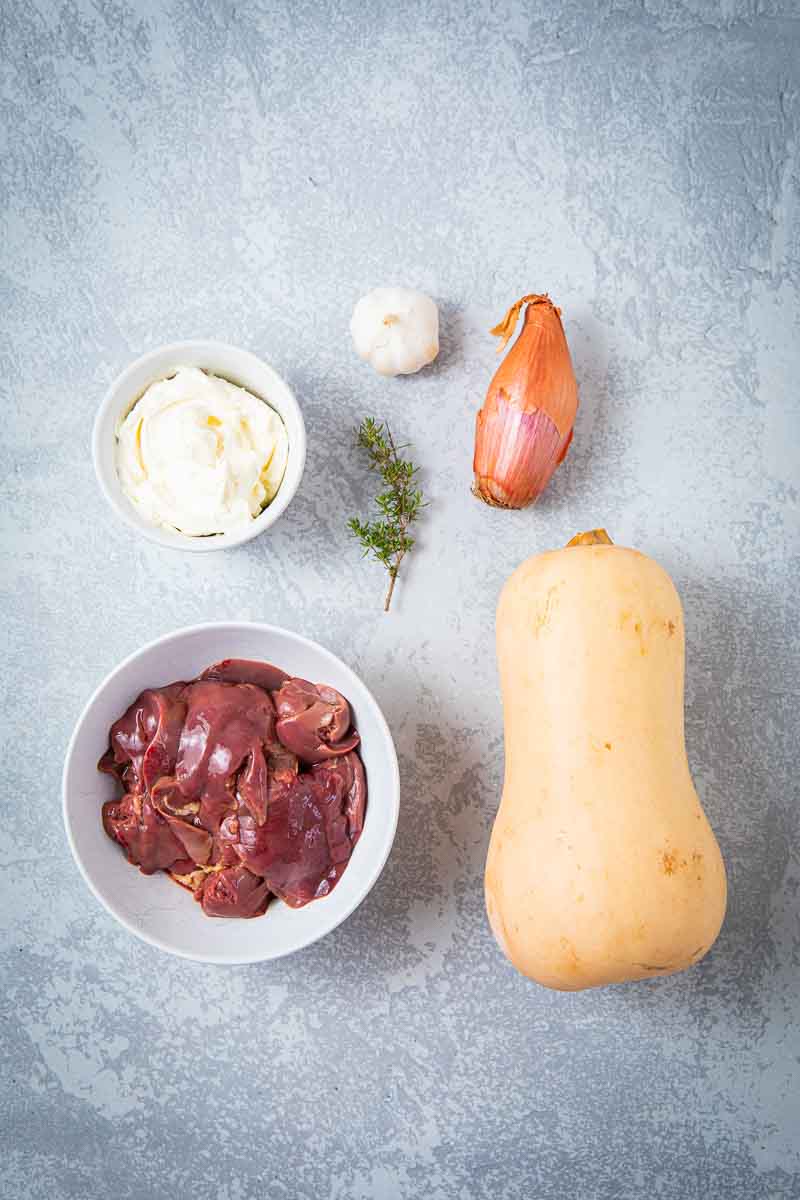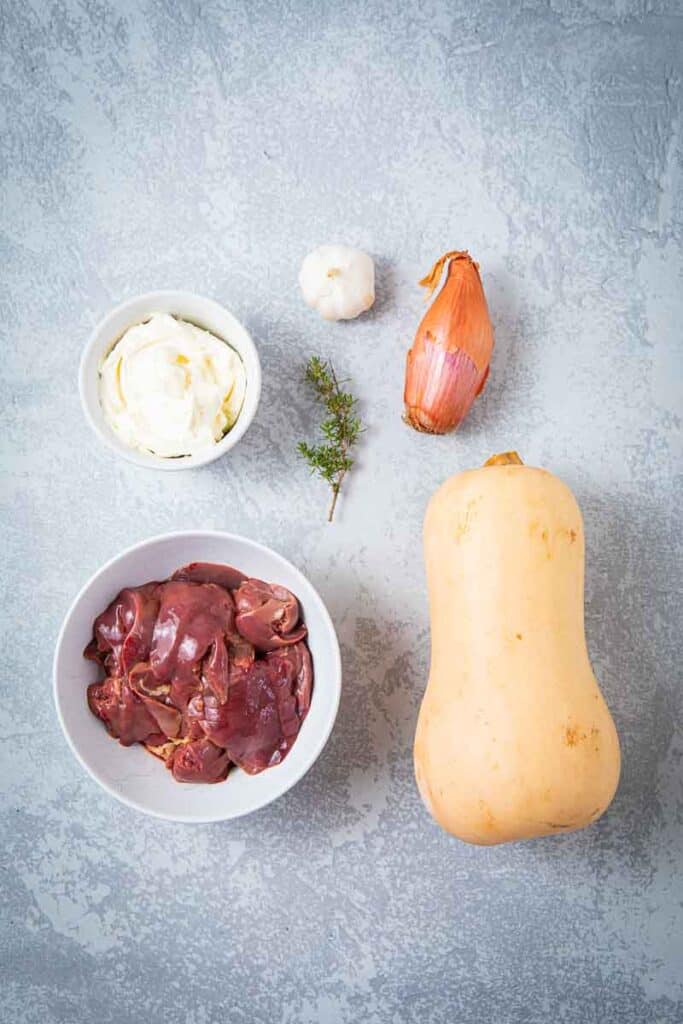 Chicken liver pate recipe
This heavenly spread really doesn't get the love it deserves. Once considered a classy, delicious delicacy, it's now been relegated to cheap and cheerful spread status.
Something you'd grab from the store when you're in a hurry and smear across a cracker for a quick snack. What a waste!
When made in the right way with the right ingredients chicken liver pâté tastes like a dream. It's so easy to make, there's really no excuse for ever buying the nasty stuff from stores.
This recipe will show you how incredible a simple spread can be. When you make liver chicken pate the right way, you'll have a luxurious, buttery, melt-in-your-mouth magnificent spread.
It'll make the perfect Christmas party starter or Christmas mid-morning appetizer, as well as a sumptuous snack at any time of the year.
The key thing about this recipe is the roast butternut squash. The light sweetness really cuts through the heavy richness of the chicken livers, bringing a delicious balance that makes it stand out from other recipes. Chicken liver never tasted so good!
Best of all, it's easy to make and you can easily store a big batch to be enjoyed later on. So, let's find out how to make the perfect chicken liver pâté.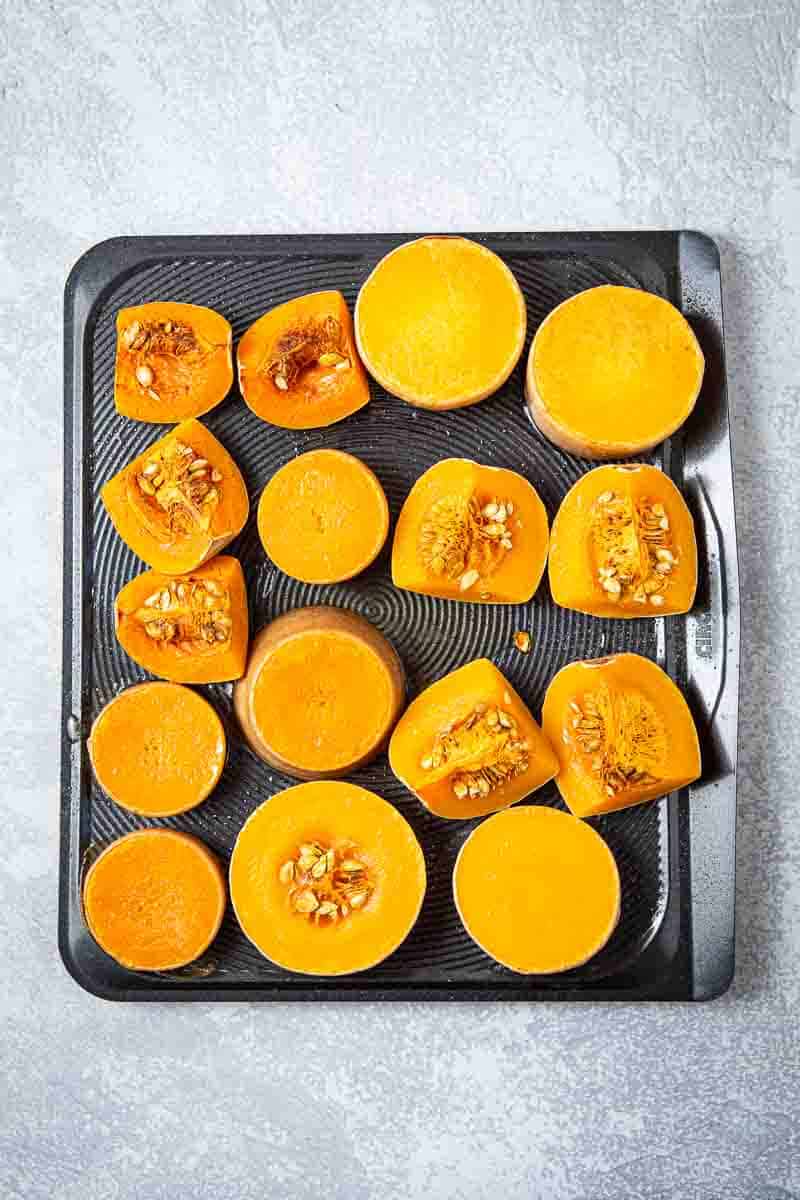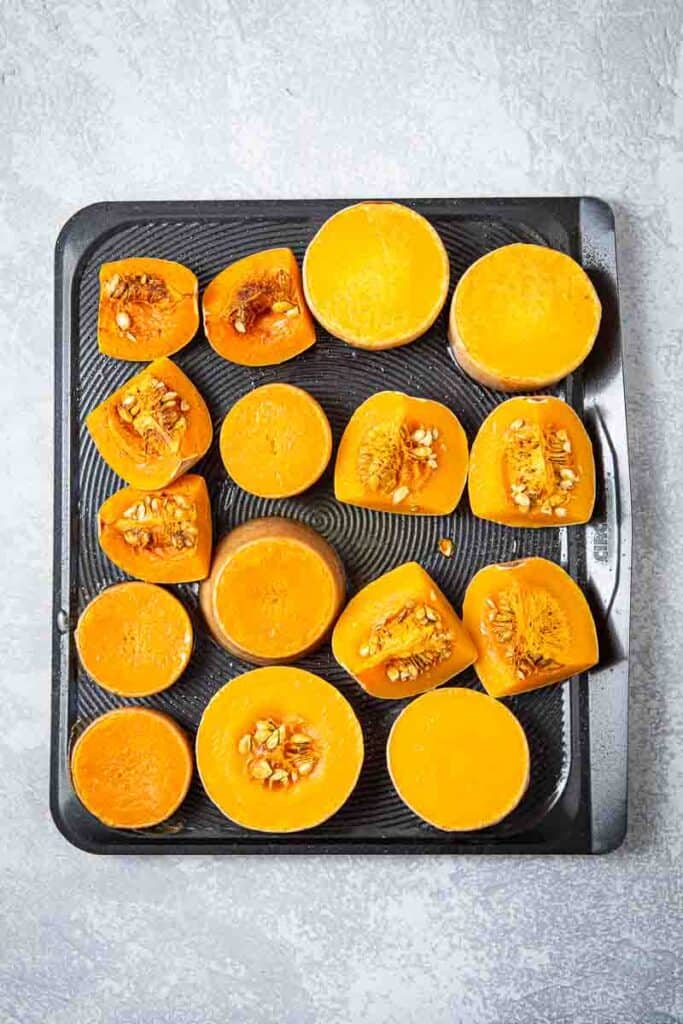 How do you make chicken liver pate?
To get this recipe right, you need to follow several simple steps. The first is to roast the key ingredient that makes this recipe stand out from all the rest.
It's all about the butternut squash, roasted to perfection to achieve that subtle sweetness that's going to take this plain old pate to the next level.
After you've preheated the oven to 220°C/fan 200°C/gas 7, you'll chop up your butternut squash in half, ready for roasting. If you've ever tried to chop up butternut squash before, you'll know it can be a little tricky.
It takes a fair amount of strength to get through these big heavy vegetables. So, be careful when chopping. Despite what you might think, the sharper the knife, the better.
Blunt kitchen knives are dangerous, as you need to put more pressure into the action. More pressure means less control and that's when accidents happen.
So, once your squash is chopped in half, you'll need to deseed it and arrange both halves in a small roasting tin. Drizzle each with oil and roast for just over 30 minutes.
Next comes the chicken liver. Start by frying thinly sliced onions in 1-2 tablespoons of olive oil for about 5 minutes or until they're soft. In goes the garlic and chicken livers, which you'll cook until nicely browned.
Pour the chicken liver mixture, roasted butternut squash flesh and cream cheese (or butter) into a food processor and blitz everything together. Then, add the thyme, salt and pepper, as well as any other spices that you want to throw into the mix.
If you want a thicker texture, just add more cream cheese or butter to the pate. Spoon the pate into ramekins and serve warm or cold with baguette slices.
If you want some more suggestions of delicious recipes to pair with this pate, read on!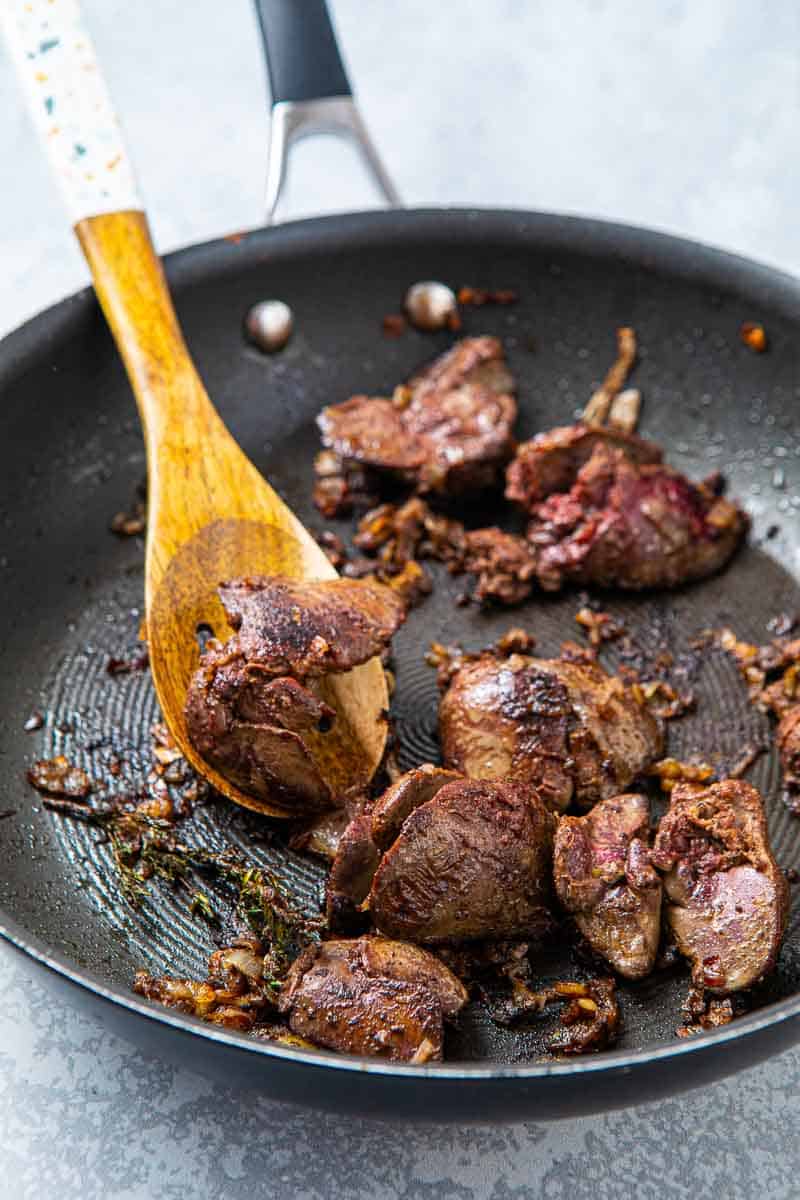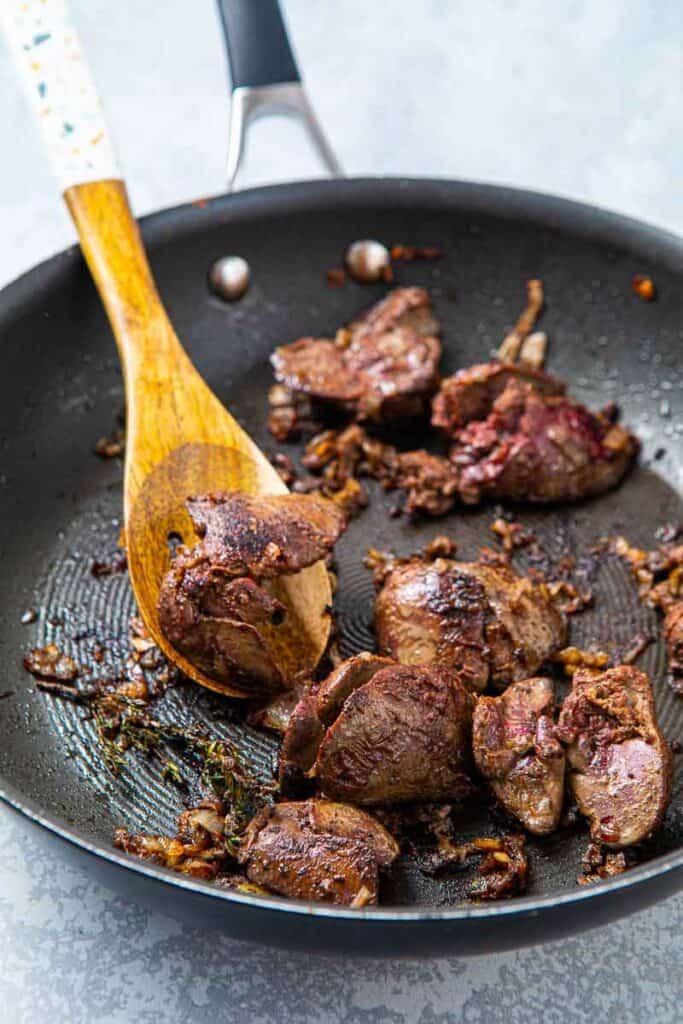 How long can you keep chicken liver pate?
Homemade chicken liver pate will have a shorter shelf life than the store-bought stuff – less additives and junk mean that it'll go off sooner, the way it's supposed to.
Still, it should last for 3-4 days, keeping its taste and texture.
Can I freeze homemade chicken pate?
If you make too much to eat in 3-4 days, you can also freeze it. When you put it in the freezer, you can store it up to 3 months without losing any flavour. Just cut it into smaller pieces and put it in an airtight container.
Is chicken pate healthy?
Pate is high in fat and cholesterol.
There, I said it.
Now that the bad points are out of the way, let's focus on the good, because there are plenty of health benefits to eating pate.
First of all, liver paté is an amazing source of iron and copper. A typical 100gm portion of pate contains about 5-10mgs of iron (around 10% of your recommended daily intake), which keeps up your energy levels and fights fatigue. For people who are iron deficient, liver pate is an especially healthy recipe.
Recipes with copper are great for brain cells and building strong muscle tissue, as they activate enzymes called cuproenzymes. A 1-ounce serving of pâté contains 113 micrograms of copper, about 13% of your recommended daily intake.
Pâté also contains selenium, as well as vitamin A, B2 and B12. Vitamin A helps you to build a healthy immune system by building up white blood cells, crucial to keeping you healthy. One serving of pâté provides between 10-20% of your recommended daily intake.
B2, also known as riboflavin, helps you break down nutrients into energy, while B12 is an essential vitamin that helps to build red blood cells. Pâté contains 0.91 microgram of vitamin B12, around 38% of your recommended daily intake.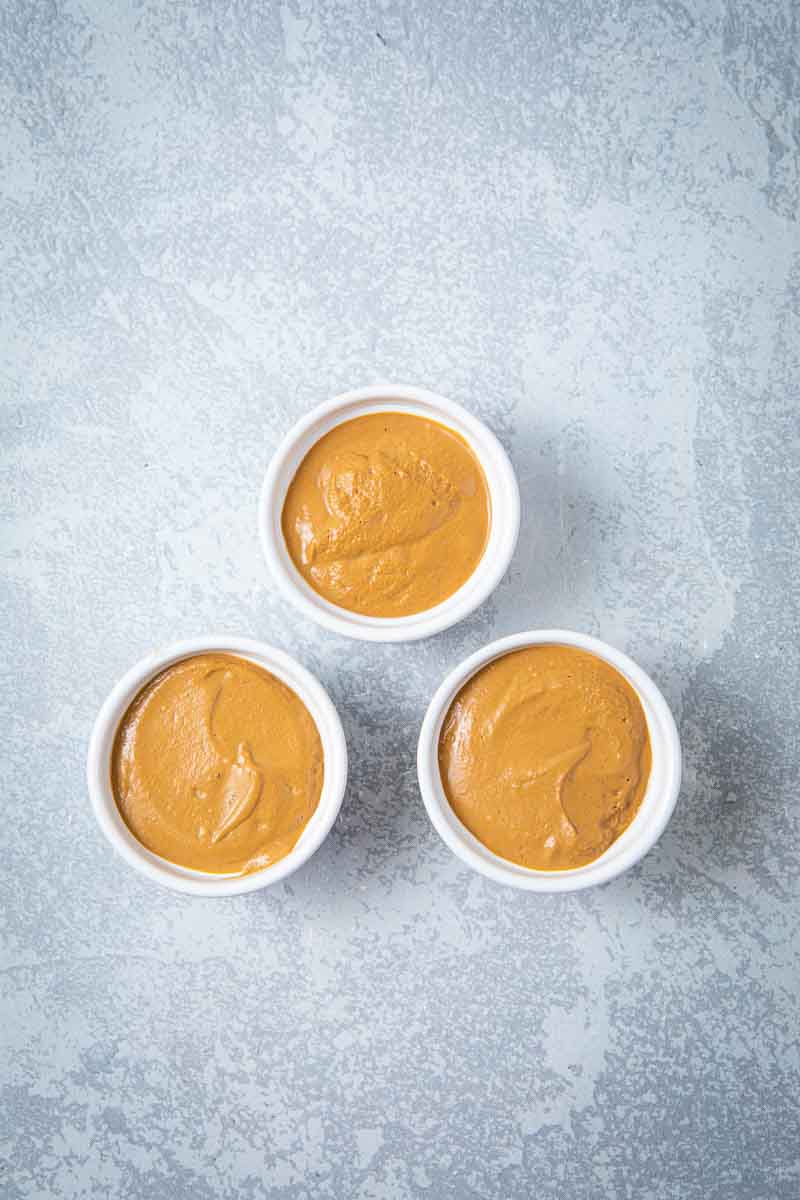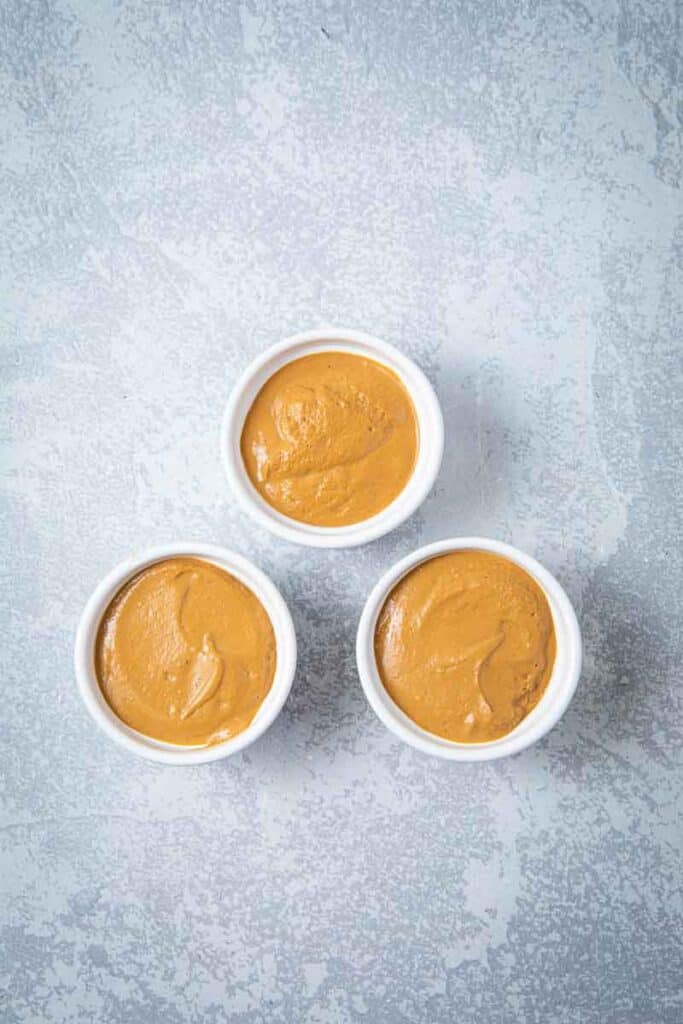 How do you eat chicken pate?
Chicken paté has so much flavor – all you need is something simple to eat it with. Wholegrain crackers work great. Also, pâté tastes great when spread on bread.
Recipes like this savoury French toast and this homemade chia seed bread would go great with chicken pâté, as would a crusty baguette.
If possible, it should be served at room temperature. Don't let it sit out of the fridge for too long – you should be okay for up to 3 hours – but it's so much nicer when it's not super chilled straight out of the fridge.
Serve your pâté with pickles, crudités (raw vegetables cut into small pieces) or any other kinds of crunchy, subtly flavored finger food.
Another ingredient that tastes heavenly with pâté is chutney. Whip up your own fruity persimmon chutney, carrot chutney or runner bean chutney, for a delicious addition to this luxurious spread.
What other ingredients can you use to flavor pâté?
Some quality alcohol works great when cooked in with the livers. Don't worry, you won't taste the booze – it'll evaporate in the frying pan. Try a cognac, brandy, port, madeira or sherry. It'll add an incredible rich taste and aroma to the livers.
You could also experiment with different herbs and spices. Aside from thyme, oregano and rosemary would also work really well in this recipe.
Try using cayenne pepper or pinch of chili powder for an extra earthy kick. Ginger, nutmeg, cloves and mixed spice would also taste great in this recipe.
You could also try different types of butter – why not try making your own garlic butter or your own macadamia nut butter?
You could even use different types of onions. Try raw spring onions to pack a punch, or even roasted shallots for a sweet and mellow undertone.
Try swapping the roast butternut squash for roast marrow. It'll still bring an extra creaminess to the dish, just a little less sweet.
If you fancy a little extra decadence, use double cream in place of cream cheese or butter. It'll add a touch of luxury to this already luxurious appetizer.
If you want extra richness, you could also add half a teaspoon of anchovy paste to the final mixture. It'll take this recipe to another level!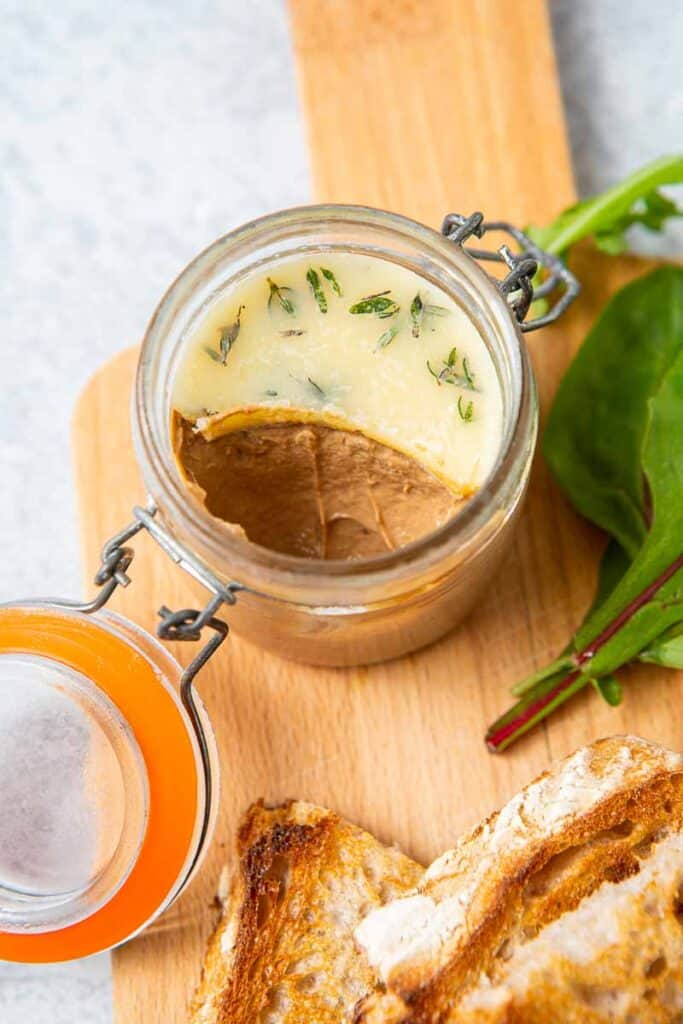 Other pate and terrine recipes
Print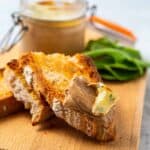 Chicken Liver Pâté
---
Description
Chicken Liver Pate is a classic French recipe that makes the perfect starter. The secret of this recipe is the use of roasted butternut squash. Serve with bread, crudités and crackers of your choice. 
---
1

butternut squash (weighing about 675-8

00g

/1½-1¾lb)
salt and ground black pepper

15

ml (1 tbsp) olive oil, plus extra

1

small onion, finely chopped

1

garlic clove, crushed

400g

(

14oz

) chicken livers

225g

(

8oz

) low-fat cream cheese

120

ml (8 tbsp) clarified butter, melted
---
Instructions
Preheat the oven to 220°C/fan 200°C/gas 7. Cut the squash in half lengthways, scoop out the seeds, then arrange the halves in a small roasting tin. Season lightly, then drizzle with olive oil. Roast for 30-45 minutes or until cooked and set aside to cool down.
Heat the tablespoon oil in a large frying pan, then add the onion and cook for 3-4 minutes until starting to soften. Add the garlic and chicken livers, then cook over high heat for 3 to 4 minutes, until the livers are cooked through and lightly browned. Remove the pan from the heat and allow to cool.
Scrape the cream cheese into the bowl of a blender or food processor and add the chicken liver mixture with the flesh of the butternut squash. Blend until smooth then add seasonings to taste.
Scrape the pâté into a serving bowl and smooth the top. Chill for 2 hours, then garnish with a chopped fresh herbs before serving. Alternatively, if you would like to seal the pâté, pour melted butter on top and keep in the fridge. Consume within 2-3 days.
Notes
Crusty bread or melba toast is divine with this pâté. For those of you who prefer healthier options, vegetable crudités can be dipped into this pâté and enjoyed.
If you're not bothered about the fat contents of your food you can substitute the cream cheese for a full-fat one.
If you find that you have a lot of chicken left over after making this recipe, why not try my briliant Cajun Chicken Pasta recipe to use it all up?
Prep Time:

30 minutes

Cook Time:

30 minutes

Category:

Starter

Method:

Pan Fry

Cuisine:

French
Keywords: chicken liver pate, chicken liver recipe, chicken liver starter, chicken liver appetizer, chicken liver and butternut squash