I find it delightfully comforting to take my time preparing a nice meal over the weekend. This game pie is pure comfort food. Even though it takes a bit of time to cook, the wait is definitely worth it. The best part is that for most of the cooking time the game pie sort of takes care of itself, leaving you free to relax with a nice book or spend time with the family. All the while your kitchen will fill with the mouth-watering smell of the game pie cooking in the oven.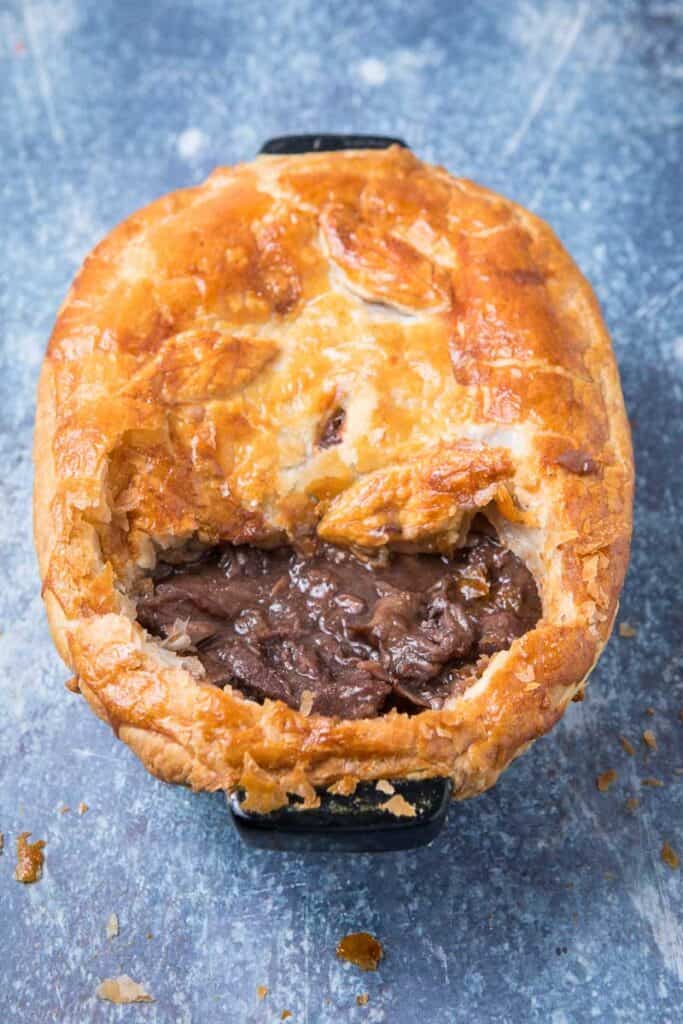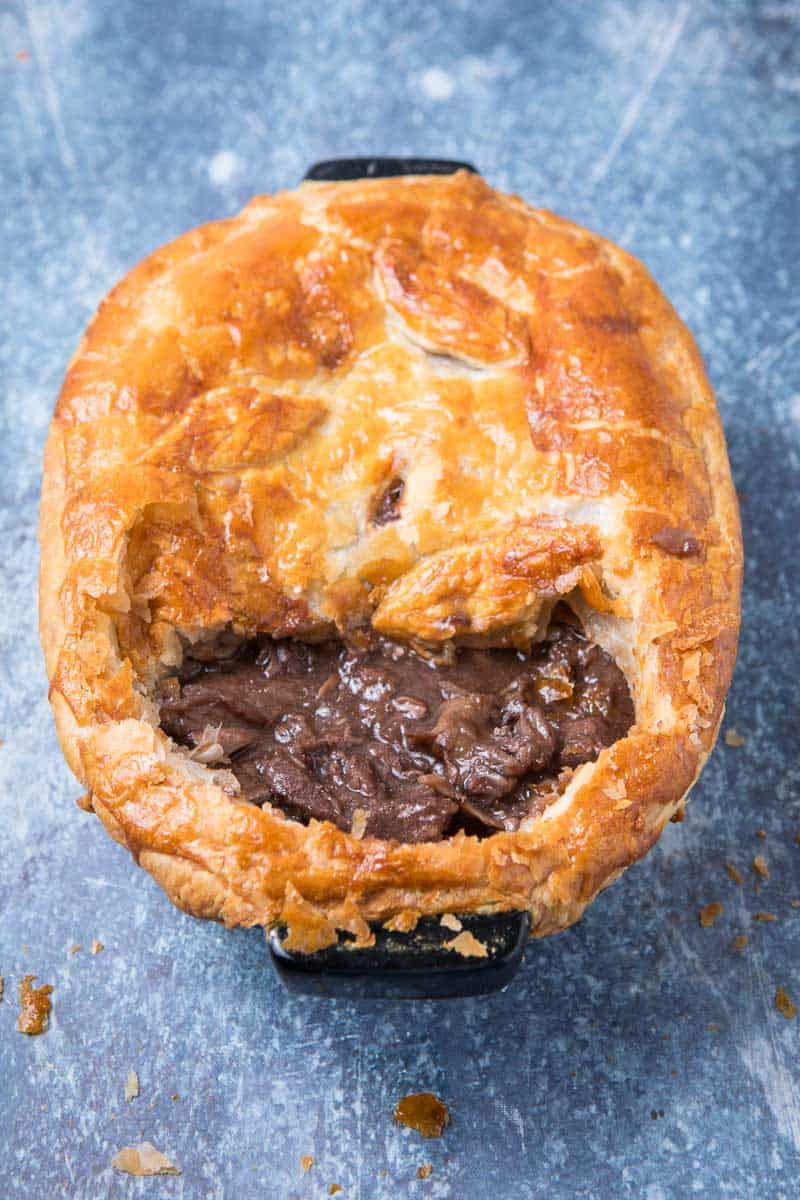 old-fashioned, traditional game pie recipe
This pie is particularly enjoyable in the wintertime or in autumn when game is in season. That said, you can make a game pie recipe any time of the year if you can get the proper meat. A good tip here is to store some in the freezer, should the appetite for game pie occur outside the season. Also, it's a good idea to keep some game in your freezer if you are looking to cook a gourmet recipe for your guests.
Traditionally speaking, making homemade game pies dates back to Roman times! Apparently, the great emperor Augustus consumed them regularly. In fact, back in those days, wild birds, deer and wild pigs were the most common types of meat for pies. Throughout many centuries, game pie recipes also made their way to the Victorian Age in England. Here, the pies were made in very interesting types of moulds. To read more about the history of game pies, click right here.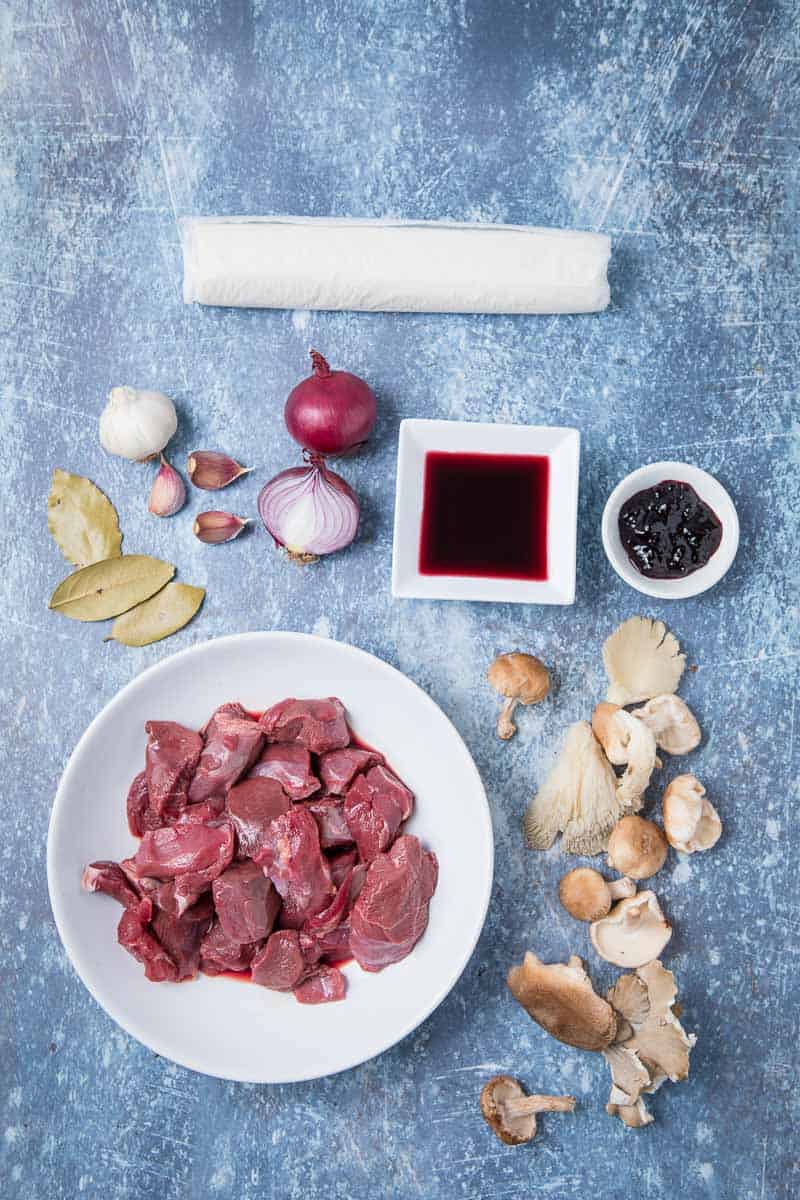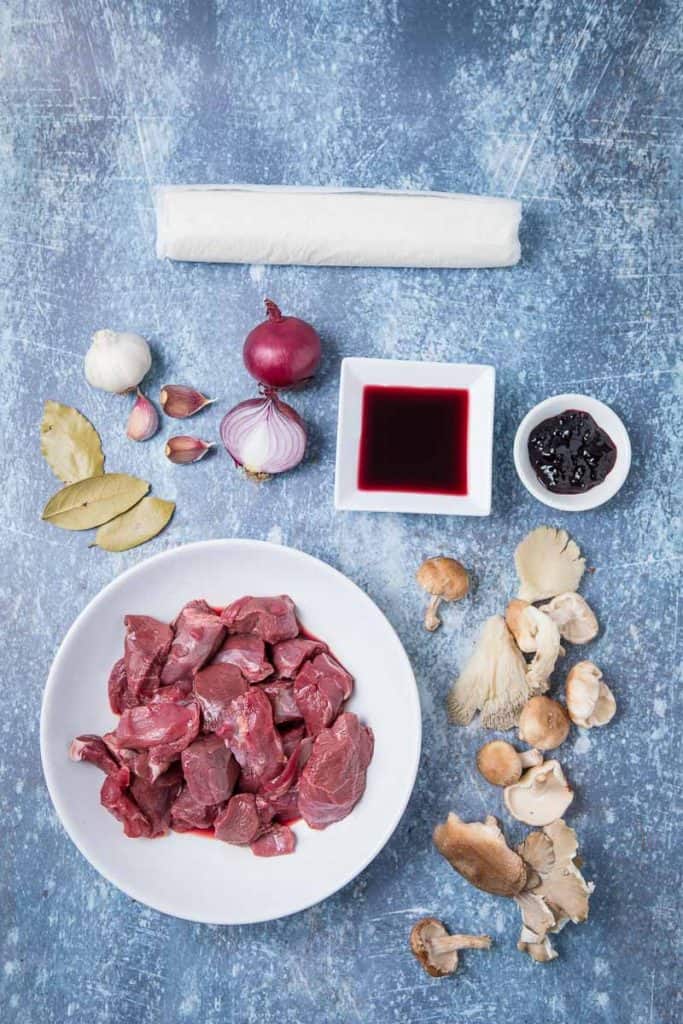 how to make the perfect filling for game pie
If you want a slightly more diverse and filling version, you can add some vegetables to the stuffing. In order to stay within the realms of the warming winter flavours, use vegetables from the winter season. Root vegetables are especially good. Dice up some celeriac and add it to the sauce. Alternatively use parsnips or swede. Add a diced carrot for extra sweetness and colour. It's never a bad idea to include carrots in a pie or a meaty stew, like this one.
If you are looking to make a meatier version, then dice up some bacon and pan-fry it alongside the onions and the game meat. It adds a certain richness to the pie and a nice smoky flavour t'boot.
Otherwise, I recommend making this delicious game casserole recipe and using the leftovers for a hearty game pie. Two excellent dishes using a nutritious meat. This also cuts your work for the pie in half. You won't have to worry about the filling, only the pastry. How easy can making a game pie recipe get?
what meat to use in a game pie
For my game pie, I used mixed game meat. You can also use any single kind of game, although I would recommend the darker kinds of meat for this recipe. If you can source it, you should go for deer or stag. Hare is also a good choice but unless you have hunters in the family it can be hard to come by. That being said, my recipe also works well with wild boar. If in doubt ask your butcher what is currently available fresh or in season.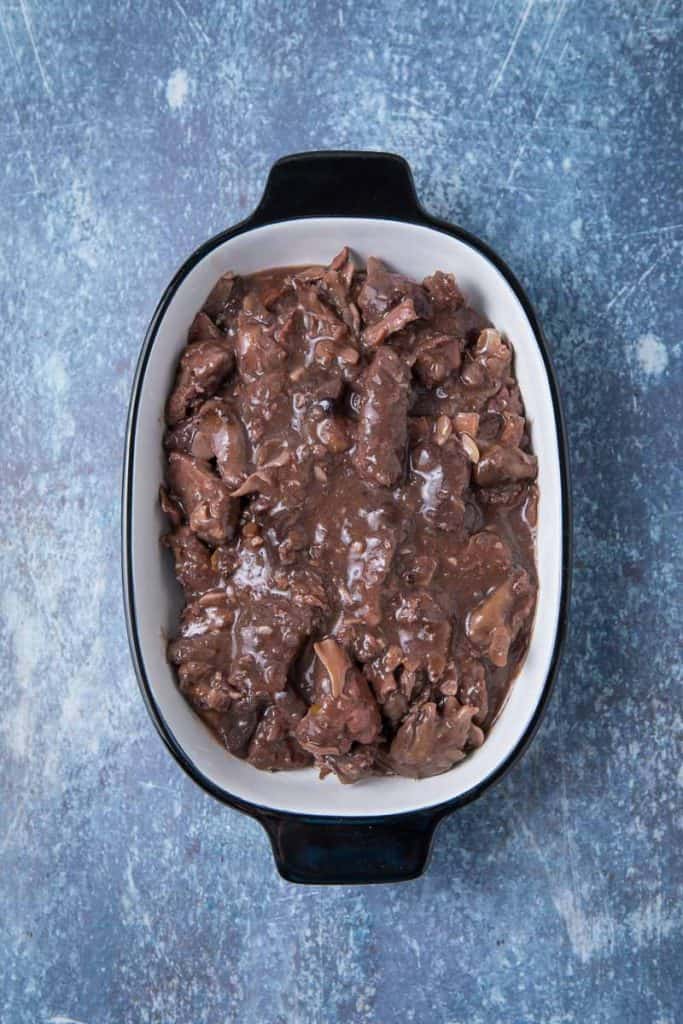 best seasoning for game pie recipes
In order to get the rich and comforting flavour that I think a game pie should have I added port to the sauce. A touch of red port gives an excellent flavour combination when it comes to cooking with game. If you are on the daring side you can also attempt to make the pie with Guinness beer. See my venison stew recipe for inspiration on that.
To further enhance the sweetness in the game pie filling, I also added a tablespoon of blackcurrant jelly. This sweet yet almost spicy flavour is perfect for adding a bit of complexity to the game pie filling.
Another seasoning that pairs well with game are juniper berries. You don't need to add more than four or five dried juniper berries in the filling to enhance the flavour with that characteristic citrus twang. The only thing you need to be careful about is not to bite into them when you eat the game pie. They are quite tough and don't taste good on their own, so watch out there. Try it. I actually like the pungent and distinct flavour of the juniper berries.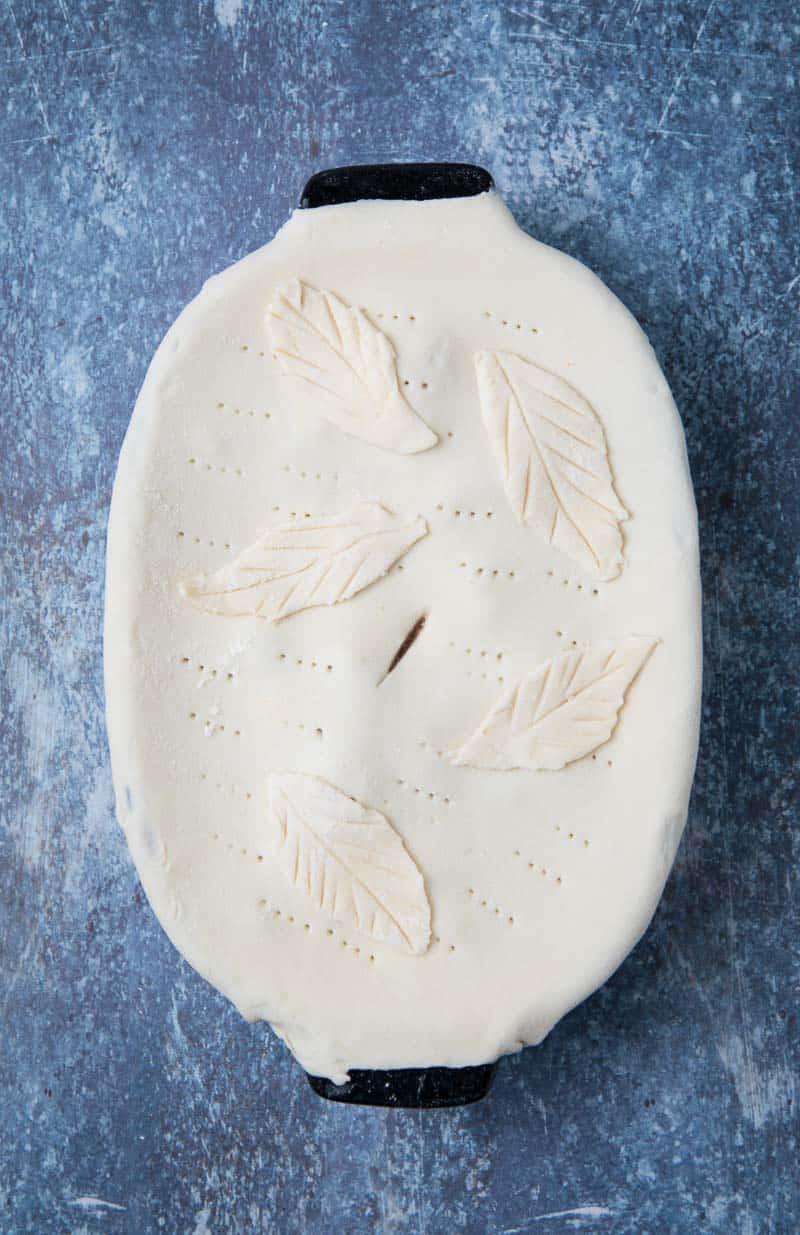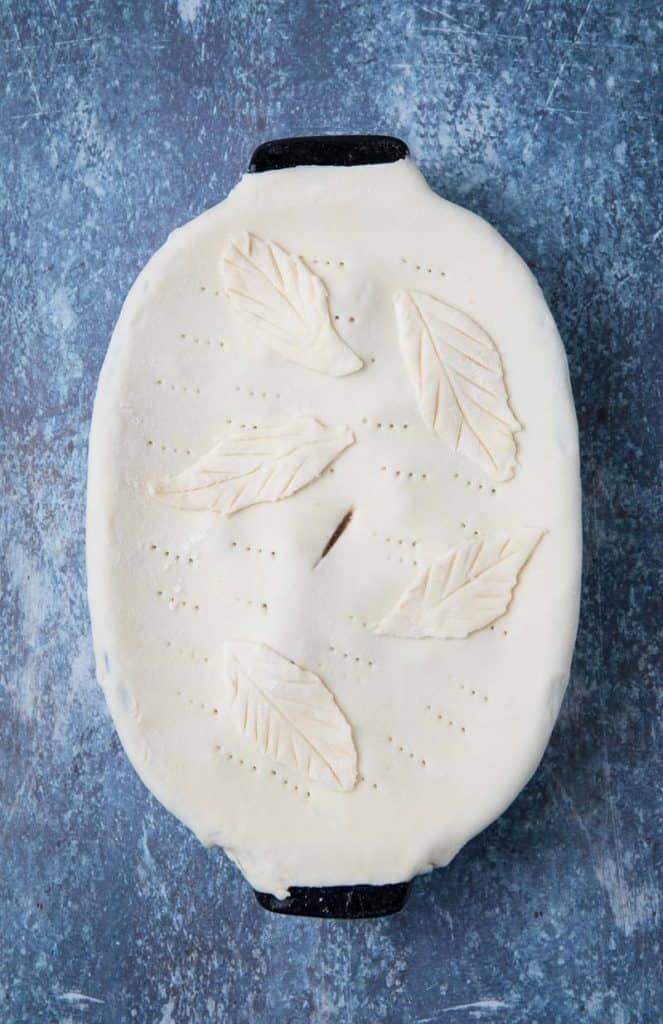 game pie recipe with wild mushrooms
For my game pie, I added a good deal of mushrooms. The earthy flavour complements the game meat and the other ingredients extremely well. I find wild mushrooms to be particularly good for this purpose. Furthermore, I quite like the idea of adding wild mushrooms from the forest to a game dish. If you collect mushrooms yourself be very sure what you are doing. Otherwise you can get good quality wild mushrooms in a number of stores or farmers' markets.
You can also use these:
chanterelle mushrooms
penny buns mushrooms
shiitake mushrooms
champignon mushrooms (the most common)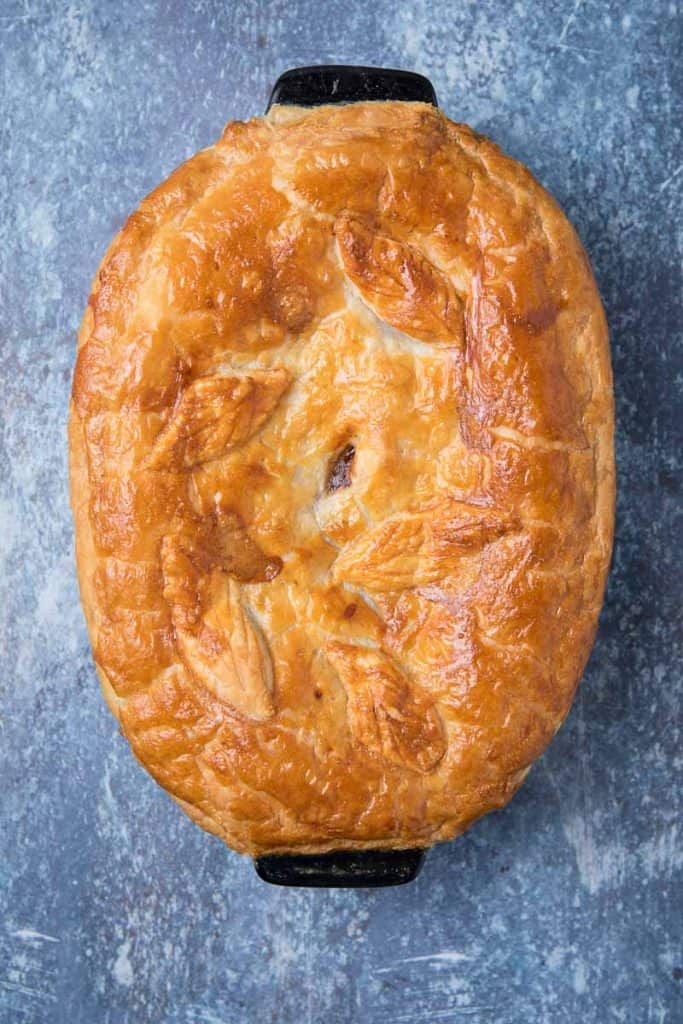 best sides for filling game pie recipe
Admittedly this game pie is not what you would call a light meal. In fact it is rather on the rich and heavy side. Not that it matters though. In order to balance out the dish when dishing up, simply serve some green vegetables on the side. Try making these roasted green beans or simple roasted carrots. You can also try roasted beetroot for extra earthiness or roasted Jerusalem artichokes for a nutty flavour.
If you want to stay with the traditional winter vegetables, some steamed Brussels sprouts are a great side dish for game pie. But don't feel restricted, you can serve any kind of vegetables you like as a side, though I find boiled green beans or peas to be a good pairing for game pie.
For a more filling side dish, go for this roasted sweet potato mash. It's divine and together with the game pie, it's the ultimate winter warmer.
Print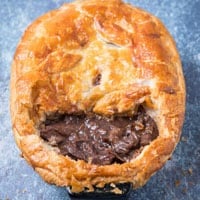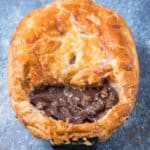 Game Pie
---
Description
Combine ingredients like mushrooms, port, blackcurrant jelly and mixed game meat to make the ultimate game pie. Serve with a lovely glass of heavy red wine.
---
30

ml (2 tbsp) vegetable oil

500g

(1lb) mixed game meat, cut into bite-size pieces

1

red onion, peeled and finely chopped

2

garlic cloves, peeled and crushed

15g

(½oz) flour

300g

(10oz) mushrooms, cleaned and chopped

125

ml (½ cup) port

125

ml (½ cup) chicken stock

15

ml (1 tbsp) blackcurrant jelly

1

bay leaf

170g

(6oz) puff pastry

1

egg, whisked
---
Instructions
Heat the oil in a large saucepan.

Brown the meat on all sides then remove from the pot.

Fry the onion and garlic for 5 minutes, or until softened.

Stir in the flour then add the mushrooms. Fry for 5 minutes.

Pour in the port, stock, jelly and bay leaf.

Return the meat to the pot and let the stew reach a slow simmering point and cook for 45 minutes.

Remove the stew from the heat and transfer it to an ovenproof pie dish.

Preheat the oven to

to 200℃/390°F/gas mark 6.

Meanwhile, roll out the puff pastry on a floured surface until it's 0.5cm (⅕ inch) thick.

Cut a long strip as wide as the rim of the pie dish and, using a little of the 1 beaten egg, fix to the edge of the pie dish.

Brush with beaten egg, then lift the rest of the pastry over the pie, using the rolling pin to help. Gently press the edges with your fingers and trim with a sharp knife.

Brush lightly with egg to glaze, then bake for 20 mins.

Lower the heat to

180℃/355°F/gas mark 4 and continue to cook for 30 minutes

or until the pastry is risen and dark golden brown.

Serve immediately with buttery mash and peas.
Notes
Wild mushrooms work particularly well in this recipe.

If you are struggling to get hold of any bay leaves, try one of these bay leaf substitutes.
Prep Time:

15 minutes

Cook Time:

120 minutes

Category:

Main Course

Cuisine:

Scottish
Nutrition
Serving Size:

1

Calories:

588

Sugar:

8.5g

Sodium:

288mg

Fat:

37.3g

Saturated Fat:

9.7g

Carbohydrates:

41.5g

Fiber:

2.4g

Protein:

22.8g

Cholesterol:

126mg
save the recipe to your pinterest board