This lamb massaman curry is a mild Thai curry, which involvescooking meat in a spiced curry sauce. The curry sauce is made with spices which don't usually make up Thai dishes, such as cumin, bay leaves, star anise, nutmeg, etc.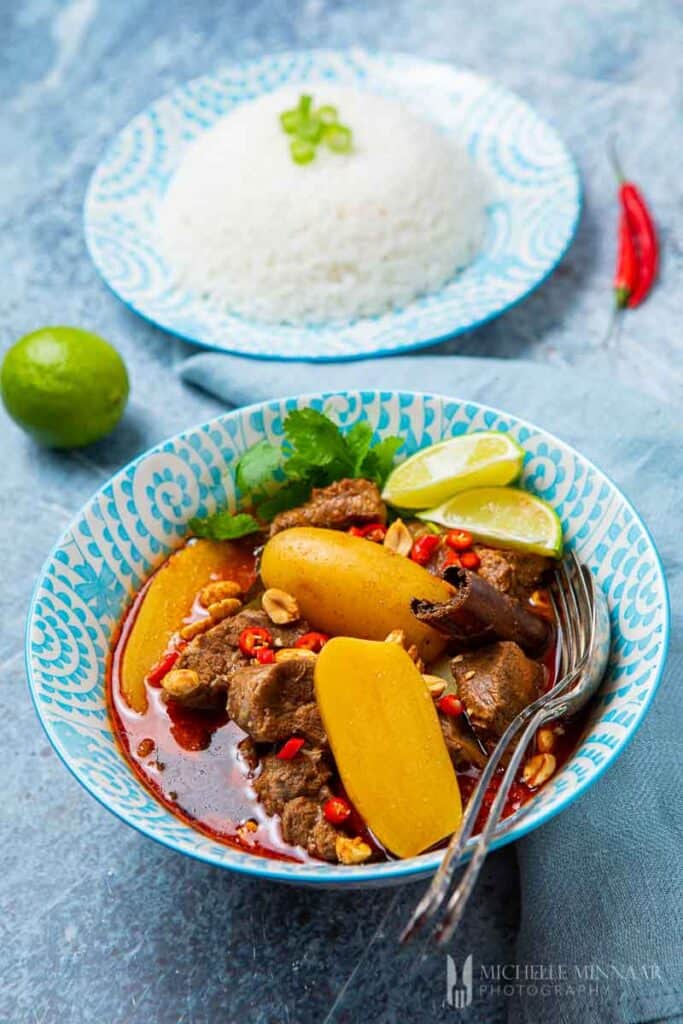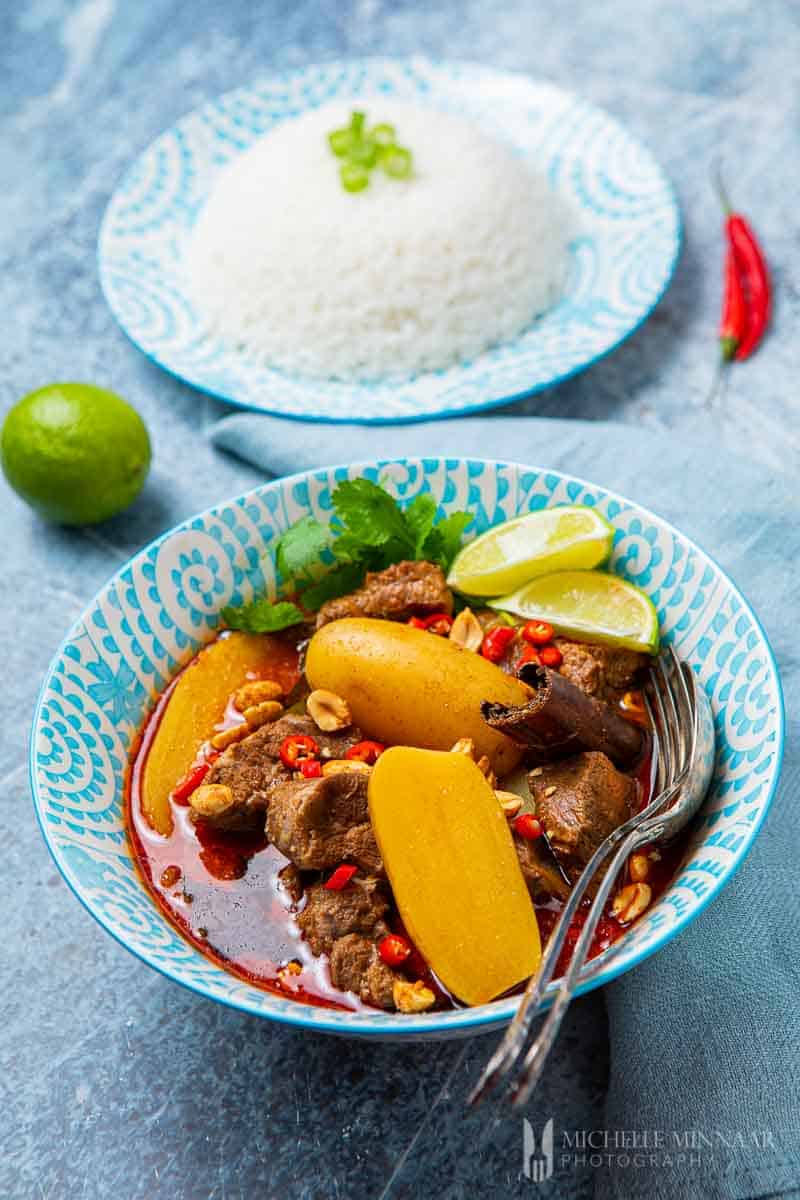 Generally speaking, this lamb massaman curry is not among the most popular of Thai curry dishes. Most people tend to immediately think of popular curry dishes such as green Thai chicken curry, Thai red beef curry, Pad Thai and much more.
If you haven't tried it yet, I guarantee you'll fall in love with it. In total, it will take approximately 2 hours to make this dish from scratch.
So forget ordering expensive takeaways and make your own 'fakeaway' at home. In addition, forget purchasing the stuff that comes in a jar at the supermarket. Your body deserves far better than that. So, treat yourself to this vibrant Thai recipe and enjoy!
products you need for this recipe
Here is a list of products which you'll need to make this delicious lamb massaman curry recipe. Let's start with the products which can help you prepare and cook this recipe:
Next, you should also consider checking if you've got any of these products in your kitchen as they will help you flavour your curries. Take a look below:
massaman curry paste – you can control the level of intensity of flavour with every spoonful
tamarind paste – this paste will offer a hint of acidity that is derived from the delicious Thai sour tamarind
fish sauce – this will provide a balanced umami flavour with a salty kick making your recipe complete
Are there any products with which you love to make Asian curries like this lamb massaman curry recipe? Let me know in the comments section below!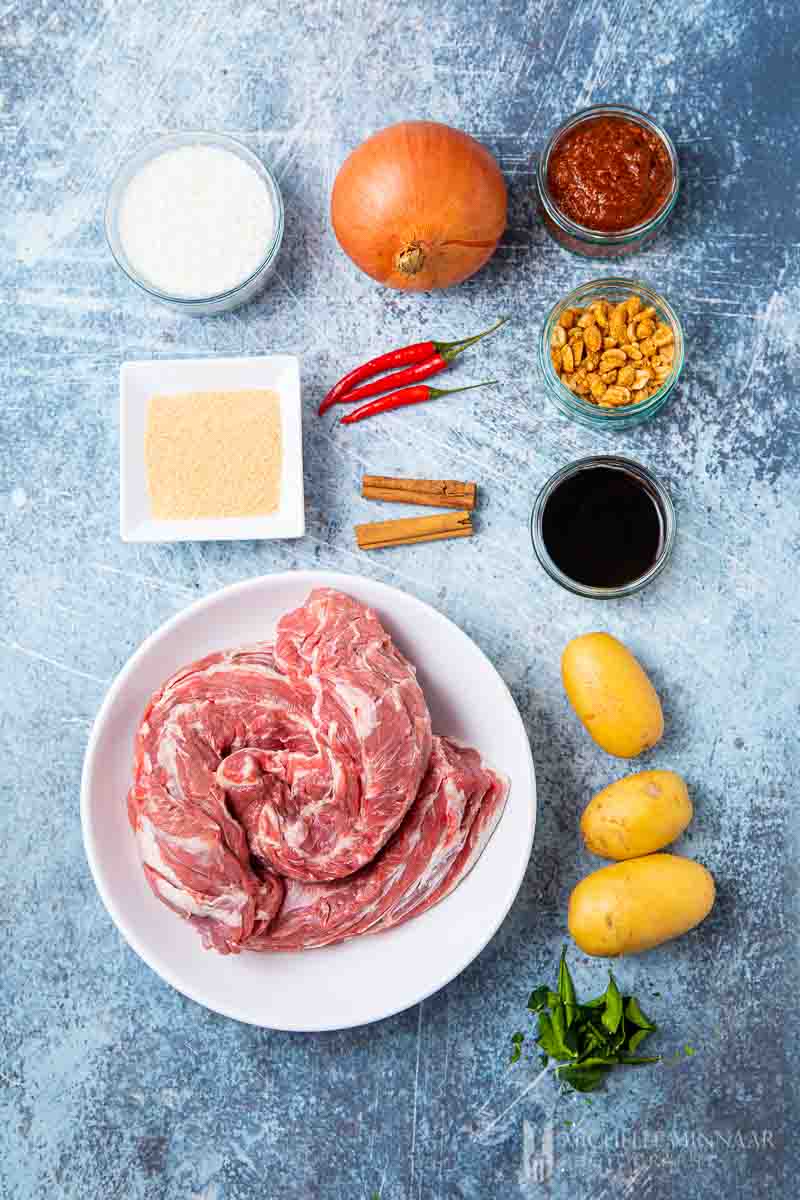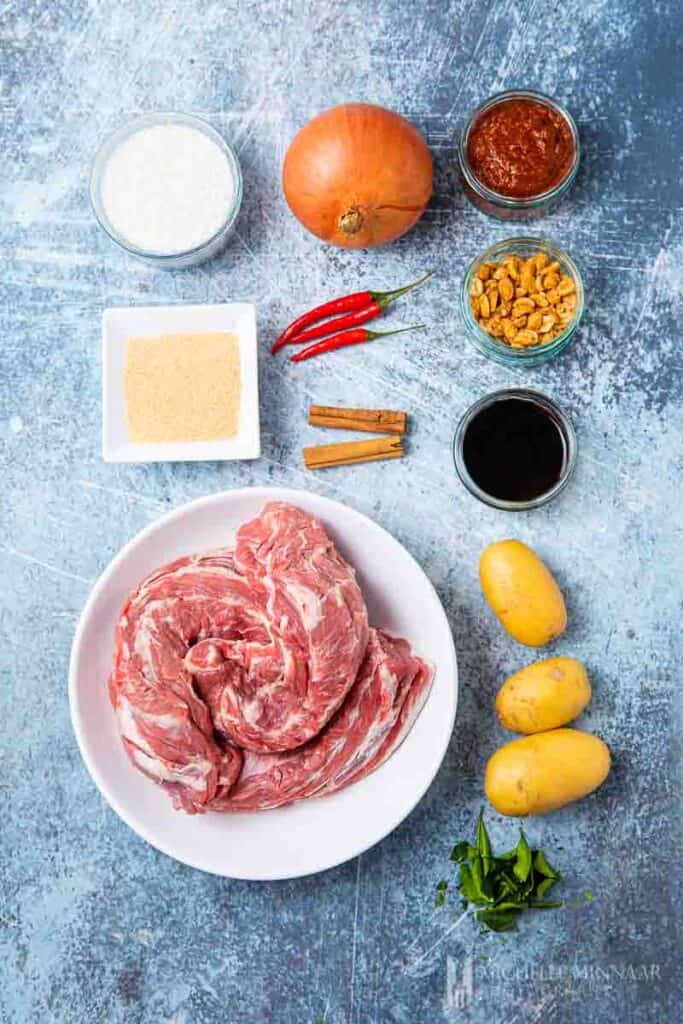 what is massaman?
In short, it is an authentic Thai curry recipe, which is relatively mild and uses a paste made with spices which are not ordinarily used in Thai cuisine.
It also known for being hearty and intense in flavour, even though it isn't as hot as other Thai curries.
There are many variations of this recipe, however most of the time it is served with meat such as beef, duck, chicken or lamb.
what does massaman mean ?
The term 'massaman' or 'matsaman' is not a Thai word. Historians argue that the terms came to existence in the 19th century and is derived from the word 'Mussulman', referring to Muslim. Therefore, many believe that Muslims brought these influences to Thailand, especially since the paste calls for oriental spices such as cumin and cardamom.
Others argue that the term 'massaman' is derived from the Malay word 'masam', which translates to sour. This could well be the case as the curry does call for tamarind paste, which is known for its acidity. Some cooks even go the extra mile and add either tamarind juice or Thai sour tamarind for extra flavour.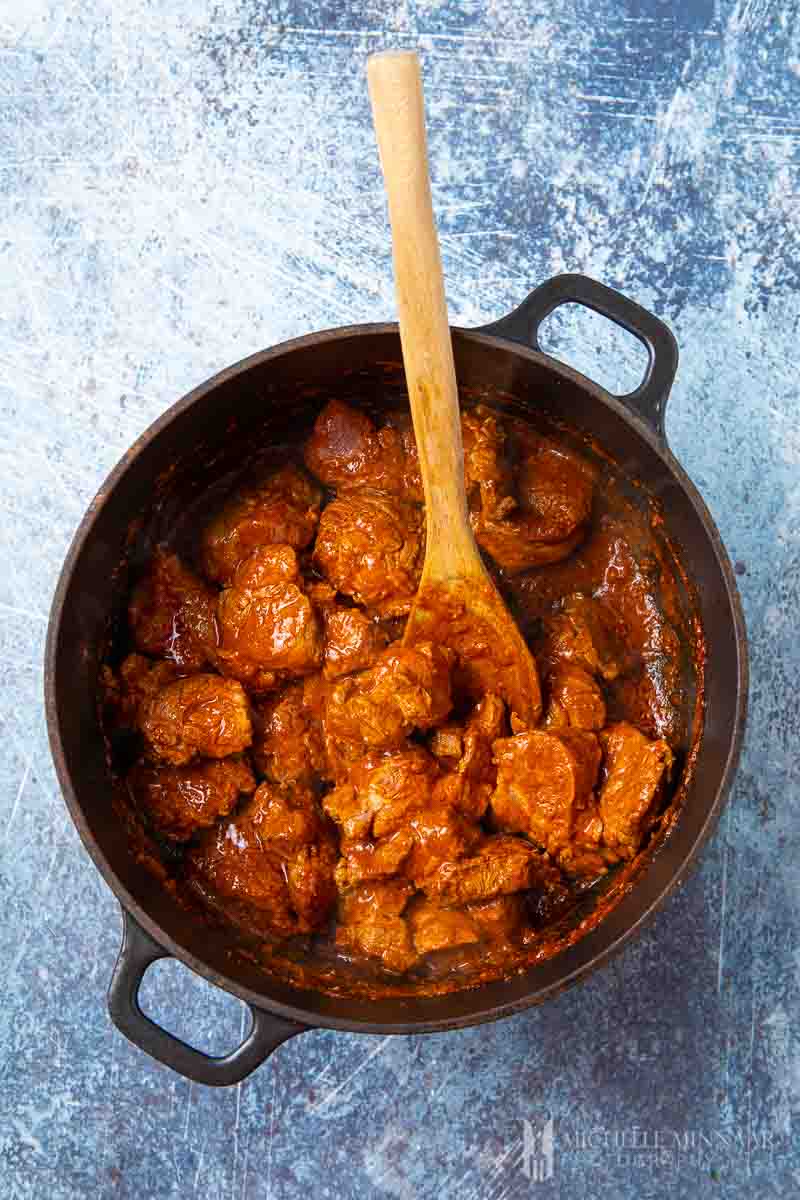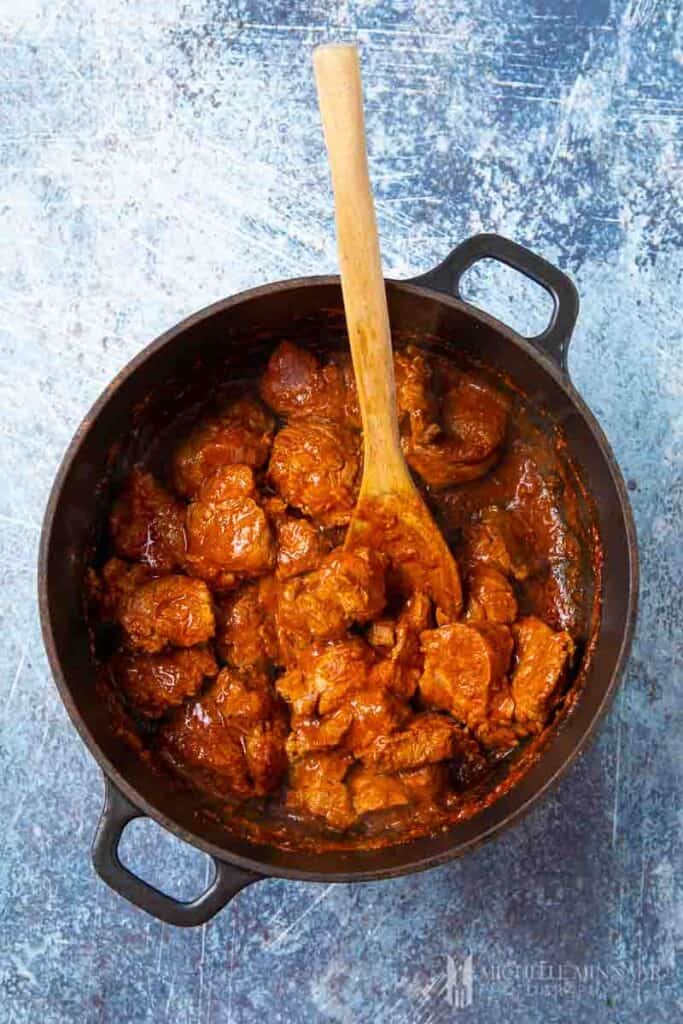 lamb massaman curry origins
The first written record of this recipe was made by Lady Plean Passakornrawong, back in 1889. However, her massaman recipe called for chicken and orange juice. In addition, the first known record spelled massaman in the following way – matsaman.
Even though the first written record only came in the late 16th century, the first time the dish actually appeared was in the 17th century in central Thailand.
It is said that the dish was introduced to Thailand through the successful Persian trader and merchant Sheik Ahmad Qomi. Oriental spices such as cardamom, cumin, nutmeg, bay leaves and many more have been brought to Thailand by traders from the orient, as they made their way throughout southeastern parts of Asia. It was only later, that this trade was undertaken by other players such as the Dutch, the Portuguese as well as the French East India company.
Did you know that the well-known noble Thai Bunnag family are ancient descendants of the Sheik?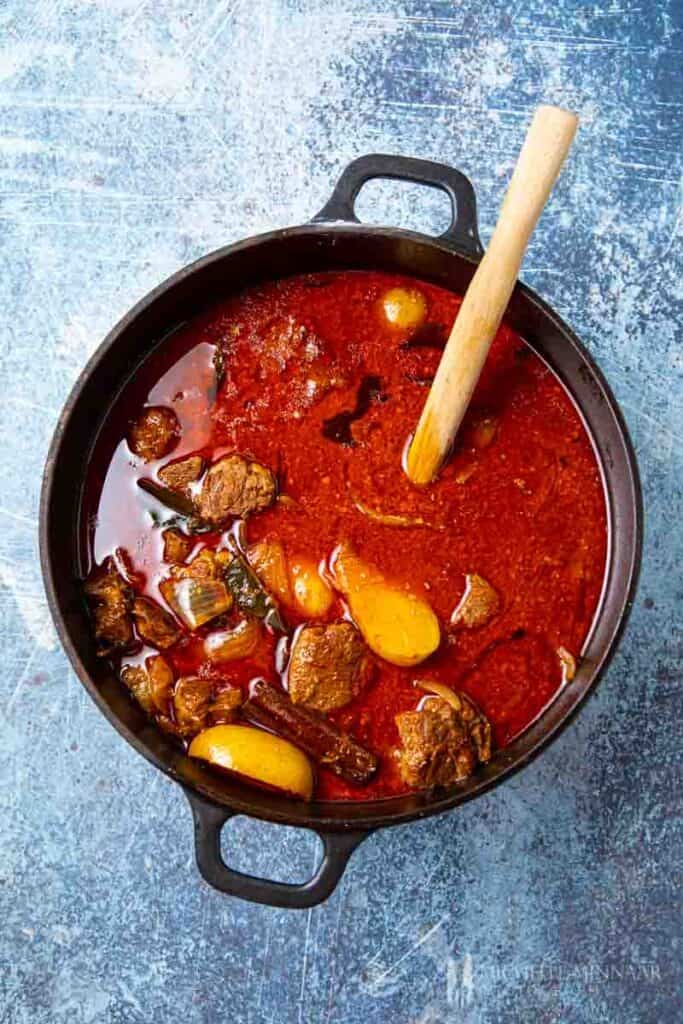 what is massaman curry paste made of?
As mentioned above, the paste for this Thai recipe calls for non-traditional components, which are more used throughout the Orient instead of Thailand.
There are many versions of the paste. However, the most common ingredients that make up this paste are:
These spices were then combined with local ingredients such as:
shrimp paste (which is not included in every version of massaman paste)
red chilli peppers
onions or shallots
garlic
All the spices and ingredients are then mixed together to make the massaman paste.
where to buy massaman concentrate / paste
Luckily, today you don't have to make this paste from scratch as it includes a lot of components. You can however purchase it in your local Asian store or order it online.
In fact, with Asian cuisine being on the rise in all parts of the world, it wouldn't even surprise me if you found it in the supermarket.
Careful though, some pastes can pack a lot of heat. Adding heat with chilli powder or chilli pepper to this recipe is not recommended. However, if you really feel like adding a bit of heat, go for it. I recommend adding the heat component as a topping – fresh red chilli peppers.
authentic massaman recipe
The authentic version actually doesn't call for kaffir lime leaves. Instead of kaffir lime leaves, spices and herbs such as cumin, cardamom, galangal and lemongrass are mixed with Thai sour tamarind to make the base.
Nevertheless, I very much enjoy the lemony pungent flavour that kaffir lime leaves add to a curry dish. Hence, I decided to throw a couple of lime leaves into this recipe to give it a stronger aroma.
if you haven't got kaffir lime leaves, don't worry. Just add an extra stalk or two of lemongrass and let the whole thing simmer on high heat. Otherwise, you can always consider the following kaffir lime leaves substitutes.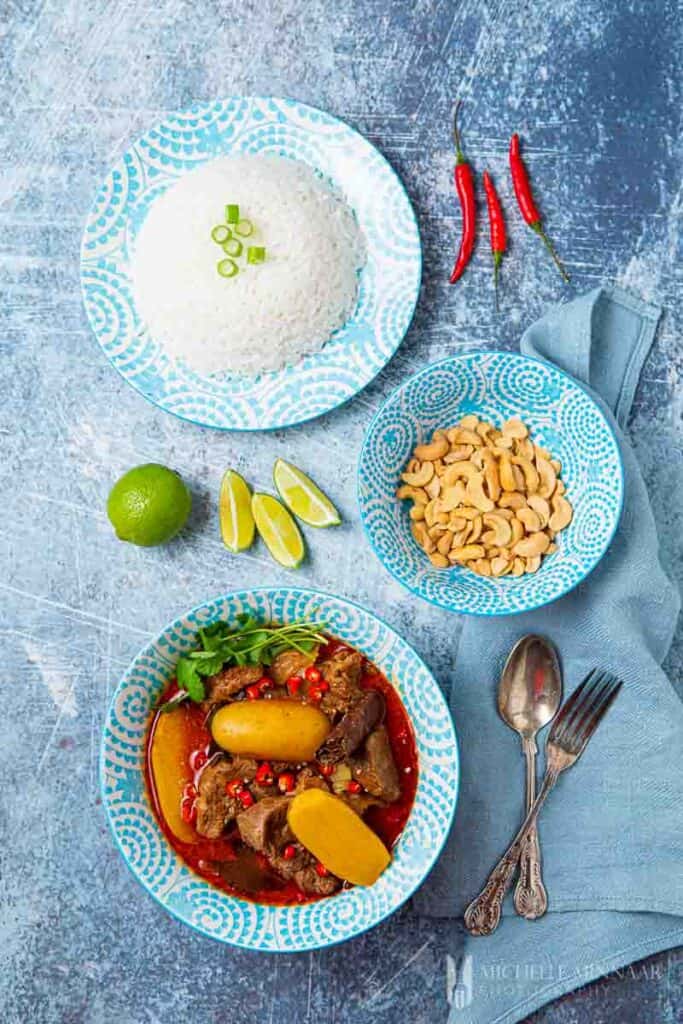 best cut of lamb
I love making Asian curries with lamb. Lamb offers a lot of bold flavours and is a healthy ingredient! It contains a lot of the essential nutrients your body needs such as vitamin B12, niacin and protein.
A lot of people carry the misconception that lamb is a very fatty ingredient, but this really couldn't be further from the truth. Lamb offers intensity and a certain richness, which makes eating curries like these a memorable experience.
For this recipe, I've used lamb neck fillet which I've cut into thick slices. I enjoy a hearty curry, so I generally tend to leave the size of my cuts larger.
If you cut the lamb neck fillets too small, you risk that the lamb won't cook to perfection. Either you overcook it and it will become chewy like rubber or it will disintegrate completely.
other cuts
Here is a list of other cuts of lamb which could work well with this recipe:
sirloin
lamb shoulder
hind shanks
fore shanks
Cuts I wouldn't recommend include:
Although, lamb mince is often a favourite cut used in many Asian curries.
Asian lamb recipes
If you love lamb and would like to master more Asian recipes which call for lamb, then try the following:
other lamb recipes
If you are looking for non-Asian lamb recipes, you should also take a look at these below:
massaman beef curry
If you haven't sourced lamb, then its closest substitute would be either beef or goat. The latter works well with this recipe.
Although when trying to follow this lamb massaman curry, beef would be the best substitute.
You can add stewing beef, or cuts such as: beef shanks, beef shoulder or chuck.
duck massaman curry
With regards to duck, the best cut to use is duck breast. It is absolutely ok to leave the skin on as it adds extra flavour. Although, opting for this type of meat would be quite expensive as duck is not the cheapest ingredient.
pork massaman curry
This is not the most popular variety of a massaman recipe, as pork is considered by Muslims as haram 'forbidden'. Therefore, this version is not very common.
massaman fish curry
It is best that you go for white fish such as cod or sea bass. In fact, you can make this whole baked sea bass and use any leftovers for recipes like these.
chicken massaman curry
The best part of the chicken to use for this recipe would be chicken thighs, because they carry a more intense flavour that chicken breasts. So, use chicken thighs for better results!
vegetarian massaman curry
For making a vegetarian option, you can substitute the lamb with either sweet potatoes or butternut squash. Just cut them up into squares and let them simmer away.
massaman curry slow cooker
You can always make this recipe using a slow cooker. Usually with meat like lamb, the dish should be slow cooked for approximately 8 hours.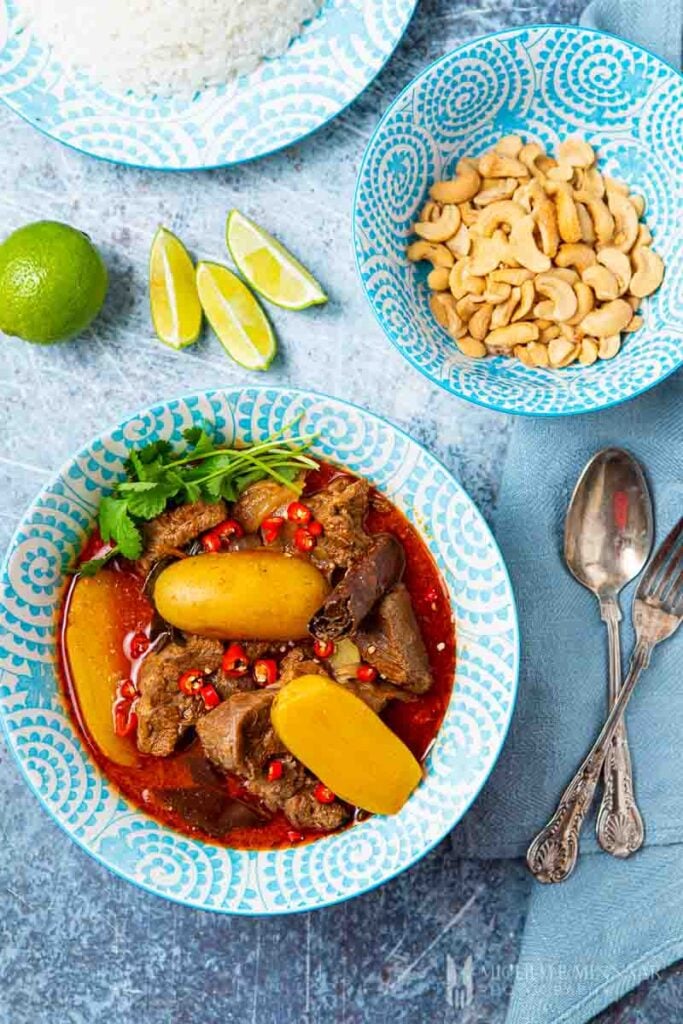 best toppings for massaman lamb curry
I recommend the following toppings which I believe work best in any Asian curry recipe:
freshly sliced red or green chilli peppers
fresh coriander leaves
bean sprouts
lemon
fresh slices of oranges
almond flakes
fried onion
salted peanuts or cashews
I like to garnish this recipe with chopped coriander leaves.
what to serve lamb massaman curry with
Remember to serve this delicious curry with a bowl of rice. To keep your carb level down, you can also serve with roasted vegetables.
How would you top and serve your lamb massaman curry? Let me know in the comments section below.
Print
Lamb Massaman Curry
---
Description
Lamb Massaman Curry is a Thai recipe comprising lamb gently cooked in warming spices and coconut milk. Best served with steamed rice.
---
400

ml (1 can) coconut milk

60

ml (¼ cup) massaman curry paste

600g

(1½lbs) lamb neck fillet, cut into thick slices

2

onions, peeled and cut into wedges

15

ml (1 tbsp) tamarind paste

15

ml (1 tbsp) brown sugar

15

ml (1 tbsp) fish sauce

90g

(

3oz

) toasted peanuts

450g

(1lb) new potatoes, washed and halved

2

red chillies, washed and finely sliced
---
Instructions
Preheat the oven to 180°C / 160°F / 355°F / gas mark 4.
Heat 30ml (2 tbsp) of coconut milk in a cast iron casserole dish.
Add the curry paste and fry for 1 minute.
Stir in the lamb pieces and brown all over.
Add the remaining coconut milk, onions, kaffir lime leaves, cinnamon stick, tamarind paste, brown sugar, fish sauce, half of the peanuts, and 250ml (1 cup) of water. 
Bring to a simmer, cover with a lid and cook in the oven for 45 minutes. 
Remove the casserole from the oven and stir in the new potatoes. 
Cook in the oven for a further 45 minutes or until the meat is tender and the potatoes cooked through.
Sprinkle with the chillies and the remaining peanuts, then serve with white rice, lime and coriander leaves.
Notes
Sometimes it's hard to find fresh kaffir lime leaves. Feel free to substitute with dried instead, using the same amount.
If you can, try to fish out the cream from the tin of coconut milk when frying the curry paste in the second step above.
This is quite a gentle curry, so feel free to up the amount of curry paste and chillies used.
Feel free to substitute the lamb with your favourite stewing cut. Cooking times might vary, so be careful not to overcook the potato!
Prep Time:

15 minutes

Cook Time:

1 hour 45 minutes

Category:

Curry

Method:

Stew

Cuisine:

Thai
Keywords: lamb massaman curry, lamb curry recipe, massaman curry recipe, thai lamb curry, thai curry recipe