Bombay aloo, also known as Bombay potatoes, is a delicious Indian potato dish. Bombay aloo highlights all these beautiful traditional Indian spices like garam masala, cumin seeds, turmeric and more.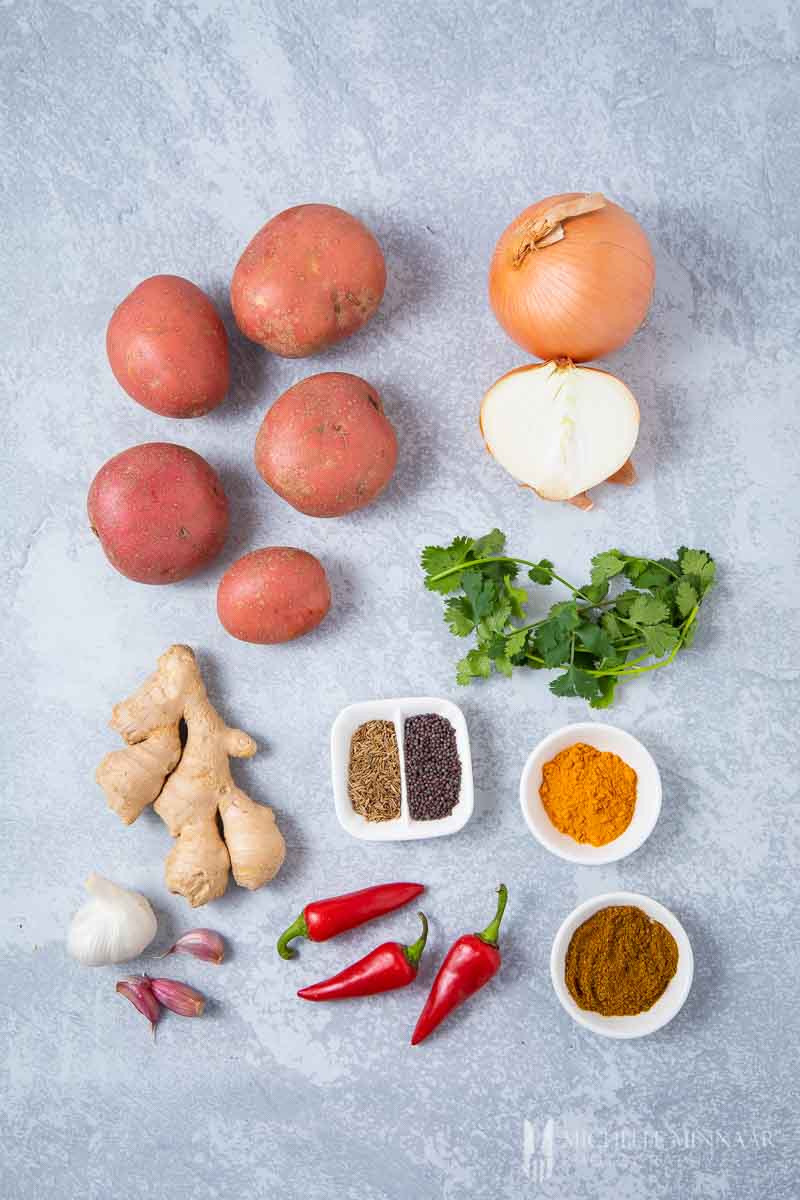 However, this Bombay aloo dish is much more than just an Indian curry recipe. It's a flavourful potato dish that's easily prepared in under 30 minutes.
What's best about this Bombay aloo recipe is that it uses an inexpensive ingredient, which is the humble potato. The only part which will need a little bit of investment are the spices, however you can the leftover spices those forever with other delicious Indian recipes.
Serve this dish as a starter, a side dish or a main course. Whatever you prefer best!
Bombay aloo recipe
In summary, Bombay aloo is a dry Indian potato dish which involves fried potatoes. The potatoes are always flavoured with traditional Indian spices such as:
In spite of all these spices, it is not a wet curry dish. Bombay potatoes are always served dry. However, if you feel like this Bombay aloo recipe is too dry for you, you can always add a bit of yogurt or coconut milk.
In short, the latter will change the taste and the consistency of you dish. However, it won't ruin the deliciousness. On the contrary, you'll have another type of Bombay aloo recipe.
My suggestion is to make two batches and find out which one you prefer. If in doubt, you can always include this homemade curry base sauce.
which potatoes to use for Bombay potatoes?
What do you get when a potato and beetroot have a one night stand? A purple potato, of course!
Years ago when I first prepared this Bombay aloo recipe, I used UK's first ever fully inside and out purple potato called Purple Majesty. Unlike purple sprouting broccoli this purple potato retains its colour when cooked.
If you cannot find these in the supermarket, you can also go for the French Vitelotte potatoes. Here are some common/obvious questions that crossed my mind when I first learned about purple potatoes.
Is the Purple Majesty potato genetically modified?
No. There are thousands of varieties of potatoes and some have deep red and purple colouring. Scientists from Colorado University have crossed these varieties and after two years of trials in Scotland these purple beauties finally became available to the public.
Actually, the first ever purple potato I've ever heard of was the Hawaiian Sweet Potato. I love the fact that there are tons of purple varieties of potato out there!
Are purple potatoes healthier than the average white ones?
Yes. The purple potato contains the same antioxidant, called anthocyanins, that appears in blueberries, blackberries and aubergine. It is beneficial to the immune system and has anti-inflammatory properties.
Also, let me just mention that there is no difference in taste levels between the purple and the normal potatoes.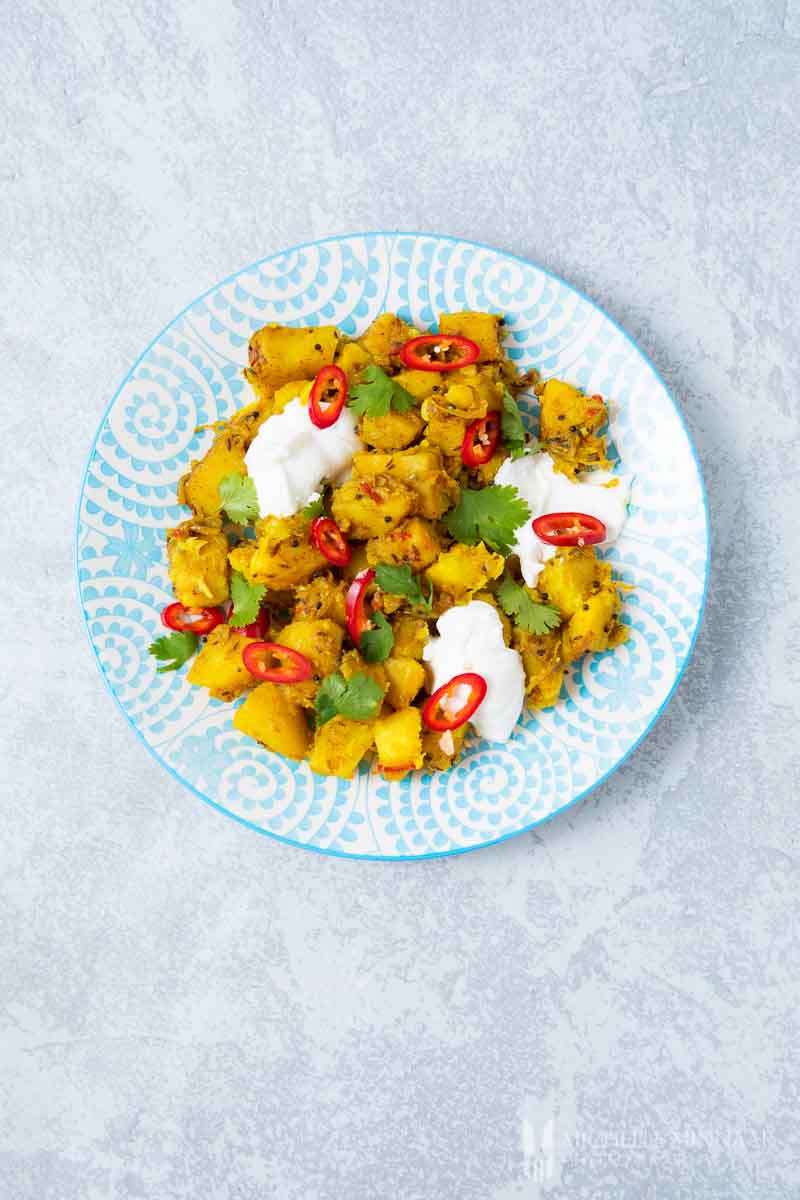 Bombay aloo gobi
You can easily jazz up this Bombay aloo dish with other vegetables like cauliflower. If you do decide to use cauliflower, the dish then becomes the infamous aloo gobi.
Aloo gobi is one India's most popular dishes, and involves a mix of potatoes, cauliflower and traditional Indian spices.
The best part is, that if you have leftover cauliflower, you can easily make curried cauliflower with yogurt. Just have it as another side dish!
saag aloo
You can try another variation of an aloo recipe. For instance, just add saag or spinach to your Bombay aloo. This means that you'll have a potato and spinach together, which will transform this dish into a saag aloo.
Bombay aloo mix
Now, sometimes you can jazz the spice mix of a Bombay aloo with other ingredients. If you feel like experimenting with your Bombay potatoes recipe, then feel free to have a peek at these:
You can use whichever one of these ingredients to your flavour. Does anything appeal to you in particular?
Vegan Bombay aloo
Generally speaking, a Bombay aloo recipe is vegan. Especially, if you use vegetable oil instead of ghee (clarified butter). So, there is no need to panic. If you are following a vegan or vegetarian diet, this is a fantastically nutritious recipe.
Bombay aloo calories
Don't even think about calories when cooking this dish. It's not worth the hassle because it's not a calorie bomb.
If you would like to go a little bit lower on the carbs, you can add more cauliflower and spinach instead of the potatoes. This way, you can eat with gusto totally guilt free.
In fact, you might have some room to spare to sample other delicious and healthy Indian side dishes:
Whenever I serve Indian food, I like to select a handful of starters. I recommend selecting two or three. Especially if you are having an Indian feast later for your guests. It would be an excellent accompaniment for Indian roast leg of lamb.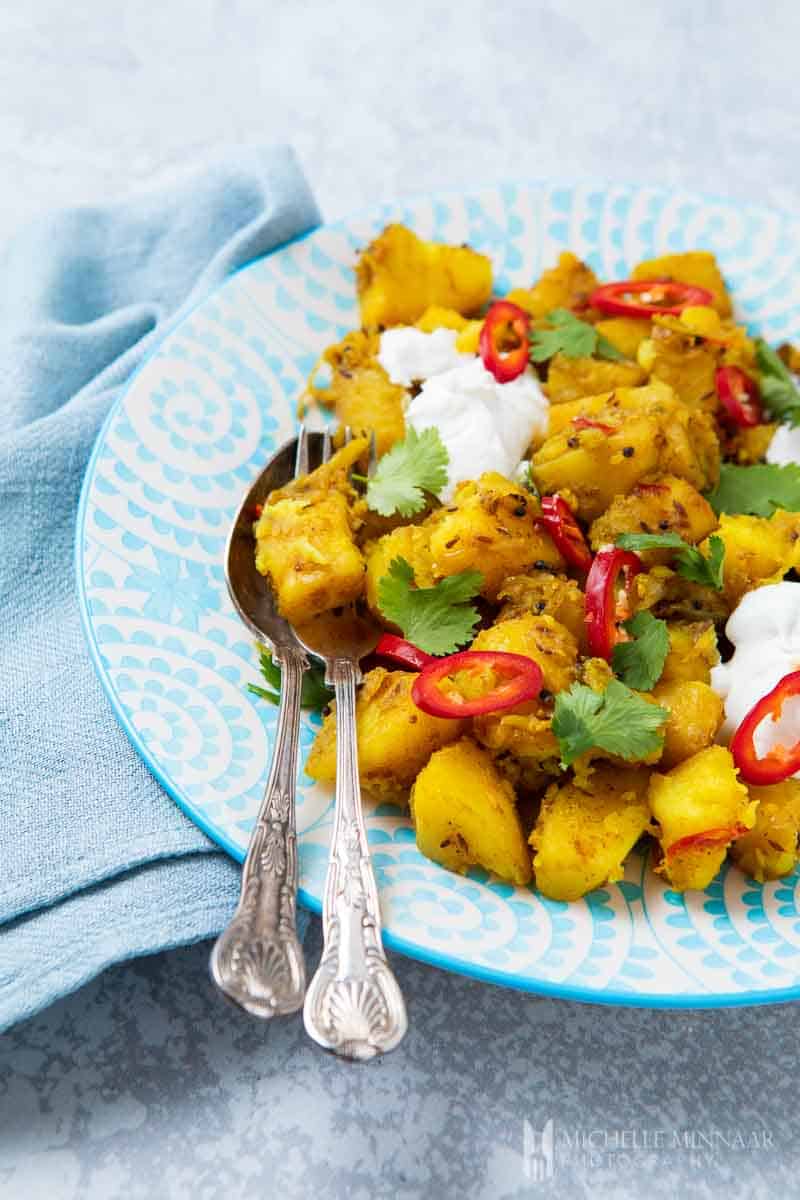 serving
The best part about Bombay potatoes is the fact that the potatoes are quite filling. Therefore, you don't need to serve the potatoes with an extra portion or rice.
In general, you can serve Bombay aloo with naan or rotis but these might be too filling. Why don't you try kerala paratha? It's considerably lighter and thinner.
Start this vegan meal with this pumpkin and sweet potato soup before moving on with this bombay aloo and other vegan dishes.
toppings
One of my favourite toppings for all Indian dishes are fresh coriander leaves. If you haven't got coriander at hand, just take a look at these top coriander substitutes.
Next, for a bit of a kick, serve the Bombay aloo with fresh red chillies. Although, if this is too hot for you, you should have a cucumber raita on the side. You know, in case of emergency.
If you love all things potato...
Print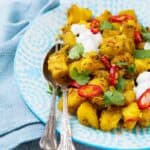 Bombay Aloo
---
Description
Bombay aloo, also known as Bombay potatoes, is one of UK's favourite Indian side dishes. Parboiled potatoes are cooked with onions and a dry spice mix.
---
45

ml

(3 tbsp) vegetable oil

10

ml

(2 tsp) cumin seeds

5

ml

(1 tsp) mustard seeds

2.5

cm (1 in) ginger, peeled and finely grated

1

large garlic clove, peeled and crushed

1

onion, peeled and finely chopped

1

medium-hot chili, finely chopped [optional]

10

ml

(2 tsp) ground coriander

5

ml

(1 tsp) turmeric

5

ml

(1 tsp) garam masala

2.5

ml

(1/2 tsp) chilli powder

1

kg

(2 lbs) potatoes, scrubbed and cut into 2.5cm (1 in) pieces
fresh cilantro (coriander leaves)
fresh red chillies, washed and sliced
---
Instructions
Heat the oil in a hot, lidded frying pan and fry the cumin and mustard seeds for a minute or do until they pop.
Now add the ginger, garlic, onion and chilli and continue frying for a further minute before adding the coriander, turmeric, chilli powder and garam masala. Cook for 1 more minute.
Now turn the heat down to low and add the potatoes to the pan. Mix in 125ml (½ cup) of water, put the lid on and continue cooking for about 10-15 minutes, stirring regularly, or until the potatoes are just tender. You may need to add a little extra water to stop them sticking to the pan as theey cook. Add just enough water to keep the potatoes mobile in the pan.
Top with fresh cilantro (coriander leaves) and red chillies, and serve.
Notes
If you like your food hot, add more chilies.
Instead of fresh chilies you can use chili powder and adjust it to the hotness you prefer.
For novelty value I used purple potatoes but you can use any variety you like.
Prep Time:

10 minutes

Cook Time:

20 minutes

Category:

Side Dish

Method:

Pan Fry

Cuisine:

Indian
Nutrition
Calories:

326

Sugar:

2.45 g

Sodium:

53 mg

Fat:

11.425 g

Carbohydrates:

52.025 g

Fiber:

5.1 g

Protein:

4.9 g

Cholesterol:

1 mg
save the recipe to your pinterest board