Wow, for the past few days I've actually seen the sun. Bright blue, clear skies with warm rays of sunshine beating down on this green little island. Imagine that. What better excuse than to take the dogs for a walk, let Gabriel go for a swing and me getting some fresh air and exercise. And off we went…
No, not really. The dogs dragged me along and since I'm pushing the pram it came along too. You see, Pluji and Shacia don't come out very often so when do it's the highlight of their week. After scanning the park for other people and dogs and getting an all clear, I let the dogs off their leashes and enthusiastically they started sniffing around for a place to poop – as usual.
All went well until I spotted a woman and her dog entering the park. Pluji has a habit of getting a bit funny with new people she meets, so immediately I put her back on a leash when she obediently came to me as called. Obedience and Shacia in the same sentence is a laughing matter. Shacia loves meeting anyone new, including dogs and always run over to newcomers in a welcoming manner to say "hello" and today she did exactly the same. When this woman saw her approaching she immediately picked up her dog and grabbed a branch close-by. WTF?!?! By the way she acted it looked as if she was seeing THIS approaching her.
Wildly the woman thrashed the branch around, deterring Shacia successfully. About 5 metres away Shacia just stopped and cocked her head. You could almost see what she was thinking: You're nuts, aren't you? Disappointed she turned around and ran back to me for some reassurance. At least she got a chew. Thankfully the woman left a few seconds later. Since I was too far away I couldn't immediately act on the situation, but I really felt like shoving that branch up the woman's arse. Shacia doesn't have a drop of aggression in her blood and if anyone could possibly die by the paws of Shacia, it would be licking. Yes, Death by Licking.
Print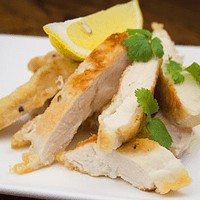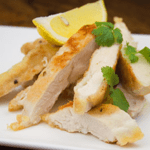 Chicken with Lemon Sauce
---
Description
Do you fancy Chinese Lemon Chicken tonight? Learn how to make this Chinese takeaway recipe. This chicken with lemon sauce is to die for!
---
4

small chicken breast fillets

5

ml (1tsp) sesame oil

15

ml (1 tbsp) dry sherry

1

egg white, lightly beaten

30

ml (2 tbsp) corn flour

15

ml (1 tbsp) vegetable oil
salt and pepper

45

ml (3 tbsp) fresh lemon juice

30

ml (2 tbsp) lime cordial

45

ml (3 tbsp) caster sugar

10

ml (2 tsp) corn flour

90

ml (6 tbsp) water
coriander leaves, to garnish
lemon wedges, to garnish
---
Instructions
Arrange the chicken breasts in a single layer in a shallow bowl. Mix the sesame oil with the sherry and add the 2.5ml/½ tsp salt and 1.5ml/¼ tsp pepper. Pour over the chicken, cover and marinate for 15 minutes.
Mix together the egg white and corn flour. Add the mixture to the chicken and turn the chicken with tongs until thoroughly coated. Heat the vegetable oil in a non-stick frying pan or wok and fry the chicken fillets for about 15 minutes until the fillets are golden brown on both sides.
Meanwhile, make the sauce. Combine all the ingredients in a small pan. Add the 1.5ml/¼ tsp pepper salt. Bring to the boil over a low heat, stirring constantly until the sauce is smooth and has thickened slightly.
Cut the chicken into pieces and arrange on a warm serving plate. Pour the sauce over, garnish with the coriander leaves and lemon wedges. Serve immediately.
Notes
Serve on top of Pea & Egg Fried Rice.
Personally, I like lots of sauce. If you do too, don't be afraid to double the quantity; it really is that moreish.
Prep Time:

15 minutes

Cook Time:

20 minutes

Category:

Dinner

Method:

Fry

Cuisine:

Chinese
Nutrition
Serving Size:

1 serving

Calories:

309

Sugar:

12.3 g

Sodium:

92 mg

Fat:

11.6 g

Saturated Fat:

2.3 g

Carbohydrates:

19.7 g

Fiber:

1.9 g

Protein:

26.9 g

Cholesterol:

75 mg
Keywords: Chinese lemon chicken, lemon sauce recipe for chicken, Chinese takeaway recipe,