Looking forward to a light and slimming meal? Then this slimming world egg fried rice is the meal you've been looking for. It's nutritious, filling and above all healthy! It's not your everyday rice and peas.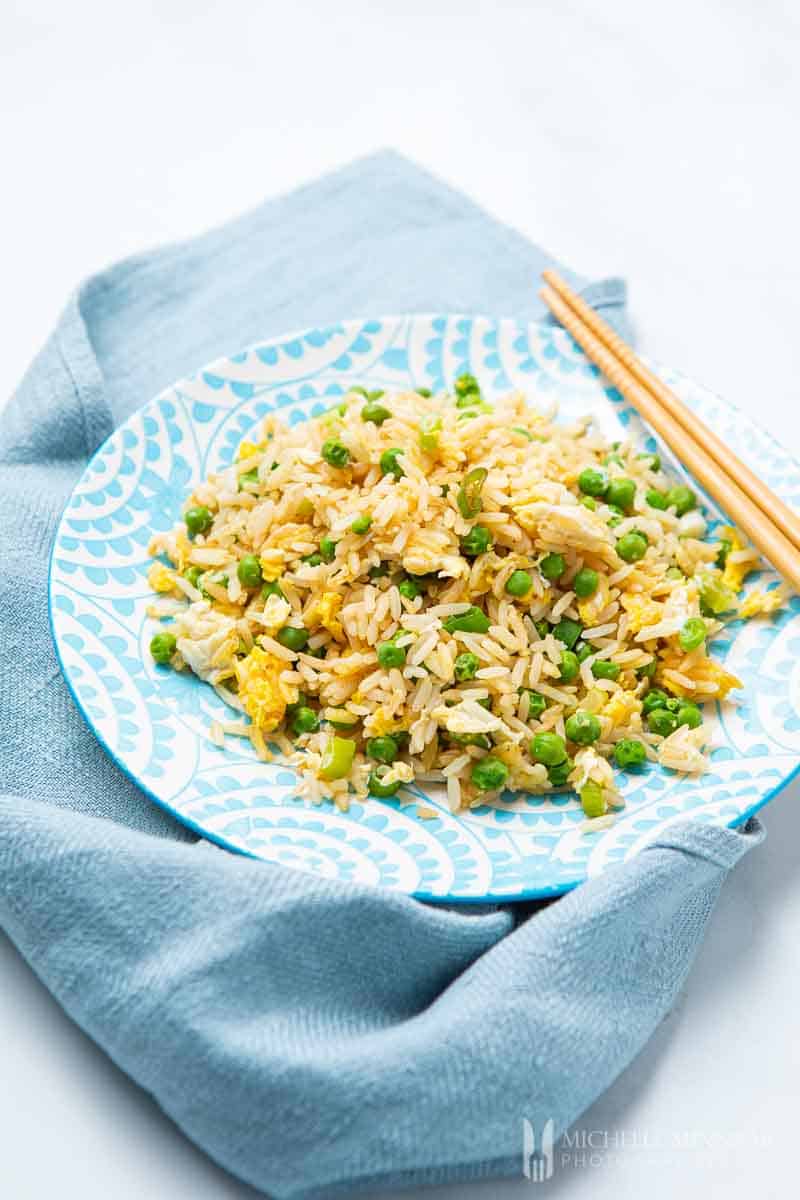 Dare to try making this slimming world egg fried rice at home. You don't have to sign yourself up for expensive pre-made meals and get them delivered to your door. First of all, such plans are quite tedious for your wallet. Secondly, they will never be as fresh as if you made the meal yourself at home.
That being said, this slimming world egg fried rice is very easy to make. You will only need a few simple ingredients to make this slimming world recipe. In the end, it makes a perfect Chinese fakeaway dish that you can replicate in a matter of minutes.
products you need for this recipe
Here's a list of things you'll need for this Slimming World egg fried rice recipe. You might want to consider these products:
Slimming world egg fried rice
This slimming world recipe calls for a total of six ingredients. Two of them are only used for flavouring. In sum, you will need eggs, peas, spring onions and white rice. What gives the egg fried rice its Asian flavour is the addition of salt and sesame oil.
Careful though with the sesame oil as it has a considerable syn value! If you've runs out of your syn allowance for the day, then do not add the sesame oil. The number of syns in sesame oil are 2 syns (in a teaspoon).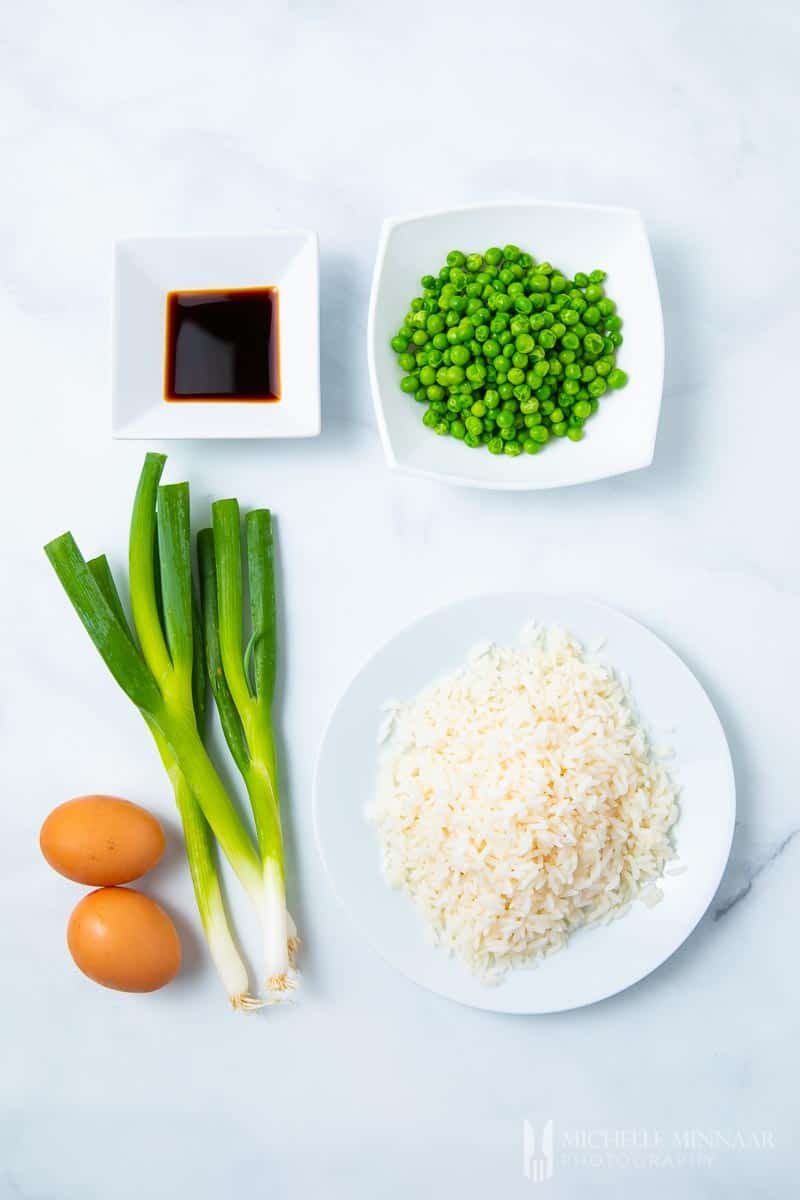 If you are looking for a Chinese fakeaway dish that's low on syns, then use soy sauce instead. Soy sauce is a free food to use the terminology of slimming world. So don't be afraid to spice your dish up with soy sauce and some additional spices like chilli.
I don't know about you, but I love adding spices to rice dishes. Exotic rice dishes are my thing. For instance, check out some of my exotic rice dish recipes:
Ghanaian jollof rice – it contains chilli peppers, thyme, ginger, garlic and turmeric and is a beautiful Ghanaian dish
Keema rice – a rich dish full of traditional Indian flavours
Slimming world chicken, rice and peas
If you feel like there is something missing in this slimming world egg fried rice, then you can always add some meat. The best type of meat to use for this healthy recipe is chicken.
Chicken is a lean white meat. It's the choice of meat for those who wish to slim down or watch their waistlines. Moreover, it is considered a free food! Therefore, you can eat it in unlimited quantities.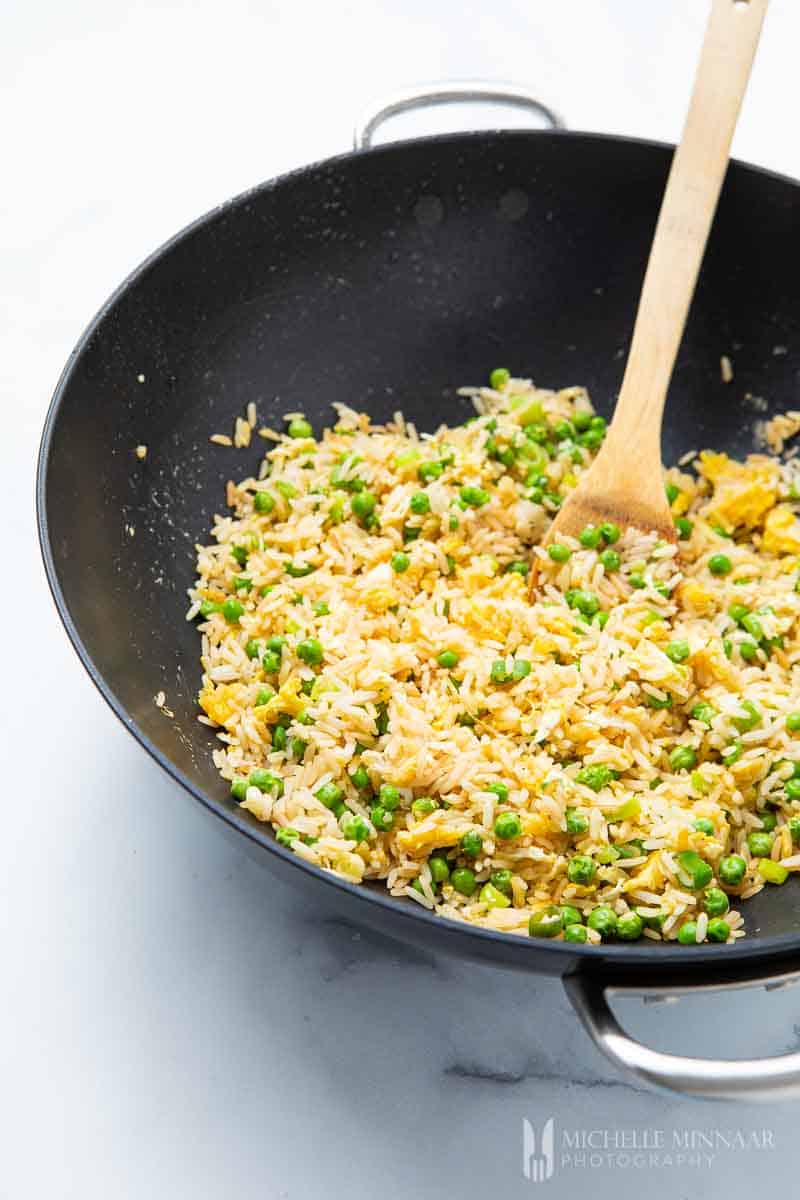 For best results with this slimming world egg fried rice, use brined chicken thighs, or brined chicken breasts. In general, brining is an excellent way to ensure that you end up with juicy chicken.
Therefore, make sure to check out my ultimate guide to brining chicken.
Once you start brining chicken, you'll never go back.
Now, if you are following a pescatarian diet, not to worry. You can substitute the chicken with shrimp or tiger prawns. I love topping a rice dish with prawns / shrimps. Just take a look at my Thai pineapple fried rice. It's a delicious combination.
Cauliflower egg fried rice
If you would like to make this a vegan rice recipe, no problem. Omit the egg. Add cauliflower instead. It would be best to parboil the cauliflower in advance. This way, it will be soft as well as crunchy.
Stir in the small pieces of white or green cauliflower once your rice is cooked. Better yet, if you want to take out the rice, just use the entire cauliflower and shred it. It is an excellent low-calorie alternative.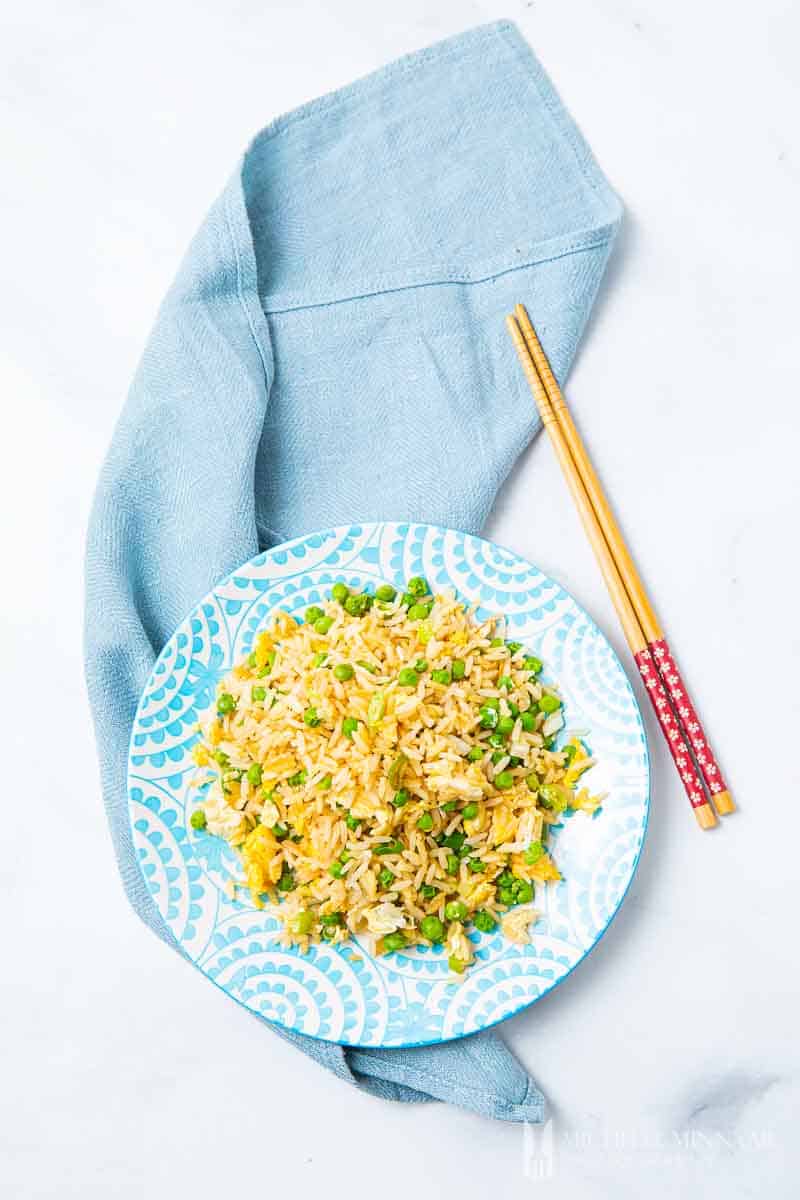 Healthy egg fried rice
To keep this slimming world egg fried rice recipe low on syns, remember to use a low-calorie cooking spray.
If you are looking for more healthy rice recipes like this one, check out these below:
If you fell in love with this slimming world egg fried rice recipe and you are looking for more slimming world recipes, take a look at these:
How to cook rice for fried rice recipes?
If there is one thing I learned from making egg-fried rice it's that the rice should be stone cold.
At first I used to boil the rice, then immediately fry it. The results were a bit mushy and not so satisfying. Also, don't fret if you don't have a wok. Our last wok's non-stick surface started flaking bit by bit until one day so much food bits got stuck to it that I chucked it in the bin and yelled at it not to come back.
Since then I haven't been bothered to buy another wok and wondered if I couldn't just use a good old-fashioned frying pan instead. Guess what? It works!
How would you make this slimming world egg fried rice recipe? Let me know how you like to serve it in the comments section below.
Print
Pea & Egg Fried Rice
---
Author:

Michelle Minnaar

Total Time:

15 minutes

Yield:

4

servings, 3 prawns each

1

x
Description
Pea and egg fried rice is a time old Asian classic side dish. You only need a handful of ingredients which are inexpensive, making this a great weekly meal. Add some sesame and groundnut oils for more Asian flavours in the egg fried rice and garnish with spring onions.
---
2

eggs, lightly beaten

10

ml (2 tsp) sesame oil [4 syns]

5

ml (1 tsp) salt

320g

(2 cups) of cold cooked white rice

125

ml (½ cup) frozen peas, thawed

2

spring onions, chopped
---
Instructions
Put the eggs, sesame oil and half the salt in a small jug or bowl, mix a fork and set aside.

Heat a large frying pan over a high heat and spray with low calorie cooking spray. 

Add the rice, remaining salt and peas and stir-fry for 3 minutes, or until it is heated through.

Next drizzle in the egg and oil mixture and continue to stir-fry for 2-3 minutes or until the eggs have set and the mixture is dry.

Toss in the spring onions and stir-fry for another 1 minute then serve at once.
Notes
If you're on the Slimming World programme, one portion equals 1 syn.

If you're not gluten intolerant, you can use 30ml (2 tbsp) soy sauce instead. Otherwise, stick to salt as the recipe suggests.
Prep Time:

10 minutes

Cook Time:

5 minutes

Category:

Side DIsh

Method:

Stir Fry

Cuisine:

Chinese
Keywords: slimming world egg fried rice, egg fried rice recipe, egg fried rice with peas, Chinese side dish recipe, Chinese rice recipe