Ever had kare kare before? It's a classic oxtail stew from the Philippines.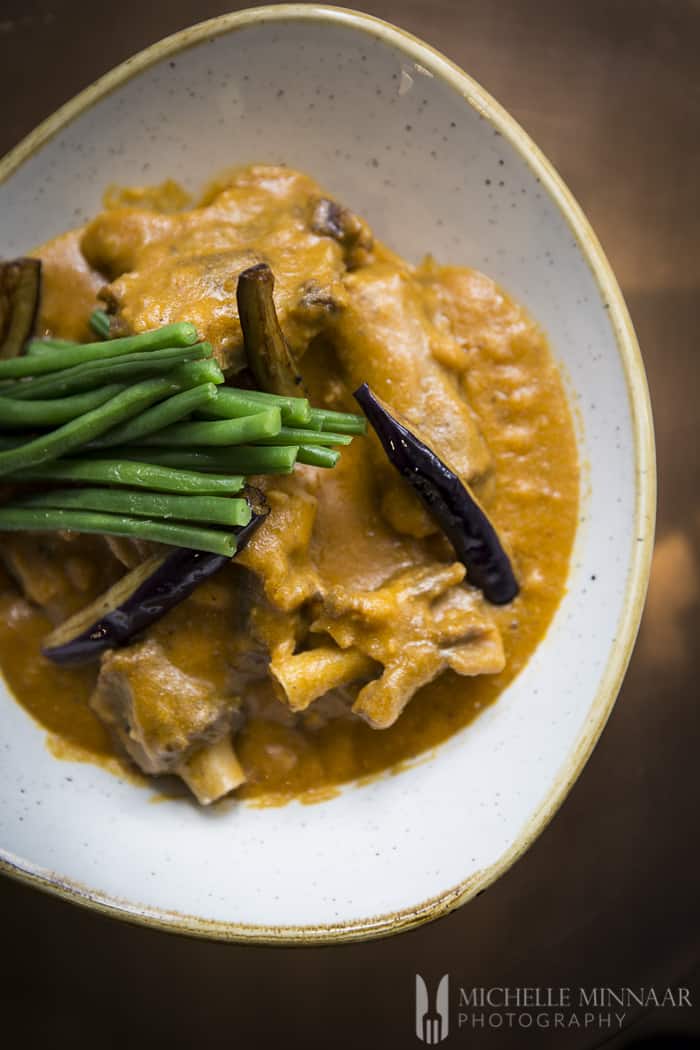 What makes it unique is the thick peanut sauce which adds that lovely sweet and nutty flavour. You should definitely try this delicious kare kare recipe.
In addition, you can tweak this recipe to suit your preferences as there are many variations. Kare kare works with meat, fish, tofu, seafood as well as vegetables.
In fact, you can make it a vegetarian-friendly recipe if you are on your way to cutting out meat from your diet (like me). However, the traditional Filipino kare kare stew calls for oxtail.
Again, feel free to swap the oxtail with a vegetarian substitute. The thick peanut sauce will add just the right amount of flavour you are looking for.
So, have you tried this amazing stew? It's time you tried something different and gave Filipino cuisine a chance to shine in your kitchen.
Enjoy Filipino Food at Home
best kare kare recipe
Kare kare is a traditional Filipino recipe. The word 'kare' is derived from the word curry (surprise surprise!). You might also know this dish as kari-kaari.
By the way, don't associate this curry with other Indian curries as the flavour is completely different.

The original recipe calls for oxtail. However, there are multiple versions out there which you might find when visiting the Philippines.
For example, you can find versions of it made with:
pork
calves' feet
chicken or other poultry
pigs' feet
goat meat
beef cheeks or other cuts of beef
fish
prawns
squid
mussels
vegetables (best with eggplant)
I'll talk about other suitable vegetables which you can consider later to make your vegetarian kare kare.
Next, most of the flavour comes from ground peanuts and onions. Also, it is often coloured with a condiment called annatto.

Remember to serve it hot! That's when kare kare is at its best. If you are looking for even more flavour, then I have a handy trick in mind.
Keep the stew in the fridge for a day or two so that the flavours fuse together. You'll see that once you reheat the kare kare, it will be even better and the taste profile will be even more intense!
As a starter, you can also consider serving taro laing or mie ayam (a traditional soup with noodles). When I heard there's a Filipino restaurant opening in London, called Romulo Cafe, I jumped at the opportunity to learn more about the culture and food.
Director Rowena Romulo and head chef Lorenzo Maderas graciously invited me to do a three recipe photo shoot and needless to say it was great fun and an enlightening experience.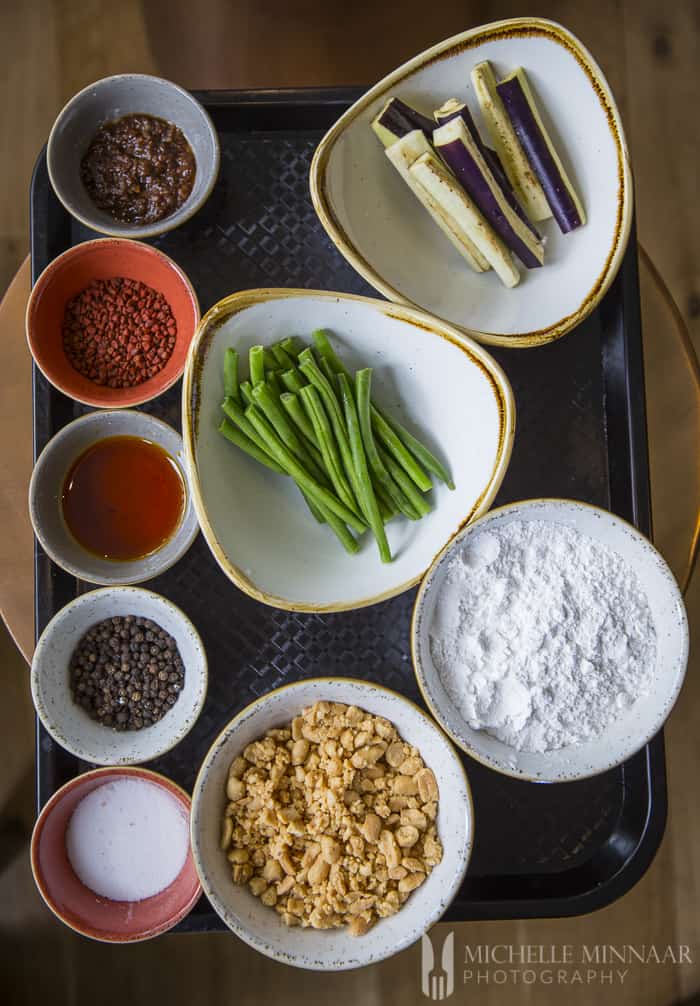 history of Filipino cuisine
It is said that the first version of this stew came from the province of Pampanga. Pampanga is known as the culinary heart of Filipino cuisine. Other historians argue that this dish actually is from Manilla.
In a historical sense Filipino cuisine reminds me of South Africa. The latter's food is heavily influenced by the Dutch, who invaded the country, followed by the British.
During the colonial period the French, Greek and Italians came. Cape Malay cooking hails from the Indo-Asian slaves that were brought along from Bengal, Java and Malaysia.
South Africa also has a large Indian community and, of course, there are the indigenous people with their own way of cooking as well.
Philippines' history stretches back much further though. Thousands of years ago the Chinese and Taiwanese moved into the area known as the Philippines, which is where its ample use of soy, tofu, bean sprout and fish sauce comes from.
The Philippines has an ideal climate for rice, hence the plethora of rice and noodle dishes. Trade took place with Malaya and Java, which introduced new food and cooking methods.
Spices were imported from India and Arabia too. In the 16th century the Spanish, with some Mexican influence, came along with their tomatoes, chilli peppers, corn and potatoes which added a completely new element to this already eclectic cuisine.
kare kare oxtail
Generally speaking, the stew is made with oxtail. Usually, the skin is left on. The tail is cut into small pieces. Sometimes up to 2-inch pieces.
Also, it is very common to include ox tripe for extra flavour. You should boil these until they are completely tender.
The best way to prepare an oxtail kare kare or any kare kare verison with meat is with a slow cooker. Usually, you must wait ages for the meat to tenderise.
However, with the slow cooker or even a pressure cooker, the meat will tenderise completely in no time. Let's be honest, tough oxtail doesn't sound too appetising does it?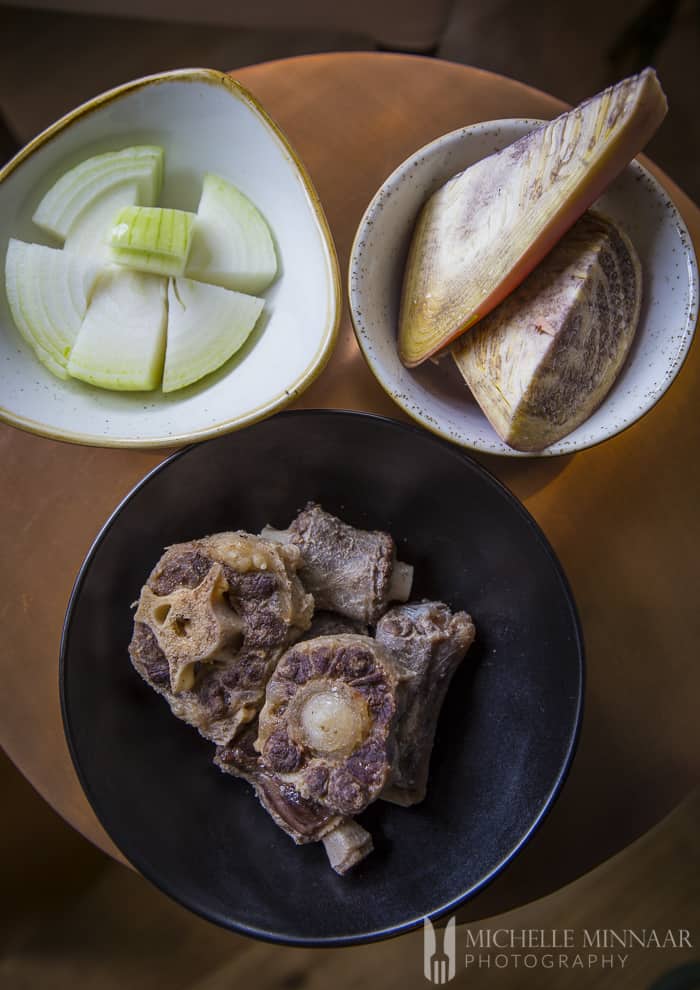 beef kare kare recipe
If you don't want to use oxtail, but still wish to include that rich umami flavour of the meat, then substitute with beef. You can use beef cheeks or beef chuck. Just remember to slice them up into smaller pieces.
pork kare kare
Similarly, you can also use pork. For the best version with pork, make sure to use pork hocks or pork shanks. You might also know this version as pata kare kare.
vegetarian kare kare recipe
To make this a vegetarian version of kare kare, you should consider these typical ingredients:
green beans
eggplant
asparagus beans
string beans
okra or lady fingers
Chinese cabbage, also called pechay
daikon
banana flower or banana heart called puso ng saging
Whatever vegetables you decide to throw in, I am sure that your version will be excellent too! Remember, it's the peanut sauce that makes or breaks the dish.
Also, a reminder to omit the shrimp paste if you would like the vegetarian or vegan version. Instead, use soy sauce.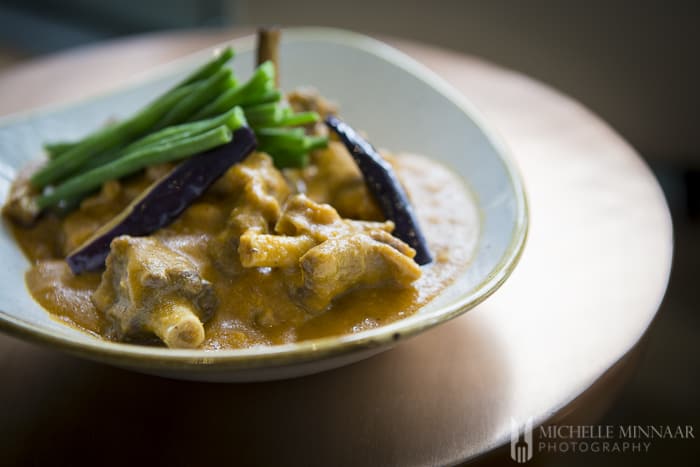 how to make kare kare
To achieve the perfect consistency, you can thicken it up very easily. First, you can thicken it the traditional way, which is by adding ground rice. Before you add it in, you can roast it or add it in plain as it is.
Second, you can also add some cut potatoes during the cooking process. This will thicken up your stew in no time.
Thirdly, you can also thicken the stew with ground peanuts or ground almond flour. Besides, the key characteristic of this stew is the thick peanut sauce, so why not take it all the way?
Again, the level of consistency is in your control. I like my kare kare to be thick and rich. However, if you are looking for a lighter batch, make it more runny.
toppings and servings
First of all, serve the stew with plain white rice. It is the perfect side dish. However, to stay low on carbs, then combine with roasted green beans or simple roasted asparagus.
You can also consider these courgetti, which are noodles of courgette. Of course, you may also opt for rice or egg noodles.
Next, you should serve this kare kare with a hot sautéed shrimp paste called bagoong alamang. Traditionally speaking, this is a must!
As for toppings, you can sprinkle the kare kare with calamondin juice (type of citrus native to the Philippines). Of course, lime juice is a very suitable alternative.
Now, as the perfect finish, why don't you indulge in these amazing banana fritters called turon. You might also know them as lumpia. So delicious!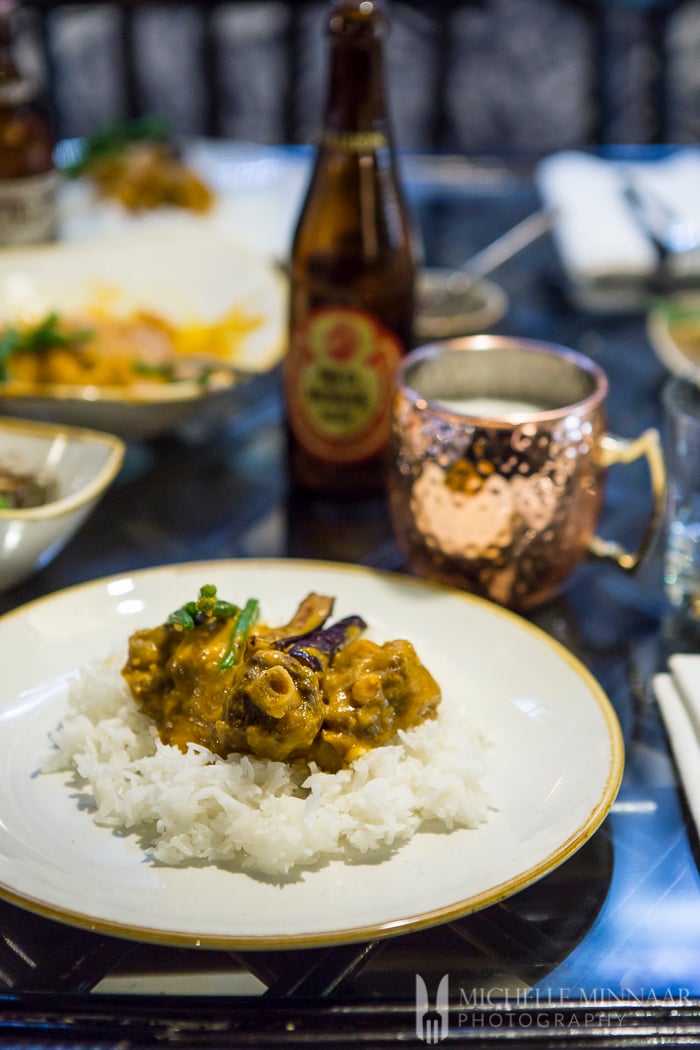 More amazing oxtails recipes
Here are more oxtail recipes for you to try!
Rabo de toro – a Spanish classic, this dish is a scorcher. Pair with a Spanish red and you'll be gone!
Oxtail stew – thick and tasty, stew doesn't get much better than this.
Jamaican oxtail stew – a hearty stew with a spicy twist, if you like your stews rich, spicy, colorful and hot hot hot, this is the one for you.
Hawaiian oxtail soup – an exotic broth with a colorful collection of ingredients, this dish will blow you away every time you try it.
Oxtail pho - a Vietnamese oxtail stew that cooks for hours and the result is a clear soup with deep flavours. Best served with noodles and numerous toppings such as springs onions, cilantro, chopped chillies and lime wedges.
Print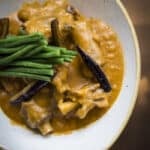 Kare-Kare
---
Author:

Michelle Minnaar

Total Time:

2 hours 30 minutes

Yield:

4

servings

1

x

Diet:

Gluten Free
Description
Learn how to cook Kare Kare at home! The main ingredient of this Filipino dish is oxtail and what makes its sauce special is peanuts. This kare-kare recipe takes time but is so worth the wait!
---
900

g

(2lbs) oxtail, segmented

100

g

(3 oz) onions, quartered

5

ml

(1 tsp) salt

2.5

ml

(1/2 tsp) whole black peppercorns

100

g

(3 oz) dry roasted peanuts

30

ml

(2 tbsp) vegetable oil

5

garlic cloves

60

g

(2 oz) shrimp paste

30

g

(1oz) rice flour

1

small eggplant, julienned

150

g

(5 oz) string beans
---
Instructions
Wash the oxtail and place in a pot with enough water to cover.
Boil for 10 minutes and discard the water.
Refill the pot with water and add the onions, salt and peppercorns.
Bring everything to a boil and immediately reduce heat to a simmering point.
Cover and cook for 90 minutes or until the oxtail is tender.
Cool in the cooking liquid. Cover and refrigerate to bring the fat to the surface. Take out the oxtail and reserve the broth.
Place the peanuts in a food processor and chop until smooth.
In another pot, heat the vegetable oil over medium heat. Saute the garlic together with the shrimp paste.
Add 4 cups of reserved broth.
Lower the flame and simmer until the broth has been reduced by half.
Add the rice flour and stir continuously until thick and creamy.
Add the peanut paste and keep stirring.
Add the oxtail and let it heat through then turn off the heat but keep the pot covered.
In a separate pot, boil the green beans in salted water until cooked but firm and green.
The eggplant can be fried. All vegetables can be added to the meat afterwards.
Notes
Oxtail can be substituted with tripe, pork or chicken. If you're short of time use peanut butter instead of grinding your own.
Prep Time:

30 minutes

Cook Time:

120 minutes

Category:

Stews

Method:

Braising

Cuisine:

Filipino
Nutrition
Serving Size:

379.8g

Calories:

761

Sugar:

2.9 g

Sodium:

2117 mg

Fat:

41.9 g

Saturated Fat:

11.2 g

Carbohydrates:

43.6 g

Fiber:

5.2 g

Protein:

51.7 g

Cholesterol:

44 mg
Keywords: kare-kare recipe, how to cook kare kare, kare kare sauce ingredients, filipino cuisine, filipino recipe
save the recipe to your pinterest board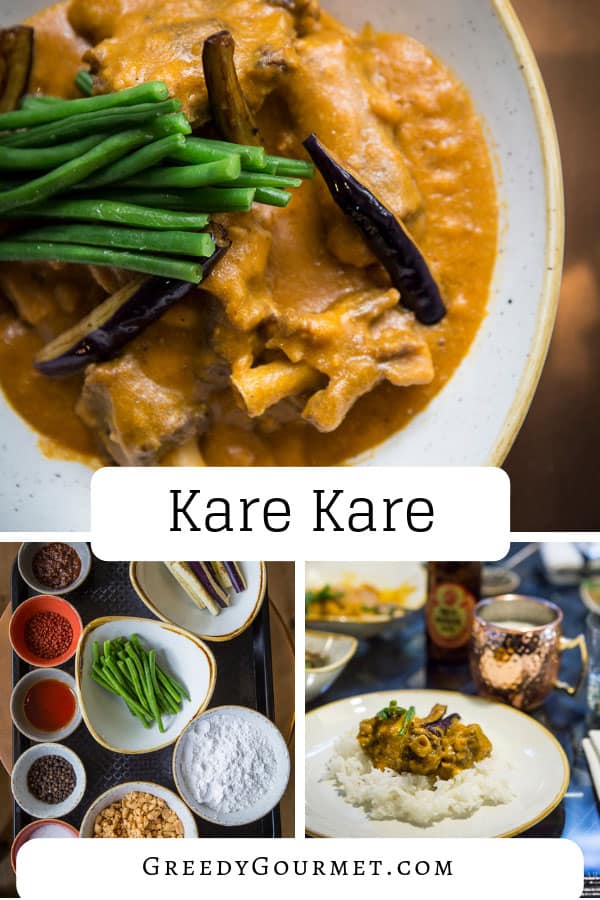 P.S. A special thanks to Romulo Cafe for demonstrating this recipe to me.