Rich and luxurious, yet light and healthy, oxtail pho is almost too good to be true. It is true though and I've got the recipe to prove it!
This Vietnamese broth is a little bowl of heaven. If you've never tried a bowl of pho, oxtail is the way to go – it'll blow you away! So, prepare your taste buds for a blissful experience.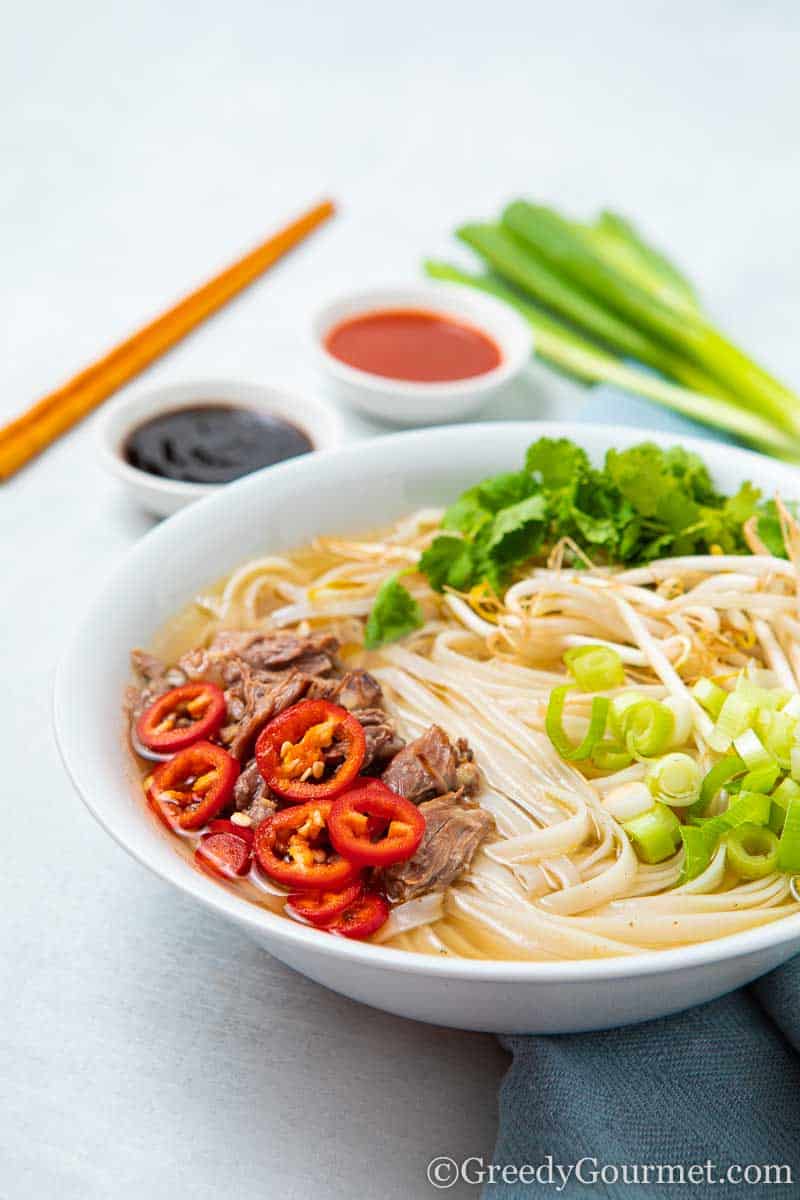 Oxtail pho recipe
This dish is warming, rich and hearty, yet nice and light at the same time. It's perfect for those who want a winter warmer recipe, but don't want the heavy overly-filling feeling of carb-heavy dishes.
A beautiful broth that combines noodles, meat, vegetables, bean sprouts and stock for a soup that tastes out of this world, this pho is phenomenal.
You can cook phos for up to 8 hours – that's what gives them such a depth of flavor. When it comes to flavor, this recipe is packed full of it.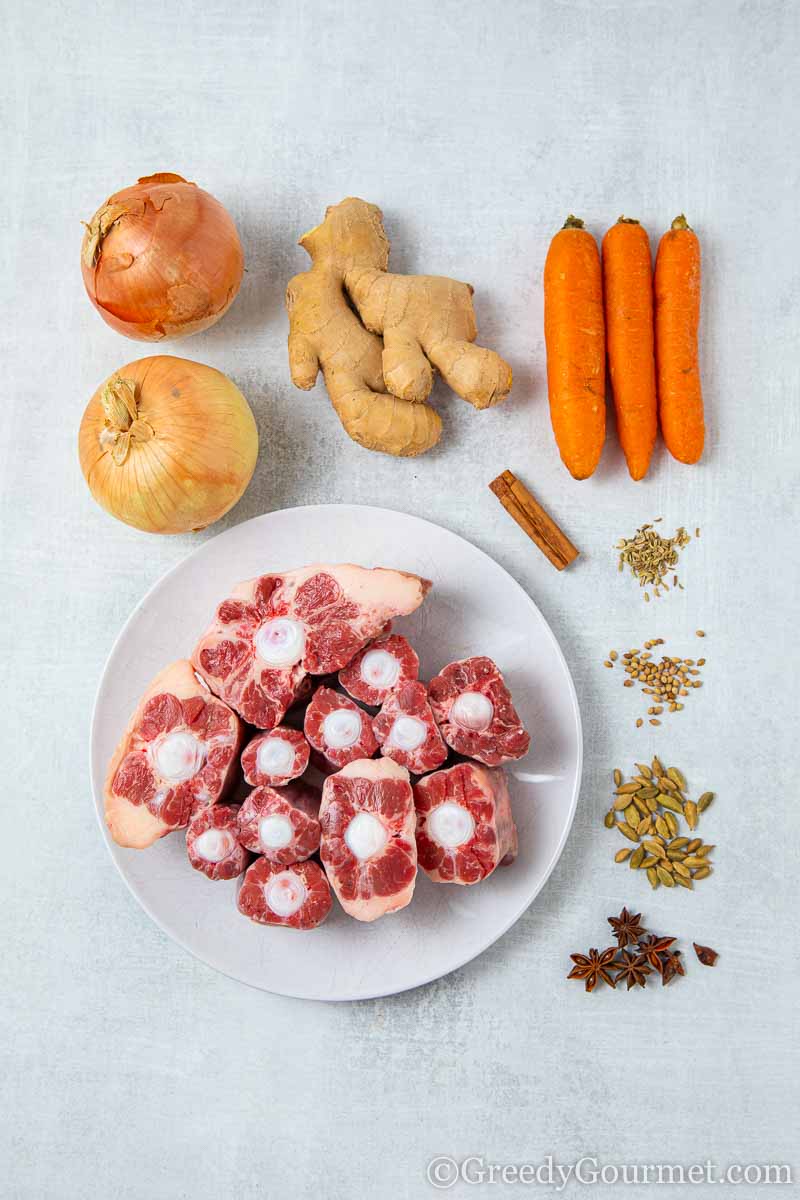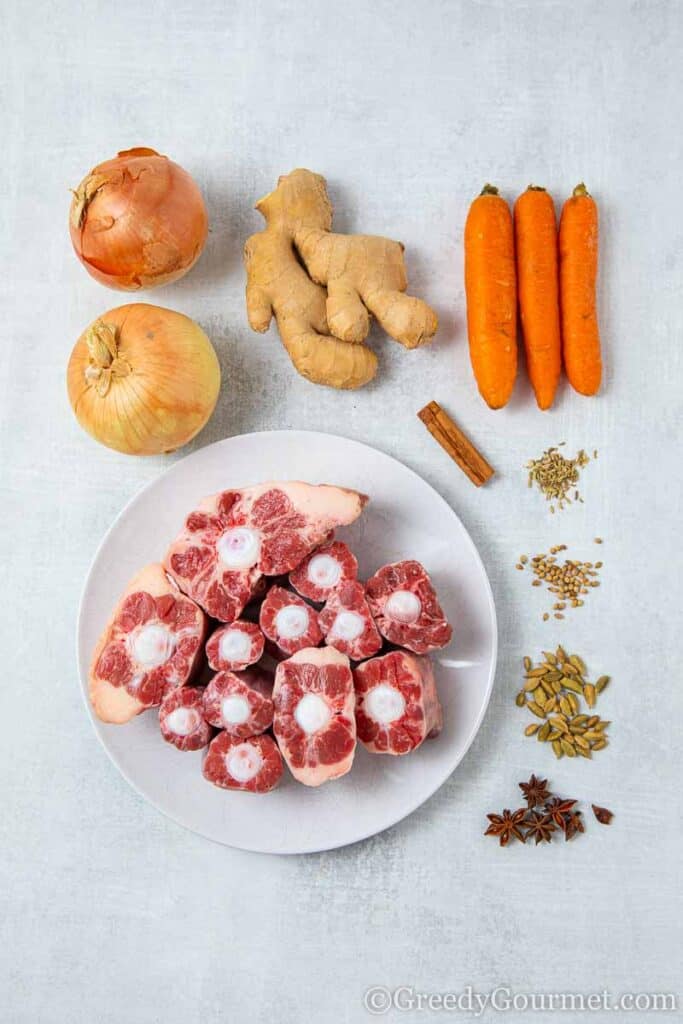 Emerald Waterways tour of Vietnam
If you're a pho fanatic and you love Vietnamese food in general, what better way to discover more than to visit this beautiful country?
Emerald Waterways is a cruise company that offer exclusive tours of some of the most beautiful places in the world. Their tour of Vietnam and Cambodia is one of the most spectacular on offer. 
An unforgettable, eye-opening adventure, the Emerald Waterways tour of Vietnam is an unmissable opportunity to go deep and discover a special culture.
You'll get into the heart of local life, experiencing jaw-dropping sights and sampling incredible food, all the while making memories that'll last a lifetime.
If good food, stunning sights and an all-expenses paid vacation sound like your kind of thing, get on board. This part of the world has a charm of its own and demands to be seen.
Check out the Emerald Waterways blog for more info on the incredible cruises they offer.
What is pho?
Never tasted pho? You're in for a treat. Light and tasty noodles, deliciously tender meat, fresh vegetables, unbelievably rich stock and fragrant herbs and spices make for a little bowl of heaven. It's the perfect dish if you want something tasty and filling, yet light and healthy.
A traditional Vietnamese broth, pho is a delicious dish that has become hugely popular all around the world. The 'pho' refers to the noodles in the dish, but now is taken to mean the actual dish itself.
There are many different types of pho. For this pho recipe, oxtail is my meat of choice. It's a really special cut of meat that doesn't get enough love.
Just try this recipe and you'll see what I mean! You'll end up with an intensely rich broth that's soothing and stirring in equal measure. 
How do you pronounce pho?
Although you might be tempted to say 'foe' as in rhyming with 'toe', the closest way to pronounce pho with a Western tongue is 'fuh' as in rhyming with 'duh.'
What are oxtails?
Oxtial is a delicious highly underrated cut of meat that you just have to try. In times gone by, oxtails dishes traditionally used the tails of oxen. Modern recipes usually use cows' tails.
While oxtails are classed as offal, when cooked slowly it's one of the most succulent, tender cuts of meat you could ever hope to taste.
Oxtails make a particularly good ingredient in a soup or broth. The flavor they bring is deep, intense and very rich. This is what makes this pho really stand out.
The way the marrow in the bone breaks down gives the stock of this pho an unbelievable richness and silky texture.
In what countries do they eat oxtails?
Oxtails recipes are popular throughout the world, with many different cultures using this delicious cut of meat as a key ingredient in their national dishes.
In Spain, a rich stew is made using oxtails. Known as rabo de toro, it originated in the bullfighting circles in Andalucia, soon becoming a national favorite. A similar dish in cuba, rabo encendido, uses spices to give the stew a fiery kick.
In Jamaica, oxtails are often used in zesty stews and soups, flavored with fresh herbs, salt and pepper, and dried spices for divine dishes that are popular throughout the world.
In Italy, oxtails are a big part of stew and pasta recipes. Oxtails are used to make a very popular ragu that's simmered low and slow in a rich tomato sauce. Another dish, coda alla vaccinara, or roman stew, is a delicious old world stew that's still very popular in Italy.
Borscht, a traditional thick, intense stew is very popular in Russia, where they also use oxtails as a key ingredient in appetizers. 
In South Korea, an oxtails soup called kkori is a very traditional dish, usually served with rice.
Then of course, in Vietnam, pho is a big national dish. It's now becoming massively popular in the US, as well as throughout Europe and the rest of the world!
How do you prepare oxtails?
Before you make this Vietnamese oxtail soup, you'll first need to prepare the oxtail for cooking. You'll need to clean it first, by rinsing it in cold water. Then, pat dry with a few paper towels.
You'll also need to cut the extra fat off this quite fatty cut of meat. A lot of the flavor in the broth will come from the fat of the meat, but you don't want too much fat.
So, a good quality, sharp chef's knife and firmly hold one end of the oxtail (use a tea towel for a better grip). Then, cut down diagonally, slicing strips of fat, always remembering to cut away from you.
Once you've cut away as much as you can, it's ready to go!
Is pho good for you?
This pho has a number of really healthy ingredients that bring plenty of healthy benefits.
For starters, bone broth is typically rich in calcium, which helps you to maintain your own bone health. It's also high in mineral content, with minerals like zinc and iron which are essential to maintaining a healthy immune system and energy levels.
It also contains many vitamins, including vitamin A and vitamin K2, both very important for good all round health.
Oxtails have lots of health benefits too. It's very high in protein and iron – one serving contains 30.93g of protein and 3.6mgs of iron – which is really important for your immune system, energy levels and cell growth.
Phos normally contain bean sprouts too, which are a great source of protein, vitamin C and folic acid. They're high in potassium, which helps you to keep your blood pressure low, and are a good source of fiber.
While noodles might not bring oodles of nutrition, there are certainly healthy, mineral rich noodles available for the more health conscious foodie. Rich noodles, in particular, are a healthier option, as they are gluten-free.
Overall, with all the ingredients in this pho (and I haven't even mentioned the super healthy spices you can add into the mix) there's no doubt that this dish is good for you.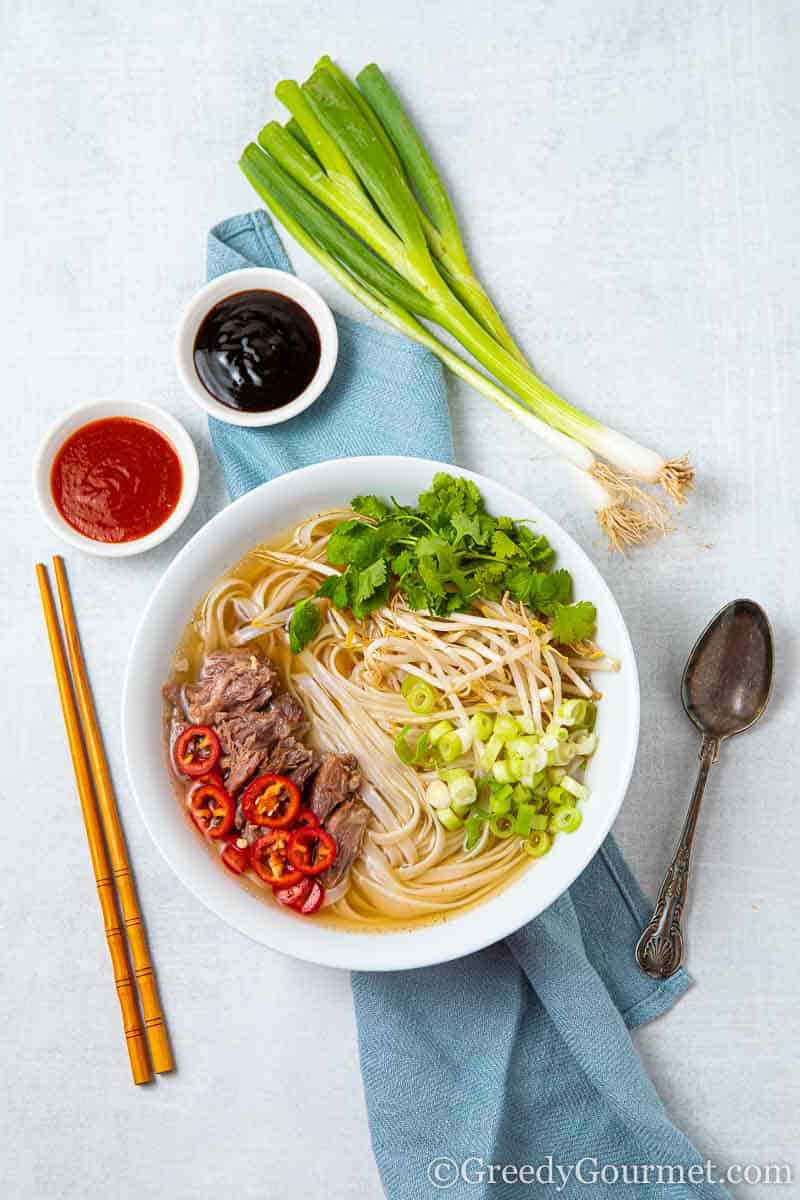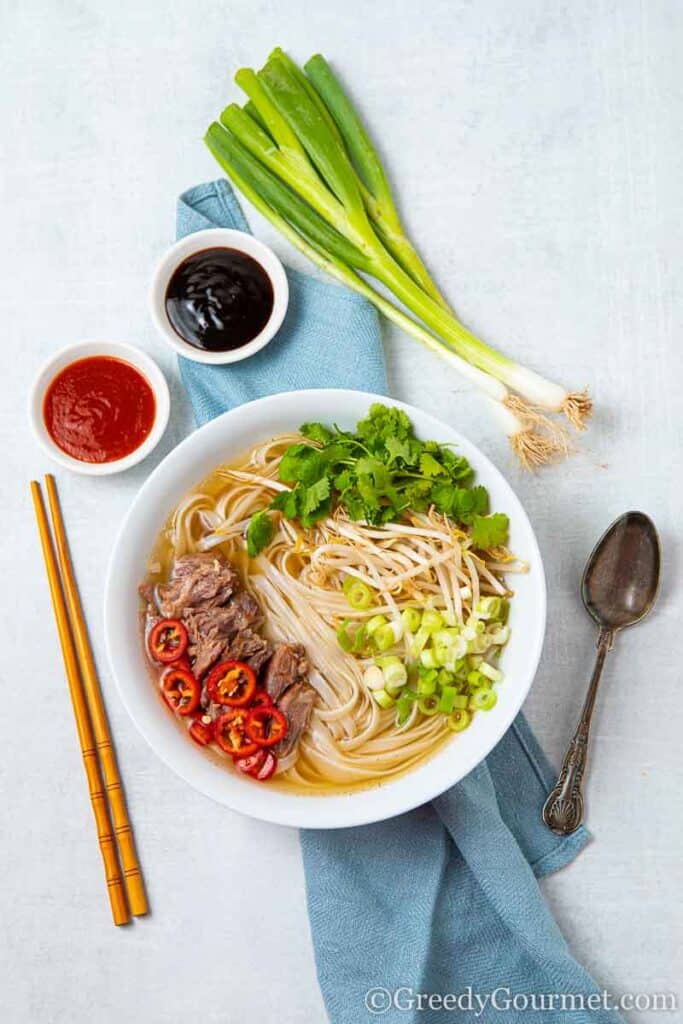 Storing oxtails in the fridge
You can keep oxtails fresh in the fridge for 3–5 days. Make sure it's tightly wrapped. If you want to keep it for longer you can also freeze it.
Storing oxtails in the freezer
You can keep oxtails fresh in the freezer for up to 6 months. Just make sure it's well wrapped to keep it fresh and protect it from freezer burn.
More amazing oxtails recipes
Here are more oxtail recipes for you to try!
Rabo de toro – a Spanish classic, this dish is a scorcher. Pair with a Spanish red and you'll be gone!
Oxtail stew – thick and tasty, stew doesn't get much better than this.
Oxtail soup – a soothing recipe that's rich, indulgent and tastes so good!
Jamaican oxtail stew – a hearty stew with a spicy twist, if you like your stews rich, spicy, colorful and hot hot hot, this is the one for you.
Hawaiian oxtail soup – an exotic broth with a colorful collection of ingredients, this dish will blow you away every time you try it.
Kare-kare – A Filipino oxtail stew where the secret ingredient is peanuts!
Print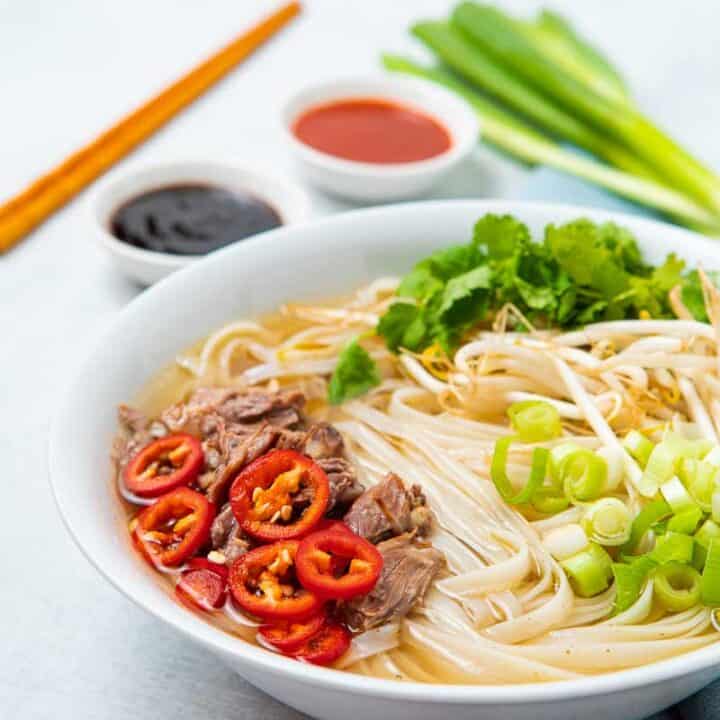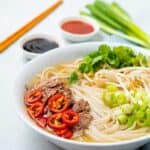 Oxtail Pho
---
Author:

Michelle Minnaar

Total Time:

7 hours 45 minutes

Yield:

8

portions

1

x

Diet:

Gluten Free
Description
Oxtail Pho comprises oxtail that cooked for 6 hours in water with vegetables and spices. Served with noodles and various toppings.
---
Spices
Pho
2

large onions

10

cm (4in) ginger root

1

daikon radish, peeled and chopped

2

carrots, peeled and chopped

1

kg (2lbs) oxtail, segmented and trimmed of excess fat

60

ml (¼ cup) fish sauce

5

ml (1 tsp) sea salt

60

ml (4 tbsp) sugar
Toppings
400g

(1lb) rice noodles

4

spring onions, cleaned and sliced

1

bunch of cilantro, washed and chopped

150g

(

5oz

) bean sprouts, washed

1

lime, cut into wedges
---
Instructions
Preheat the oven to 240°C / fan 220°C / 460°F / gas mark 8.
Top and tail the onions, then halve them.
Arrange the onion halves and ginger on a baking sheet and roast in the oven for 20 minutes, or until the onions' outer layer is heavily browned. Remove from the heat and set aside.
Meanwhile, toast all the spices in a pan over a low heat for about 2 minutes, or until the aromas are released. Remove from the heat and let it cool for 5 minutes. When the toasted spices are cool enough to handle, tie them up in a cheesecloth. Set aside.
Place the oxtail in a large pot and cover with cold water. Let the water reach a boiling point and let it cook for 2-3 minutes. This step ensures a clearer and cleaner taste of the soup, removing impurities in the process.
Drain the meat and clean out the pot.
Return the meat to the pot, along with the spice bag, onions, ginger, daikon radish, carrots, fish sauce, salt and sugar. Cover with water. In my case it was about 2.5ℓ (10 cups).
Bring the ingredients to a boil. Reduce the heat and let the contents reach a slow simmer and cook for 6 hours or until the meat is tender and falling off the bone.
Sieve the soup into a large clean container. Discard the spice bag and vegetables.
Pick all the meat from the bones and store in an airtight container in the fridge.
Place the pho in the fridge to set overnight.
The next day, scoop the solidified fat globules off the pho.
Transfer the soup to a pot and gently reheat the contents until really hot.
Divide the pho into bowls. Serve with the noodles that should immediately be dunked into the liquid in order to cook.
The oxtail meat should be brought to room temperature and served on the side along with the spring onions, cilantro, beansprouts and lime. Hoisin sauce and sriracha sauce make great condiments too. Enjoy!
Notes
After the pho is cooked, you can tweak it according to taste, e.g. adding more salt and/or sugar.
Prep Time:

45 minutes

Cook Time:

7 hours

Category:

Soup

Method:

Boil

Cuisine:

Vietnamese
Keywords: oxtail pho, pho bo recipe, Vietnamese oxtail recipe, oxtail noodle soup, Vietnamese oxtail recipe
P.S. This is a sponsored post.
What is Pho?
A traditional Vietnamese broth, 'pho' refers to the noodles in the dish, but now is taken to mean the actual dish itself.
How do you pronounce pho?
Although you might be tempted to say 'foe' as in rhyming with 'toe', the closest way to pronounce pho with a Western tongue is 'fuh' as in rhyming with 'duh.'