Indulging in a rich venison stew is definitely a privilege. It's not everyday one comes across a venison stew recipe – believe me, it's a real delicacy.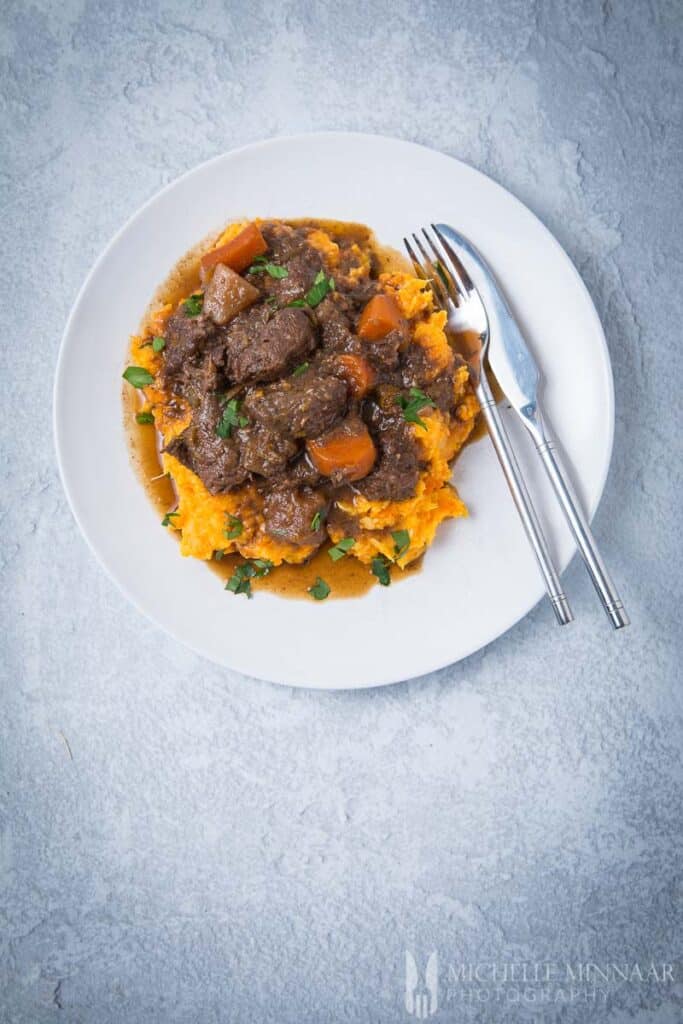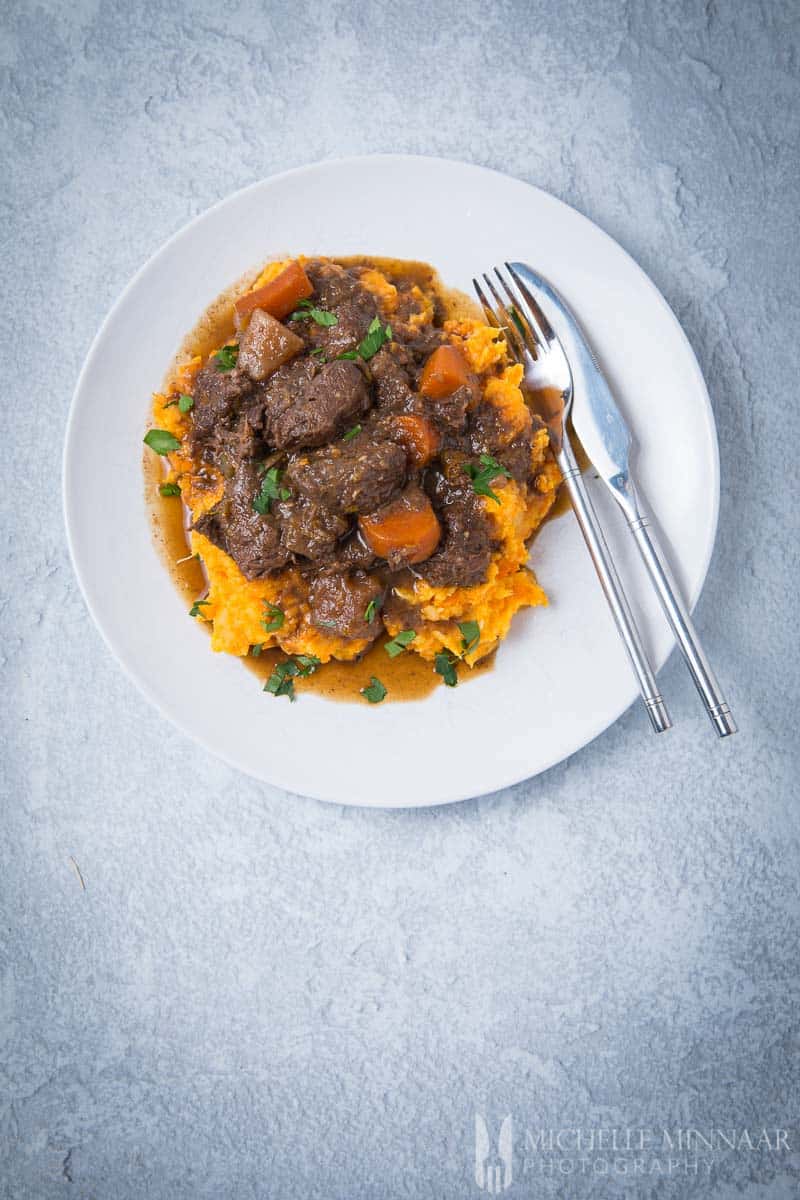 This meaty and filling stew is a gourmet meal that can be mastered in just a few simple steps. The stew gets its richness and texture from the stewing cuts of venison, which simmer with root vegetables and a can of Guinness.
It's not uncommon to use lager, ale, cider or dark beer to enhance the flavour of meaty stews. Pair with a creamy mash and sprinkle over some fresh herbs for the finishing touch.
venison stew with Guinness
This venison stew slightly resembles the Irish beef and Guinness stew, mainly because of its heartiness. Oh and let's not forget about the use of Guinness! The ingredients that make up this venison stew are:
stewing cuts of venison
root vegetables – such as carrots, turnips and celery sticks or these celery substitutes, however other root vegetables like parsnip can also work
onions and garlic – the base of any excellent stew
can of Guinness – the extra stout for a nice bitter flavour
spices – these include peppercorns, bay leaves, cardamom and more
orange – which adds a certain zing to the plate of venison stew and balances it out overall
Jamie Oliver's venison stew recipe
I've always inspired myself by the great chefs of our time. Especially when it comes to cooking delicate meat like venison or other game recipes.
I recently came across Jamie Oliver's venison stew recipe and drew inspiration from it instantly. I decided to use the same root vegetables.
Also, I was considering the option of including juniper berries instead of black peppercorns. They are a popular addition to stews. You can check out his venison and juniper stew here.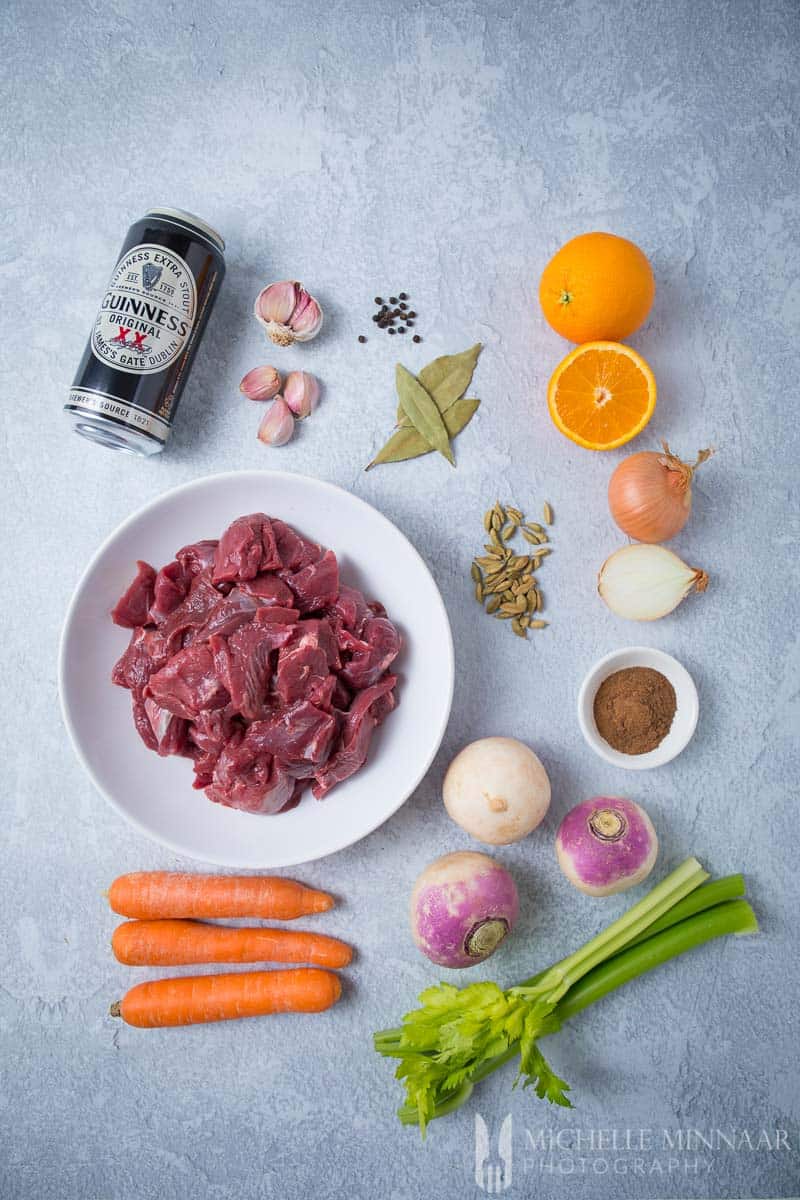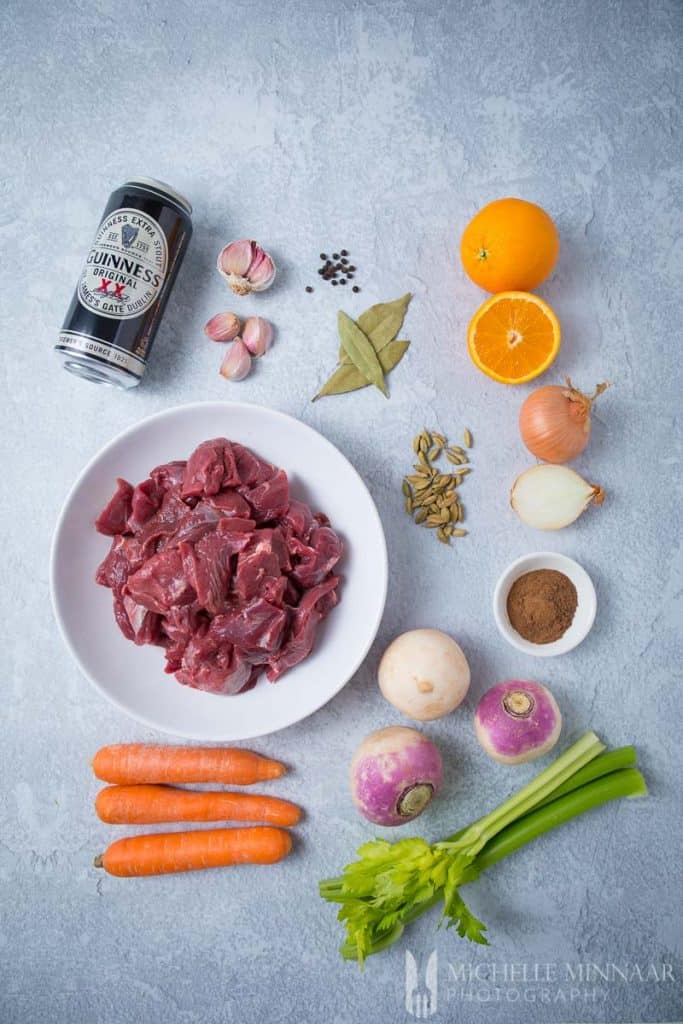 venison stew with bacon
If you fancy your meat with a bit of a smoky taste and wish to intensify the flavour of the stew, add bacon bits. Not only will the bacon add a different texture, but also the salty, intense flavour most of us love.
Let the bacon bits simmer as long as possible for maximum effect.
venison stew – red wine
Arguably, when one thinks of stews, one associates the use of red wine. You can make a version of this venison stew with red wine, assuming you completely omit the beer element.
You can retain all the other ingredients with the exception of the orange. I don't recommend including the orange as the red wine will be fruity enough.
In fact, if you use the red wine as a base and add orange, the stew will be too acidic.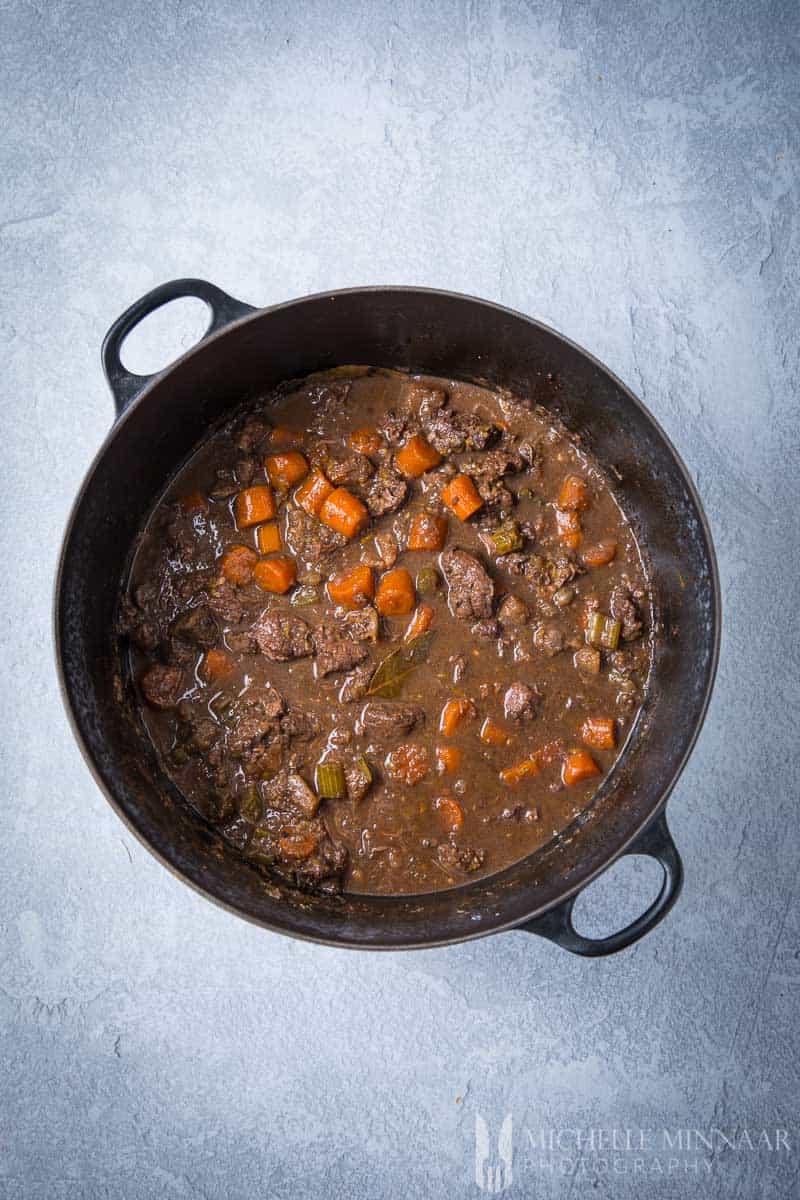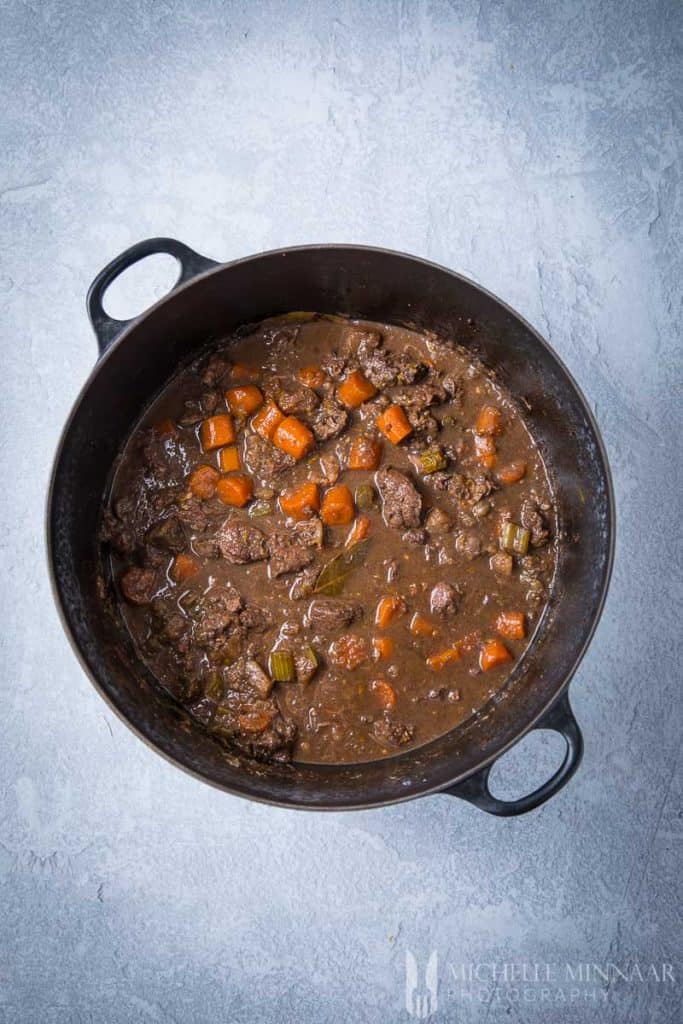 cooking with Guinness
Some would argue that there are hardly any substitutes for Guinness. Especially, when it comes to drinking fresh Guinness on tap!
Those of you who have travelled to Ireland, know just how different and amazing Guinness tastes like when it's fresh and it hasn't travelled.
Admittedly, I was never too keen on dark beer, but when I tried my very first Guinness in Ireland, it blew me away. Since then, I love to enjoy a good pint of Guinness in an Irish bar every now and again – just once in a blue moon, you understand.
In addition, I started to experiment more and more with cooking with dark beer such as Guinness. Just take a look at my beef, prune and Guinness stew.
On its own, Guinness has a distinct, nutty and full-fat flavour. It's not everyone's cup of tea if you know what I mean. However, you don't necessarily have to love Guinness to cook with it.
Dishes such as this venison stew go hand-in-hand with Guinness and a good simmer in the dark beer will only enhance the flavours of the venison altogether.
Those of you who don't fancy the taste of Guinness needn't worry about any negative implications for the flavour of the venison stew. The flavours infuse and blend perfectly together. One wouldn't even know that a can of Guinness went into the stew.
Besides, people even make cakes and bread out of Guinness! In any case, be aware that I've used the Guinness extra stout. If you purchase this kind of Guinness, you'll find it adds a more distinct, bitter Guinness flavour. Nonetheless, you can always go for the original.
Guinness substitutes in cooking
Searching or knowing about Guinness substitutes in cooking is not an easy task. Essentially, this is due to the unique nature and taste of Guinness.
However, you can always use other dark beers, root beer and coke. You'd be surprised just how amazing a stew on a base of a coke can be!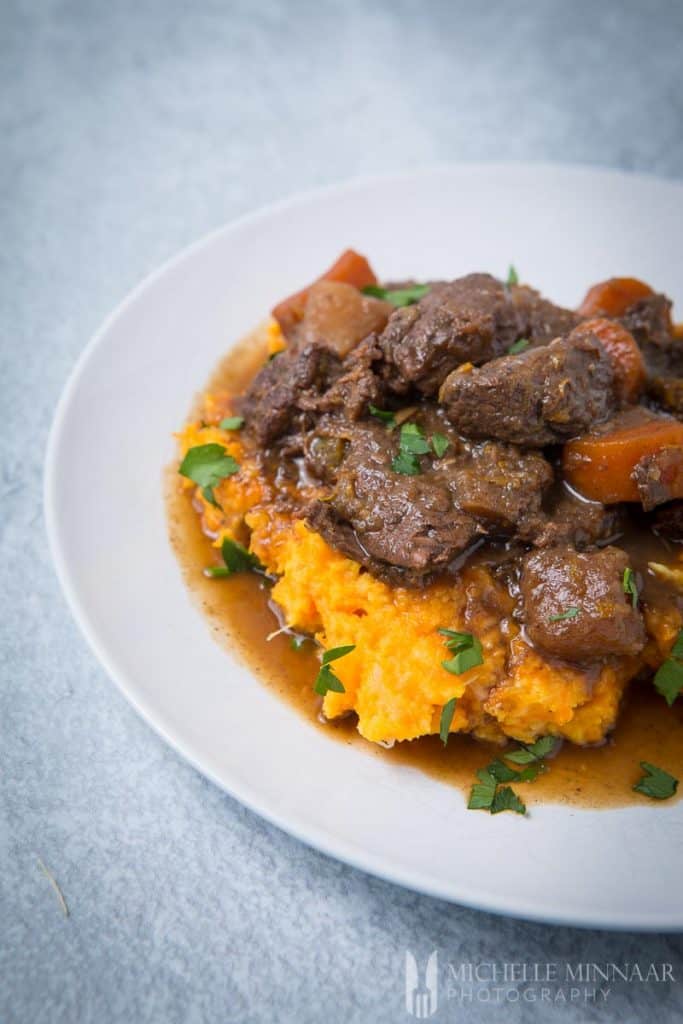 serving venison stew
The venison stew is best served on a bed of a luscious mash. The mash can be made with any type of root vegetables. I highly recommend a lighter mash such as the carrot and turnip mash.
As a more traditional mash, try making this easy roasted sweet potato mash. For a very light alternative, go for this vegan cauliflower mash.
Once you select your favourite mash recipe, top the venison stew with fresh parsley. Season to taste.
what to drink with venison stew
Since the venison stew is based on Guinness, I wouldn't recommend a wine pairing. Naturally, a Guinness would be a great fit, but you don't absolutely have to use it.
Those who live in Ireland know just how difficult it is to source the proper Guinness. If ever you'd been to Ireland, you too would know the difference between the real thing and the export stuff. Trust me.
In either case, for venison stew, I recommend a sturdy dark ale of your choice – best out of a bottle. Not only will it help with digestion and eating even more of the venison stew, but it'll also set the proper festive mood.
If you absolutely must insist on wine, then have a tiny glass of port in between the venison course and the dessert.
In some cultures, such as Denmark, it is unfathomable to not drink port during celebratory evenings, especially those that revolve around Christmas and Easter.
Print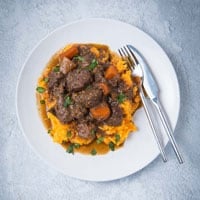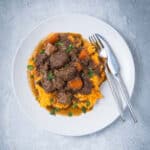 Venison Stew
---
Description
An easy-to-make venison stew recipe. You'll need root vegetables and a can of Guinness. Pair with a creamy vegetable mash and top with fresh parsley leaves.
---
1

kg (2lbs) venison stewing meat, cubed

60

ml (4 tbsp) flour

60

ml (4 tbsp) oil

2

onions, peeled and finely chopped

5

garlic cloves, peeled and crushed

5

carrots, peeled and chopped

5

turnips, peeled and chopped

4

celery ribs, washed and sliced

5

ml (1 tsp) allspice

5

ml (1 tsp) ground cumin

5

ml (1 tsp) cardamom seeds, crushed

3

bay leaves

4

cans (440ml) Guinness

1

orange, juiced and zested
---
Instructions
Toss the venison in the flour.
Heat half the oil in a large cast iron pot and fry the meat until browned all over.
Remove the meat from the pot and set aside.
Add the remaining oil and fry the onions and garlic gently for 5 minutes or until softened.
Stir in the carrots, turnips and celery and cook for another 5 minutes.
Add the browned venison, allspice, cumin, cardamom and bay to the stew.
Top the stew with Guinness until all the ingredients are submerged.
Bring the mixture to a slow simmer and let it cook for 2 hours or until the meat is tender.
Towards the end of cooking time, add the orange zest and juice. Season to taste.
Season with buttery mash and steamed green vegetables.
Notes
The cardamom seeds refer to the cardamoms actually being podded. Just measure the contents, i.e. seeds. You need 5ml (1 tsp) of seeds in this recipe.
The amount of Guinness used depends on the size of your pot. You might need less Guinness to get all the ingredients covered. If you don't want to use so much, top of the rest of the required liquid using beef or vegetable stock.
Be sure to check on the stew every now and then while it's cooking. If it starts to dry out, top it up with more Guinness, stock or water.
Although I recommend using bay leaves, feel free to experiment with this recipe using any of these bay leaf substitutes.
Prep Time:

30 minutes

Cook Time:

2 hours 30 minutes

Category:

Main Course

Cuisine:

Irish
Nutrition
Serving Size:

1 serving

Calories:

355

Sugar:

8.4 g

Sodium:

80 mg

Fat:

8.5 g

Carbohydrates:

23.3 g

Fiber:

3.7 g

Protein:

33.1 g
save the recipe to your pinterest board