Utterly delicious and extremely easy to make, this zucchini egg bake recipe is the health lunch option you've been looking for!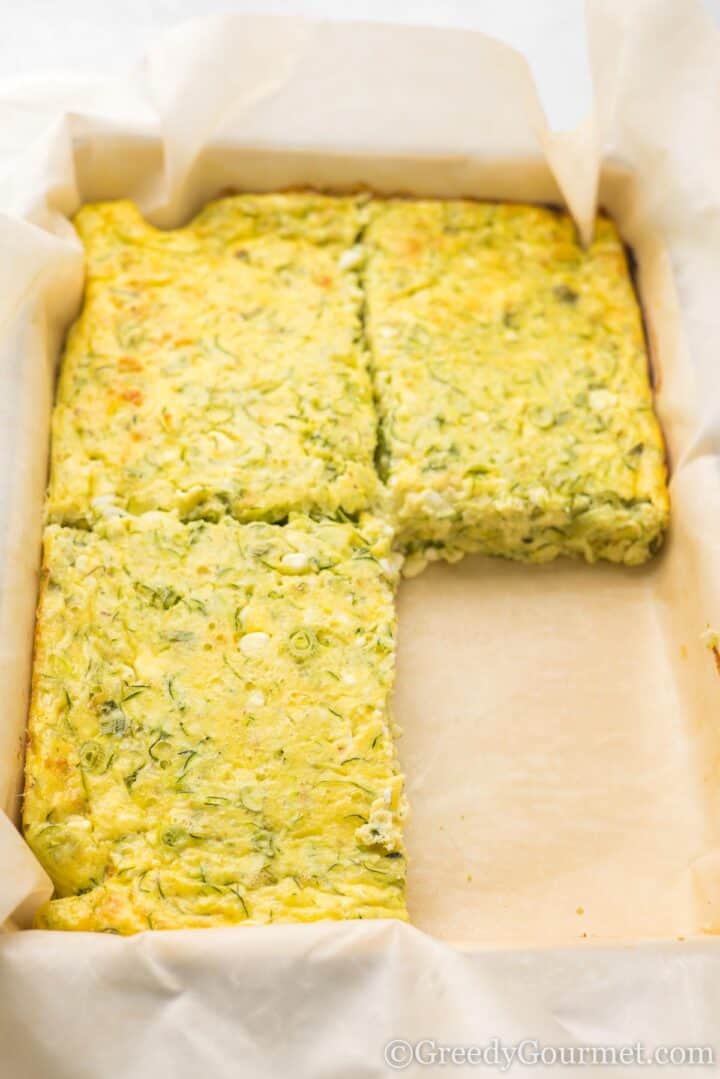 The mix of rich melted cheese, sweet spring onion and fresh zucchini makes for a winning combination. Plus, everything is baked in the same dish – it's a true one dish wonder!
Perfect in the spring and summertime as a luscious light lunch, you can even save leftovers for a quick and easy midweek meal. What's more, this zucchini bake even makes for an ideal cooked breakfast casserole, and you can even add your own twist by including some of your favorite ingredients.
So, are you ready to get baking? Let's get started!
Why you'll love this zucchini egg bake recipe
Consisting of only natural ingredients, it's a really healthy recipe
Taste isn't compromised – it's absolutely delicious!
Everything is baked in one dish – easy to make, easy to wash up afterwards
It's a very versatile recipe – you can add in your favorite ingredients
You can have it as a light lunch, a quick dinner or even as a weekend breakfast casserole!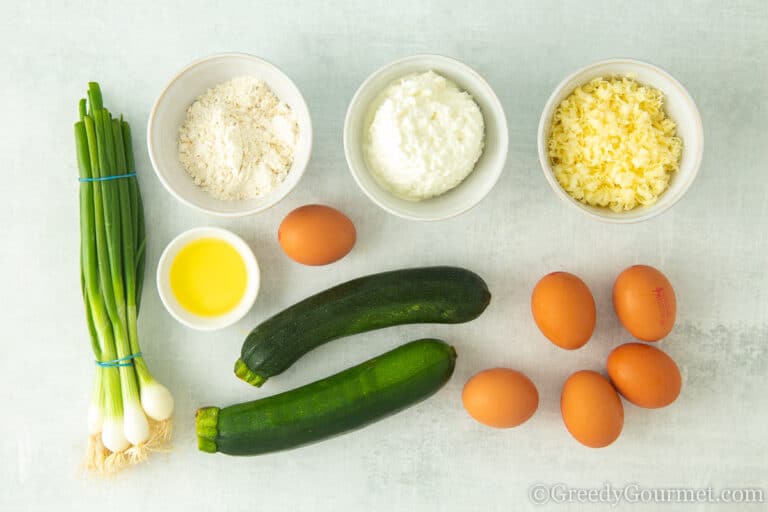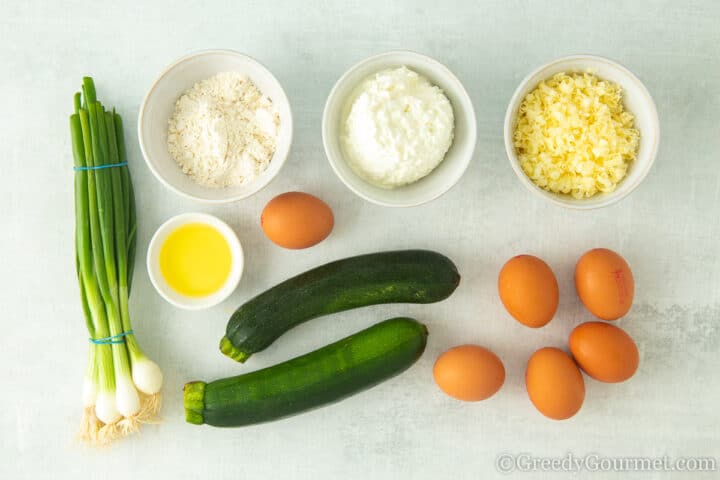 Equipment needed to make this recipe
Before you get cooking, there are a few key pieces of kitchen equipment that will help you make this zucchini egg bake:
How to make zucchini egg bake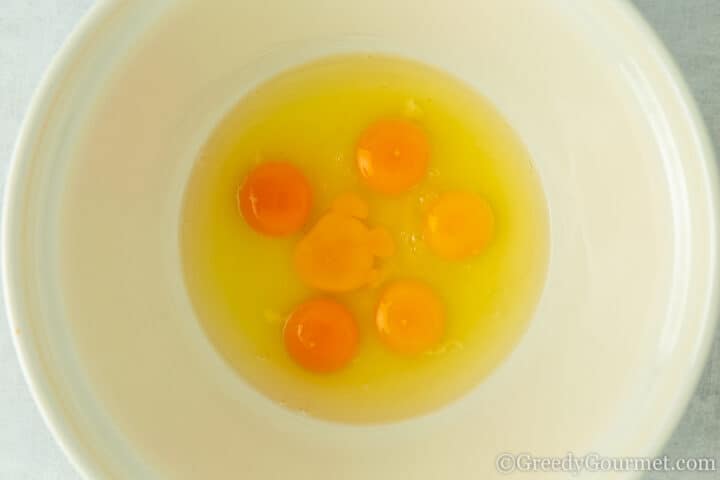 Crack the eggs in a large bowl.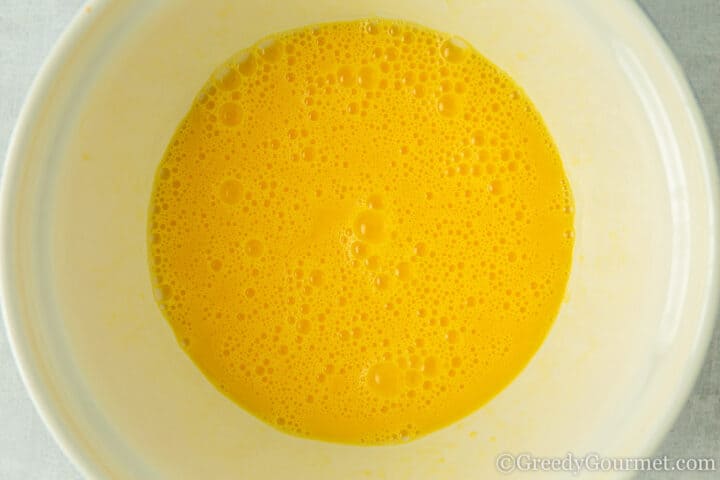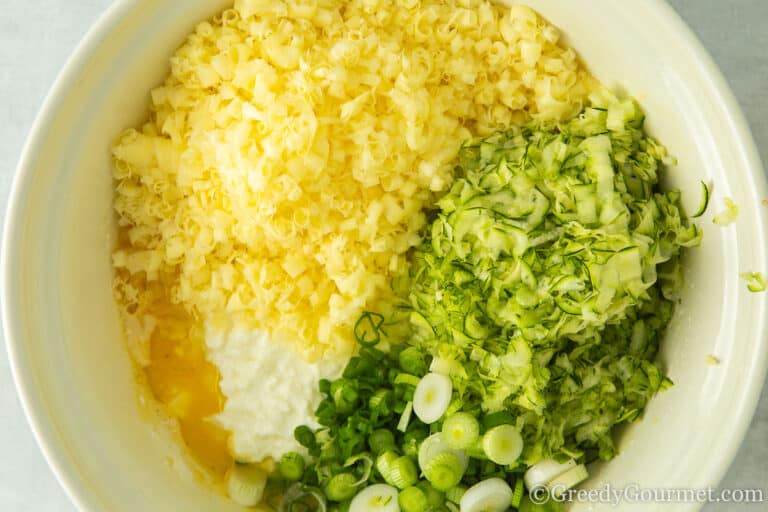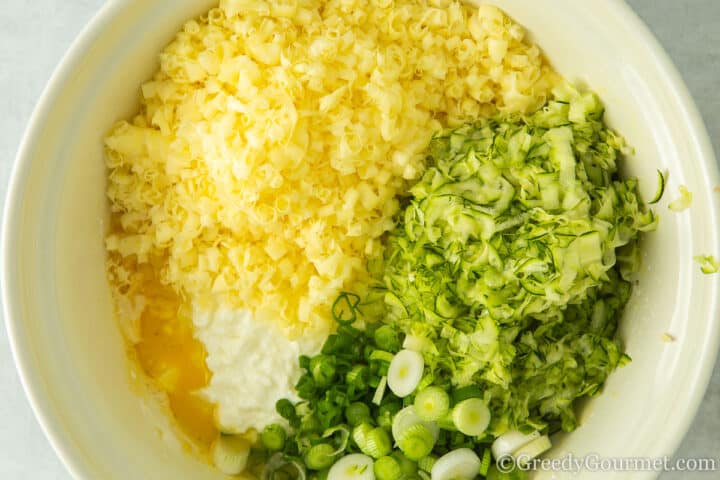 Stir in the cheeses, spring onion, zucchini, flour and oil.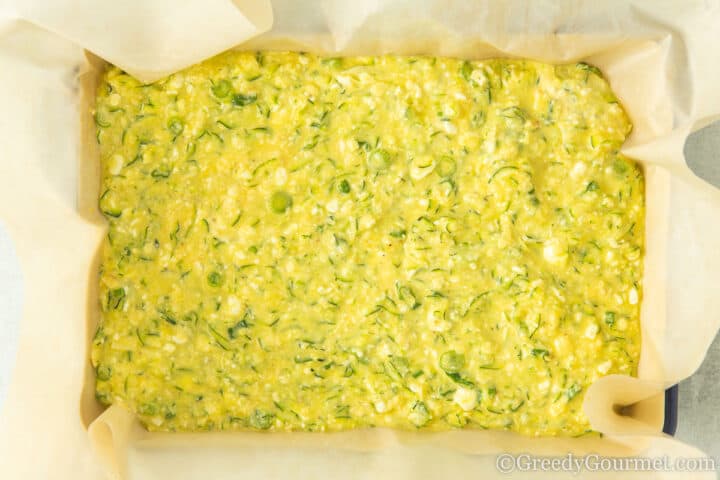 Transfer to a baking tin.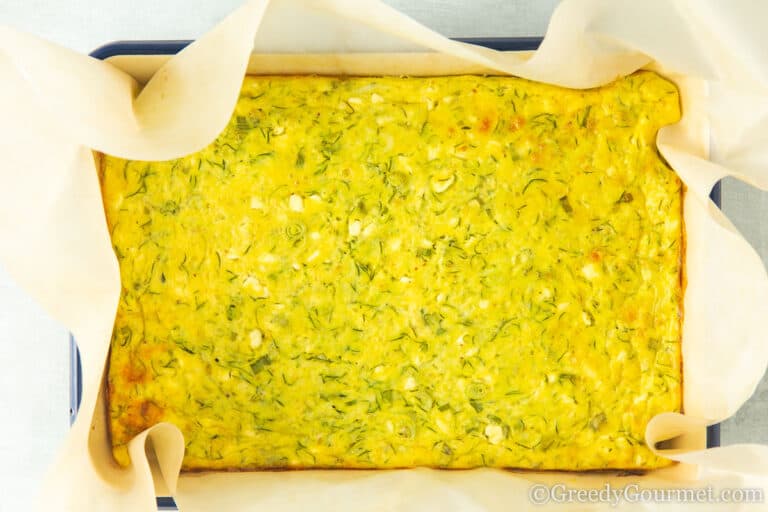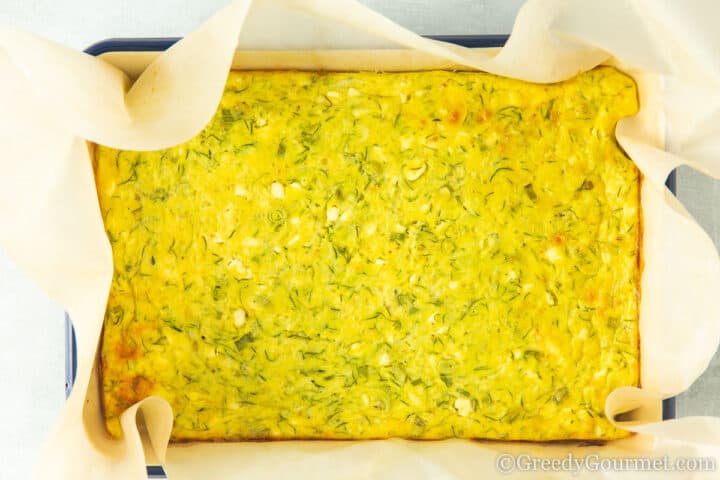 Bake until cooked and golden.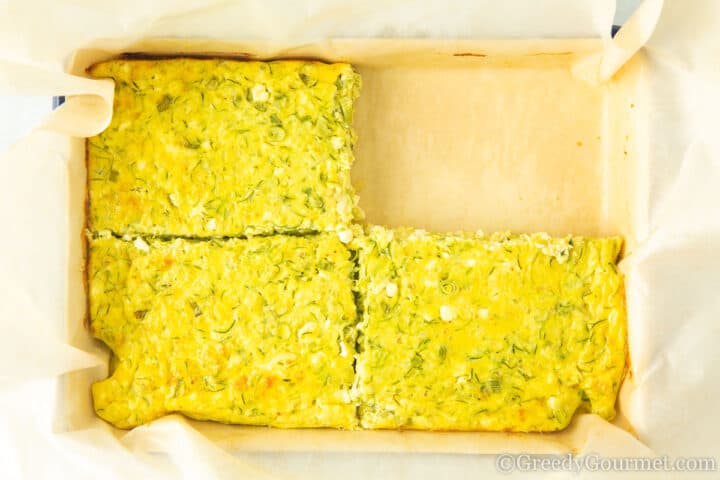 Serve immediately with a green salad. Enjoy!
Top Tip
Instead of lining your baking pan, you can use a healthy cooking spray.
What to serve with your zucchini egg bake
Sides
This zucchini bake recipe is tailor-made to serve with a salad on the side. The kind of salad you serve all comes down to personal preference.
You can keep it light and serve something fresh and healthy, to pair well with the zucchini. I would recommend:
Pumpkin and feta salad – the pumpkin and the feta work perfectly with the courgette, marrying the flavours to bring a dish that works on every level. Leave out the parmesan or feta from either recipe if you don't want so much cheese
Caprese salad – if Italian cuisine is your thing, this is the salad for you. Simplicity is bliss with this recipe and it all comes down to the quality of the ingredients
Mung bean salad – a super vegan salad that packs in an enormous amount of flavour, this is the perfect side if you want something a bit more filling
You could also add a delicious smoky side, such as tobacco onions or a delicious keto coleslaw. For a healthy vegan side dish, try some blanched kale.
Wine pairing
I'd recommend a fruity, herby white wine such as a Chilean or New Zealand Sauvignon Blanc, or a fresh clean white wine such as a South African Chenin Blanc.
You could also try a Sauvignon Blanc from California, Australia or France.
Desserts
Amaretto cherries
These wonderful little boozy cherries are a decadent delight and make for the perfect dessert to follow your zucchini egg bake. Serve amaretto cherries with tin roof ice cream or ferrero rocher ice cream and take the rest of the day off.
Juicer pulp muffins
The most incredible vegan muffins, juicer pulp muffins are tasty, healthy and a wonderful accompaniment to a zucchini bake.
Turmeric smoothie
Fancy a fresh fruity dessert with a hint of spice to follow on from this recipe? This super healthy turmeric smoothie is truly sensational! Mango and banana bring the sweetness, turmeric adds a certain earthy flavor. Altogether, it's something special indeed.
Chocolate courgette cake
Put those extra zucchinis to good use. You won't believe how good a courgette cake can taste!
Popular substitutions for this recipe
Cheese
This cheesy zucchini egg bake recipe calls for cheddar cheese, which goes particularly well with the zucchini flavor. Feel free to swap it out for your favorite cheese. I recommend authentic parmesan cheese, shredded mozzarella, gruyère, or feta cheese.
Onions
You can replace the spring onions with regular white or red onions. Sauté them first in a sauce pan on a medium heat, before adding them to the mixture in the baking dish.
Alternative vegetables
Not a fan of shredded zucchini? No problem You can swap it for shredded yellow summer squash, pumpkin or eggplant. You could also add any of the following vegetables, to bring a new dimension of flavor:
Red pepper
Green pepper
Yellow pepper
Tomatoes
Sun-dried tomato
Asparagus
Caramelised red onion
Leek
Spinach
Mushrooms
Beetroot
Broccoli
Make it meaty
If you'd prefer to add meat, try one of the following:
Cooked pieces of chicken or turkey
Pastrami
Ham
Variations to this recipe
Gluten free
To make this zucchini egg bake gluten free, simply replace the wholemeal in the recipe with a suitable gluten free flour. Cassava flour is excellent in egg casseroles – if you can't find it, there are many suitable Cassava flour substitutes available.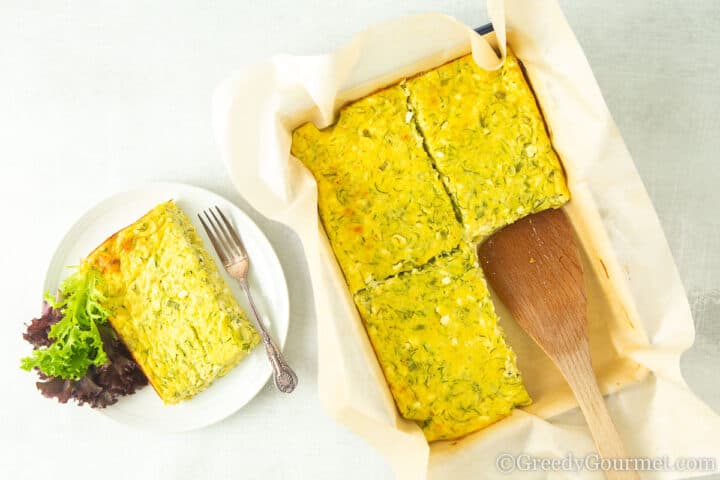 Top Tip
Add a teaspoon of baking powder to the egg mixture to make the egg casserole extra light and fluffy!
What kind of zucchini is best for zucchini egg bake?
There are quite a few different varieties of zucchinis. These include:
Black Beauty
Widely available due to how easy they are to grow, black beauties are, despite their name, dark green in colour. With tender white flesh and a mild flavour, they are perfect for salads and especially for this tart recipe. 
Gadzukes
Another long green variety of courgette, these ones have a subtle sweetness and a crispy texture, making them perfect for salads and pasta dishes. 
Dunja
Often used to make fritters, due to their taste and texture, a Dunja courgette also makes the perfect addition to this tart.
Altena polka
These courgettes are remarkable for their vibrant yellow colour. A mixture of yellow and green courgettes makes for a more interesting dish, visually.
When is zucchini season?
Depending on the local climate, zucchinis should be in plentiful supply from June until November. Peak season if July and August, when the zucchinis are just perfect!
When picking zucchinis at the store, look for a decent size – about 6–8 inches – and try to pick those without nicks, cuts or holes in them. Zucchinis with bristly hairs on them are nice and fresh!
Can you have zucchini on a keto diet?
Absolutely. Zucchinis are low carb and a perfect addition to a keto diet.
How do you store zucchini egg bake leftovers?
This dish is so delicious that, chances are, you won't have any leftovers! However, if you do, zucchini egg bake leftovers are best stored in an airtight container in the fridge.
How long is zucchini egg bake good for?
When stored in the fridge, zucchini egg bake leftovers will stay fresh for three to four days.
Can you freeze zucchini bake?
Yes. If you want to keep zucchini egg bake leftovers for longer than four days, freezing is a good option.
First, allow the egg bake to cool completely. Then transfer the leftovers into a freezer-safe airtight container and place in the freezer.
Frozen zucchini egg bake will last up to three months.
What is a safe temperature for egg casserole?
Egg casseroles and other recipes that contain eggs should be cooked to a temperature of at least 160° F (71°C). If in doubt, use a food thermometer.
Can I make zucchini casserole ahead of time?
Yes, you can make this zucchini egg bake recipe in advance. Simply allow it to cool completely, then cover the baking dish in foil and keep it in the refrigerator until you're ready to serve it.
You could also assemble the zucchini bake by making the zucchini mixture and adding everything to the baking dish, then keeping it in the fridge until you're ready to bake it.
More delicious zucchini recipes
Print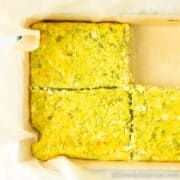 Zucchini Egg Bake
---
Author:

Michelle Minnaar

Total Time:

50 minutes

Yield:

4

portions

1

x

Diet:

Vegetarian
Description
A rich mix of egg, melted cheese, spring onion and fresh zucchini, simply stir together to make this tasty Zucchini Egg Bake.
---
6

large eggs

32

g

(4 tbsp) wholemeal flour

125

g

(1 cup) cheddar cheese, grated

300

g

(1 3/4 cup) cottage cheese

2

zucchini, grated

3

spring onions, finely sliced

30

ml

(2 tbsp) olive oil
Salt and pepper
---
Instructions
Preheat the oven to 180°C / fan 160°C / 350°F / gas mark 4.
Crack the eggs in a large bowl and whisk well. 
While whisking the eggs, add the flour one spoonful at a time, ensuring the mixture is smooth and lump free. 
Add the two cheeses, grated zucchini, spring onions and olive oil and stir to combine. Season with salt and pepper.
Transfer the mixture into a lined baking tin.
Bake for 35-40 minutes, until cooked through and lightly browned on top.
Slice the casserole into four equal quadrants. Serve with a green salad. Enjoy!
Prep Time:

15 minutes

Cook Time:

35 minutes

Category:

Breakfast

Method:

Bake

Cuisine:

American
Keywords: zucchini egg bake, zucchini breakfast casserole, zucchini egg frittata, healthy zucchini egg bake, low carb zucchini egg casserole, zucchini egg casserole