Are you in the mood for something decadent? Fancy something sumptuously sweet, with rich, complex flavors and incredible looks? Or maybe you want to make something extra special for a loved one?
Either way, I present to you… the African Prince Pie!
You won't find this recipe anywhere else. It's totally unique and is full of incredible flavors that work together in harmony… including a secret ingredient that has all the vibrancy and color that you'd expect from an African favorite.
Amarula – the taste of Africa
Have you ever tried Amarula? It's one of those liqueurs that are so memorable, you'll always remember the first time you tried it.
If you've never tried it, what better way to get your first sample than an out of this world African Prince Pie? With its velvety smooth texture and complex flavor (I once described it as a rainbow dipped in chocolate) Amarula is my go-to ingredient when I want to bring that extra wow factor.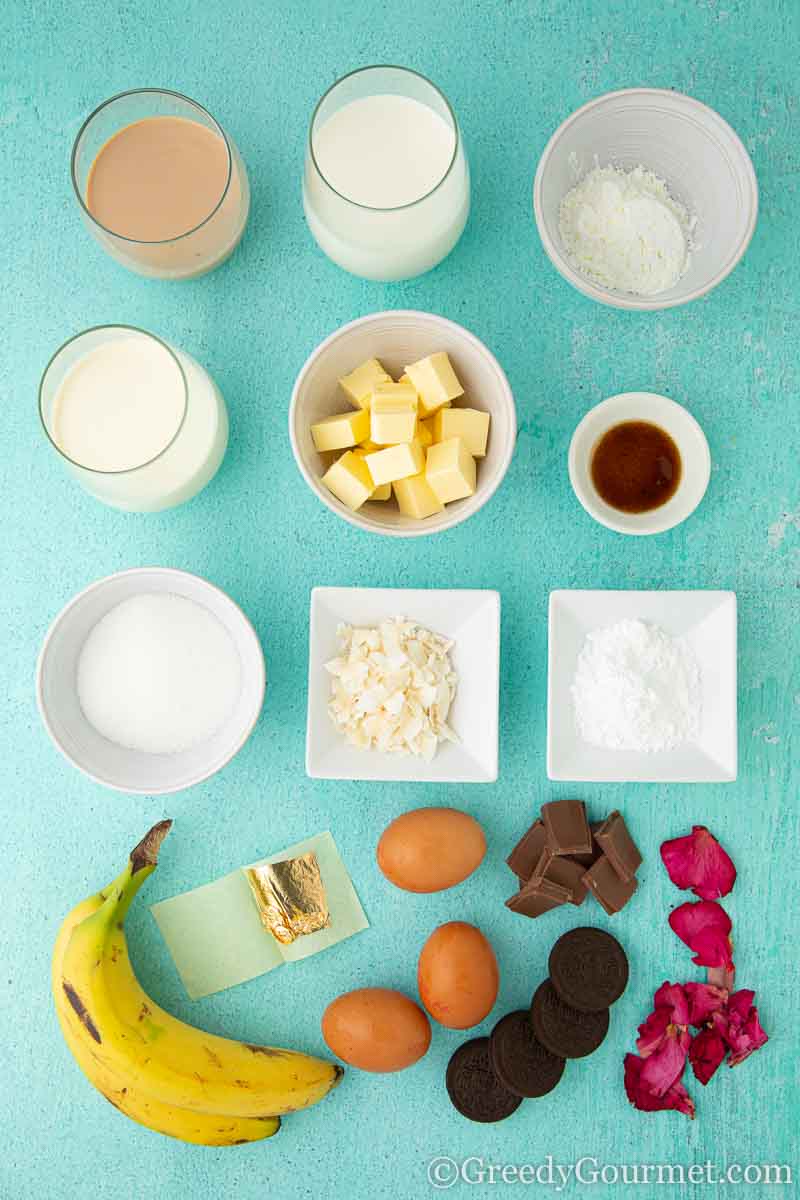 Made from the fruit of the African marula tree – also known as the elephant tree – Amarula has notes of mango, passion fruit, orange, hazelnut, caramel and chocolate.
It's like a heady blend of exhilarating fruitiness that tingles your tongue and a deep velvety richness that makes you feel all warm and cozy inside.
There's really nothing else like it and, as much as I love to drink Amarula, it's become a favorite dessert ingredient of mine.
Do yourself a favor and get yourself a bottle or two. We could all do with an extra touch of vibrancy and excitement in our lives, don't you think?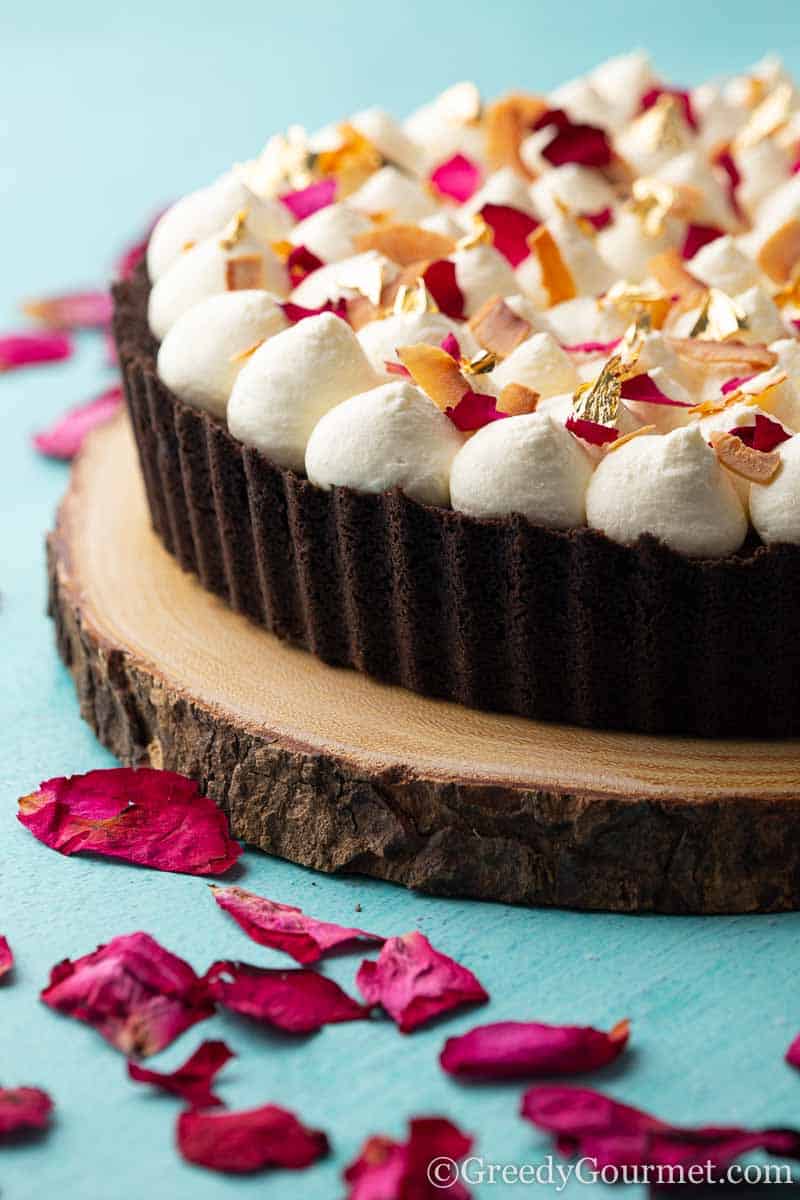 What is an African prince pie?
After a long Greedy Gourmet day, I settled down to catch the new Eddie Murphy movie 'Coming 2 America' on Amazon Prime. I remember cracking up at the original, years ago, and thought I'd give the sequel a go.
Lots of laughs later, I started dreaming up a recipe. Something about the vibrancy of the African setting – with all the vivid colors and bursts of energy – mixed with the royal elegance got me thinking.
And so the seed for the idea of the African Prince Pie was planted. Naturally, I first thought of Amarula to bring that unique flavor that instantly makes me think of Africa. 
For pure rich indulgence, chocolate was a must. A touch coconut would make the chocolate sing and, of course, it would need a rich, buttery biscuit base.
Maybe some bananas and a hint of vanilla, to bring some balance. Pretty soon, I had an idea for a pie that would bring the excitement, color, vibrancy and playfulness of the country of 'Zamunda' (seriously, watch the film) that would please the whole family.
So, I made it. After just one taste, I knew I had a pie fit for a royal banquet!  
What biscuits should be used for the pie base?
Anything that's chocolatey and indulgent. That was my first thought when I came up with the recipe and, for me, the words 'chocolatey' and 'indulgent'  just make me think of Oreos.
You can go for plain old Oreos or get creative and use one of the seemingly endless array of alternative flavors – off the top of my head, brownie Oreos, fudge Oreos, chocolate hazelnut Oreos or java coffee flavored Oreos would all work with this African Prince Pie recipe.
Feel free to go off script and use your favorite chocolate cookies. My rule is – if they're irresistible out of the packet, they're fit for this African Prince Pie!
What's the best chocolate to use in African Prince Pie?
Go for good quality chocolate. Chocolate is a big part of the flavor of this pie, so don't skimp on quality here. 
For me, a mix of dark chocolate and milk chocolate works best. If you're not a fan of the bitterness of dark chocolate, just use milk chocolate.
How long does the pie need to chill once cooked?
Once you've poured the luscious creamy chocolate mixture into your buttery biscuit base, it's chillin' time.
The filling mixture needs time to set. This is going to require patience – so guard that pie from hungry invaders!
It'll need at least six hours in the refrigerator, but it's best to leave it to set overnight. If you wake up to find fingerprints in the filling and teeth marks around the crust, you know you've got hungry night bandits on your hands! 
How do you decorate African Prince Pie?
Don't be afraid to go to town with the decorations! This is called an African Prince Pie for a reason. It should be decadent and regal. It should have that 'wow' factor. It should blow people away, not just with its delicious taste, but with its stunning looks.
So, take your time and create your very own masterpiece. I decorated my pie with toasted coconut flakes and a sprinkle of rose petals, along with 24 karat gold leaves to bring a touch of elegance.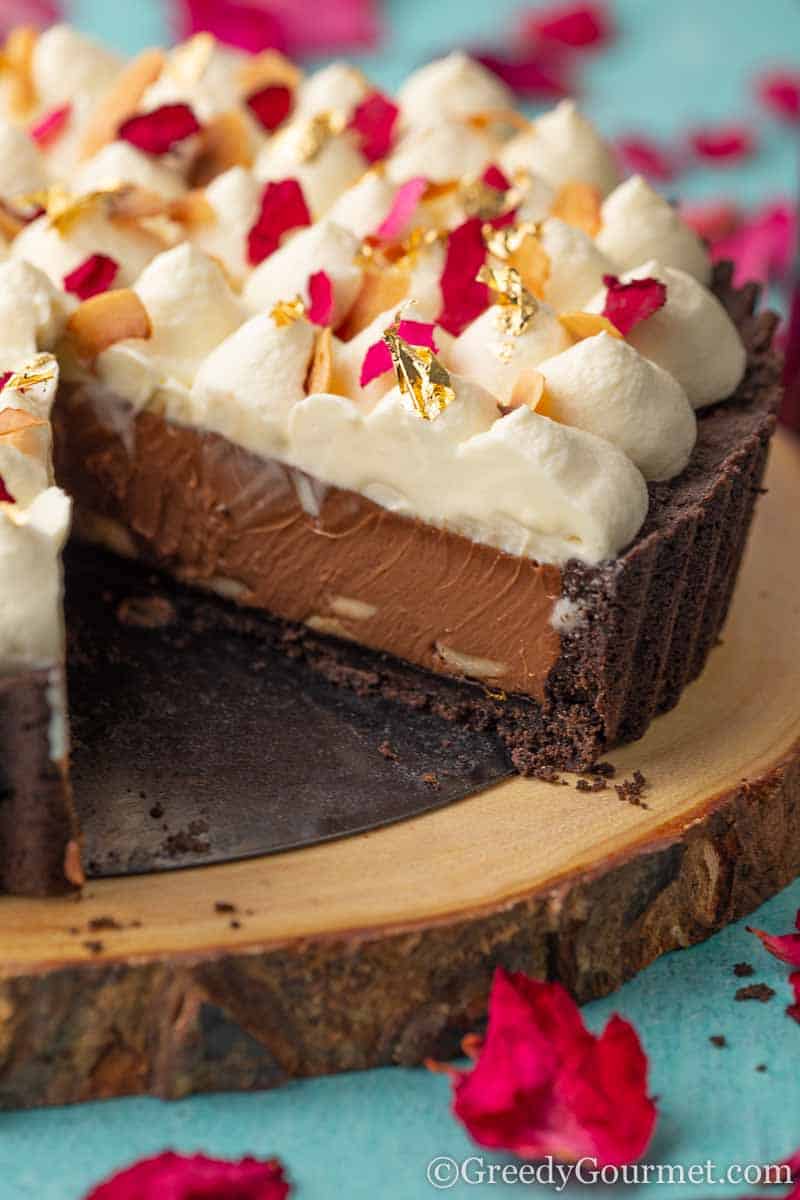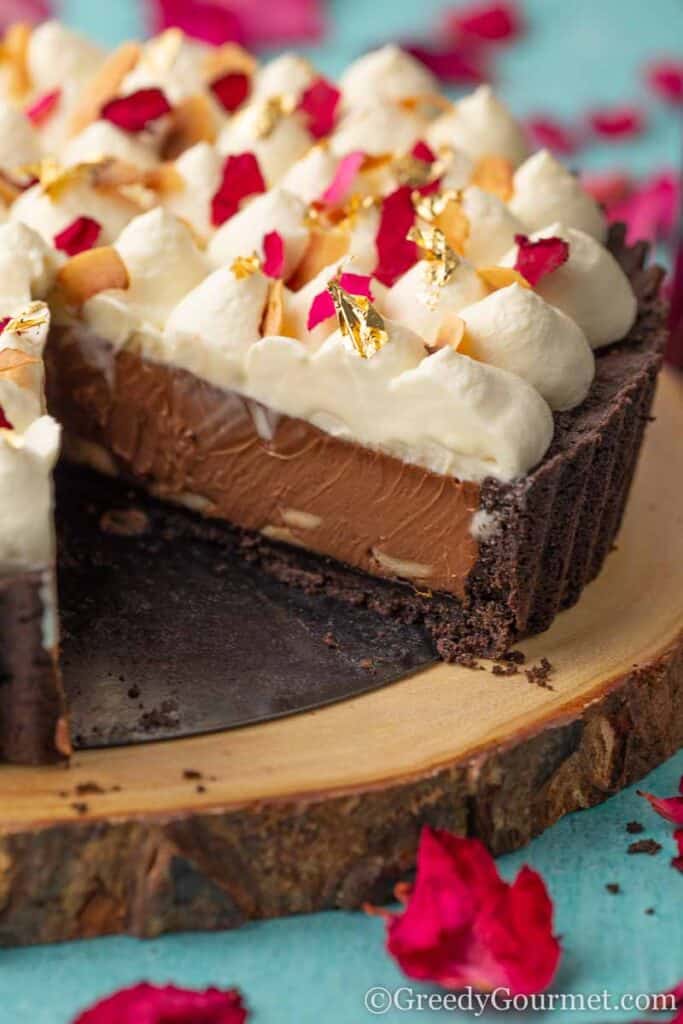 Tips to make the perfect African Prince Pie
Making this pie is pretty straightforward, but there are a few things you'll want to keep in mind while you're baking it. Follow these tips and you should end up with the perfect pie, every time!
When you make the pie base, make sure you press down on the buttery biscuit crumbs. You want to make sure the crumble is densely packed – this will give you a firm, stable pie base. Use a flat spatula or a straight-sided glass
Always use baking beads or, if you haven't got any, use uncooked dried rice when baking the pie base. This will help keep the pastry in shape as it cooks. If you don't weight the pastry down, the base can puff up and cause the sides to collapse
When making the pie filling, you'll create a custard mixture by adding creamy milk to egg yolks, whisking, then pouring into the rest of the creamy milk. Take your time with this part – it's easy to get it wrong. Adding the milk to the egg yolks should be done slowly, so that milk and the eggs can bind bit by bit. Make sure you whisk with plenty of energy!
Use a piping bag or piping gun for the topping to get that extra fine finishing touch
More amazing Amarula recipes
Once you've got a taste for the famous African liqueur, you'll be on a roll. Here are some great Amarula recipes, to give you a little inspiration for your next move:
Print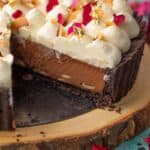 African Prince Pie
---
Author:

Michelle Minnaar

Total Time:

1 hour 40 minutes

Yield:

12

slices

1

x

Diet:

Vegetarian
Description
African Prince Pie is a homage to Coming 2 America, celebrating Zamunda. It comprises chocolate custard, Amarula, banana, Oreos and coconut.
---
Pie Base
42

Oreo cookies

150

g

(2/3 cup) butter, melted
Pie Filling
375

ml

(1 1/2 cup) milk

500

ml

(2 cups) double cream

125

ml

(1/2 cup) Amarula

7.5

ml

(1 1/2 tsp ) vanilla paste

6

egg yolks

100

g

(1/2 cup) granulated sugar

30

g

(1/4 cup) cornflour

200

g

(1 1/8 cup) milk chocolate, chopped

50

g

(1/4 cup) dark chocolate, chopped

14

g

(1 tbsp) unsalted butter

2

bananas, peeled and sliced
Topping
375

ml

(1 1/2 cup) double cream

125

ml

(1/2 cup) coconut milk

22

g

(3 tbsp) icing sugar
shredded coconut, toasted
rose petals

24

k gold flakes
---
Instructions
For the Base: Preheat the oven the 190°C/ fan 170°C / 375°F / gas mark .
Blitz the whole Oreos in a food processor until a fine crumble is formed.
While the food processor is running, pour in the butter and mix until well incorporated, which should take about 30 seconds.
Tip the crumble into a 23cm (9 inch) loose bottomed pie tin and press the mixture evenly against sides and base until a pie case is formed. It should be densely packed.
Place a sheet of baking parchment over the case and fill with baking beans or dried rice. Spread them evenly.
Bake in the oven for 10 minutes then set aside to cool. When it's completely cooled, place in the fridge to chill.
For the Pie Filling: Place the milk, cream, Amarula and vanilla paste in a large saucepan and heat gently.
While the milk is heating, whisk the egg yolks and sugar until a light yellow, ribbony texture is formed.
Once the creamy milk is heated, place the cornflour in a cup and pour in about 60ml (4 tbsp) of the creamy milk and stir well to form a slurry. Set aside.
Pour the remaining creamy milk very slowly to the egg yolks while whisking vigorously. Add about 60ml (4 tbsp) of liquid at a time, until about half of the mixture has been incorporated.
Tip all of the eggy mixture back in the saucepan with the remaining creamy milk and stir well.
Place the saucepan back on the hob and pour in the cornflour slurry. Whisk until the mixture thickens. The thicker it gets the more vigorously whisking is required.
Tip in all the chocolate and whisk to bring together.
Once everything is combined add the butter and whisk. Remove from heat and set aside.
Remove the pie case from the fridge. Arrange the banana slices in a single layer in the pie case.
Pour the chocolate custard over the top, being careful not to overfill.
Place the pie back in the fridge to chill, for at least 6 hours but preferably overnight.
For the Topping: Place the double cream, coconut milk and icing sugar in a bowl and whisk until soft peaks form.
Top the pie with the coconut cream. We used a piping bag but you can simply spread it over the filling.
Decorate with toasted coconut flakes. For an extra touch of decadence, sprinkle over rose petals and 24k gold leaves, as shown in the photos. Enjoy!
Notes
If you're not a fan of banana, you can omit it.
The same applies for the coconut. If you are leaving out the coconut milk, you can use more double cream, 15ml (1 tbsp) of vanilla paste, 14g (2 tbsp) more icing sugar for a lovely chantilly cream topping. If you decide to use coconut milk and find that you have lots leftover after this recipe, check out my guide on freezing coconut milk so it doesn't go to waste!
Prep Time:

35 minutes

Cook Time:

25 minutes

Category:

Dessert

Method:

Chill

Cuisine:

American
Keywords: amarula pie, zamundan recipe, African prince pie, chocolate banana pie, chocolate coconut pie, chocolate custard pie
P.S. This is a sponsored post.